Top 15 Best Point-and-Click Adventure Games That Are Amazing!
Updated: 18 May 2019 11:25 pm
Point-and-Click games have always been a classic
What Are The Best Point-and-Click Adventure Games?
Point-and-click adventures have been a constant in gaming, dating back to the text adventures of early home computers.
With the wealth of games available, anyone interested may not know the best place to start. And with plenty of established classics in addition to new titles coming out, a mix of both worlds is in order.
With that being said, we've compiled a list of some of the best titles across the era that any gamer should give a try.
15) Fran Bow
Fran Bow is the story of a ten-year-old girl who must come to terms with the tragedy of her parents' deaths, as well as her own mental disorder. Setting out on a nightmarish journey that starts with her in a mental asylum, this is only the beginning of the horrors to come. Packed with many of the staples of adventure games, this title gives plenty of its own grisly spin on things.
Fran Bow adds extra weight to its gameplay by allowing players to activate visions of horror. By taking one of the pills Fran comes equipped with (Duotine, the medication she's forced to take in-story), new terrors open up. With this back-and-forth, players can find new secrets and new ways to progress the game.
A relative newcomer to the adventure library, this game has already made an impact on the point-and-click genre. Released in 2015 after being funded in part through Indiegogo, the game's two person team has crafted one of the best new horror titles on the market.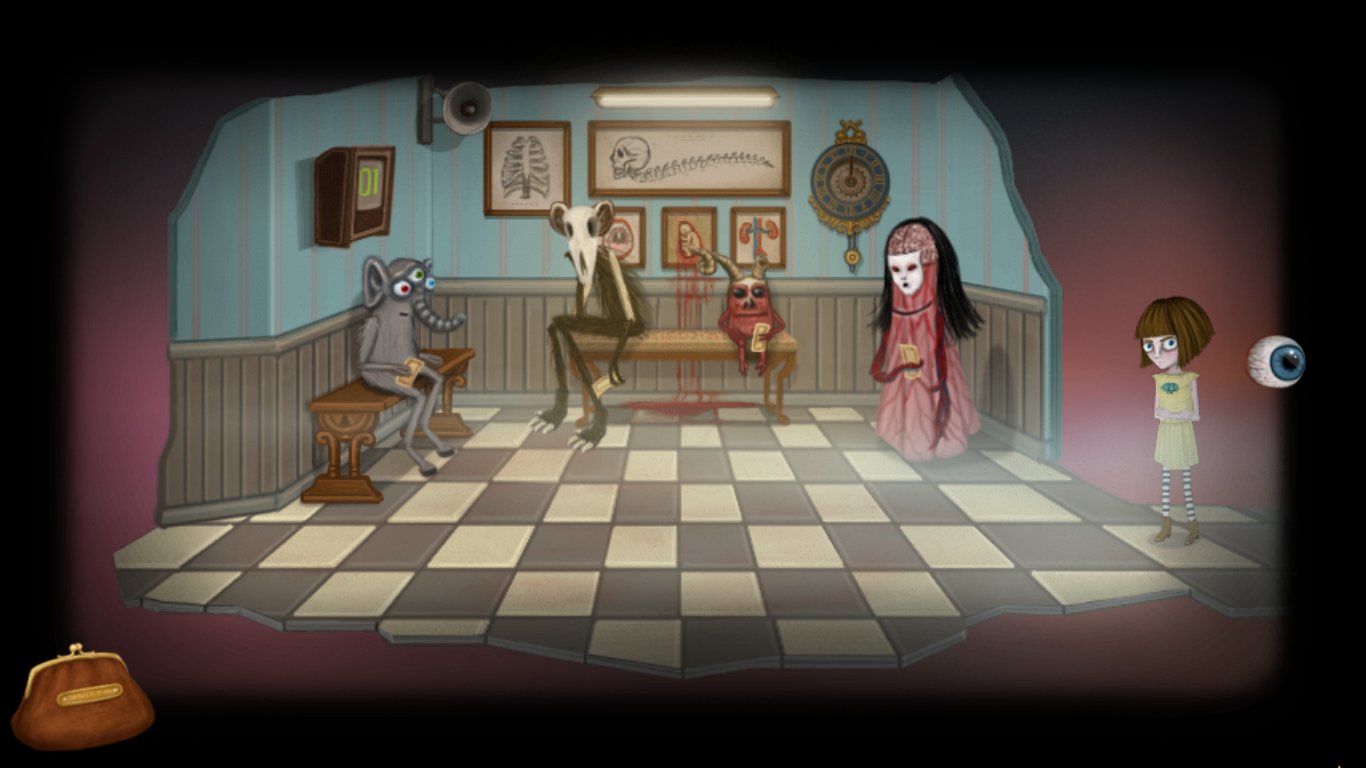 Our hero, Fran (far right), braving her latest hallucination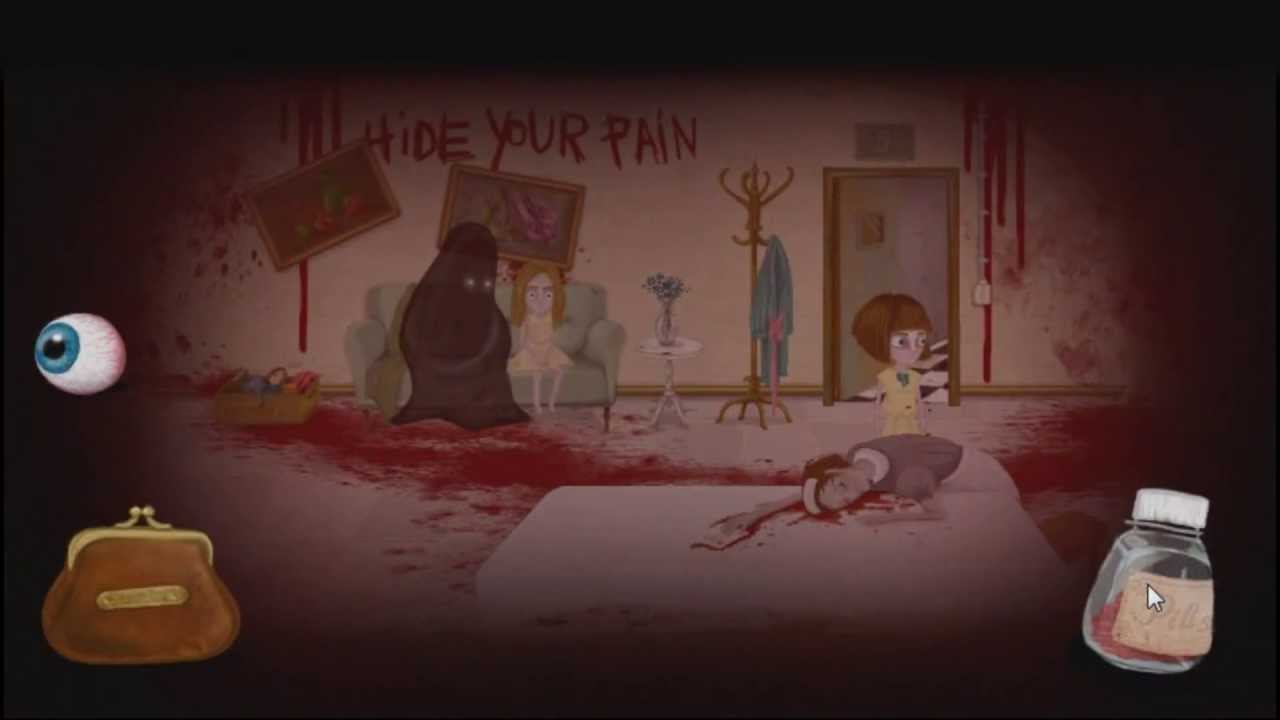 What happens in-game when you take the Duotine pills  
14) Kentucky Route Zero
On a much lighter note, we have Kentucky Route Zero (or KRZ for short), a title that puts less emphasis on gameplay than it does on visuals. Following a trucker named Conway, the player makes their way across the American heartland for one last delivery. But this vision of the US interstate is one more grounded in dreams than reality.
The rich cast of characters expands further as the game progresses, adding more to Conway's journey. What's more is their backstories can change and shift according to the whims of the players. The game itself is a feast for the senses with its rich visuals and sound design.
Like Fran Bow, this one was also funded via crowdfunding (Kickstarter this time) and released in 2013. However, this one's an episodic release in five acts, with Act Five still pending release. Regardless, KRZ is one of the freshest additions to indie gaming as a whole, and a shot in the arm for adventure gaming.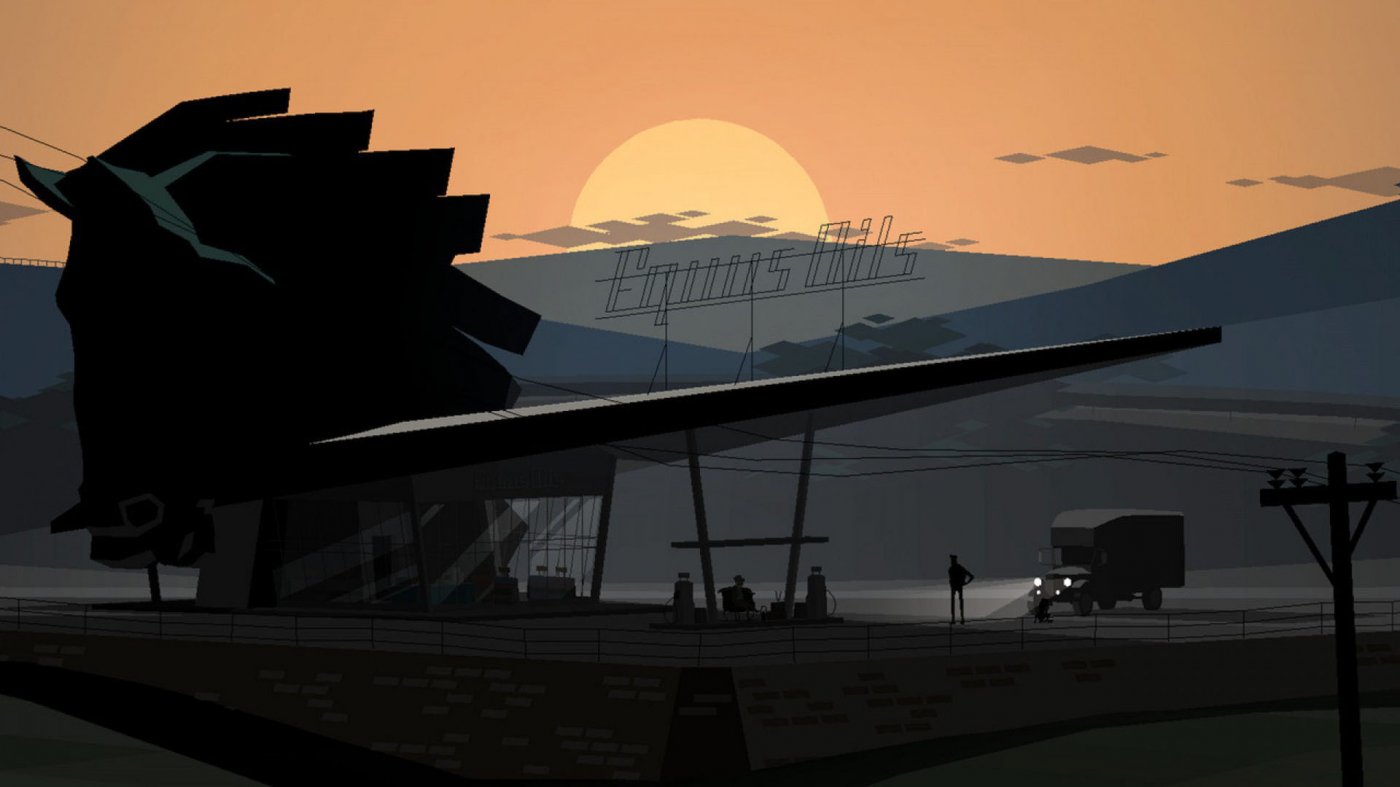 Even a simple pit stop proves tricky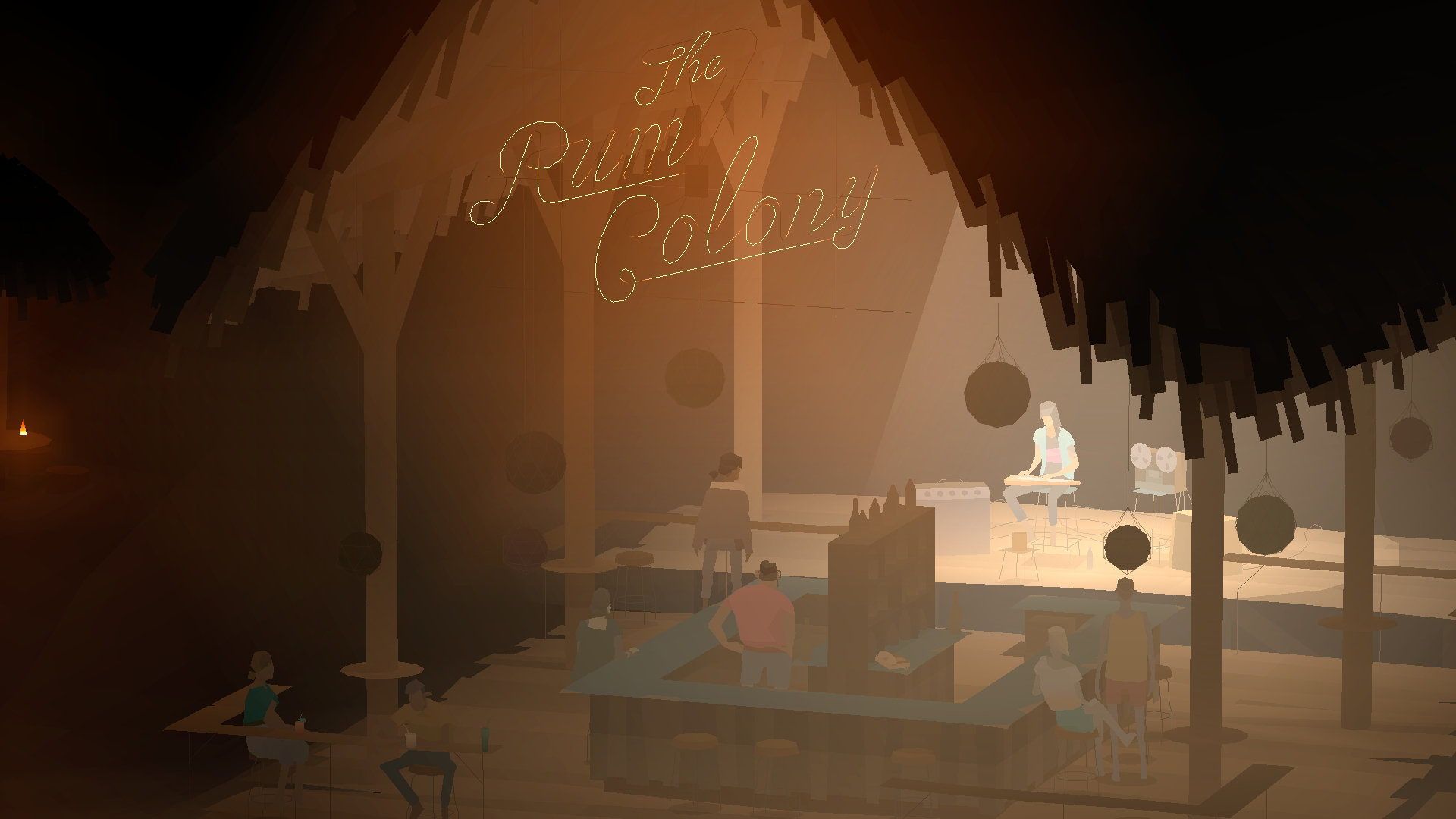 One of the games many unique locales  
13) Sanitarium
Like a lot of horror titles, Sanitarium starts you off in an asylum, with amnesia no less. But once the game really gets going, the clichés end there. As Max, the player is guided from one bizarre scenario to the next, putting together the bigger mystery of Max's institutionalization piece by piece.
Using the asylum as a hub world, the gameplay traverses locations as exotic as an Aztec village or as familiar as a rural homestead. As for the characters themselves, you'll find that all of them only add to the horror presented. And with its isometric worldview, each setting is laid out before you in all their macabre glory.
The game's developers Dreamforge Intertainment had plenty of background in roleplay and strategy games. With that in mind, a lot of the game's design choices certainly seem within their wheelhouse. While Sanitarium may have been one of their few point-and-click adventure games, their distinct take on the genre has made a lasting impression.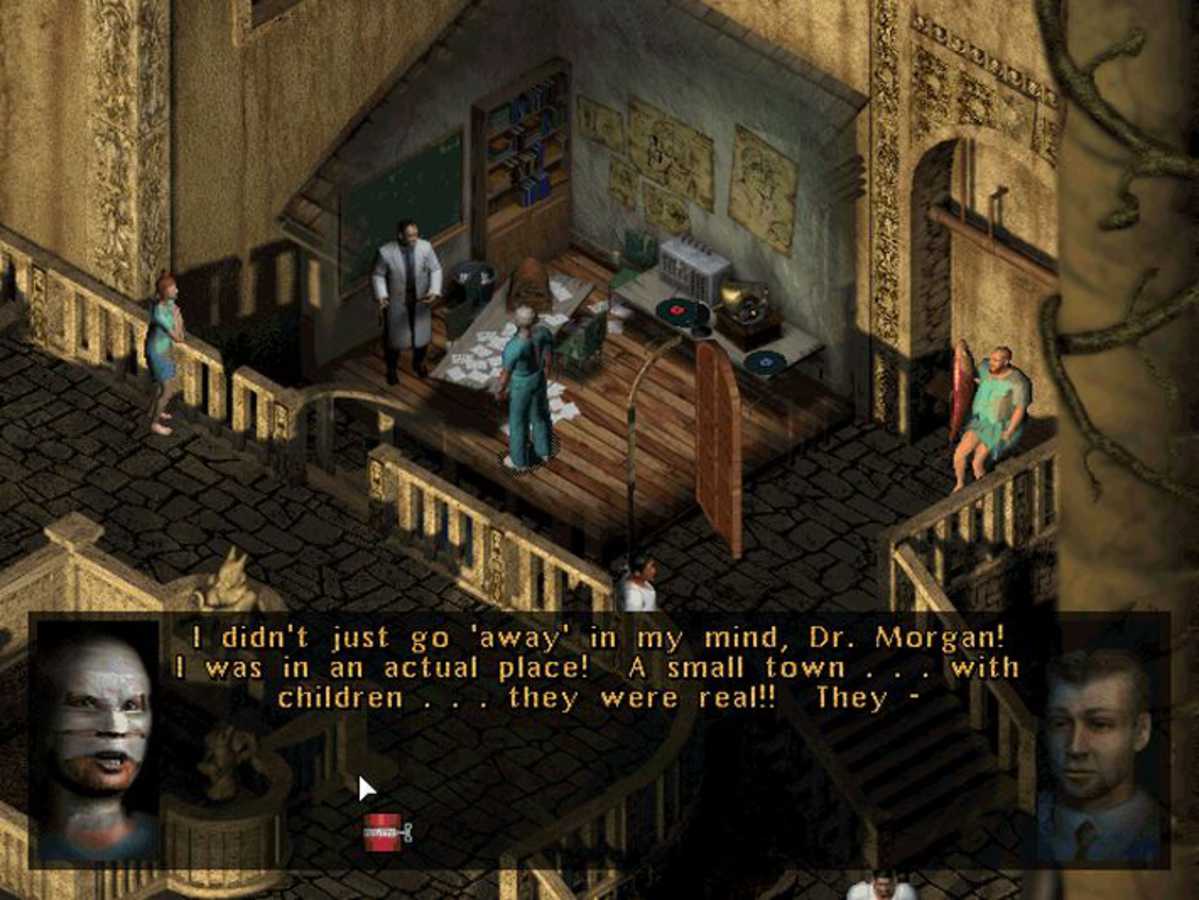 It's all in the mind, mind over matter, mind the gap, shall I go on?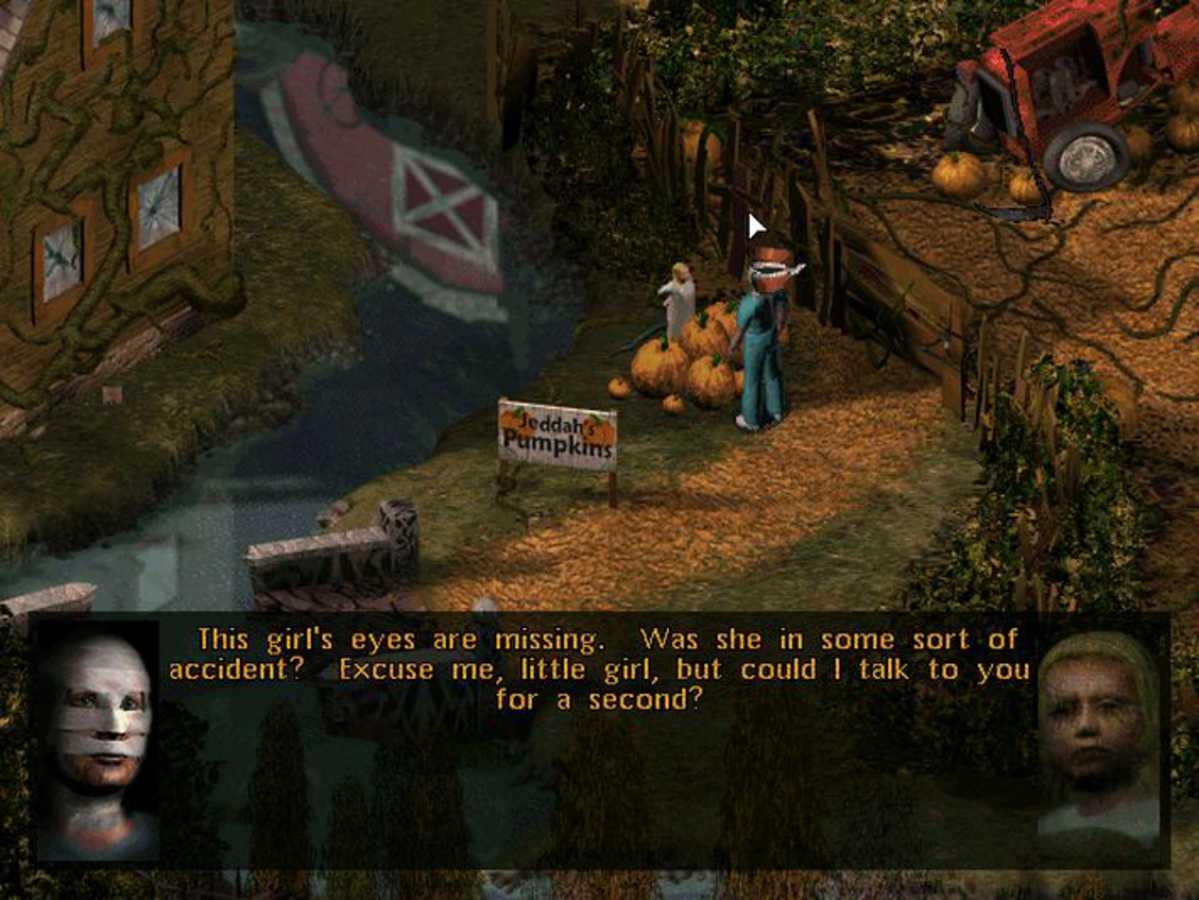 With horror this constant, smaller scares look mundane in comparison  
12) I Have No Mouth, and I Must Scream
From one of the most disturbing works of fiction came one of video game's most disturbing titles. Based on the story of the same name by renowned writer Harlan Ellison (who sadly died just last year), I Have No Mouth, and I Must Scream dove in even deeper with the story's unsettling narrative. In a desolate future, a super artificial intelligence (AI) called AM has wiped out all of humanity except for five individuals. And that's only the beginning.
Using these five characters, players brave their way through unique scenarios meant to torture each character both physically and psychologically. Only by outsmarting their captor can the player take on AM itself, and perhaps find some semblance of a happy ending. As for the alternative, well, let's just say there's a reason for the title.
One of the last titles put out by the short-lived studio Cyberdreams, IHNMAIMS still makes a splash to this day. Topping lists of best horror games, it's a testament to the game's continued ability to shock gamers. And like the story from where it's based, it will continue to force us to confront the worst within ourselves.
Some fates are worse than death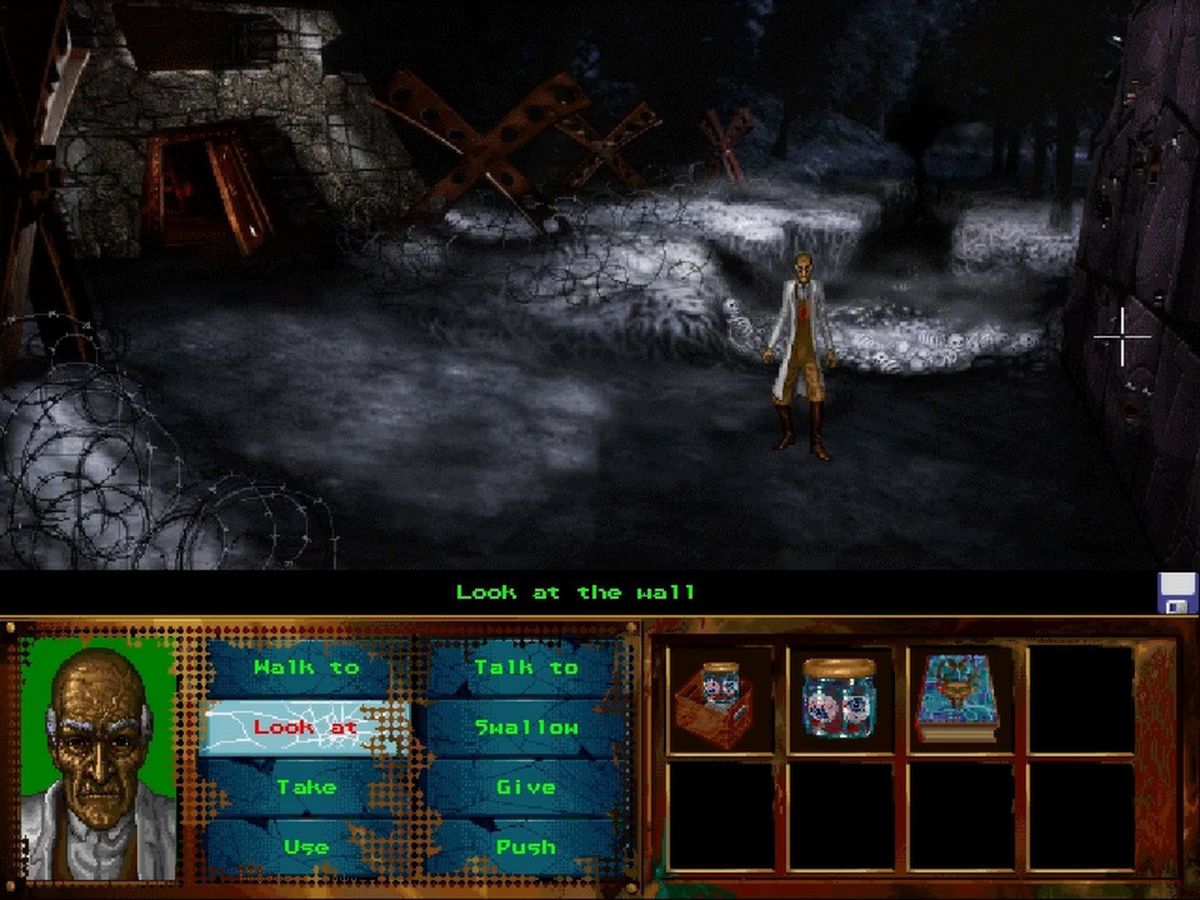 Grim and grimmer yet  
11) Broken Sword: Shadow of the Templars
For fans of treasure hunting stories or historical conspiracies, look no further than the Broken Sword series. Though the franchise has spanned five games, the original title still holds up strong. Main characters George Stobbart and Nicole Collard become embroiled in a deep plot going back to the Knights Templar and spanning across the globe.
The game weaves a strong narrative into rich settings, with plenty of charm, intrigue, and levity in the mix. And with its globally unraveling storyline, players will find themselves invested as each chapter unfolds. While Shadow of the Templars may not have revolutionized anything gameplay wise, the emphasis on plot and pacing will keep hold of your attention.
Revolution Software would go on to make four sequels across various systems, the most recent of which came out in 2013. Shadow of the Templars itself would receive a Director's Cut remake in 2009. And though the series changed with the times, the mix of historical mystery and adventure remains the same.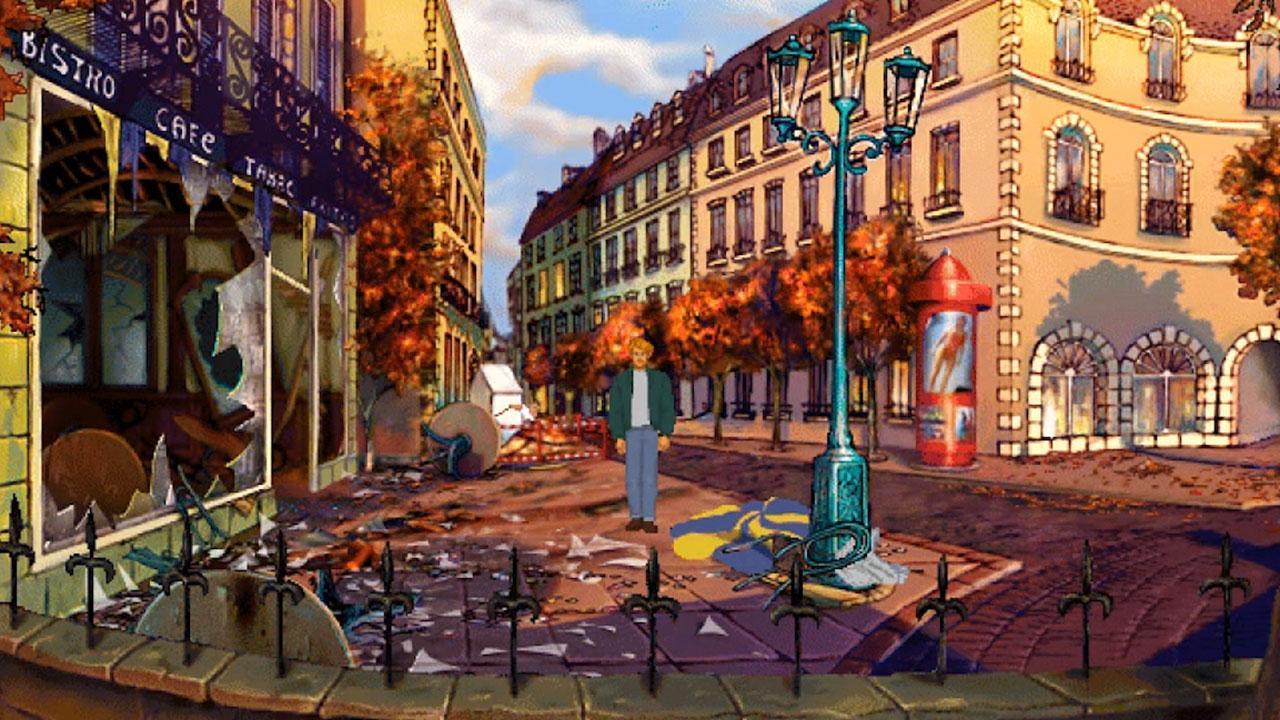 Let's start things off with a bang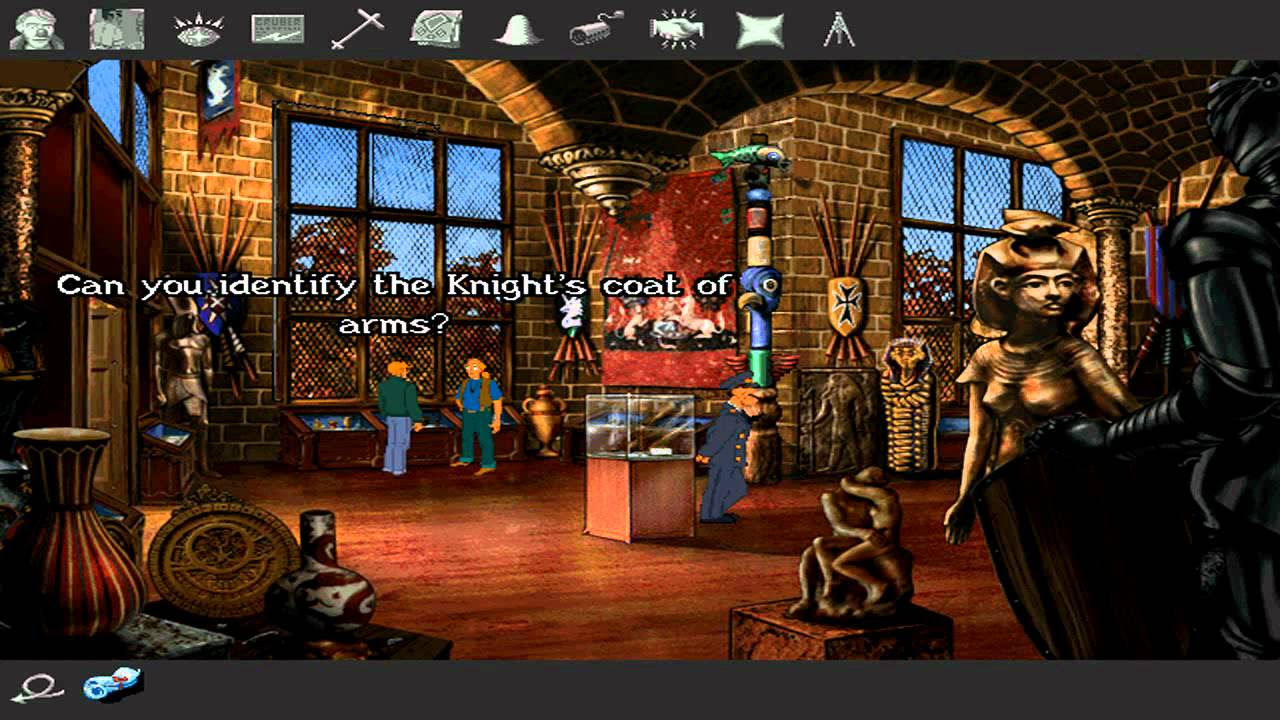 George digs deeper into the truth  
10) The Wolf Among Us
As with the rest of Telltale's library, The Wolf Among Us was an adaption, in this case of the long-running comic series Fables. As sheriff of Fabletown, you play Bigby Wolf, a gruff but honorable peacekeeper maintaining the law amongst fairytale characters. But with a recent string of grisly murders, his latest case may prove too much.
Wolf Among Us seamlessly mixes fantasy and noir together, keeping players squarely in the center of the action. Each choice carries plenty of ramifications, narratively and emotionally, and with each choice comes the burden of responsibility. Whatever path you take will inevitably leave you second guessing yourself.
The Wolf Among Us carried on Telltale's usual stable of gameplay, but with its eclectic cast and twists and turns, it still managed to find its niche. Though reception proved strong enough for audiences to demand a sequel, Telltale's shutdown has unfortunately laid that follow-up to rest. Even still, the game continues to find fans today and is well worth checking out.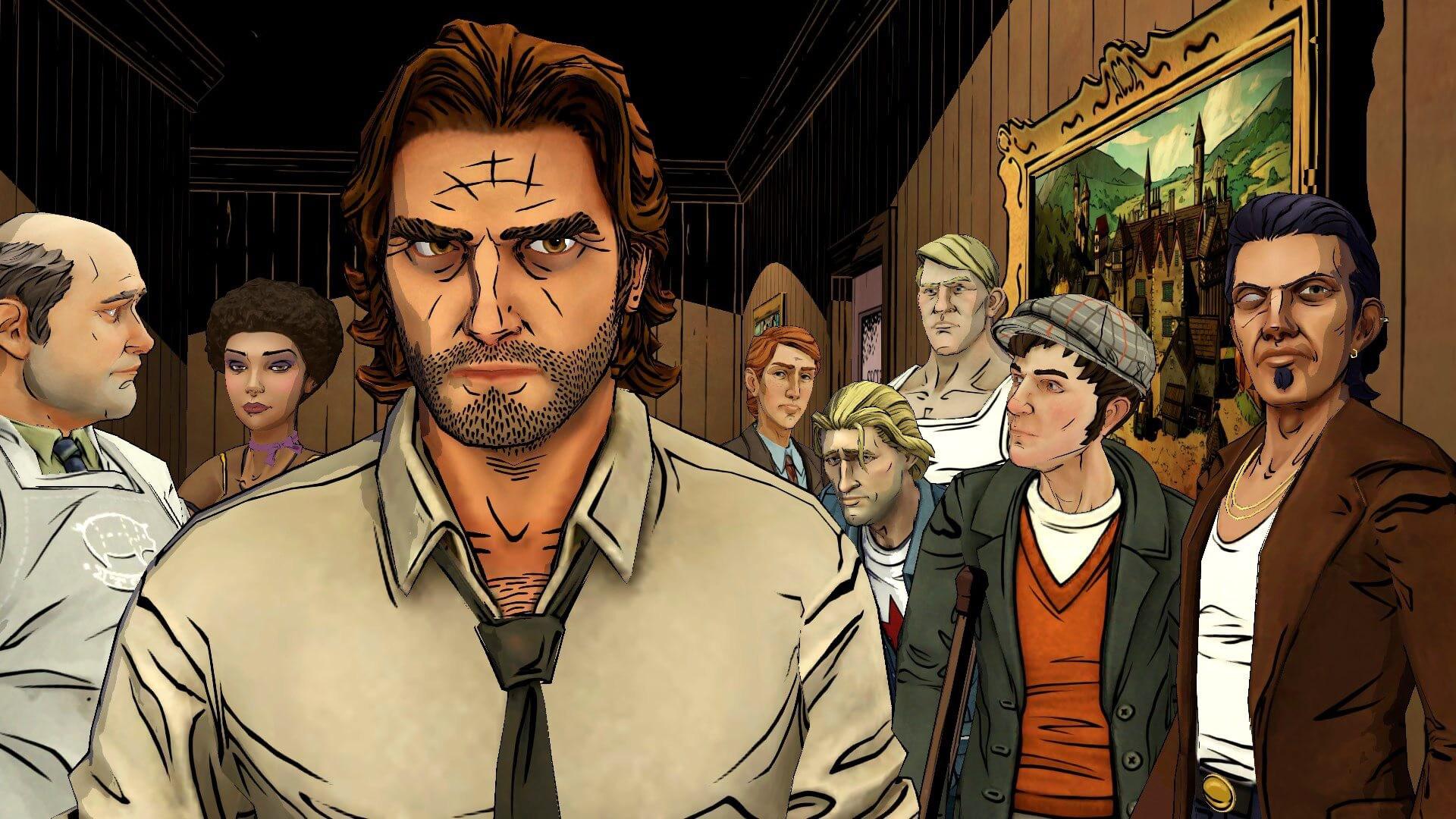 Big Wolf on Fabletown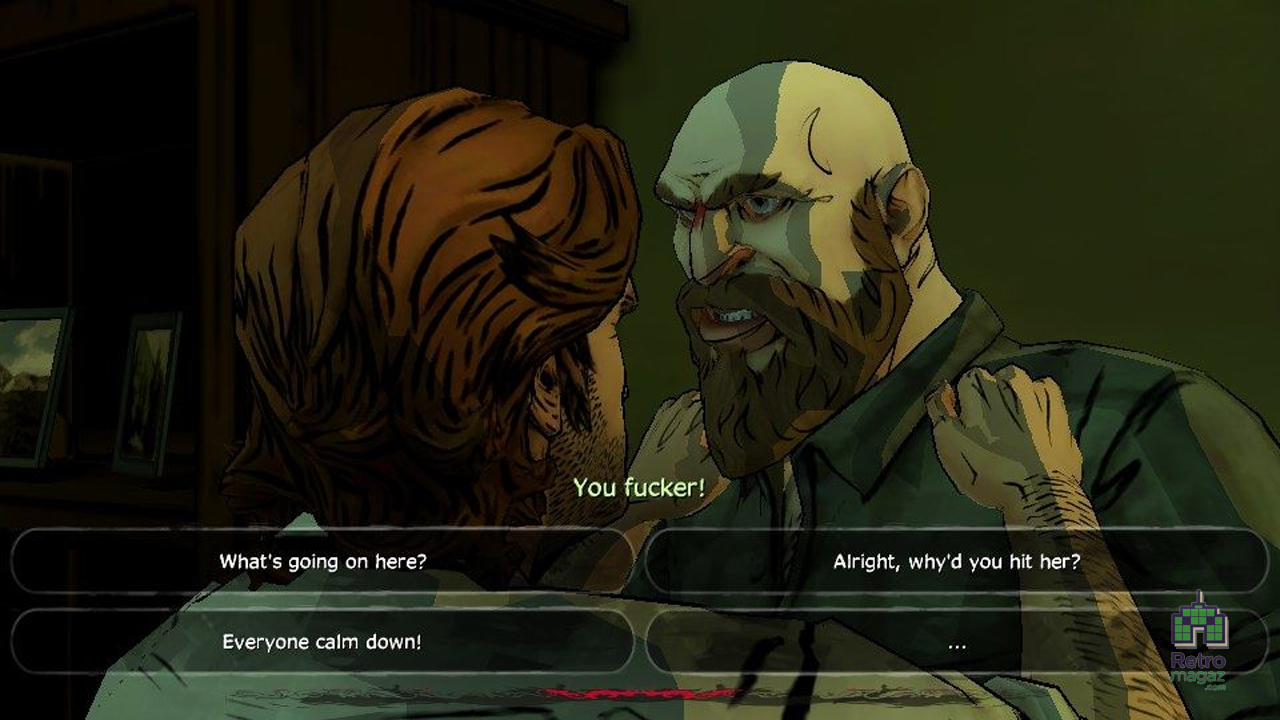 Choose wisely (or at random)  
9) Machinarium
For a game with no dialogue, Machinarium manages to communicate more through show instead of tell. As an outcast robot, you traverse your way through a lavishly illustrated city one puzzle at a time. What starts as a quest to save your girlfriend soon envelops the fate of the city itself.
Machinarium is loaded with excellent puzzle solving and plenty of variety mixed throughout. The difficulty ranges provide enough of a curve to get players comfortable with the increase in challenge.
Machinarium was created by Czech studio Amanita Design. The game's primary strength comes from its art direction, headed up by studio founder Jakub Dvorský. Tomáš Dvořák's similarly eclectic soundtrack helps make this entry one of the more artistically fresh games in recent years.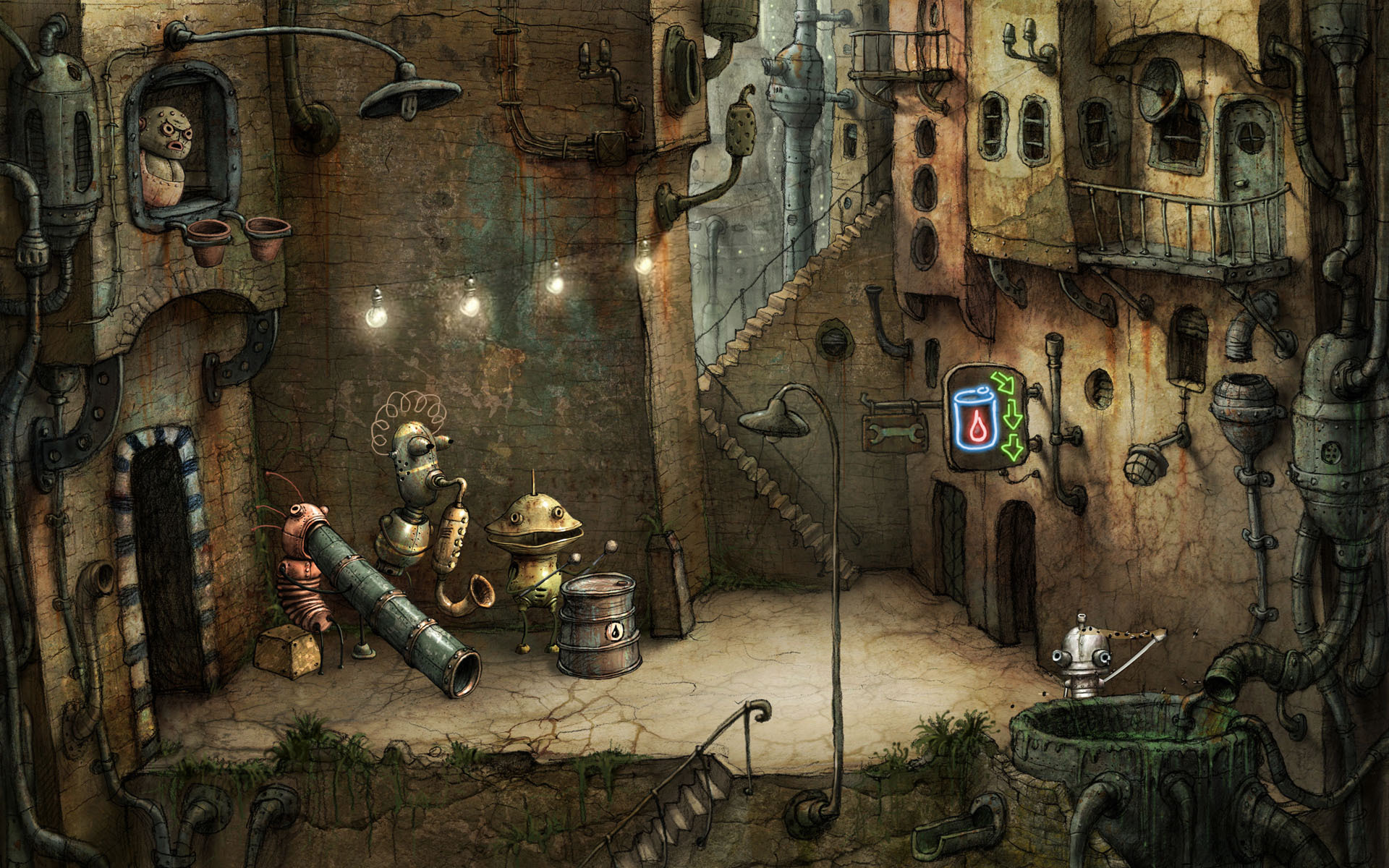 An old, rustic setting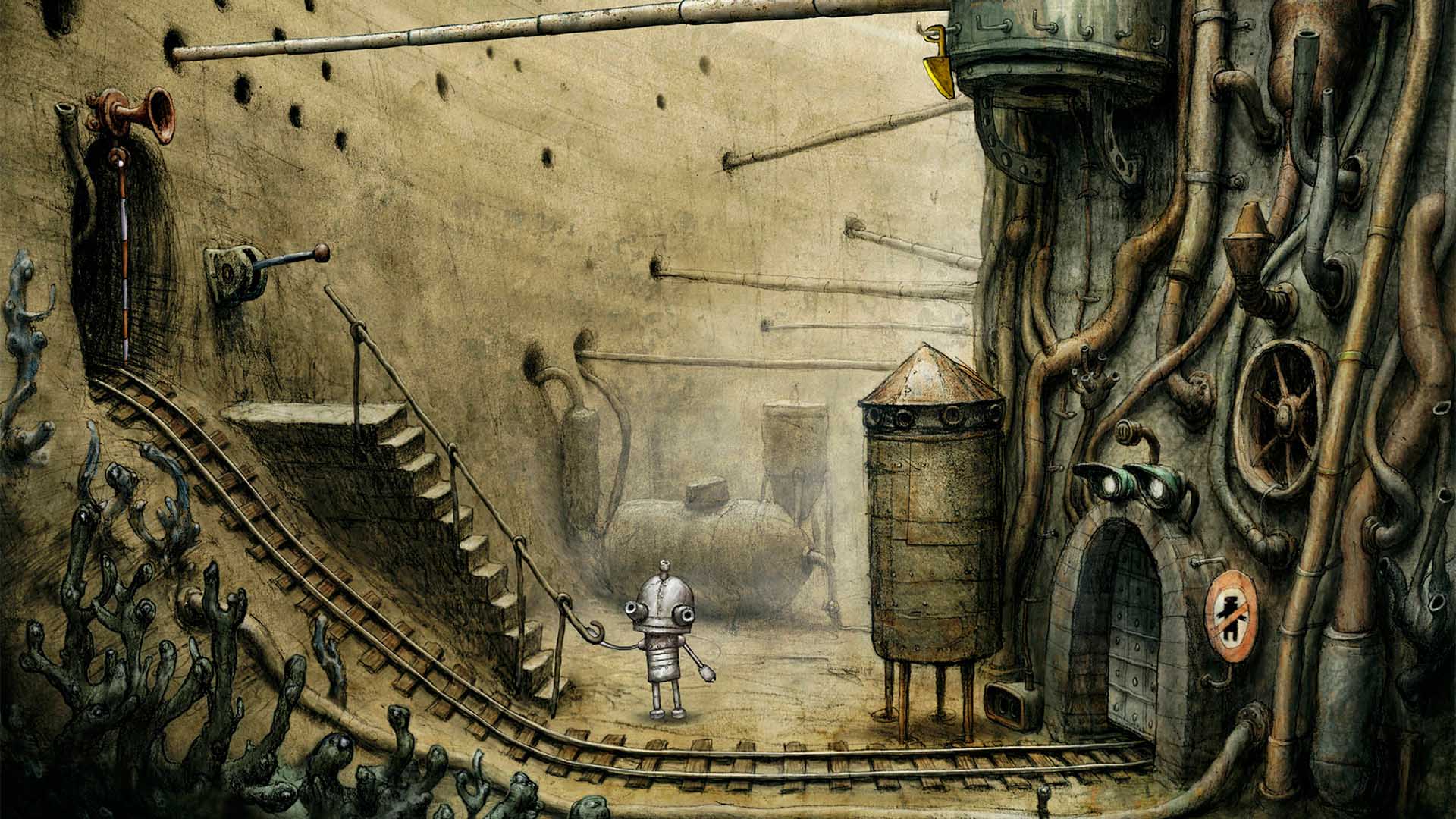 Soup to nuts (and bolts)  
8) Broken Age
Tim Schafer made his long awaited return to his adventure game roots with this 2014 title. The game's big story feature was its dual narrative that players could switch back and forth between as they pleased. The stars were Vella and Shay, two teens in wildly different settings but whose paths bore thematic similarities.
Production brought together both Schafer's veteran experience in game design and the recent developments in the field. With both these facets, Broken Age had at once the familiarity of old titles with the flair of modern games.
Following a record breaking Kickstarter campaign, the game pulled in nearly 3.5 million dollars. This level of interest was a testament to the continued interest in the adventure game genre. And with it, Broken Age and Double Fine Productions proved themselves a force to be reckoned with.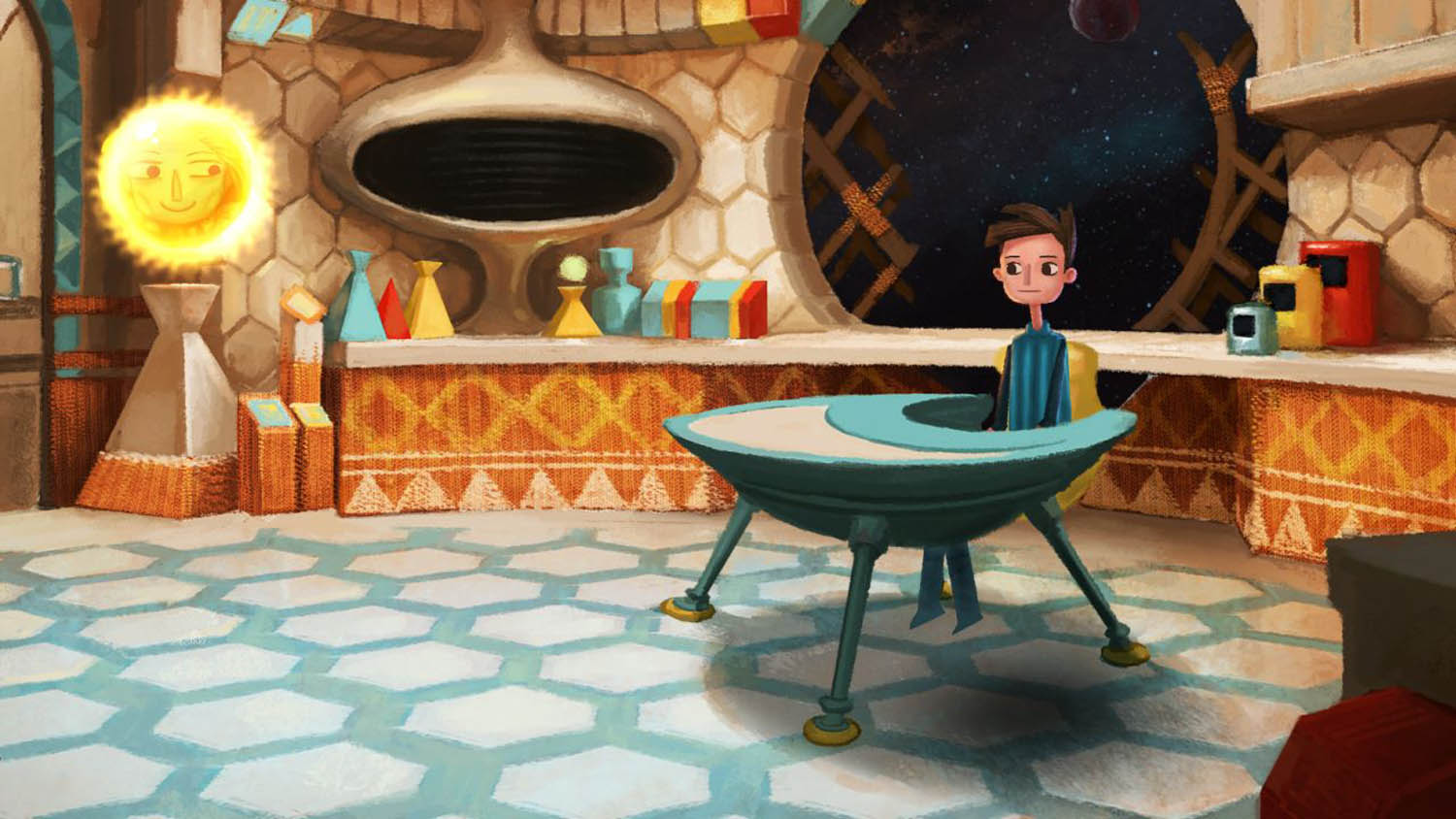 Big adventure, mundane beginnings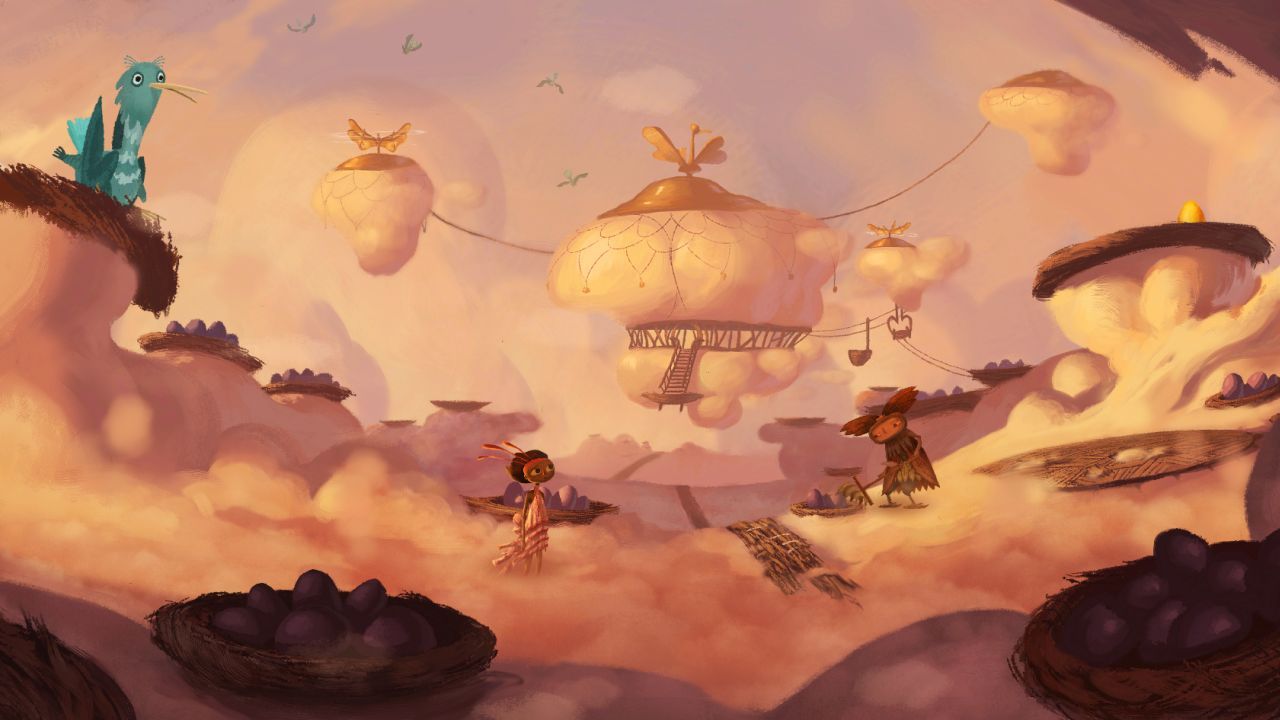 Can you feel it coming in the air tonight (oh lord)  
7) The Longest Journey
Where futurism meets art nouveau, and fantasy meets the abstract, you'll find The Longest Journey. Character April Ryan struggles with many familiar problems: daily life, debt, socializing. Less familiar is the role of savior to two worlds being thrust on her.
With a genre mash-up of a setting, The Longest Journey takes players to the very edge of imagination. For the extra curious player, the game is sure to reward them with a wealth of world-building facets in abundance. Even more casual gamers will find that the game satisfies their adventure craving as well.
More or less standalone, companion games have since popped up. These serve more as supplements within the same setting rather than a conventional sequel. And if you find The Longest Journey proves captivating, you may yet come back for more.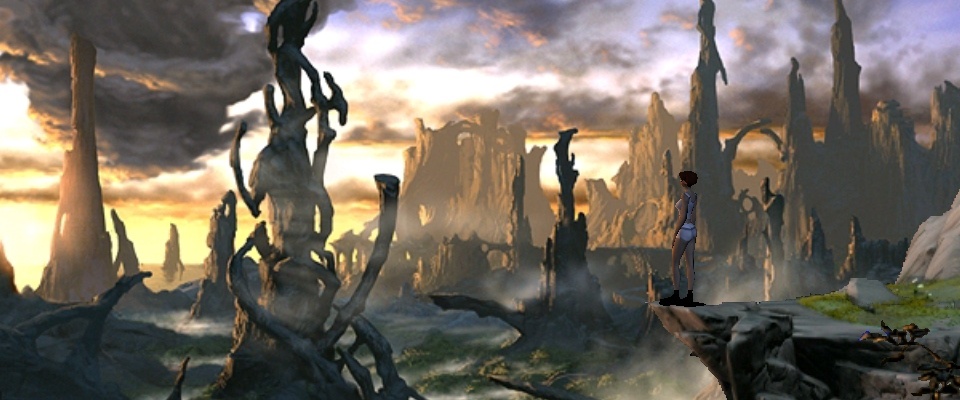 This is only the beginning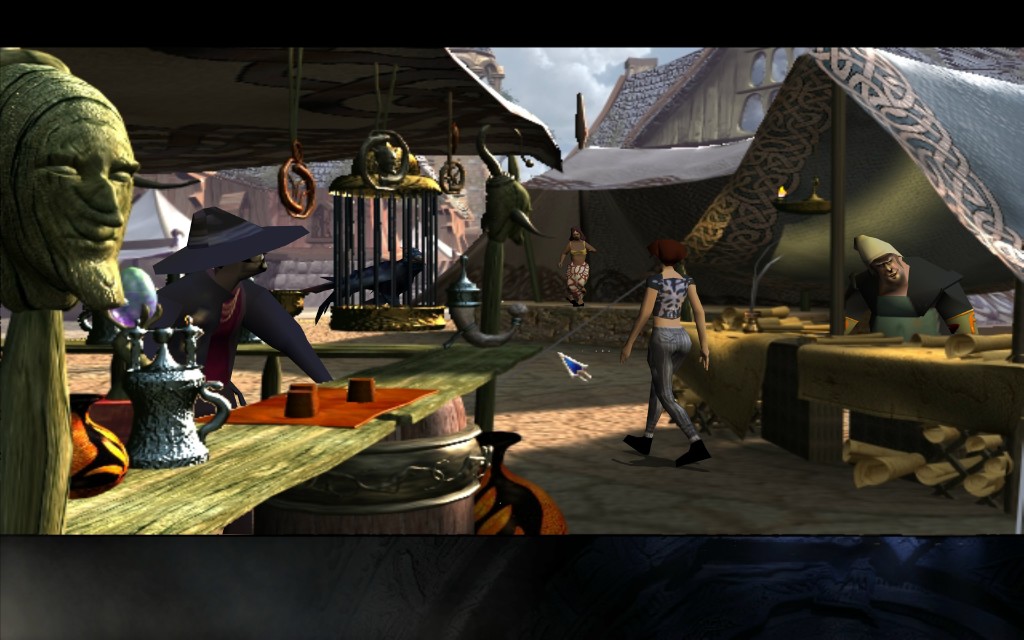 How bazaar, how bazaar  
6) The Curse of Monkey Island
By the time it had hit its third entry, the Monkey Island series was at a point when LucasArts was reaching new levels of refinement. Gone was the pixelated art style and in its stead was lush animation and visuals. The series' patented brand of humor still remained, and all the better for it.
Along with other hallmarks of the series, there was the tried and true insult fighting. The puzzles themselves also reflected the ridiculousness of the game, which to the average gamer may have been too obtuse. Fans of the series on the other hand had come to expect these breaks in logic.
Despite the absence of series creator Ron Gilbert, The Curse of Monkey Island still proved to be a crowd pleaser. Gilbert himself would praise the game for successfully carrying the torch for the franchise. It would also be a turning point for LucasArts, who gradually developed less adventure games in the following years.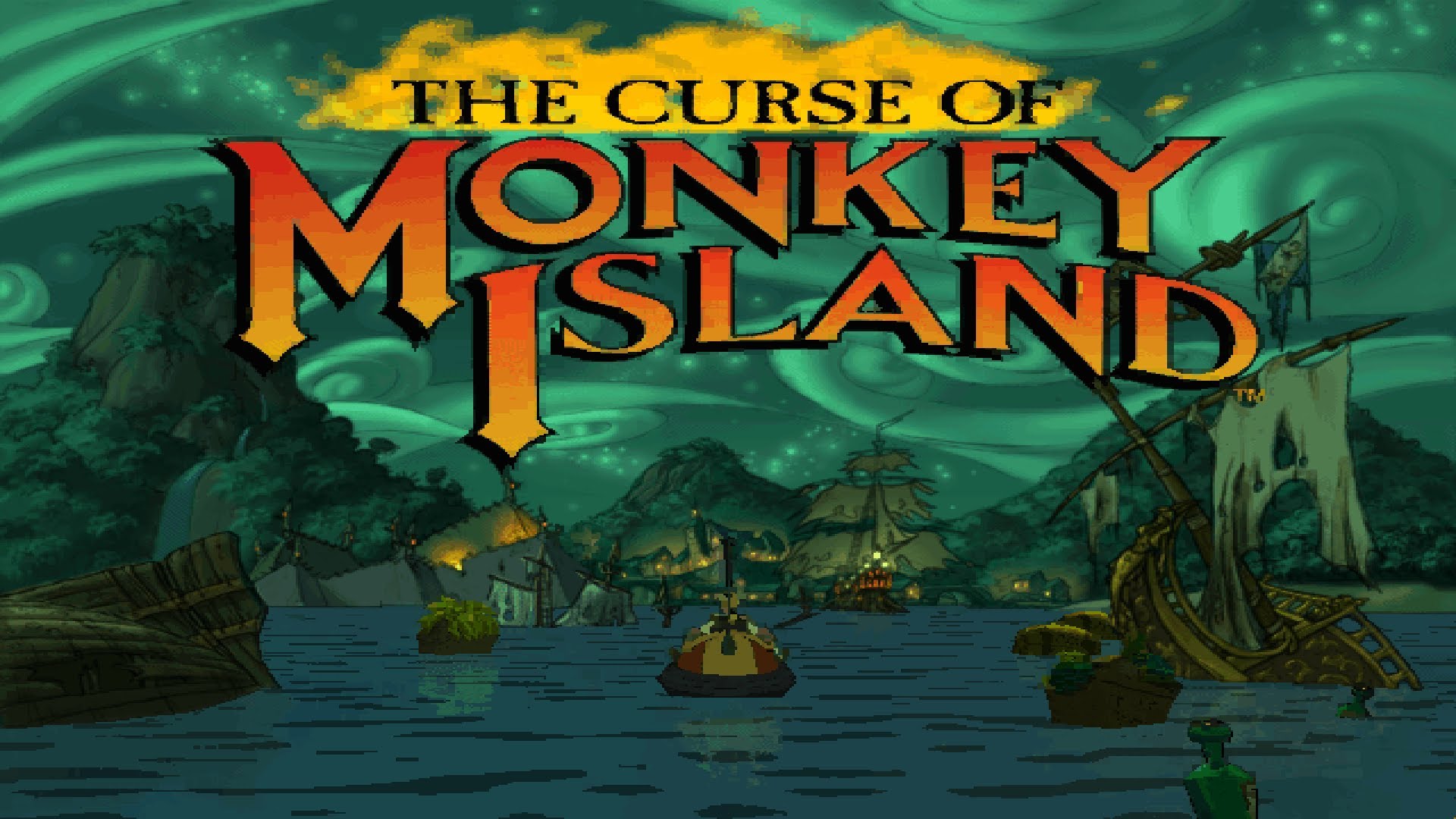 Guybrush makes quite the entrance
Conversations with skulls, otherwise pretty par for the course  
5) The Walking Dead Season 1
The Walking Dead Telltale Season 1 Episode 2 Walkthrough Gameplay Part 3 (No Commentary) (TWD S1)
This is the game that reinvigorated Telltale in the eyes of the gaming world. Against the backdrop of a zombie outbreak, one man, Lee, not only fights for his survival but finds redemption for his past life. And that comes in the form of protecting Clementine, the future star of the series.
The Walking Dead's premiere season changed the landscape of emotional investment in games. With its multi-tiered story, players felt the impact of choice like they hadn't before. And almost every choice packed a gut punch.
Walking Dead set the standard by which Telltale would follow to varying degrees of success. But there's no denying the impact the original still makes to this day. And even though Telltale closed its doors last year, the flagship franchise still chugs along for one last season.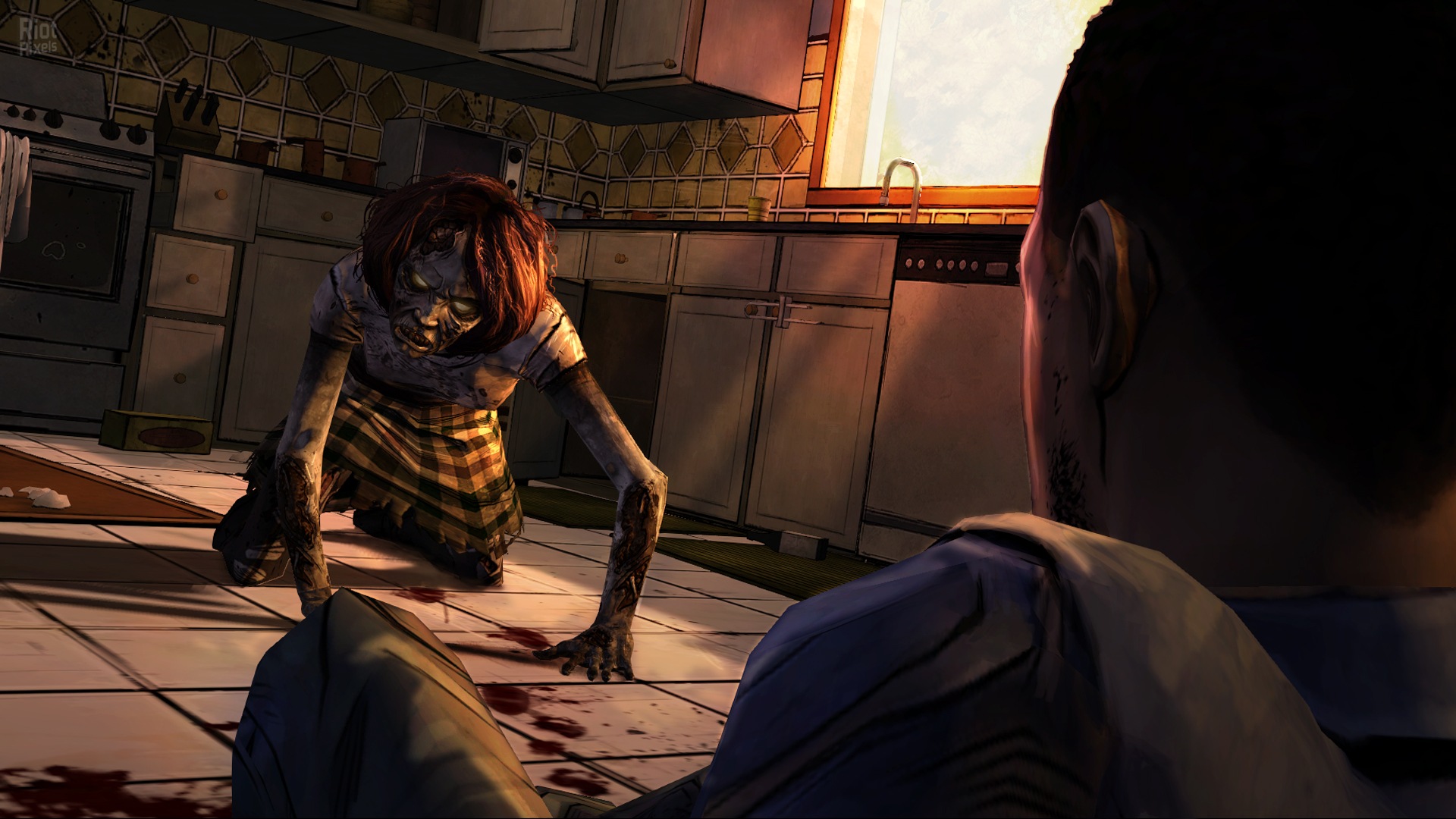 Don't tell Mom the babysitter's undead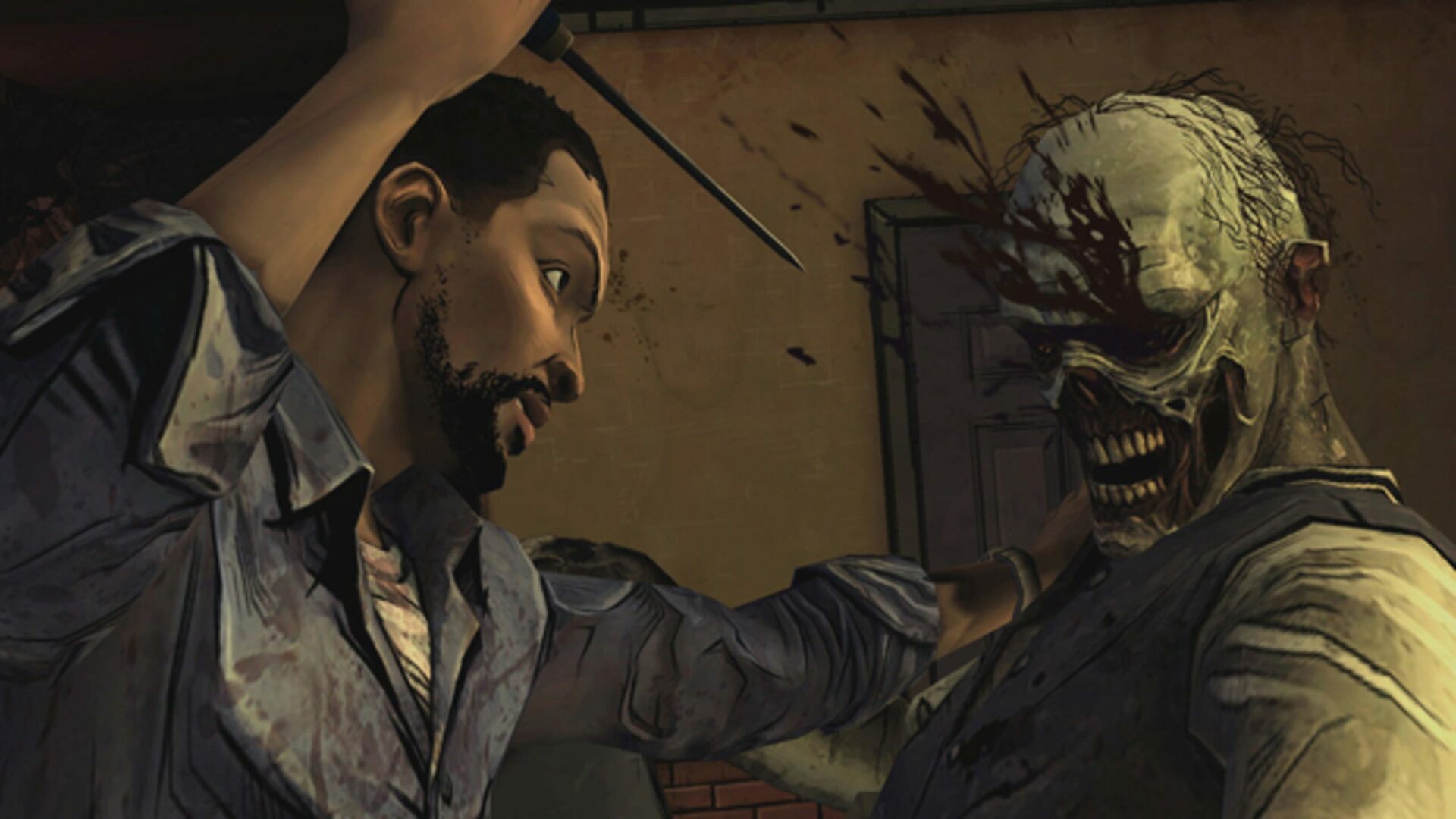 A bloody good time to be had by all  
4) Day of the Tentacle
Coming off the acclaim of the Monkey Island series, mainstays Tim Schafer and Dave Grossman turned their attention to LucasArts' first original property. As a follow-up to 1987's Maniac Mansion, Day of the Tentacle brought more of the team's unique humor-based gameplay. With a plot involving mutating appendages, time travel, and historical parody, the absurdities pile on one after another.
And much like Maniac Mansion before it, Day of the Tentacle allowed players switch between three different characters and settings. By doing so, the player uses one setting to solve a puzzle in another. All the while, the game's many comedic layers gave a lot to explore and replay.
With the release of the remastered version in 2016, the cult classic game has been opened up to a new generation of gamers. Featuring updated graphics and sound design, this modernized version also allows players to switch back and forth between the versions. For all gamers alike, every player can both revisit a classic title and discover a fresh take on an old favorite.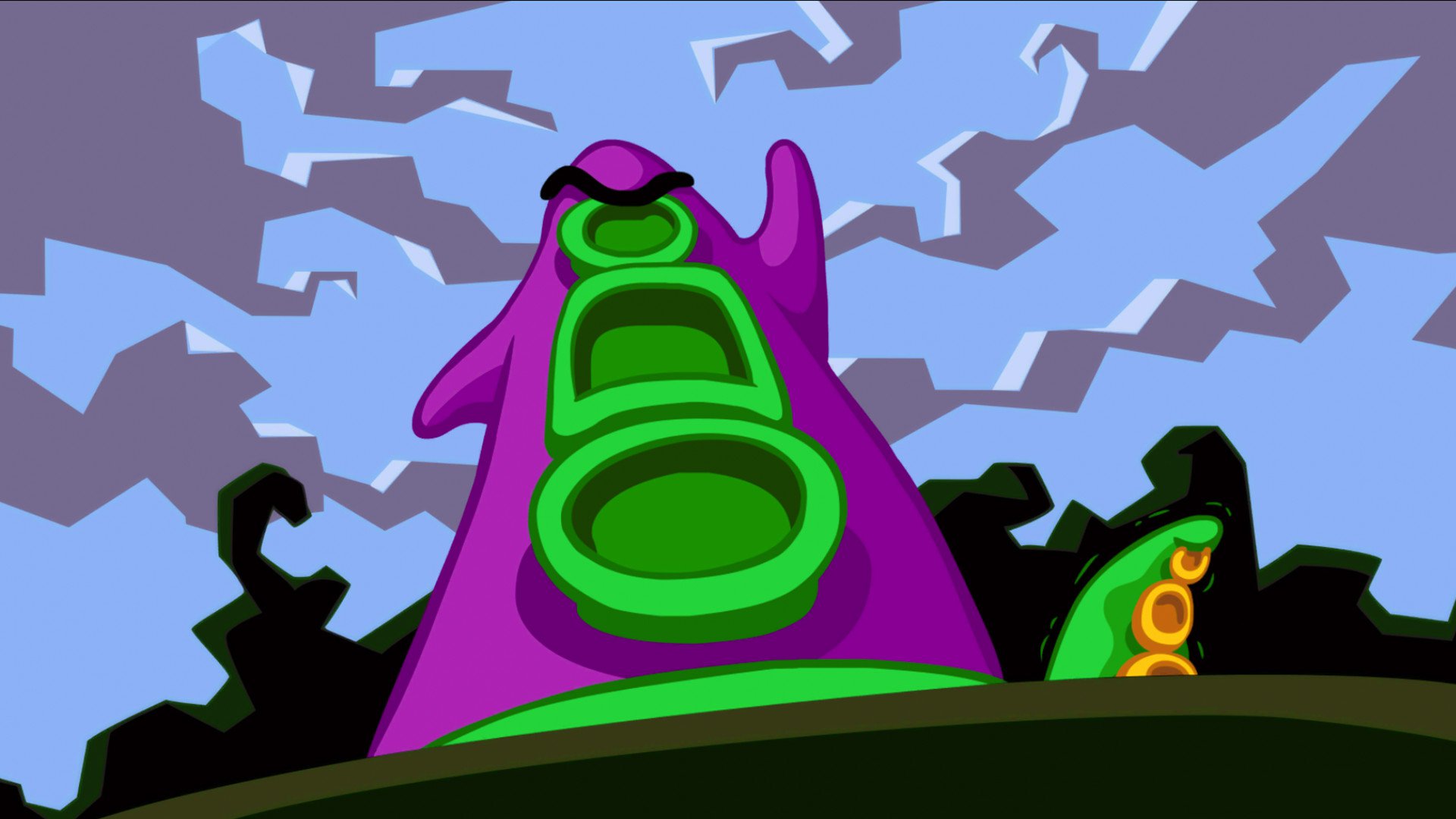 Every tentacle will have its day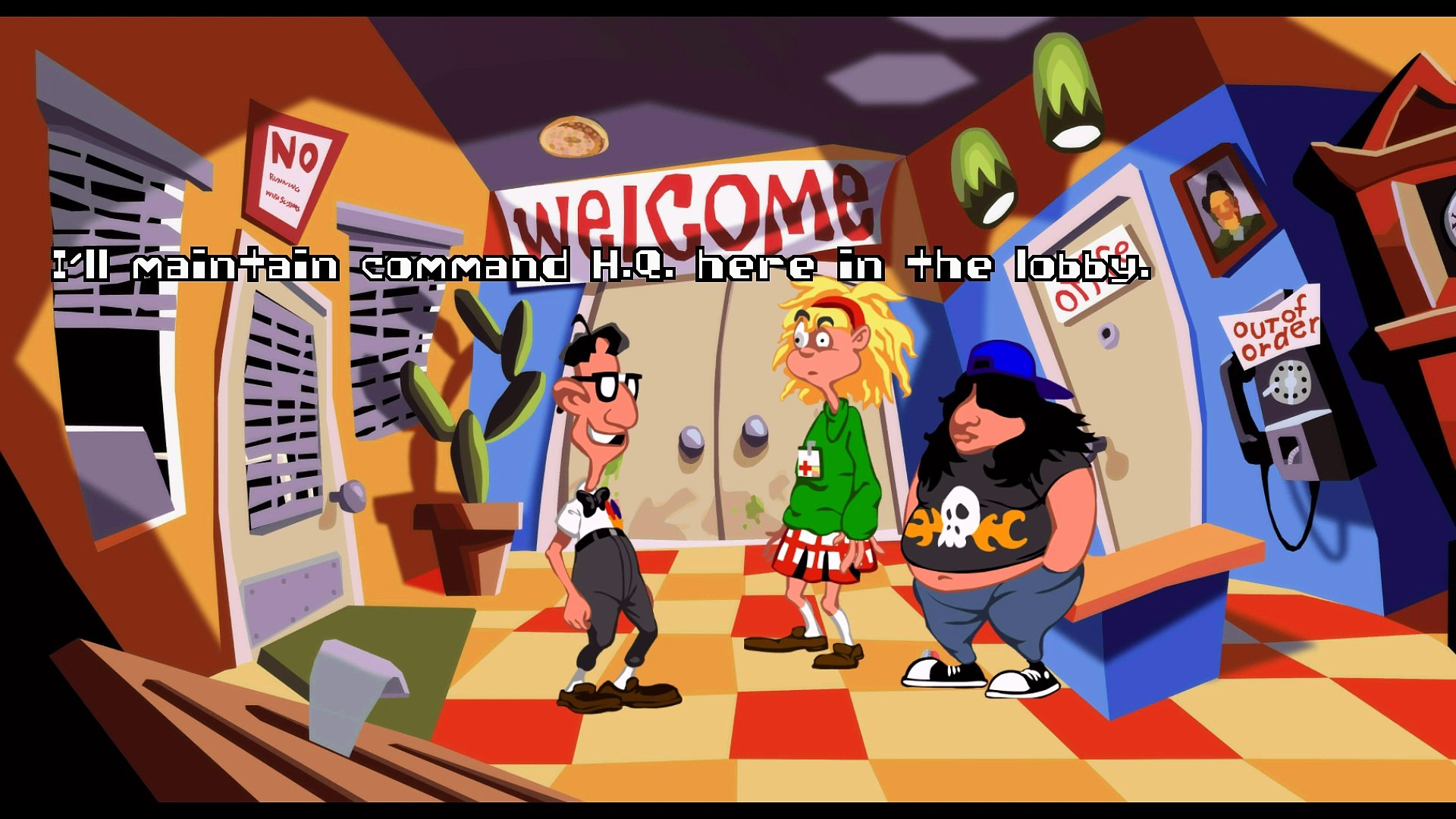 Avenge the nerds  
3) Syberia
What starts as a routine job for legal worker Kate Walker turns into a full-blown, life changing journey. In an effort to track down a reclusive heir, her travels take her across the fictionalized Syberian landscape, and along the way her paths cross with all manner of characters and unusual animal life.
Syberia is at once both haunting and captivating. Its story brings back feelings of childhood wonder and curiosity. Much like the game's protagonist, players may yet find their belief renewed in worlds still awaiting discovery.
With two follow up entries, fans may get enough of a taste to follow Kate's exploits further. What you find there may yet reach a satisfying conclusion for her story. Either way, the first entry is well worth any gamer's time.
Little town, it's a quiet village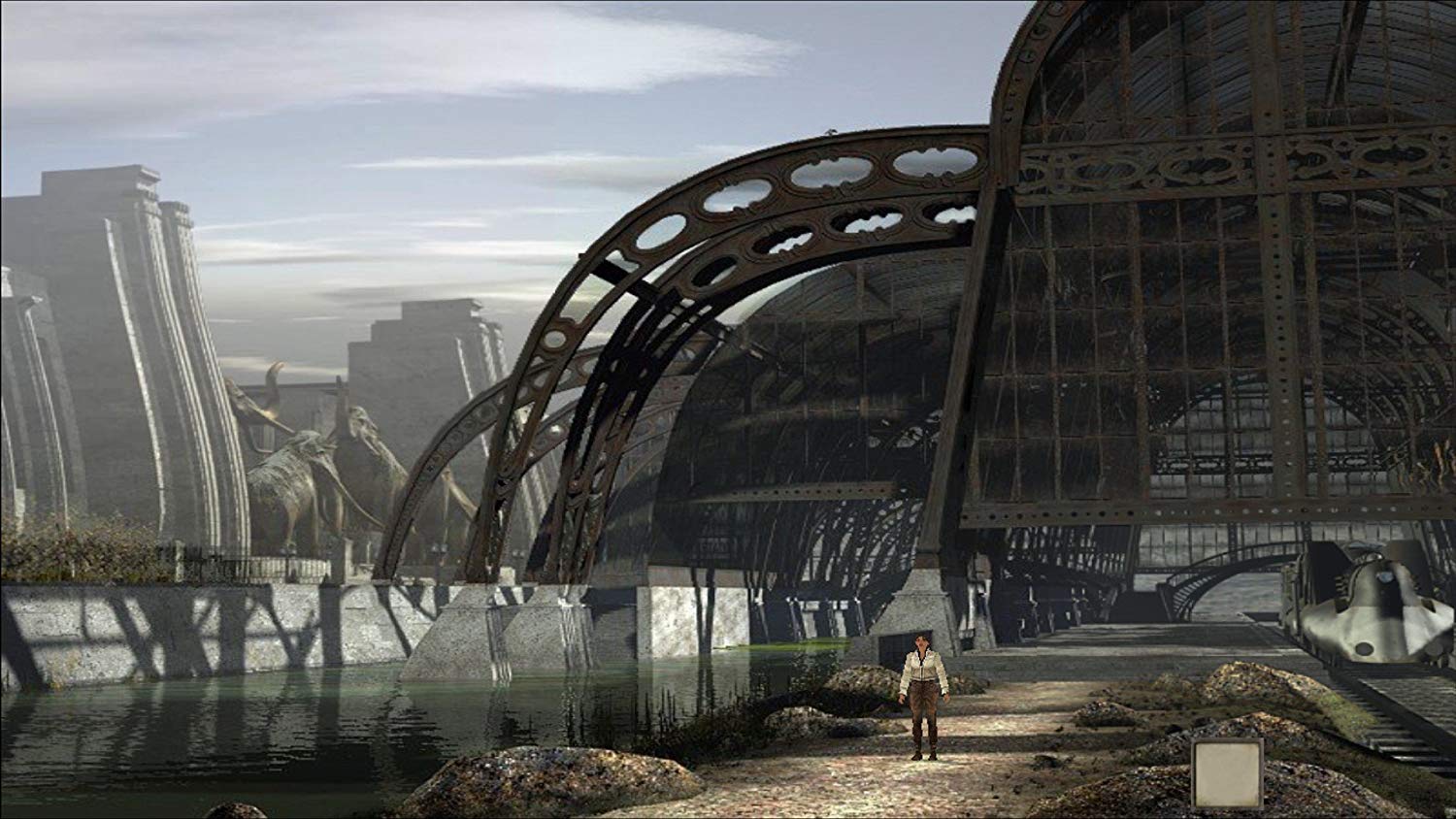 Rarely will any location not feel larger than life  
2) Full Throttle
In the classic struggle of anarchy versus corrupt capitalism, one lone biker makes a stand against the corporations that would exploit the American dream. Ben Throttle is the archetypal man's man: chiseled physique, five-o-clock shadow, and a sweet ride. And now he's got a bone to pick with a sleazy businessman.
In a stark departure for the usual fare of adventure games, Full Throttle injected things with a healthy dosage of testosterone. While a bit on the short side, the comparatively shorter length works for the game's action-oriented pacing. With a hard-hitting take on things, Full Throttle works as an entry point for those previously uninterested in point-and-click.
Informing the grittier take of his later projects, Tim Schafer's directorial debut still stands above its peers. As badass as ever, Full Throttle made for an unusual, but nonetheless awesome, adventure game. And having its own remastered version widely available, you have no excuse not to take things for a spin yourself.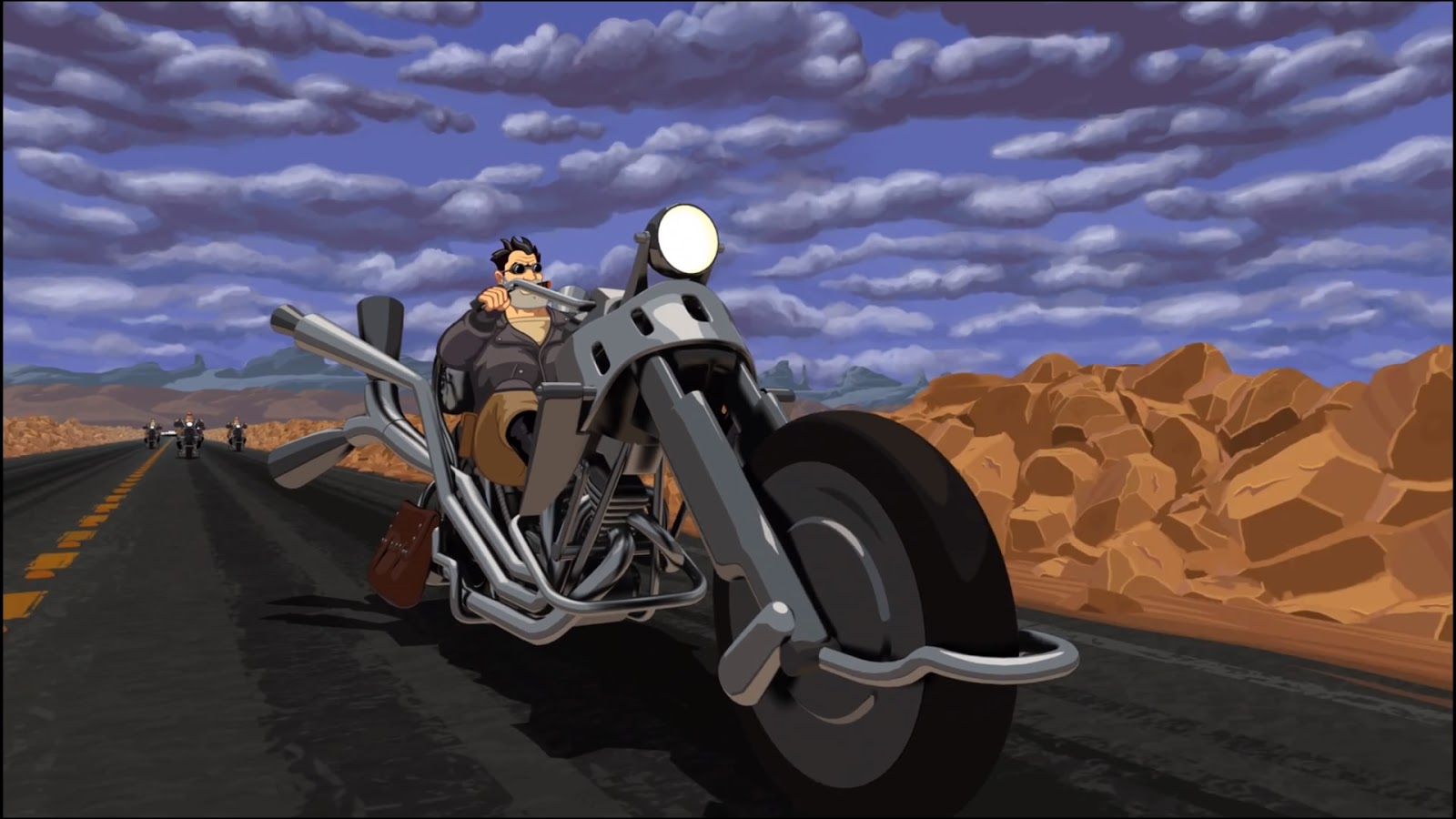 Ben Throttle in his natural environment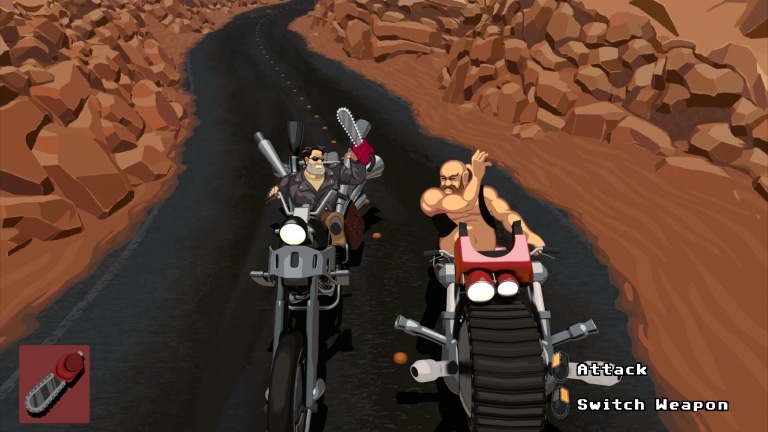 Nothing tops motorcycle combat with a chainsaw  
1) Grim Fandango
Even in death, the daily grind of the working world still follows. Such is the fate for Manuel "Manny" Calavera, a working class reaper trying to make ends meet. Though what he doesn't know may get him killed. Again.
Featuring much of the wit and imagination players had come to expect from LucasArts, Grim Fandango still remains a hit. With cleverly implemented gameplay elements, the adventure never loses a beat in this death-defying caper. The land of the dead has never been livelier.
Tim Schafer's critical darling would prove to be the swansong for LucasArts' adventure games (barring Escape from Monkey Island the following year). And despite industry accolades and awards, sales sadly didn't meet expectations. But with a massive cult following behind it, demand was eventually met with a remastered version in 2015.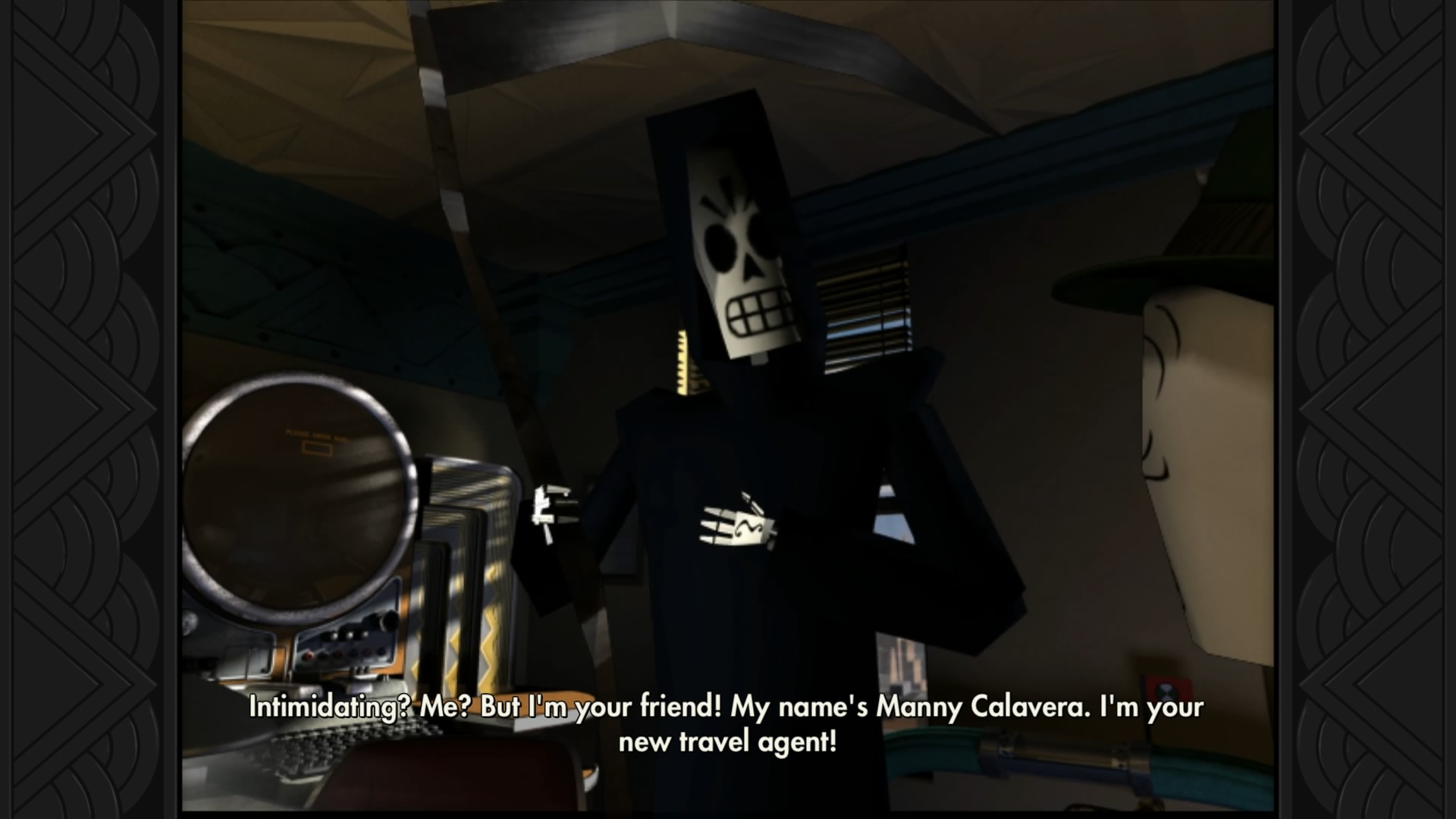 The land of the dead, where solicitors are welcome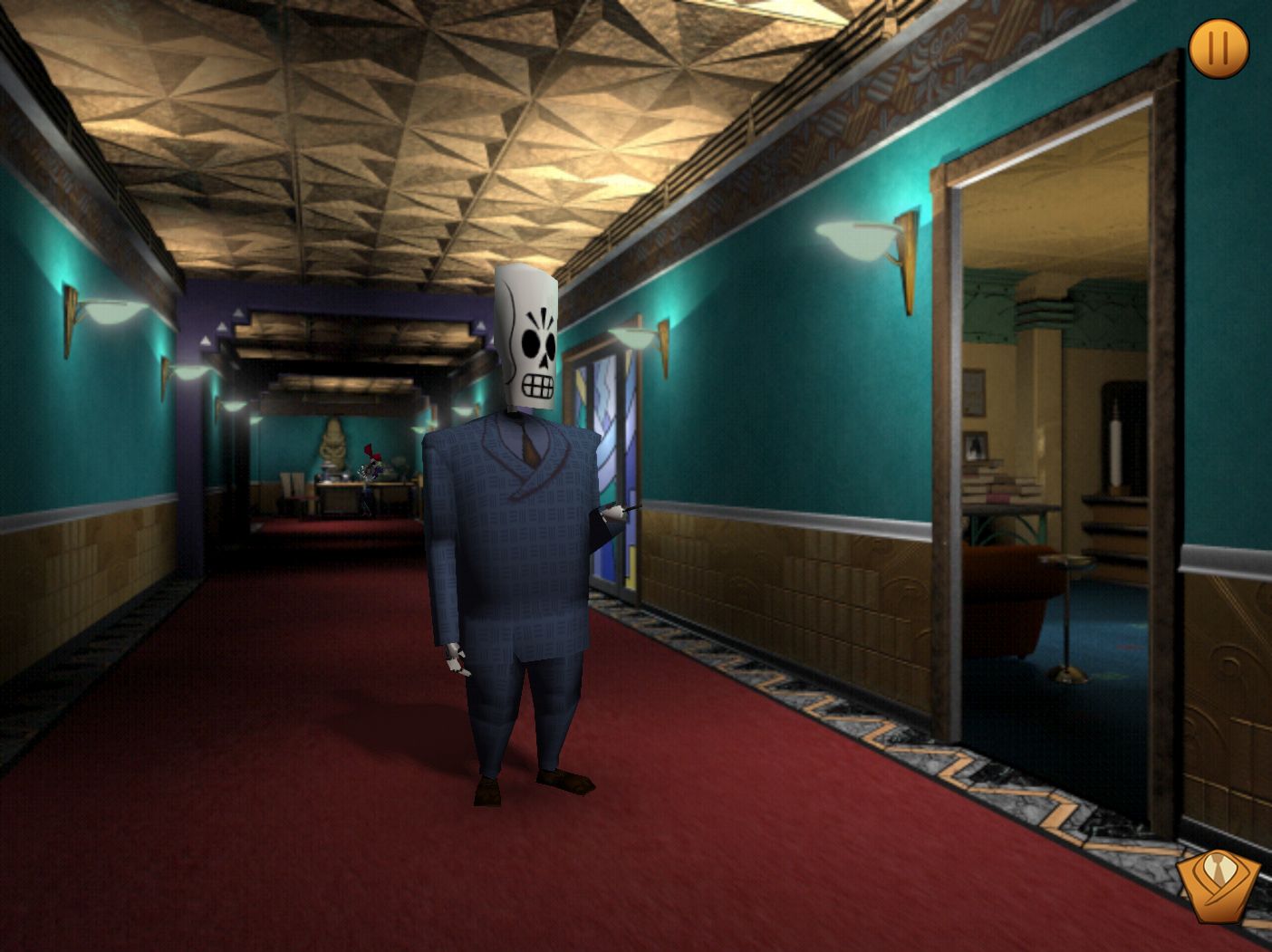 Dead men do wear plaid after all
You may also be interested in:
Image Gallery