[Top 10] Death Note Wallpapers That Are Awesome.
Updated: 04 Nov 2021 11:38 am
Missing Death Note so much you could die yet you can't watch it again? Here's 10 awesome wallpapers to help.
Every scene of Death Note plays out like an awesome wallpaper! But after watching it for the 107th time… psssht no, you watched it 107 times… ha … I just want a still-life reminder. Don't you? Cue 10 of my favourite epic wallpapers based on one of my favourite Animes! Enjoy, fellow investigator!
10. KAMIII!!!

Light and Ryuk the Gods of the Deathnote
The God of the new world!! As Light himself wants to be. He wants to "Delete" all evil and rule over the survivors!  All that management of underlings tho? Yet here his perfect dream is displayed. And I must say he looks incredible! His jawline is so much more chiselled. Who's your surgeon, man? Just look at Light as a celestial being reaching out to his Shinigami God.  I can definitely see him hanging this up in his evil lair (uhm, *cough* bedroom)! Yup, he never actually gets an evil lair. It's his mind. Or the cops' workplace. Whatever. He'd probably want Ryuk removed though. Ey, at least Light has self love down. Anyway. This is too dramatic to forget! 
Download here:
https://cdn.hipwallpaper.com/i/62/76/OE1x8k.jpg
9. THE ULTIMATE QUESTION

L using his big brain to figure out if Light is Kira
IS LIGHT KIRA?? Well, spoiler alert L, yes he is. We know this from the first misguided steps of episode 1. But it is impressive how this question drives so much of the show! Everyone suspects Light at one point. Even his dad! Ouch! This beautiful background is a nod to L's epic thought processes. Twisting swirls of constant deduction! He was the one person who stuck with that question.It also revives the mind-dance of curiosity this "outsmart him" show created for the investigators and viewers!
Download here:
https://cdn.hipwallpaper.com/i/96/32/gMIl1f.jpg
8. BAD APPLES!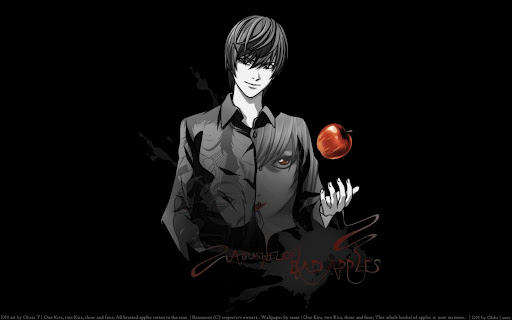 Yagami Light juggling an apple like he does murder and schoolwork
This show!! It just has a whole lot of bad apples "trying to do good". And damn, aren't they good at it! An elegant collage of our main baddies is a well-needed reminder. They kick ass like Rocky Balboa! But with a pen, notebook and big brain moves! While I wanted them to GO DOWN! They were incredibly intelligent  in their own right. So, respect dudes! 
Download here:
https://cdn.hipwallpaper.com/i/79/60/PSI58r.jpg
7. ROLL THE DICE
The investigator who ends it all, luck and smarts were on his side.
"What will you do now Kira?" For N, rolling the dice is no gamble! His masterful revelations are always spot on! Never doubting his logic, he wraps up the  adventure of Death Note with a neat bow. Look at the gorgeous stormy blues surrounding a super cool Near. They know exactly what is up. And now, so do we.
Download here:
https://cdn.hipwallpaper.com/i/56/26/EwX1cd.jpg
6. ANGEL OF DEATH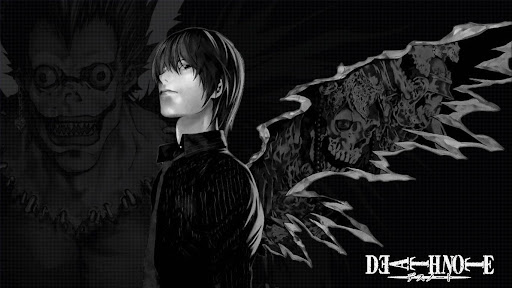 Light, the human angel of death.
Light Grows a power akin to the Angel of Death! With Ryuk helping, duh! Writing out the deaths of almost anyone he wants with a flicka da wrist. He becomes such a force to be reckoned with!  We don't have to root for him all the way.  But we can appreciate this dark beauty of a portrait don't ya think? And what's not to appreciate? The mix of art styles and  shading capture your eye. That glossy, evil face!  Who knew murder is such a good moisturiser?
Download here: 
https://wallpapercave.com/download/desktop-death-note-wallpapers-wp6352895?nocache=1
5. PERFECT PAIR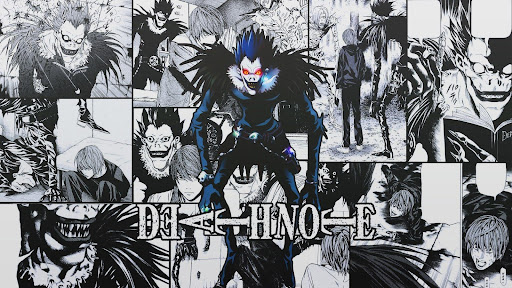 The perfect pair of murderers.
A manga-style strip of the show's most epic duo on their adventures? The two bakas who start and finish everything? Yes, please! Well here it is. The real main character, Shinigami Ryuk. With his human pet, Light. Going on a trip! Glorious in it's gory, simple lines. With a pop of colour to capture Ryuk's dark humour. This is sure to wake you up on the daily.
Download here:
https://wallpapercave.com/download/desktop-death-note-wallpapers-wp6353211?nocache=1
4. RACE FOR THE THRONE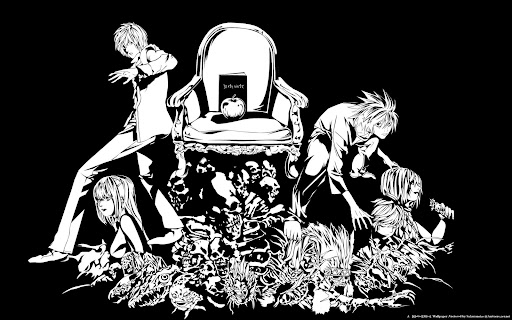 Who will get the Deathnote next?
Together, the cast of this fantasy scramble for the Death Note and its claims to the throne.Whoever finally holds it controls the lives or deaths of the people they name! That bookmarked finish line was worth the 37 episode wait! And I couldn't look away from the sprint! But finally, justice grabbed the notebook. Whew! This black and whitepiece is almost as dramatic as the race itself! And so, definitely deserving of a mention.
Download here:
https://wallpapercave.com/download/death-note-hd-desktop-wallpapers-wp6439425?nocache=1
3. "ACHIEVEMENTS"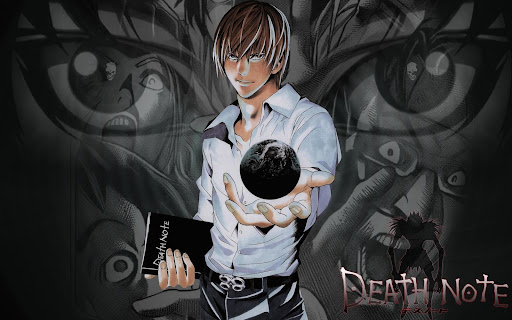 Light with his victims.
A cooly lit Light and his many victims fading into the background? What? This is a truly metal wallpaper! The haunting eyes he dares to turn from, stare directly at you! I'm cringing at it. I need a hug. Where's L? Oh, yeah… he's one of the victims! Uuuggghh! Give us more chase down of elusive evil, now! Or… we'll stare at this picture...?
Download here:
https://wallpapercave.com/download/death-note-hd-desktop-wallpapers-wp6439502?nocache=1
2. PUZZLE SOLVED!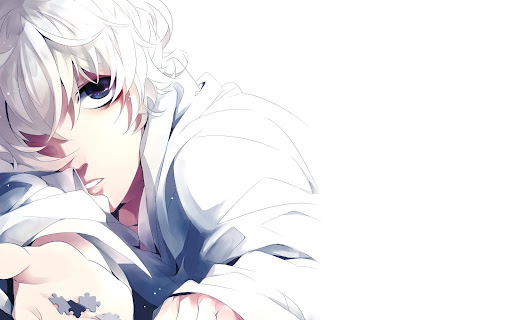 N with the last pieces of the puzzle.
In the end Near clicks the pieces of Kira's hectic plot together. He saves the day! Then we can all breathe. And celebrate good times, oh yeah! What's the best way to celebrate the 6 year puzzle being solved?  Create a gorgeous portrait of the solver! Near's brilliant, innocent and light vibe is so perfectly captured here. Wow. *sighs out all tension* Don't you think you could stare at this all day? Well, now we all can.
Download here:
https://cdn.hipwallpaper.com/i/21/31/JqZtN4.jpg
1. OH, BEAUTIFUL L!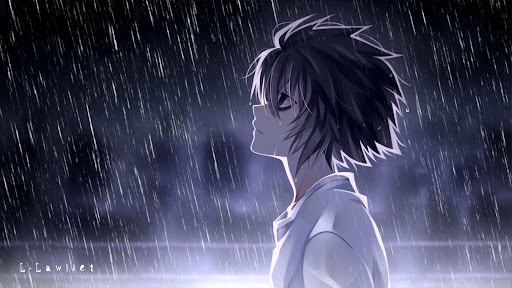 L on a rooftop in the rain.
I'm totally crying as I look at this… yet it's already my screensaver! Why did L have to die!? And why did he have to be so loveable!? Ryuzaki, in some of his final moments, reflects in the rain. This is one of my favourite scenes! And now it's recreated in an awesome, soft art style - this is just too much! Here! You have it's grief and joy and beauty!! May it bless you with the grace of L.Lawliet!
Download here:
https://wallpapercave.com/download/death-note-hd-desktop-wallpapers-wp6439403?nocache=1
Related Articles:
[Top 15] DBZ Best Wallpapers Of All Time
The 10 Best League Of Legends Wallpapers
The Top 10 Best Skyrim Wallpapers