FIFA 20 Best Atmosphere [Top 7]
Updated: 14 Mar 2020 4:21 pm
The best stadiums with the best atmosphere.
A good atmosphere can be the difference between winning and losing on FIFA 20.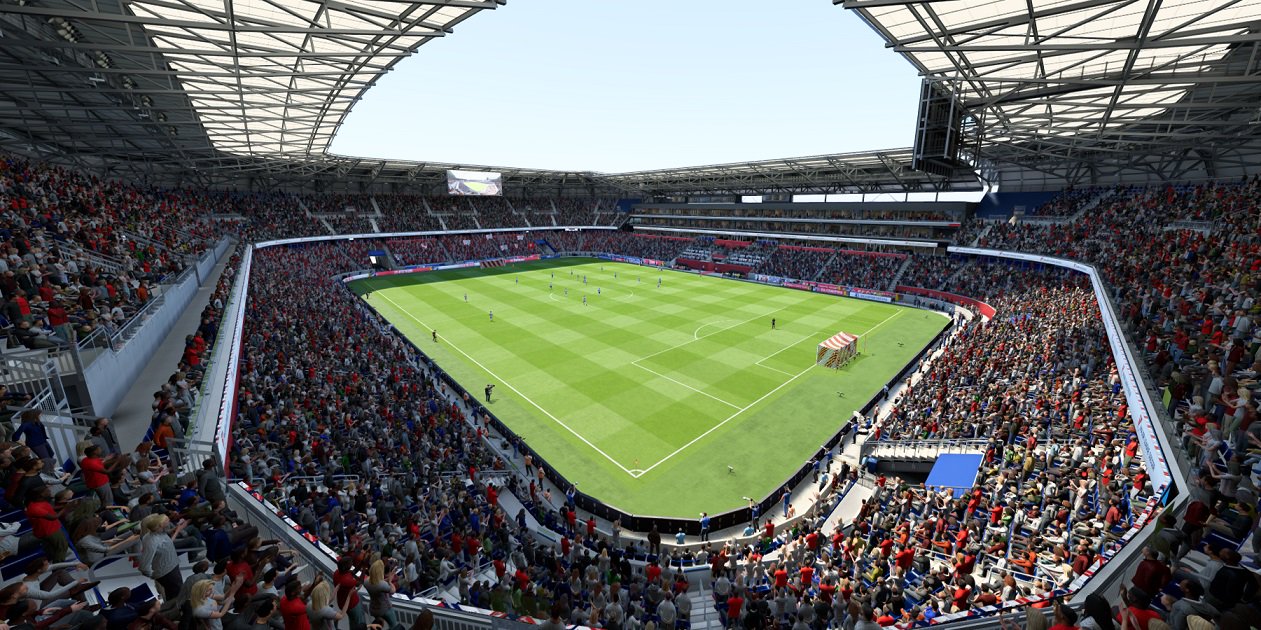 Atmosphere is everything on FIFA 20.
Even the best of teams sometimes need their home crowd to boost them over the finish line, and even the worst teams can sometimes become underdog legends thanks to  great support and atmosphere. These facts are true for real football and on FIFA 20. Now your question is what stadiums give me the best atmosphere on FIFA 20? Well, you need to look no further as this list will guide you to those stadiums that will be the difference between victory and defeat. 
7. London Stadium
This stadium has an Olympian atmosphere. 
When West Ham United left Upton Park for the home of London 2012's Olympics, many football fans doubted the atmosphere would be the same. Those fans have been proven wrong, as whilst West Ham have performed miserably since moving to their new stadium when they have played well the place has been rocking and it would be no different for you on FIFA 20. 
An impressive set of 60,000 seats means you will have plenty of fans cheering you on. 
Being the home of the incredible Olympics only helps magnify your achievements and the atmosphere created by the fans even more. 
The London Stadium is the newest ground on this list, which means the architects will have designed it with creating the best atmosphere for players in mind. 
London Stadium full details - https://www.fifauteam.com/fifa-20-stadiums/london-stadium
6. Old Trafford
This 'Theatre of Dreams' will become a nightmare for any visiting opponents.
No best atmosphere list would be complete without the 'Theatre of Dreams' itself. English giants Manchester United's home stadium is one of the first many people think of when asked to pick the best stadium in the world. These fans are known for their passion and they would be brilliant to have on FIFA 20. 
Having a capacity of nearly 75,000 seats makes Old Trafford a mammoth of a stadium. 
Old Trafford only has moderate shadows meaning you can see the field of play easier. 
The Stretford End is famous for its vocal and passionate fanbase that is sure to shout you on to victory on FIFA 20. 
Old Trafford full details - https://www.fifauteam.com/fifa-20-stadiums/old-trafford
5. Santiago Bernabeu 
If this stadium is good enough for Real Madrid, then it must be good enough for you on FIFA 20.
The Santiago Bernabeu is perhaps the most impressive stadium in Spain and that means it has the country's best atmosphere. Real Madrid's fans are famous for telling players what they think of them,every football fan remembers seeing the stadium rise to its feet to clap rival Barcelona star, Ronaldinho. This stadium is brilliant for creating atmosphere on FIFA 20. 
85,000 fans will fill this stadium every week to cheer your team on. 
These fans are used to plenty of trophies so they know how to roar a team on to victory. 
The Bernabeu was recently renovated in 2011 to improve the atmosphere even further. 
Santiago Bernabeu full details - https://www.fifauteam.com/fifa-20-stadiums/santiago-bernabeu
4. Wembley 
Wembley is the home of football, so it makes sense to be your home on FIFA 20.
What best atmosphere list would be complete without the mention of perhaps the world's most famous footballing stadium, Wembley. The home to the finals of all of English football's major competitions as well as the national side. This stadium is an icon of football that has seen countless displays of fantastic support. It should definitely be in your consideration for FIFA 20. 
Wembley has the biggest capacity on this list with over 90,000 seats. 
Wembley is one of the newest stadiums on this list, meaning atmosphere played a strong role in the design process. 
Wembley is the ground where legends of English football are made and destroyed, and the feisty and ferocious atmosphere is a massive part of this.
Wembley full details - https://www.fifauteam.com/fifa-20-stadiums/wembley-stadium
3. San Siro 
This stadium is iconic and you must consider it for your FIFA 20 home.
What is better than being the home stadium to a footballing giant? Try being the home to two footballing giants. And that is exactly what the San Siro is as home to Inter Milan and A.C. Milan. Now if it's good enough for them it must be good enough for you. 
The San Siro has a capacity of over 80,000. 
A big benefit is that the San Siro cannot have the FIFA 20 weather condition of snow, which makes the game more difficult. 
Being home to two massive clubs means there are plenty of fans who will come and cheer your FIFA 20 team on. 
San Siro full details - https://www.fifauteam.com/fifa-20-stadiums/san-siro-fifa-20-stadiums/
2. Signal Iduna Park 
The black and yellow army will create an atmosphere like you have never seen before. 
Borussia Dortmund have one of the most famous sets of fans in world football, with their monstrous displays of flags and tifos being recognisable to any football fan. This black and yellow swarm of fans will surely push your FIFA 20 team on to greatness. 
Signal Iduna Park is consistently named amongst the best stadiums in world football, and the great atmosphere is a major reason for that. 
Signal Iduna Park is famous for its Tifos and these are a new feature for FIFA 20. 
Signal Iduna Park's capacity is over 80,000. 
Signal Iduna Park full details - https://www.fifauteam.com/fifa-20-stadiums/signal-iduna-park
1. Anfield
Anfield, with its world famous atmosphere, had to top this list. 
Last season Liverpool managed to win the most coveted prize in world football, the Champions League. But even the most positive of fans will admit they wouldn't have had a chance of overturning a 3-0 deficit against Barcelona if it was not for the Anfield crowd. The constant chants and support for their team lead to one of the biggest comebacks in history and it could do the same for you on FIFA 20. 
Anfield is a very historic stadium with fans that have consistently inspired great comebacks for generations. 
Anfield has a massive stadium capacity of over 53,000. Meaning you will have plenty of fans to cheer you on. 
Anfield has its famous song, You'll Never Walk Alone, on FIFA 20 to give you an extra boost. 
Anfield full details - https://www.fifauteam.com/fifa-20-stadiums/anfield
Also be sure to check out these articles: 
Image Gallery