[Top 10] FIFA 21 Best Bundesliga Teams
Updated: 09 Jul 2021 1:42 am
Neuer's German cold-bloodedness makes him one of the top keepers in the game
Are you ready to conquer Germany? These are the best Bundesliga teams for career mode in FIFA 21!
The bundesliga is one of the leagues with the most history in all of the European continent. They have steadiy remained as one of the top competitive ones by signing top players from across the globe and also consistently pumping out new youth talents from their ranks. If you love German soccer, this is the article for you! Keep on reading to find out what the best Bundesliga teams for career mode are.
10. Bayern München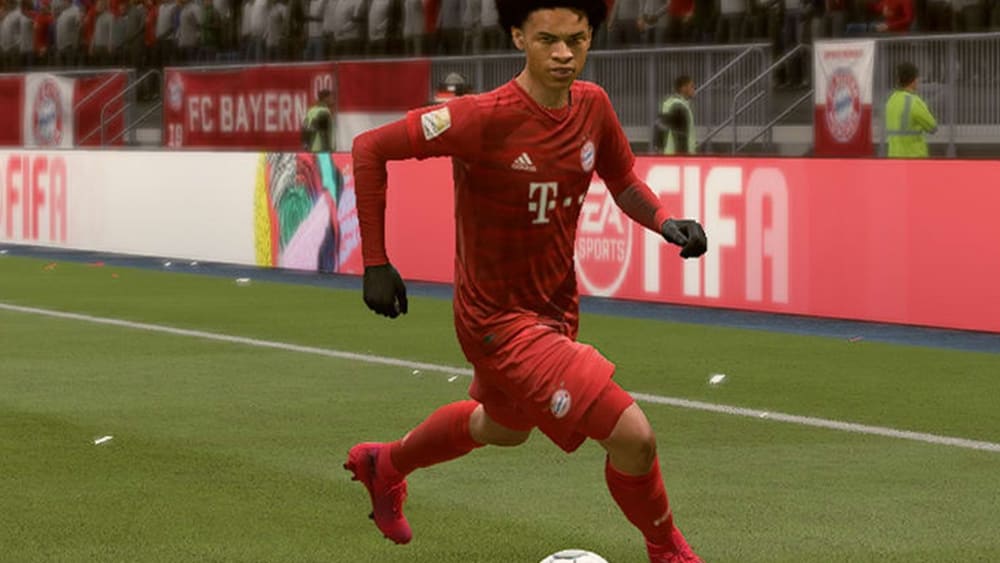 This image of Leroy Sane almost could not be uploaded because of its excess quality.
Bayern München is a complete machine in every sense of the word. They've won everything last season and are surely expected to do the same this year around. Are you the manager they need to make this happen? Do you feel you have what it takes? Let's see some of the things Bayern has to convince you to sign for them in career mode.
What Makes Bayern München Great For Career Mode
Unbelievable Squad: Bayern has one of the greatest squads in the game. Not only their starting XI is packed, but also their subs AND reserves. You can achieve great things with the already existing eleven with scoring beast Lewandowski (91) flanked by new signing Leroy Sane (85) and a solid midfield with Kimmich (88).
Formation and Tactics: Bayern's team is a highly attacking-minded one. One example is the young Canadian RB Davies, with a 96 pace, you'll want to unleash his galloping prowess down the line You will easily overpower your opponents with numerical advantage up front, making it really hard not to score goals.
Economic Power: Choosing a successful team has many benefits. One of them is having a large budget to use and buy players you personally like.
9. Borussia Dortmund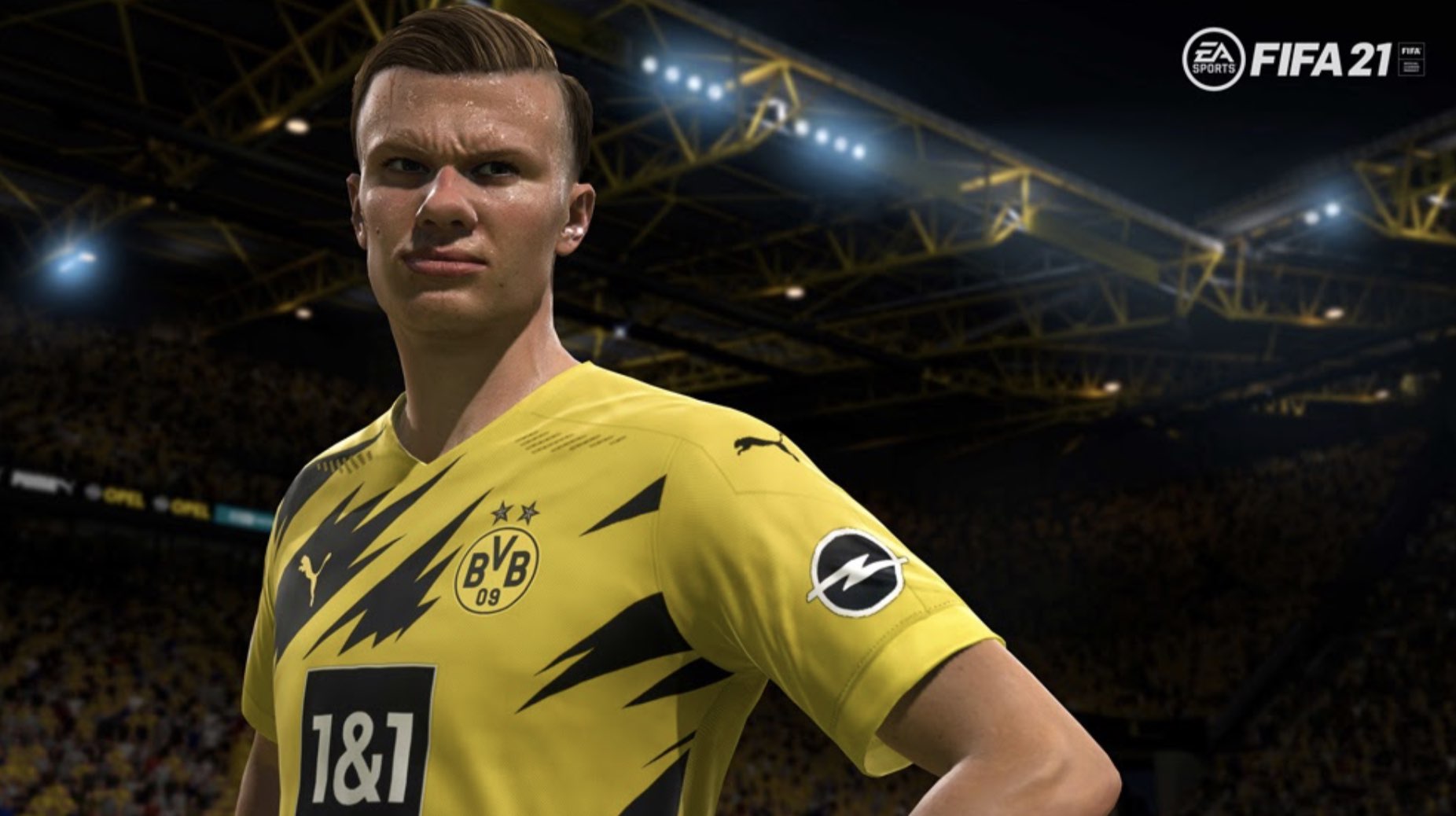 ​Haaland here looks like he is ready to destory your rival's defense. No mercy given. 
Probably one of the only teams that can stand up to powerhouse Bayern Munchen in the domestic league competition, Dortmund's sound financial decisions and top youth development and signings have positioned them as a top team to pick in career mode. This is a team perfect for you if you building up youth players and selling them later, or if you simply want to enjoy an already star-studded team. 
What Makes Borussia Dortmund Great For Career Mode:
Top Young Players: As you may know, when you manage a team you will get offers from other teams to buy your players. This is good if you are looking to revamp the team, but bad if you are happy with your current players. The good thing is you can est your negotiation abilities and try to maximize the amount of money you can get from selling your rising stars.
Big Decisions: If you enjoy the managing part of the game as much as the playing part, this is a great team for you. Either you use your skills to prevent big stars like Haaland and Sancho from leaving, or choose to take a chance and sell to later invest.
8. Schalke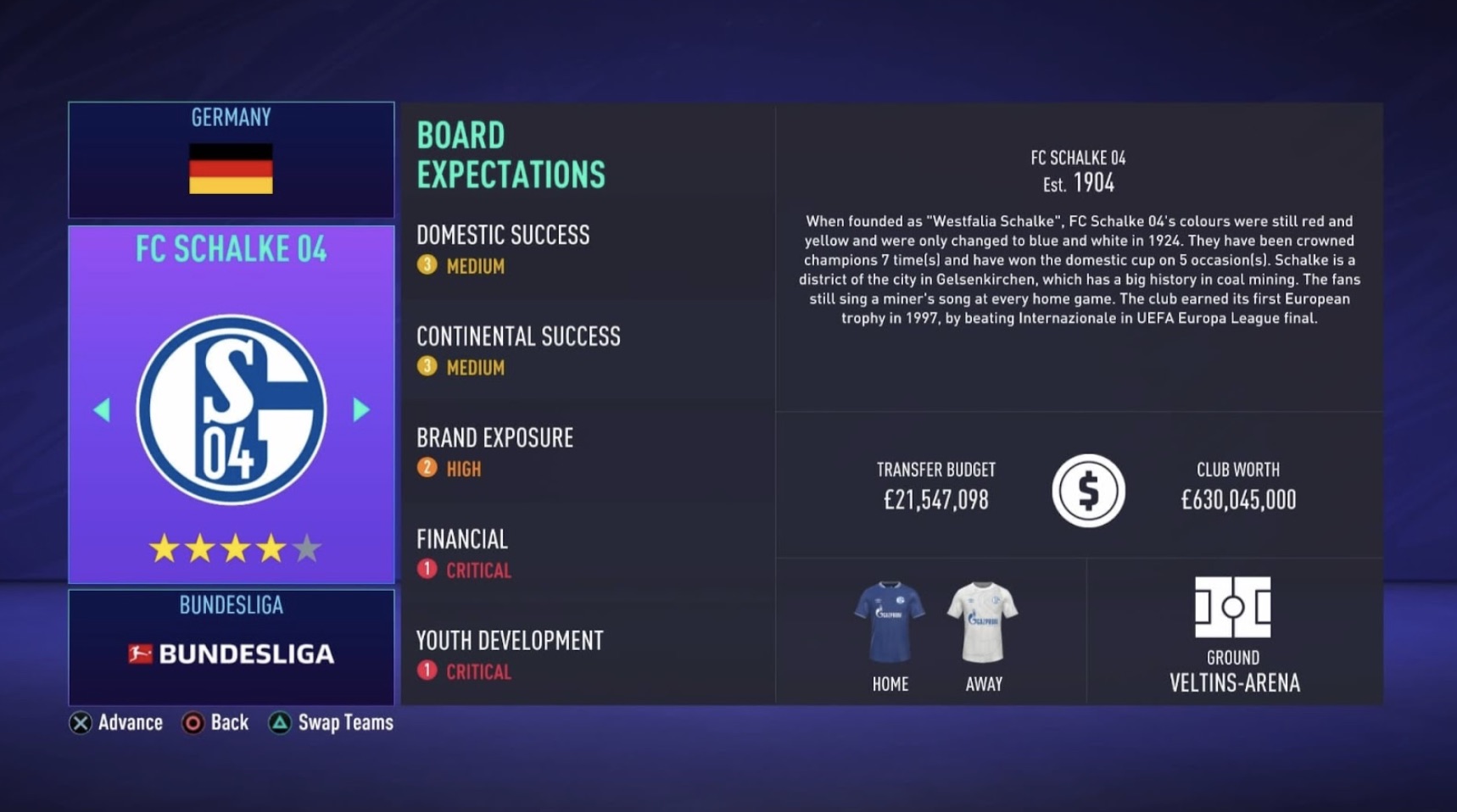 Shalke is ready to get back to the top. Are you the one to take them there once more?
Schalke might not be one of the top contenders in the Bündesliga, however, they do have something special about them. With a couple of interesting prospect players already in their ranks, Schalke is a team that would benefit from a little revamp. Their over 21 million transfer budget will easily allow you to overhaul this team and shape it to your liking. Be wary though, this team's priority is geared to financial success and if you are not careful, the board might not be too happy with you.
What Makes Schalke Great For Career Mode:
A Challenge: If you're like me and don't enjoy picking a team that is already well built and there is no real challenge, this team is great for you. Their average rated squad and budget, will force you to use your managerial skills to succeed with board expectations, and let me tell you it is really fun to sit and think about which decisions will make your team great and which decisions might end up hurting them in the long run. You truly get to appreciate career mode this way.
Rich History: Gone are the days where Schalke had Raúl and Huntelaar, two top strikers that took Schalke to the top of European soccer. However, this history is still in their DNA. They might not have one of the strongest squads out there, but their fighting spirit will definitely rub off on you and make you motivated to please the fans by making new great signings and bringing them back to the top.
7. Bayer 04 Leverkusen

There isn't a site a manager would enjoy more: his players celebrating and the fans going berserk at the back.
Bayern Leverkusen are another mid-table team with a lot of history behind their backs. Reaching their peak in the early 2000s when they reached the Champions League final against Real Madrid where Zidane scored that once-in-a-lifetime volley, Bayern have somewhat declined in power, but always keep their status as one of Bundesliga's most respectable teams.
What Makes Schalke Great For Career Mode:
Decent Squad: Their squad is made up of some big names, as well as some names you probably won't know unless you are a true follower. Names like Bender (79) and Chilean captain Áranguiz are some of the household names that already make this a very decent team. Additionally, their lesser-known players like Diaby (81) and defender Tapsoba (81)  are also very good despite their relative anonymity, plus, they have a high potential for growth.
Medium to Low Board Expectations - Leverkusen has relatively relaxed board expectations. The only HIGH expectation you will find is domestic success. This will definitely give you a little extra motivation to fight against giants Bayern and Dortmund, proving yourself to be a top manager. Financial success is low as well, so you won't have to worry too much about generating income and be able to focus solely on playing and winning on the pitch.
6. Hertha BSC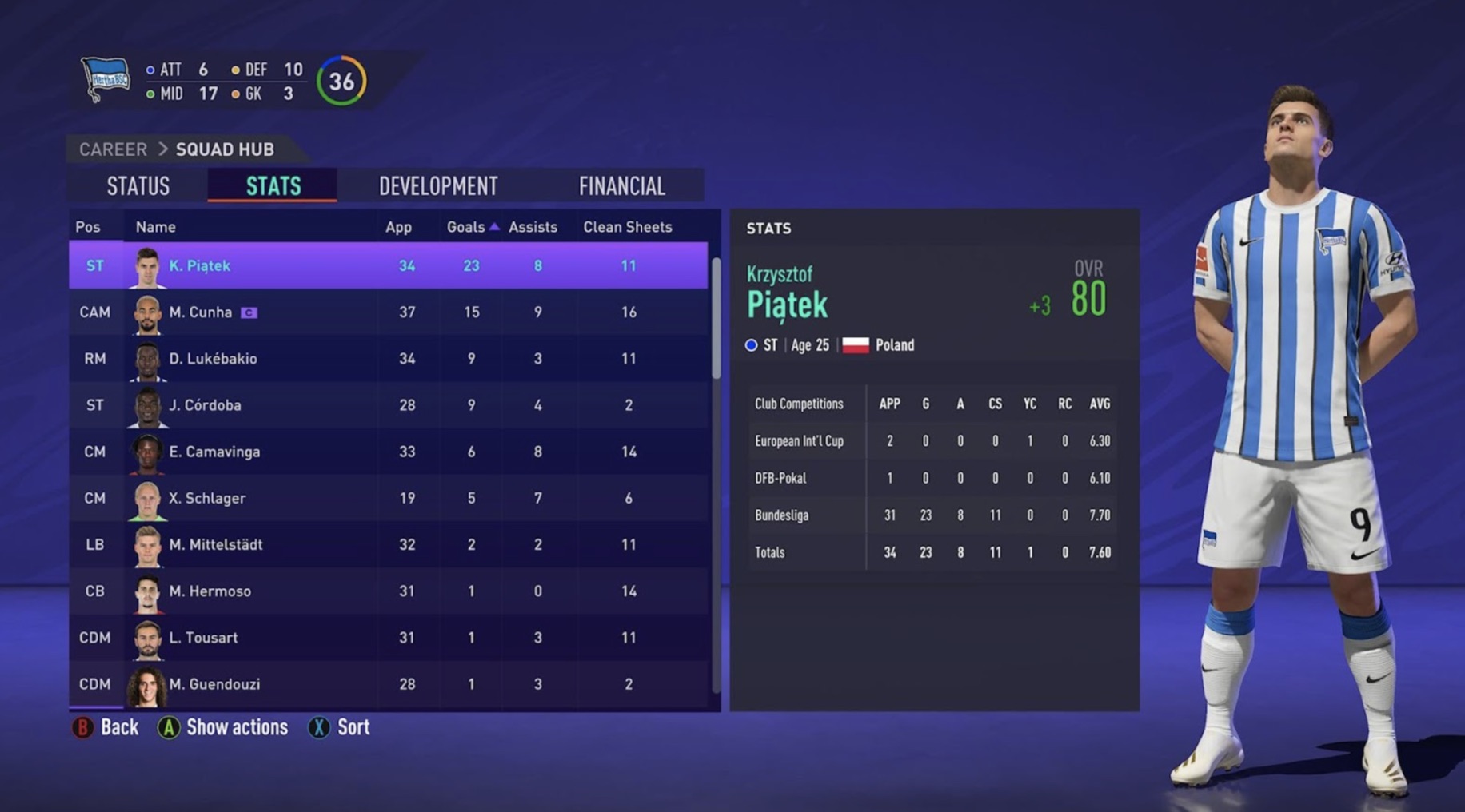 Hailing from the great city of Berlin, Hertha has plenty of greatness in it as well.
Hertha Berlin is not a powerhouse name like Dortmund or Bayern, however over the last couple of years, they have steadily increased their power in all areas including financial, squad, and this has led them to be one of the top contenders for the Bundesliga Championship and a strong possibility for European success in competitions like the Europa League.
What Makes Hertha Berlin Great For Career Mode:
Hidden Gems: When you look at Herta's squad you might be surprised. Since this is a relatively unknown team, you wouldn't expect to find the likes of ex Madrid and Juventus player Sami Khedira holding the midfield. Camavinga is another player that has recently raised many heads in European soccer making him a great addition to your team. Have fun using your managerial skills to develop the youngster, or let one of the big ones buy him from you for top dollar.
Domestic Success not your thing?: We all know it's great to win on the domestic side. Your fans are there and you feel their emotion backing you up. But we also know there is a little something extra about those European championship nights. Hertha Berlin is the perfect squad to build up and get qualified, fight for Europa League, and even qualify for next season's Champions!
5. RB Leipzig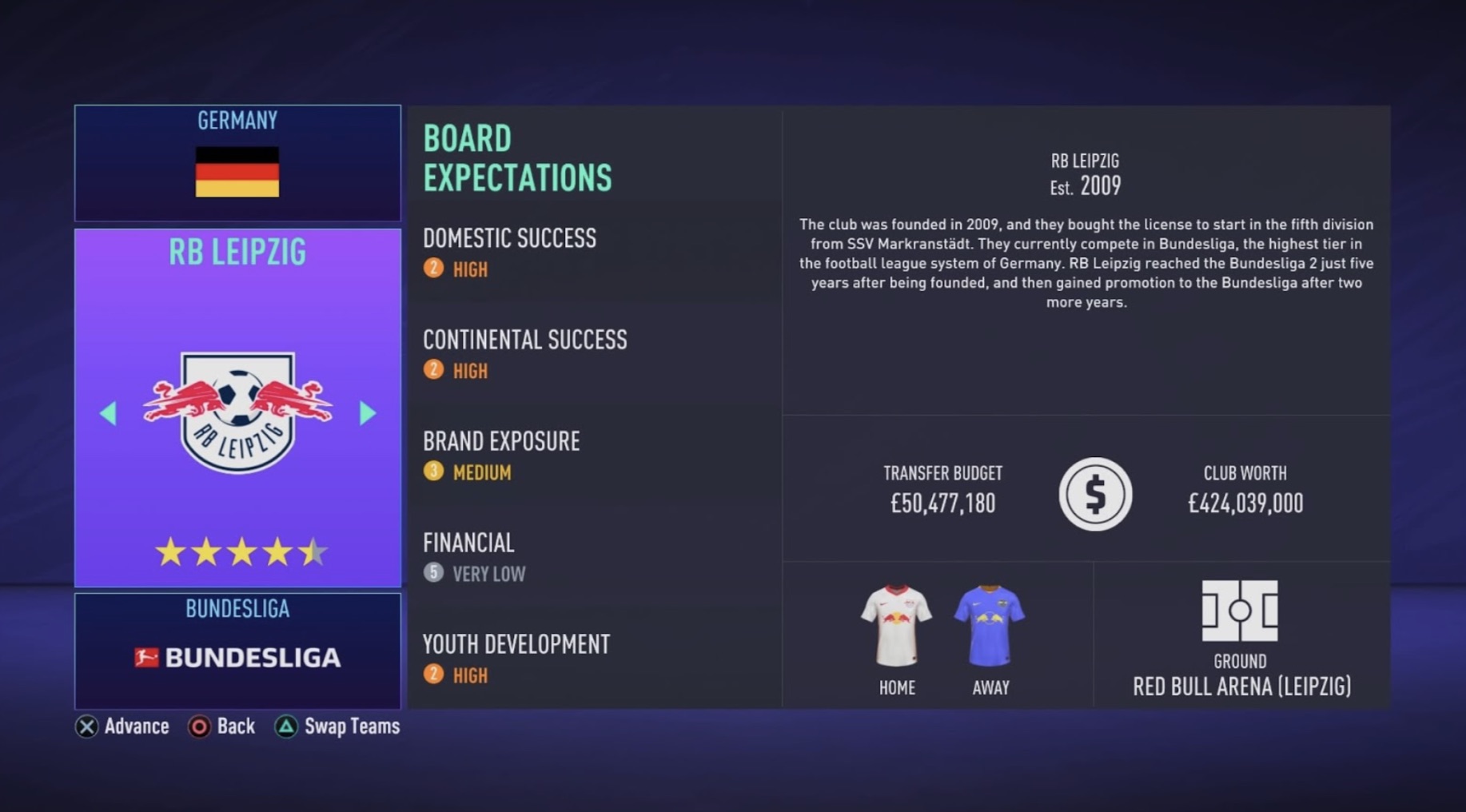 Red Bull gives you wings? It certainly has for RB Leipzig!
Leipzig might be one of the youngest teams in activity today -certainly the youngest in the Bundesliga. If your thing is playing for teams with a rich history, this might not be the best choice for you. However, Lepizig has done a tremendous feat coming from 5th division in Germany all the way to top tier Bundesliga in less than 11 years! As some of you may know the RB at the beginning of their name stands for the famous energy drink brand: Red Bull. As their motto says: Red Bull gives you wings, could this be the reason for their meteoric rise to the top league in such a short time?
What Makes RB Leipzig Great in Career Mode:
Financial Matters: Asides from Red Bull giving you wings, the other (more realistic) reason of how and why Leipzig achieved promotion to the Bundesliga from 5th division in only 7 years was the huge influx of money coming from the brands and sponsors that created this team in the first place. This huge amount of money makes it so that the board's expectations for financial success are VERY LOW. This is great for you as now you can easily focus on signing top players and winning matches -nothing more.
High Pressure: Not every manager is built to deal with high pressure. This is why FIFA gives you the option of which team you would like to manage. I personally enjoy a challenge and this is why a team like Leipzig is quite appealing. You will enjoy the financial power to make your team grow while having the board of directors pressuring you to be successful. Like my old man always said "a smooth sea never made a skillful sailor"
4) VFL Wolfsburg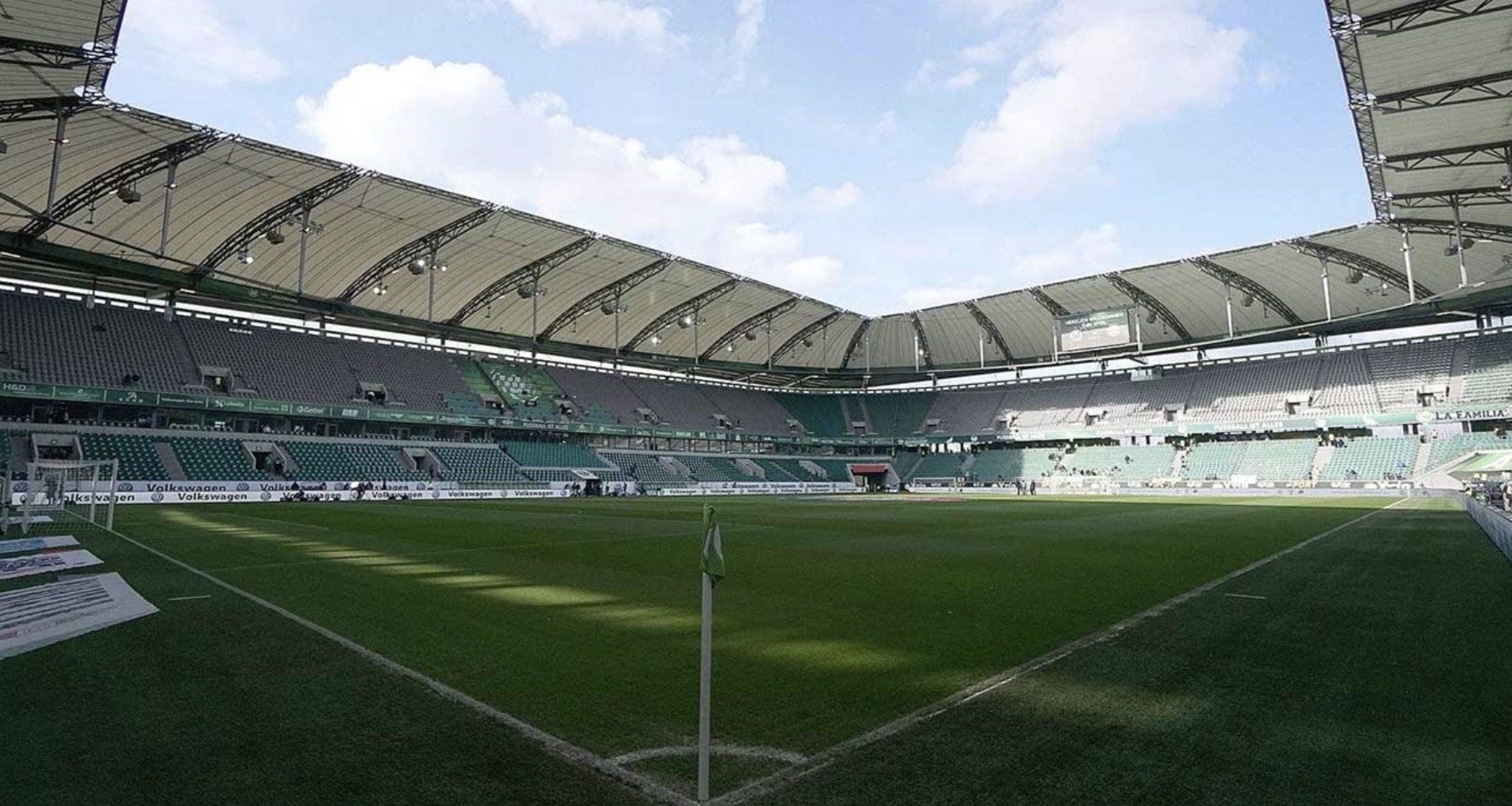 Beautiful pitch. Wait until you see it filled with fans cheering your victories.
If you feel like you want a good team, but not a giant powerhouse that is already built and armed to the teeth; in other words, you want a team that is good and strong, but will still give you a challenge and an opportunity to prove your managerial prowess, Wolfsburg is the team for you. This is a team that has the potential to bring the fight to the big ones up top. Use your savvy and their high budget to make some rearrangements, and you're on your way to competing for glory.
What Makes RB Leipzig Great in Career Mode:
The unsung hero: As stated above, the Bundesliga has for some years been dominated by the dynasty of Bayern München and the runner ups Dortmund. Choosing Wolfsburg as your team to manage will give you the chance to prove yourself as a worthy manager by offering a very decent initial squad, a healthy transfer budget, and most importantly the chance to become the season's revelation by beating the giants against all odds.
Great for developing: If you enjoy looking for raw talent, or taking your already signed youngsters and polishing them into a refined star, this is a great team for you. The thrill of seeing one of your young talents grow thanks to you can be a very gratifying experience. Take youngster Baku as an example, the 78 rated player can be pumped up to a very respectable 85 rated player -it's all up to you Mr. Manager.
3) Borussia M'Gladbach


Fans are ready to celebrate. Are you??
Borussia M'Gladbach is not a team that will take you directly into the spotlight. Albeit, it is a team that has gained serious respect throughout the years maintaining themselves in one of the most competitive leagues of the world. Granted, it is not a team that is full of glory and it is not a team that has big names in their roster... On the good side, they are a team with plenty of potential. This is where you come in, take the already decent roster, make a few signings, and prove to everyone that even a relatively unknown team can rise to the top with the correct manager -in this case, you!
What Makes Borussia M'Gladbach Great In Career Mode:
Underdog Success: As I said before, M'Gladbach is not one of those teams that you will expect to see at the top of the table. But this is part of the fun isn't it? To prove your worth by taking an average team and making them top-notch over the course of a few seasons will certainly make you feel like a young Jose Mourinho, and that is a feeling you don't get when signing for one of the big ones.
Young Squad: When reviewing Gladbach's team you might see some 80+ rated players, such as GK Yan Sommer (84 rated) and CB Ginter with an 83 overall rate. These are your core players, your veterans. Asides from these, you will see plenty of youngsters brimming with potential, waiting for the right manager to help them grow to their full potential. For example, 23 y/old Thuram begins with a humble rate of 79 but with your help, he can become a midfield beast rated up to 85.
2) TSG 1899 Hoffenheim

Will this be your new hoke as you manager Hoffenheim? Not a bad pitch if you ask me.
Hoffenheim is another mid-table team that is not guaranteed success at any rate. This is where it gets interesting. A team with a great history behind it deserves a manager that will match their previous greatness to make them once again a team to be feared and respected. If you are the type of player that likes the challenge of rising through the ranks through blood, sweat, and tears, Hoffenheim is a great option for you.
What Makes Hoffenheim a Great Team in Career Mode:
A Challenge Worthy of A Great Manager: What is great about career mode is the possibility of proving yourself and others your skills on and off the pitch. Of course, one thing is playing and actually winning games through your playing skills, but where you truly get a chance to shine is taking charge of a team that is not used to being a champion and actually making them a worthy rival through your managerial magic.
A Decent Budget: Hoffenheim has a very respectable transfer budget. With their 24.6 million transfer you'll find it quite easy to sign top players, either on loan or actually buying them. Use your wits and make smart loans and transfers to boost up your team. With a budget like this, you can even aim for European Championship classifications for upcoming seasons and have a crack at European glory.
1) Arminia Bielefeld

Bielefeld is not one of the most popular teams. They coulr certainly use you rmanagerial magic to help out with that!
Arminia Bielefeld is one of the most obscure Bundesliga teams. If you don't know them, don't feel bad, most of us don't. The humble team based in Bielefeld, North Rhine-Westphalia, Germany, is a team for a manager that welcomes a challenge. If you appreciate the realism in FIFA's career mode, this is the team for you. Immerse yourself in the game and pretend you are a real up-and-coming manager that needs to prove his worth before rising to the top. 
What Makes Arminia Bielefeld Great For Career Mode:
A Real Journey: If you are looking for a real immersion journey with a challenge, this is the team for you. Think of yourself as a manager who just earned your license and now is looking to prove yourself in a small team before attaining international recognition. here is great satisfaction coming from the bottom, being an unknown manager, signing with a small team, and proving to everyone what you are capable of by making your way to the top coming from the bottom.
Cinderella Story: Bring Arminia Bielefeld to glory and live a story worthy of selling to Disney for a feature production. The true underdog story is something that plays a big part in making this team great for career mode. Take over the team, work your managerial magic, and bring this Cinderella team to the glory they deserve!
You May Also Be Interested In:
Image Gallery