Fifa 21 Best Brazilian Players (Top 10 Amazing Players)
Updated: 06 Jul 2021 7:17 pm
Braziliant!
Fifa 21 Best Brazilian Players
Top 10 Amazing Players!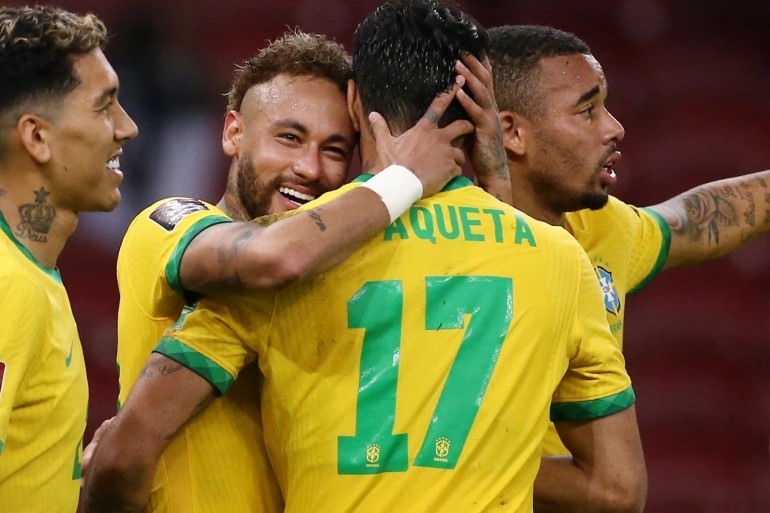 We look at the current crop of Brazilian talent in Fifa 21, and choose the top 10 players to show you exactly why they are special players!
10. ARTHUR MELO - 84 Rating
Top Attributes
Composure - 90
Balance - 90
Ball Control - 89
Short Passing - 88
Dribbling - 87
Arthur Melo, 24, is a magical midfield player for Italian giants Juventus in the Serie A. Unwavering on the ball with a great first touch and top class passing ability, he is a very gifted technician in the middle of the park. With elite level range of passing and the power to control a game, this makes Arthur Melo a "must have'' for any midfield.
9. THIAGO SILVA - 85 Rating
Top Attributes
Jumping - 90
Interceptions - 88
Marking - 87
Standing Tackle - 86
Composure - 86
Thiago Silva, 36, is a veteran of the Brazil side and a superstar of the world game. Playing for Chelsea FC in the English Premier League, he possesses every attribute you'd want from a central defender, despite his age. Athletic, dogged and super composed on the ball, Thiago Silva is a CB that every team in the world would love to have!
8. ALEX SANDRO - 85 Rating
Top Attributes
Stamina - 90
Crossing - 84
Reactions - 84
Sprint Speed - 83
Interceptions - 82
Alex Sandro, 30, is a left back also playing at Italian giants Juventus in the Serie A. He is the owner of a fantastic engine that allows him to use his awesome pace to bomb up and down the wing for the entirety of the game. A very consistent performer, Alex Sandro uses his defensive AND offensive skills to a world class level, making him a valuable player for any team.
7. MARQUINHOS - 85 Rating
Top Attributes
Jumping - 89
Marking - 87
Standing Tackle - 87
Sliding Tackle - 87
Composure - 86
Marquinhos, 27, is mainly a defender but can also be deployed in a defensive midfield role and currently plys his trade in France's Ligue 1 for the impressive PSG. An incredible athlete, he combines that with his elite level defensive capabilities and composure on the ball. An accomplished defender with the versatility to play various roles in the team, Marquinhos is a reliable and very useful player to have in every squad!
6. ROBERTO FIRMINO - 87 Rating
Top Attributes
Ball Control - 91
Dribbling - 90
Reactions - 90
Composure - 88
Stamina - 88
Roberto Firmino, 29, is a centre forward that currently plays for the mighty Liverpool FC in the English Premier League. The absolute epitome of a modern day number 9, Firmino has the all round skill level which makes him an operator at the highest level in world football. An immaculate first touch, dizzying dribbling ability and the power to keep running for the entire game makes Roberto "Bobby" Firmino a perfect fit in every team!
5. FABINHO - 87 Rating
Top Attributes
Penalties - 90
Stamina - 88
Standing Tackle - 87
Interceptions - 87
Aggression - 86
Fabinho, 27, is another Brazilian superstar that plays for English giants Liverpool FC in the English Premier League. Playing in a variety of roles across the defensive positions and in midfield, he is a much sought after player because of the skill level he possesses. Quick, strong, aggressive and defensively apt, he would be a great addition to any team across the globe.
4. EDERSON - 88 Rating
Top Attributes
GK Kicking - 93
GK Reflexes - 88
GK Diving - 86
GK Positioning - 86
GK Handling - 82
Ederson, 27, is one of the world's very best goalkeepers who currently plays for Manchester City in the English Premier League. He has the passing ability to rival any outfield player in the world and goalkeeping skills of the very highest calibre. Sharp reflexes, great positioning and with the aforementioned skills with the ball at his feet, Ederson is a goalkeeper that instantly makes any team much stronger!
3. CASEMIRO - 89 Rating
Top Attributes
Strength - 91
Aggression - 91
Stamina - 90
Shot Power - 88
Standing Tackle - 88
Casemiro, 29, is a central defensive midfield player currently playing at the mighty Real Madrid in Spain's LaLiga. An absolute beast in the midfield, he also has the engine and running power to go full throttle for the entire 90 minutes. With an eye for goal and a deadly long shot mixed in with his defensive capabilities, Casemiro is sure to add flair and bite to any midfield!
2. ALISSON - 90 Rating
Top Attributes
GK Positioning - 91
GK Reflexes - 89
GK Handling - 88
GK Diving - 86
GK Kicking - 85
​Alisson Becker, 28, is a behemoth of a goalkeeper currently playing for Liverpool FC in the English Premier League (do I spot a pattern here?). Arguably THE number 1 goalkeeper on the planet, he excels in every department and owns every attribute you'd want from a goalkeeper, and then some! Any Fifa gamer with a brain between the ears, knows that Alisson Becker is the GK every team dreams of!
1. NEYMAR JR - 91 Rating
Top Attributes
Agility - 96
Ball Control - 95
Dribbling - 95
Acceleration - 94
Composure - 93
Neymar Jr, 29, is the absolute cream of the crop when it comes to not only Brazilian football, but world football! Arguably the world's best player for many years, outshined only by Lionel Messi and Cristiano Ronaldo (no shame in that I suppose) he plays for French side PSG and has jaw dropping levels of ability, regularly making even the world's best defenders look decidedly average. Feisty, astoundingly quick, and a real 5 star baller, Neymar Jr is the envy of every single club around the world and would be welcomed with open arms by any team and fans alike, granted they can afford the hefty price tag!
Brazil is a country that has been graced throughout the generations with exceptional talent in the world of football, and this current crop of players are no different. They have a huge array of talent on offer from back to front, and are blessed with some really standout "once in a lifetime" types of players. When you see some of the players that didn't even make their way on to this list, it's incredible that this squad hasn't dominated world football to the extent that you'd expect with the talent on show!
You May Also Be Interested In: