[Top 15] Games With Really Impressive Graphics
Updated: 26 Nov 2023 5:41 am
15. GhostWire: Tokyo - 2022 (PC / PS5 / XBOX / Project xCloud) 
Inspired by Japanese mythology, GhostWire is an open-world action-horror game. 
You're one of the few survivors after a supernatural apocalypse. Tokyo is now governed by yokai demons and other entities. Some are extremely dangerous, and some are friendly spirits. You'll have to explore the lonely city to save it from the dark forces who run it.  
This game stands out due to its beautiful design. The city is highly detailed as well as most visual effects. The only problem is that Denuvo was added in the last patch. This causes a bit of fps issues. But it is still a great game.
Choose this game if you like…
Japanese culture. Especially the dark side of it. 
Elemental mages. Since you controlling an Elementalist.
Great stories. The best part of it is the narrative.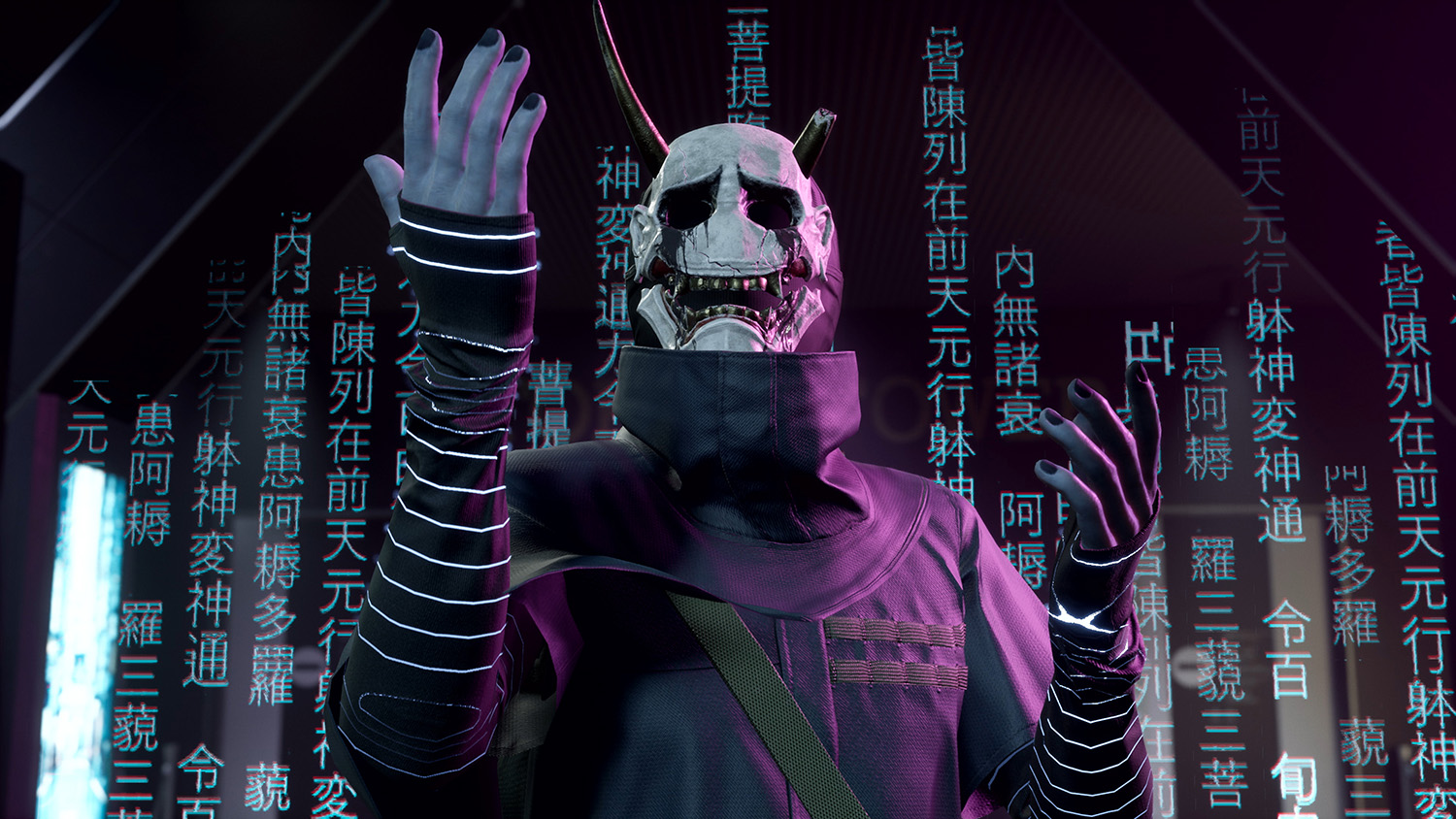 The design of Ghostwire is quite weird and fascinating. This is the antagonist of Ghostwire, an entity known as Hannya.
14. Crysis 3 Remastered - 2021 (PC / PS4 / XBOX / Nintendo Switch)
The remastered version of a classic FPS that continues the story of Crysis 2. 
The game is set in a futuristic New York City. A place that has been isolated from the rest of the world after an alien invasion. 
You're back to duty as Prophet. Uncover the secrets that the Ceph are hiding and destroy them. Bring back the peace that was taken away by these creatures. Use your Nanosuit to help yourself in this heroic quest. You are the last hope of this city, will you save them?
Choose this game if you like…
Futuristic settings. The whole ambient and atmosphere are technologically advanced.
Aliens. The design of the alien creatures is superb, if you're into cosmic alien creatures this one will not deceive you.
Bows and Psycho from Crysis Warhead. Both things are highly appreciated in the game.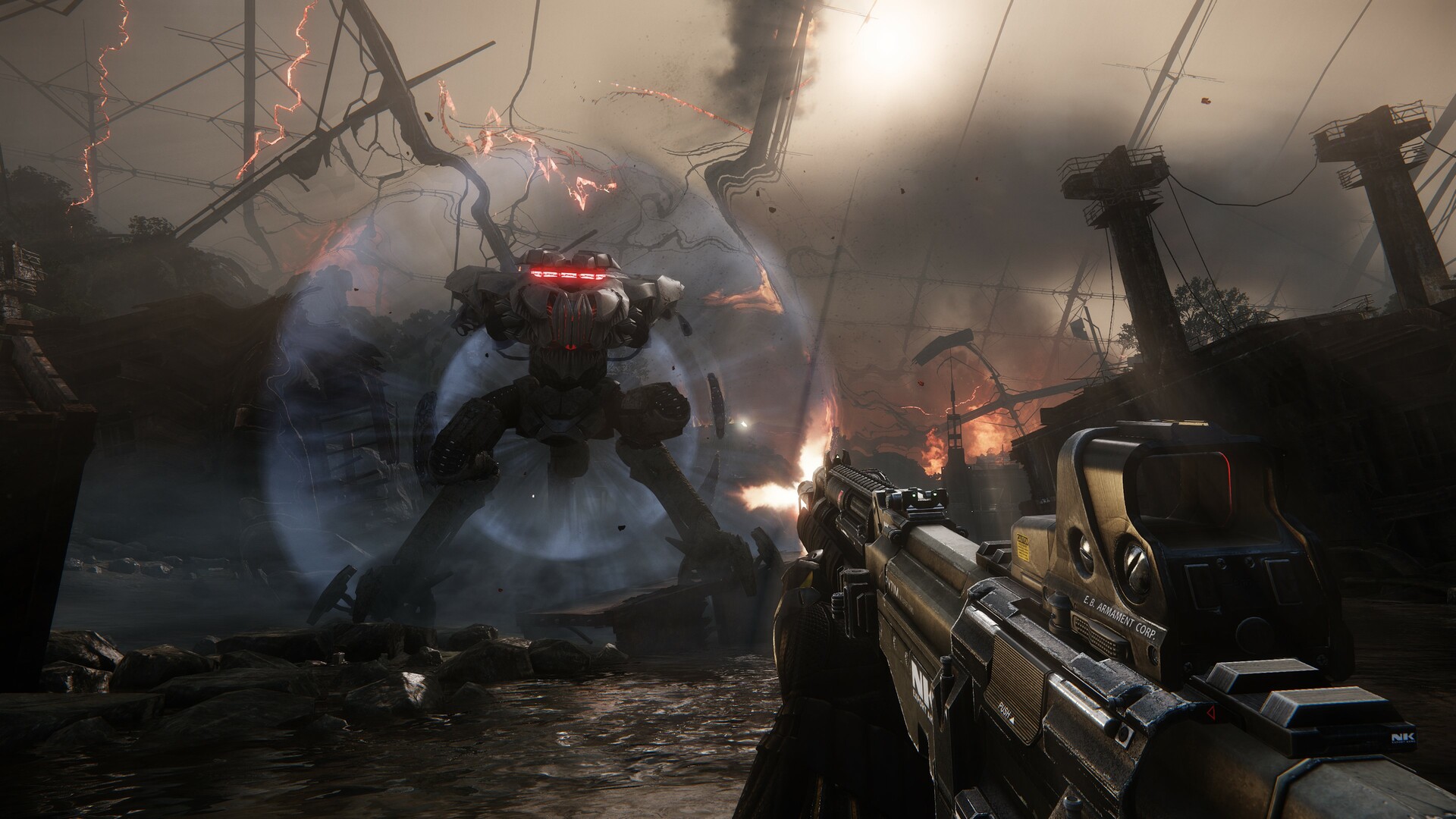 These kinds of machines are extremely powerful and you must defeat them with your little gun. A perfect enemy for the toughest soldier. 
13. The Matrix Awakens - 2021 (PC / PS5 / XBOX)
The Matrix Awakens is a demonstration of the gaming industry's future. Although is just a demo, it shows the huge progress of realism inside a game. 
This demo was made with Unreal Engine 5 to show off how games will be in the near future. The game is a recreation of the movie The Matrix. With the premise of what's real and what's not, The Matrix Awakens is a spectacular graphical show. The level of realism is brutal and it sure left everybody amazed. 
The demo was available until July the 9th 2023. If you missed the chance to play as Neo and Trinity, you should try watching all the new and old videos related to Unreal Engine 5. 
Choose this game if you like…
Realism. Of course, the purpose of Unreal Engine 5 is that players can't distinguish between what's real and what's not.
The Matrix. This demo is a great chance for movie fans!
If you're curious about what is a next-gen game, hurry and try this demo.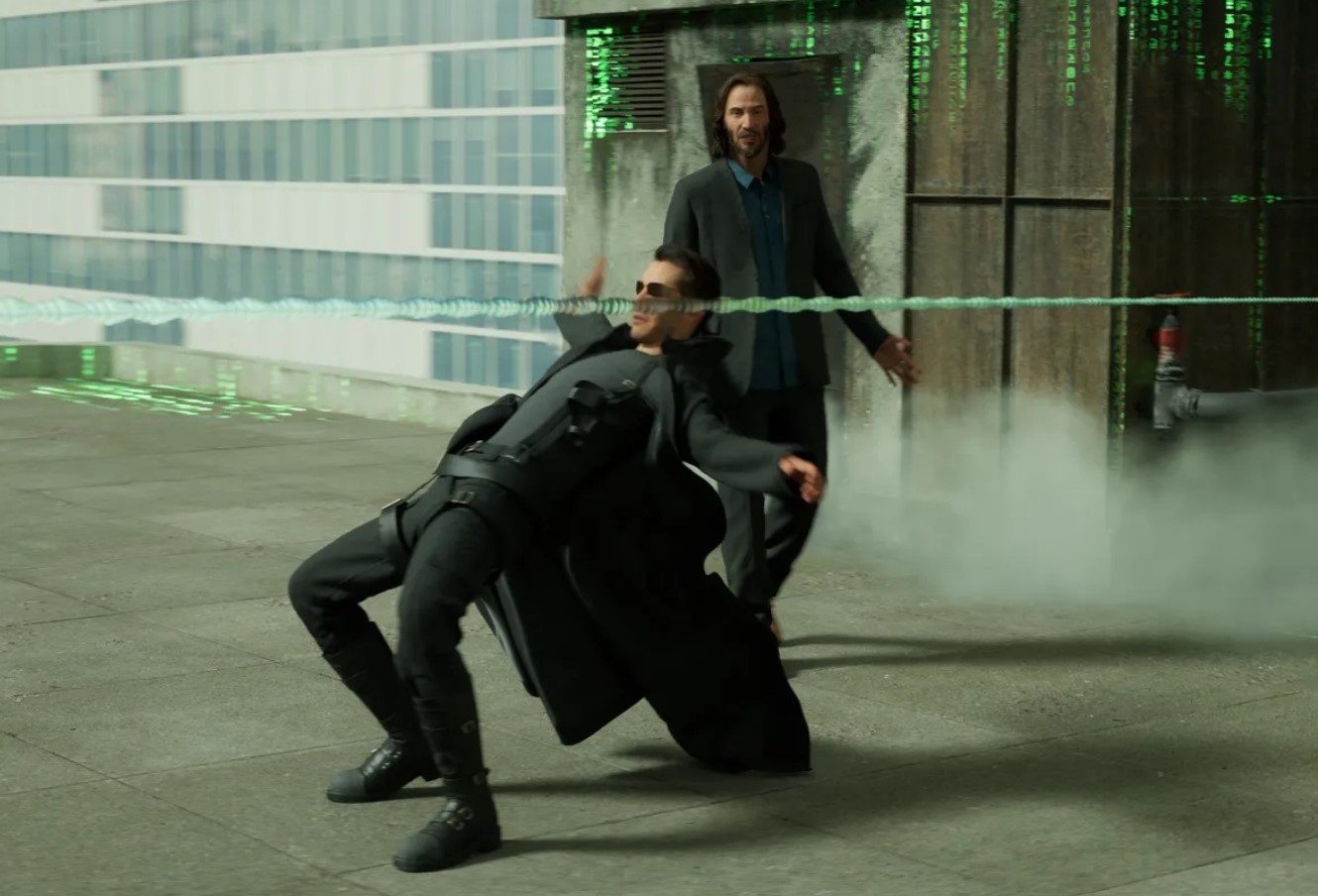 The iconic scene from The Matrix movie but with the special feature of the current Keanu Reeves.
 
12. Layers of Fear - 2023 (PC / PS4 / PS5 / XBOX)
A psychological horror experience to leave you breathless. This game is a narrative-driven masterpiece. Become The Painter and explore a constantly changing Victorian mansion. Find the tools to finish your masterpiece while facing insanity at every step. 
Rebuilt with Unreal Engine 5, Layers of Fear incorporates Ray Tracing, HDR, and 4K resolution to achieve breathtaking visuals. This nightmarish journey is deeply immersive and exceptionally lifelike.  
Choose this game if you like…
Incredible soundtrack and atmosphere.
Great stories. The narrative of the game is fantastic. Each game of the series presents stories that are intertwined. This provides an amazing immersive experience.
Art. Each story is starred by: The Painter, The Writer, and The Actor.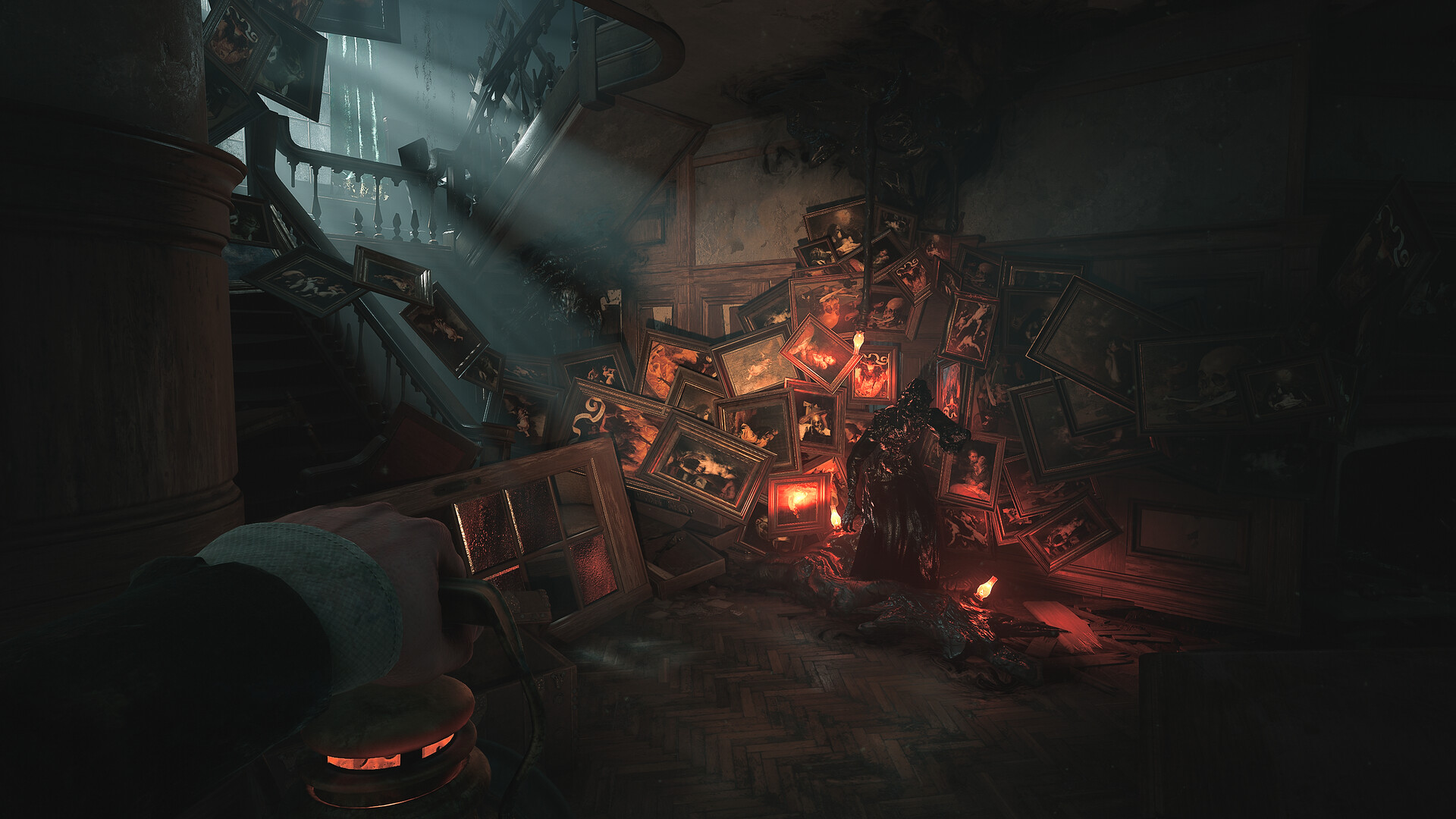 This screenshot is a stunning visual of the mansion. The scene shows the perspective of The Artist. Each painting you see is a finished unique masterpiece.
11. Cyberpunk 2077 - 2020 (PC / PS4 / PS5 / XBOX)
In the dystopian setting of Night City, Cyberpunk 2077 presents an expansive, action-packed role-playing game. Immerse yourself in a hazardous megalopolis. A city that is driven by a relentless pursuit of power. A place where you'll have to do your best to survive. 
Become a cyberpunk mercenary and shape the world around you as you wish.  
Choose this game if you like…
Incredible settings and stories. The narrative of this game is mind-blowing.
Great side characters. The characters you meet are highly endearing.
Huge living worlds. It is very easy to get lost in this city where everywhere you turn something is happening.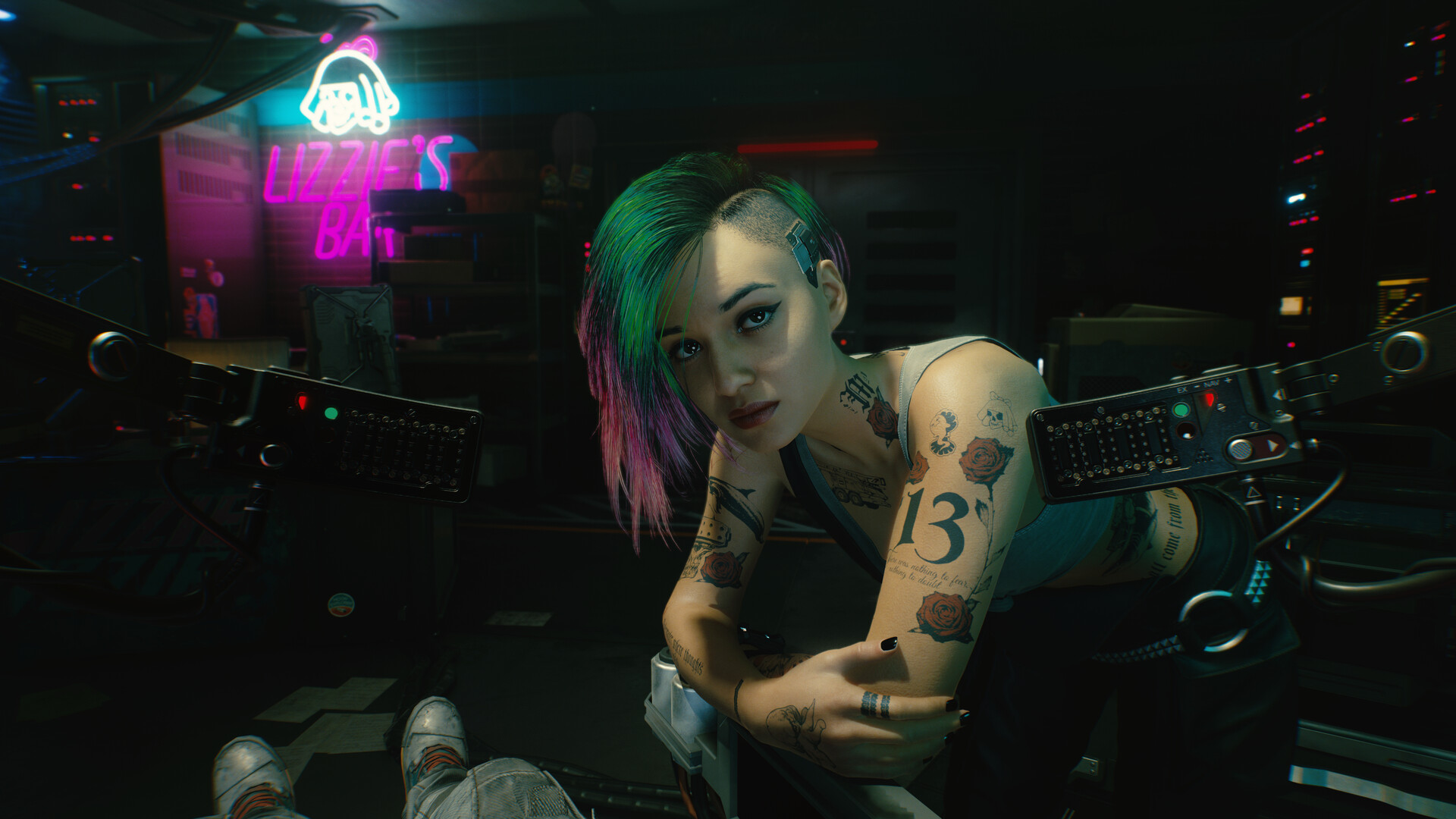 Let me introduce you to Judy Alvarez. A member of Mox and a braindance techie. You can romance her as a female.
10. Immortals of Aveum - 2023 (PC / PS5 / XBOX)
Immortals of Aveum is a first-person "spell combat". Just like a shooter, but with spells. What could be better?
Oh yes, the game was made on Unreal Engine 5. This means incredibly high graphic quality. This beautiful game is set in the fantasy lands of Aveum—a place beset by war on the edge of apocalypse. You play as Jak, a man who joins a mage's elite order. Your goal is to save Aveum. With plus 25 spells and 80 talents to master, Immortals of Aveum assures the most fun and hard experience of recent years.   
Choose this game if you like…
Doom Eternal. The game was inspired by it, which makes the gameplay similar in a way.
Mages. You know how it works. Mages are the most OP characters ever. And this game has one of the most lunatic boss mages. 
Frenzy FPS. Immortals of Aveum promises to reward those players who can chain and synchronize the three magical forces.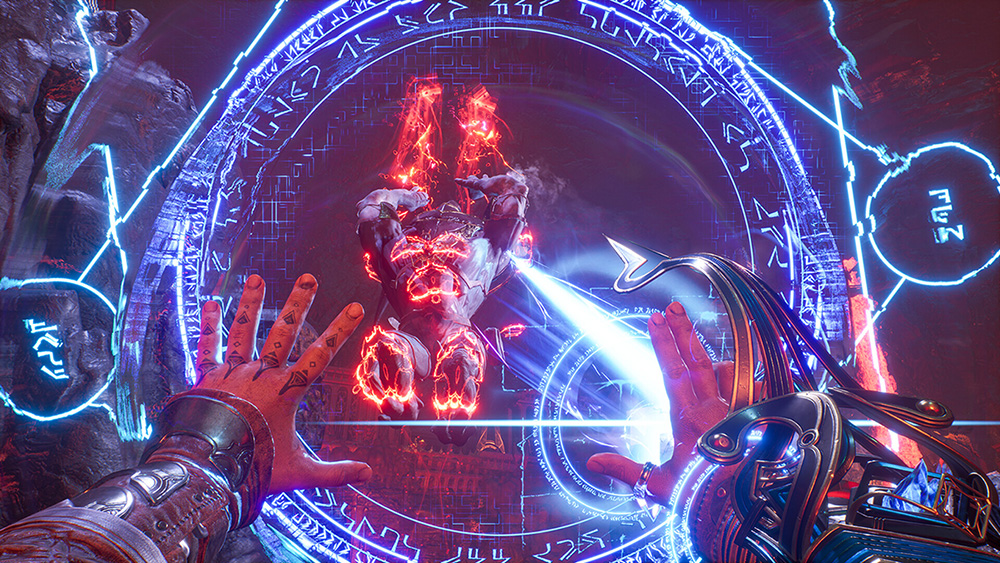 If this scene doesn't convince you, the game is not for you. Absolute spectacular design of the combat skills, enemies, and everything related. Even the ring adds so much personality to it.
9. Detroit: Become Human - 2018 (PC / PS4)
A unique graphic adventure where you'll live the story of three androids. Set in a futuristic Detroit plunged in chaos, this game brings a fascinating narrative where you'll have to make hard decisions and face moral dilemmas. Everything you do will have an impact on Detroit and the outcome of the game. More than a dozen possible endings can be unlocked. 
Detroit: Become Human is a winning award game with an excellent rating—a highly recommended masterpiece. 
Choose this game if you like…
Unique gaming experiences. In Detroit: Become Human you are a spectator of your own choices. Few games like this one exist.
Intense stories. The narrative of the game is incredible. It will get you hooked.
The replaying factor. Finish the game and come back to get a completely different campaign.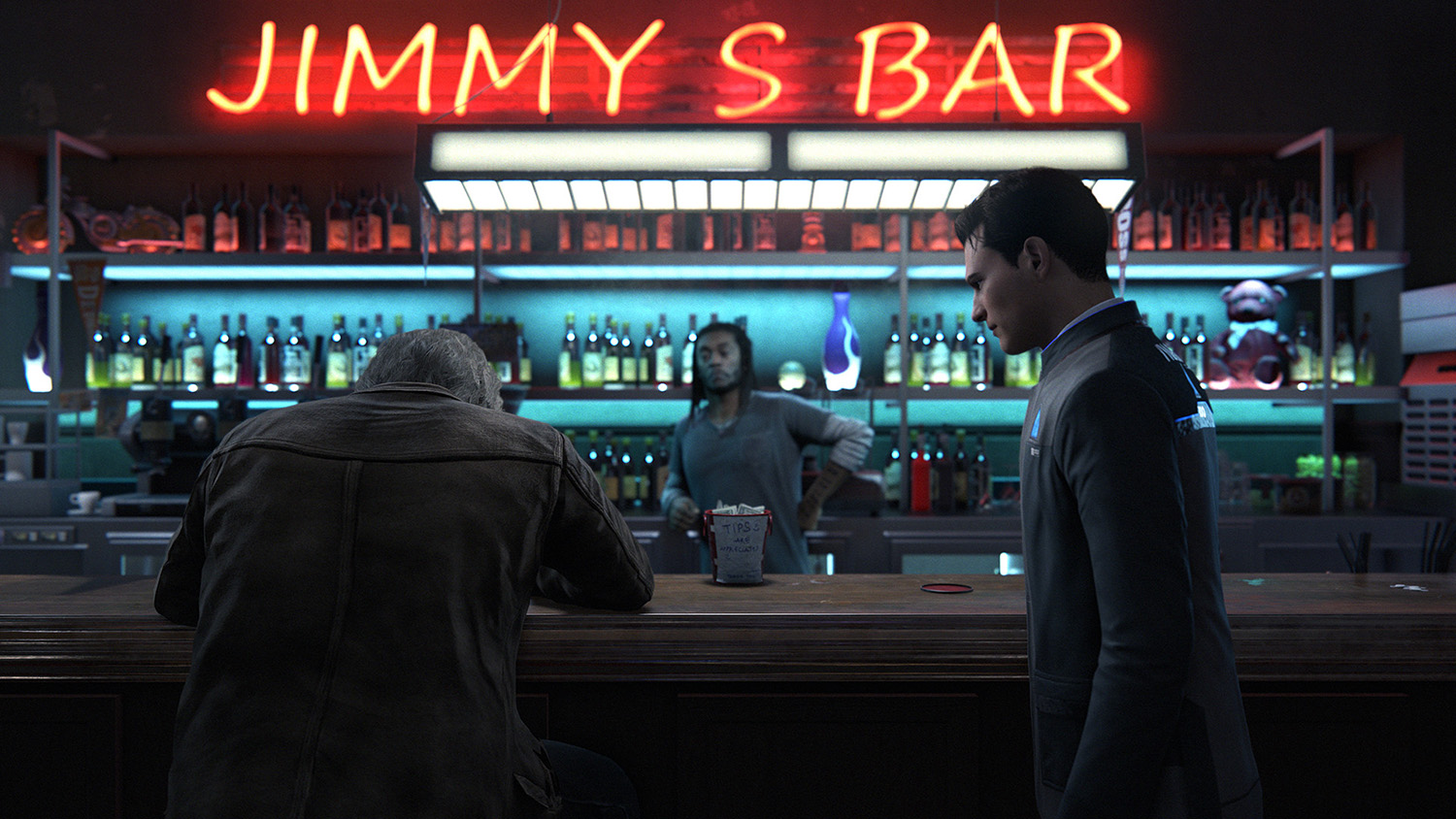 Two humans and an android at Jimmy's Bar. The android Connor at the right is one of the characters that you will control.
8. Hellblade: Senua's Sacrifice - 2017 (PC / PS4 / XBOX / Nintendo Switch)
Follow the harrowing expedition of Senua; A fierce warrior who ventures into a realm crowned by madness. 
Hellblade takes place during the Viking era; A shattered Celtic Senua embarks on a haunting pilgrimage. She will delve into the depths of Helheim to battle for the salvation of her deceased beloved. Sounds familiar? Well, the story was inspired by the  Orpheus and Eurydice myth. So you'll be descending to hell, will you make it safe and sound? l  
Choose this game if you like…
Mental health topics. Senua suffers from a mental condition and the game's main focus is this. Developers have done an excellent job portraying her condition. 
Psychologic horror and puzzles, lots of puzzles. 
Great atmospheres. Senua's mental condition provides a very disturbing atmosphere that requires headphones to be experienced at its best.
Take a look at this disturbing, nightmarish scene. Senua has to face these extreme situations and deal with her mental situation at the same time. 
7. Half-Life: Alyx - 2020 (PC)
Half-Life Alyx tells the story of the events that occurred between Half-Life and Half-Life 2. This game offers an FPS VR experience like no other. 
Follow the story of Alyx Vance and her father, two of the greatest scientists alive. An alien race is controlling the world after the Black Mesa incident and they are getting stronger. Your mission is to defeat the alien forces and return the power to humanity. Are you brave and clever enough to defy a superior and brutal race?    
Choose this game if you like…
Half-Life game series. The story of the two first games is necessary to have some context.
Puzzles.
Spectacular games. Half-Life has been one of the best FPS known to exist. Few games are superior to it.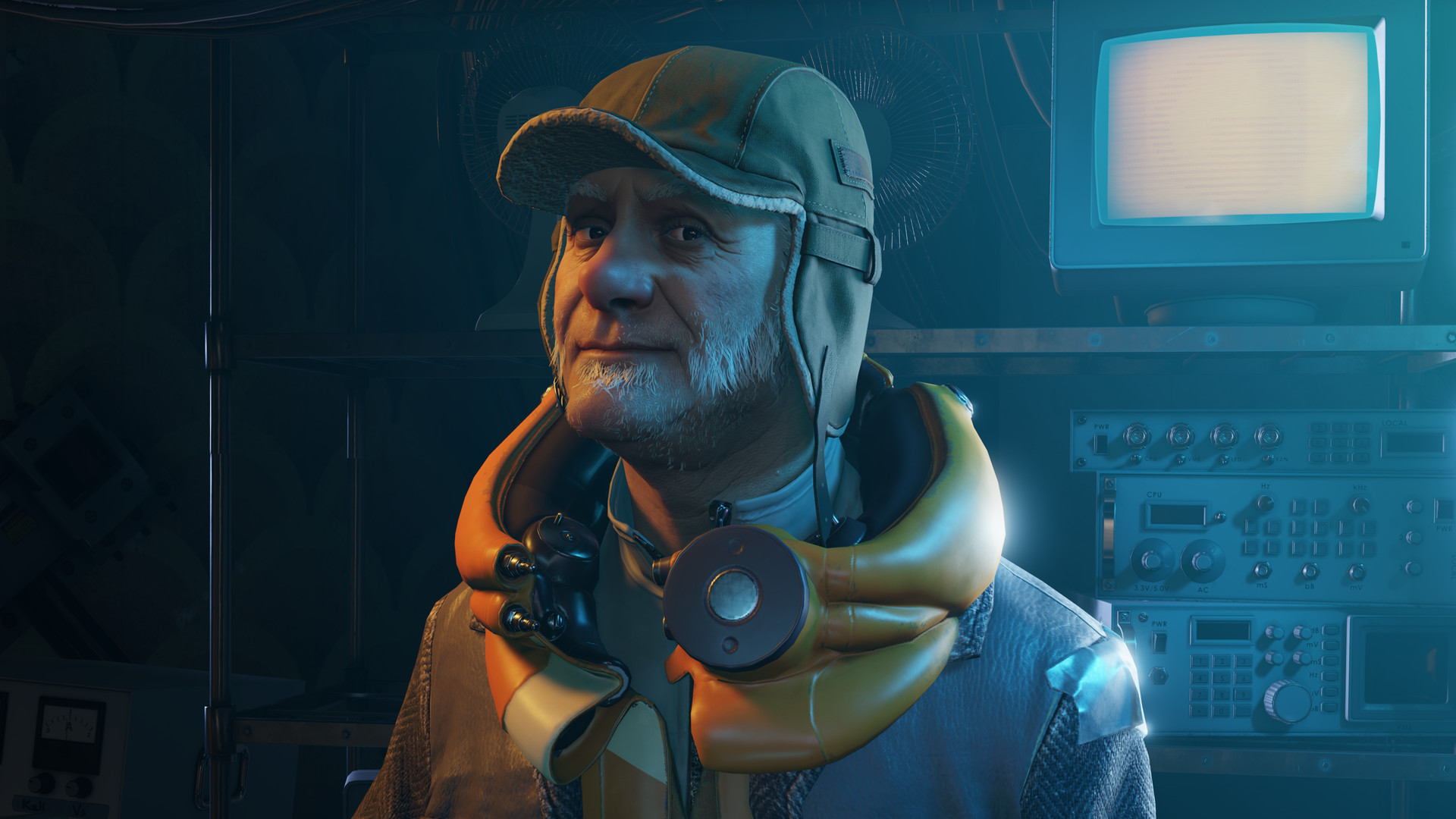 This is a Russell. An important member of The Resistance and also important to you (Alyx). He's a key character in the story of Alyx.
6. Ratchet & Clank: Rift Apart - 2021 (PC / PS5)
Possibly one of the most fun games released in recent years. Ratchet & Clank is a spectacular adventure platformer. A game where you can travel between dimensions while enjoying incredible visual scenarios. 
Help Ratchet & Clank defeat an evil emperor from another dimension. Travel through dimensions and discover new exciting worlds! Ratchet & Clank is a highly enjoyable game. Designed for those seeking an entertaining adventure.  
Choose this game if you like…
Frenzy action. As is common in any platformer, this game goes at hyper-speed!
Futuristic, robotic, alien settings.
Great sound effects. Not only the visuals are stunning, but also the sounds and soundtrack.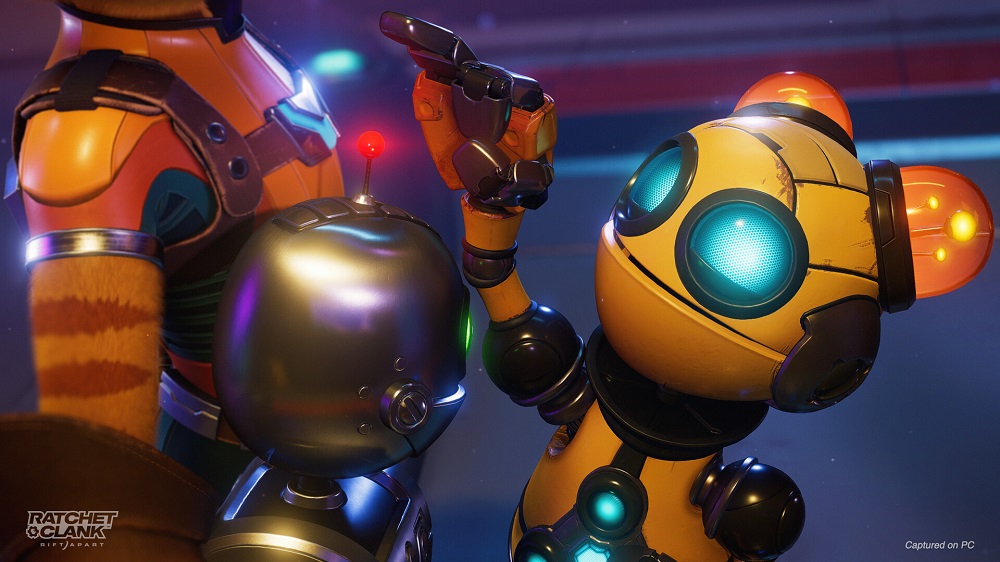 The one on the right is a character named Kit. At the left is Clank, the little robot, and Ratchet.
5. Red Dead Redemption 2 - 2018 (PC / PS4 / XBOX)
A western action open-world game set in the year 1899 where you play as Arthur Morgan and John Marston. Arthur is a member of the Van der Linde gang. A group of outlaws wanted by federal agents and bounty hunters all over the nation. 
The player can follow the story, which is magnificent. Or venture into a meticulously crafted living world with boundless exploration. 
Boasting an impressive collection of over 175 awards, this game is highly valued. With nearly flawless graphics and addictive gameplay, it is an experience not to be missed.
Choose this game if you like…
Cowboy style. This game is inspired by the Cowboy's lifestyle. 
Unforgettable phrases and dialogues. 
Endearing characters. Arthur is such a great character. All of RDR's characters have marked personalities which is why they have such great dialogues.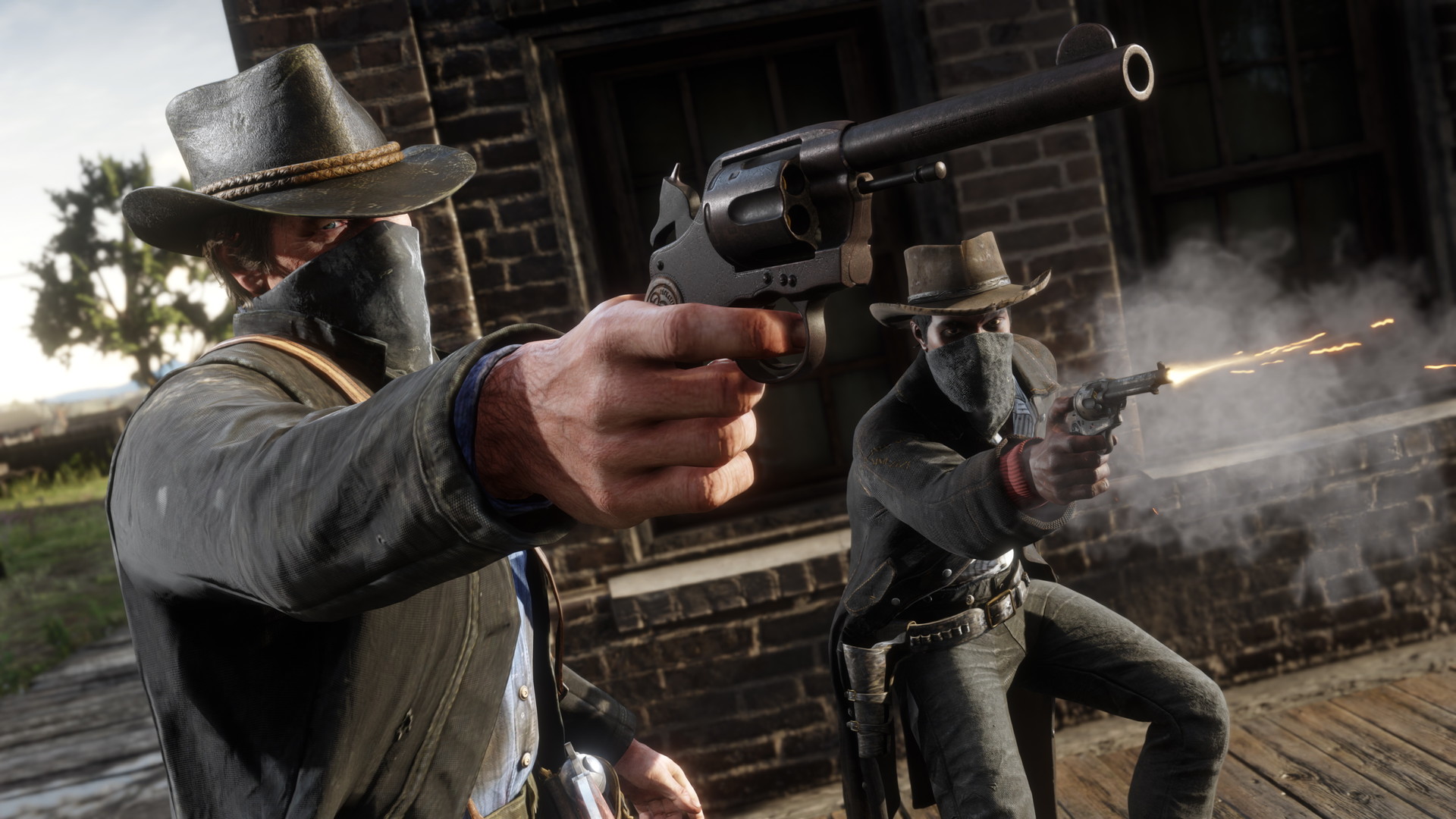 Arthur Morgan to the left and his good old friend Lenny Summers to the right. 
4. The Callisto Protocol - 2022 (PC / PS4 / PS5 / XBOX)
The Callisto Protocol is a futuristic survival horror with action elements. Become Jacob Lee; A man imprisoned in a maximum-security penitentiary located on Callisto, one of Jupiter's moons. Your goal is to escape the prison. 
Things get complicated when you realize something happened to the people inside this place. Something terrible. Now you have to survive. Get yourself to safety. Fight the creatures using your weapons and strength. Once you're out of the prison, you'll be in an isolated Callisto. A horrifying and hostile place for a mortal.  
Choose this game if you like…
Brutal scenes and high tension. 
Astronomy- Since it's placed on a Jupiter moon, you'll have stunning visuals of the universe. 
Narrative-driven games. It's almost like an interactive movie. It focuses on the narrative, leaving the combat and action part as a secondary thing.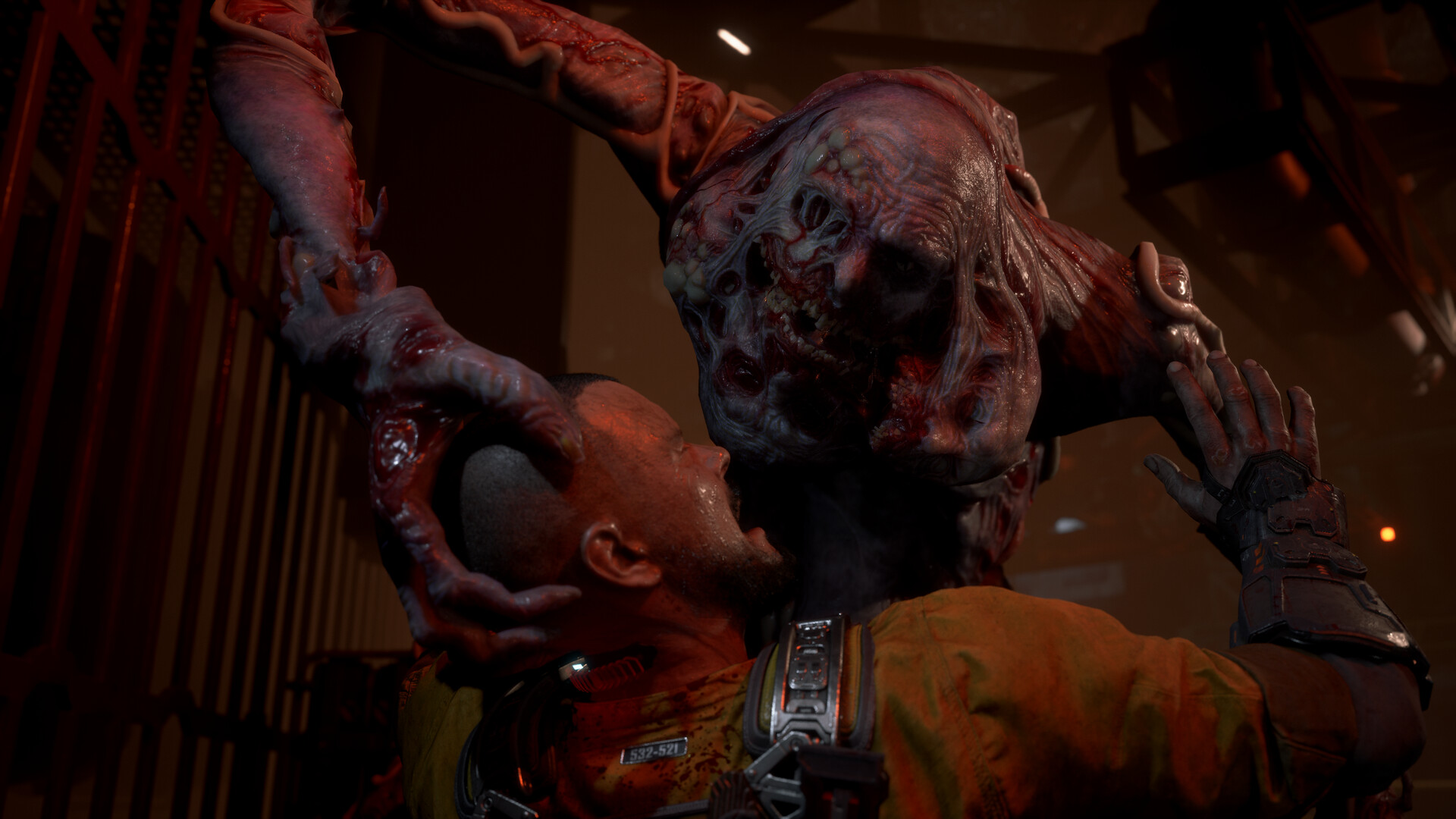 This disgusting creature is the Corruptor. The picture was taken from the death scene when fighting against it. A pretty annoying and horrible thing.
3. Call of Duty: Vanguard - 2021 (PC / PS4 / PS5 / XBOX)
COD has been a classic FPS ever since it came out. This beloved game brought spectacular war scenes. It offers a single-player campaign as well as multiplayer and zombie modes. The story mode is fascinating. You can experience WWII on the Eastern and Western fronts, the Pacific, and North Africa campaigns from the Allies' view. Developers had the intention to spread real military situations that were unknown to the public eye. The main characters are inspired by real military personnel. Which adds an intense flavor to the story mode.     
Choose this game if you like…
Inspirational characters. You'll be surprised at how inspiring are most of the characters found on COD Vanguard. And the rest are extremely good. Like it's usual with most COD games.
WWII. The game is set right before Germany loses the war.
Highly customizable games. The game gives the chance to customize over 200 individual settings.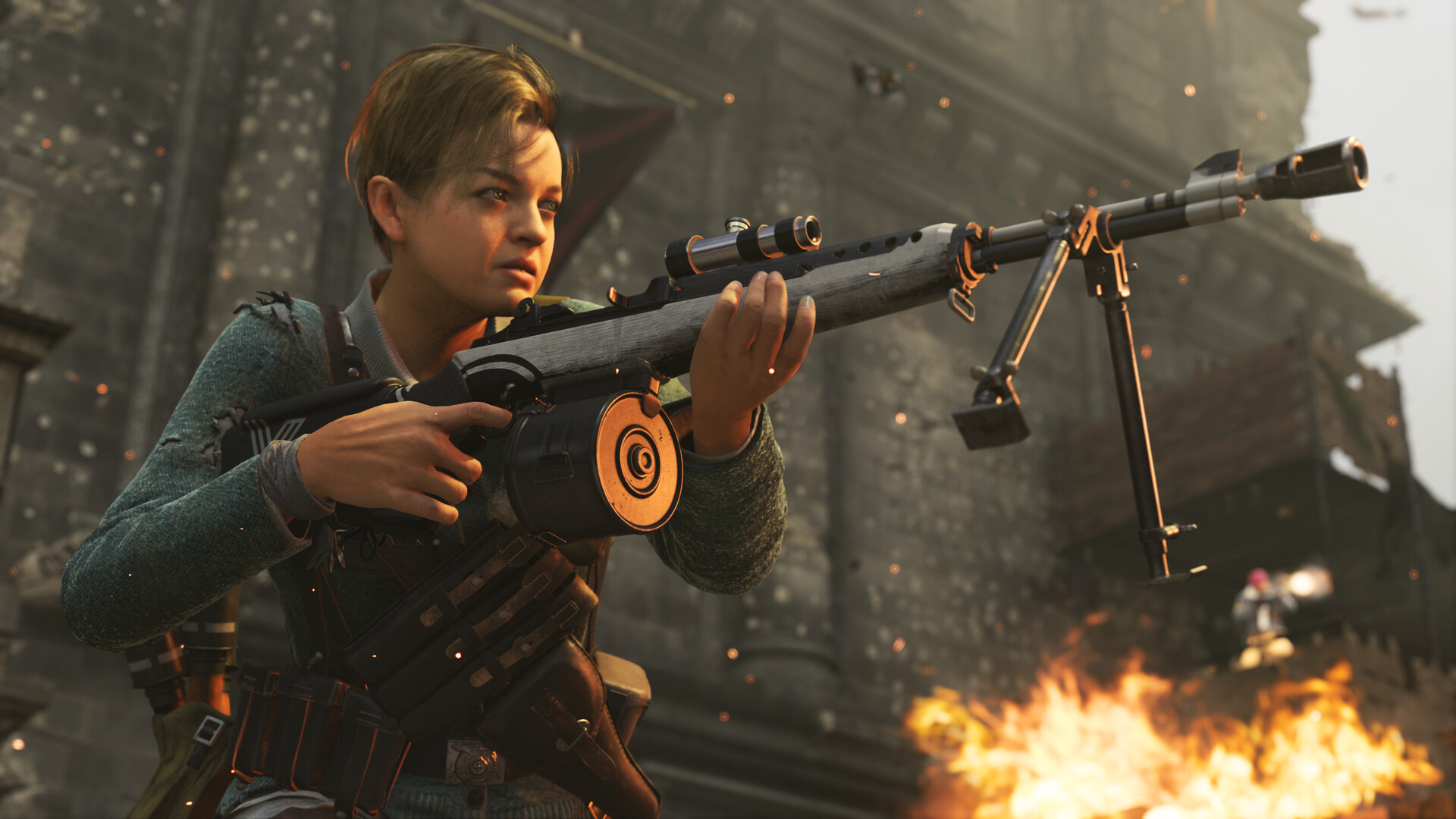 This is Constanze. An operator of the sentinel faction that is also featured in COD Warzone. 
2. Far Cry 6 - 2021 (PC / PS4 / PS5 / XBOX)
Far Cry 6 is an FPS that counts with the participation of Giancarlo Esposito as "Anton Castillo". The game is set in Yara, a tropical paradise "inspired" by Cuba. 
Become Dani Rojas, a man who intends to free Yara from the oppressive government of Anton. Explore the huge map while completing many fun quests. You can play a solo campaign or in cooperative mode for extra fun. 
If you're patient enough, I'll recommend it. Otherwise is not such an excellent experience due to the commonly known bugs and other factors that make it a bit repetitive. The game has stunning visuals anyway. Absolute beautiful and detailed. 
Choose this game if you like…
Interesting character development. Even Dani is a fun character to play with. 
Giancarlo Esposito. His performance was perfect, as usual. If you like him you just can't miss this game.
Exploration. To be honest the game stands out a lot due to the gorgeous graphics and how well-designed everything is.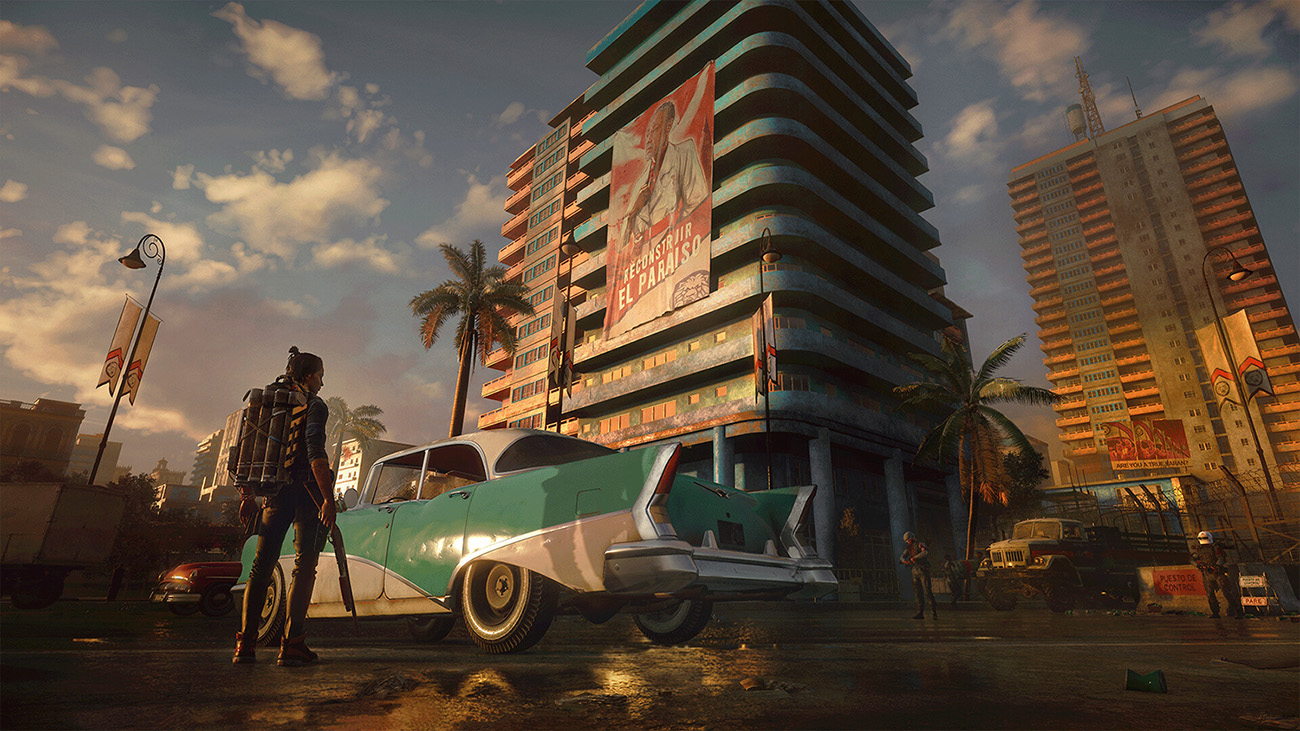 The phrase "Reconstruir el Paraiso" is read on the big poster. In English "Rebuild the Paradise". A promise made by Anton that was never fulfilled. 
1. The Last of Us Part II - 2020 (PS4)
Five years after the first game, Ellie comes back on a terrifying survival horror adventure. 
Experience an intense story of moral conflicts and vengeance. Travel through a hostile world in a desperate fight for survival. Face the moral dilemmas of Ellie in her relentless pursuit of revenge. Discover a diverse range of weapons, crafting materials, abilities, and upgrades that enable you to personalize Ellie's skills according to your gameplay style. 
The Last of Us II will have you hooked from minute one.
Choose this game if you like…
Female protagonists. Ellie is a spectacular character that will make you question what's right or wrong. You'll also meet Abby, the brand new female introducing another quest for vengeance.
Great soundtracks.
Hard impactful stories. Ellie's journey is not easy to swallow. If you're easily triggered and/or sensitive it might be too much for you.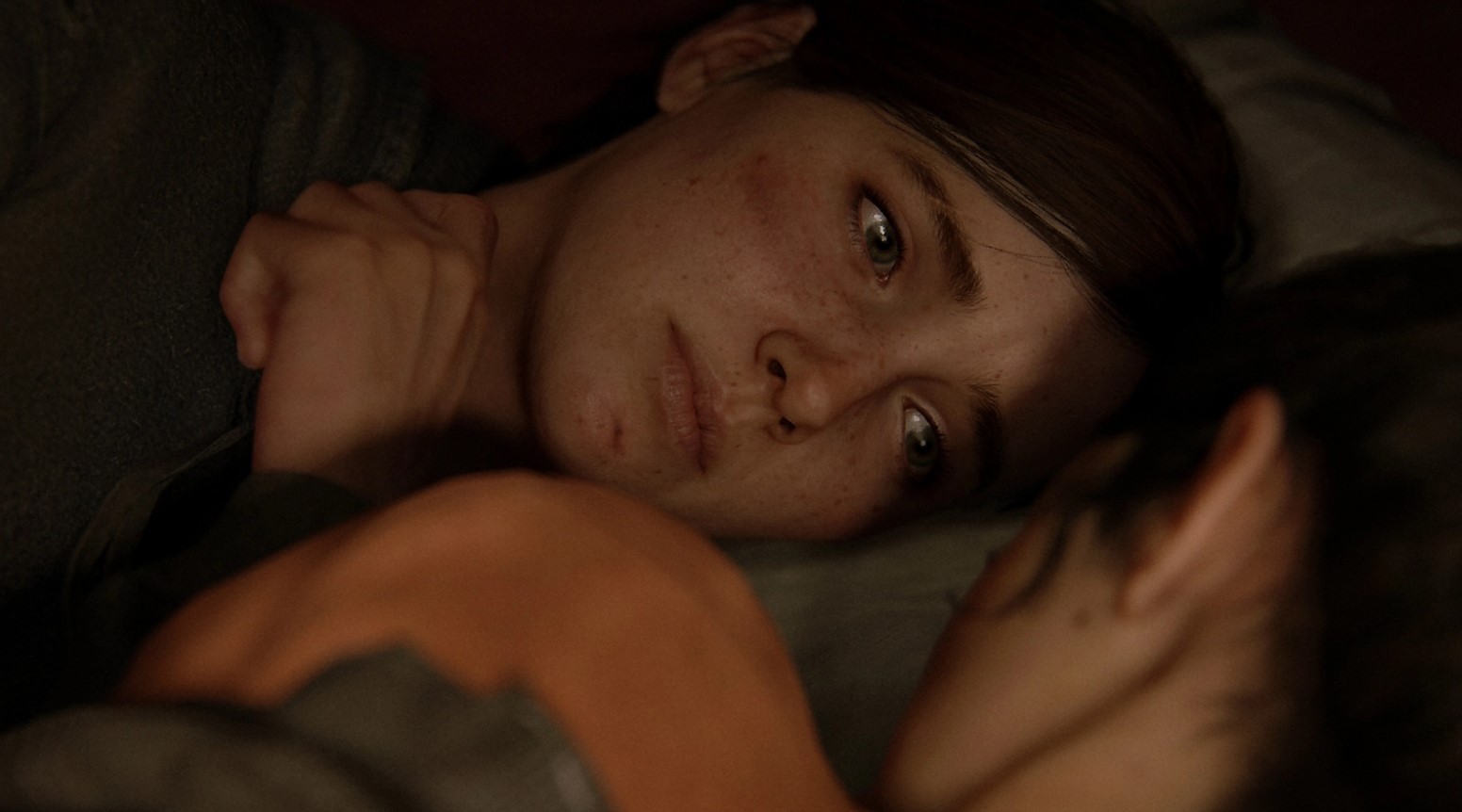 Ellie and her partner lying in bed. The amount of detail in Ellie's face is insane, a very realistic approach.