Lost Ark Review - Is It Worth It?
Updated: 01 Dec 2022 2:46 am
Explore without limits and dive into immersive lore
Hello there, fellow gamers! This will be my in-depth review of Lost Ark, based on thousands of hours of playtime, and whether it is worth your time. From my perspective, I will cover every aspect of the game, from character creation, leveling up, exploring, and questing, to the endgame, with complete objectivity and fairness. So let's get started.
About Lost Ark
Lost Ark is an MMO action role-playing game that takes players on an adventure in search of the Lost Ark through a massive and fantastic world where they can explore new lands, seek out lost treasures, and put their skills to the test in thrilling action combat. Lost Ark's development began in 2011, but it was fully released on December 4, 2019, in South Korea by Tripod Studio and Smilegate, and on February 11, 2022, in North America, South America, and Europe by Amazon Games as the global publisher. 
The cost of developing Lost Ark was 85 million USD. On the first day, 350,000 people began playing it, making it a huge success. This number dropped significantly over the next few years, as it does with most MMOs, but the game saw a comeback in players in 2021, having a f2p (free-to-play) structure compared to other, more pay-to-win-oriented Korean games. The Lost Ark achieved even greater success after its global release. 
The game's all-time peak is 1,324,761 players, which was hit on February 11. Within twenty-four hours of its release, Lost Ark became the second-most-played game on Steam. Throughout April, however, Lost Ark noticed its first significant drop-off since February 11th, with a monthly average of 354,897 players. At the moment, there are 234,464 players playing it on a daily basis.
Lost Ark Story
The Story of Arkesia
Lost Ark is set in a world that is temporarily at peace but on the verge of returning to violent conflict, where humans and angels team up to fight demons and save the world. In order to once more drive away the darkness, players will need to locate and put back together the Ark, which is divided among the seven gods.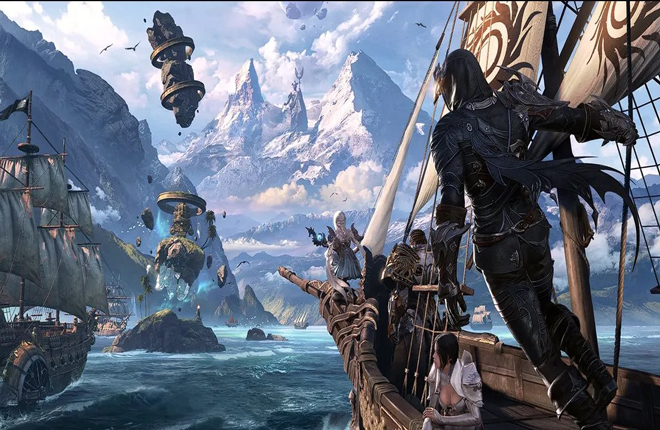 On your journey for the Ark, you will encounter demon legions, monstrous bosses, and other enemies in the world of Arkesia, where you can choose from a wide range of advanced classes to suit your preferred style of combat.
While searching for the Ark, the players are placed at the center of the experience by doing dungeons to finish the most important parts of the story. Although the story has some mediocre writing and acting, which can occasionally sound awkward and out of place, it is made up for with non-stop action cutscenes and attractive visuals.
The great thing about Lost Ark is that while leveling, players can only experience a portion of the story until they reach level 50, at which point a large variety of content unlocks and allows them to complete the main story. In Lost Ark, picking a starting class is a big part of what the player will do and experience.
One thing I can say about the story in "The Lost Ark" is that it's well told. There are a number of story moments and cinematics that help bring the player along for the ride. This isn't the type of MMO where you will be reading books just to find out what's going on in the world.
Lost Ark Gameplay
Lost Ark - Official Gameplay Trailer
Let's start at the beginning, with the character creation. Players can choose between 15 advanced classes, each categorized by a few different base class archetypes. After you choose your character, Lost Ark offers a lot of ways to customize it. Players can essentially create anything they want. It is pretty vast, and they can do a lot with it. Besides character creation, players can change the look of their character by selecting different skins, which can be dyed any color and customized as desired.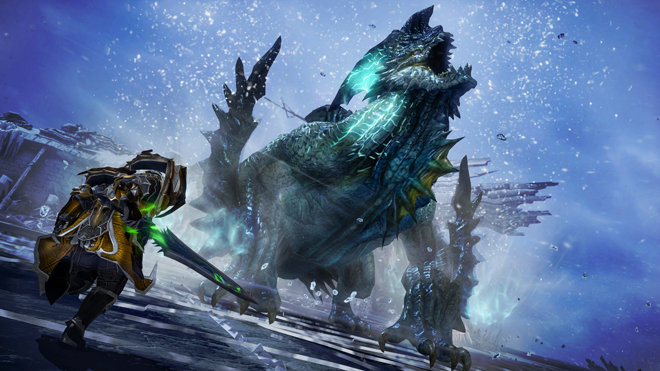 Choose a class and play Lost Ark's main story, huge world exploration, dungeons, raids, PVP, collectibles, skins, crafting, and other activities.
After creating a character, players enter the world of Arkesia, which is brimming with exciting possibilities. They can do the main quests and side quests, and they can explore the enormous world that is split across the continents. To travel from one continent to another, players must use ships, which can be changed and upgraded to look and perform better. Between the continents, there are a lot of islands, and each one has its own theme, set of enemies, story missions, and tasks.
The game is filled with an immense amount of content in the form of PVE. Players can do chaos dungeons, normal and heroic mode dungeons, abyssal dungeons, void dungeons, guardian raids, heroic raids, abyssal raids, legion raids, tower dungeons, cube dungeons, boss rush, and world bosses.
When it comes to PVP, Lost Ark is one of the few games that has well-balanced PVP content. Everyone is equal, and it all comes down to skill. There are two types: players can engage each other in duels that can take place anywhere and anytime. Alternatively, there are also PVP normal and rated arenas with 3 different modes. In 3v3 matches where players enter as a team, or in 3v3 matches where everyone enters individually, and finally, in deathmatch mode, where the last player standing wins.
There are six different life skills in Lost Ark: mining, herbalism, lumbering, hunting, fishing, and archeology. Every skill can be leveled up and requires a different tool to be equipped. These tools have different rarities and bonuses attached to them. Players can join the platinum field to farm their life skills together. The only problem is that using life skills uses up life energy, which players have to wait for to come back.
The Stronghold is another important aspect of the game. It is essentially each player's own island, which they can personalize by purchasing and crafting various structures. Stronghold also has many practical uses, such as crafting battle items, potions, and various other items. In addition, players can send Stronghold-specific crew and pets on expeditions for a wide range of rewards. There are various merchants who can visit Stronghold and sell some very unique items. AFK leveling up alts is one of the most useful things that players can do in Stronghold.
In Lost Ark, there are currently eight different types of collectibles: island tokens, mokoko seeds, giant's hearts, masterpieces, ignia tokens, sea bounty, world tree leaves, and omnium stars. As you might expect, getting them all to 100% will take a long time. They are obtained in various ways, including by completing quests on specific islands, Una's tasks, achieving a certain level of friendship with an NPC, and through combat- and non-combat-related RNG. Players can improve or customize their characters by completing collectibles.
The same goes for an adventure book, where each continent and region has its own page. To fully complete a single page in the book, players must finish the region's story, collect all of the collectible adventure book items, learn all of the region's specific recipes, interact with all viewpoints, finish all dungeons on normal and hard difficulty, kill every unique rare monster and world boss in the region, find every hidden story, befriend all the NPCs in the region, and unlock all triports.
In terms of gameplay, players will never run out of content; there will always be something to do. It can seem overwhelming for some players, but the grind aspect is what they should be prepared for if they want to play not just Lost Ark, but any MMORPG.
Lost Ark Combat
Lost Ark All Classes Combat Gameplay
Combat is without a doubt one of the most marketable aspects of the Lost Ark. The combat quality is simply amazing; it feels good, looks good, and sounds great, and the audio design is thunderous and intense. Every time you hit and destroy a mob, the way the damage numbers are displayed and the way the abilities look and feel is satisfying. When all of them are combined, the result is one of the best combat experiences available in any PC game. The maximum level is 60, but endgame content unlocks at level 50, where players can start their character progression.
The character progression is a bit complicated and tends to drive players away from the game when they reach that point, but when you master it, it feels so satisfying. I believe they could improve it by simplifying it so that new players can understand it more clearly.
There are several systems for building your character. Players can obtain gear with set bonuses as well as accessories that provide main and secondary stats. Every character has their own build, which includes abilities on which they can spend skill points, and the more skill points they spend on ability, the more talent trees become available. Each talent tree has a tripod effect, which causes talents to become stronger and stronger. Additionally, for those abilities, players can equip runes to add some extra effects.
When it comes to accessories, besides stats, they provide buffs called engravings that can determine how your character plays and how strong they are. In addition, players can equip two kinds of gems: cooldown reduction and damage boost. All gems have unique abilities and can be leveled up to become stronger. On top of that, there is a card system and card selection that can be combined to form a card deck that provides players with damage bonuses, crit bonuses, movement speed increases, damage reduction, and damage type changes.
Lost Ark Quest/Mission System
This is a game where I think it's important for there to be a lot of fun quests and missions for players to enjoy. The developers did a great job of keeping everything in the questing process simple. There are tons of interesting NPCs, such as King Thirain and Zinnervale, that you will meet along the way while questing. You will have an easy enough time finding the objectives, gathering quest materials, and navigating the world regardless of where you are in the world and regardless of the quest. While the quests aren't that impressive, the process is smooth, which is important given how grindy questing can be in MMOs. There are several types of quests in Lost Ark: main quests, dungeon quests, normal quests, chain quests, rapport quests, sudden quests, adventure quests, world quests, Una's tasks-daily quests, group quests, event quests, and PVP quests.
Lost Ark Graphics
LOST ARK - The Most Impressive Graphics In The Game
The graphics in Lost Ark just look amazing. It's easily the most beautiful isometric MMO right now. Animations and sound effects are equally good, as everything feels polished. The graphics and artwork are up-to-date with the times.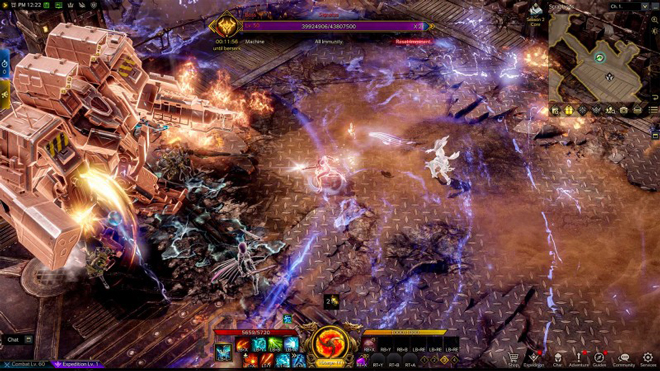 The graphics that make a game a reality
It is full of very detailed and beautiful areas, and everything feels so realistic. The character and combat animations are out of this world. No matter where you are in the world, there are numerous particles, lights, and shadows that add to the overall pleasing appearance. 
Lost Ark Developer
Lost Ark was developed by Smilegate RPG and published by Amazon Games Studios, who does an excellent job with game updates and fixes, which occur frequently. In regards to bugs, I haven't encountered any of them while playing the game, but there are some other players who did have certain issues with stuttering and some other bugs. Everything felt so smooth to me. The thing that I didn't like was the server downtime during peak hours because many people were unable to play the game after work. The game content for Europe and America was also behind by a big margin compared to the one in Korea. They should have just released the game in the same state as it was in Korea. Another major issue is the lack of communication and clarity about upcoming updates by the game's publisher.   
Lost Ark Price
Lost Ark is a free-to-play game available on the Windows and Steam platforms with buyable starter packs. The players are also able to buy everything in the game with real money through the use of blue crystals as the game currency. However, the crystals can be bought with gold as well, by free-to-play players. In my opinion, Lost Ark is not a pay-to-win game because even the players who did not invest any real money into it are able to acquire everything, just at a much slower pace. There are no advantages to investing your money, besides having to spend less time grinding for materials.
FINAL VERDICT: My rating for this game on a scale of ten is 8/10.
Lost Ark Pros:
The core gameplay is incredible.
The graphics look amazing.
Thousands of hours' worth of completionist content.
Amazing sense of progression.
Lost of different self-contained stories.
Alt friendly.
Endgame's PVE content is incredible.
PVP content is fun and gear is equalized.
Daily quests are fast and have rest bonuses and fun RNG bonus rewards.
Timed events make the World feel alive.
Lost Ark Cons:
Gear upgrades in the UI can't skip animations.
Gender-locked classes.
P2W aspect.
The content was behind the original one after its release.
Having to do the same guardian boss two times per day is tedious.
No loot sorting filter.
Players with a 21:9 display ratio have a vision advantage.
The auction house navigation is a bit complex.
Some PVE mechanics are frustrating and unfun.
PVE progression is either an RNG or frustrating.
The fun starts in the endgame.
In conclusion, I consider The Lost Ark to be a successful massively multiplayer online game (MMO) since its horizontal progression is equally satisfying as its vertical progression. I can honestly say that, among top-down games, this is the greatest I have ever played. You can easily spend thousands of hours here. Considering that less than one percent of users are expected to make use of the pay-to-win feature, the game still manages to maintain a rather reasonable price point.
You May Also Be Interested In: