[Top 15] Overwatch 2 Best Legendary Skins That Look Freakin' Awesome
Updated: 13 May 2023 11:15 pm
Kiriko steals the spotlight with her legendary skin
The Impact Of Skins
Skins are the driving force in the Overwatch shop. In general, skins are what people look forward to the most when a new event rolls around. Throughout Overwatch's history, we've seen some amazing legendary skins. But which ones are the best?
15. Dragon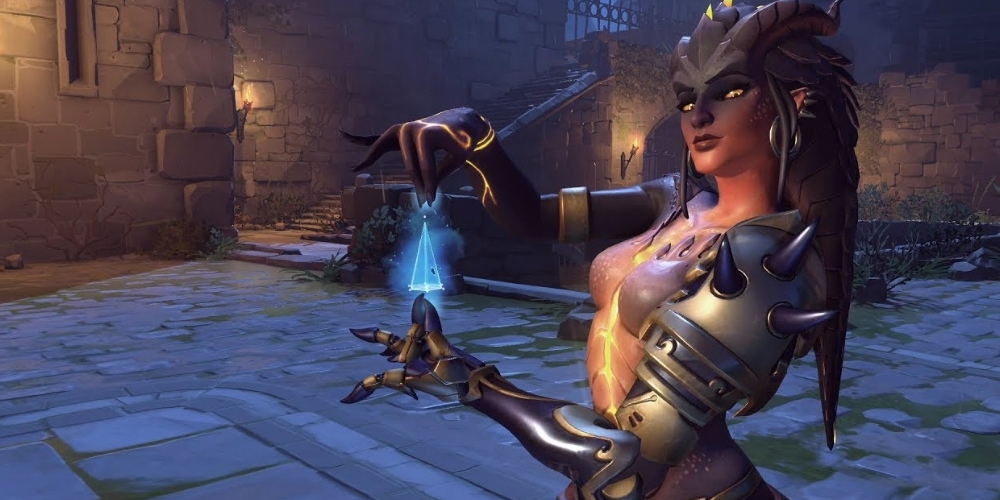 Dragon Sym preparing her defenses
See Dragon in action: 
Dragon Sym is still one of my favorite skins. Even though I don't play Sym, I have it equipped for the occasions where I feel like trying her out. I mean, look at it. Don't tell me that skin doesn't look absolutely sick.
During the Halloween event, Blizzard dropped Dragon Symmetra. Between the awesome headpiece and the glowing, lava-like designs on her arms and body, Dragon Symmetra is one of the best legendary skins in the game.
How To Get Dragon
The Dragon skin is a Halloween event skin. It will be available in the shop around Halloween time. The prices are TBD.
Dragon rating: 9/10
14. Grillmaster: 76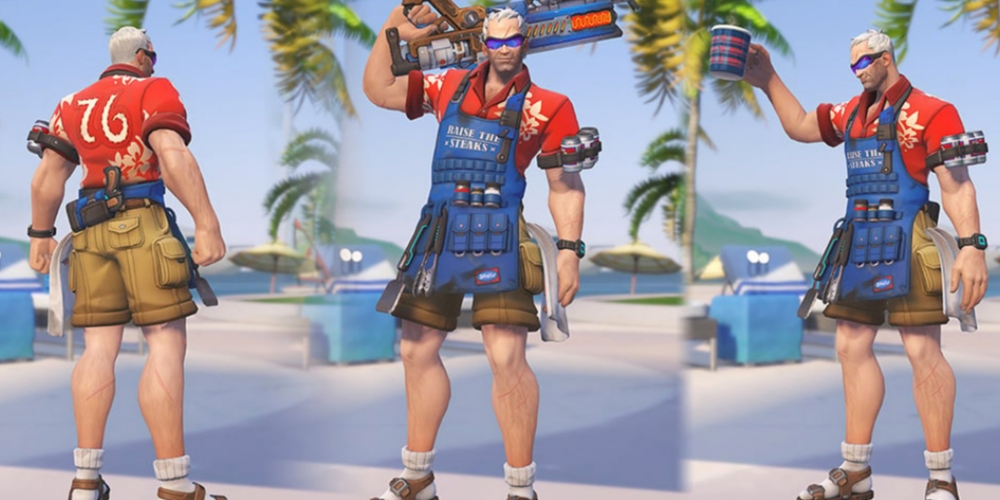 Dad of the year
See Grillmaster: 76 in action: 
What a legend! Look at that skin; how can you call it anything less than a masterpiece? Not only are the new voice lines funny and add to Soldier's "dad" quality, but the whole look makes me crack up every time I see it. Beyond that, there's something charming about the healing pod being one of the cans attached to his shoulder.
It's also a nice touch that the weapon itself looks like a grill. Grillmaster 76 is one of the best skins in the game, and it's definitely my favorite Soldier skin. Oh, and who can forget the iconic socks and sandals combo he has going on?
How To Get Grillmaster: 76
Grillmaster: 76 is a Summer Games skin. That means you can get it in the shop when the Summer Games roll around. Prices are TBD. 
Grillmaster: 76 rating: 9/10
13. Snow Owl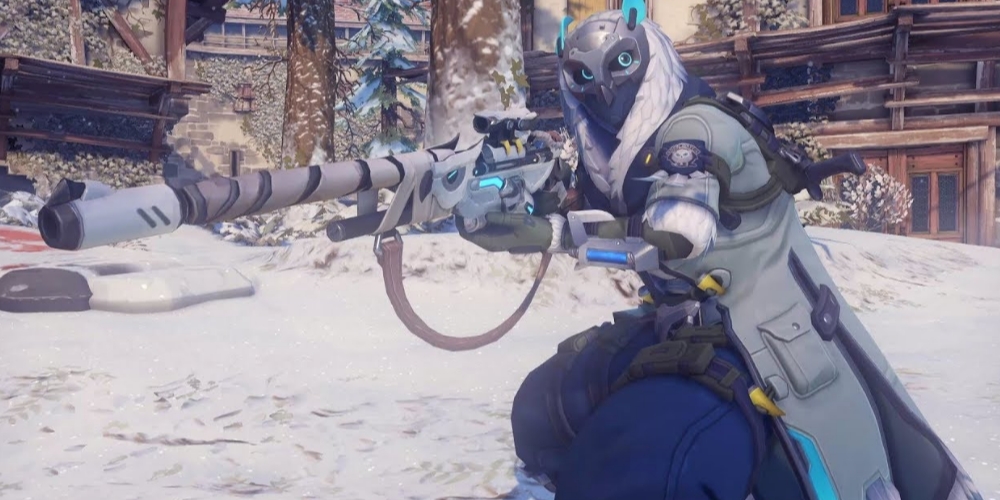 Snow Owl Ana keeping watch
See Snow Owl in action: 
Snow Owl is one of Ana's first skins. Despite being one of her first, it's still one of her best. Considering she has a great catalog of skins, Snow Owl still being one of the best is no easy feat. It's all thanks to the simple design mixed with a cool concept and awesome colors.
The mask is beautiful and well designed; the sniper is cute and matches the theme of the skin; and the colors make her look like a winter warrior. How can you not be in love with this skin? If not for the two feathers on the mask, then for the awesome rifle you get to see in-game.
How To Get Snow Owl
Snow Owl is a Winter Wonderland skin, meaning you can get it when the Winter Wonderland event rolls around. Prices are TBD. 
Snow Owl rating: 9/10
12. Mermaid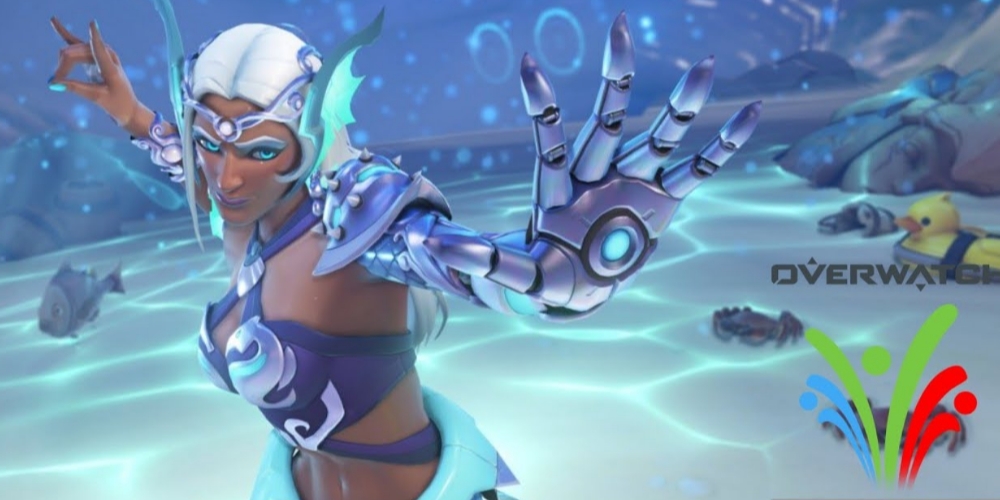 Under the sea
See Mermaid in action: 
Sym may not get as many skins as the other heroes, but when she does, they're awesome. This is Sym's second entry on this list because of how cool Mermaid looks. Not only does it fit her character design perfectly, but the developers really outdid themselves with the color palette and style Mermaid has.
The ears and tail are the two best parts of the skin. The tail is like a cape draping down her body, bouncing off her legs, which are shaped like a mermaid. Although the skin itself has a simple concept, it's executed perfectly. You'll definitely feel like a little mermaid while using this skin.
How To Get Mermaid
Mermaid is a Summer Games skin, meaning you can get it when the Summer Games roll around. Prices are TBD.
Mermaid rating: 9/10
11. Wave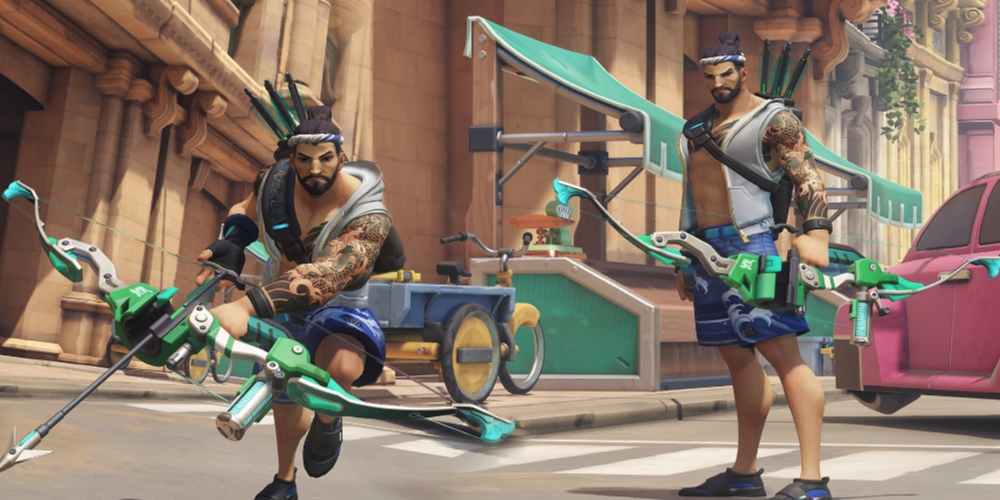 Hanzo's gorgeous summer skin
See Wave in action: 
Shirtless Hanzo, must I say more? Ladies, this pick is for you. Not only does the skin fit the summer concept perfectly, but the details are impressive. The waves on his pants and the bow looking like an overgrown water gun only add to the awesomeness.
This skin gets its glory from being so simple. It doesn't rely on flashing lights or vibrant colors to bring it out. In fact, it's kind of neutral. You can still blend in with the environment, which is useful for gameplay. For your personal enjoyment, you get a fun and awesome bow to stare at while hunting enemies down.
How To Get Wave
Wave is a Summer Games skin, meaning you can get it when the Summer Games roll around. Prices are TBD.
Wave rating: 9/10
10. Surf 'N' Splash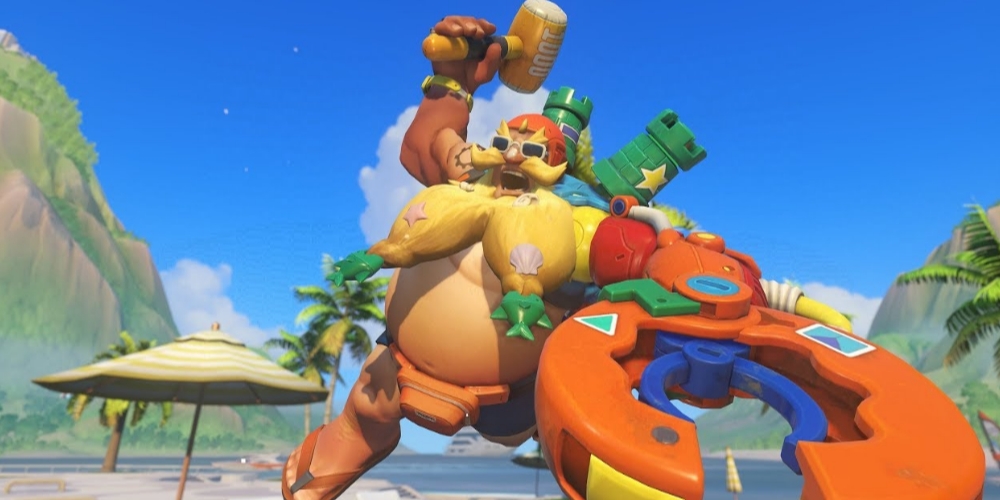 What a beautiful man
See Surf 'N' Splash in action: 
My last pick was for the ladies; now this one's for the men. To my male audience, try not to get overwhelmed by that picture. I know, it's a lot to take in. Still, all jokes aside, this skin is pretty well-made and has become a meme in the Overwatch community. Any skin that gets that much attention is worthy of a spot on this list.
The small details, like his hammer being an inflatable one and the shells in his beard, make this skin so memorable. Of course, I don't think I need to explain the other reasons why this skin is memorable, but still. Overall, it's a fun time that will have you laughing.
How To Get Surf 'N' Splash
Surf 'N' Splash is a Summer Games skin, meaning you can get it when the Summer Games roll around. Prices TBD.
Surf 'N' Splash rating: 9.5/10
9. Lifeguard
Don't ask me the color of anything
See Lifeguard in action: 
Are you sensing a theme? Lifeguard Cassidy is the perfect summer skin. Seeing as lifeguards are a staple of the beach, having a lifeguard skin in the game feels appropriate. They chose the perfect character to do so.
His straw hat, whistle, towel, and little water bottle are all highlights of this skin. However, what's important is how it looks in-game. The revolver Cassidy uses is a perfect example of how to balance aesthetics with in-game satisfaction. The skin itself is aesthetically pleasing, and the gun is the cherry on top. If the weapon you're using is fun to look at, then the skin is going to be a success.
How To Get Lifeguard
Lifeguard is a Summer Games skin, meaning you can get it when the Summer Games roll around. Prices TBD.
Lifeguard rating: 9.5/10
8. Cursed Captain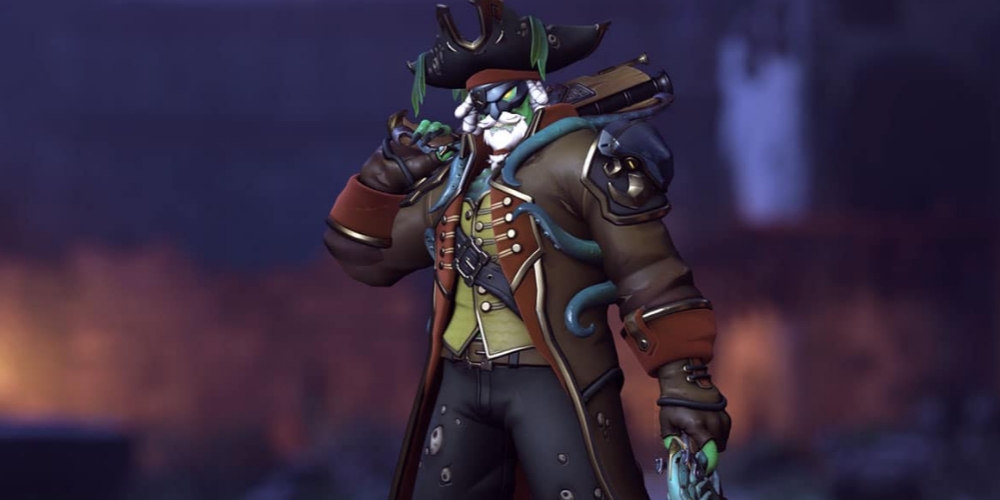 Captain Seaweed
See Cursed Captain in action: 
Reaper is hard to make skins out of sometimes. The reason why is because he has a limited range; he's an emo ghost-like thing. However, this skin is the perfect fit for Reaper and his character. My favorite part is the little squid that bounces on his back whenever he takes a step.
In the image, you can see the tentacles wrapped around Reaper's torso. That's a small detail I love, just like the seaweed on his hat. Then there are the barnacles on his pants. You can tell Blizzard paid close attention to the details, which makes this skin feel alive despite Reaper being kind of dead. Kind of.
How To Get Cursed Captain
If you're a regular or even casual Overwatch player, you probably already have this skin. To apologize for a messy launch, Blizzard released Cursed Captain as an apology. All you had to do was log in during the first Battle Pass season. If you did not do that and still don't have the skin, then it is sometimes available in the shop. Prices vary.
Cursed Captain rating: 9.5/10
7. Kendoka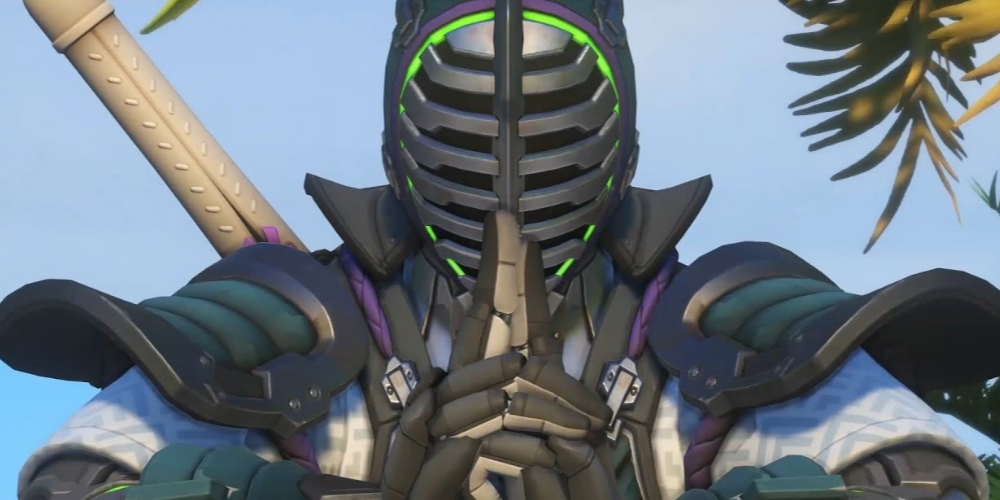 Genji proudly wearing his Kendoka skin
See Kendoka in action: 
Genji having a Kendoka skin is amazing. Kendo is a modern Japanese martial art that involves bamboo swords, or shinai, and body armor. Genji takes on this role perfectly. Not only because of his background but also because of his ultimate revolving around his swordsmanship.
The sword itself is modeled after a shinai, which adds the cherry on top. The body armor is flawless and has a beautiful design, as is the mask. I also like the tiny touch of the green accents in the mask; seeing as green is Genji's color, it's a small detail not many will think about.
How To Get Kendoka
Kendoka is a Summer Games skin, meaning you can get it when the Summer Games roll around. Prices TBD.
Kendoka rating: 9.5/10
6. Jazzy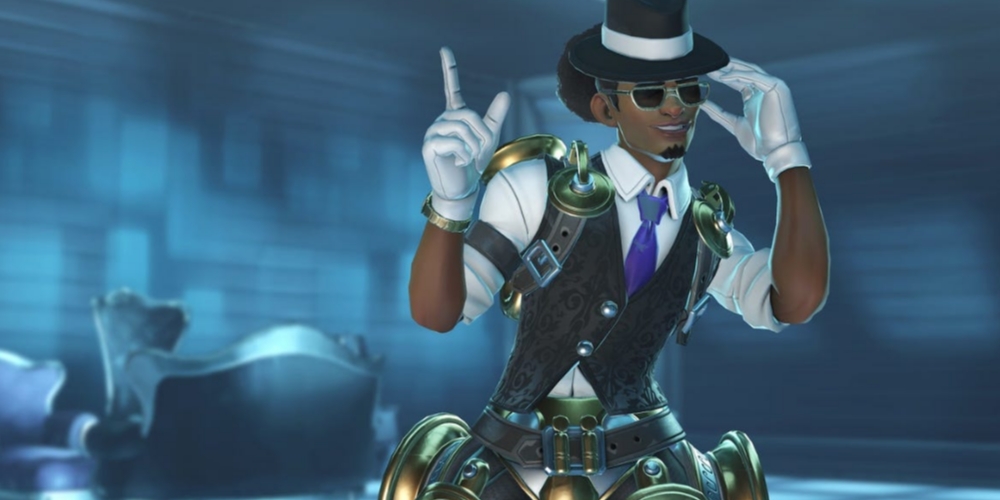 Lucio jazzes out
See Jazzy in action: 
Lucio has amazing skins, that's for sure. Although this may be a bit controversial, Jazzy is my personal favorite Lucio skin. The way the music changes makes me hyped up whenever I play him. I also like the overall design of the skin.
Seeing as Lucio's entire character revolves around music, seeing him dress in a classy outfit with jazzy music is super satisfying to me. The hat and sunglasses are a bonus that have me kicking my feet and twirling my hair.
How To Get Jazzy
Jazzy is an Overwatch Anniversary skin, meaning you can get it when the Overwatch Anniversary rolls around. Prices TBD.
Jazzy rating: 9.5/10
5. Officer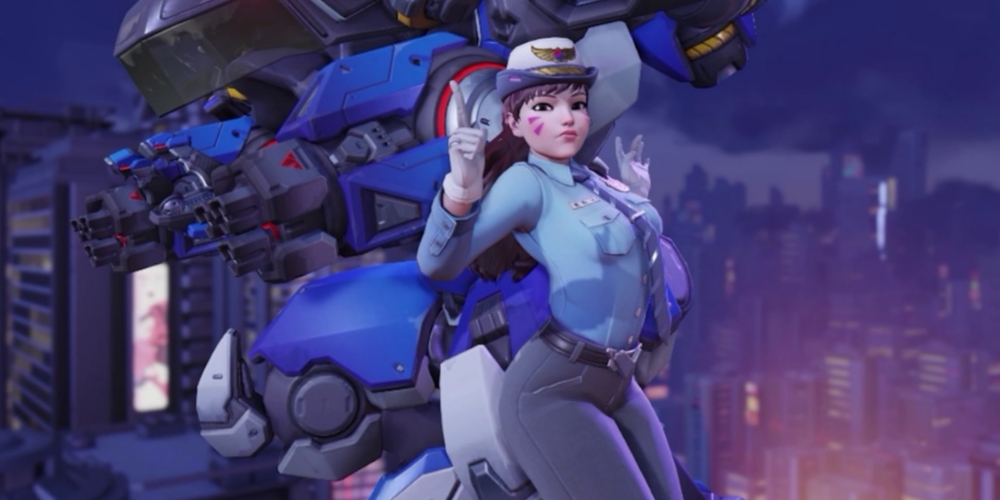 Officer D.Va showing off her cruiser mech
See Officer in action: 
There are plenty of D.Va skins that can be on this list, but Officer deserves the top spot. Even though Officer is not my personal favorite D.Va skin, it still has too much attention to detail to ignore. It deserves a high rank on this list due to the detail and the changed voice lines.
The best skins are the ones that change the sound effects and voice lines. Officer does this, and that's without mentioning how funny it is to have a giant mech act as Officer D.Va's police car. You'd have to be soulless not to have a fun time while playing as Officer D.Va.
How To Get Officer
Officer is a legendary skin you can get in the shop. Prices vary.
Officer rating: 10/10
4. Cultist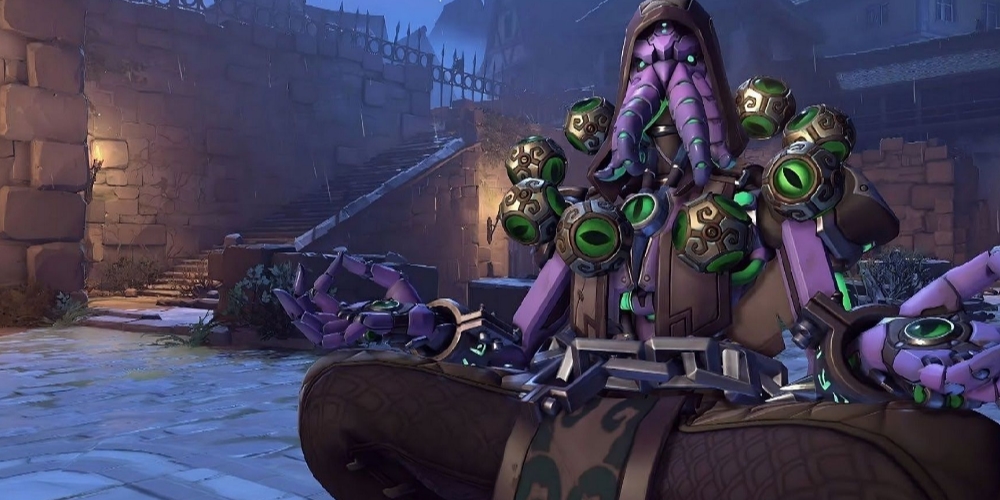 Zen joined the dark side
See Cultist in action: 
Cultist Zen is one of my favorite skins in the game. Considering Zen is a, well, zen hero, seeing him as a mini version of Cthulhu is so ironic. Not only is the color palette gorgeous, but the balls being eyes is a great design choice. If you look closely, you'll also see eyes in Zen's hands, which adds to the aesthetic.
Zen's face is the best part of the skin, but I also love the attire, which is monk-like robes with a hood covering his Cthulhu-like face. Overall, Cultist is one of the best skins in the game and, in my opinion, the best Zenyatta skin.
How To Get Cultist
Cultist is a Halloween skin, meaning you can get it when the Halloween event rolls around. Prices TBD.
Cultist rating: 10/10
3. Saitama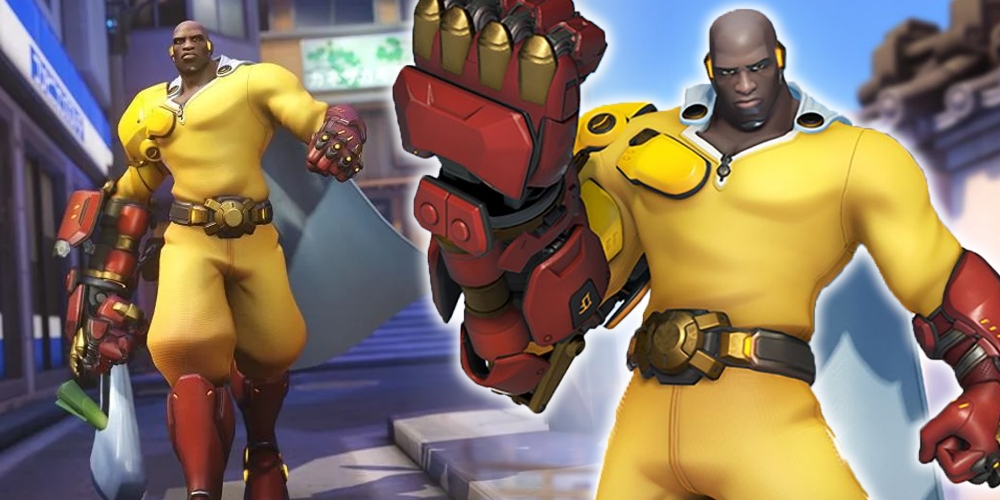 Doomfist go punch
See Saitama in action: 
Doomfist's most recent skin is his best. Having Doomfist be Saitama was the perfect choice; he embodies it beautifully. This skin, when mixed with the voice line, makes for perfection. I cannot tell you how many Saitama Doomfists I've seen who spam the "one hundred push-ups" voice line. As much as I normally don't like playing with Doomfists, I have to admit that the voice line brings a smile to my face.
Beyond that, the skin is aesthetically pleasing. It's funny to see Doomfist in this attire. Along with that, the cape is hilarious and makes Doomfist, the villain of Overwatch, look like a saint here to save you.
How To Get Saitama
All you have to do is buy it from the store while it's still available during the One Punch Man event. Prices vary.
Saitama rating: 10/10
2. Noxious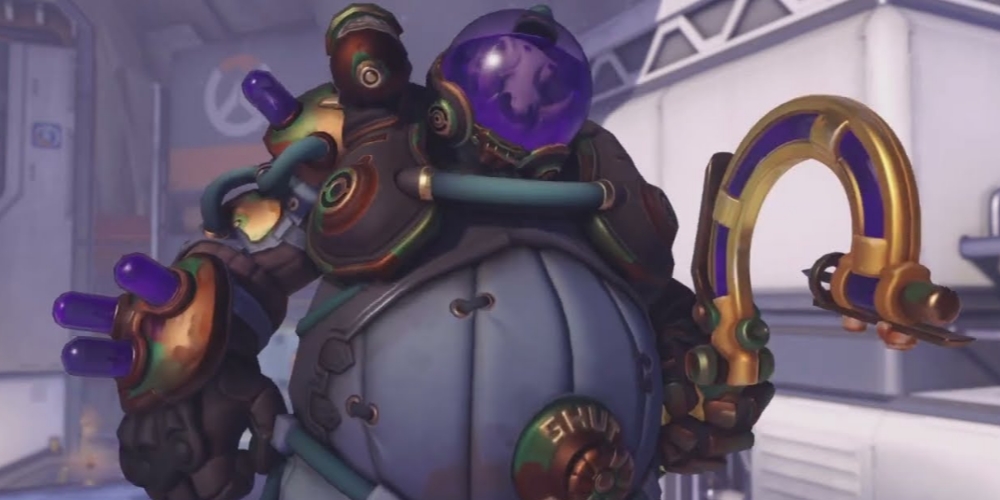 Noxious Roadhog in the practice range
See Noxious in action: 
In my opinion, this is an extremely underrated skin. The mask alone gives this skin a 10/10. Roadhog's character has a wasteland feel (seeing as, well, he kind of lives in a wasteland), so seeing the toxins building up inside his mask and along the side of his arm is awesome. I love skins that take a character's background into consideration, like Genji's skin that was on this list earlier.
Beyond that, this skin has a nice hook. Seeing as the hook is a core part of Roadhog's kit, it's nice to see the developers put more effort into it. Most of Roadhog's skins focus more on the mask than the hook. This skin has a nice balance between the two.
How To Get Noxious
Noxious is an Overwatch Anniversary skin, meaning you can get it when the Overwatch Anniversary rolls around. Prices TBD.
Noxious rating: 10/10
1. Pink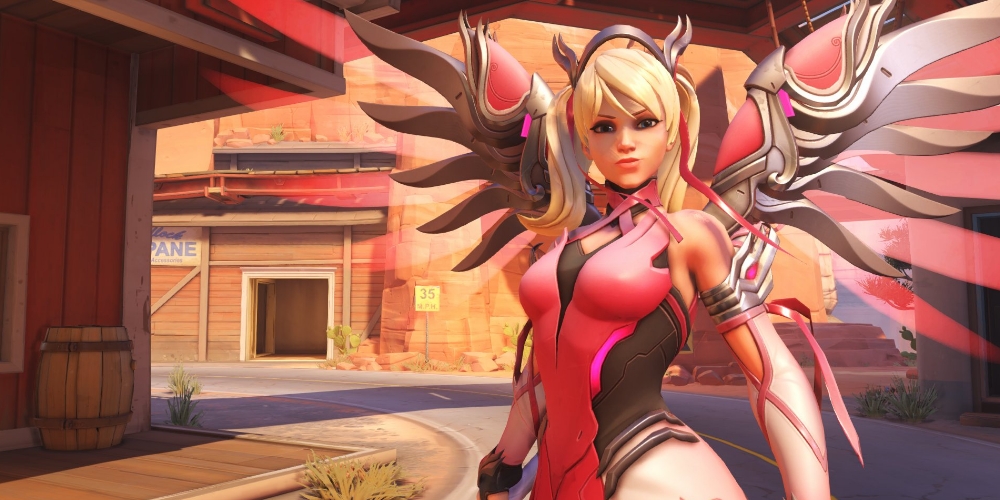 Pink Mercy spreads her wings
See Pink in action: 
Raise your hand if you're surprised. Pink Mercy is easily the best skin in the game. If not for the amazing sound effects, then for the overall look and feel of it. The pink wings, gorgeous halo, beautiful dress, and the little ribbons hanging off Mercy make this skin feel like a guardian angel. Seeing as Mercy is exactly that, this skin shines while also fitting Mercy's character.
The sound effects are the best part of this skin. Even basic healing has a different sound effect depending on how full your ally's health bar is. Flying sounds different, resurrecting sounds different, and using your ult sounds different. If you want to feel like a fairy, then play Pink Mercy.
How To Get Pink
Unfortunately, Pink is no longer available. It was sold during a charity event. The only way you can get it now is by buying an account from an Overwatch player who has Pink. Those accounts sell for hundreds if not thousands of dollars, so it's extremely difficult to get.
Pink rating: 10/10
You May Also Be Interested In: