[Top 10] Overwatch 2 Best Mercy Skins That Look Freakin' Awesome
Updated: 17 Jan 2023 5:01 am
Pink Mercy is ready for battle
Why Does Mercy Have So Many Skins?
Mercy is a beloved winged angel who soars across the map. With wings and a staff, Mercy has potential for some of the most creative skins in the game. There's a lot you can do with her design, and seeing as she has countless skins, Blizzard took advantage of that and made several legendary skins that make her stand out in a crowd.
10. Sigrun (1000 Credits)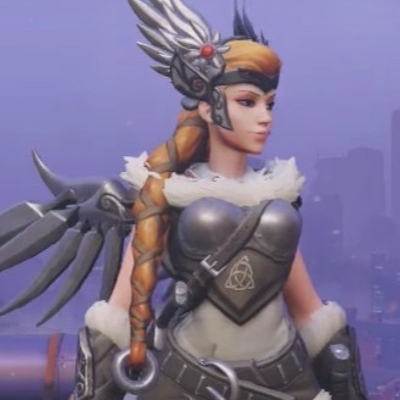 Sigrun Mercy relaxes in her viking gear
See sigrun in action: 
I have to admit I'm in the minority by putting sigrun on this list, but I love this skin. Maybe it's because I'm a redhead and I love seeing a redhead viking skin in the game, or maybe it's because Mercy looks amazing as a flying viking. Either way, Mercy rocks this skin, and the color scheme is my favorite part about it.
My one criticism would be the staff. The staff is pretty ugly. On valkyrie, the other version of this skin, the staff looks much better and more elegant. For sigrun, it appears to be dry wood that was overheated in the oven.
Despite the flawed staff, that's nothing a golden weapon can't fix. It certainly looks better with the gold skin than with the base skin. It's probably best to only get it if you have the golden Mercy weapon. If you like vikings and redheads, the sigrun skin is for you. 
How To Get Sigrun
This is one of Mercy's regular legendary skins. You can purchase it at any time using credits.
9. Imp (1000 Credits)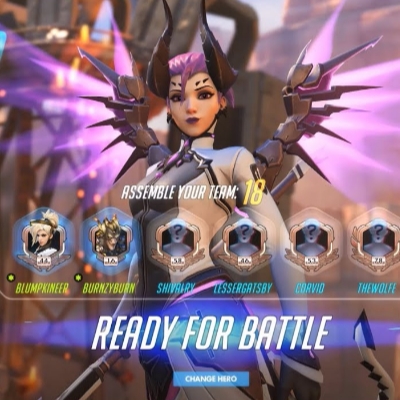 Imp Mercy gets ready to fight on Route 66
See imp in action: 
Imp is a very solid skin that looks awesome with the golden staff. The staff itself is beautiful, but the gold makes it pop even more. The staff for imp is one of my personal favorite Mercy staffs, topped only by two. One is the Overwatch 2 Mercy skin staff, and the other will be on this list in the future.
I personally love the tail on the back of the imp skin. The way it wiggles when you fly is absolutely hilarious, and it adds to the theme of the skin. Besides that, there's also the cute outfit and the horns. Mercy looks a lot different in this skin than she does in her others, which is something I admire.
This skin is creative and isn't scared to change up the Mercy we know to deliver a new product. If you like creative skins, then you should try imp.
How To Get Imp
Imp is another one of Mercy's regular legendary skins. You can buy it at any time in the store.
8. Royal Gladiator (Overwatch League 200 Tokens)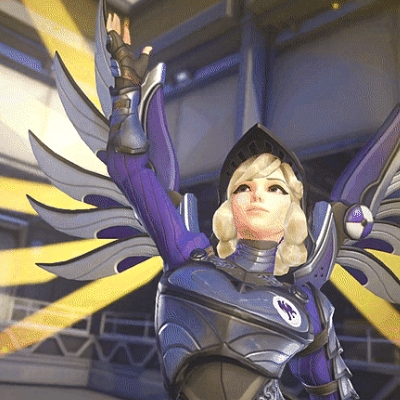 Mercy gets ready to save your life
See royal gladiator in action: 
The royal gladiator skin isn't my personal favorite. Although I really love the colors and the detail of the chains, I don't like the staff. The staff looks ugly and bulky to me. Unlike with sigrun, not even the golden gun can save the staff. If the staff wasn't so bulky and awkward, I'd probably have this higher on the list.
Another issue I have with it is the wing color. This skin is primarily purple. Why are the wings still yellow and not purple? It throws off the awesome color balance the rest of the skin has. Seeing as the rest of the skin is really sick, it bothers me that these small things add up to make it less awesome.
Either way, this is still a good skin overall and definitely worthy of a spot on this list. If you love darker color schemes and knights, then play with the royal gladiator skin.
How To Get Royal Gladiator
This is an Overwatch League (OWL) skin, meaning you have to buy it using OWL tokens. It costs 200 tokens, which is around $10. 
7. 2019 Atlantic All-Stars (Overwatch League 200 Tokens)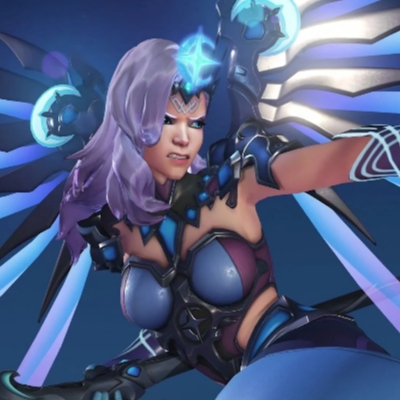 Atlantic Mercy switches to her pistol
See Atlantic all-stars in action: 
This is a very beautiful skin with a lot of detail put into it. The glowing accessories Mercy has are amazing and a nice touch that make this skin pop. My only criticism of it is how expensive it is. It took me countless hours of watching Twitch to get OWL tokens, but even then, I only had enough for a basic skin, not Mercy's awesome skin.
Regardless, this skin was worth the grind because it is insanely detailed. It may be one of Mercy's most detailed skins, if not the most detailed skin. All the moons and stars on her wings and outfit are breathtaking. Along with that, this skin proves to Blizzard that purple wings exist. These wings are a mix of blue and purple, with the length being blue and the tips being a shade darker, almost like purple.
The hair is jaw-dropping as well. We've never seen Mercy with such luscious locks before. Overall, Mercy is killing this look, and it absolutely deserves a spot on this list. If you have enough OWL tokens, definitely get this skin.
How To Get 2019 Atlantic All-Stars
You can get this skin the same way you get the royal gladiator skin: by using OWL tokens to buy it from the OWL store.
6. Seolbim (1000 Credits)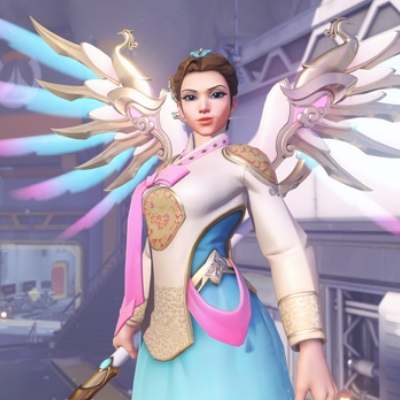 Seolbim Mercy gets ready to train
See seolbim in action: 
This skin has so much detail and love put into it. Those wings are my favorite part of the skin. Those wings are the definition of a chef's kiss. The detail put into the metal of the wings is so gorgeous, I can't take my eyes off it. To top it all off, her hairdo is just as stunning as the rest of her.
The only thing stopping this skin from being higher is the staff. Although the staff is cute, I'm not a fan of how it moves when you're using it in first person. That's a personal thing, but I don't like how it flies around. It can get distracting since it takes up more of the screen than the other Mercy skins do.
Otherwise, this skin is very gorgeous and worth your time. In highlight intros, it's beautiful to see. If you like detailed and elegant skins, then seolbim is for you.
How To Get Seolbim
This is a Lunar New Year skin. You have to purchase it during the Lunar New Year event from the shop.
5. Zhuque (1000 Credits)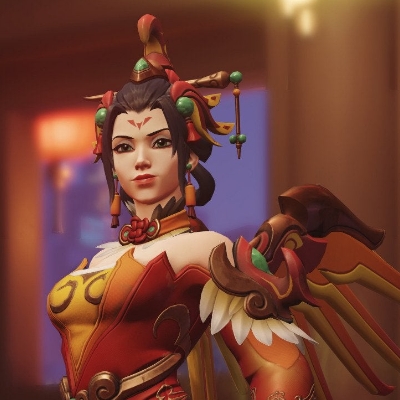 Mercy shows off her new festive look
See zhuque in action: 
Just like the last skin, zhuque is elegant and detailed. Out of the two Lunar New Year skins, I like this one more because I tend to lean more toward darker colors. This skin has a dark red palette and black hair. Many players didn't even think this skin was Mercy's when they first saw it, which is impressive. That means the designers changed Mercy quite a bit.
This skin is one of my favorites since it's elegant and creative. The dark hair, makeup, and staff make this skin so special. And yes, I approve of the staff. The staff mixed with the long sleeves make this skin awesome for the first-person experience.
If you like elegant and detailed skins, then you should try zhuque. 
How To Get Zhuque
This is a Lunar New Year skin, so you have to purchase it from the shop during the Lunar New Year event.
4. Witch (1000 Credits)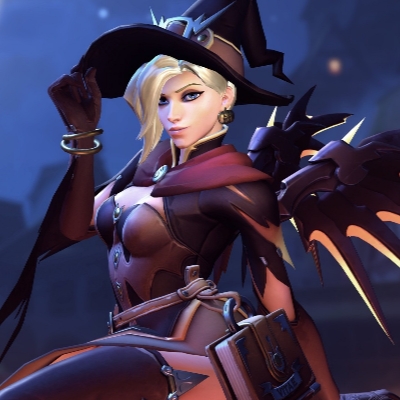 Witch Mercy tempts you to come closer
See witch in action: 
It may make me sound weird to say this, but I was never as in love with the witch skin as the rest of the community. It's a nice, detailed skin, but I wouldn't quite call it her best. The hat is large and dark, and her staff is cute too. The wings and gloves are great touches, too. However, I recommend playing with golden weapons for the best experience.
Now, me saying I was never as in love with it as others isn't me saying it isn't a good skin. It's a great skin, actually. The detail is wonderful, and the wings are my favorite part. The eyeliner also makes me weak in the knees, as do the bracelets on her right arm. It's hard not to admire the work put into making this skin come to life.
If you're a fan of Halloween skins, or if you're digging this Mercy look just as much as the entire fanbase, then you should play with the witch skin.
How To Get Witch
This is a Halloween skin, so you can purchase it during the Halloween event.
3. Winged Victory (1000 Credits)
Mercy looks like a goddess with her new skin
See winged victory in action: 
In my opinion, this and witch are roughly equal. Winged victory is a beautiful skin with amazing attention to detail. The golden accents on this skin make me swoon, and the staff is solid. I like the staff for witch a little more, but the staff for winged victory is gorgeous too.
I really love the outfit this skin has. The goddess-like appearance Mercy has fits her character, which is centered around an angel. Along with that, I love the wings. Although the color isn't very creative, the layers of feathers and the golden piece holding the feathers together are beautiful details. Oh, and who could forget all the jewelry that makes this skin pop even more?
If you enjoy mythology and skins with brighter color patterns, then the winged victory Mercy skin is perfect for you.
How To Get Winged Victory
This is a summer games skin, meaning you can purchase it during the summer games event.
2. Pink (Charity)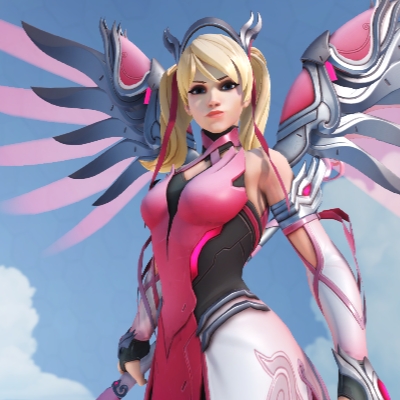 Pink Mercy flashes her beautiful pink wings
See pink in action: 
Pink is an iconic Mercy skin that not only looks and sounds cute, but it's for a good cause. Players who bought this skin were supporting charity. So this skin had two benefits: it gave Mercy players a gorgeous new skin and encouraged players to donate to charity.
This skin comes with cute new sound effects whenever Mercy flies, heals, and resurrects. The sound effects add to your immersion in the skin. Once again, this skin passes my staff test. The staff is very nice, and I like the design of it. It isn't my personal favorite staff, but it looks even better with the golden weapon equipped.
I highly recommend playing with the pink skin. Support is a hard class nowadays, and you need to find joy wherever you can. The pink skin can give you that joy with the cute sound effects and staff. Oh, and the wings are pink. Must I say more?
How To Get Pink
Pink Mercy was a charity skin that is no longer available for purchase. Blizzard has announced there are no plans for this skin to come back any time soon.
1. Combat Medic Ziegler (1000 Credits)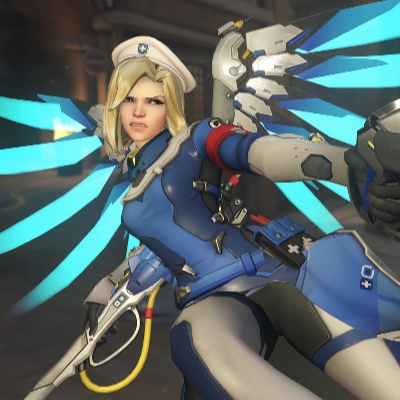 Combat medic Mercy puts the "combat" in combat medic
See Combat Medic Ziegler in action: 
I love this skin. I loved it when it came out, and I still love it to this day. This skin has the perfect staff that looks even better golden, the perfect blue wings, the perfect gloves, and the perfect outfit. All around, this skin is my favorite. Although I know this isn't everyone's favorite, it's still a beloved skin in the community because of how cute it is.
Mercy looks adorable with this skin. It's hard not to let out an "aww" when you see her laughing with this skin on. Her hair is shorter than we're used to seeing it, and her wings have changed from their basic yellow color to blue. The minor changes add up to make this skin a lot of fun to play.
The staff is what really makes this my favorite. This is my favorite Mercy staff, and I can't explain why. The color-changing vials and the blue and white color scheme are so satisfying to me, not to mention the skin itself has a lot of lore. If you like lore-based skins, then you should try Combat Medic Ziegler.
How To Get Combat Medic Ziegler
This is an archives event skin, meaning you can buy this skin during the archives event.
You May Also Be Interested In:
[Top 10] Best Overwatch DPS For Beginners
[Top 10] Best Overwatch Heroes For Competitive Play
Overwatch DPS Tier List [Overwatch Best And Worst DPS Revealed]
[Top 5] Overwatch Best Heroes For Solo Carry
[Top 10] Best Overwatch Heroes For Beginners That Are Powerful