[Top 10] Overwatch Best Roadhog Skins That Look Awesome
Updated: 20 Sep 2020 9:05 am
Check out the coolest skins for everyones favorite pig!
[TOP 10] OVERWATCH BEST ROADHOG SKINS THAT LOOK AWESOME
In a fast-paced game such as Overwatch, Roadhog wins by slowing it all down. Landing a hook as Hog often means a free trip back to the respawn room, and even if you manage to corner him it seems he's always able self-heal and slip away. A great pickup for any form of solo playstyle as a tank and a terror when facing in a 1 vs 1. But love him or hate him, there is no denying that Roadhog has some of the coolest skins in the game! With Overwatch 2 on the near horizon, we look back on the 5-year run of the original to check out some of the most awesome skins for Roadhog the game has to offer!
10. Pigpen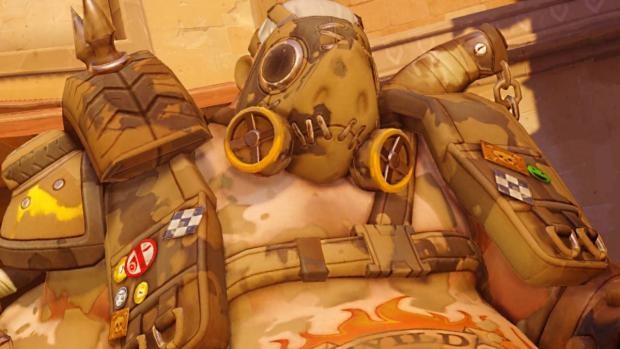 Apt to its name, this skin is an epic recolor of Roadhog's default skin with one touch up: mud (and lots of it). For a character that already looks like he hasn't found out what a bath is yet, this skin turns it up a notch seeing the one-man apocalypse getting even dirtier. A subtle but welcomed change to Hog's overall feel and an epic pick up for anyone's skin arsenal.
The mud is the pinnacle of the skin and does a great job giving an awesome feeling to an already spectacular hero design.
Keeps what made the original Hog skin so great!
A low-priced easy pick up for anyone looking for a cool Hog skin.
How to get Pigpen: Normal loot boxes or buy in the store for 250 credits.
See Pigpen in action: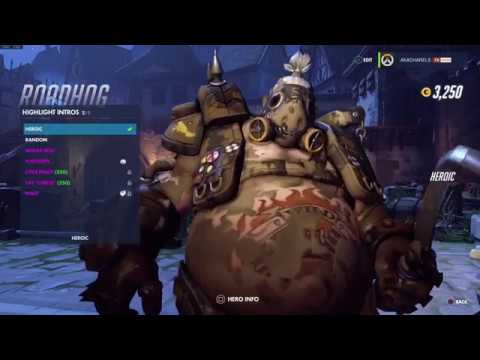 9. Toa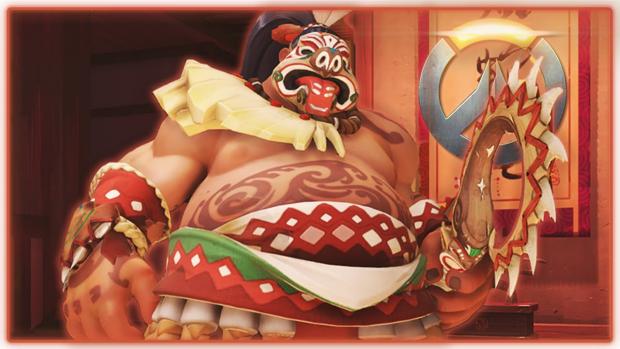 Toa transforms Hog form an Australian Junker into an epic looking Pacific islander. Taking inspiration from New Zealand's Māori Warriors, this skin proves just how much effort the Overwatch team put into their skins and the historical significance of what they are portraying. Toa displays a menacing presence on the battlefield and a true nightmare if caught out by this skin in a 1 vs 1!
The hook is one of the gnarliest looking that Hog skins have to offer, and the shark teeth cap off the badassery of it all!
The mask looks awesome and adds a great touch to the overall theme of the skin.
The red, green, and white contrast very nicely together and great a great color scheme.
How to get Toa: Normal loot boxes or buy in the store for 1000 credits.
See Toa in action: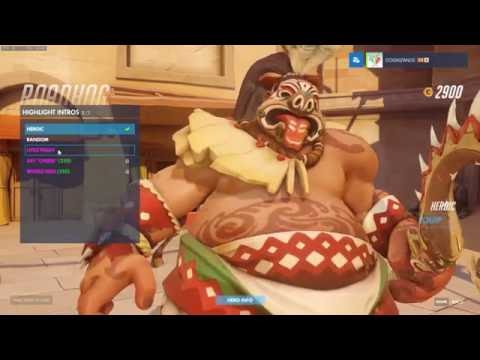 8. Mako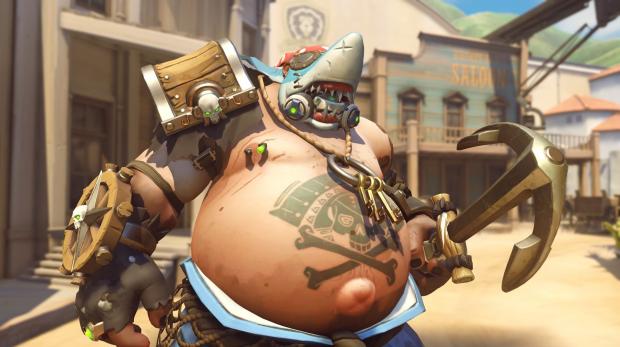 embracing the pirate theme, we see Raodhog don a shark mask before casting out into the fight. Decked with all the essential pirate tropes, this skin makes Hog feel like a one-man-battleship ready to take down any unlucky enemy that gets in his way. Overall an Awesome skin and one of the best pirate skins the game offers!
The anchor as a hook is very suitable, we would have been disappointed with anything less.
The details on this skin show a veteran pirate with quite a few treasure chests under his belt.
The colors fit nicely with this skin and give off a nice ocean feel.
How to get Mako: Normal loot boxes or buy in the store for 1000 credits.
See Mako in action: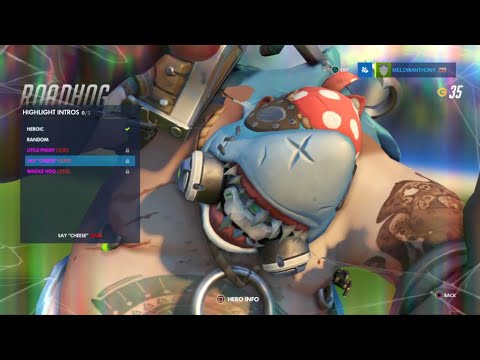 7. Militia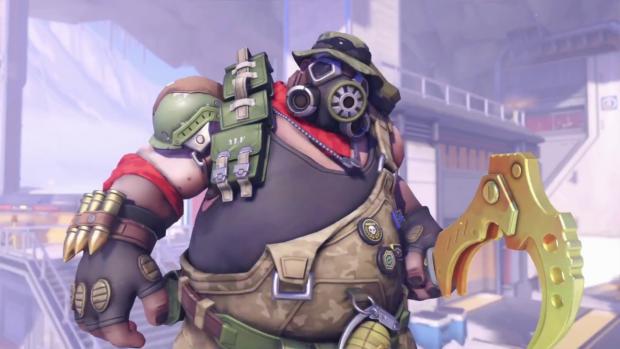 This skin sees everyone's favorite pig dressed in camouflage overalls and cleans him up a bit compared to his default skin. Presumably a younger Hog (hard to tell with the mask), this skin looks as if he has everything he needs to survive in the Australian bush for a few months, come back, and still kick ass! A true survival expert and an Epic skin!
Replacing Hogs belly tattoo with a grenade hanging on by a pin lets us know that while he may clean up nicely, this is still the same reckless Piggy we love!
The hook looks deadly and more realistic than any other hook he has in the game.
The hat and undershirt add a nice touch to the overall skin, nailing the Australian feeling.
How to get Militia: Open Archive boxes or buy for 1000 credits during the Overwatch Archive/ Anniversary event.
See Militia in action: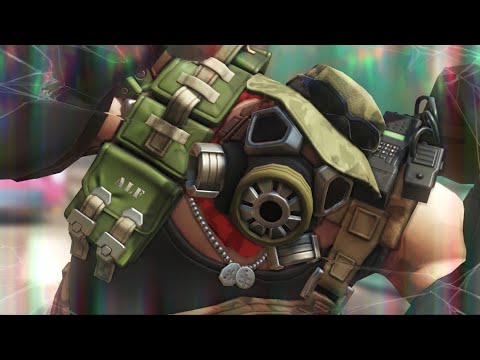 6. Lacrosse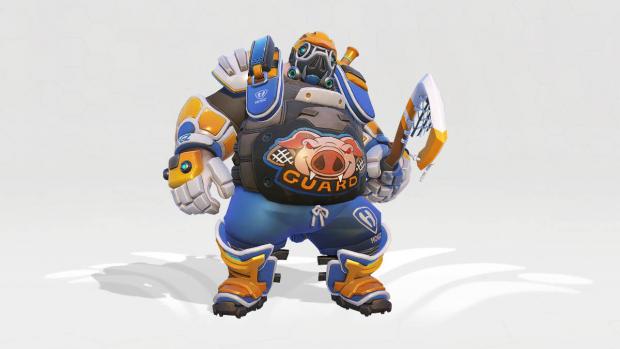 Added in the Summer Games event, this skin sees Raodhog the most terrifying lacrosse player in the world. Decked out in padding and a lacrosse racket/hook Hog seem a little too big to be guarding the small goals in lacrosse…And definitely too dangerous to be playing a contact sport!
The helmet/ gasmask adds a nice menacing touch to the skin.
His lacrosse racket looks terrifying to get hooked by and is for sure not up to code for the sport…right?
The belly tattoo being replaced by a team logo makes it a little more visible in a battle.
The color scheme is great, and really gives the feel of a sports team.
How to get Lacrosse: Open Summer games boxes or buy for 1000 credits during the Overwatch Summer games/ Anniversary events.
See Lacrosse in action: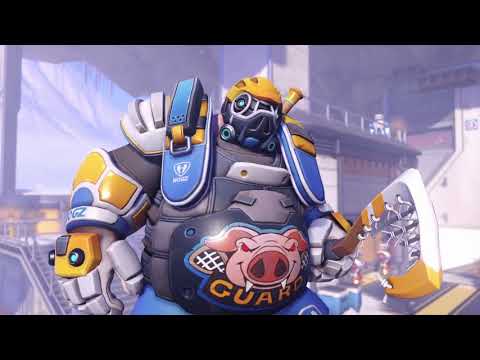 5. Junkenstein's Monster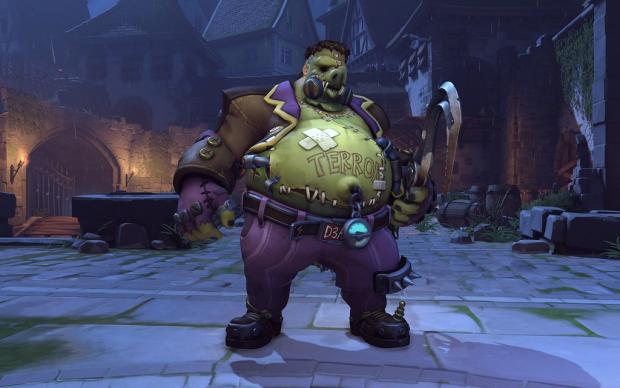 Adding another notch in the belt of Junkrat/ Roadhog duo themes, this skin sees Roadhog turn into a Frankenstein monster inspired atrocity. A creation of Doctor Junkenstein's, Roadhog embodies the Halloween theme with this stitched together green-skinned bowl cut wearing monstrosity! A truly menacing skin and a great addition to any skin collection!
The stitches literally hold this skin together and give a great menacing feeling to this skin.
The purple and green color scheme fits perfectly with this skin.
The resemblance to Frankenstein's monster is uncanny and an awesome skin added to the Halloween collection.
How to get Junkenstein's Monster: Open Halloween boxes or buy for 1000 credits during the Overwatch Halloween/ Anniversary events.
See Junkenstein's Monster in action: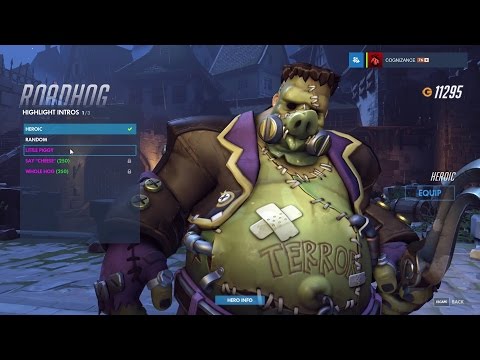 4. Ice Fisherman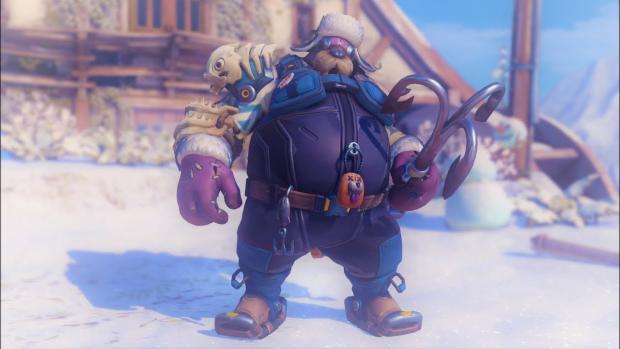 Looking like a polar hunter, this skin turns Hog into a friendly-looking walrus-like creature with a giant fish hook ready to reel enemies in! An awesome looking winter skin that makes Hog look chummier than ever, this skin plays into the theme perfectly creating a silly but terrifying skin to add to his collection.
The fish hook looks terrifyingly awesome, an apt choice for this skin.
The tuna barrel on his back adds to the overall comic feel of this skin.
The walrus mask is a nice touch and gives another unique look for everyone's favorite pig.
How to get Ice Fisherman: Open Winter boxes or buy for 1000 credits during the Overwatch Winter/ Anniversary events.
See Ice Fisherman in action: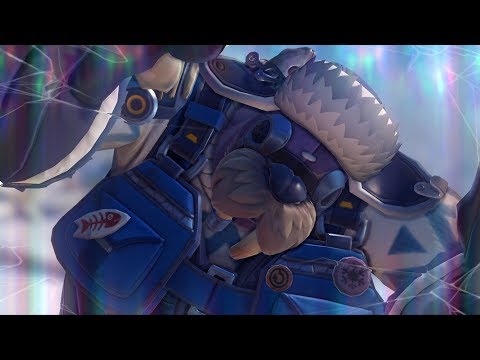 3. Toxic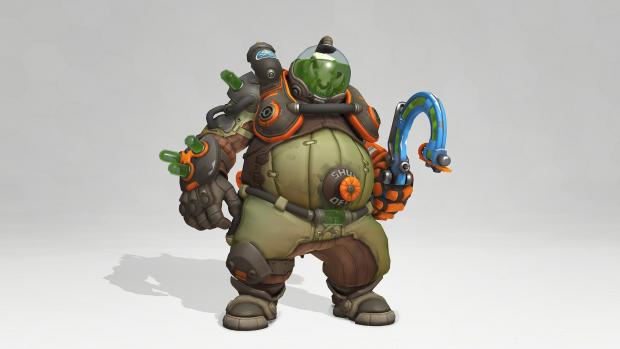 The most unique skin Hogs wardrobe has to offer, this skin genuinely takes a creative approach to the design. Seeing Roadhog turn into a seemly possessed suit of toxic sludge there isn't a skin quite like it in the game, and we love it! Not only does it look like a sludge coming alive, but it also looks ready to inflict its enemy with the same sludge through its hook! An awesome concept that is perfectly executed in this epic skin.  
The animal skull in the helmet adds an awesome touch to the skin and adds to even more of the mystery behind the skin.
The hook looks gnarly, with a syringe on the tip ready to inflict his foe.
The belly tattoo is replaced with a valve saying, 'shut off'.
How to get Toxic: Open Anniversary boxes or buy for 1000 credits during the Overwatch Anniversary event.
See Toxic in action: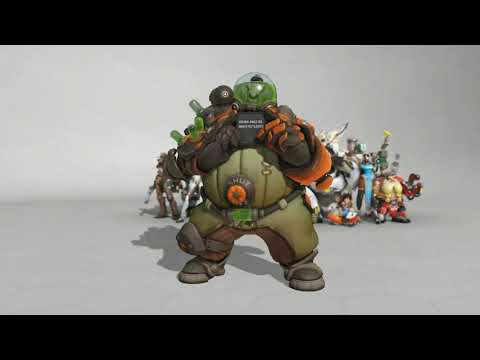 2. Butcher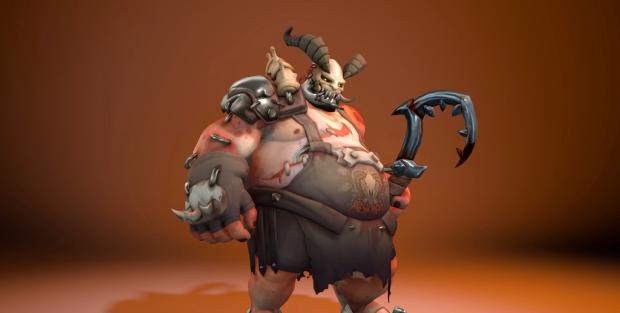 Resembling a boss from Diablo, this badass skin realized alongside the blizzard world map shows just how iconic Blizzard games have become! Resembling a demon, this skin turns Hog into a terror on the battlefield! This game cross over is what we love to see in skins, and it fits Roadhog like a glove!
The helmet is super awesome and adds a face like feeling which most Hog skins lack.
The design and the butcher's apron give off a menacing personality.
The badass hook looks like it would hurt…a lot…
How to get Butcher: Normal loot boxes or buy in the store for 1000 credits.
See Butcher in action: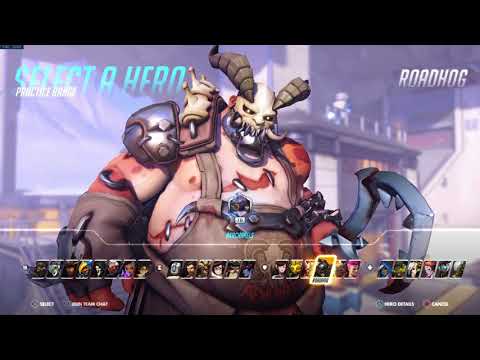 1. Bajie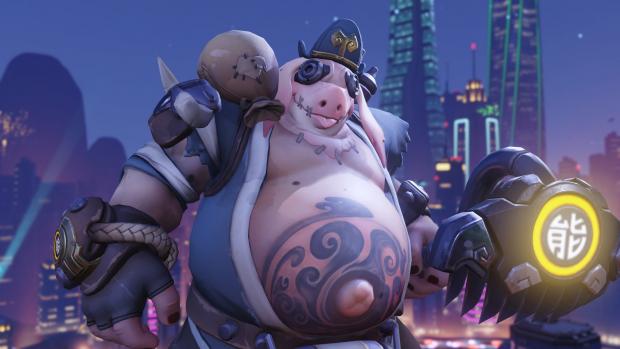 This legendary skin is truly a sight to behold and the best Roadhog skin the game offers! Taking inspiration from Zhu Wuneng whose name translates into 'resurrected pig', Bajie follows just that as we see Roadhog stitch a dead pig head to his face like a gas mask. Being released during the Chinese new-year event, this skin is packed with small details from Chinese mythology such as the rake Hog uses as a hook…a deadly one. This skin reaches epic proportions and turns Hog into a literal hog. A win in our book!
The pig head makes this skin awesome and really offers a unique variation compared to other Hog skins.
The small details along the skin are awesome and let people know just how much effort was put into making this skin.
The gardening tool for a weapon is an awesome touch and makes for one of the most terrifying objects to see flying at your face.
How to get Bajie: Open Chinese new-year boxes or buy for 1000 credits during the Overwatch Chinese new-year/ Anniversary events.
See Bajie in action: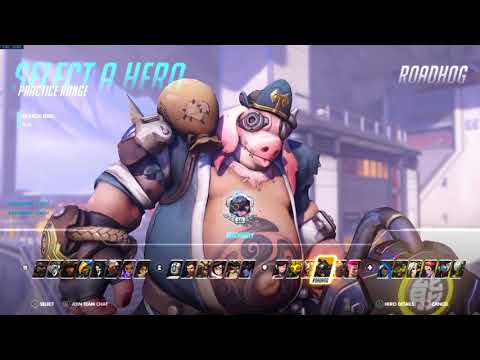 You may also be interested in:
Image Gallery