At Least 7 Million Gamers Have Purchased Star Wars: Battlefront 2
Updated: 02 Apr 2018 11:49 am
These two couldn't tell whether they were the only two players on the server. (Image source: Metro)
EA was counting on a big launch for Battlefront 2. Let's see if they succeeded.
The past twelve months have been nothing but rough for EA, with everything from the shutting down of Visceral games, the terrifyingly underwhelming release of Mass Effect Andromeda and the rolling firestorm of Battlefront II's multiplayer fiasco – all elements which have combined into one, nightmarish 2017 where simply nothing could go right for the gaming giant.
By the time the release of Battlefront II rolled around last November, EA needed a big hit to cap their year off and to swing them pass December and over into the next fiscal quarter. Unfortunately, this didn't quite happen.
In its first week of release the game managed a total of 1,326,906 units sold across both platforms, down from Battlefront I's same first week total of 3,675,687 two years prior. This trend continued over the first three month sales period, with Forbes and The Wall Street Journal both picking up news from the Dow Jones Newswires that the game had sold approximately 7M copies by the end of Q1, around 1M shy of EA's original targets and about 6M off Battlefront I's 14M in sales, during same time period the previous year.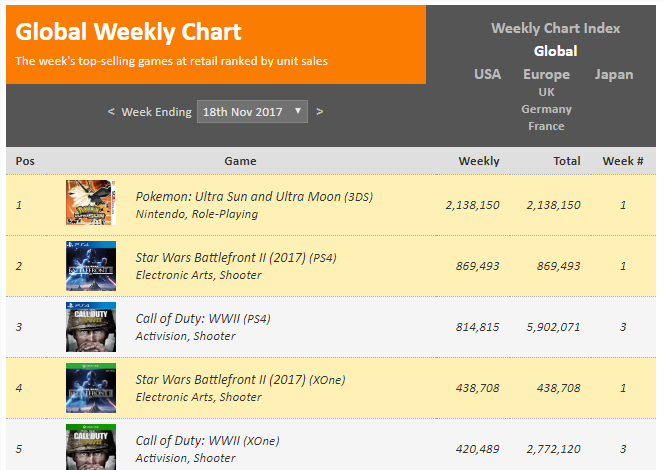 The force was weak with these numbers. (Image source: VGchartz)
This news was attributed to the company's implementation and subsequent backtracking on a controversial system of microtransactions, as well as the fact the first game had coincided with the release of Star Wars: The Force Awakens. Whatever the reason EA was sorely disappointed by the game's financial returns.
For any other game franchise these numbers would appear more than adequate but for a franchise the size of Star Wars, coupled with the publishing and marketing power of an industry leading company, EA's bad run of form seemed to be continuing.
Their original estimates seemed a given months before release, with the new addition of a single player campaign – sorely lacking from the first title – plus the introduction of new trilogy characters such as Kylo Ren and Finn, EA seemed to be putting its best foot forward, only to stumble dramatically as soon as the game was released.
Perhaps because of these poor sales, EA has been silent when asked to release player numbers for the game. This reluctance has angered those seeking to gain a clearer picture about the state of the online player base and whether or not those initial sales numbers are still translating into ongoing playtime commitment to the Battlefront brand.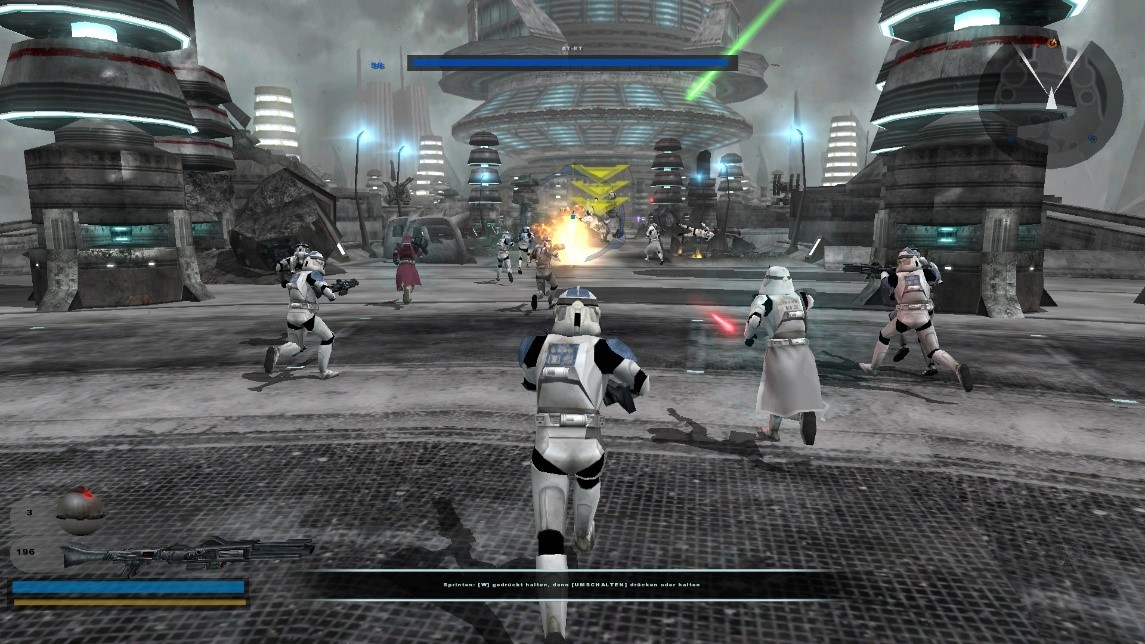 It was a simpler time back then. (Image source: Dual Shockers)
Although, perhaps it can take solace from the fact, that the community surrounding the original Battlefront II (2005) is starting to reform, showing that maybe, some years down the line, long dormant multiplayer titles can literally rise up from the dead.