[Top 25] Best Horror Comics of All Time
Updated: 15 Jan 2021 11:09 pm
What is lurking in the shadows?
There has been much debate and many articles related to what horror comics are best. Is it the ones that contain nail-biting suspense or the ones with bloody and brutal slayings? Is dark humor or serious tone something you consider when searching for a gripping story? In my opinion, it's all of the above. With strong character development, gruesome illustrations, and terrifying situations, here are the top 25 best horror comics of all time. 
25. Girl from the Other Side: Siúil, A Rún by Nagabe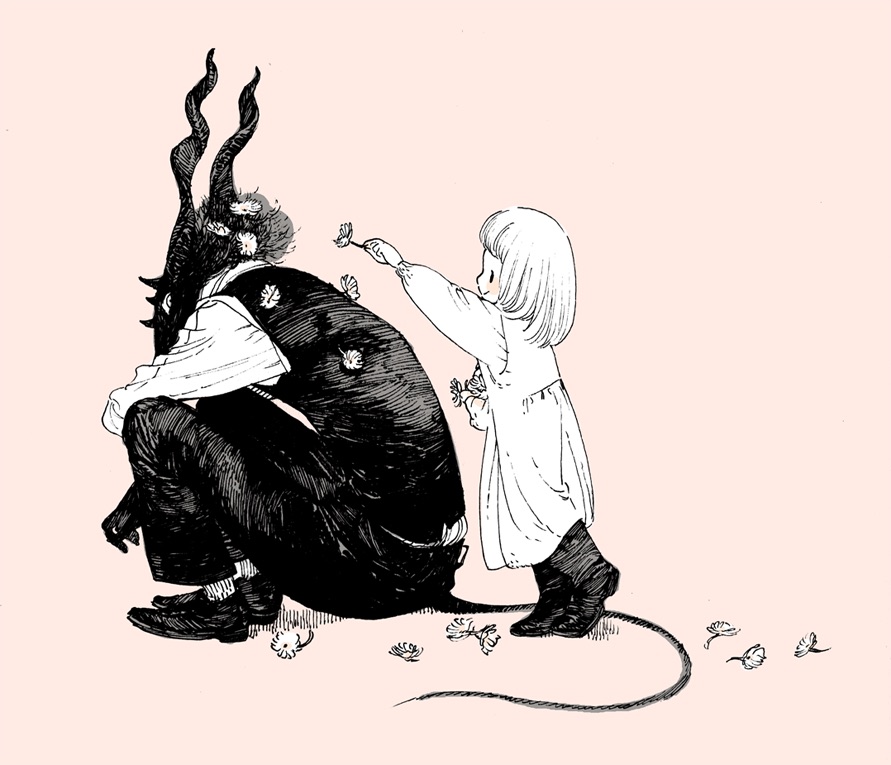 Play with me!
If you are a fan of baby Yoda aka Grogu and Din Djarin duo make this your next read. Shiva, a little girl from "the inside" has a guardian angel. Well, not a guardian angel. More of a monster friend who watches over her. He comes from "the outside" and if she touches him she is doomed to be cursed and shunned from her home. 
Fantasy and horror aside, this tale is a sweet story of protection and the emotion in it captivates readers. If you are a low-key horror fan then this comic is for you. 
24. Beasts of Burden by Evan Dorkin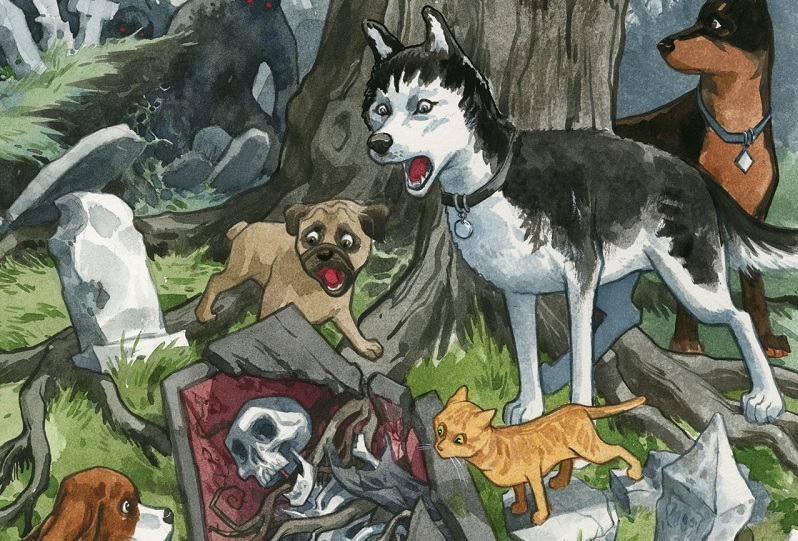 Dogs are man's best friend.
Another low key horror story where a gang of dogs and a cat protect their residents from bizarre events. This comic shows that animals are better than people. 
While this isn't your traditional horror comic, the mystery, suspense, and pet adventure heighten emotions because we all know when an animal dies in a show or book it is far worse than your favorite human character biting it.
23. Marvel Zombies: Resurrection by Phillip Kennedy Johnson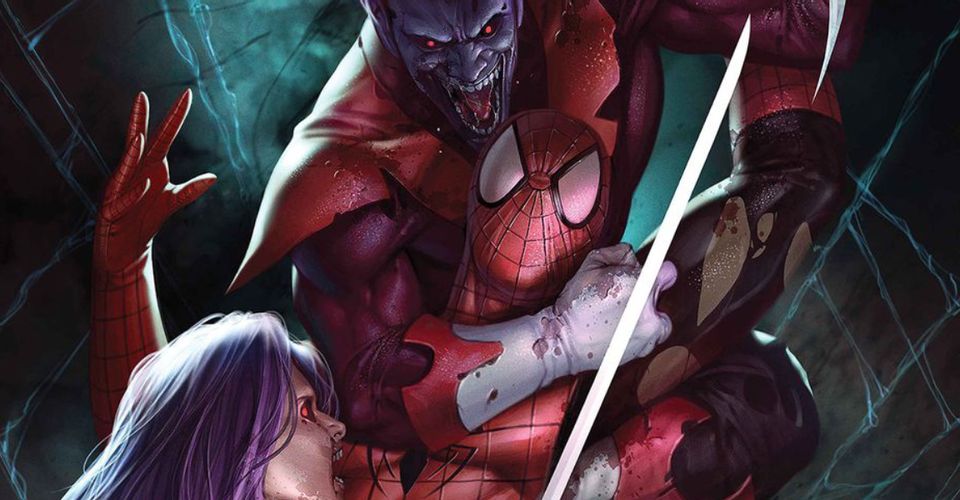 Leave Spiderman alone!
Marvel Zombies: Resurrection is a fantastic superhero horror. Starting with Marvel Zombies we saw our favorite heroes get brutally attacked by Galactus and a cannibalistic disease. Now, in Resurrection, we see Peter Parker, most likely one of the last superhumans alive, protecting the innocent and searching for shelter. 
The bleak, dark illustrations of the comic allude to the serious and grim setting that is now Earth and the shocking events aren't easy to swallow even if you despise the MCU and the superheroes that belong to it, because let's face it. Seeing not just one, but multiple characters beloved by millions decayed, vicious, and killing their friends is shocking and troublesome.  
22. Tales from the Crypt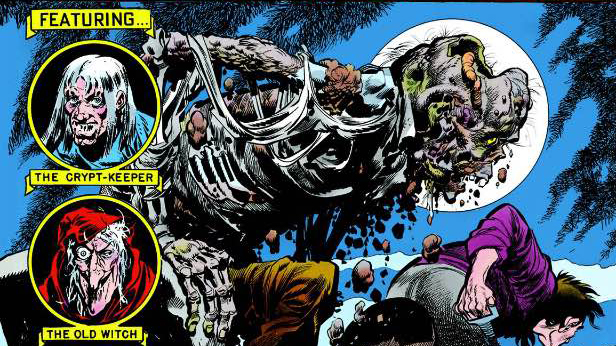 Ewwwww...
Though relatively tame compared to the horror stories and depictions we have today, the anthology stories from Tales from the Crypt are guaranteed to give you a trip down spooky memory lane with these nostalgic vibes. If you have no interest in the tales that set the threshold for today's horror stories then skip this anthology like the uncultured swine you are.
21. Black Hole by Charles Burns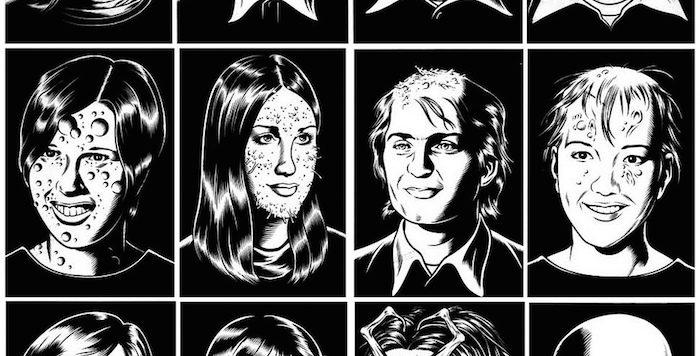 Again, I say, ewwwww...
In the suburbs of Seattle in the 1970s an STD called 'The Bug' can cause some extreme deformities and mutations. The story is an exemplary example of the angsty, fearful, and lustful black hole teens are trapped in.
Most teenagers think with their emotions rather than rationally. Things normal adults don't care for, like playing a sport or going to a dance, teenagers do. They have intense deep feelings and that is what Charles Burn's depicts in this coming of age story. 
20. Red Mother by Jeremy Haun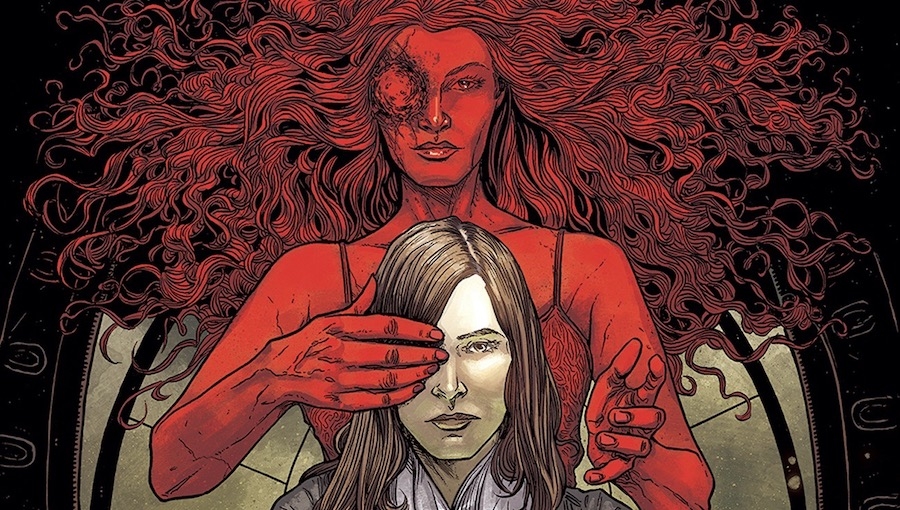 Are you seeing things you should?
After consuming way too much pizza (been there) Daisy and her boyfriend are attacked and Daisy's eye is badly damaged and removed. With a new prosthetic in place, Daisy begins to see things that shouldn't be there. 
An interesting story filled with lost love, gruesome illustrations, and mystery, this psychological thriller will have you trippin'. 
19. Winnebago Graveyard by Steve Niles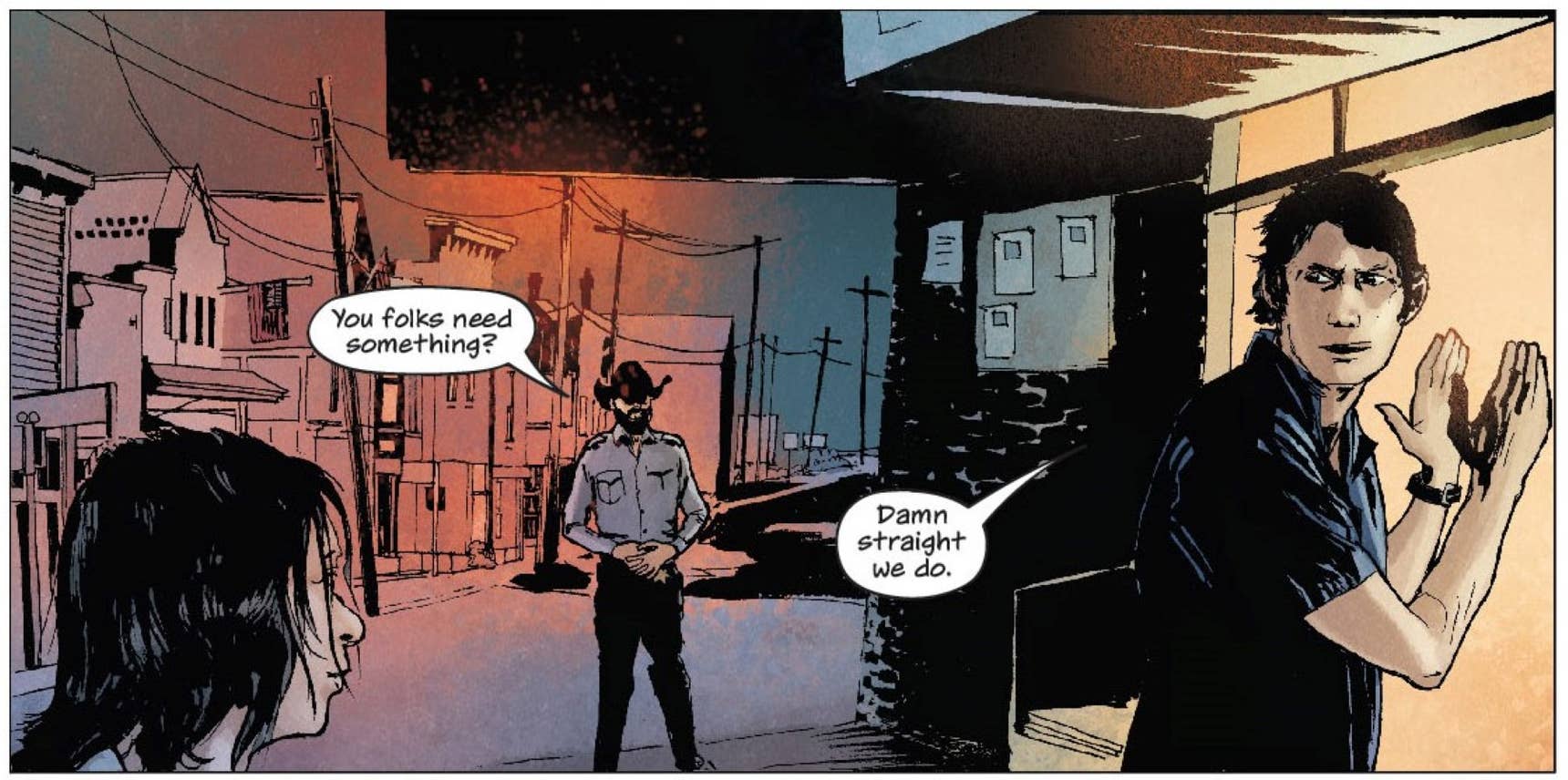 Always carry your cell phone in case of emergencies.
Using an RV as a way to bond, escape electronics, and enjoy each other's company a family goes on a road trip and stops at a carnival. When they leave they find their Winnebago is gone and they are now stranded in the middle of nowhere. 
Never trust carnival folk, because like every scary movie, they are wicked, evil, and straight-up insane. There is a classic horror feeling of dread while reading in which you also imagine being stranded and have no hope of being saved. Your heart rate will rise and you will make sure you have a backup plan for the next time you go on a road trip. Mainly, you'll bring your damn phone.
18. Not Drunk Enough by Tess Stone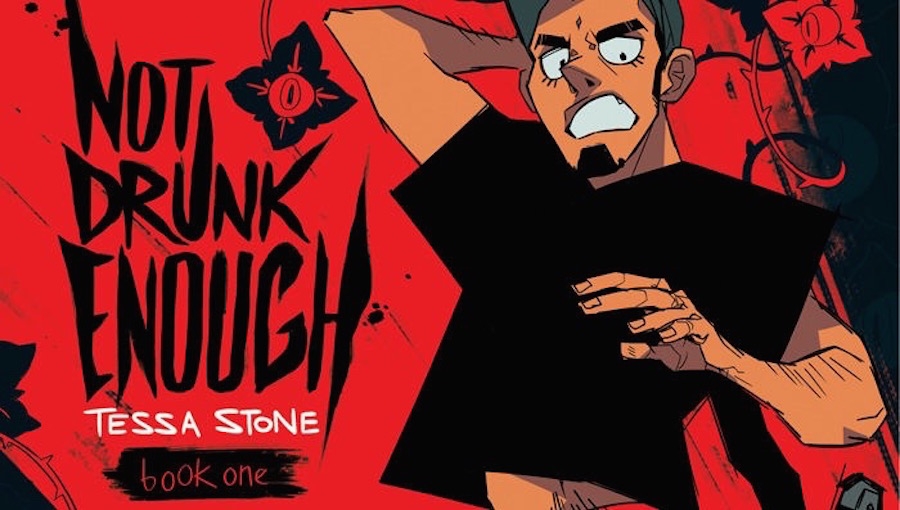 This will give you a reason to not work late or take that OT...
When Logan, an overnight repairman, is trapped in a corporate lab he comes face to face with strange, grotesque creatures. Navigating what seems an endless maze filled with doom, Logan desperately searches for answers and more importantly, an exit.      
With suspense and humor on every page, Stone displays a wonderful depiction of what I assume is what happens at a corporate laboratory at night. Resembling The Belko Experiment, but with more humor, this webcomic is great if you leave the office before the sun sets. Otherwise, you might be stuck with freaky experiments and not get compensated for the extra time at work. Ah!
17. Delphine by Rischard Sala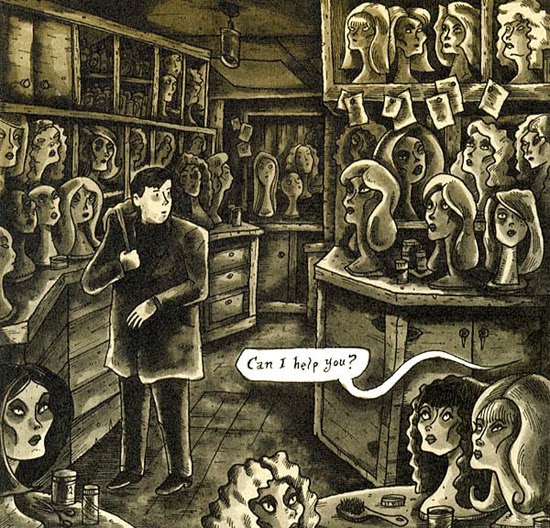 Hey, what head said that?
Snow White was always a bit twisted but Delphine redefines the term. When an unnamed traveler (Prince Charming) goes searching for a missing girl (Delphine aka Snow White) he lands in a creepy town full of monster-like citizens and falls into terrifying situations and hallucinations - some memories, some reality. This begs the questions of the reader, what is happening, and what is going to happen? 
The point of view of the traveler is refreshing and as the Snow White version of Prince Charming also thought an unconscious girl was weird and the act of a psychopath, the unnamed travel was sure to think what family drama have I entered? Dark yet enchanting this fairytale made it onto the list by taking something once blissful from our childhood and recreating it into something wicked, creating a "WTF?" result for a lot of readers. 
16. The House by Phillip Sevy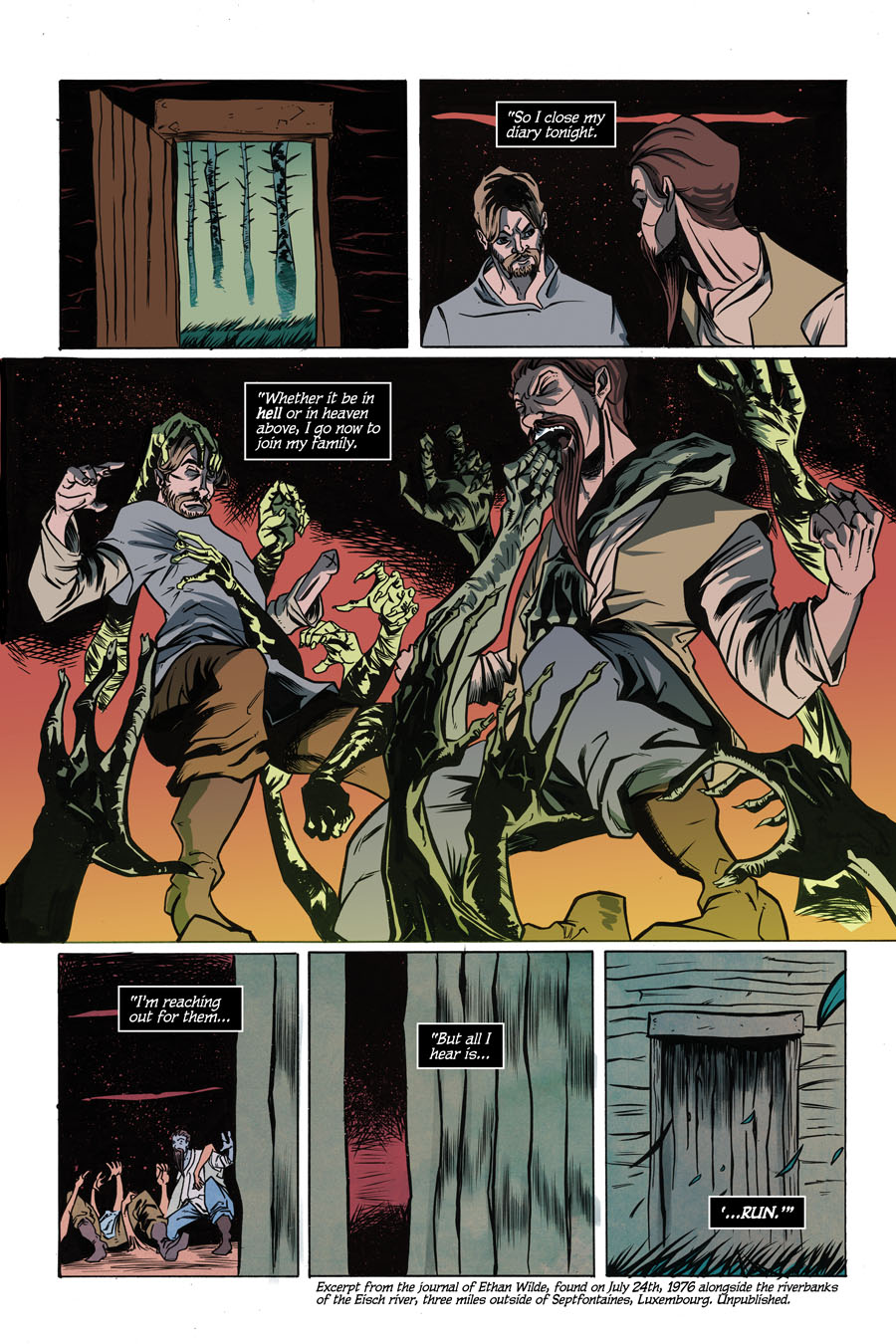 "...RUN." 
Just when you thought you were safe, danger ensues. During World War 2, a group of US soldiers gets lost in snowy woods. They find a safe haven, a mansion, but once inside there is no escape and we learn the sinister house is the main character. 
I thoroughly enjoy a good haunted house story and this one delivered. While characters are difficult to tell apart and there was a missed opportunity to differentiate them, the plot is twisted and kept me reading and wanting more.
15. Witch Doctor by Brandon Seifert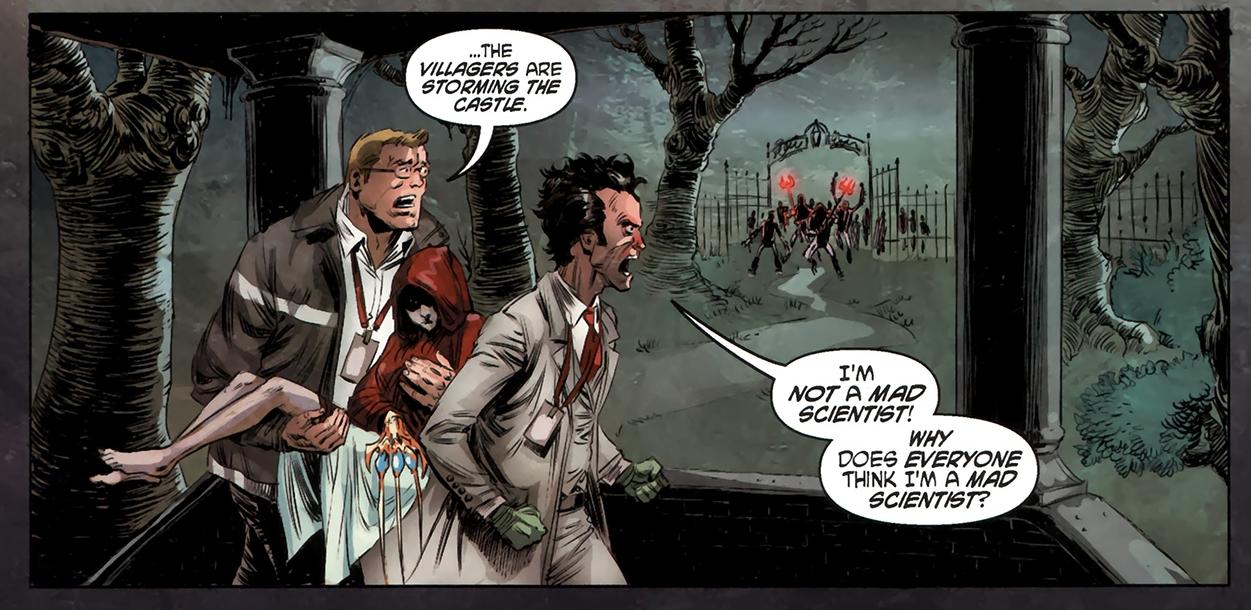 Even though he says he isn't a mad scientist... Doctor Vincent Morrow is a mad scientist.
As a vaccine searching physician, Doctor Vincent Morrow is attempting to find a way to hold off the apocalypse while supernatural diseases run rampant, like Demonic possession. Curing these diseases isn't all holy water and bible reading though.
The artwork is stunning and the dialogue humorsome. This medical horror gives insight into who you should call when the exorcist fails. Doctor Vincent Morrow is a likable antihero with a quick wit that even Dean and Sam Winchester would have a hard time finding a reason to kill him and his anesthesiologist sidekick Penny Dreadful. 
14. Beautiful Darkness by Fabien Vehlmann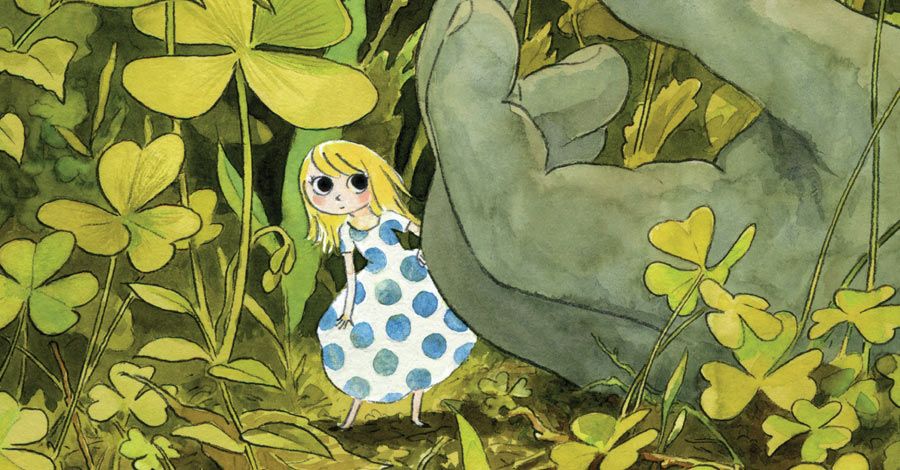 Look closely at the illustration...
This is one fairytale child should never read. As a dead young girl decomposes, little figments of her imagination flee her body and into the harsh woodland environment. There they try to survive but, in a Lord of the Flies style, things turn south.
If you are a parent this may be a difficult read since the death of a child is never easy and the deaths of each figment (since they are what made up the child's personality) are equally hard to look at. But behind the dark themes and childlike watercolor illustrations, there is a deeply disturbing yet equally alluring story. 
13. Gideon Falls by Jeff Lemire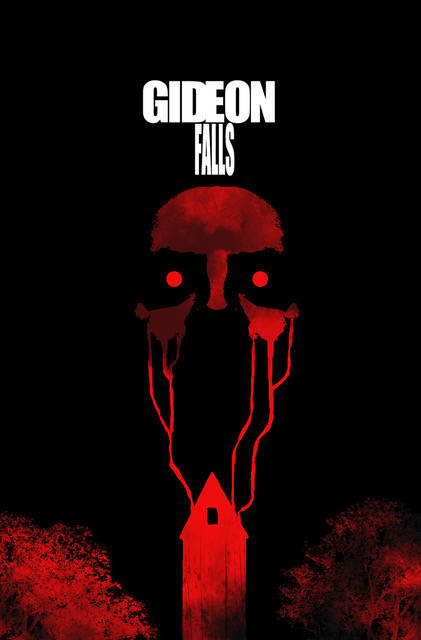 Do you dare to read? 
With two parallel stories occurring, Gideon Falls is a town that has a mysterious black barn that holds dark secrets. One story details a washed-up priest and the other of a garbage picking, mentally ill man. Both are searching for clues concerning the black barn.
With gritty imagery and great writing, this story unfolds and suspense builds nicely. It is a weirder comic but the character development is wonderful, while also unsettling. 
12. Shadows on the Grave by Richard Corben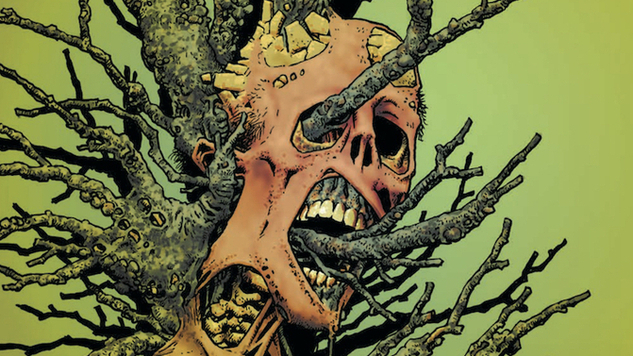 What an anthology...
An anthology of horror, Richard Corben gives great stories with wonderful lessons hidden. The black and white illustrations are refreshing and depict disturbing creepy characters. Corben shows how normal things can quickly turn crazy and spiral out of control. 
11. Harrow Country by Cullen Bunn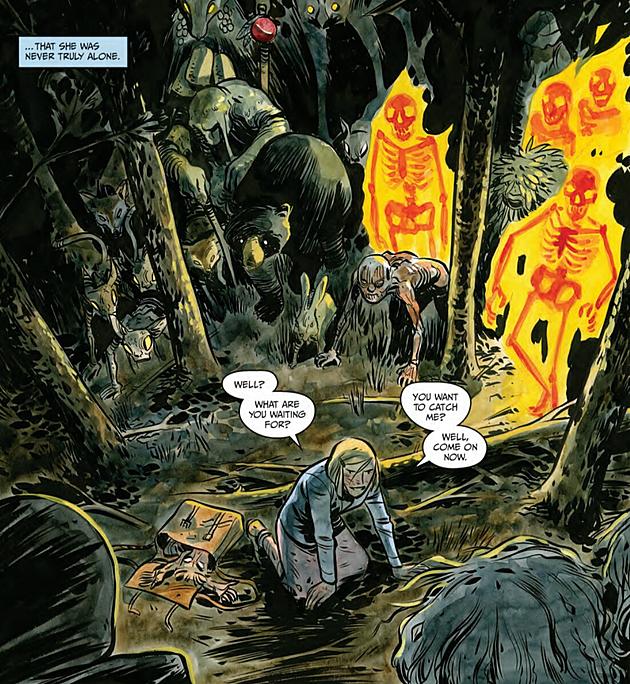 When Emmy, a teenager, is suspected to be a witch she is confronted by her community and escapes into the dangerous and evil woods surrounding their town. She runs into many "haints" and befriends a sack of skin.  
Basically, this is a horror tale in the south about country folk who hate witches. While evil witch stories have been done over and over again, Cullen Bunn brings new life to this possible resurrection tale.
10. Edgar Allan Poe's Spirits of the Dead by Richard Corben
 Ready for The Raven to scare you in a whole new way?
A wonderful adaptation of the amazing horror tales of Edgar Allan Poe. With great visuals and representations from Richard Corben, these shocking stories come to life. It's called an adaptation for a reason because Corben puts his own tone and twists on these classics, and while some have scrutinized the works, it takes balls to take a story from a master and make it equally as great, if not better.  
9. Ice Cream Man by W. Maxwell Prince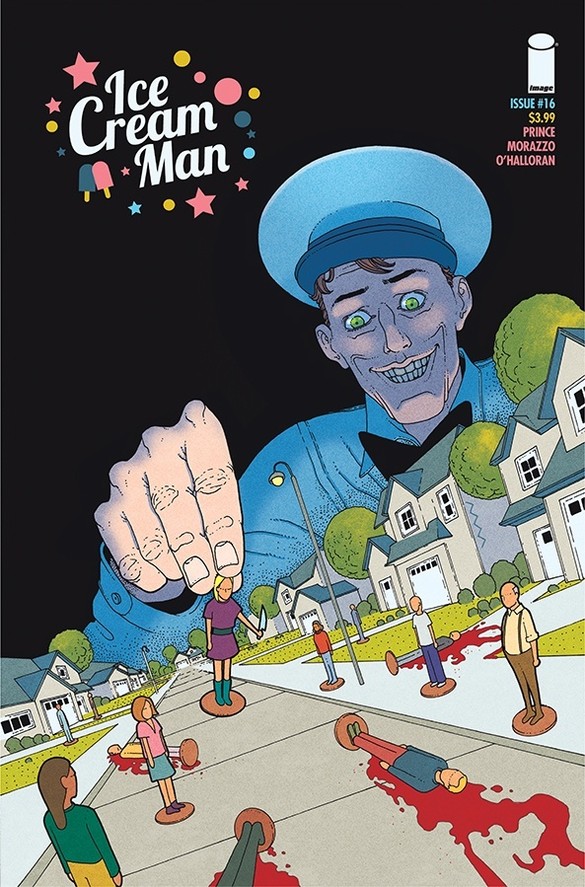 You won't want anything from the ice cream man next time you hear his truck driving through your neighborhood.
As someone who was taught not to chase after the ice cream truck, my childhood fears were heightened while reading this anthology. Like clowns, ice cream trucks and the individuals who drove them are supposed to be symbols of joy and fun. Yet, to a few, they were demented and creepy. In regards to this tale, I agree with those who find these figures strange as f**k. 
These stories highlight the true nature of getting what you wish for isn't always as sweet as ice cream, even when you do get your wish, "lickety-split". 
8. H.P. Lovecraft's The Hounds and Other Stories by Gou Tanabe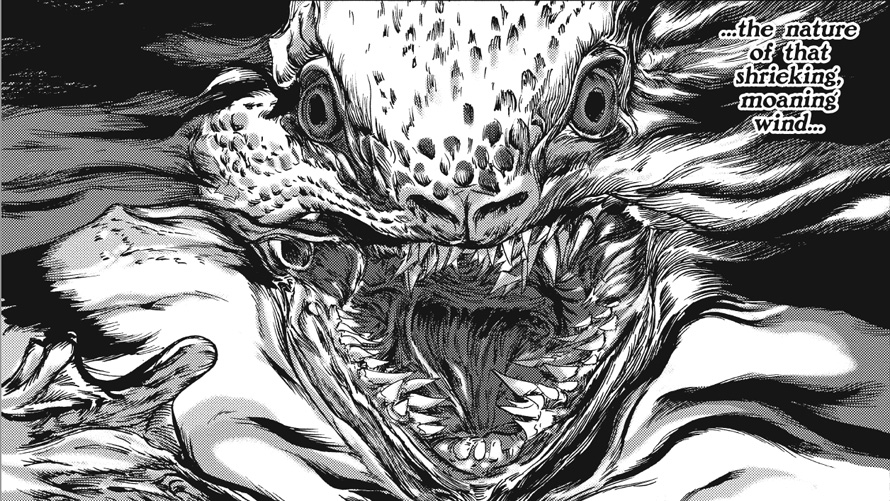 An adaption of the world's most terrifying tales.
Lovecraft is considered a founder of horror and Gou Tanabe's adaptations of his works are both thrilling and terrifying. The three stories included are The Temple, The Hound, and The Nameless City. If you are not familiar with Lovecraft's work then I recommend reading his tales before reading the adaptations, but either way your fears will be brought to light and your heart will race… or even stop from the sheer terror. 
7. The Empty Man by Cullen Bunn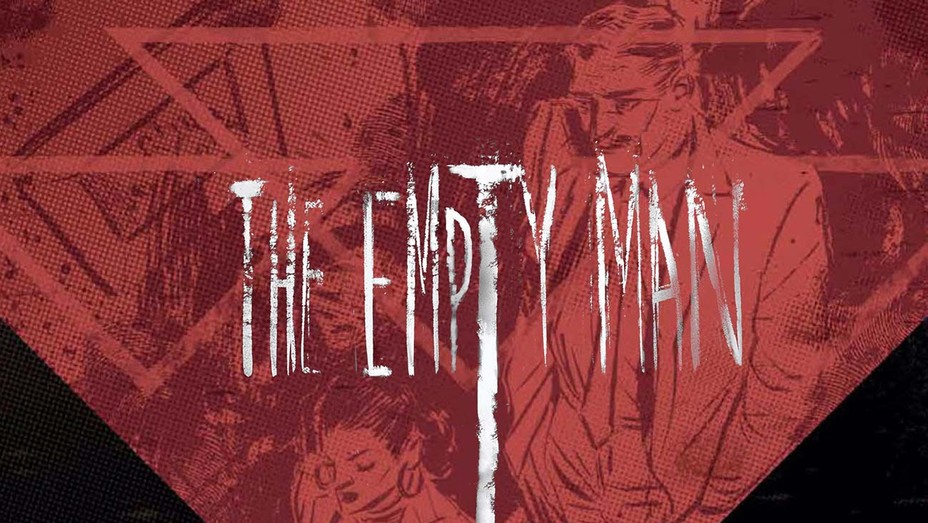 How would your mind handle the empty man disease?
A worldwide pandemic that forces governments to shutdown countries and enforces quarantines while some victims commit suicide. Sound familiar? This dystopian tale obviously hits close to home. With the FBI and CDC conducting a joint investigation into the Empty Man disease, I could only hope for a potential cure to be found while reading if only to halt the insane cults that formed around the mystical Empty Man.
6. Something is Killing the Children by James Tynion IV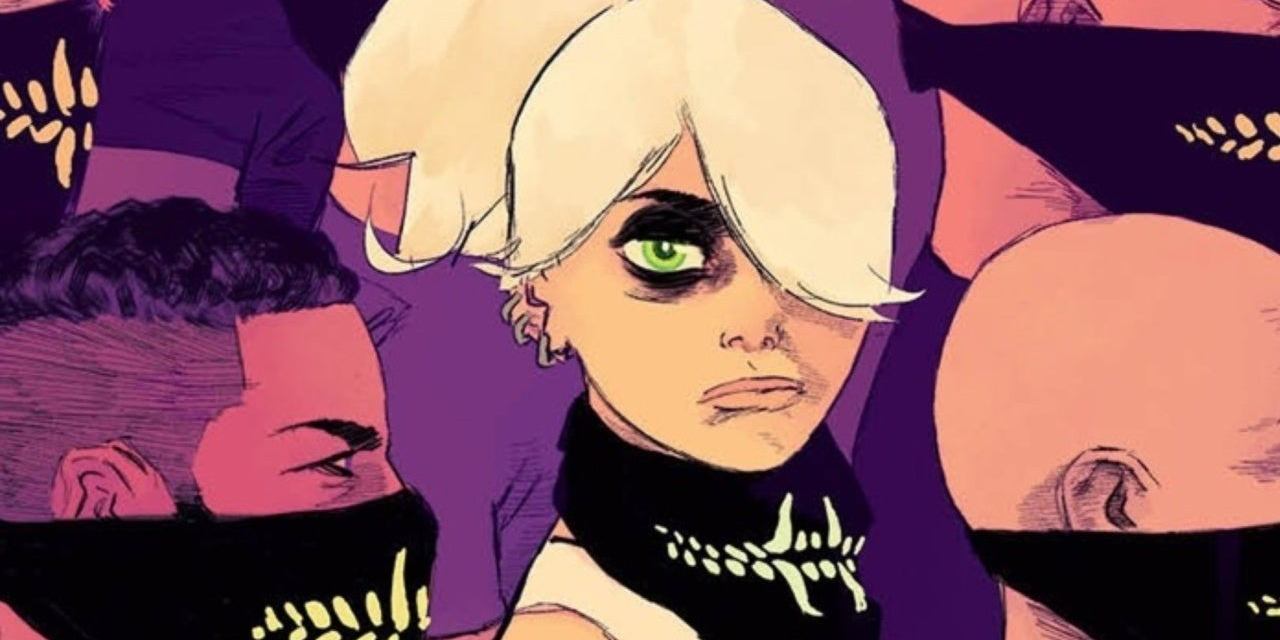 Nothing will kill children once Erica Slaughter is through with them...
Erica Slaughter kills monsters, and she is after the ones in Archer's Peak that are snatching children. Where the plot would seem devastatingly sad (children being killed) a badass heroine comes in and starts demolishing monsters. Overall, great story, wonderful artwork, and intriguing worldbuilding.
5. Nailbiter by Joshua Williamson

Grotesquely perfect.
In Buckaroo, Oregon - the birthplace of sixteen serial killers - NSA Agent Nicholas Finch goes to meet an old friend only to find out he is missing. Finch teams up with the local sheriff to find the friend and learn what he has uncovered about the serial killer producing town. 
I love serial killers and slasher stories so this made it high on my list of must-reads. As disturbing as it was, the story moved well and the gory illustrations were intense (in a good way).
4. Hellblazer by Jamie Delano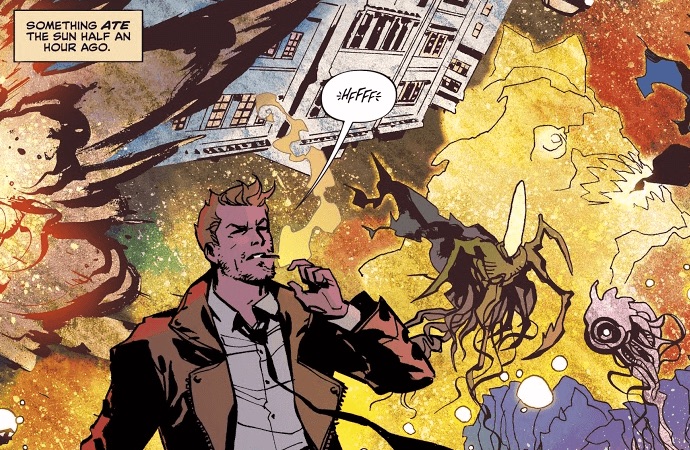 Keanu, that you?
John Constantine is a superhero with no powers, is quick-witted (aka kind of a dick), and he is a supernatural crusader. While his attitude makes him a little unlikeable he is an interesting character that is a true antihero. 
In today's PC and political climate you don't see a crazy amount of political themes creeping into stories but Hellblazer has no issue doing so and it's quite refreshing. The artwork and comic crossovers (I love a good crossover) also are great because you get more stories with the characters you like (check out Swamp Thing).
3. Wytches by Scott Snyder
 Chittt...
Trying to get a fresh start, the Rooks Family moves to Litchfield, New Hampshire, but they are quickly haunted by wytches in the woods looking for their "pledge". 
With twists, turns, gore, and horror Scott Snyder does a great job of making the hair on the back of your neck stand. I read this at night and it was the stupidest decision I have ever made. Love the story, love the artwork, absolutely love that these aren't your typical wytches. 
2. Afterlife with Archie by Roberto Aguirre-Sacasa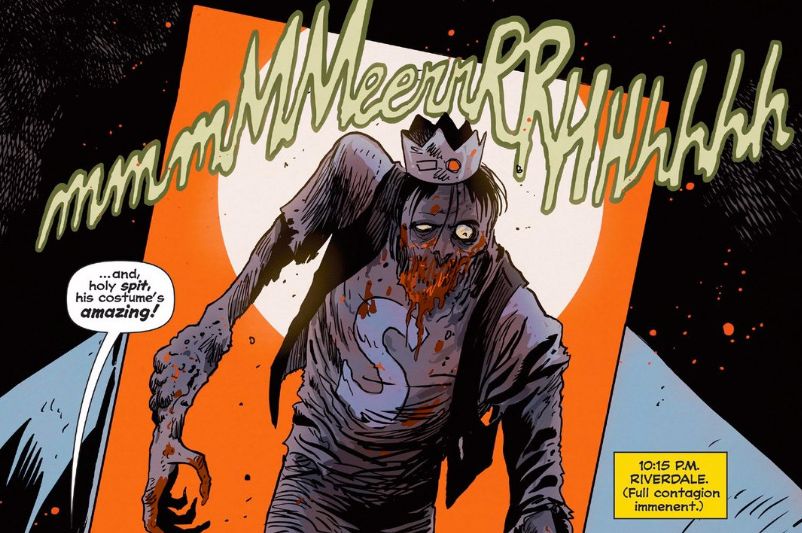 Jughead needs a new skin care routine.
I am a huge fan of Archie comics so when the characters were combined with my favorite genre I knew I had to read this. With Sabrina the witch assisting Jughead to bring back his dog after getting hit by a car, zombies are unleashed on Riverdale. 
While I hate seeing a favorite character harmed, I love a good zombie story. The darker colors with pops of orange and purple adds to the serious tone of terror that is occurring on Halloween - which is when you should read this.  
1. The Walking Dead by Robert Kirkman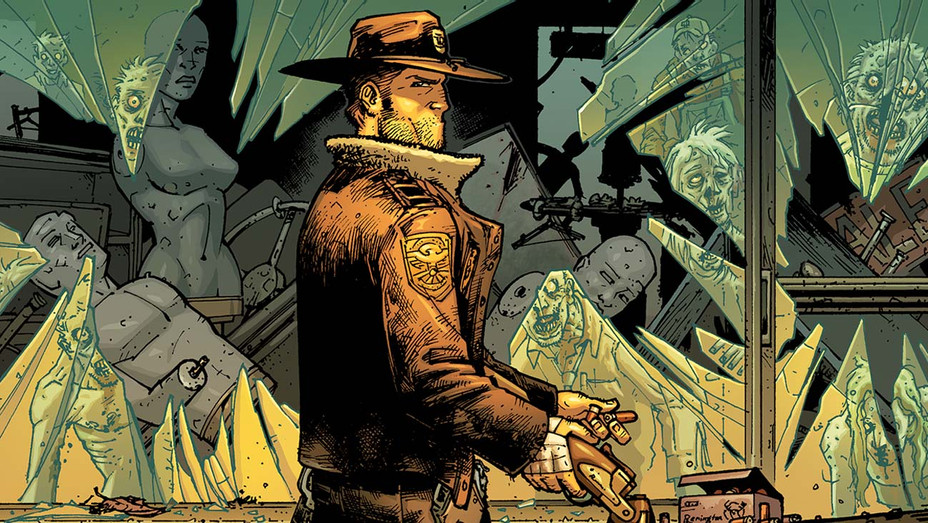 The Walking Dead is still the best. 
Yes, the show is based on the comics and if you enjoyed the show you will definitely enjoy reading these graphic novels. The story focuses on the small group of survivors dealing with the zombie apocalypse. It's gory, it is riddled with suspense, and it makes you think. Think about if you could survive in such a situation. If you would be able to kill a bitten love one or a person still alive but trying to take the only resources you have. You will love and hate characters and become attached to the story.
Also Be Sure To Read:
Image Gallery