[Top 15] Horror Games That Are Cross-Platform
Updated: 07 Sep 2023 11:14 pm
15. Dead by Daylight - 2016 (PC / PS4 / PS5 / XBOX / iOS / Android / Nintendo Switch)
Join this 4v1 horror game and become one of the 4 survivors or the killer and feast yourself with your friend's blood. Survivors must escape the killing ground. At the same time, the killer is lurking around ready to gut whoever gets in his way. 
Dead by Daylight is procedurally generated. Meaning each level will have new and unpredictable scenarios. 
Choose this game if you like…
Thrillers. The game follows the narrative of the classic horror thriller movies.
Slashers; gore; paranormal situations. Playing as the killer is the most fun. Especially if you like slashers. Some of them are OP.
Ranked system. Looking for a competitive game? Welcome to Dead by Daylight.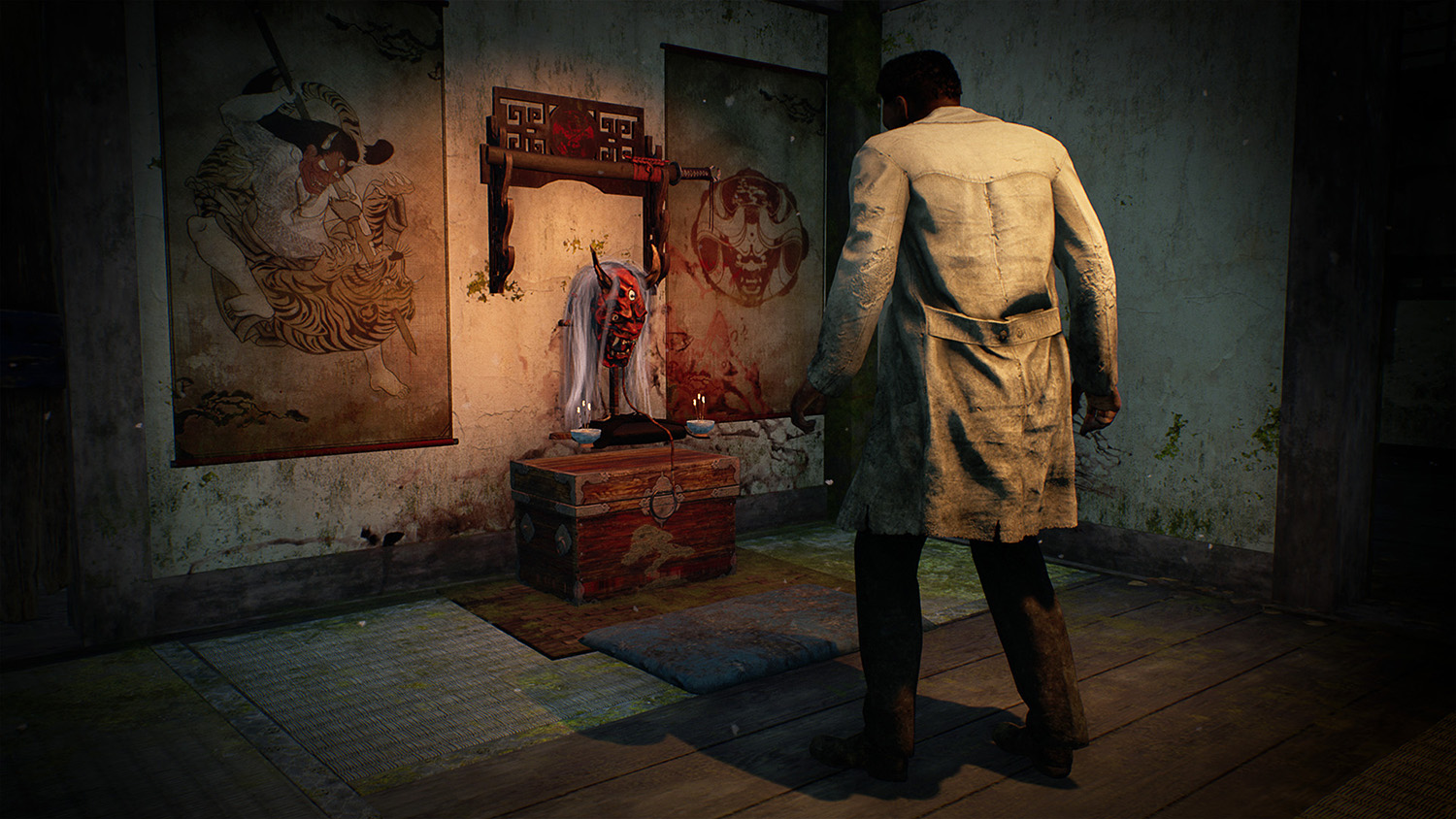 This screenshot depicts Japanese folklore found inside the game. The mask in the middle represents The Oni.  
14. No more room in hell 2 - (Coming Soon) (PC / MacOS / Linux)
The undead have taken the world. You and seven survivors will have to make it through a post-apocalyptic world filled with zombies. Discover different maps and locations. Face hordes of zombies. Find useful tools to help yourself and your team finish each stage. 
Enjoy the random stuff placed at each location and have a unique experience in every match.
Choose this game if you like…
FPS with survival mechanics. You will have to find your resources to survive. Take care of the bullets!
Gore and extreme violence.
Living Dead by George Romero. This game takes deep inspiration from the movie.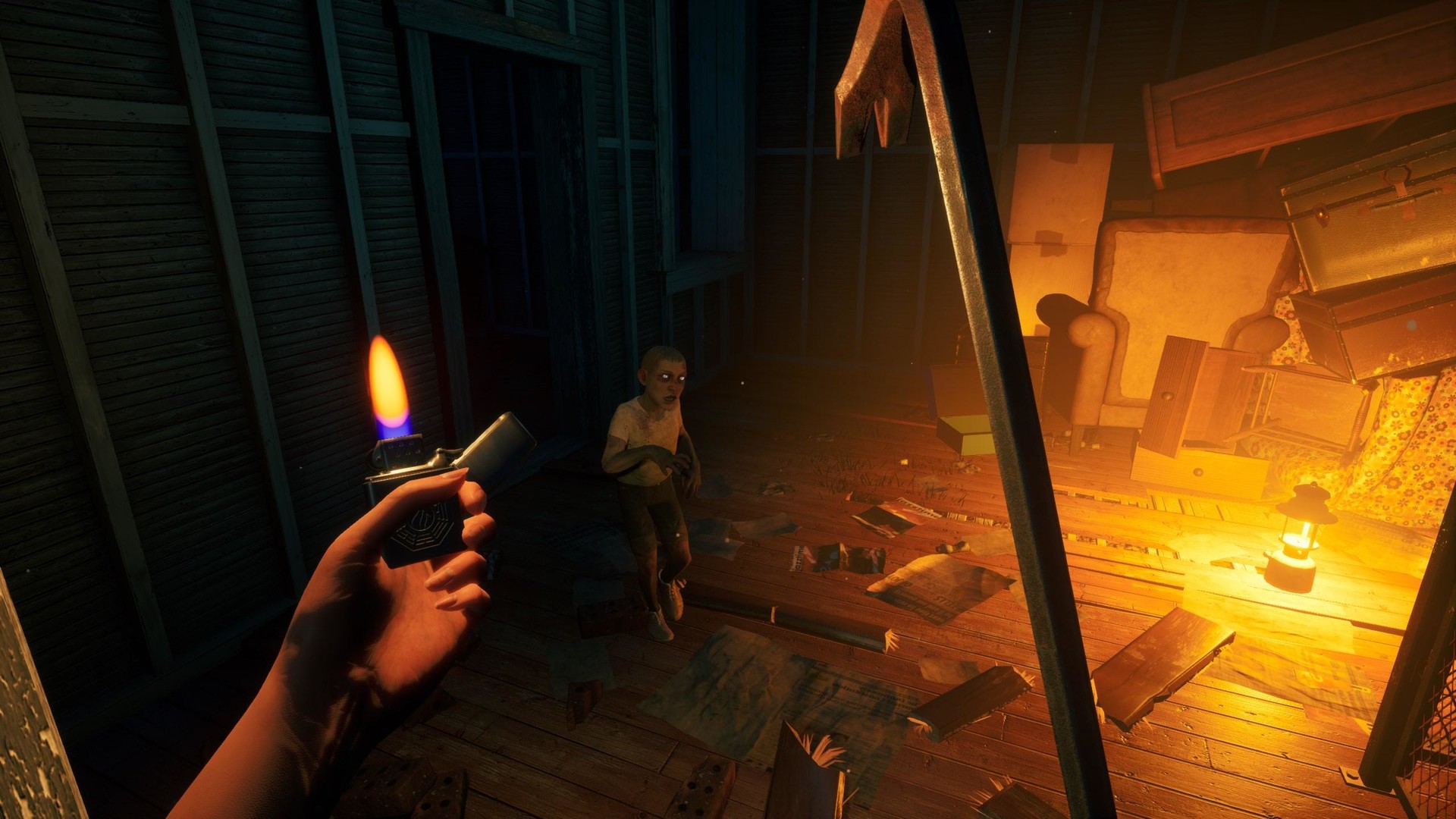 The fact that this game includes kids as zombies is great. It isn't a common thing among zombie games. It gives a better sense of what a real zombie apocalypse would look like.
13. Escape the Backrooms - 2022 (PC / MacOS / Android)
The ultimate horror experience. Explore the unique 15 levels and find your way out. This game features 10 entities who will hunt you down. Study their behavior to survive the encounters. 
You can also enjoy the proximity chat. An excellent tool for feeling true desperation. Afraid to be left alone and get lost? This game is that nightmare brought to life. But that's not it. The entities can also hear you. Better keep calm and run!
Choose this game if you like…
Immersive games. The atmosphere and graphics are excellent.
The Backrooms lore. Experience one of the best creepypastas created in recent times in a terrific representation.
Puzzles. Escape the Backrooms has great puzzles to be solved.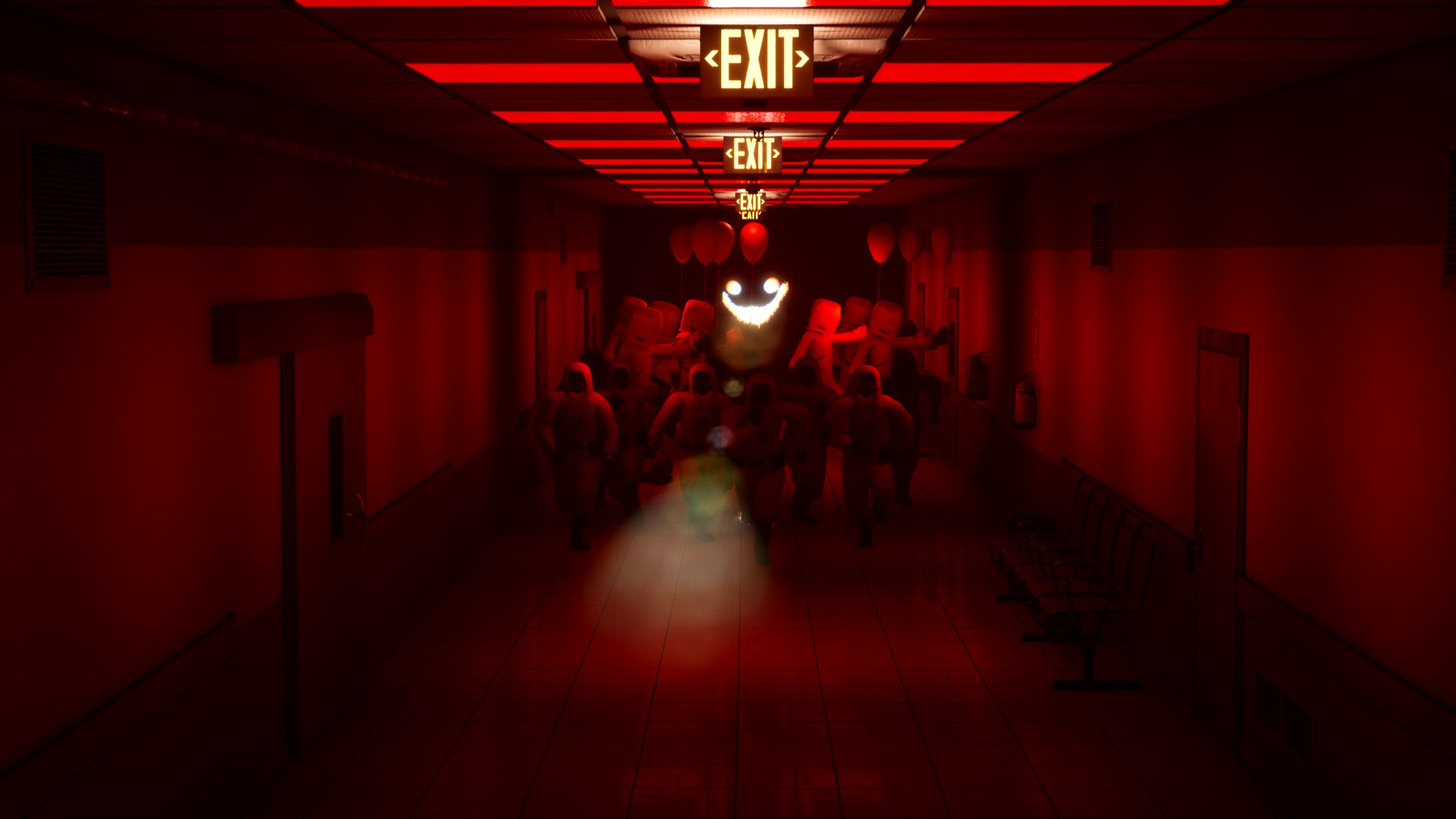 A red corridor that you'll have to go through too. This is one of the many places with a threatening aura that you get to explore.
12. The Past Within - 2022 (PC / iOS / Android / Nintendo Switch)
This unique game brings a coop—point-and-click experience. 
Two friends will join forces to uncover the mysteries hiding on this adventure. Work together to solve the puzzles from two different perspectives: past and future. Both players will experience the game separated in time. Discover this great story by playing both roles. Enjoy a full gratifying game with your loved one, friend, or family.     
Choose this game if you like…
Replaying games. You can swap roles with your friend to experience both perspectives. The puzzles can be solved in different ways too.
Short games. The full experience lasts no more than 4 hours.
Innovative games. The Past Within is an original game that offers distinguished gameplay.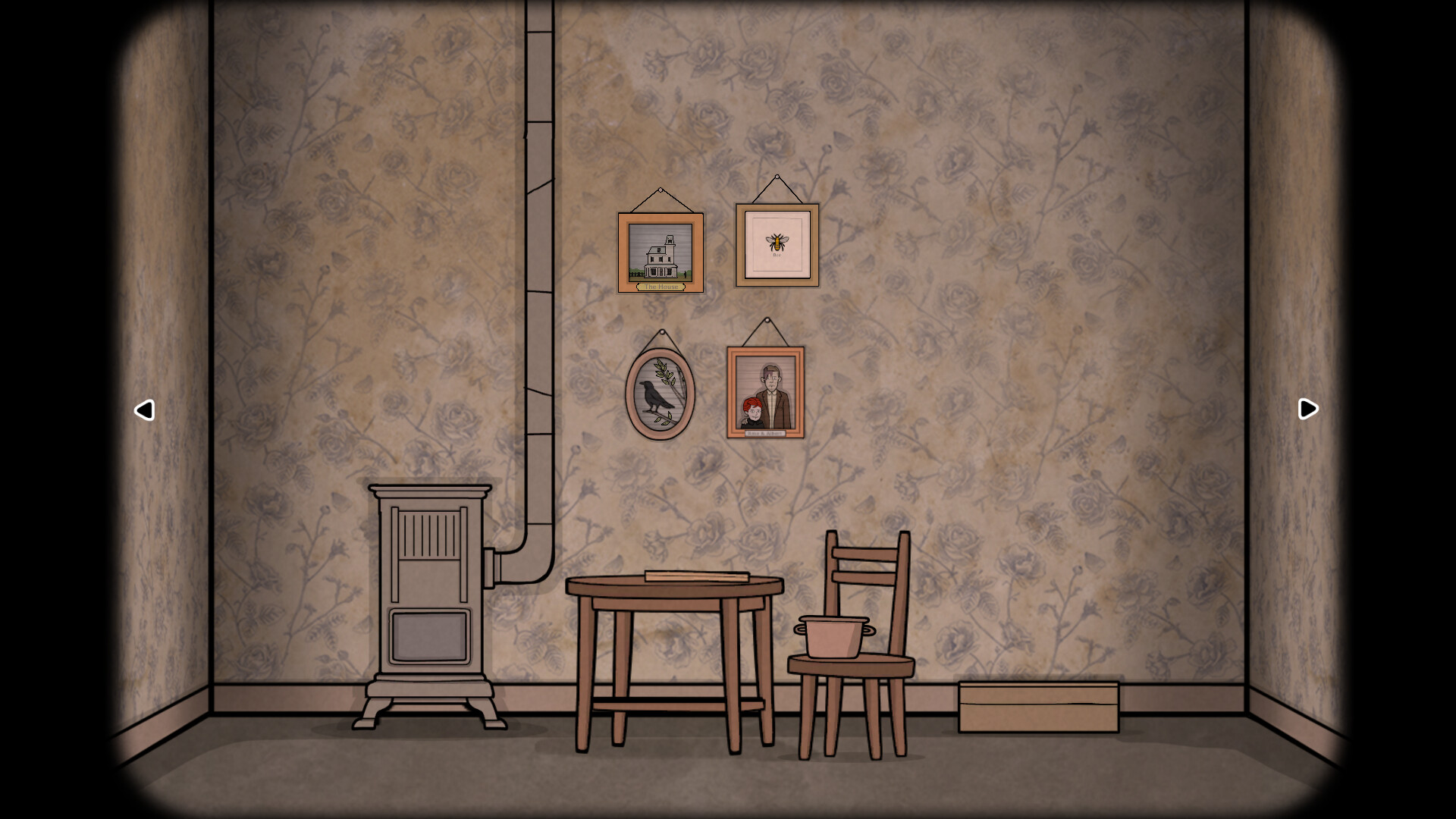 This room is quite important for the game story. The other player has a different perspective of the same room. 
11. BrainBread 2 - 2016 (PC / Linux / MacOS)
Is there a more accurate name for a zombie FPS game? I don't think so. Grab your weapon and get ready to blow some heads off in this free game. 
BrainBread 2 mixes RPG and arcade elements which makes it quite entertaining and challenging to play. Try the 5 modes and have unlimited fun with your friends! 
Choose this game if you like…
Fast-paced gameplay.
Modding. BB2 allows you to customize and create maps, sound settings, and others.
Gore. As usual, when it comes to killing zombies, there's a lot of blood and limbs on your screen.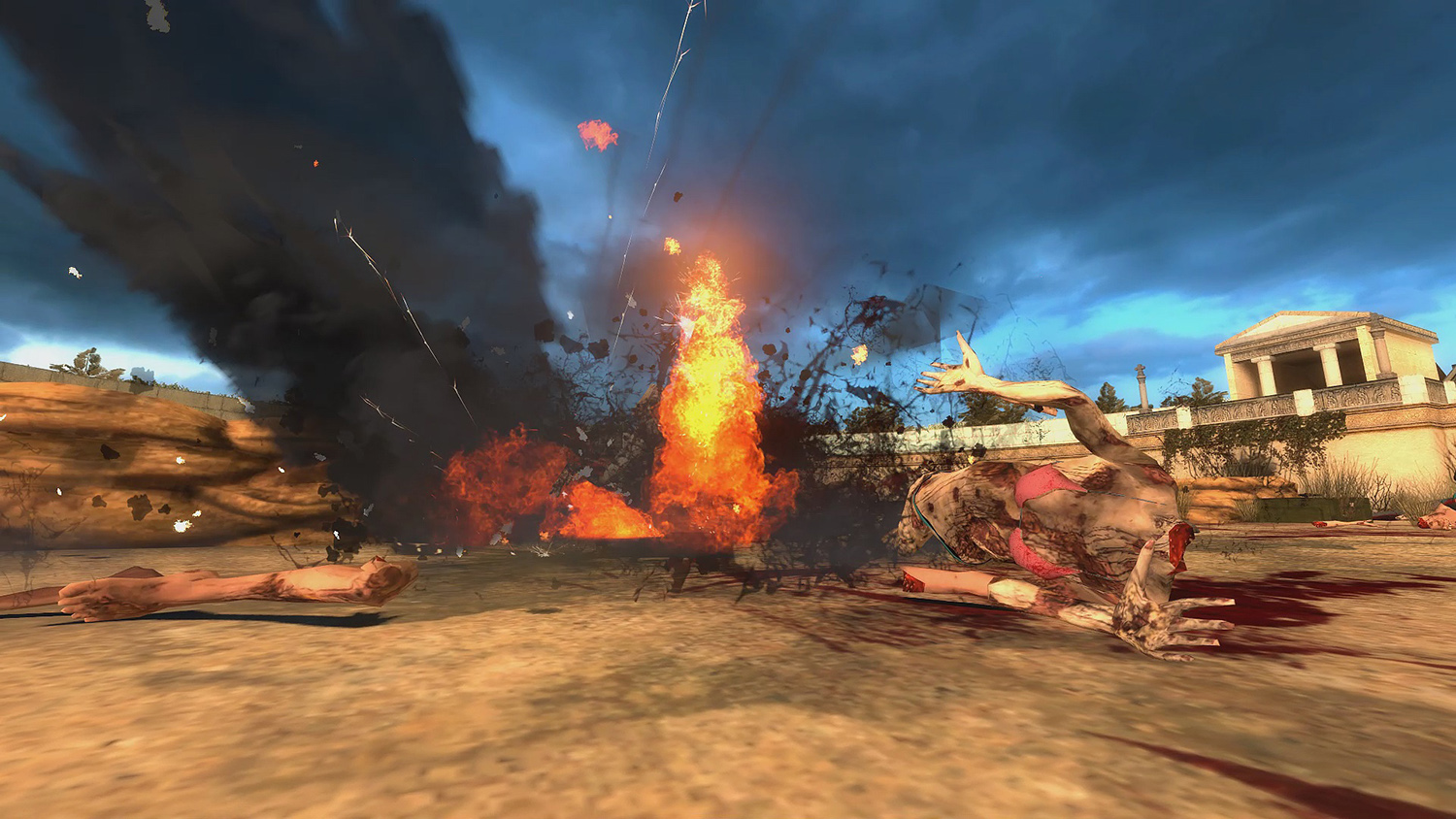 If you watch closely you can notice that this zombie was a girl wearing a bikini. You can imagine how she became infected. Now she lies into pieces, literally.
10. The Outlast Trials - 2023 (PC / macOS / Linux / Android)
Dive into the darkest side of humankind's past. You're in the 50's. The Cold War is big news. Rumor has it that mind control and other atrocious experiments are being done with humans. Luck was not on your side the day you woke up in the Murkoff Corporation's facilities. 
You're now a prisoner who's being forced to complete the therapy and MK challenges. Your only chance of survival is completing the trials and escaping. Preserve your sanity in this disturbing place. 
Will you take a team strategy to help each other? Or will you go through the horror all alone?  
Choose this game if you like…
Intense violence and gore. The Outlast Trials has the sickest scenarios as usual with any Outlast game.
Repetitive games. The gameplay doesn't change. Each match will be the same.
Outlast game's series. To be fair, this game is different from the first and second Outlast. But they kept the atmosphere and levels of tension.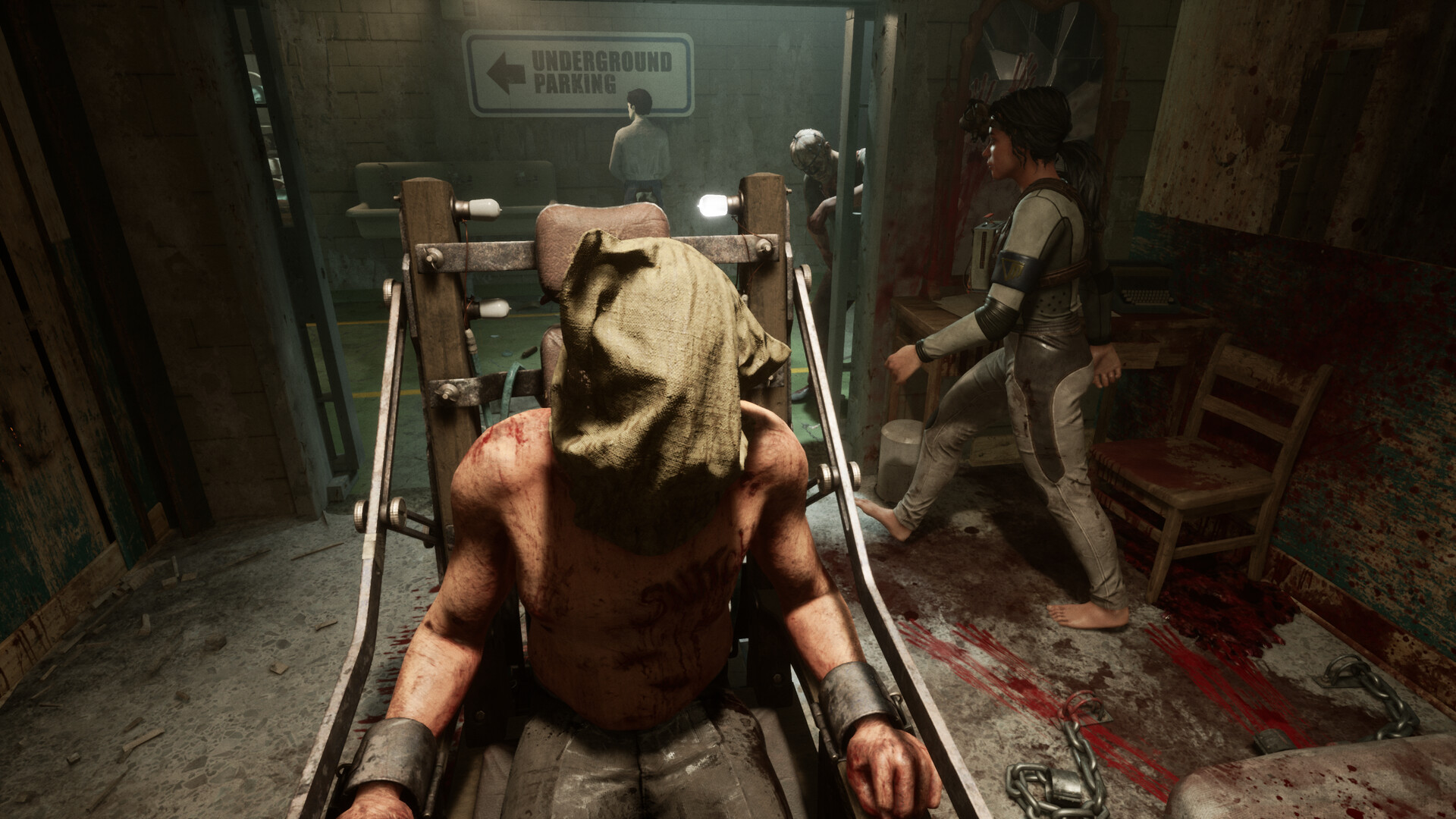 A scenario that reflects part of the chaotic and terrible environment where you and your friends will be.
9. Phasmophobia - 2020 (PC / PS5 / XBOX)
Phasmophobia is a ghost-hunting game. Inspired by the Ghostbusters movie concept, this psychological horror experience will keep you entertained for a while. 
Your goal is to investigate the different locations and search for paranormal activity. Each entity will require specific equipment to be found. You can even interact with the ghosts through an Ouija board and the Spirit Box. Something terrifying and unique. 
Do you and your friends dare to complete the hunting?
Choose this game if you like…
Ghostbusters movies. The equipment and hunting methods are similar to those used in the movies.
Immersion. This game provides deep ambient sounds and realistic graphics.
Tension. While investigating there's a high level of tension that will keep you tuned until the entities show up.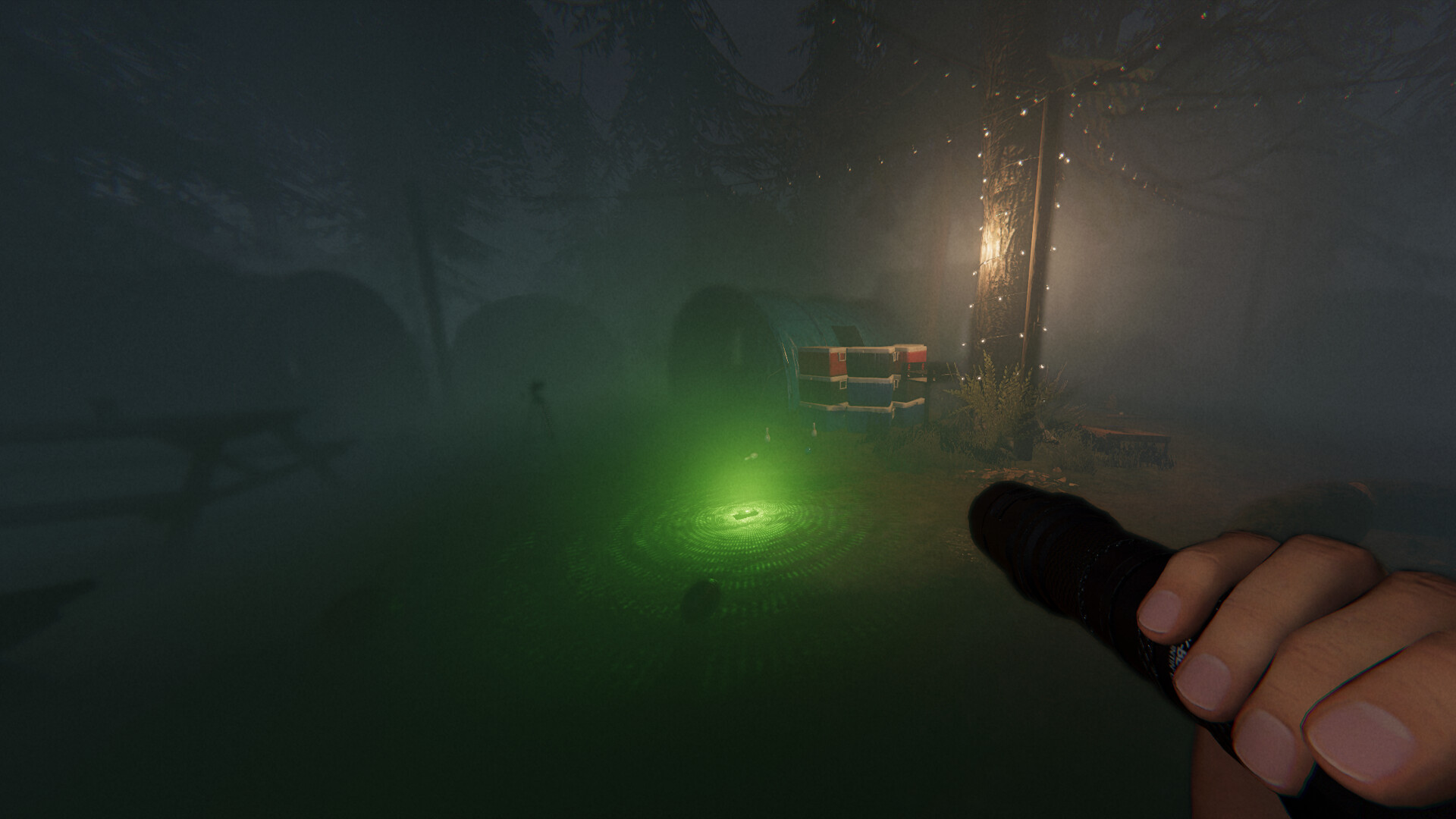 The green item in the middle is called "D.O.T.S Projector". This item is used to detect the entities that walk through it. 
8. Devour - 2021 (PC / macOS)
This game is one of the most entertaining survival horror experiences. 
Discover the dark secrets of "The Watchers of Azazel" cult. Something terrible is happening. The cultists are possessed by an obscure force and they will try to stop you at any cost. You must stop this evil and set the cultists free. Face the demon Azazel at last and deliver them from evil.
Choose this game if you like…
Satanic-related themes. The game is inspired by rituals, demons, possessions, and other Satanist references.
Long games. One match might take you over an hour.
Challenging games. In Devour things get harder as you progress.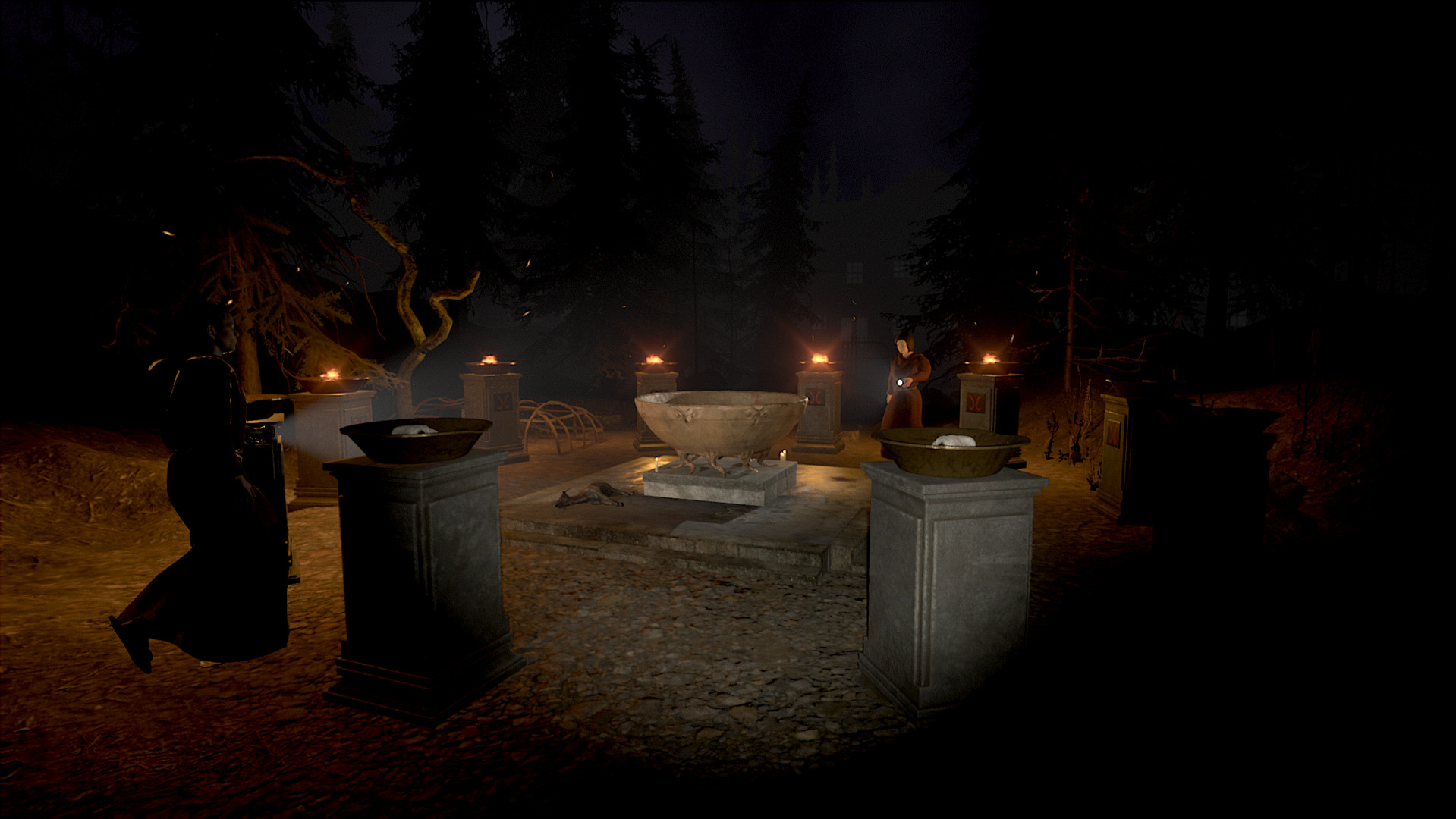 This place in the middle of the forest is perfect for a night with the devil. Exactly what the cultists use it for. Be careful, the energies of the rituals remain.
7.  7 Days to Die - 2013 (PC / PS4 / XBOX / macOS / Linux / Project xCloud)
If there is a unique undead-themed game that is 7 Days to Die. Set in a post-apocalyptic open world, this game is a brutal experience. Mixing genres like survival, FPS, tower defense, and RPG. 
This title stands out from any other zombie game. Explore huge worlds. Build and craft anything you need to survive. Experience a game designed with realistic survival mechanics. You can even customize your character, cultivate, drive your vehicle, and hunt your food. 7 Days to Die is a one-of-a-kind experience.    
Choose this game if you like…
Minecraft. This game has a lot of mechanics similar to Minecraft. 
Slow games. 7 Days to Die was designed to provide a long and entertaining survival journey. There are many things you can do in the game that can last as long as you want.
Creating. In this game, you can create exceptional worlds. The crafting and building choices are infinite!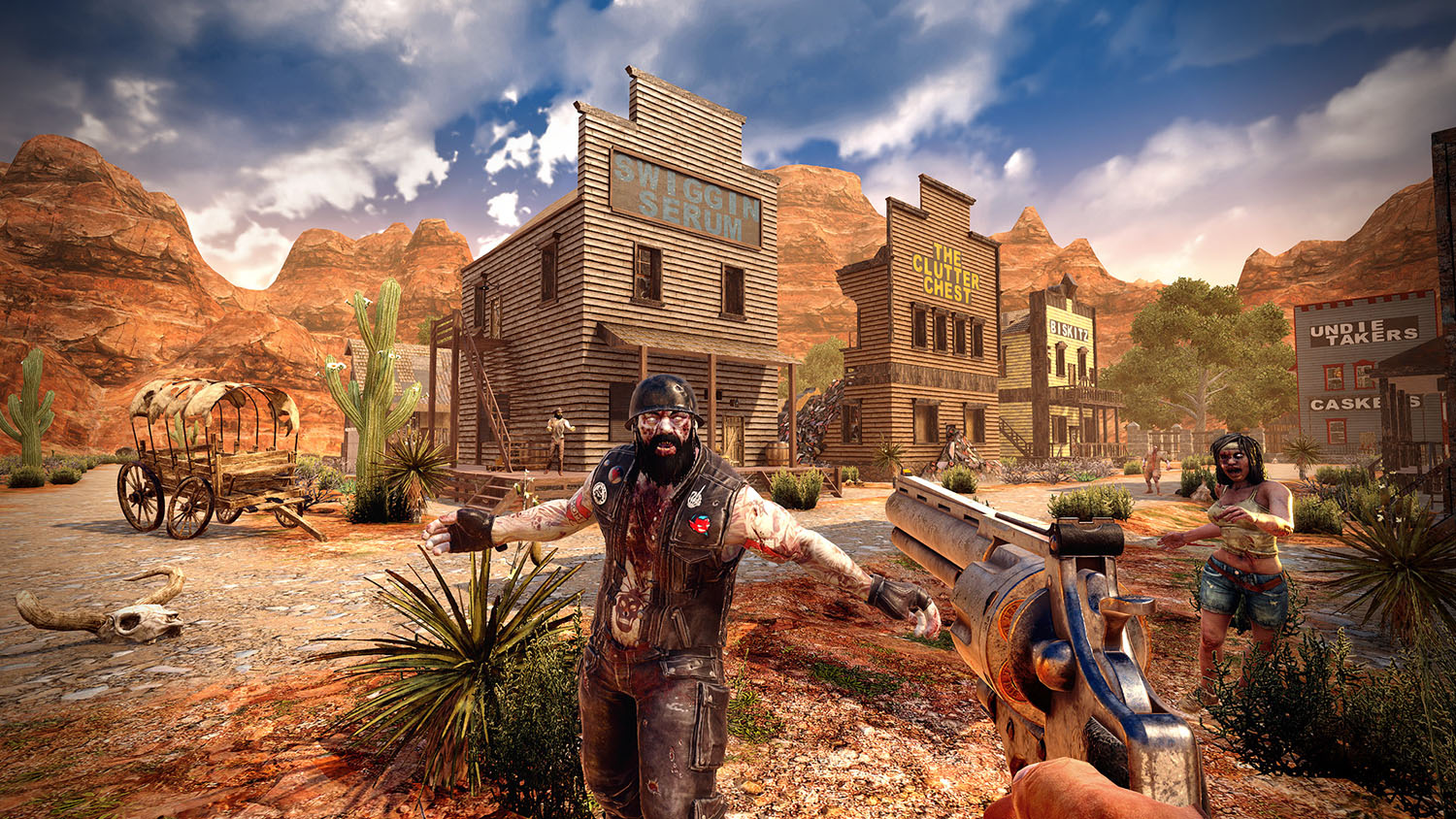 The coolest zombies are the ones found in this game. Each zombie has a unique design which gives a deep feeling of realism. 
6. Back 4 Blood - 2021 (PC / PS4 / PS5 / XBOX)
A lethal parasite has infected humankind and few survived. This parasite turns them into savage creatures ready to devour anything that crosses their path. Defeat them in this exciting FPS. It's up to you to save this world from its looming extinction. 
Play a coop. campaign and enjoy.  
Choose this game if you like…
Replaying games. Back 4 Blood features a card rogue-lite system that gives interesting twists to each match.
Left 4 Dead. This game was made by the developers of L4D. It has similar mechanics but it can be easily distinguished from L4D.
Playing the main campaign. To be honest, the best of the game is the main story. The player vs. player mode is fun but it can get quite repetitive.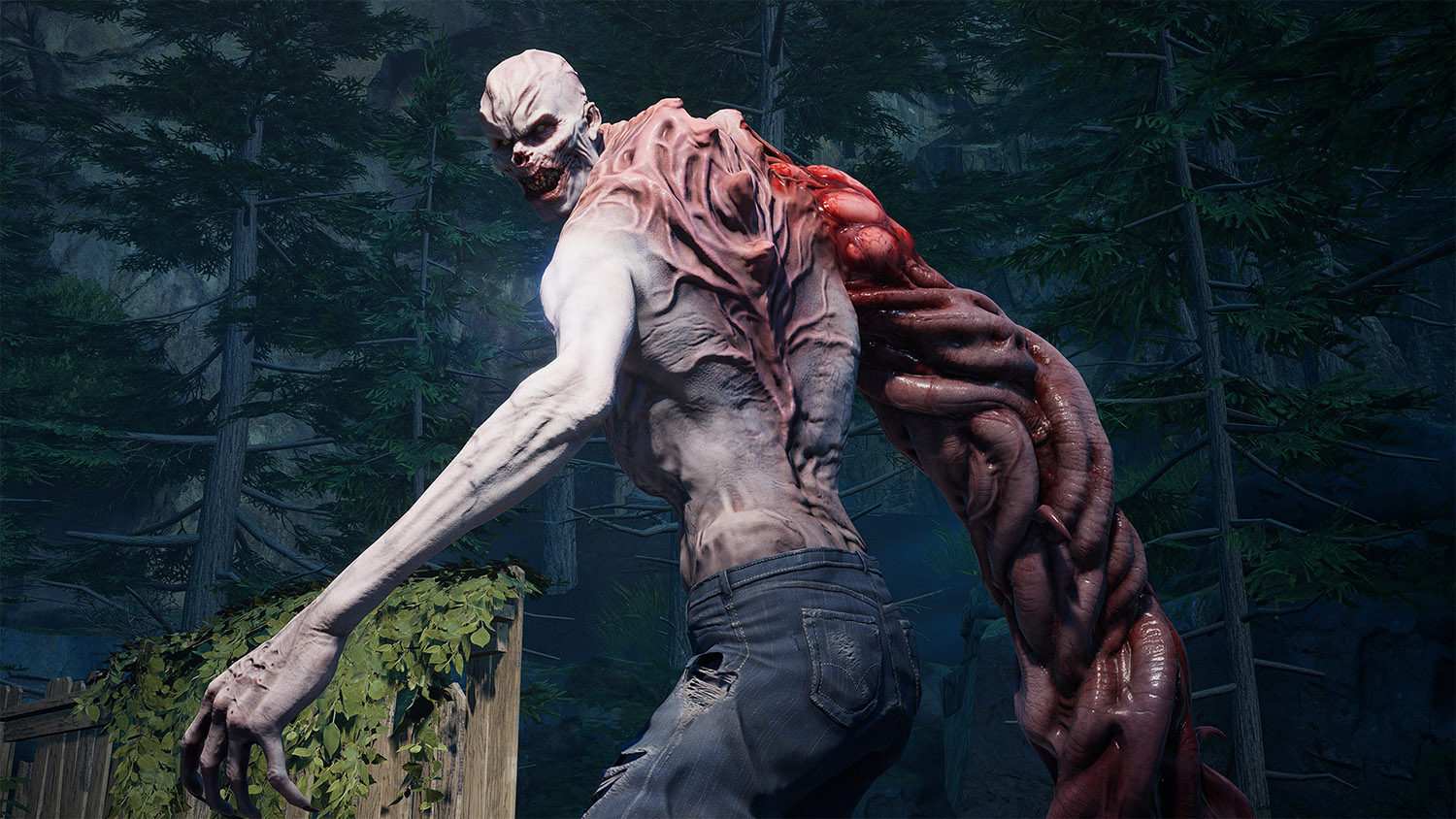 This zombie is called Tallboy and it's quite similar to the Charger from L4D. Is still a gnarly design and an excellent adversary.
5. Dolmen - 2022 (PC / PS4 / PS5 / XBOX)
Dolmen is an action RPG game that features sci-fi and cosmic horror.
Enter the futuristic world of Revion Prime. A hostile, alien place where you'll have to find some powerful crystals called Dolmen. Face thousands of creatures that will do anything to destroy you and your timeline. Master the dynamic combat system and become the strongest of all. 
Choose this game if you like…
Cosmic horror and futuristic environments. Dolmen has a fascinating design for every little thing inside Revion Prime.
Skill-based combat. As an RPG, in Dolmen you have to master your character skills and mechanics to win the battles. 
Soulslike. This game has been called the "Dark Souls" alternative in outer space.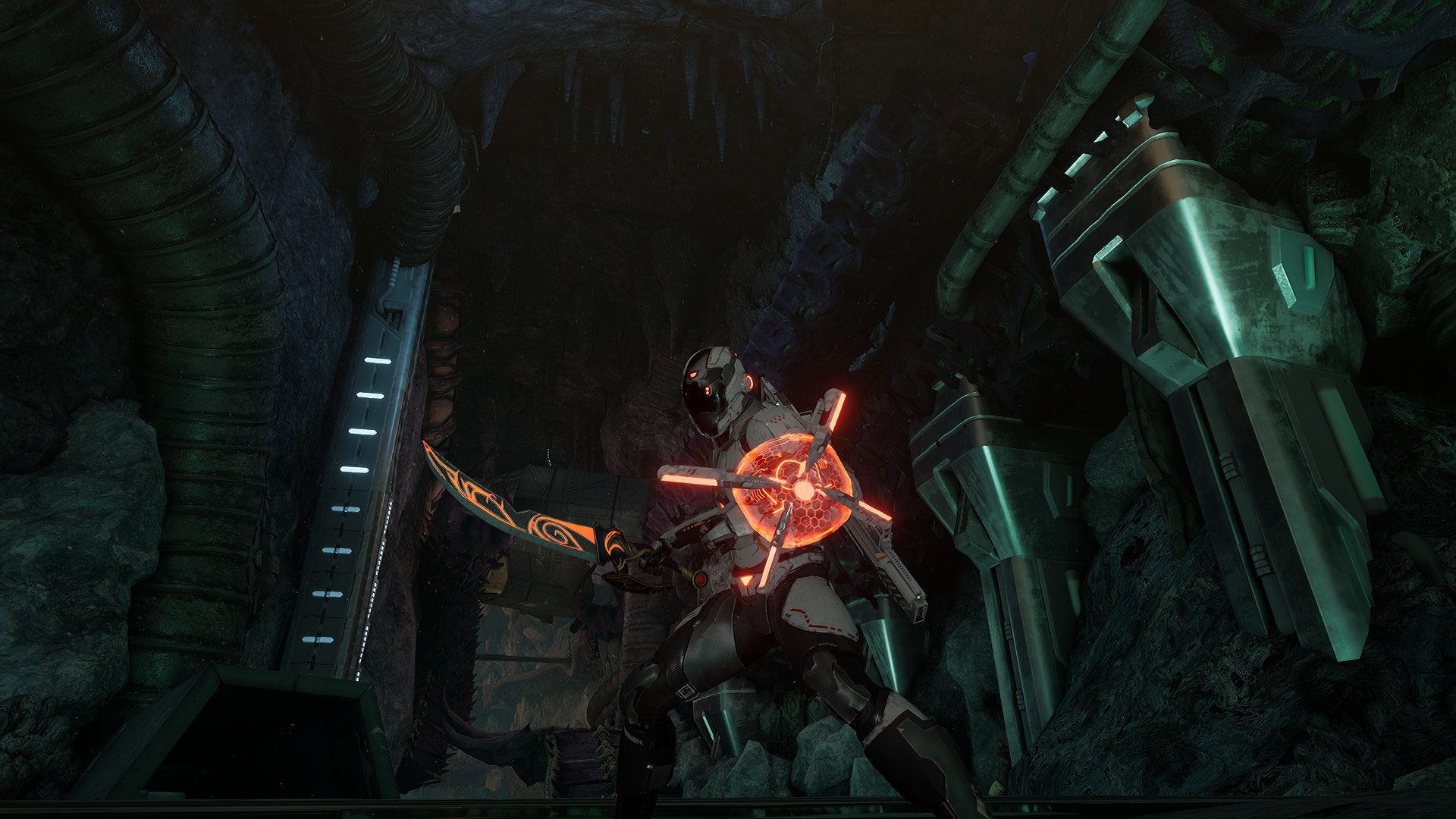 In Dolmen your character has different weapons and skills to use, this one is holding a shield and a sword. The futuristic design looks wonderful. 
4. Aliens Fireteam Elite - 2021 (PC / PS4 / PS5 / XBOX / Nintendo Switch)
You and two marine companions are on a mission to discover a new planet: LV-895. A mysterious place that is hiding a terror like no other. 
Join thousands of players in this magnificent third-person survival shooter. Create your gear to face the different aliens and dangers ahead. Face xenomorphs, jumpers, and spitters. Make great use of your character's class and unique abilities to defeat these deadly creatures. Aliens: Fireteam Elite brings an entertaining and addictive experience for you and your friends. This game is a gem.    
Choose this game if you like…
The Alien Universe. This game is set in the Aliens movies universe. You'll face the different aliens seen in the movies.
Frenzy games.
Repetitive gameplay. The multiplayer mode can get quite repetitive but it offers at least 50 hours of pure fun.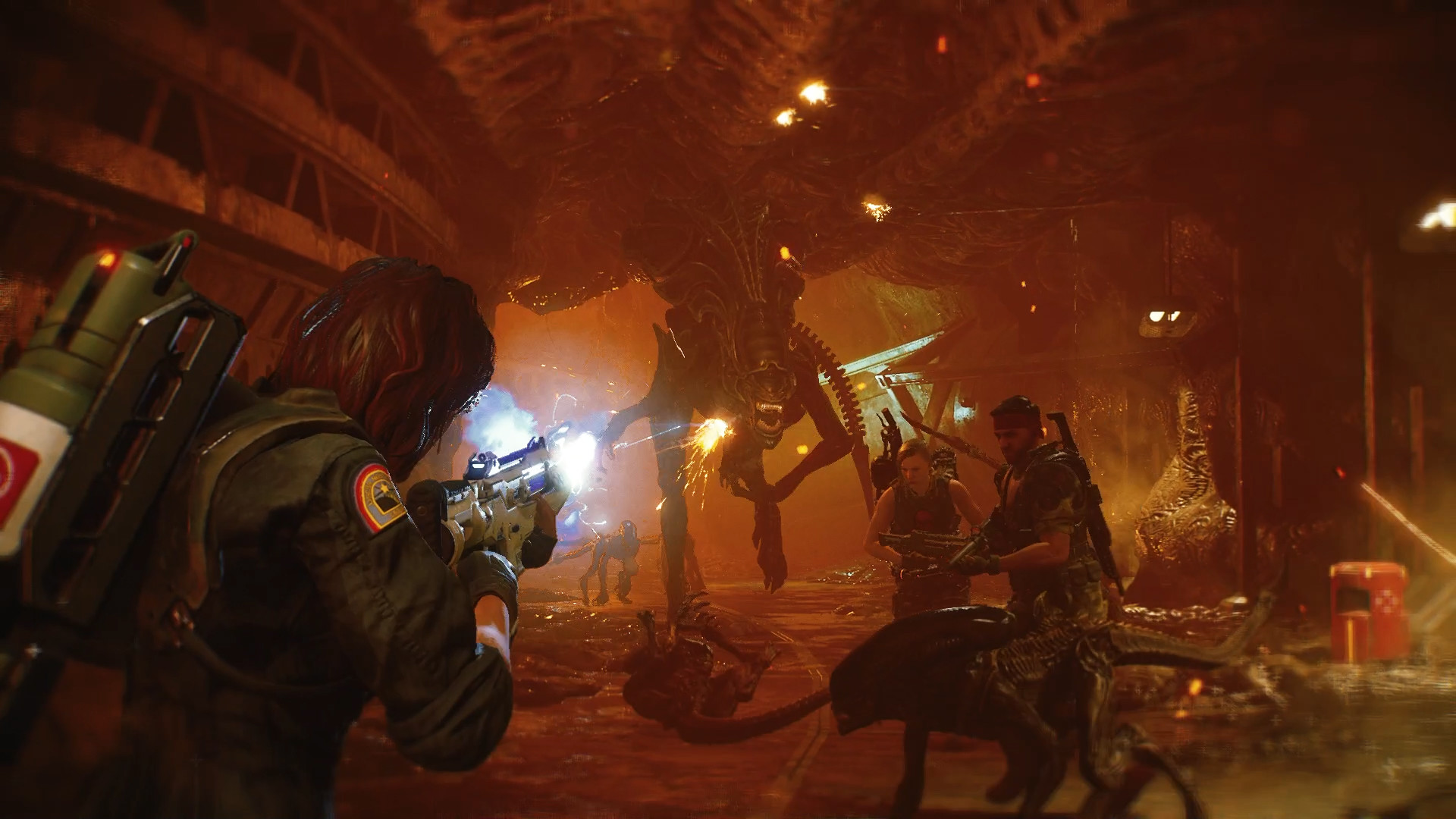 This cave looks like the perfect place to die in the hands of that huge xenomorph. The design of the aliens is just like the ones designed by H.R. Giger.
3. Pacify - 2019 (PC / Mac OS)
Pacify is a bizarre survival horror game. Experience a terrifying adventure alone or enjoy the multiplayer mode with friends. 
You have joined the Paranormal Activity Helpers Inc. Your first job is to investigate an old haunted house. You're sent to clean this place from the evil tormenting it. Use different strategies to complete your job. Pacify the different entities to move forward. And most importantly, remain calm. She can hear every step you take, she is watching you closely.  
Choose this game if you like…
Feminine ghosts. The main spirit is a female kid similar to the Japanese specter concept. 
Short intense gameplay. This game has short matches filled with tension. 
Simple gameplay mechanics and great immersive atmospheres. The best part of Pacify is that it has a creepy atmosphere, excellent for headphones.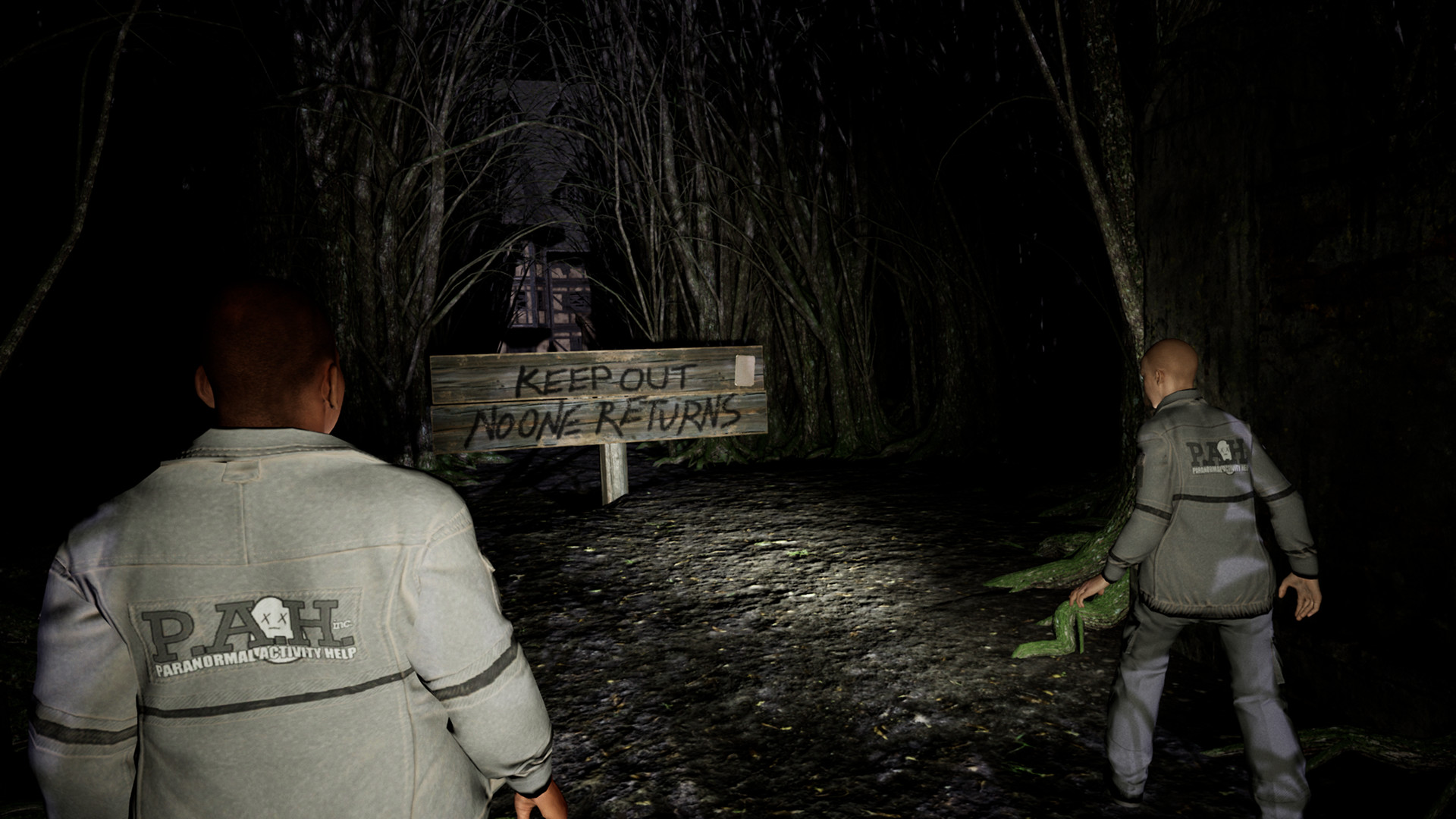 A friendly reminder of why you shouldn't go to haunted places in the middle of the night unless you get paid for it.
2. Hellpoint - 2020 (PC / PS4 / PS5 / macOS / Linux / Xbox / Nintendo Switch)
Hellpoint is a dark RPG that mixes sci-fi and occultism. This game is an original proposal with the best of souls-like, sci-fi, and horror games. 
You're in a space station called Irid Novo. A place mired in ruins ruled by dark cosmic entities. This place once belonged to humankind but is now taken by evil. Your goal is to discover and defeat the powerful entities to return this place to what it used to be.        
Choose this game if you like…
Cosmic horror and astronomy. The game is set in outer space and it follows cosmic rules that will blow your mind.
Exploring. Irid Nove is an immense place where you will spend some time exploring. It's worth your time since the place is fascinating and filled with mysteries.
Challenging gameplay. It can be a nightmare or a piece of cake. You decide.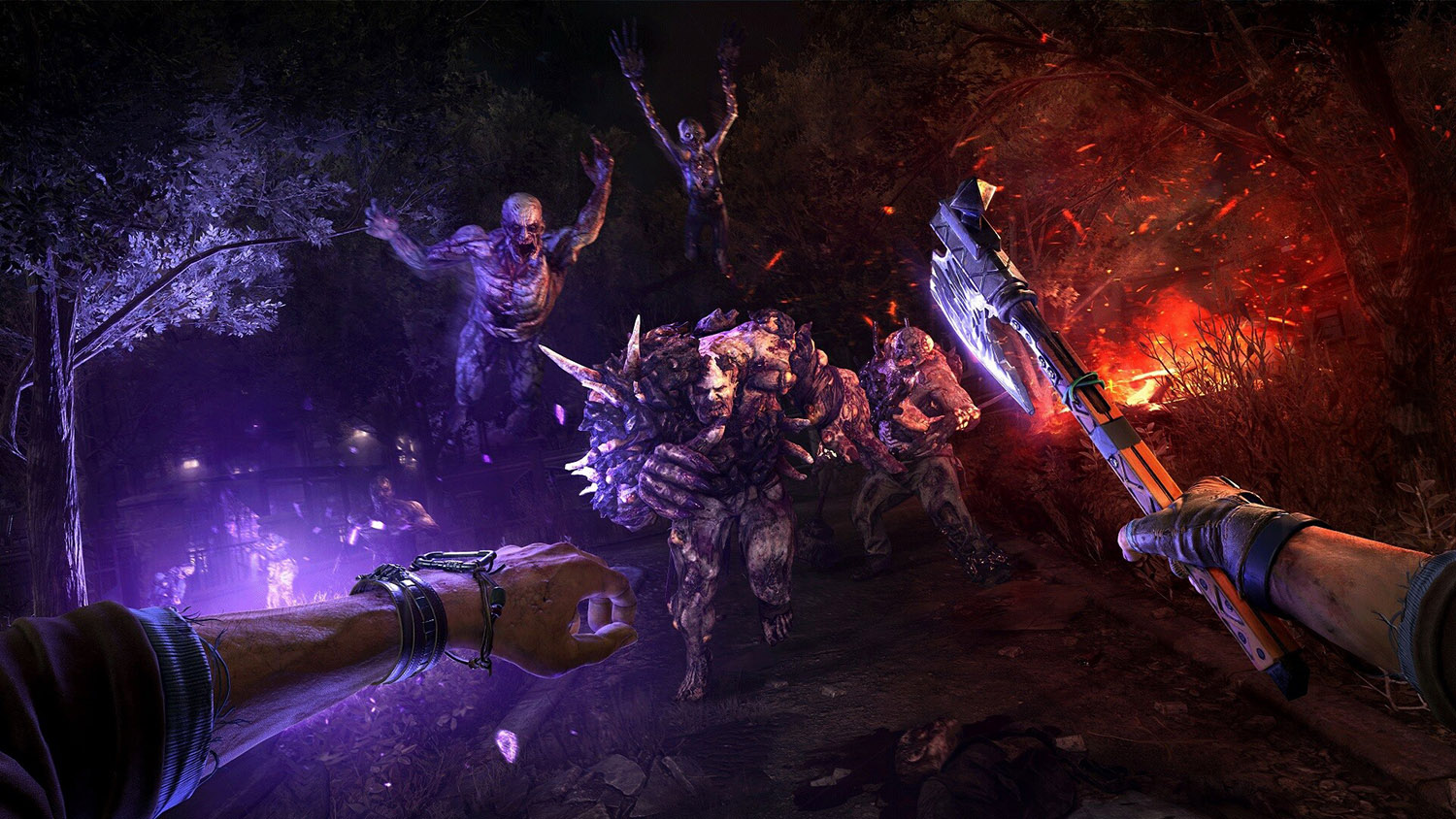 Imagine being chased by a horde of powerful creatures and your only weapon to defend yourself is an axe. And that's why parkour is useful.