Phasmophobia: How To Activate Camera
Updated: 13 Oct 2022 2:47 am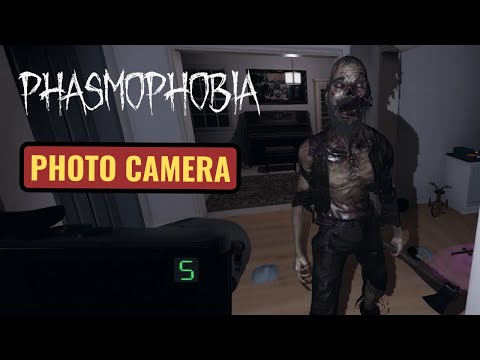 Unbelievably, having a camera during your contract will be quite helpful to you throughout the game. In addition to the glamorous photos of the ghost, you can take pictures of any proof or ghost activity you come across.
In phasmophobia, there are two different kinds of cameras. The first is your standard camera, which is primarily used for gathering evidence and earning money from the images. The video camera can be used to detect proof and paranormal activity.
I'll be demonstrating how to turn on and operate a camera today. Move on to the first step.
Step 1: When To Buy Cameras
You should purchase at least one camera for each game for each contract in Phasmophobia, though you can use up to three at once. Each camera costs $40 and is a great way to make money whenever you play.
Be careful that any camera you buy will only be good for five usage. Be sure to capture the moments that will ultimately pay off financially and provide you with valuable experience.
Step 2: How To Use A Camera 
You may be wondering how to use cameras to obtain evidence now that you have purchased some for yourself. Look no farther if you're trapped at the property and wondering how to operate your camera.
Make sure to locate the ghost room as soon as you arrive at the property. Once you've located that room, keep an eye out for any evidence of paranormal activity that you can capture on camera. If you have witnessed paranormal activity, get your camera out and focus on the area you wish to capture in a photo. Then, simply click the right mouse button to take the picture.
Step 3: What Should I Use My Photo Skills On? 
It is reasonable to say that when you are under contract, you are allowed to take pictures of a variety of items. To make things a little bit simpler for you, here are some suggestions for what to photograph.
Bone
Cursed objects
Fingerprints
Footprints (From salt)
Dead bodies (That sucks for your teammates!)
Ghost 
Ghost writing
EMF
Step 4: Knowing What Will Make You The Most Money
As I've said before, capturing pictures can help you make some quick money. The majority of evidence images will earn you some money. Only ten photo slots can be used in your diary; these are what will allow you to make money.
Other picture worthy shots for money are:
Dirty water
Shower turned on
Tv turned on
Radio 
Rocking chair