Destiny 2: How To Change Appearance
Updated: 26 Mar 2022 8:12 am
Like the way your Guardian looks, guaranteed.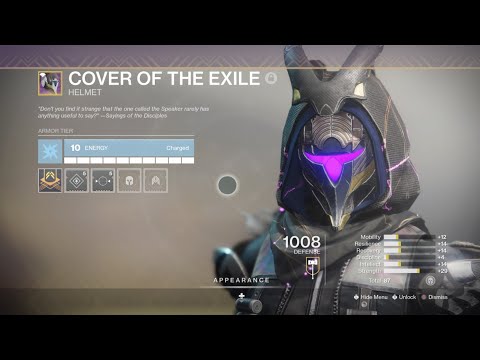 How to Make Your Destiny 2 Characters Look Good (by Miurablade)
Part of the game is how you're dressed; that goes in Life and in Destiny 2. Find out how to keep your looks sharp in-game.
Destiny 2 has such an awesome amount of customization options that it's given rise to players focusing not just on spelling up their weapons and armor but also on making sure they look damn good. There are numerous shaders, ornaments, spawn effects, Ghost shells, Sparrows, Ships, and emblems to choose from, all of which build toward creating a distinct appearance for your Guardian. 
Your Guardian's appearance shows other players how long you've played, how high your level is, and what achievements you've accomplished in the game. So, to make sure your Guardian looks every bit as awesome as you play, here's how to change your appearance: 
How to Change Appearance in Destiny 2: 
First, go to your Inventory screen. 
On the right, you'll see all five components of your armor (Head, Arms, Chest, Legs, & Class item). Pick the ones with the best stats.  
Then, go to the Appearance subscreen by pressing down or clicking on the down-arrow at the bottom. 
On the top right, press/click a tile with a circular icon called "Appearance Customization."
Move your cursor to the second tile on the top called "Apply All." 
Select the shader you want to apply to all of your armor pieces. 
If you prefer, you can then select an individual armor piece you want to customize.
Select a piece and press the second tile at the top, then choose the shader for your selected armor piece. Exit this menu. 
Press the third square at the top and choose a Universal Ornament, which allows you to transform the appearance of the armor piece you are wearing. 
The Appearance Customization is simple and fun to use. Experiment with different shaders and Ornaments to give your Guardian an extra boost in style while roaming the world. 
You may also be interested in: