[Top 10] CS:GO Best Dual Beretta Skins
Updated: 22 Dec 2020 3:34 pm
If one isn't enough, there's two to make your day!
10 - Stained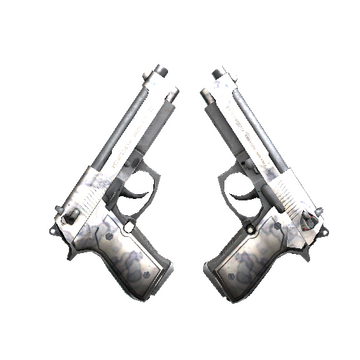 This skin resembles a stained mesh, hence the name, which in my opinion looks really great for a name like that.
It features a granite-like background color with dark spots resembling stains all over the body.
It doesn't look too flashy and it stands out better when there is glare, and so overall it is a really cool example of a decent skin.
9 - Cobra Strike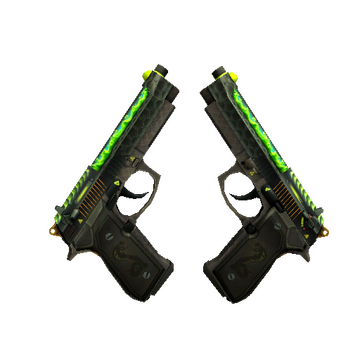 This decal gives off a futuristic vibe and for good reason.
It has a really dark color with some added contrast through subtle decorations, and the top has a really vibrant green wave which looks really awesome since it doesn't mess with the color scheme of the gun and it also makes it stand out more.
The glare is perfect on this and it definitely belongs in most loadouts.
8 - Royal Consorts
The detail on this skin is superb along with its temple-like royal decorations.
Nearly the entire body is covered with stained gold and a lot of temple meshes with some hints of green for added contrast.
It stands out a lot and it's really blinding when mixed with glare, overall it's an overkill and detailed pair of guns that will be sure to amaze your opponents!
7 - Ventilators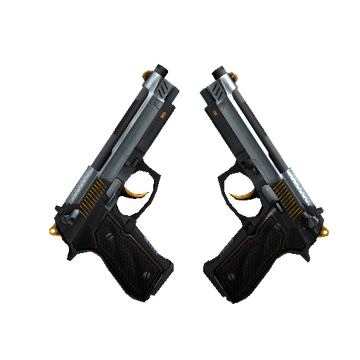 This skin looks very robotic and mechanical which is very rare to find, but worth it to get.
It has a shiny aluminum body with a few orange lines to make the guns stand out a little more.
It's a mechanical pair of guns aimed towards people who don't just want another ordinary pair of berettas.
6 - Panther
If somebody made a knife for gamers, then this would be it.
It features a black background with a few silvers streaks at the top and red rust covering the bottom.
To be honest this looks like something that would come from a Dystopian movie, it's overkill and it's a flex towards your teammates.
5 - Cobalt Quartz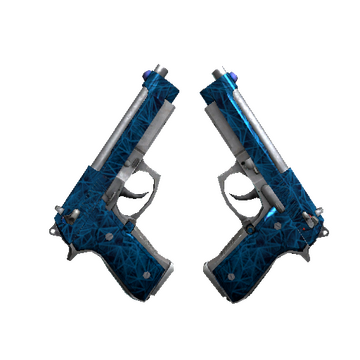 This pair of berettas looks very eye-catching and flashy in a positive way.
It has a dark blue fade background with flash blue lines for added contrast.
It also has a silver finish on the top and bottom which just adds to this pair's overall beauty!
4 - Hemoglobin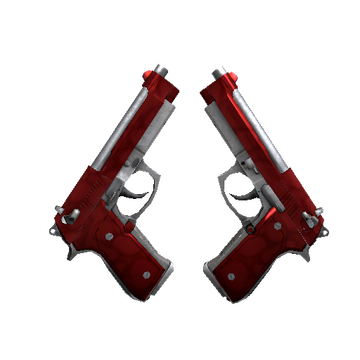 This is what a minimalistic but threatening pair of guns look like.
It features a mostly dark red background with subtle light red spots on it that looks like a gradient.
The glare makes it look extremely balanced and the red accents fit in perfectly with the gunmetal top and bottom, making this a pair that belongs in all matches.
3 - Shred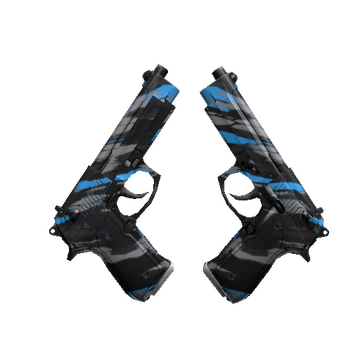 It's exactly what it sounds like but in person, it's so much cooler.
It had a "shred" patterns with streaks of blue, black and gray covering the entire body.
All of these colors fit together for some reason and it definitely doesn't stand out too much even with glare, making this a good fit in your inventory!
2 - Urban Shock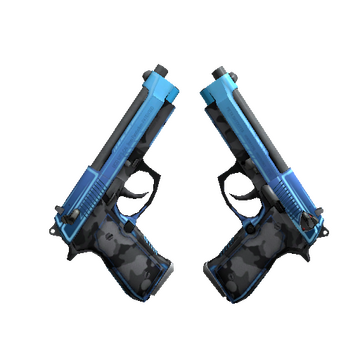 This skin looks astonishing with a balance of shiny and minimalistic and here's why.
The actual skin features a gray and black camo background with a very shiny turquoise color on the top.
The color schemes work so well together with an undefeatable balance making this a no-brainer to put in your game.
1 - Dualing Dragons
This honestly looks like a combination of western equipment and chinese culture, they look awesome together.
The body has a wood gradient in the bottom and a black background on the top with white dragons.
The dragon decal on the handle just completes the beauty and I wouldn't even bother putting stickers on it since it looks amazing by itself!
You may also be interested in :
Image Gallery