Top 10 CSGO Best M4A4 Skins
Updated: 03 Apr 2020 7:50 pm
A rare beast
Although the M4A4 doesn't seem to pull the same prices with skins as the AK, its sti.l iconic in its own right and there's still plenty of great options both for collectors, gamblers, and those on a budget. Here are the top 10 M4A4 skins in CSGO. 
 10. The M4A4 Asiimov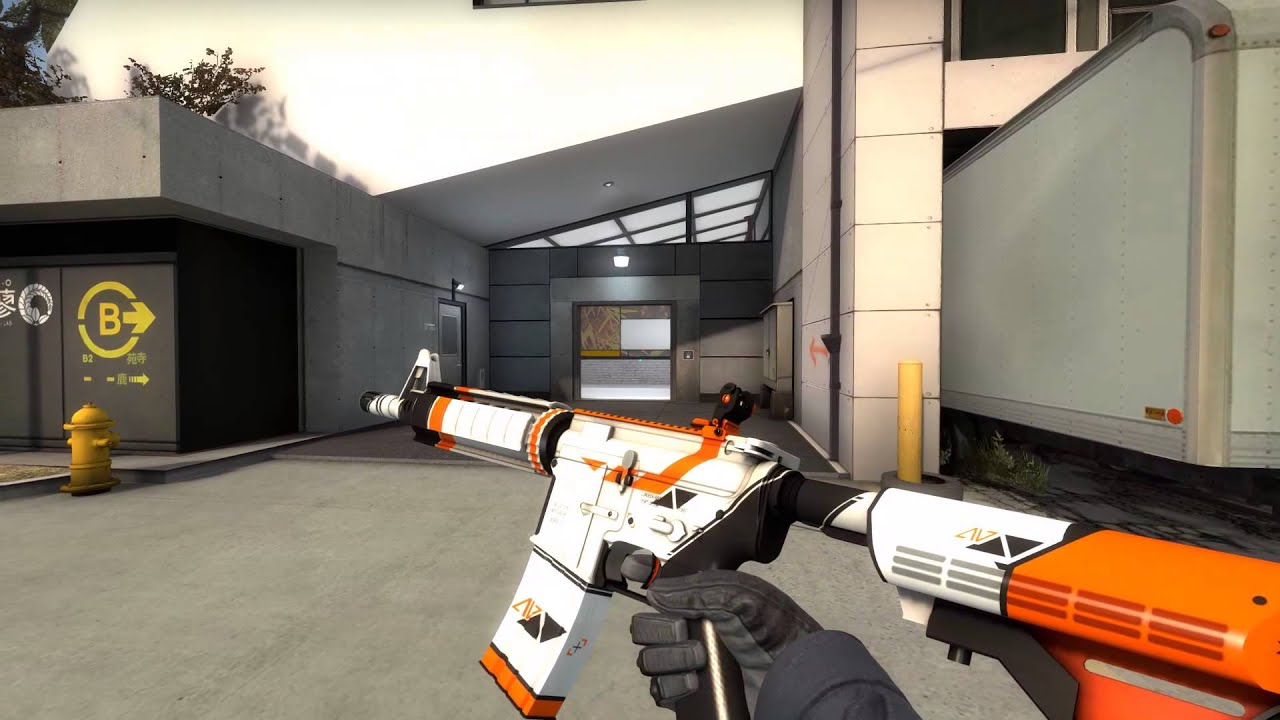 The Asiimov line has always been a community favorite, and the M4A4 variant is no exception. 
Part of a large collection including a matching P250 and AK skin
Like other Asiimov designs, the skin looks great with wear. This makes cheaper options much more appealing than on other skins
Like other skins in the line, the M4A4 Asiimov starts relatively low, at under $30, but quickly pulls up to around $100. Stattrak models push well past $100. 
The Winter Offensive case is relatively expensive at just over $2 a case, and while the skins offered are great the only one that pulls any real value is the M4A4 Asiimov. Buying second hand might be a safer bet. 
See the Asiimov in action: https://youtu.be/AonMcXM4NcY
       9. M4A4 Poseidon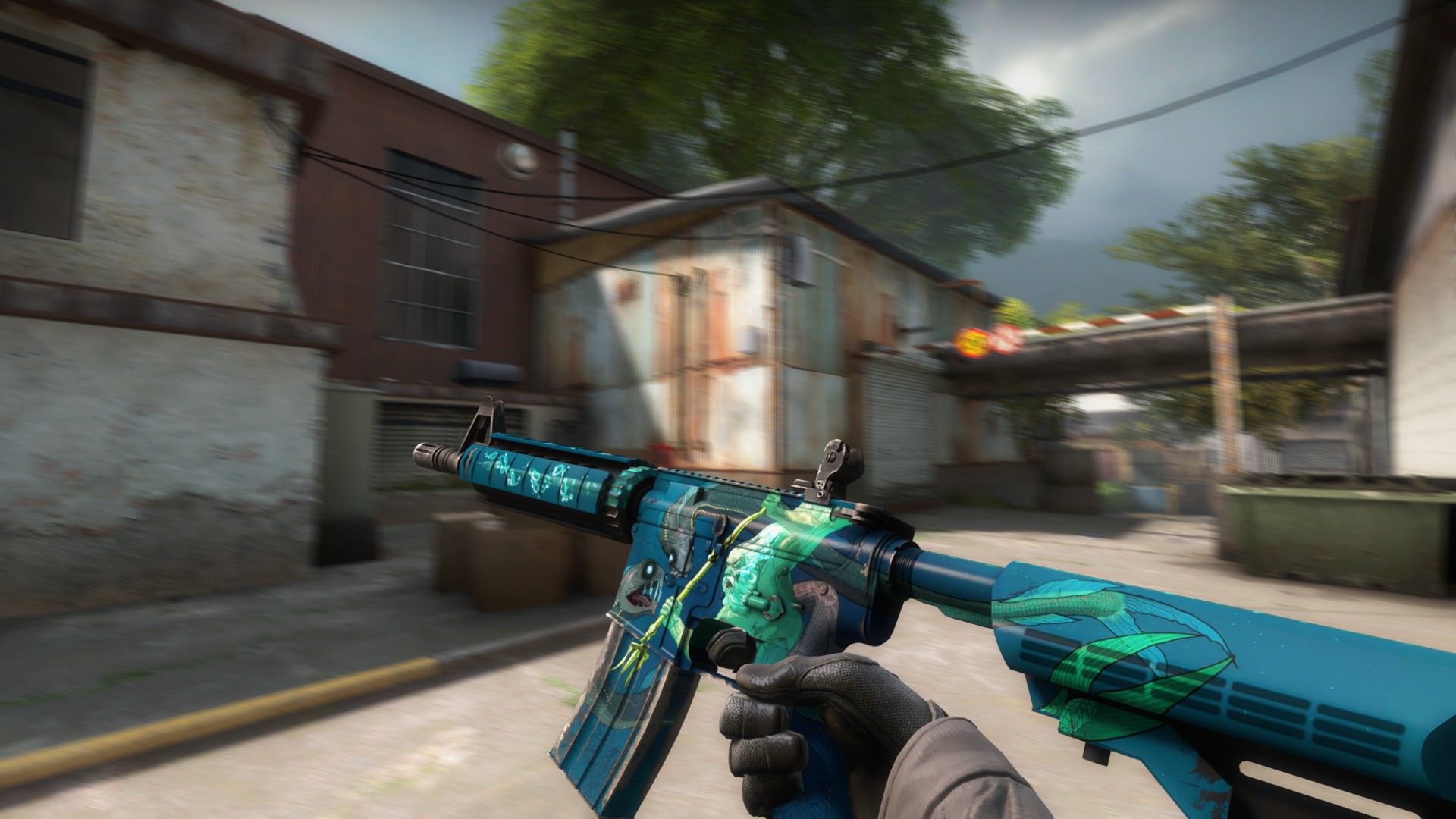 Another beautiful full-body art skin with an uncommon color scheme. Part of the Gods and monsters collection, the Poseidon sees a heavy price tag on the second-hand market. 
A collectible piece from the Greek mythology-inspired set including both the AWP Medusa and the G3 Chronos
A unique color scheme outside of the gods and monsters collection, with vivid blues and greens across the whole gun
And then there's the downside. Pieces on the second-hand market can pull anywhere around $500
The M4A4 Poseidon is exclusively available on the second-hand market as it is only a part of the Gods and Monsters collection and isn't available through any cases. If you have the money, I would advise scouring some trade sites or contacting owners. 
See the Poseidon in action: https://youtu.be/-q3uY6jRRmY
       8. M4A4 Neo-Noir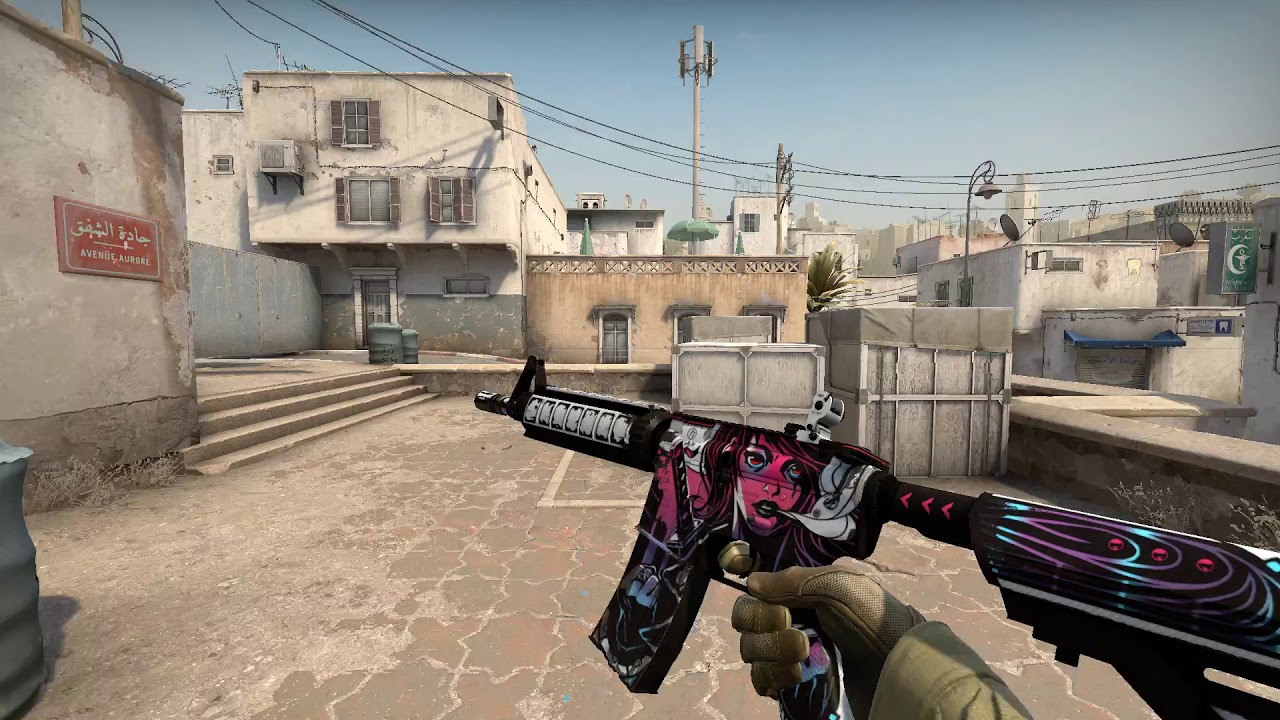 The Neo-Noir M4A4 is the second in a series of 3 and is a great piece for those looking to have some full-body art on a budget. 
Part of a set including the Neo-Noir USP and AWP
Full-body art, rather than the standard pattern work, and each weapon in the set has completely different art
Starts fairly cheap at under $20
Pieces begin under $20, and climb steadily but stay under $100 until we get into Stattrak territory. 
The Neo-Noir M4 is available in the Clutch case, luckily only a few cents on the open market. Unfortunately, this is the only of the three Neo-Noir pieces in this case and it's also the only piece in this case that pulls any kind of value. 
See the Neo-Noir in action: https://youtu.be/Z_dDjO8jfRY
           7. M4A4 The Emperor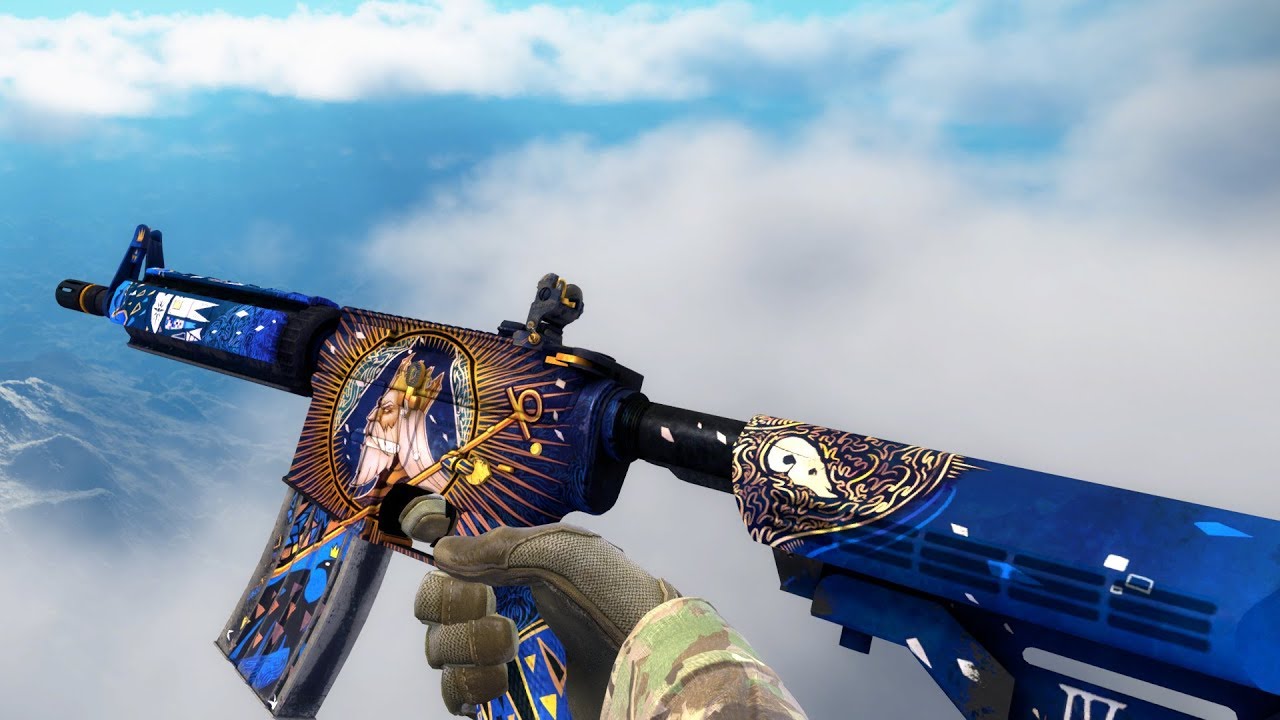 The lesser-known little brother of the Tarot themed AK. The Emperor pulls a lower price point and does a lot less up-front.
Allows you to complete a matching set with the Empress AK
Cheap case, coming in at a nickel apiece
Heavy wear tends to take a lot of paint off the magazine so low condition models start at just $20, but Factory New pieces can pull over $100 and Stattrak's can dramatically skyrocket the price. 
The Prisma case sells for pennies, so pulling this piece from a case isn't a crazy gamble. However, this is also the only gun in the case that really pulls value. Case popping can still pay off though, as any Factory New or Stattrak guns from the case tend to sell fairly high. 
See The Emperor in action: https://youtu.be/qGANiUZtP9I
           6. M4A4 Royal Paladin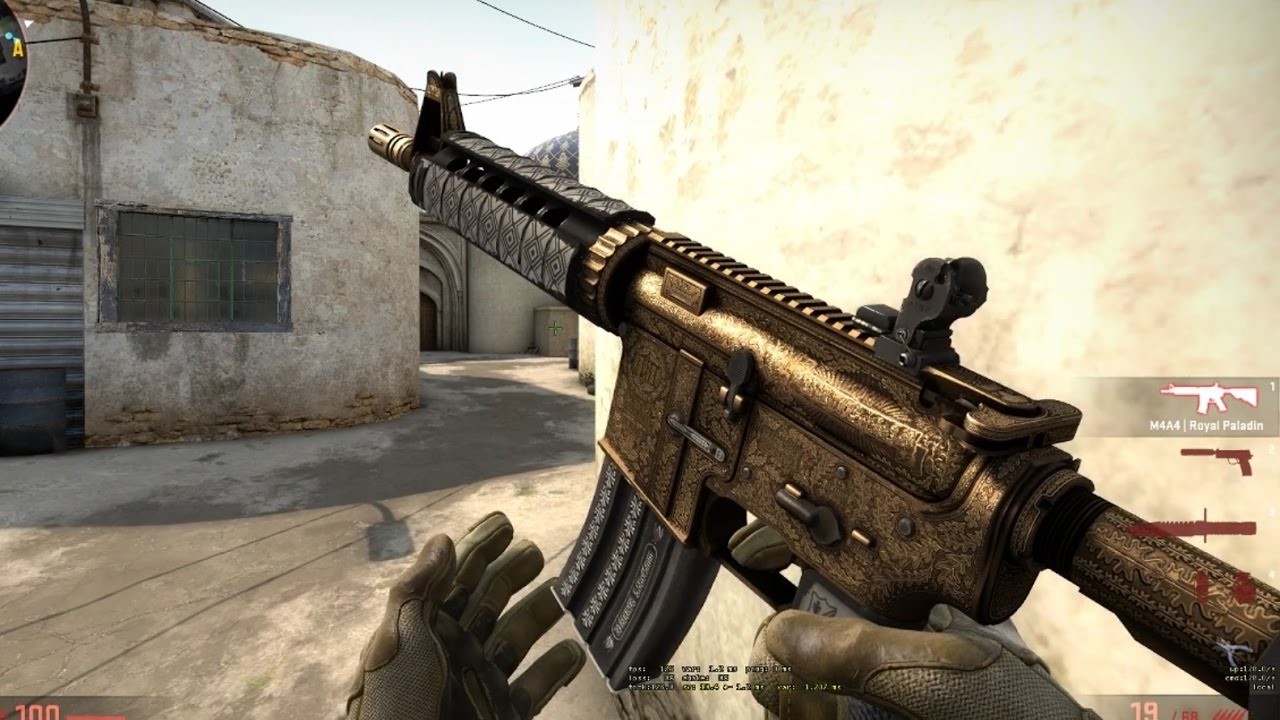 A cheap skin in a cheap case, the M4A4 Royal Paladin offers a solid engraving theme. 
Uniquely engraving themed skin for the M4
Immediately identifiable 
Cheap, from a cheap case
As an engraved skin, there's no paint to chip here. But wear will apply a dingy tint to the whole body of the piece and robs it of that golden sheen. Cheap pieces begin at just over $10 and Factory New gems with all of their shine can shoot just over $100. Fac New Stattraks can sell for several hundred. 
The Revolver Case is both a blessing and a curse here. Cases only cost a nickel but it headlines with such flops as the R8 Fade and P90 Shapewood. If you want weird skins, pop some cases, but don't expect it to payout. 
See the Royal Paladin in action: https://youtu.be/_tH0AmVrXgc
           5. M4A4 Desolate Space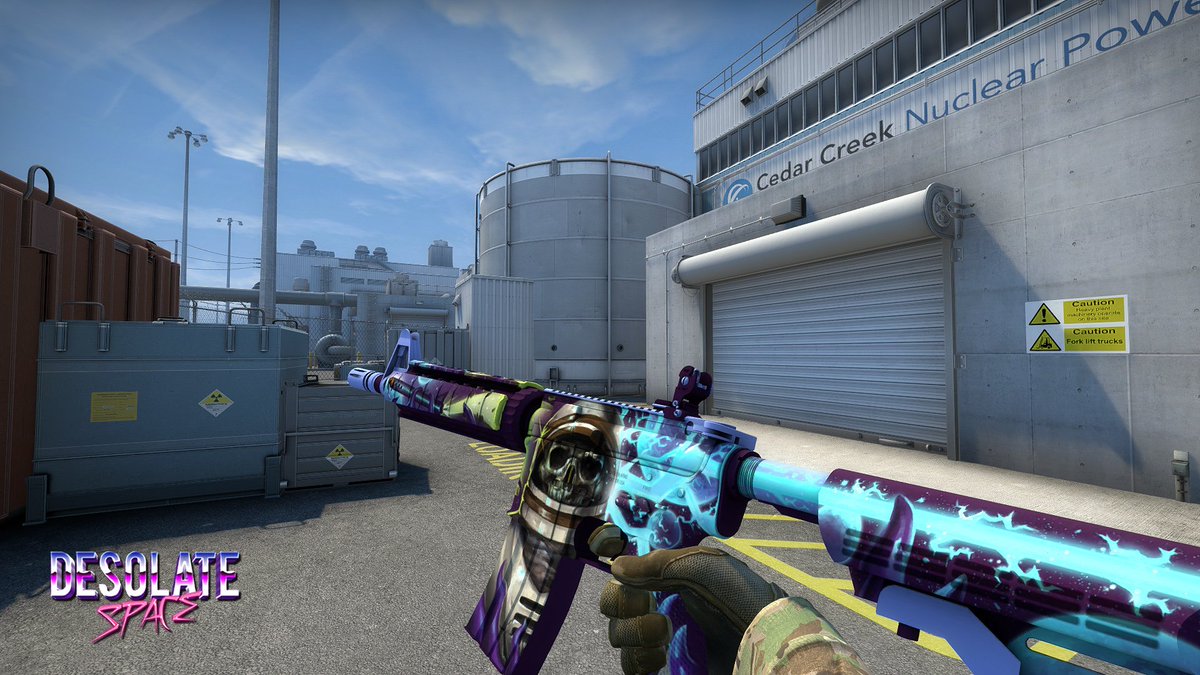 Another full-body art Skin with a unique theme. The Desolate Space is extremely affordable and comes in a case packed with Sci-fi themed pieces.     
The Gamma case is dirt cheap
Skin starts low, and never really breaks $50
The Desolate Space doesn't pull a high price, starting at under $10 and never going over $50 unless we're talking about Stattraks.
The Gamma case is dirt cheap, but so are most of the skins in it. If you're interested in other Sci-fi themed skins the Gamma also headlines with the Mecha-Industries M4A1-S and the SCAR-20 Bloodsport. 
See the Desolate Space in action: https://youtu.be/UVOtbo6nGwE
           4. M4A4 Modern Hunter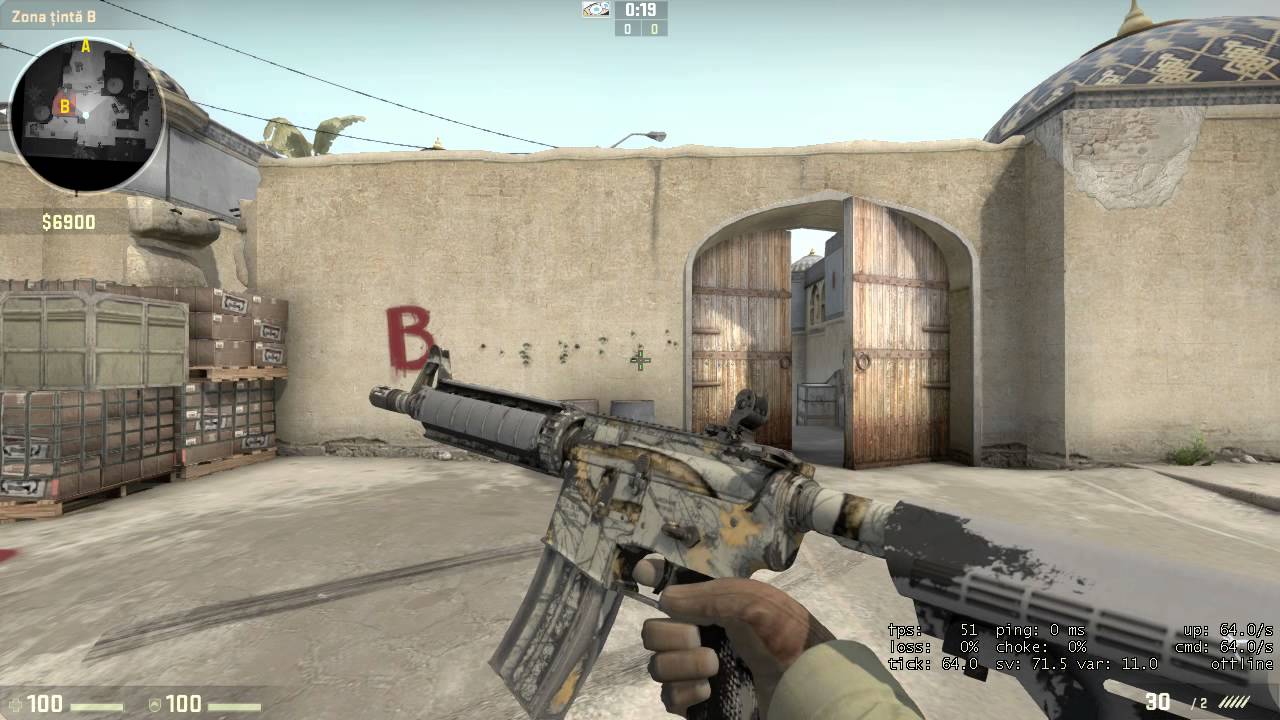 A piece from early in the history of CSGO, the Militia Collection likely won't drop ever again. 
Collectible, the Militia Collection likely won't be dropping again. 
Cheap, and expensive. How much you're going to spend on this skin is only determined by how much you want to spend
Part of a collection of similarly skinned weapons including the P250 and Nova
Cheap pieces start at under $15 and go as high as a couple hundred. Stattrak's aren't available for the Modern hunter.     
The Modern Hunter was part of the Militia Collection and won't drop anymore, and was never a part of any case. If you want one, your only option is the second-hand market. 
See the Modern Hunter M4A4 in action:https://youtu.be/7UgnDan9OGM
           3. M4A4 Radiation hazard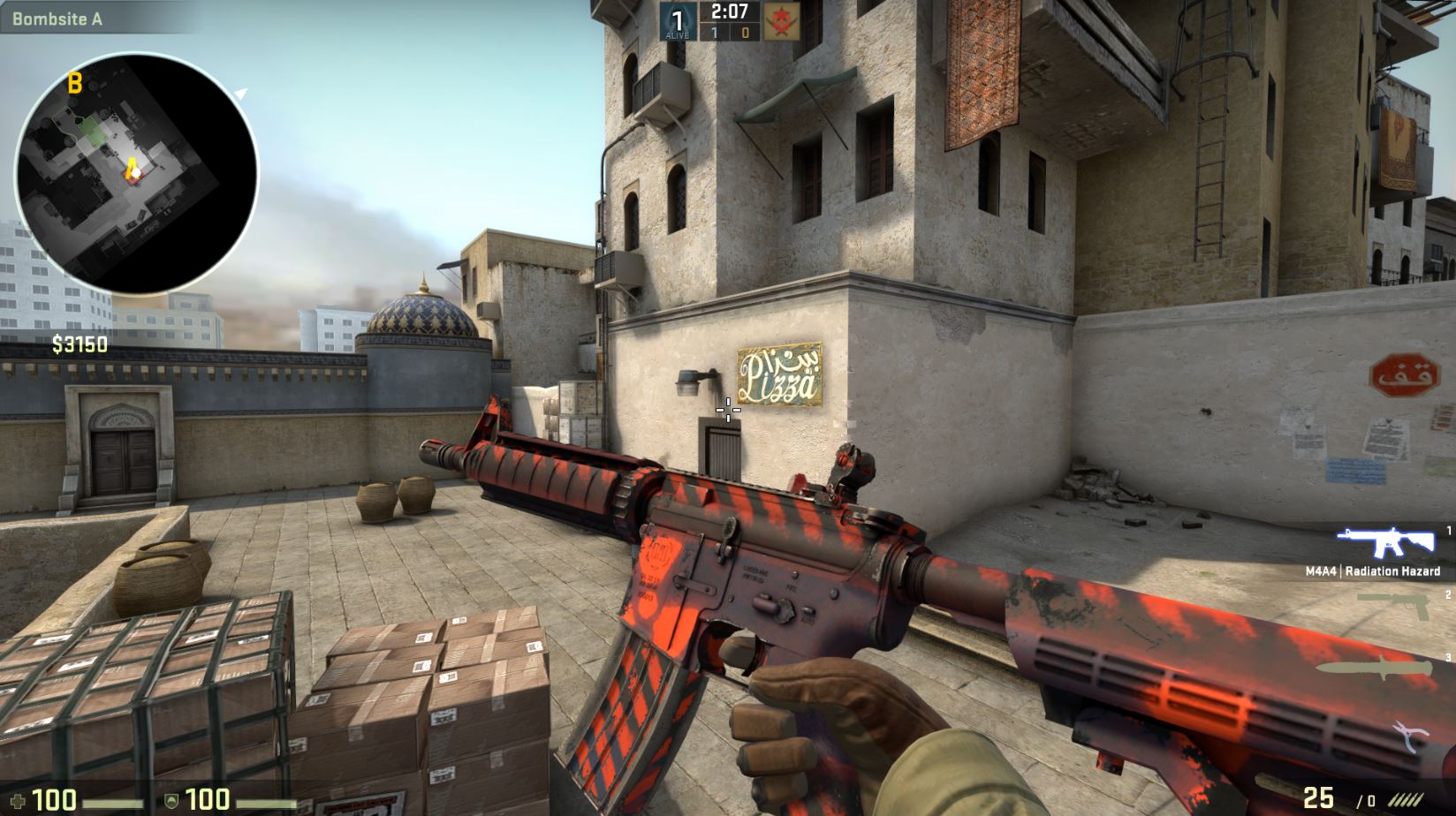 Another Collection skin that starts cheap but gets expensive. The Radiation Hazard was a part of the Nuke Collection and will also likely never drop again.     
Collectible, many of the collections from early in CSGO's history have gained a lot of value, this is no exception. 
Starts cheap, just like the Modern Hunter you can pay what you want
Battle-Scarred models sell for about $10 to $15, but Factory New and especially souvenir pieces can sell for much more. Some sales have hit a couple hundred. 
Yet again, the only way to acquire a Radiation Hazard is from another player. This piece was never part of a case and likely won't be dropping any time soon. 
See the Radiation Hazard in action: https://youtu.be/3DLpRVafkWg
           2. M4A4 Hellfire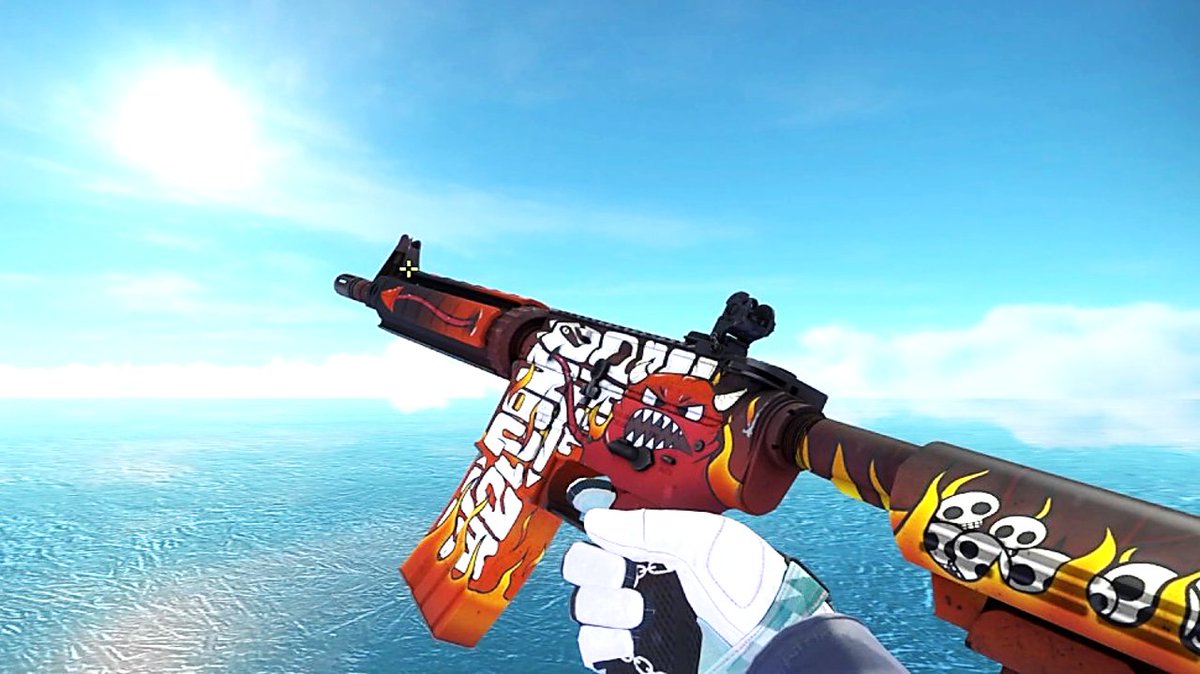 An art Skin that departs from the styling usually available. This is an affordable piece from an extensive case.     
Unique, more relaxed style
Affordable, with plenty of listing available
Battle-Scarred versions come in around $15, and Factory New pieces only go as high as $50. FN Stattraks can be more than $100 though. 
The hellfire drops from the Operation Hydra case, which goes for about $5 on Steam right now. 
While the Hellfire itself isn't super pricey, the case also has a chance of dropping a Five-Seven HyperBeast and AWP Oni Taiji. 
See the Hellfire in action: https://youtu.be/abLpO_7FSLk
           1. M4A4 Howl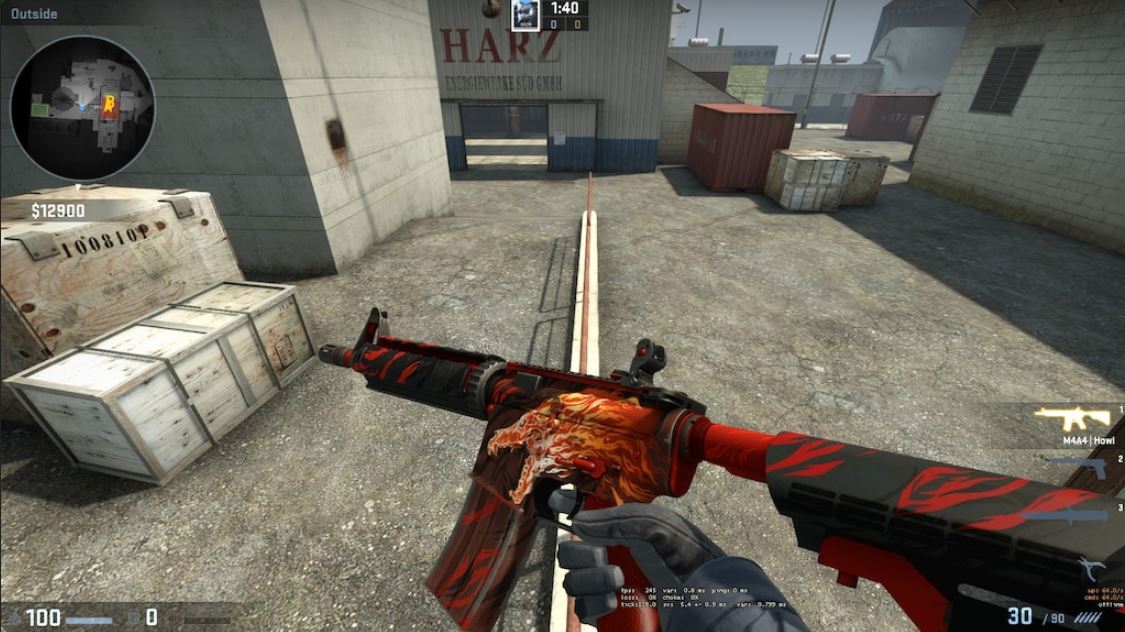 The M4A4 Howl is about as limited edition as it gets. Due to an issue of stolen art with the original Howl design, the creators and their projects were barred from the game. All existing Howl skins were replaced with a version designed in-house by CSGO's dev team, Valve stated they had no intentions of making the skin available again. 
Perfectly collectible, Valve has openly stated this skin won't drop ever again. 
High value, and steadily rising.         
The Howl was already valuable before getting removed. Now the price has been steadily rising and Factory New pieces can easily pull $2000.
Unfortunately, the Howl was removed from the Huntsman case and is now only acquirable by purchasing it directly on the second-hand market.     
See the new M4A4 Howl in action: https://youtu.be/eDZ86JA_cb8
You may also be interested in:
Image Gallery