[Top 10] CS:GO Best Revolver Skins
Updated: 21 Aug 2021 1:30 pm
Welcome to the western world, no wait we're still in CS:GO...
10 - Memento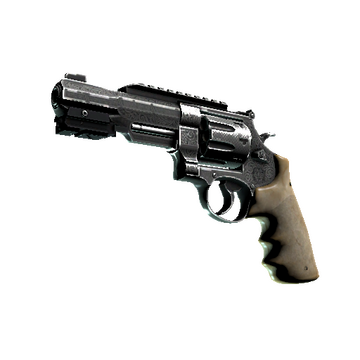 This is an example of a classic item that just works well in the modern day.
The handle is a light brown color with a shiny silver top that just completes the look.
It honestly looks old school and there's really nothing wrong with that since it doesn't stand out too much even with the glare and it definitely deserves a spot in most loadouts.
9 - Nitro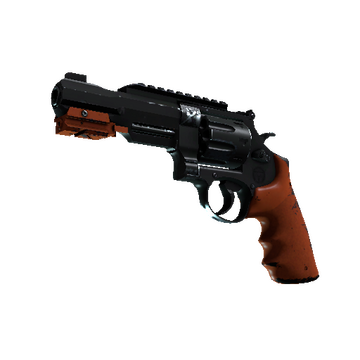 This skin is more a "overkill" type designed for serious gamers in mind.
The red and black streaks on the handle along with the stained black top go really well together making this a more threatening gun.
It is relatively dark, though the glare adds some nice contrast to it, which obviously makes this a pick for serious competitors.
8 - Llama Cannon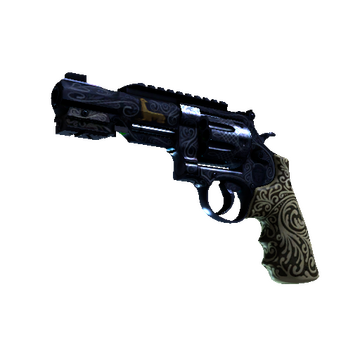 I have to admit that the colors look partially bland, but what makes up for that is the amazing pattern on the gun.
It features a black background across the entire revolver along with some gold patterns on the handle.
The white pattern on the top just makes the entire thing look complete and I wouldn't even bother putting stickers on it, it's just really well designed.
7 - Grip
The pattern on this specific revolver is so trippy and cool in so many ways.
The top part of the knife is a relatively shiny charcoal color along with some trippy blue, white and black patterns.
These mix in so well and add contrast to the dim black color on the top making this an absolute necessity in anyone's inventory!
6 - Skull Crusher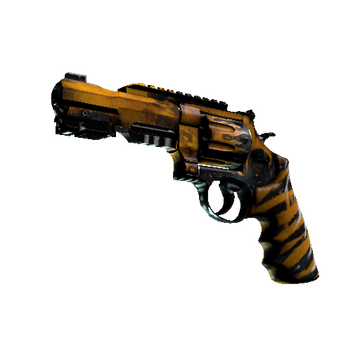 This is 100% a skin designed specifically for serious people and for good reason.
The tiger-like streaks cover up most of the gun in colors such as orange and black and on the ammo wheel it even includes flames which just complete the setup.
Overall this is definitely not designed for simple people yet it just looks pretty in so many other ways.
5 - Bone Mask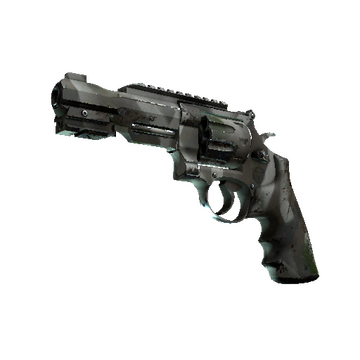 The skin on this gun is really one of a kind and here's the reason.
It features a greenish camouflage background covering the majority of the gun's body which gives it a really stealthy look.
Overall, if equipped with the right outfits, it looks very awesome and the combination is just legendary.
4 - Amber Fade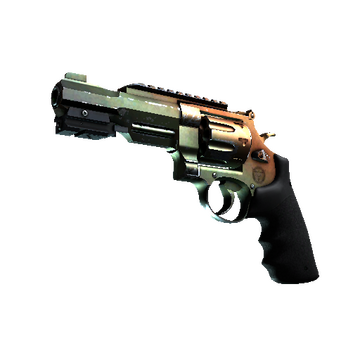 This is definitely more on the flashy side, just like its warm counterpart, the Fade.
This is a green variant of the Fade which is definitely worth getting, since in my opinion it has a better colorway.
It looks like acid, which makes sense since it can basically melt your opponents.
3 - Reboot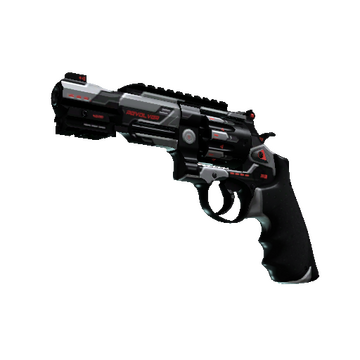 The Reboot is a futuristic, metallic skin with red accents, meaning is can blend in with most inventories.
It is really cool and will show off your style to your enemies, which will be in awe once they see you own one of these.
2 - Crimson Web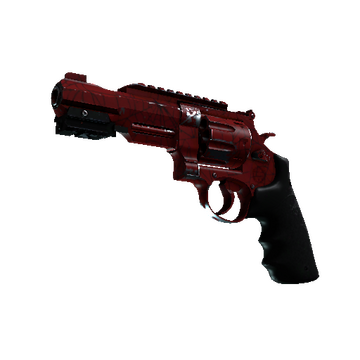 The Crimson Web weapon skin is one of the most renowned skins in the game, since it is seen very rarely.
It will make a great addition to your loadout since its design is very cool.
It displays black spider webs along a deep red backdrop, which looks almost like blood, which shows that you are the hunter, and your enemies are the prey.
1 - Fade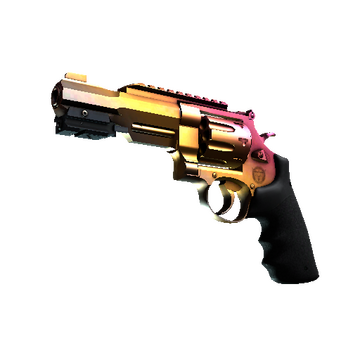 This weapon skin features a reflective warm colored gradient, which resembles a beautiful sunset, which is why it is the best revolver skin in the game.
Other than its looks, its Covert rarity and addition of rare patterns make this camo a "must buy".
It is a very popular and renowned type of skin, due to its appearances on some of the most expensive knives, such as the Karambit and Skeleton Knife.
You may also be interested in :
Image Gallery