[Top 25] Dota 2 Best Wallpapers That Look Freakin' Awesome
Updated: 21 Jun 2022 12:07 am
In Dota, we appreciate heroes, couriers, and even wards but there is something that is missing. It's the wallpapers and the beautiful artwork which transcends boundaries and resonates with everyone. Regardless of the hero in the artwork, we all can take a moment to appreciate the beautiful 25 Wallpapers mentioned below.
25. Nyx Assassin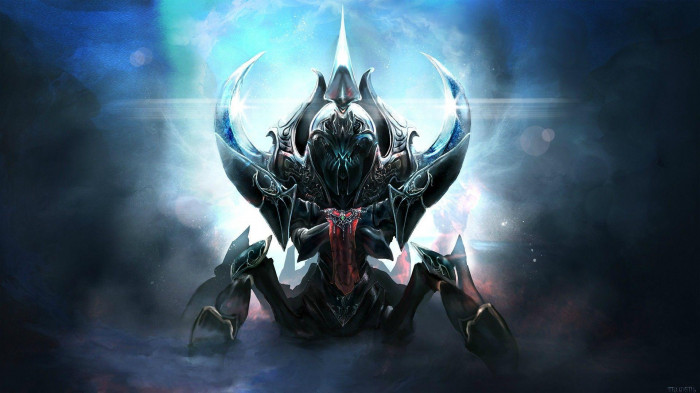 Nyx is menacing as ever in this wallpaper, his blades and posture scare away his foes! The color scheme of this wallpaper is top-notch and appealing to all the Nyx mains! 
https://wall.alphacoders.com/big.php?i=434851
24. Jakiro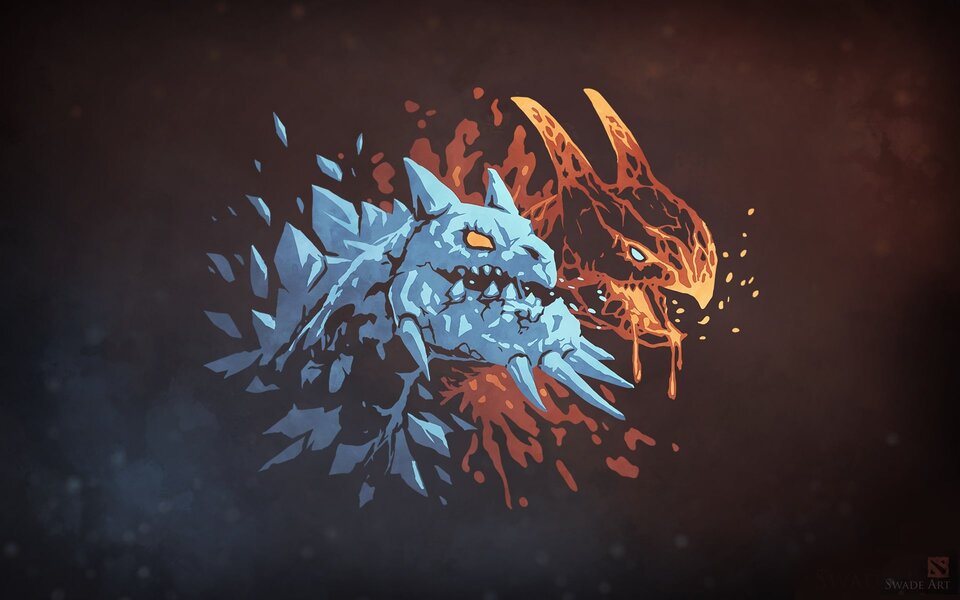 The twin-headed dragon knows no bounds! Although this is more of a minimal artwork wallpaper compared to the others on this list, this is a breath of fresh fire from the detailed ones! We must also appreciate the minimalistic wallpapers which also contain their fair share of detailing and highlighting.
https://wall.alphacoders.com/big.php?i=508440
23. Legion Commander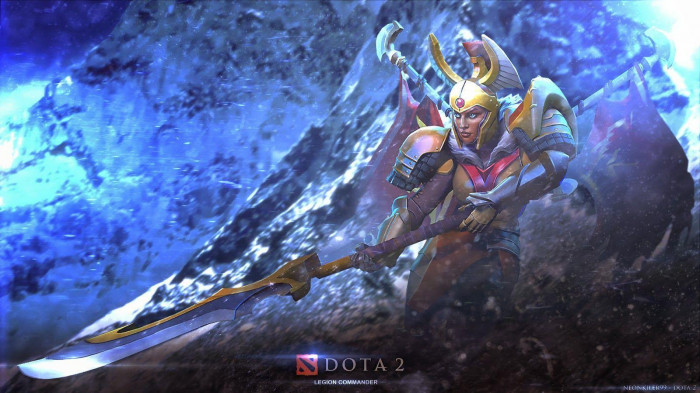 The Legion Commander looks menacing as ever in this wallpaper, her blade is ready to chop down foes. She is ready to slice through her enemies in no time!
https://imgur.com/gallery/s9lbEeX
22. Invoker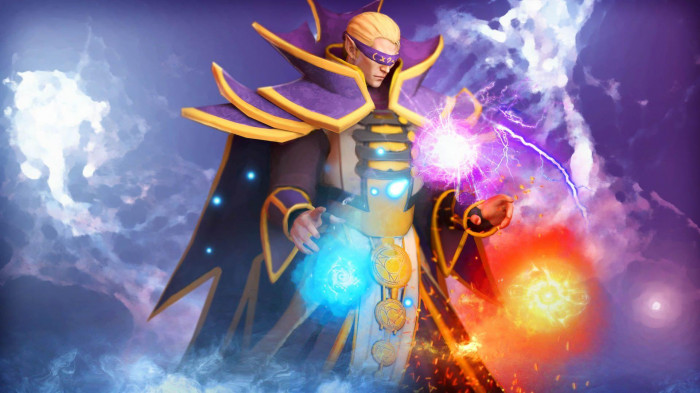 The wise Invoker and his orbs look so picturesque in this wallpaper. The color contrast and scheme are quite a delight to look at. Even if you're not an Invoker main, you're probably in love with this wallpaper already!
https://wallpaperaccess.com/dota-2-invoker
21. Lycan

Lycan is one of the most picked heroes in the current times, this wallpaper could be great for all you filthy Lycan spammers out there! I know who you are. Jokes aside, this wallpaper has a great red color scheme, which is accented by dark blue and yellow colors. The Shapeshift form takes the spotlight as it blends well into the background looking fierce as ever. 
https://www.teahub.io/viewwp/iRhmmbw_dota-lycan/
20. Phoenix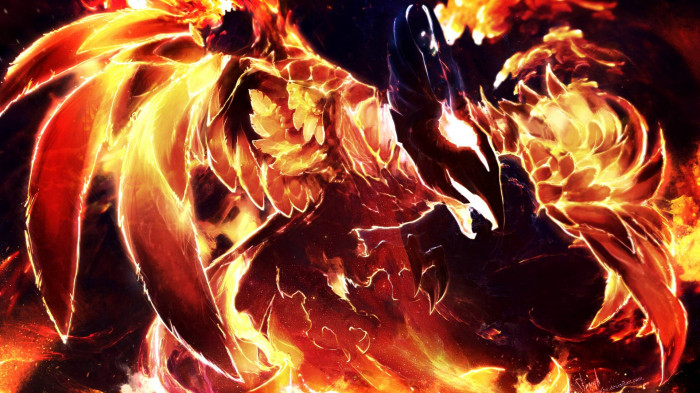 The fiery Phoenix rises from her ashes! Her warm color scheme gives out threatening vibes, which are guaranteed to increase the temperature by a bit. 
19. Sven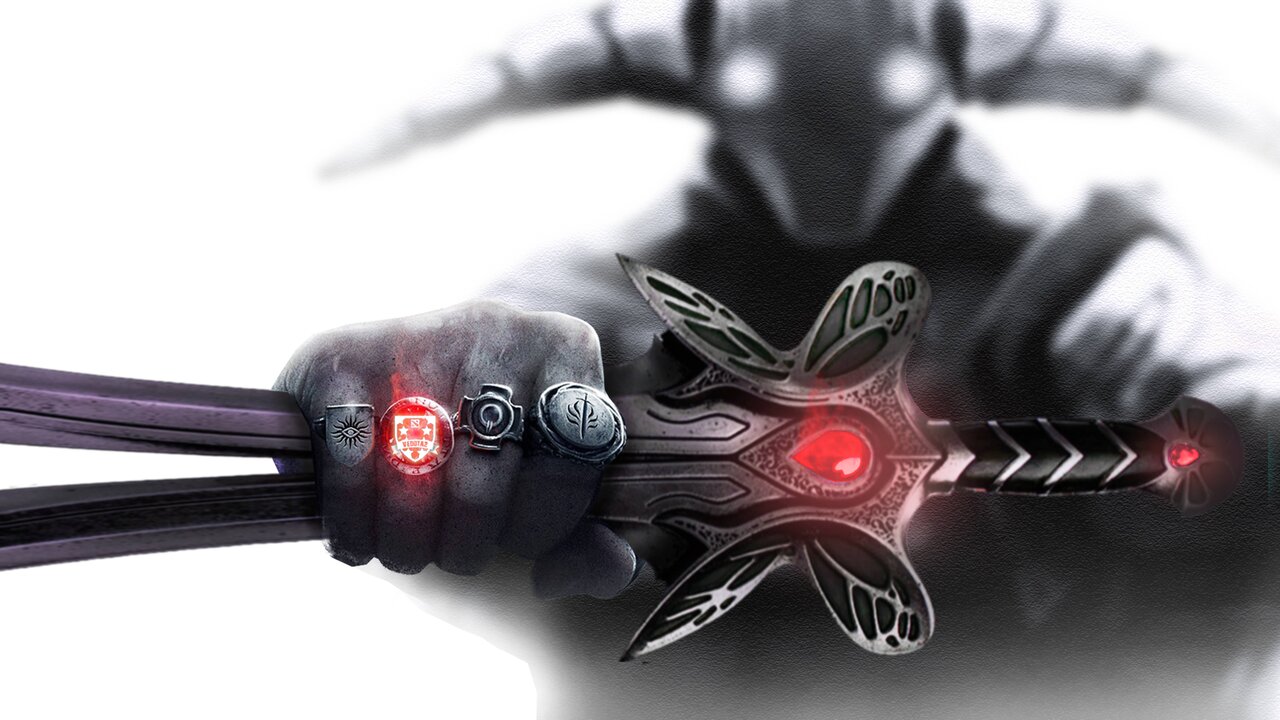 Look! Sven is showing off his brand new sword to you! Just kidding, he is about to strike you down with it. The black and white theme of this wallpaper diverts all your attention towards the red gem on the sword or the red ring, which are all well detailed, shaded, and crafted. 
https://wall.alphacoders.com/big.php?i=608335
18. Dragon Knight!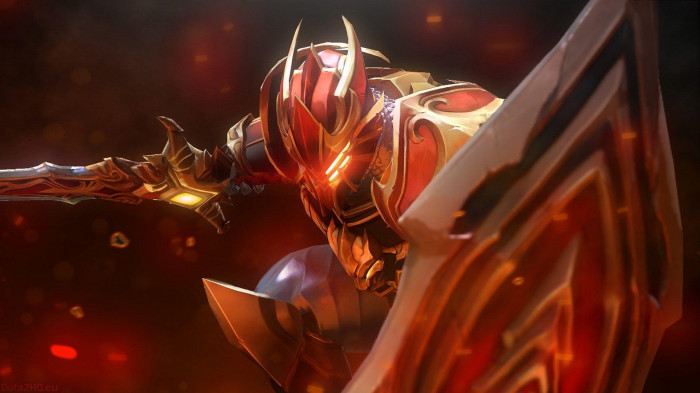 Sir Davion, the Dragon Knight is dominating the current meta. What a great time to be a DK spammer. This wallpaper is the cherry on top with the bright shiny eyes and threatening sword. You can't his face but you can feel his threatening aura radiating from the screen.
https://www.goodfon.com/wallpaper/dota-2-dragon-knight-davion-1318.html
17. Disruptor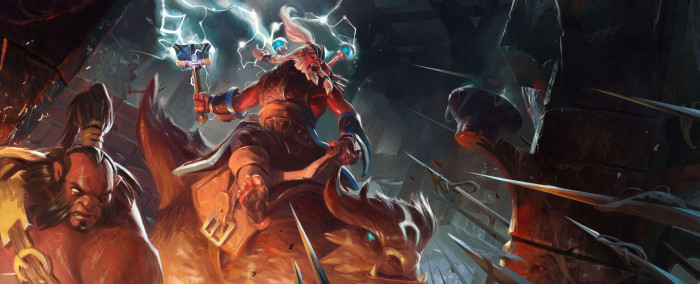 Disruptor's raging face is the selling point of this wallpaper! The ferocious look of Axe doesn't come close! The shadows and the color scheme of this wallpaper make it such an appealing treat.
https://www.pinterest.com/pin/32862272257380185/
16. Heroes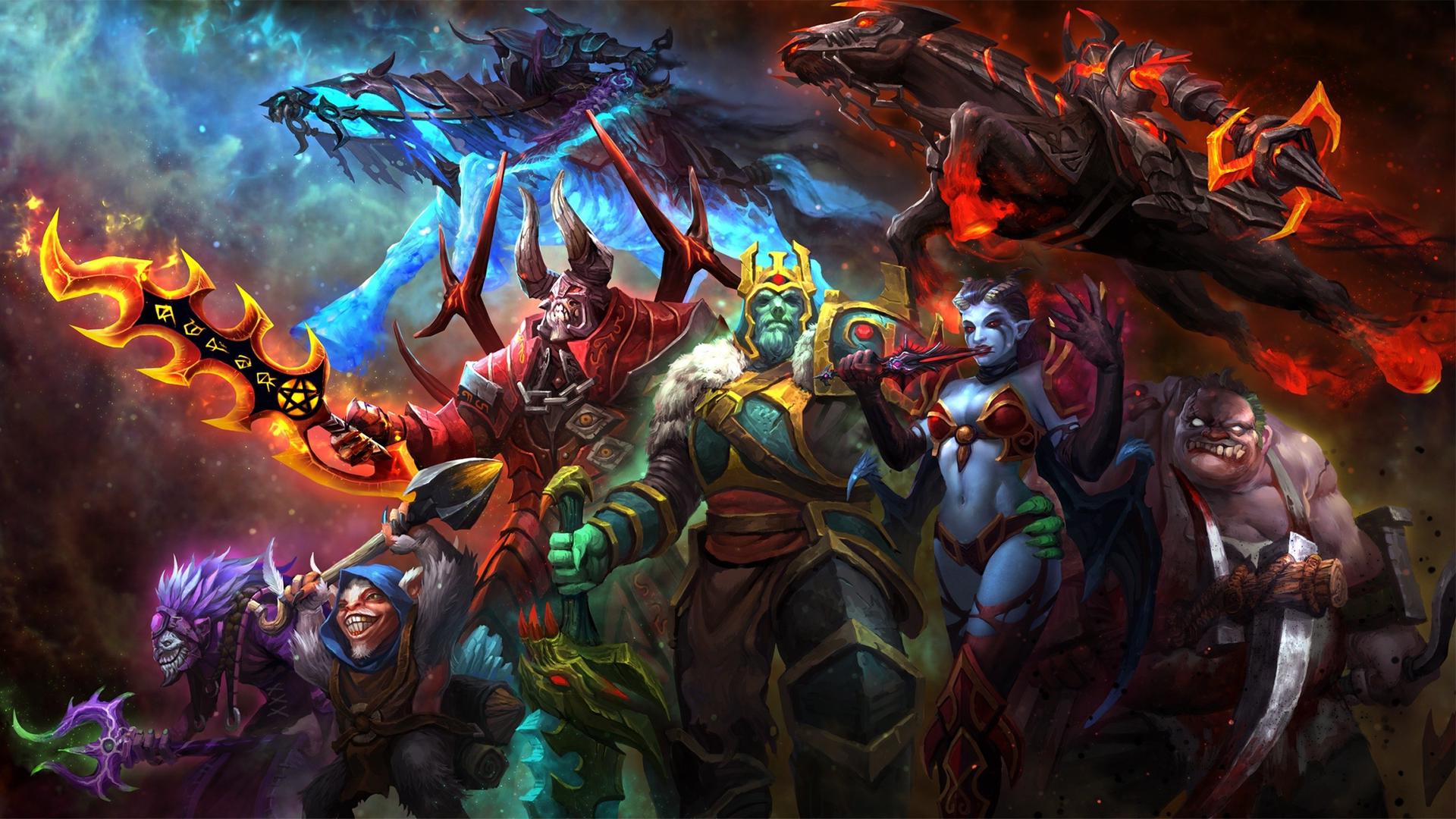 This wallpaper is a great piece of artwork as you can see all the giants of the game in one frame. The way they are spaced and the blend of all the different colors doesn't seem very flashy either. It's a great wallpaper if you master a few of the heroes seen in it.
https://gemwalls.blogspot.com/2020/10/download-dota-2-pudge-arcana-wallpaper.html
15. Templar Assassin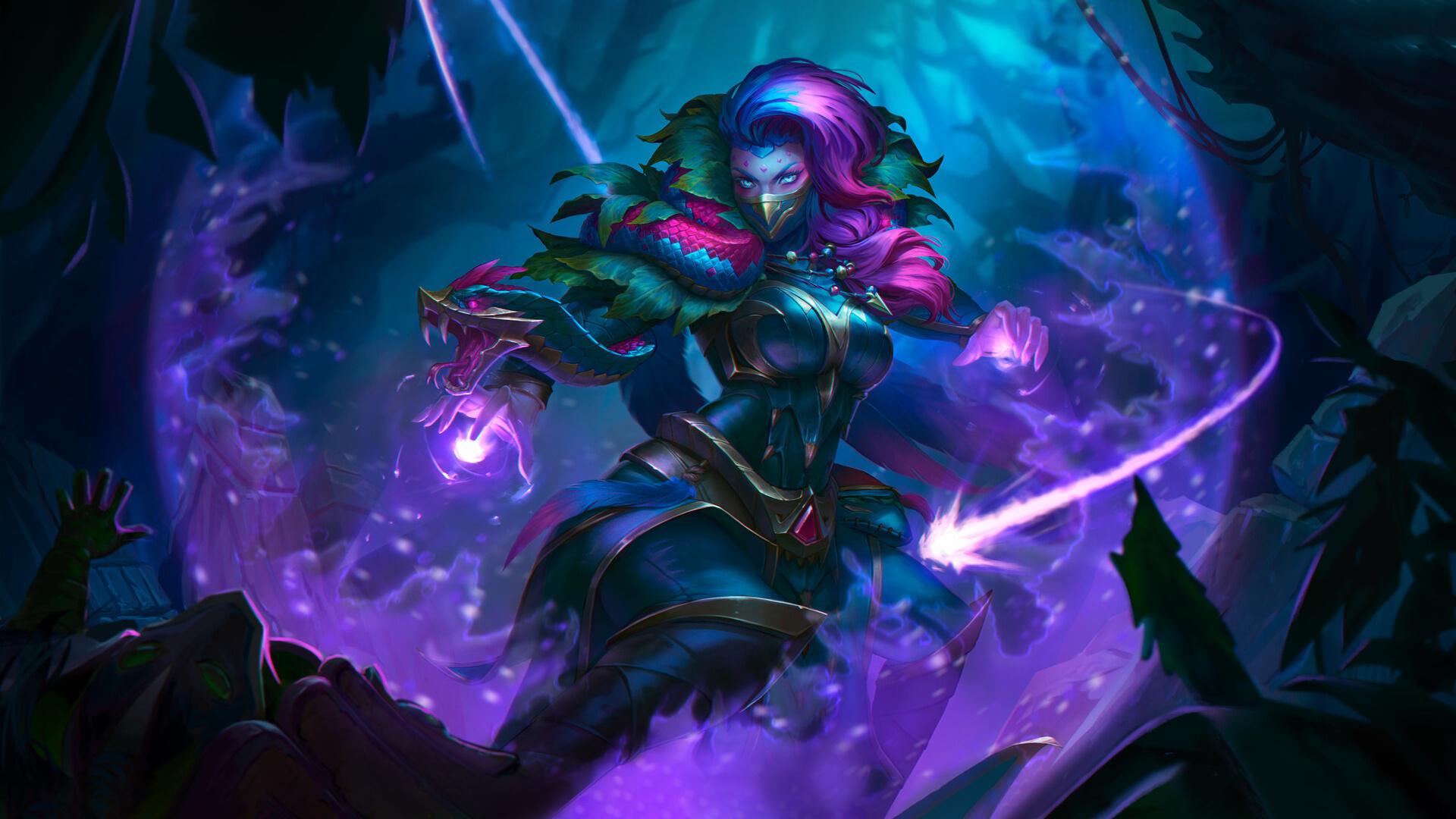 The guardian of the Temple's secrets, the Templar Assassin is a deadly force to be reckoned with. This wallpaper has muted blue tones and a purple color scheme, giving out a dreamy and ethereal vibe. The best part about the wallpaper is the way light is used and how it lands on TA's beautiful hair and face. Truly a majestic wallpaper. 
https://www.wallpapers13.com/dota-2-hero-lanaya-the-templar-assassin-4k-ultra-hd-wallpapers-for-high-resolution/
14. Faceless Void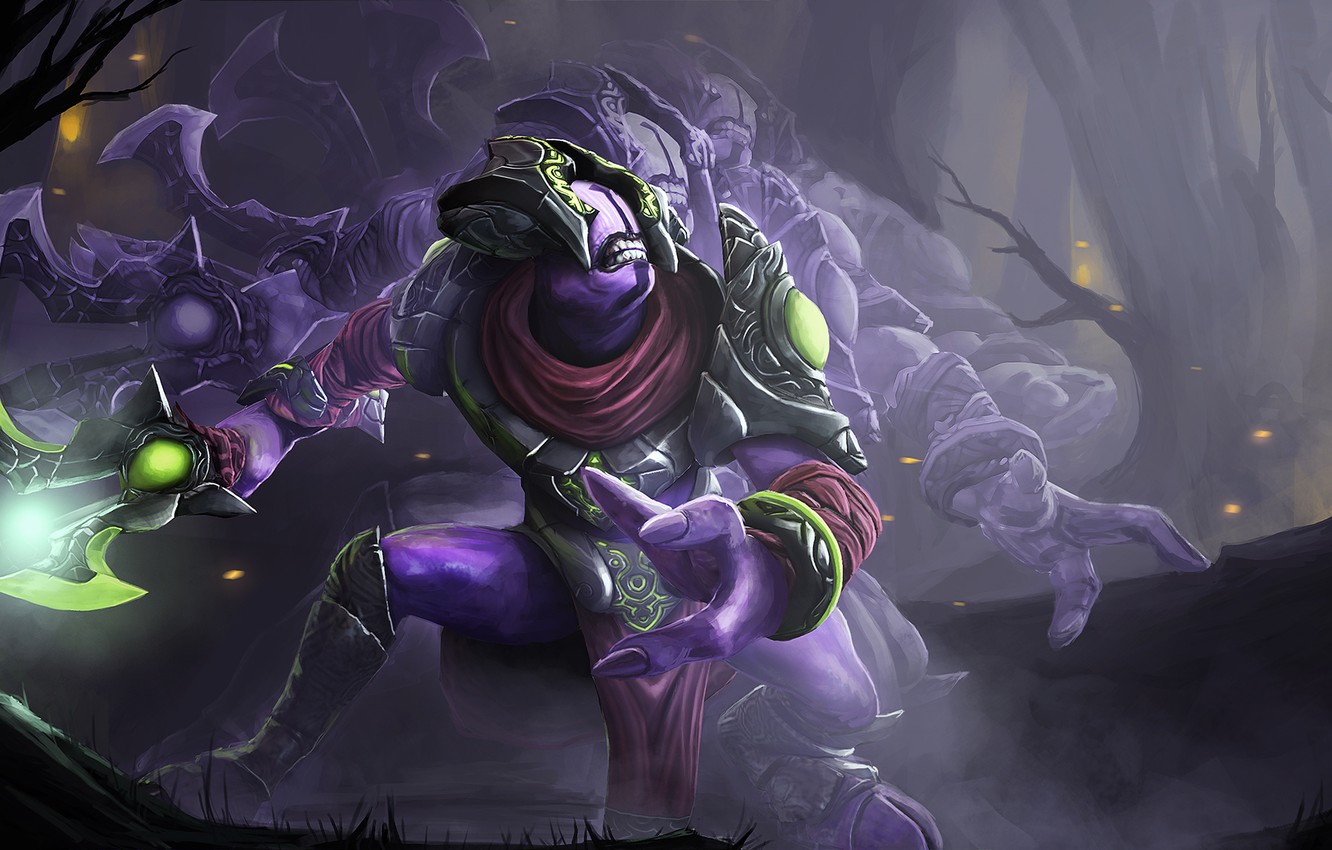 The master of time manipulation, Faceless Void is quite a slippery fish. His movement is quite unmatchable. This wallpaper is the perfect fit for all void fans!
https://www.goodfon.com/wallpaper/dota-2-faceless-void-art.html
13. Skywrath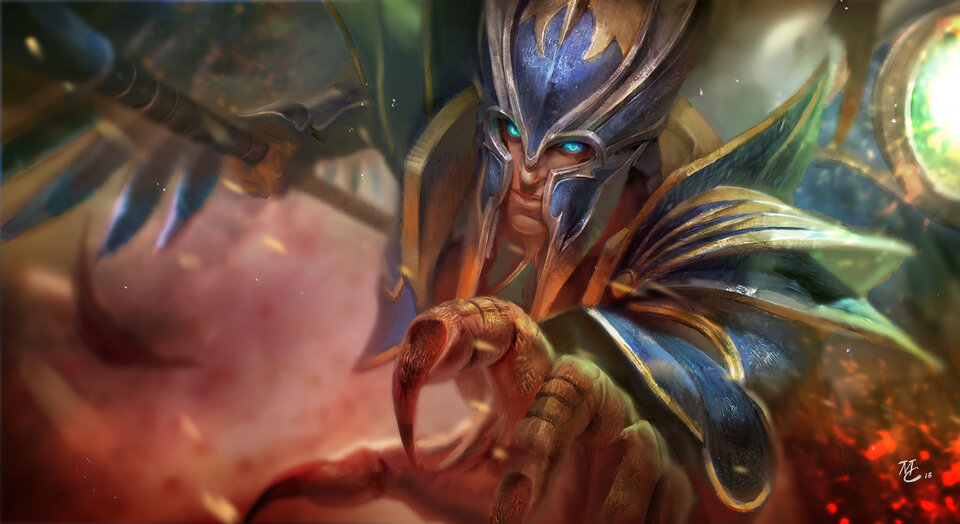 The deadly Skywrath is seen reaching for you in this above wallpaper, as he calls for help or is in pursuit of you. The minute detailing that has gone in Sky's armor and fingers are simply breathtaking. The muted colors and high contrast makes it one of the best wallpapers in Dota. 
https://wall.alphacoders.com/big.php?i=506791
12. Pudge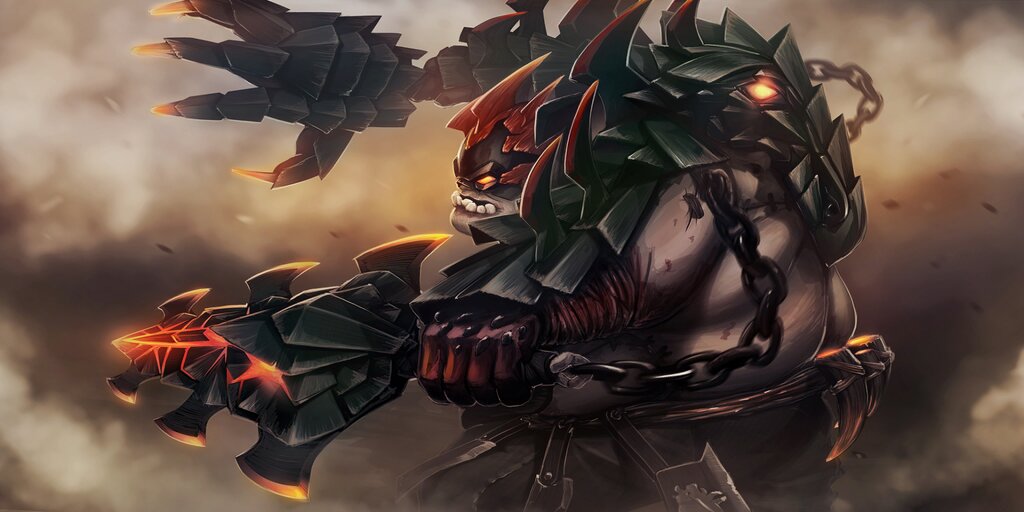 Pudge is always the center of attention no matter what we talk about. So here's a Pudge wallpaper for all you Pudge stans. His pose and expressions are extremely grimacing, you never see such vigor in your ally, Pudge. 
https://wall.alphacoders.com/big.php?i=561374
11. Wraith King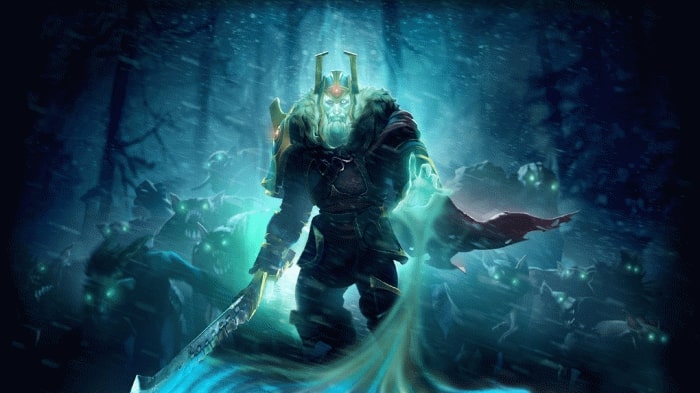 The chilling Wraith King is a terror to face, and so is his wallpaper! The subtle shadow and chilly effects from the wallpaper along with the glowy eyes on the creeps make it a work of art. It's a must-have wallpaper even if you don't play WK.
https://wall.alphacoders.com/tag/wraith-king-%28dota-2%29-wallpapers
10. War!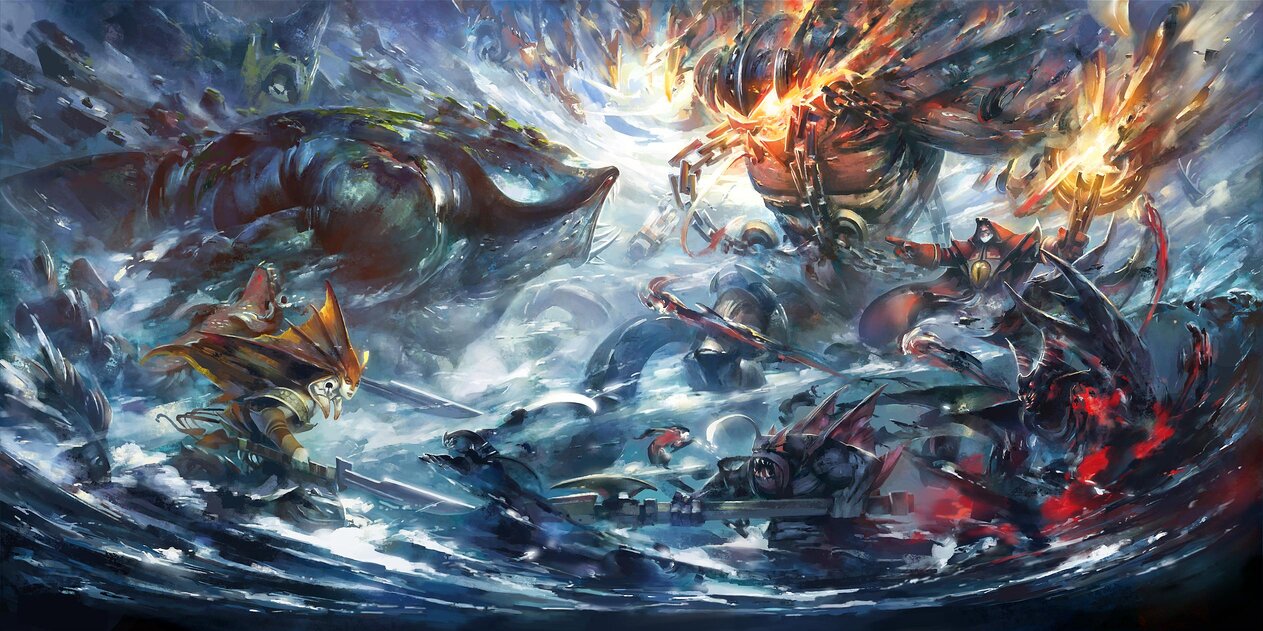 This vicious battle sees multiple heroes have at it with all their might and grit. The hellish golem of Warlock sets it all loose against the magnificent Naga Siren, which too is seen charging towards the likes of Slardar and Terrorblade. The deadly detailing on every aspect of this masterpiece is impeccable.
 https://wall.alphacoders.com/big.php?i=462893
9. Dragon Knight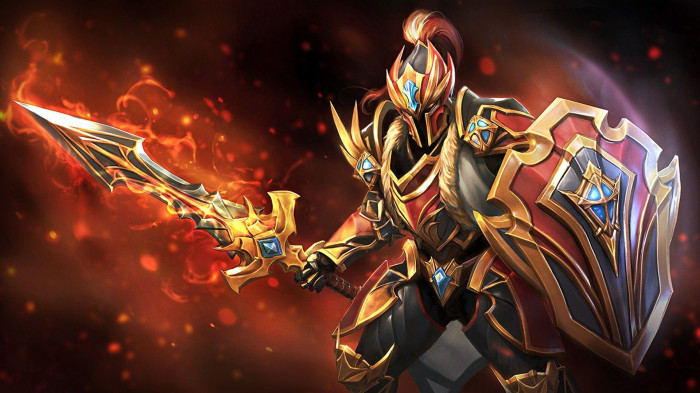 Sir Davion is back again on the list with another one of his dashing wallpapers. The over-the-top and fiery detailing on the sword and the shield make him a menacing opponent to face! This is an essential wallpaper to have if you love playing DK.
https://wallpaperaccess.com/dragon-knight
8.  Luna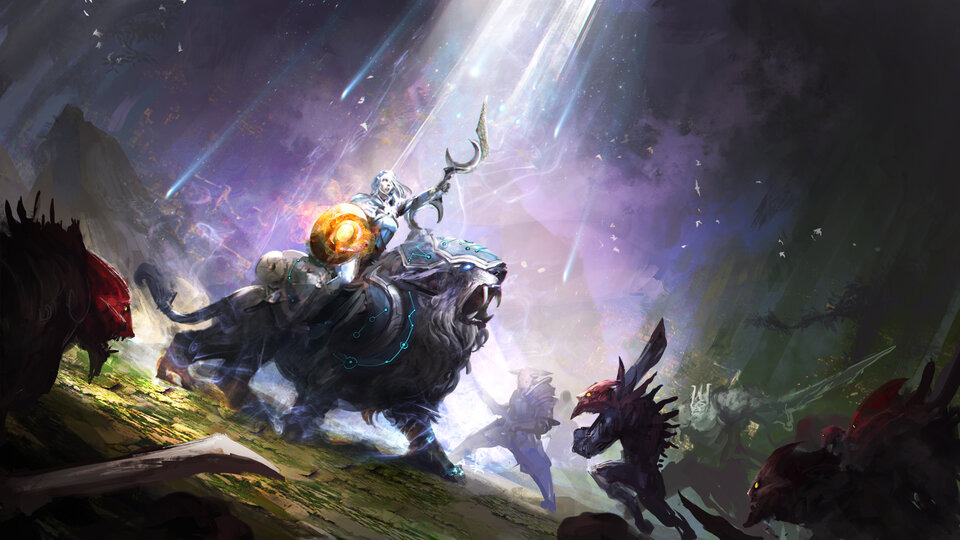 The depiction of shadows and light along with the positioning of Luna in this wallpaper is extremely thoughtful and excellent. The ferocity on Luna's mount makes this wallpaper more picturesque! This looks like the beginning of an end before Luna eviscerates all the creeps!
https://wall.alphacoders.com/big.php?i=596015
7. Zeus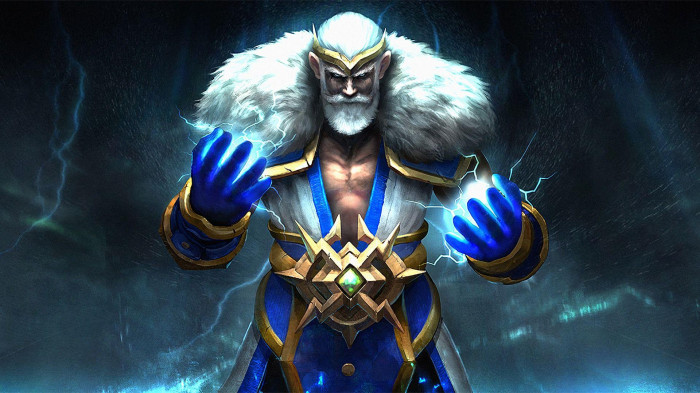 Zeus, the lord of all lords! This electrifying entity has traumatized all enemies. His menacing look in this wallpaper is enough to make you download it! The color scheme of this wallpaper is quite normal but the shadow and the detailing is unparalleled to any other Zeus wallpaper.
https://www.wallpaperflare.com/search?wallpaper=Zeus+%28Dota+2%29
6. Heroes!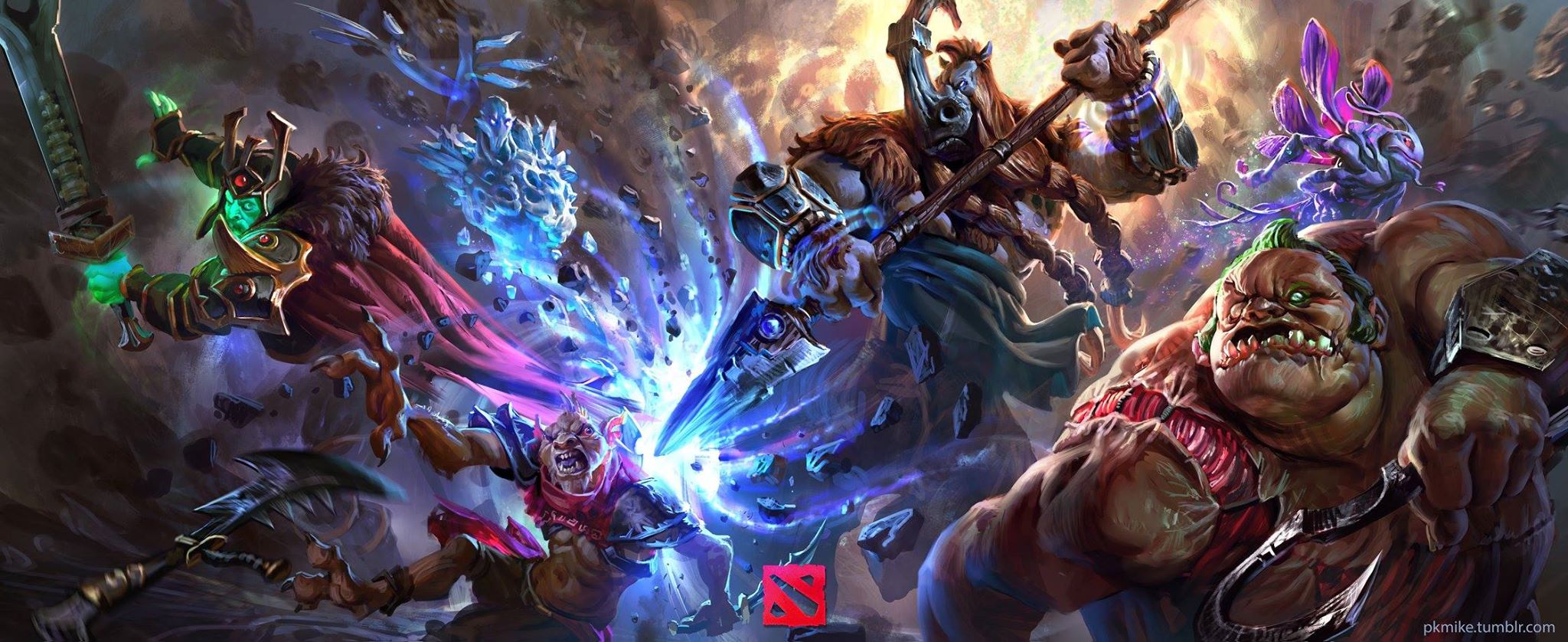 The light from Magnus' spear illuminates the other heroes' faces and that's a smart way to do a wallpaper! All the ferocious heroes charge at what we think is supposedly the enemy team, their grim faces and postures make it evident that the other team has no chance to escape alive. I mean, look at the menacing Pudge face!
https://wall.alphacoders.com/big.php?i=608636
5. Ferocious Sisters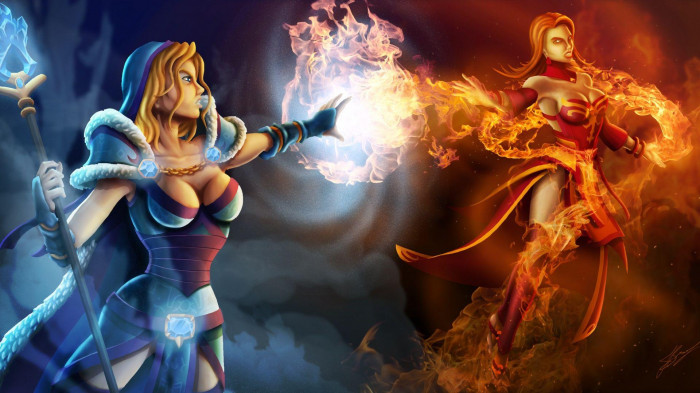 Who ever knew what turned these sisters against each other? But it does make for a great wallpaper! The two lethal elements of Ice and Fire come together to clash. It's such a mesmerizing wallpaper.
https://www.wallpaperflare.com/search?wallpaper=dota+2+lina
4. Juggernaut Slaying Roshan!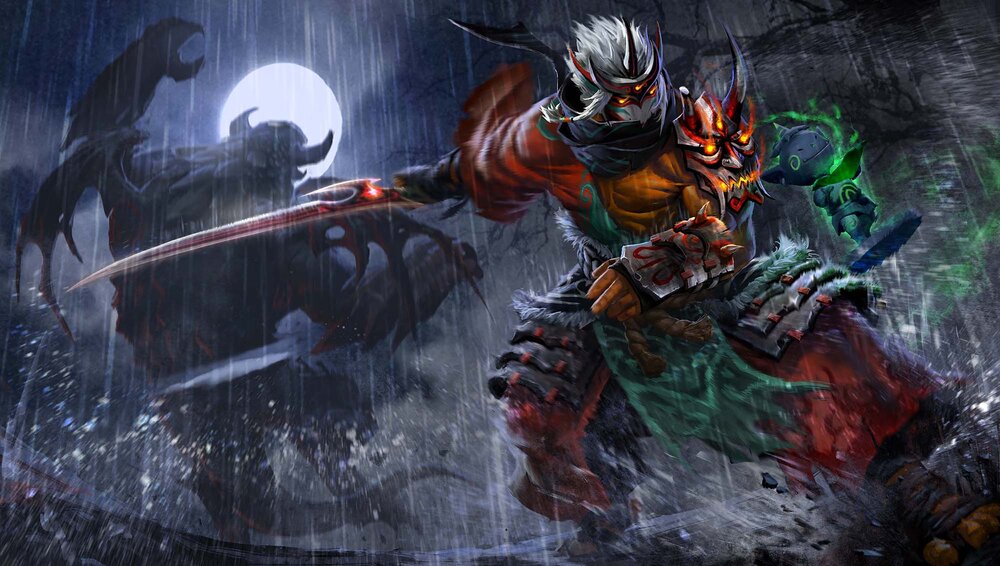 The classic anime pose, strike down the enemy, and look away as they slowly collapse! The detailing on the rainfall is surely the selling point of this wallpaper, which combined with the detailing on Juggernaut's hair, armor, and healing ward make him a deadly Samurai. Poor Roshan stood no chance versus the deadly Samurai. 
https://wall.alphacoders.com/big.php?i=648458
3. Roshan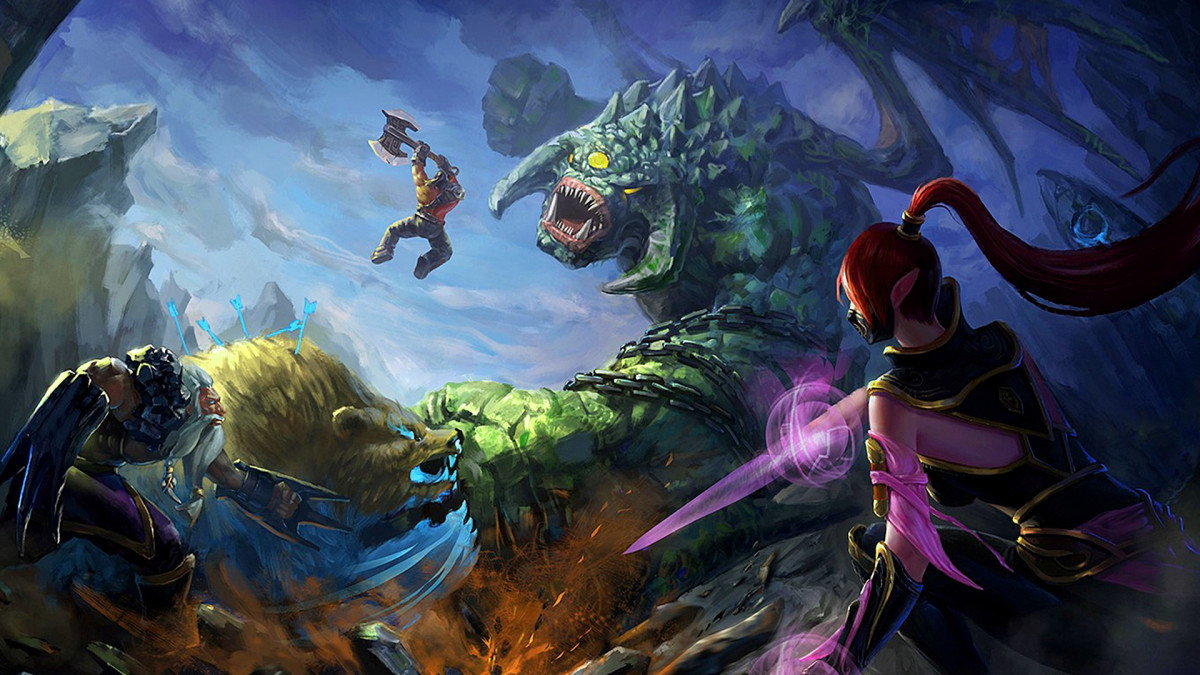 We feel like Roshan never gets any attention or love when it comes to wallpapers and artworks. He is all you need, a ferocious face, a monstrous body, and a grim pose that makes for a cool wallpaper! Look at the breathtaking shadows and details on his scales and even the splash of water on the chains, it's mindblowing.
https://wallpapercave.com/roshan-dota-2-wallpapers
2. Juggernaut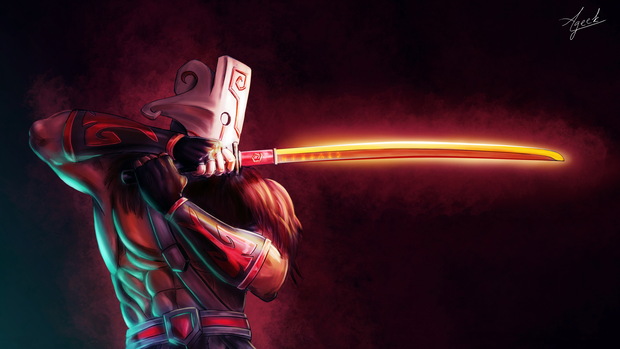 The masked Samurai and his lethal sword are ready to strike! This wallpaper has a great color scheme and vibrant colors that pop!
https://wallpaperaccess.com/juggernaut-dota-2
1. Animated Heroes!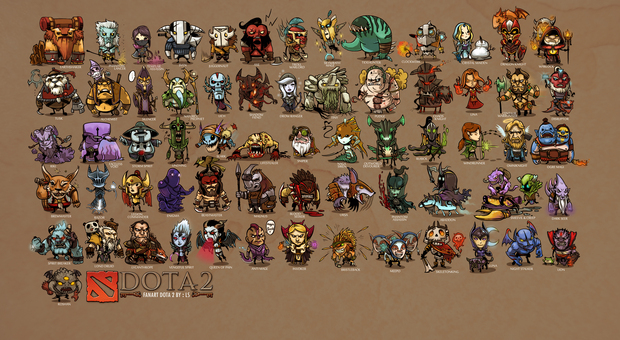 Who doesn't love the animated and cute version of our very own and favorite Dota characters? You can find pretty much all heroes in this wallpaper, and even the menacing Roshan is looking adorable! What a delight. 
You may also like: