FIFA 20 Best Formations (Top 10 Strongest Formations)
Updated: 09 Feb 2020 2:42 pm
The formation is the starting block to every great team.
The best formations provide the base on which teams win trophies.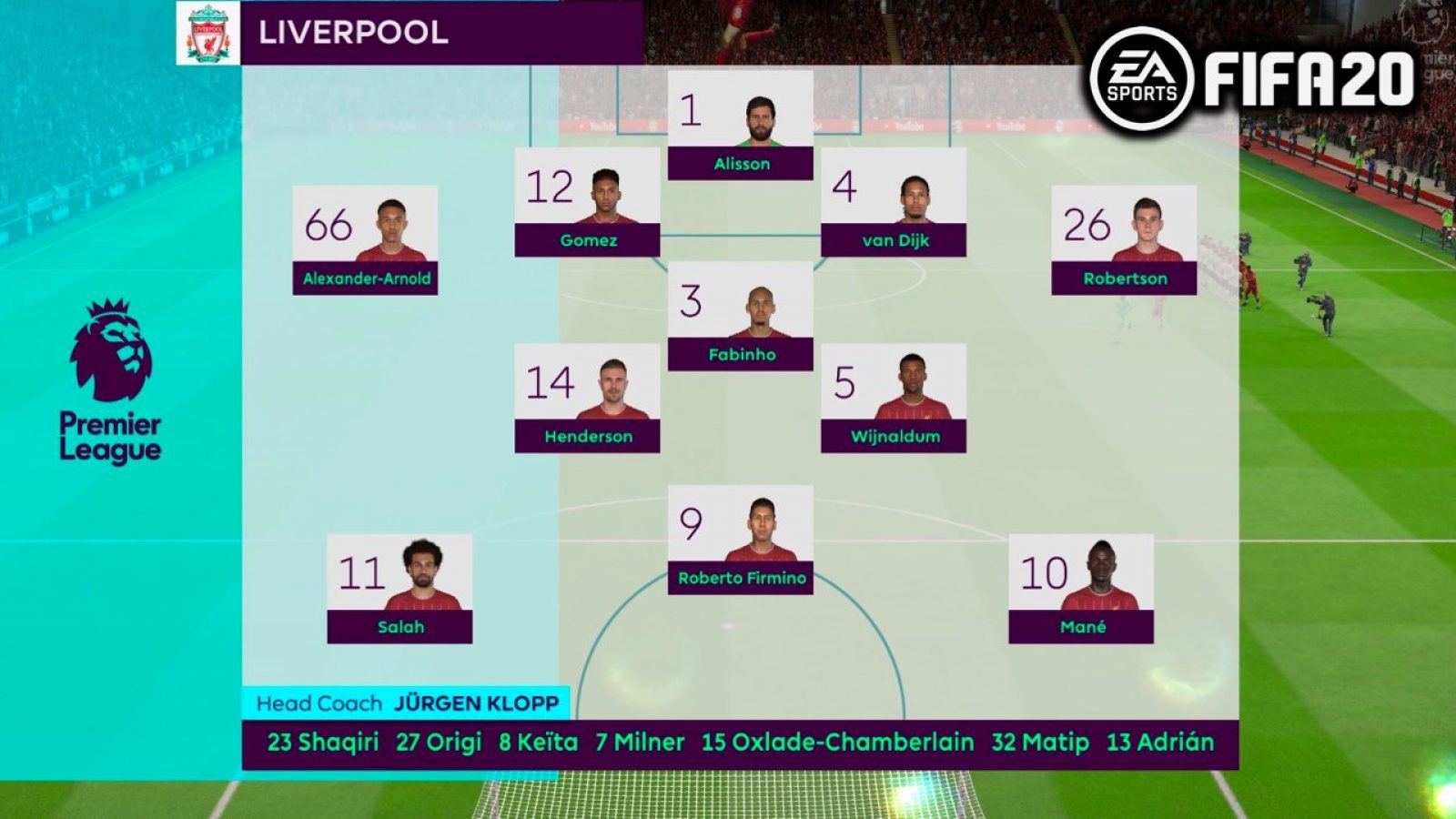 You can have the best team in the world on FIFA 20 but still lose the majority of games. That could be because you have chosen the wrong formation for your players and your playstyle. Formations are the maths of the football world, boring but important and this article will tell you the best FIFA 20 formations and how they can help you win. 
10. 3-4-3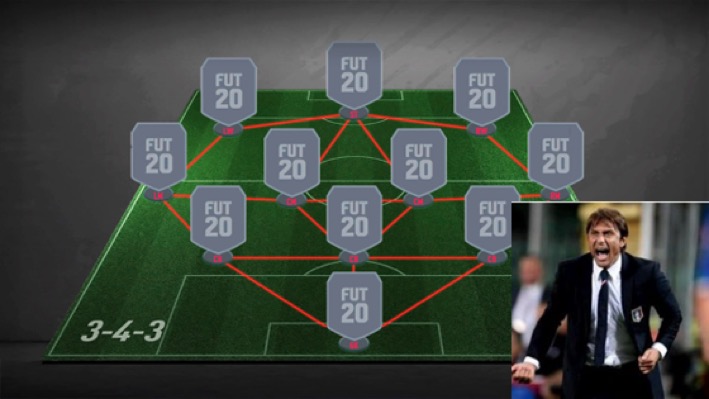 Conte may have gotten the sack but rest assured you won't with this formation.
Antonio Conte's Chelsea is one of the best real-life examples of a team using the 3-4-3 formation to their success. And although Conte's reign at Chelsea ended with his sacking , your reign on FIFA 20 won't.
The 3-4-3 allows for you to overload the wings so opposition fullbacks don't know where to defend. You'll have more on the wing than a KFC Bucket. 
LM and RMs are better attacking threats than fullbacks, so you will be able to score more goals with this formation.
Having 3 centre-backs makes it difficult for your opponent to attack through the middle. 
See the 3-4-3 in action - https://www.youtube.com/watch?v=F3Spt2jmdTM 
9. 5-3-2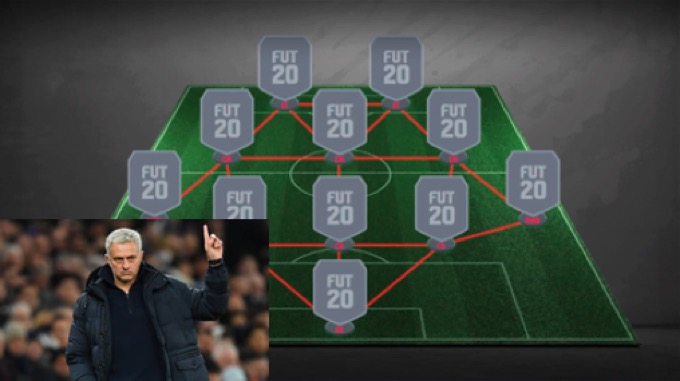 If 'The Special One' uses it then you know it's good.
The 5-3-2 formation may not be widely used in the football world in real life. But that doesn't mean it isn't one of the best formations on FIFA 20. Some may consider it too defensive but some managers, like Jose Mourinho, have used it to great effect. 
Having 5 defenders means that you should have no defensive worries.
Having 2 strikers ensures you still pose an attacking threat, and won't face allegations of parking the bus like Mourinho.
The midfield 3 works best with box to box midfielders like N'Golo Kante, as they can protect the defense as well as help with the attacking. 
See the 5-3-2 in action - https://www.youtube.com/watch?v=5PtAjtX4Dtg
8. 4-3-3 (2)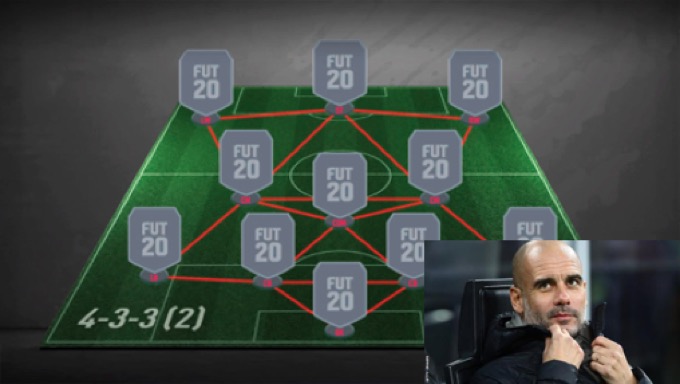 Pep has used this formation to great success with Barcelona and Manchester City.
There are a multitude of variations of the 4-3-3 system in FIFA 20 and do you know why? It's because it is such a great formation to use but the 2nd variation with 1 CDM and 2 CMs is the best and here is why. 
The CDM helps keep your defense tighter than tights, whilst also allowing your other midfielders to attack without leaving gaps.
Having 4 defenders, 3 midfielders, and 3 attackers makes sure that  you are covered everywhere on the pitch.
In the 4-3-3 (2), if your fullbacks are attacking and they lose the ball the two central midfielders on either side can cover for them with ease.
See the 4-3-3 (2) in action - https://www.youtube.com/watch?v=x1NoCC5WawU 
7. 4-1-2-1-2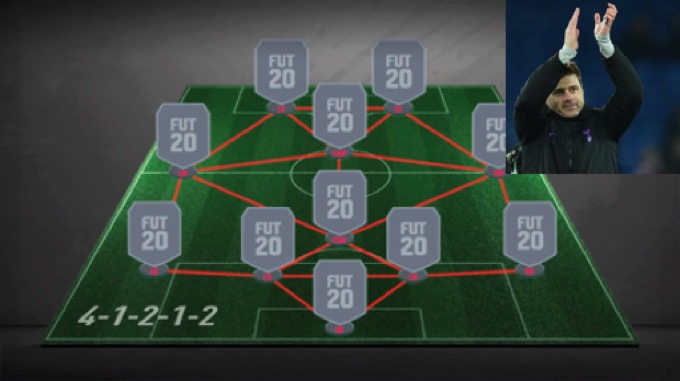 Pochettino's formation of choice won't let you down.
Similarly to the 4-3-3, the 4-1-2-1-2 operates on a system that attempts to make sure every position on the pitch is covered. However, unlike the 4-3-3 systems, the 4-1-2-1-2 provides you with an extra attacker. Although to make up for this your wingers become wide midfielders to cover defensively. 
2 strikers should mean you score more goals.
The CAM and CDM combo should make you safe defensively, yet still a threat offensively. 
Having wide midfielders means that they are closer to the fullbacks on the pitch for one-two passes so they can get in behind easier. 
See the 4-1-2-1-2 in action - https://www.youtube.com/watch?v=MXfRbC9jgz8 
6. 4-2-3-1 (2)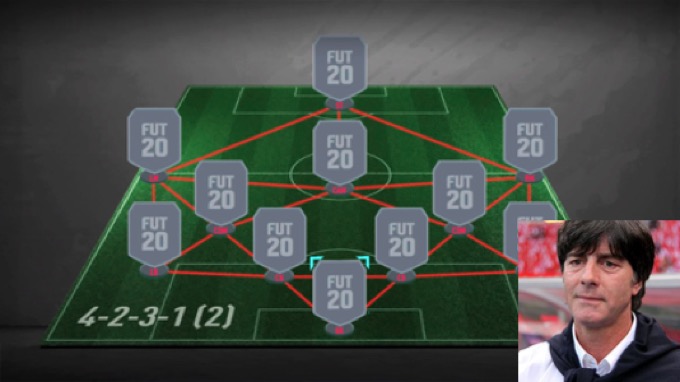 Low's formation brought his Germany side a World Cup in 2014.
The 4-2-3-1 (2) is one of the most commonly used formations in the real footballing world, with European giants such as Borussia Dortmund and Valencia employing it regularly. So it makes sense that it is a great formation on FIFA 20. 
Having 2 CDMs means that your defense should be covered. 
The CAM is the key player in this formation, as they provide the link between the defenders and the attackers. 
Having just one attacking player can trick your opponent into a false sense of security. Meaning they may be vulnerable to counter-attacks. 
See the 4-2-3-1 (2) in action - https://www.youtube.com/watch?v=CwlRoygDdWc 
5. 4-3-2-1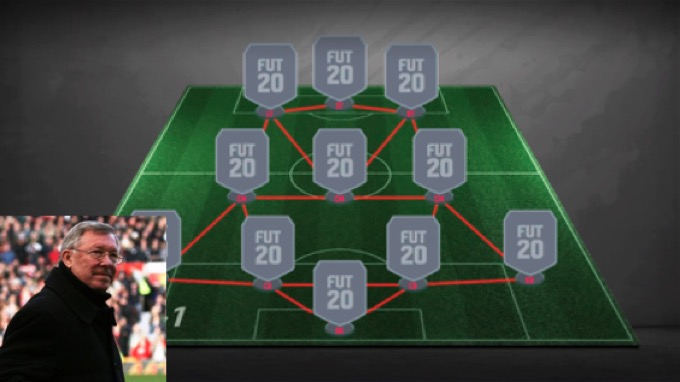 Ferguson is perhaps the best manager of all time, so it is wise you listen to him.
Another formation rarely used in real life, the 4-3-2-1 has been a massively popular formation on several past FIFAs and FIFA 20 is no different. 4-3-2-1 is still one of the best in the game and here's why. 
Having a RF and LF means there are always runners for your striker/midfielder to pick out. 
Having 3 central midfielders should cover you defensively. Unless you are bad of course.
Your front three are so close together they can interchange positions regularly, making defending difficult for your opponent. 
See the 4-3-2-1 in action - https://www.youtube.com/watch?v=JBxYmtzKQ6I
4. 5-2-2-1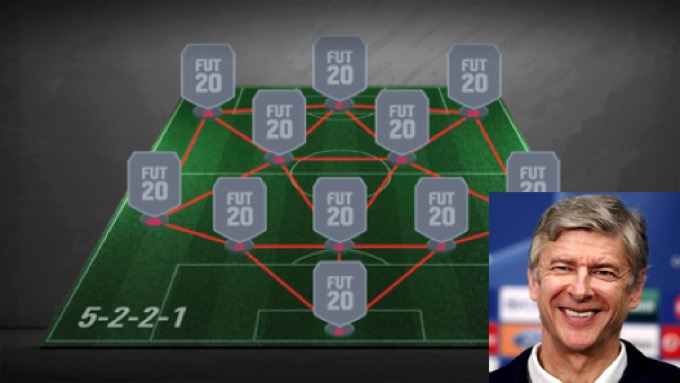 Wenger managed Arsenal for 22 years and used a variety of formations.
When many people imagine playing FIFA 20 they imagine scoring lots of goals. Yet that is not the only part of the game as defending is just as important. And this is why formations like the 5-2-2-1 are so popular this year.
Having 5 at the back makes it really hard for your opponent to score.
But having 3 attackers means you are still an attacking threat. 
The combination of 5 defenders and 3 attackers means that your attackers can stay upfield because they don't have to worry about defending. Meaning that scoring counter attacks should be easy for you.
See the 5-2-2-1 in action - https://www.youtube.com/watch?v=F_fgUUhhyM4 
3. 4-1-2-1-2 (2)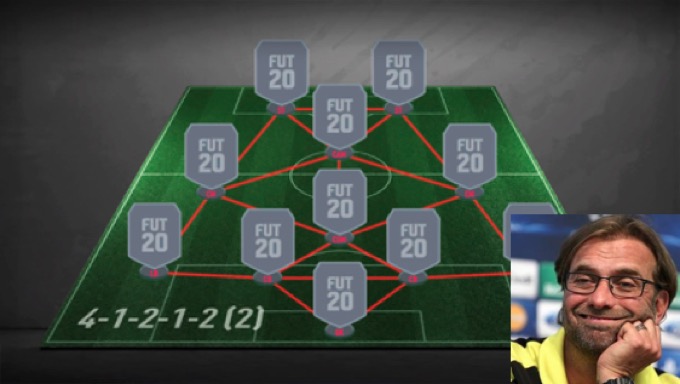 Jurgen Klopp's Liverpool are storming the Premier League, just like you could storm FIFA 20 with this formation.
The 4-1-2-1-2 formation is always popular on FIFA games, yet its narrow equivalent, otherwise known as the 4-1-2-1-2 (2), rarely gets the praise or use it deserves. But that has all changed with FIFA 20 as this formation is one of the best in the game. 
Attacking through the centre is one of the more difficult ways to score on FIFA 20. But if you can get it right you will score a lot and this formation is perfect for that. 
Width is provided by your two CMs and by the strikers floating to the wings. 
This is also a great formation when matches go to extra time as it is often central midfielders who have the best stamina. So your team will have the fitness edge on your opponents making you the more likely victor.
See the 4-1-2-1-2 (2) in action - https://www.youtube.com/watch?v=EyLK9mw47zw 
2. 3-5-2
England's success under Gareth Southgate has this formation to thank.
Another formation that has been very popular in past FIFAs, the 3-5-2 is back and still just as good as ever in FIFA 20. And if this formation can get England to the World Cup Semi-Final it must be really magic.
2 CDMs make up for the lack of fullbacks whilst also offering attacking support.
1 CAM and 2 STs make it easy for you to attack down the middle.
Whilst the 2 wide midfielders ensure you are still a threat down the sides.
See the 3-5-2 in action - https://www.youtube.com/watch?v=moBNwmRt8-k 
1. 4-4-2 (2)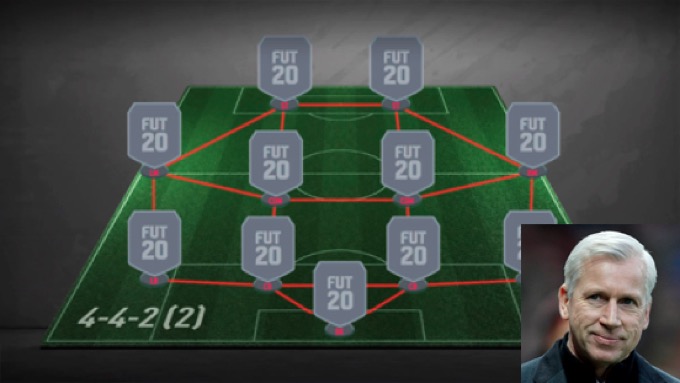 Pardew is up to his old tricks in the Netherlands using this formation to great effect.
A formation as old as time, the 4-4-2 has been abandoned by many teams in favour of more fancy formations like the 4-2-3-1. Yet the 4-4-2 formation has had new life breathed into it on FIFA 20 in the form of the 4-4-2 (2) which has CDMs instead of CMs. This old classic is back and better than ever.
Having 2 CDMs makes up for the defensive faults of the original 4-4-2.
Overlapping attacks between your fullback and wide midfielders are easy to achieve with this formation.
Having 2 strikers and 2 wide midfielders makes sure that you have more attackers in the box to score from crosses.
See the 4-4-2 (2) in action - https://www.youtube.com/watch?v=12QcAwCHYhc 
Also be sure to check out these articles: 
Image Gallery