FIFA 20 Best Custom Tactics [Top 10]
Updated: 19 Jun 2020 12:54 am
Number one wil shock you! Just kidding, it's exactly what you think.
From casual to elite, these tactics will enhance your style.
Hi there. Are you struggling to hold onto a narrow lead? Do you have trouble putting the ball in the net, to begin with? Fret no more! I have five of the best defensive and five of the best offensive custom tactics that you can use to rack up some wins online.
10. Fast Build Up, Players In Box: 3-6, Width 1-4 (Offensive)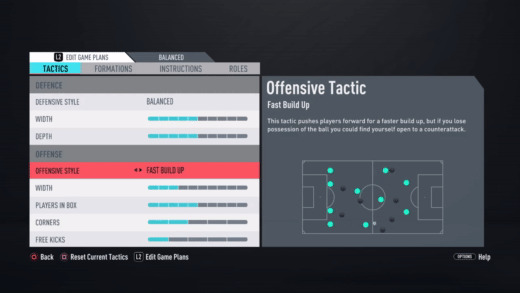 Get through their defense before they know what's hit them.
Fast Build Up is such a good tactic I've included it twice. This first way to use it is for the more defensive player that needs to keep some cover behind the ball, in case of counter-attacks. If your defenders aren't the best, set them and any CDMs you have to Stay Back While Attacking. 
What's Great About This Tactic:
Rip through opponents on the counter. 
Your players get forward quickly, so there is always a passing option. 
Fewer players getting into the box keeps the team in shape and ready to be countered on. 
If you have fast forwards you will have them on the shoulder of the defenders, ready to pounce. 
9. Constant Pressure, Depth 5+, Width 4+ (Defensive)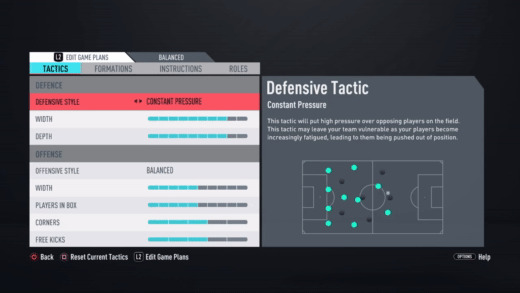 The Jurgen Klopp school of FIFA tactician can use this to perfection.
The first defensive tactic I've got is ideally to be used if you're chasing a game. You'll be able to smother the opposition high up the field and take a stranglehold on the match. Just don't use it for 90 minutes or your side will be dead to rights after 70.
What's Great About This Tactic:
Puts real pressure on your opponent. 
You'll win the ball further up the field, so there's less distance to the goal! 
Swarms your players forward to get them in a great offensive position. 
Blends defending with a quick transition to attack. 
8. Balanced, Players In Box: 5, Width: 5 (Offensive)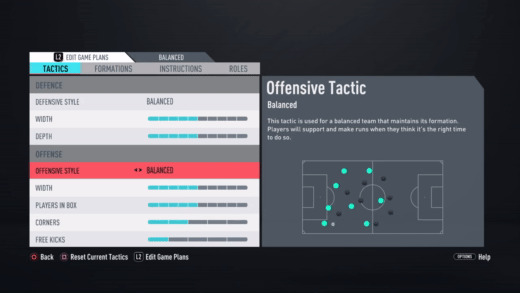 Middle of the road. No unexpected nonsense… aside from the usual EAness. You might find a rogue big-head glitch appear, for example.
A jack of all trades, this one. With a Balanced attack you can focus more on setting your individual player instructions to get the best out of the entire team. Simple. 
What's Great About This Tactic:
Feel free to adjust the width and depth of the team to suit your formation and players. 
Keeps your side set up nicely. 
You can do anything with player instructions without upsetting the balance of the team. 
It's the most adaptable and easy to use for casual players. 
7. Pressure On Heavy Touch, Depth: 1-3, Width: 2-5 (Defensive)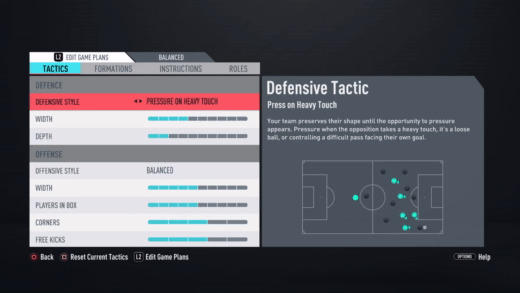 This tactic has covered for my defenders' deficiencies on more than one occasion.
The more conservative option of the POHT tactic. With it, you'll have the advantage of your defenders locking onto any opponent whose first touch lets them down. Team this tactic with Aggressive Interceptions on all your defenders for the best results. 
What's Great About This Tactic:
The low depth and width give you that extra time to put the challenge in. 
You don't sacrifice any of the balance to the team unless there's a chance to win the ball. 
With Aggressive Interceptions you'll be snuffing out attacks before they start. 
Agile defenders or those with high work rates will be right on that heavy touch. 
6. Long Ball, Players In Box: 5-6, Width: 4-8 (Offensive)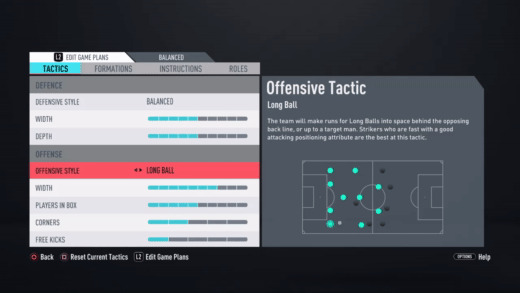 You might be slated for this one as a real football manager, but the 'lump it to the big man' works well in FIFA.
A very much underused tactic, but for this reason exactly, it can be extremely effective. If your forwards and wingers are rapid (and chances are at this stage of the game, they are) then the long ball counterattack can really take people by surprise. 
What's Great About This Tactic:
Turn the width up or down, depending on the formation. 
A lower depth on your defensive tactic brings the opposition up the field, ideal for the chip through ball. 
Makes the most of your pacey frontmen. 
You have the element of surprise. 
5. Press After Possession Loss, Depth 5-7, Width 6-8 (Defensive) 
Make sure you have a whole load of agility and you'll have your opponent on toast.
You have seven seconds of harrying the other team when you lose the ball on this tactic. It is, therefore, best to have your side set up higher up the pitch than you might be used to. It's a risky one, as you could get caught with some slick passing, so I'd combine the press with Aggressive Interceptions on most of your players. 
What's Great About This Tactic:
It's like Constant Pressure, but without the stamina-sapping… constantness. 
Puts your opponent on the back foot to prevent quick counters. 
It gives you the best chance of winning the ball straight back. 
Agile, mobile midfielders will love this tactic. 
4. Possession, Players In Box: 3-6, Width 4-7 (Offensive)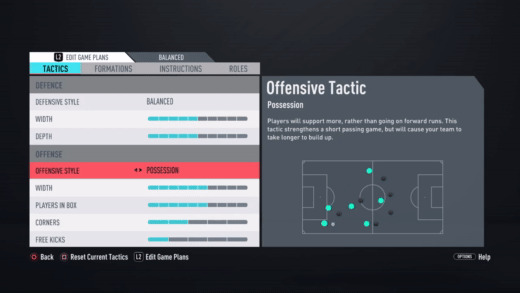 A formation with wingers helps spread the ball even further.
This is my personal tactic of choice. For players who like to bounce the ball around with skillful, nippy midfielders, this is the style for you. As long as you don't go to extremes with the depth and width, you can use this with any side to get a feel for the game early on or lock down a lead in the final stages. 
What's Great About This Tactic:
You've always got an option on the ball. 
Your midfield won't be caught out too badly if you give up possession. 
Slow the game down if you're leading - or coming under pressure.
Take teams on the carousel - drag players out of position and take advantage. 
3. Pressure On Heavy Touch, Depth: 3-5, Width: 6+ (Defensive)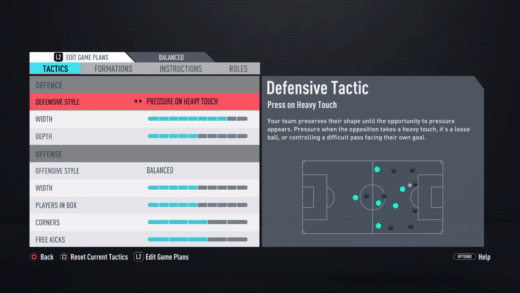 You will get an opening against a keep-ball team eventually, just be patient.
The system I would be more likely to adopt with the Heavy Touch tactic sees a higher defensive line and the team spread wider. You might be a little more susceptible to someone with a good Fast Build Up, but you're covering more of the pitch and leaving less distance between you and the attacking team. 
What's Great About This Tactic:
Everything that I already mentioned, with added width! 
Counter from higher up on the pitch. 
High-stamina players are perfect to keep up the onslaught. 
With forwards set to Get In Behind you can create instant goalscoring opportunities. 
2. Fast Build Up, Players In Box: 3-8, Width 5+ (Offensive)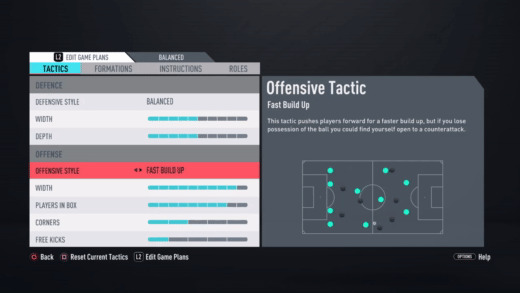 The ultimate counter attacker's dream.
Like the Heavy Touch strategy, you can use Fast Build Up with higher depth and width to really take the game to opponents that you have an advantage over. It's another tactic with higher risk, but the rewards can be well worth it. 
What's Great About This Tactic:
Your starting position is already brilliant when you have the ball. 
Attacking is easier thanks to the starting position and players in support. 
Have all your quick forwards on Get In Behind and one or two midfielders on Stay On Edge Of Box for maximum effect. 
You can break with confidence and accuracy. 
1. Drop Back, Depth: 1 (Defensive)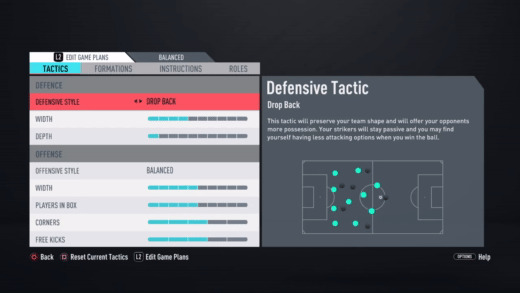 Sorry in advance, everyone who comes up against this because of me.
I know, I know; this is the scourge of FIFA players everywhere and is the cause of more broken controllers than the shush and dab when your opponent is already 4-0 up. However, the reaction to the One Depth Drop Back tactic just proves how effective it is. If you struggle to keep clean sheets, this is the best way to go. 
What's Great About This Tactic:
You have ultimate solidity: it's perfect for keeping leads intact. 
With the right individual tactics you can set up lightning counters. 
It's pretty much impossible for opponents to get their super-strikers in behind your defenders - regardless of pace. 
The rage factor. This tactic is as much mind games as it is in-game strategy. 
Also be sure to check out these articles: 
Image Gallery