The 15 Best Free Fighting Games for PC
Updated: 15 Mar 2020 9:50 am
Who doesn't want to try free games?
Free Indie games for PC? Yes, please!
When looking for PC games to play that aren't your normal faves, it can be hard to come up with new options you haven't tried yet. Even worse, being an adult (gross) on top of wanting to game can be hard on the wallet. So, what games are out there that you can play that are a riot that won't cause your wallet to be drained? Here are 15 fun-to-play Indie Titles for PC that will pique your interest and keep you entertained.
15) Clash of the Monsters
Clash of Monsters Gameplay
When we think of fighters, we usually don't think of them crossing over into the horror genre, but what if there was a game that did? Well there is! Clash of Monsters is a 3D fighting and horror hybrid that brings classic horror icons to the battlefield.
So why play this cheesy, horror icon classic? 
Decent graphics with cool backgrounds.
Plays into that good old nostalgia horror gurus feel for old school horror icons.
Plenty of funny moments to be had with you and your friends or even by yourself. The special moves are pretty comical, as well as one on one battles using the invisible man.
The fighting mechanics are pretty clunky, so don't expect this to be the best game you've ever played, but more so played for the ridiculousness and entertainment value. 
Basically, is it so bad? It's great.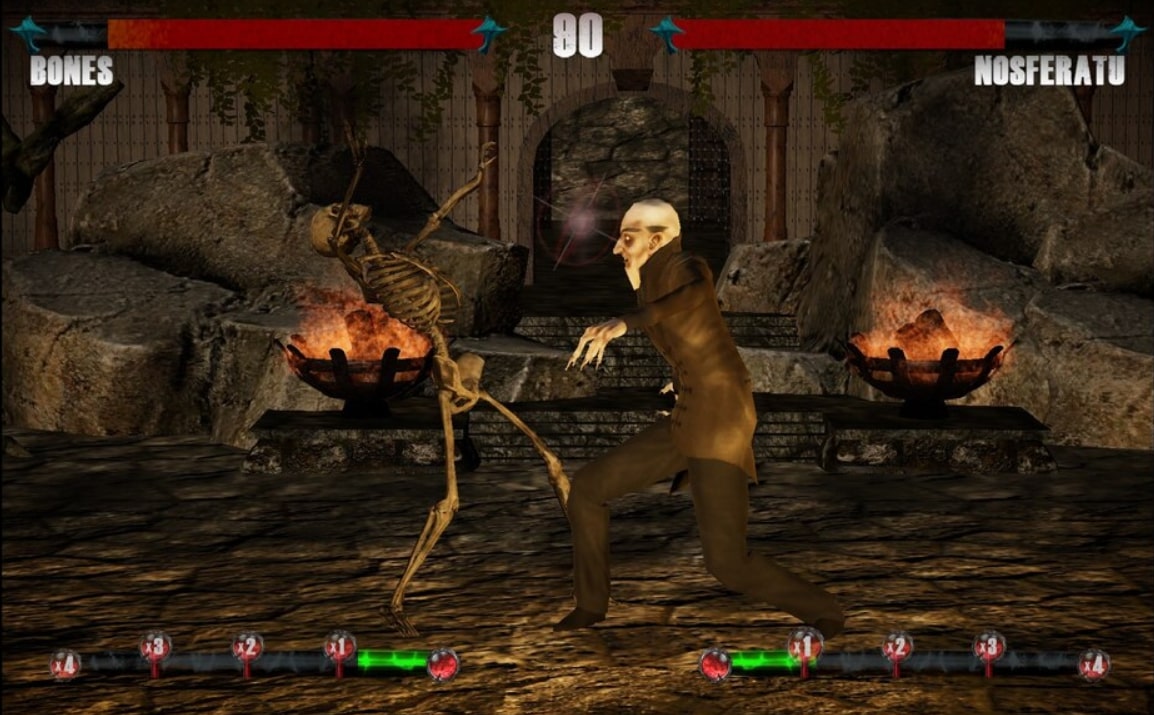 Vampire vs. skeleton?
Break a leg!
14) Hyper Universe
Hyper Universe Gameplay
Hyper Universe is a very unique game in that it is a 2D side-scrolling MOBA, whereas most MOBAs are created with an overhead or first-person view. It makes for an interesting approach at freshening up a big, popular genre, and runs with it.
Still not sure if you want to check it out? Here are some cool reasons why you should:
Beautiful character and screen art.
A diverse cast of interesting characters that all have unique abilities. It isn't quite as expansive as, say, League of Legends or Smite, but it's still a pretty stellar cast. 
Interesting new take on the MOBA genre as you battle AI or people in real time in a side-scrolling fashion. You use shafts and ladders to switch to other lanes to reach teammates, which is honestly pretty cool. 
Each of the characters have skins, their own unique equipment, and storyline cutscenes that gives you a peek into that character's background. You can grind and craft hypers (heroes) by getting samples from hyper boxes you learn from gameplay and combining the samples with synthesized loot to obtain these items, or buy them. There are microtransactions for those who don't like grinding and crafting. 
There are 6 role types of hypers to choose from, such as tank, bruiser specialist, striker, support and assassin, so there is something for everyone to enjoy doing in the game role-wise.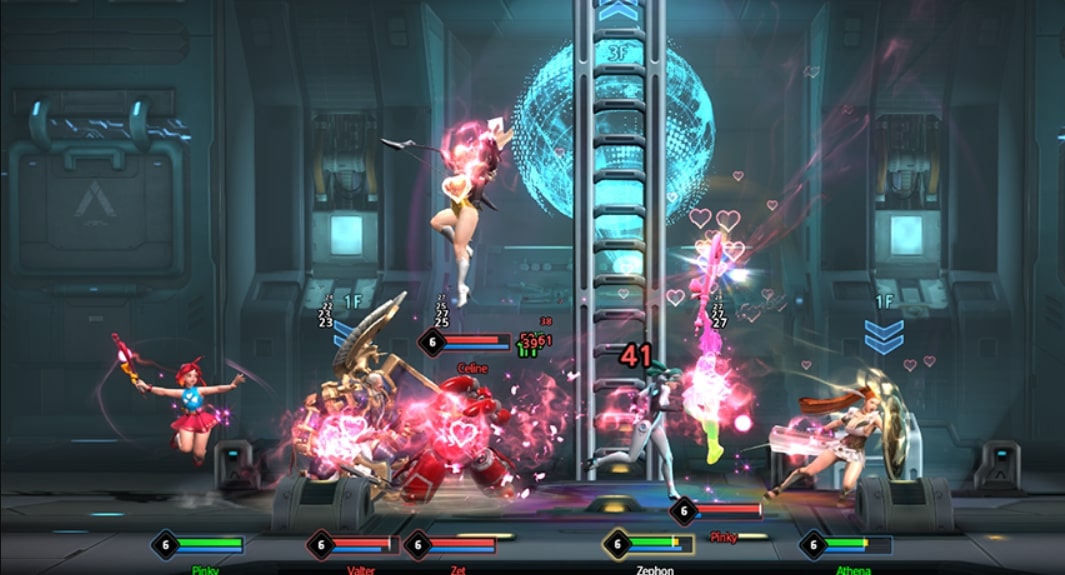 Knock down, drag out 2D fun!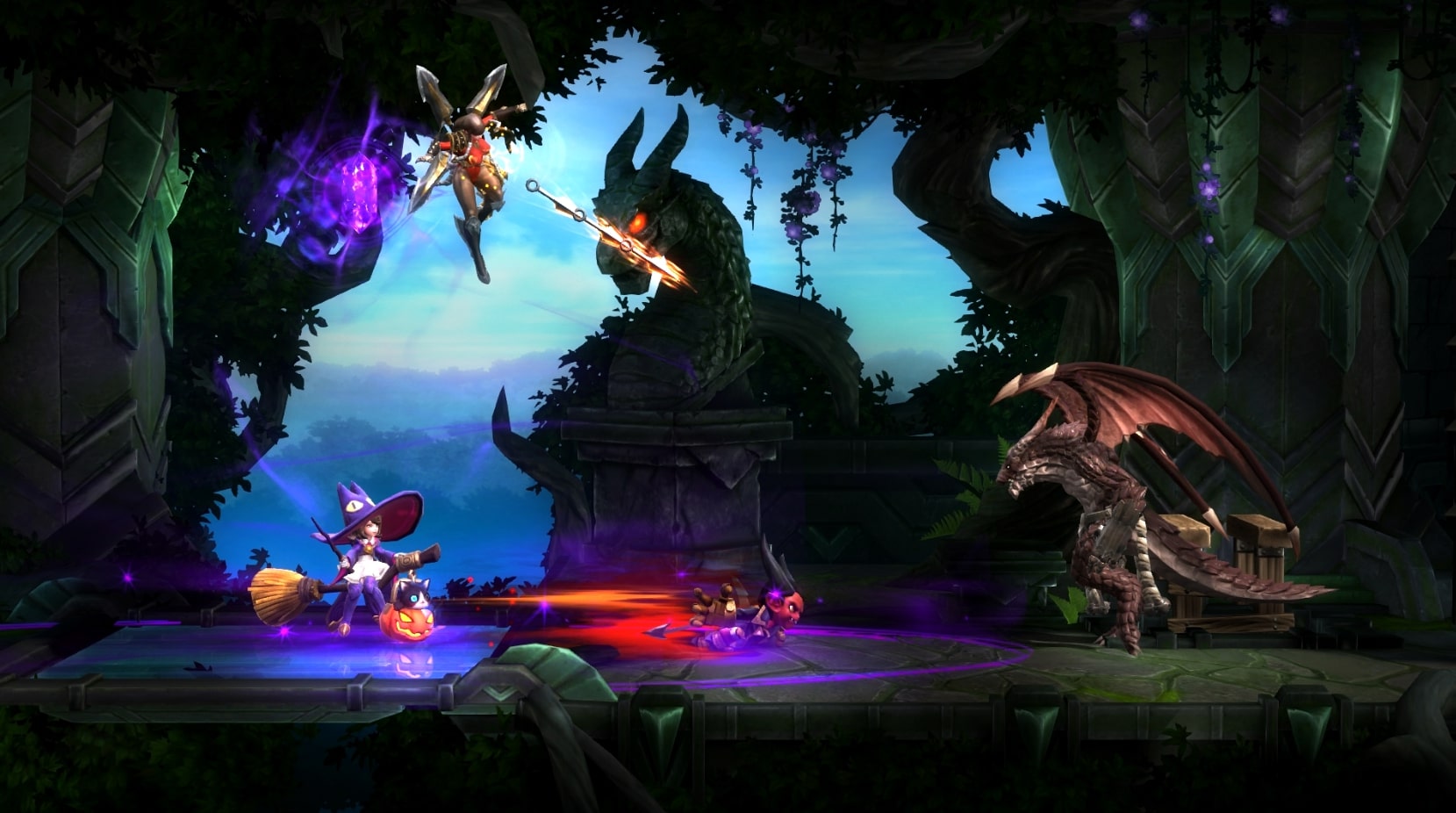 Welcome to the jungle, we've fun and games!
13) Apotheon Arena
Apotheon Arena Gameplay
A unique multiplayer, 2Dfighting, RPG game spin-off from the original game Apotheon, Apotheon Arena throws you back into Greecian times, with an amazing Greecian artifact aesthetic. Gorgeous game art incorporating the old style Greecian pottery look.
Why should you join in on this Greecian battle game?
You can either play Death Match or Team Death Match and fight against other players in real time, as well as play with friends. 
The sound work on the game is amazing, from the swords clanking to the screams of dying foes, you will feel just like you are right there in the action.
Beautiful soundtrack. 
You can buy the actual game for $14.99 to get the story mode, but if you just want a cool game to hack and slash your way through enemies? You needn't worry about it.
You can pick up different items and weapons along the way and switch them out. You can also find health packs to keep you going.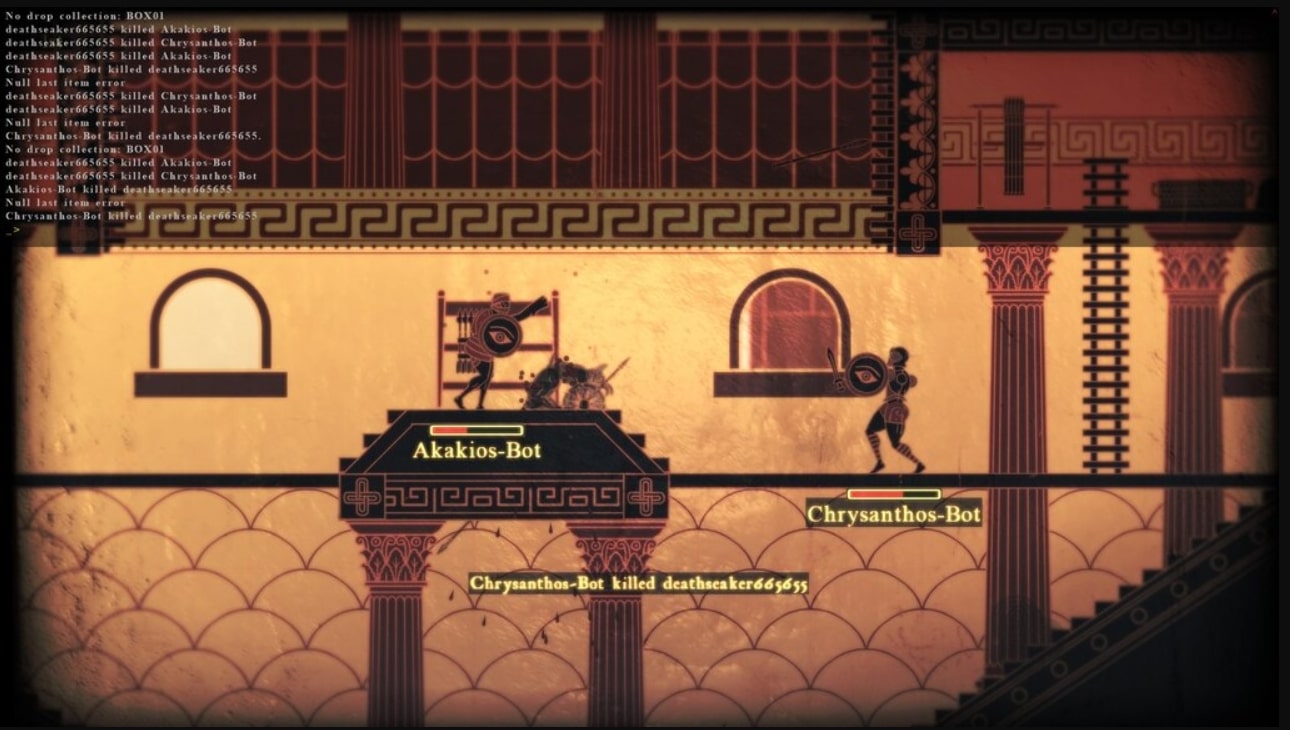 A masterpiece of game art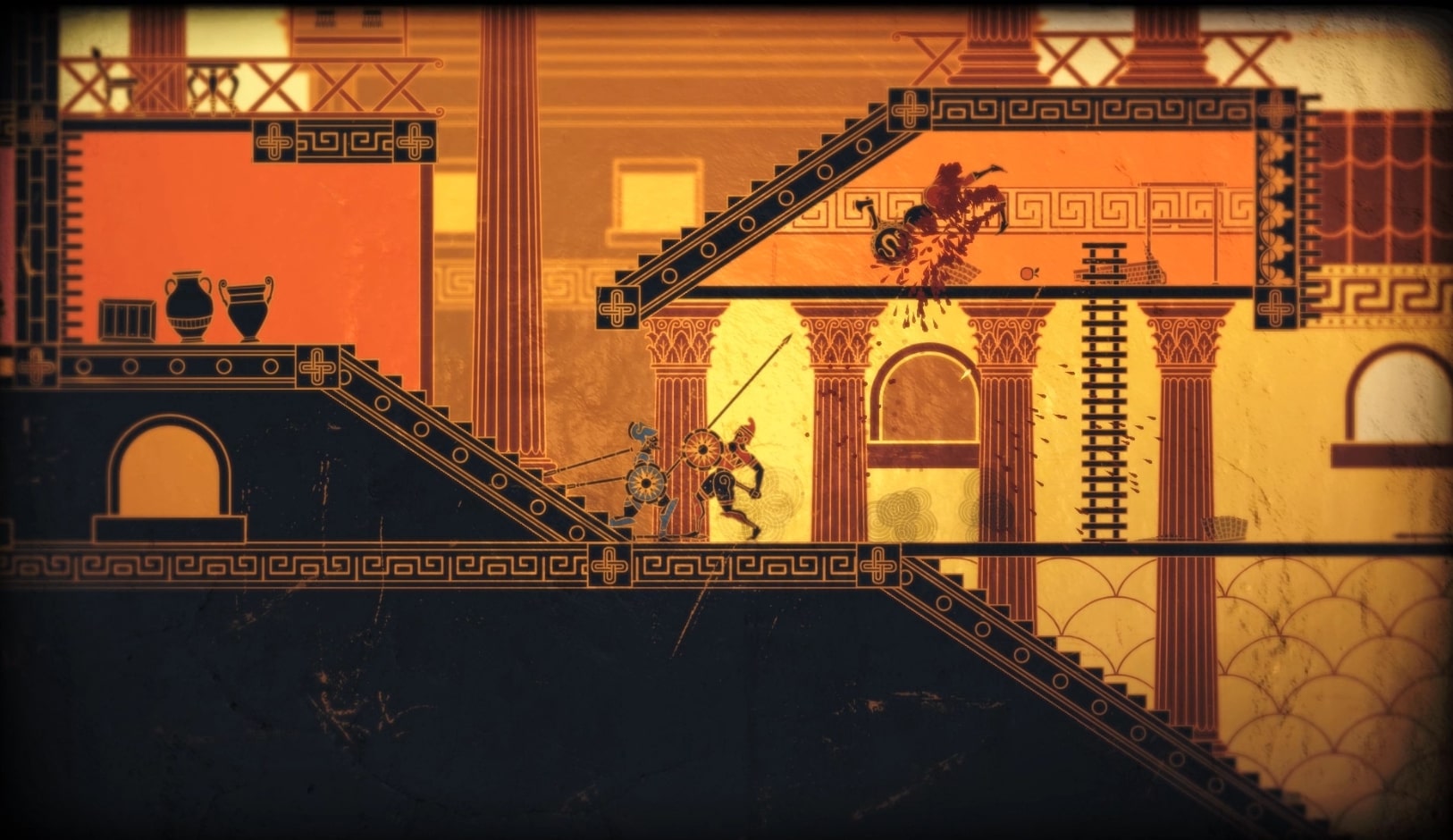 I hate to kill and run…
12) Dungeon Fighter Online
Dungeon Fighter info and gameplay
Want a classic 2D sprite style, side-scrolling, beat-em-up with RPG elements? Look no further because this game is truly a great game to try out!
Why give this title a try?
There are 16 unique character classes to choose from, two of which are only creatable if you have a character at 70 or above, giving any player out there a chance to find and pick a class they love. 
As the name states, you will be going through a bunch of dungeons and completing quests given by NPCs. These dungeons come in a variety of difficulties that you can select when you enter. Want to gain more XP and gain better loot? Up the ante!
At level 15 there are cool subclasses to choose from to make your character even more interesting and powerful.
It is a homage to the games of old, giving you those warm and fuzzy nostalgia feelings
Very simple controls.
You can join guilds and quest with other players. Those in more powerful guilds are granted cool buffs and skills to their characters, which varies to how many people in the guild are online at that time. 
Beautiful game art.
Lots of playability.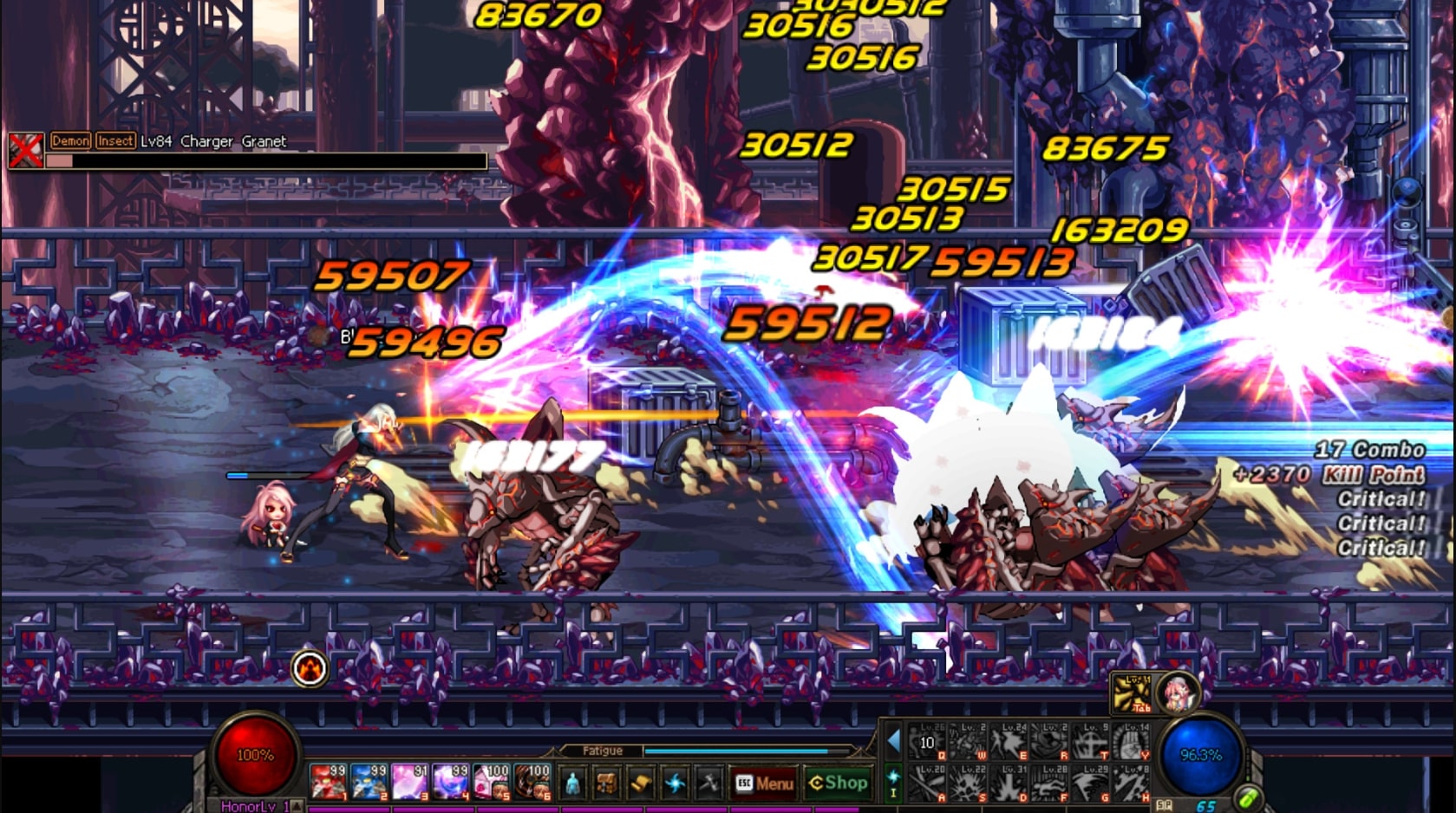 High-intensity battles!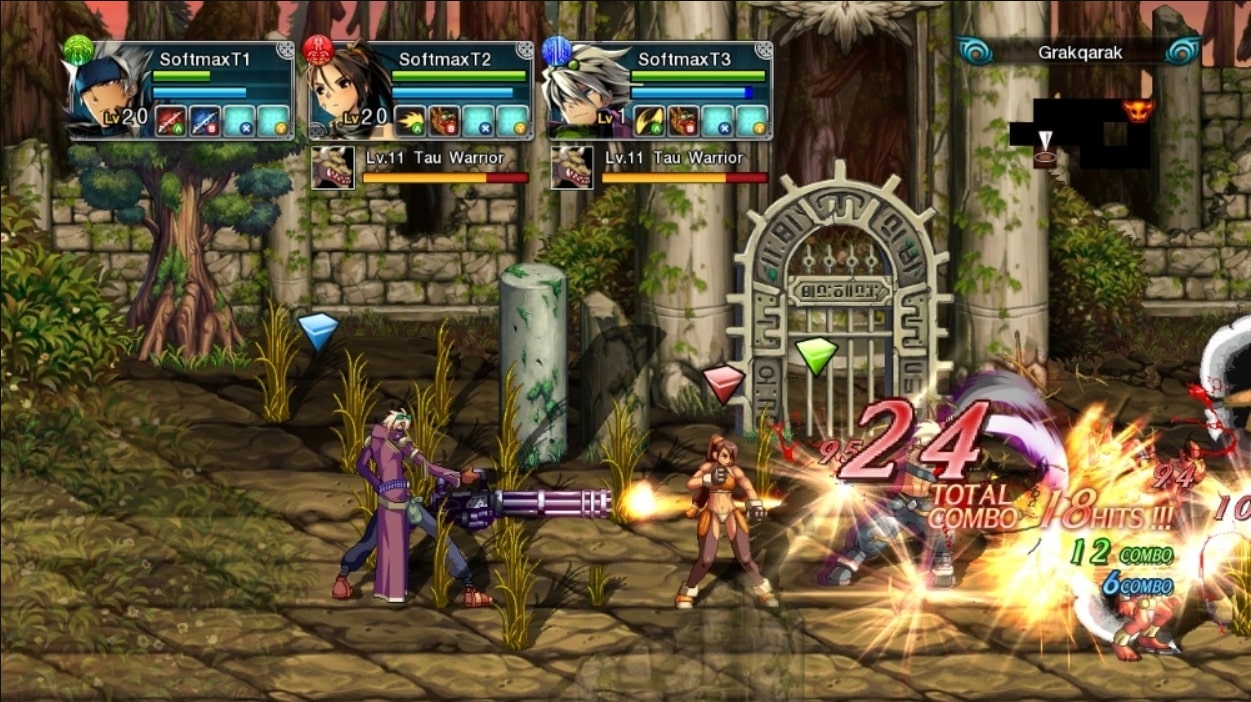 Go in, guns blazing!
11) Ultra Fight Da! Kyanta 2
Ultra Fight Da! Kyanta 2 gameplay
This goofy fighter is fun to play. Everybody is broken, and the fights are fast and weird. It makes for a hilariously fun time, especially if you are playing with friends.
What's so great about this game?
Kooky, hand drawn art that will remind you of Shin Chan.
Interesting characters.
Easy to learn controls with specials that use one button presses.
High speed, fast, frantic fights that will leave you wanting more.
You can play against other players online and test your skills.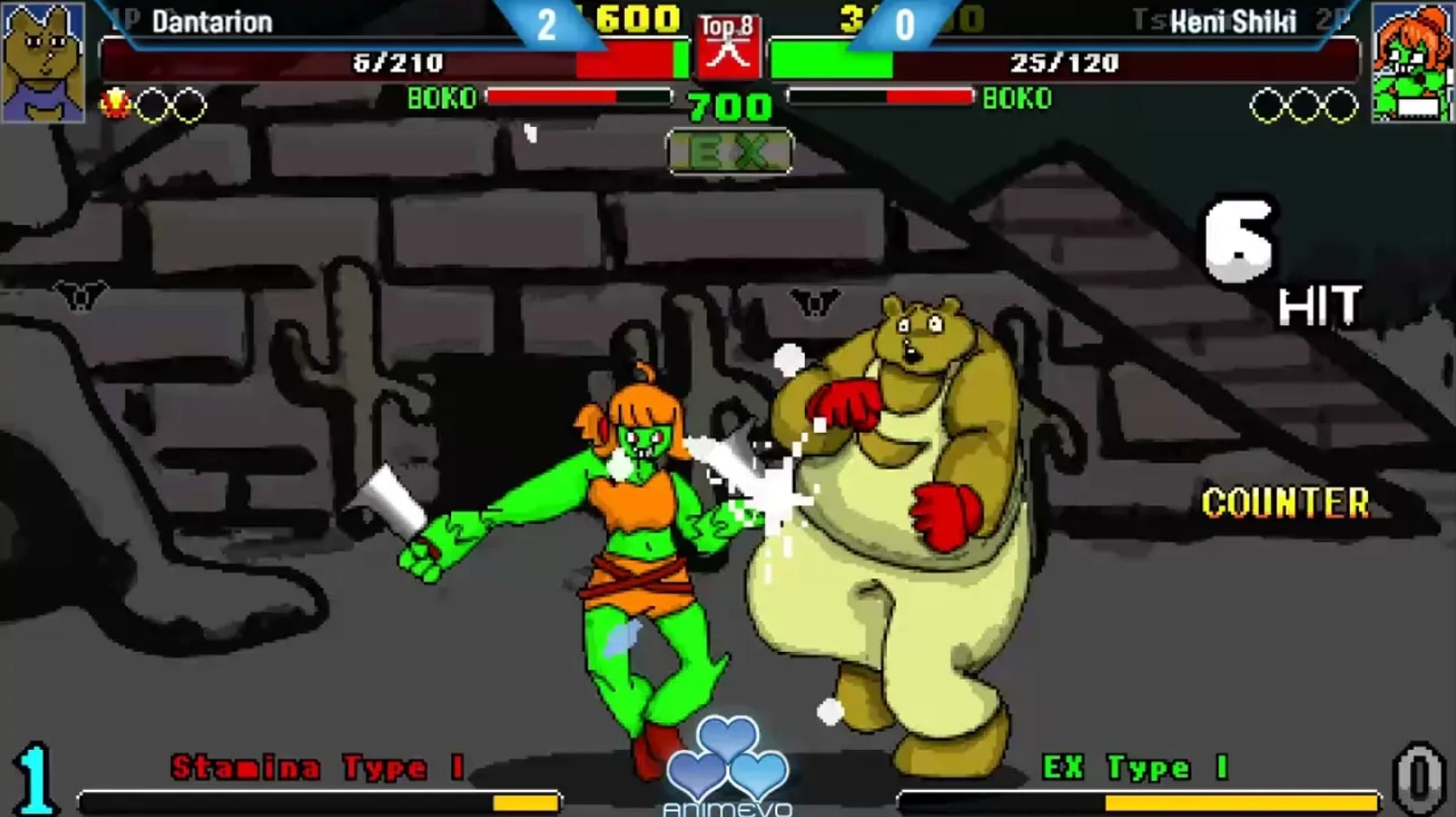 Keni Shiki takes a slice out of the competition!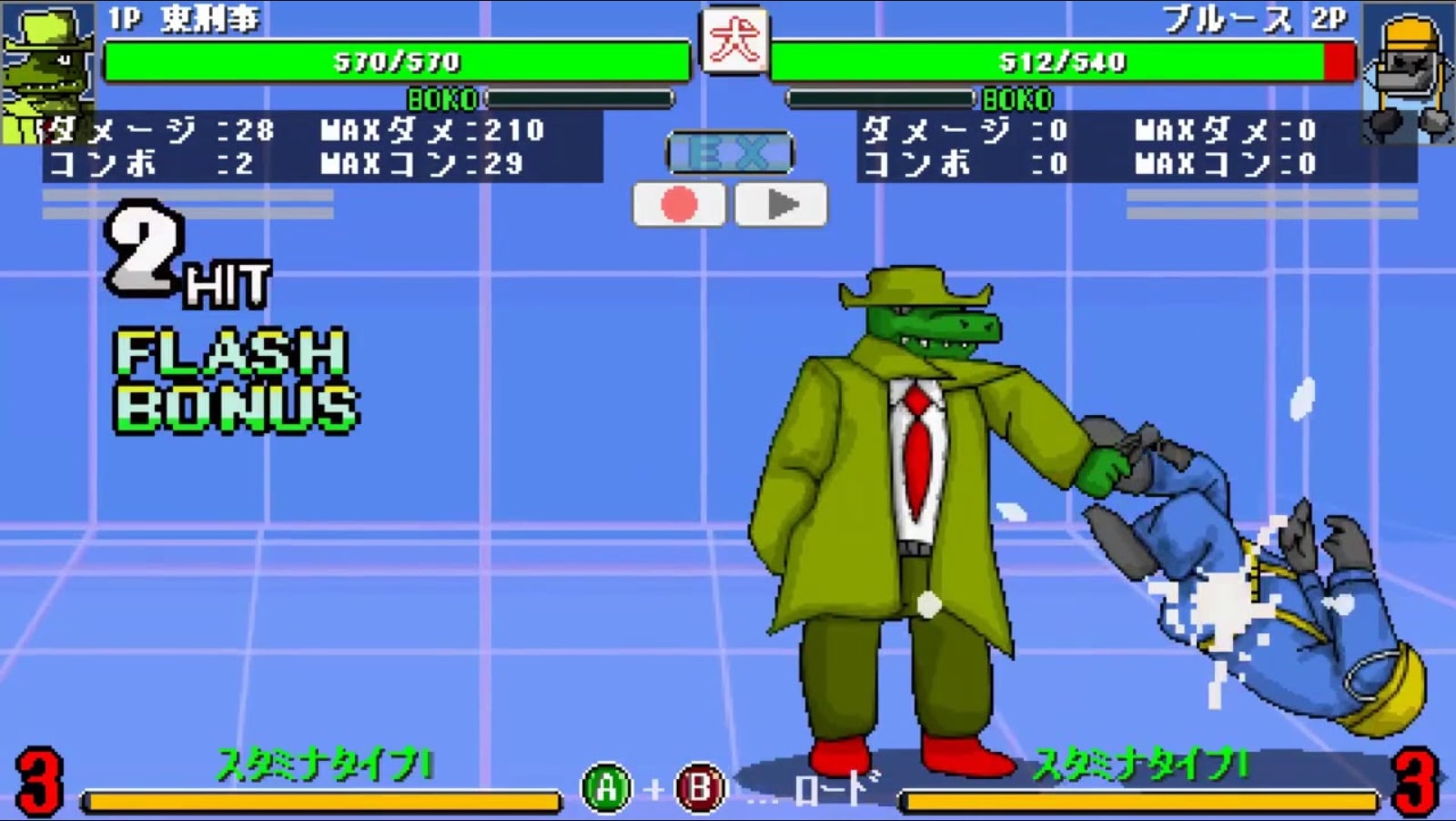 Bang!
10) Brief Karate Foolish
Brief Karate Foolish Gameplay
Do you want a hilarious game to play? Brief Karate Foolish is the game to play. It's a 2D fighter with real life dudes dressed ridiculously, doing different kick and fighting poses, used to create this great masterpiece of ridiculousness. 
If you haven't downloaded it already, what are you waiting for? Take advantage of all this!
Two different modes to enjoy, Play vs AI and PVP.
Amusing sound effects.
Easy to use 4 button controls.    
Interesting roster that will leave you in tears, with my personal favorite is Nekomimi.
Easy to build up power move, illustrated by the candles at the bottom.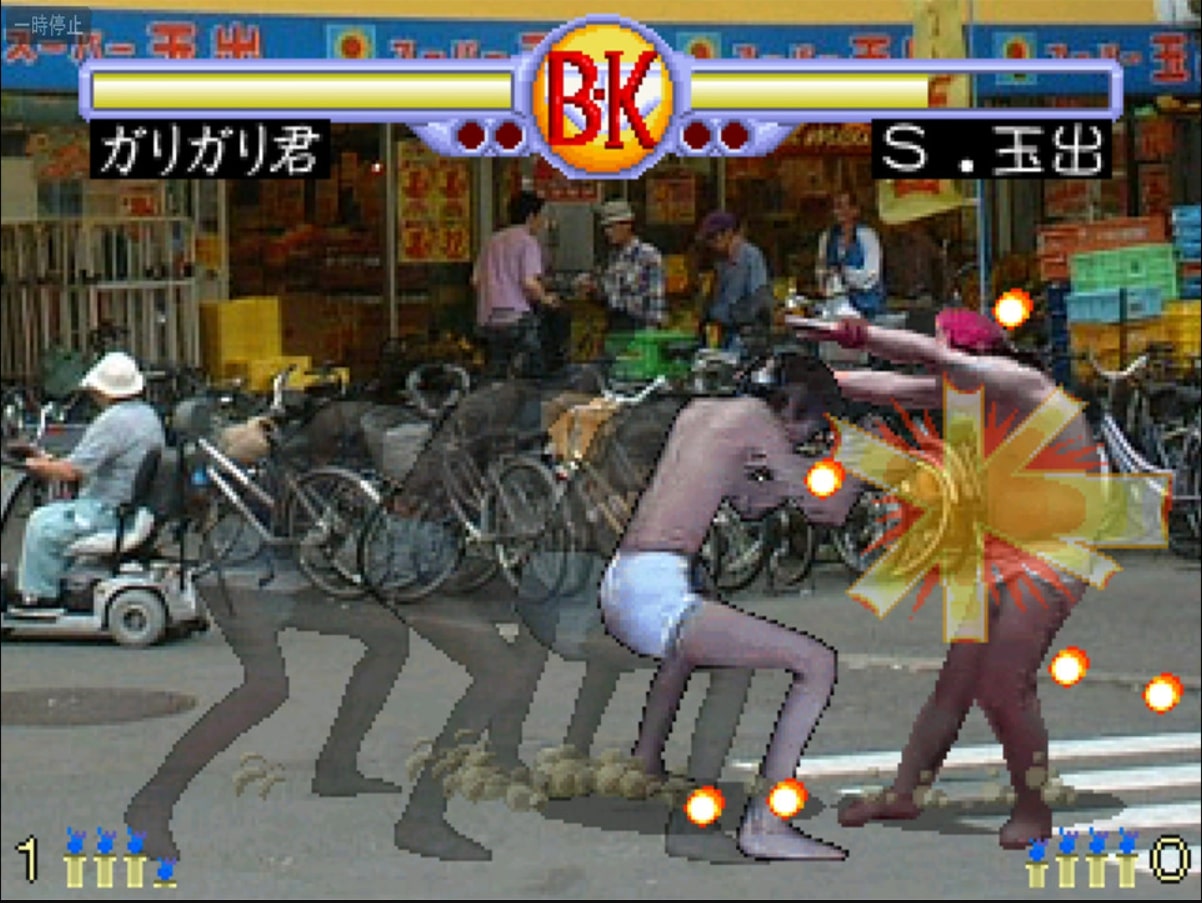 Critical hit!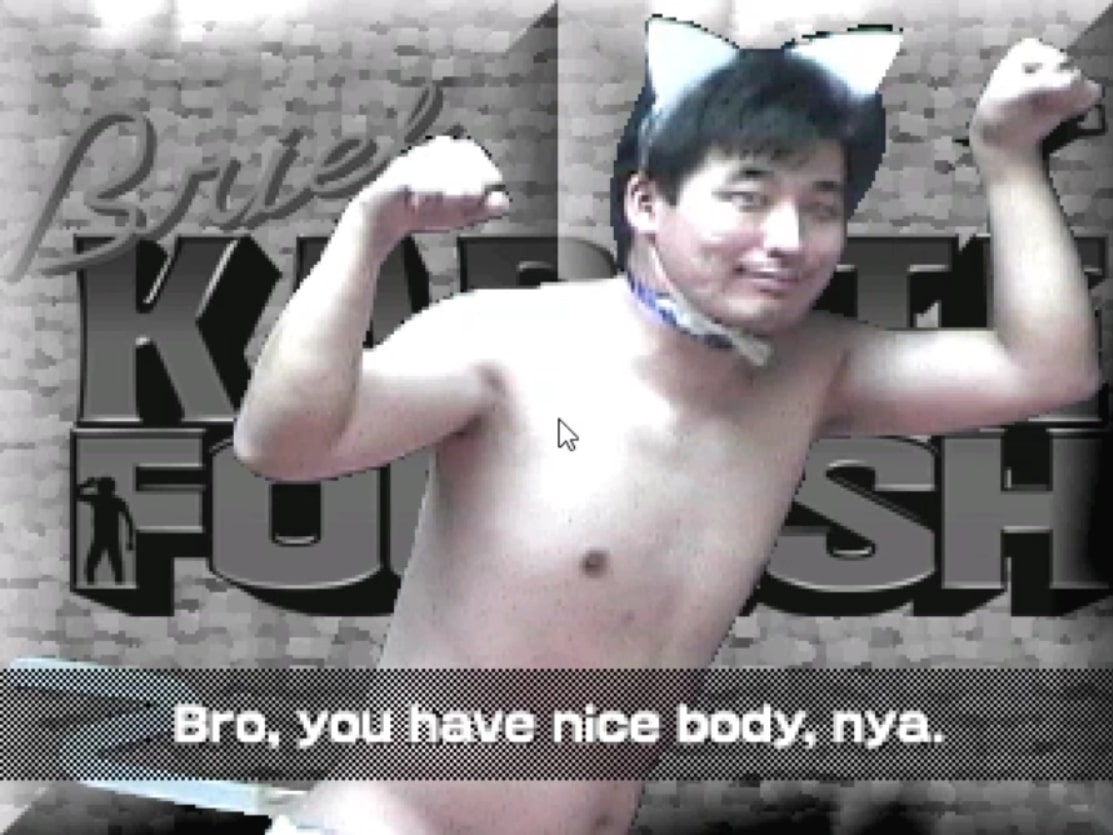 Nuff said
9) Hyperfight
Hyperfight gameplay
In Hyperfight, every move could be your last. This fast-paced fighter will keep you on your toes while allowing for a lot of fun and replayability. It's very much a weird rock, paper, scissors type of fighter that you need to explore and experience. 
Why should you get hyper about Hyperfight?
There are 6 characters in total, 1 that is unlockable, to play.
Unlike most fighters, the name of the game is to learn to dodge well and strike hard. The slightest mistake could mean your end. 
There are online lobbies, local vs mode to play against friends, and AI opponents.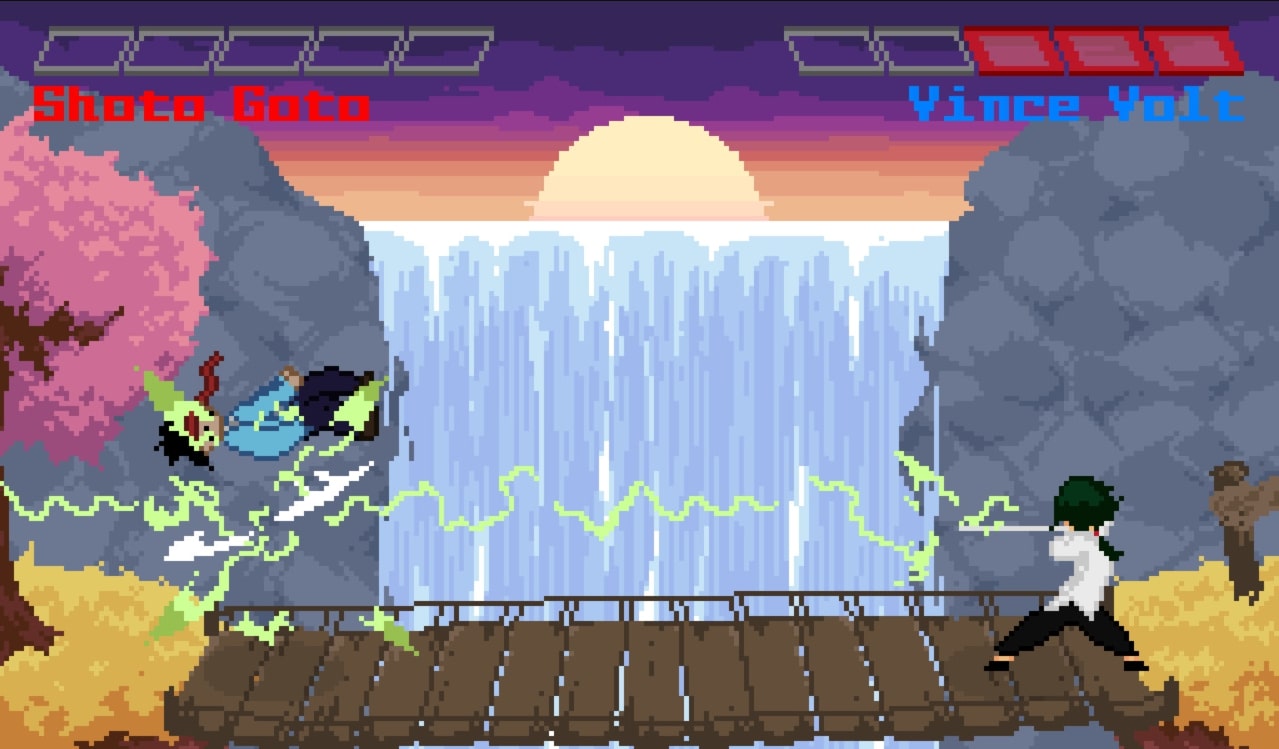 K.O.!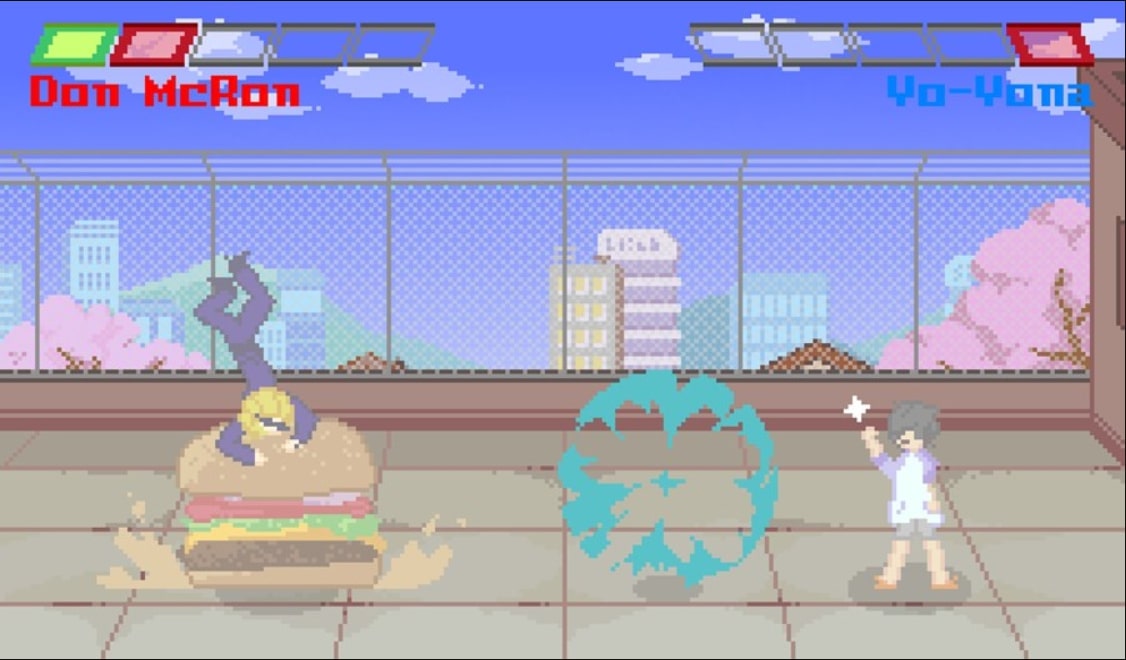 STOP! Burger time…
8) Toribash
Toribash Gameplay
Torbibash is a martial art simulator in which you can create your own unique moves. On first look, it might seem too simplistic, but honestly, it's a pretty complex and fun game once you sit down and play it. Plus, this title brings blood gushing and ragdoll effects hilariously back in style. 
Why is Toribash worth checking out?
Crazy dismemberment and blood physics.                
Create unique moves to help kick the crap out of your opponents.
There is an in-game mod maker where you can create new environments and characters to make things more fun.
Tons of character customization options.
Ridiculously funny ragdolling.
Trade items you don't want with friends for free.
Tournaments held all the time by the Event Squad.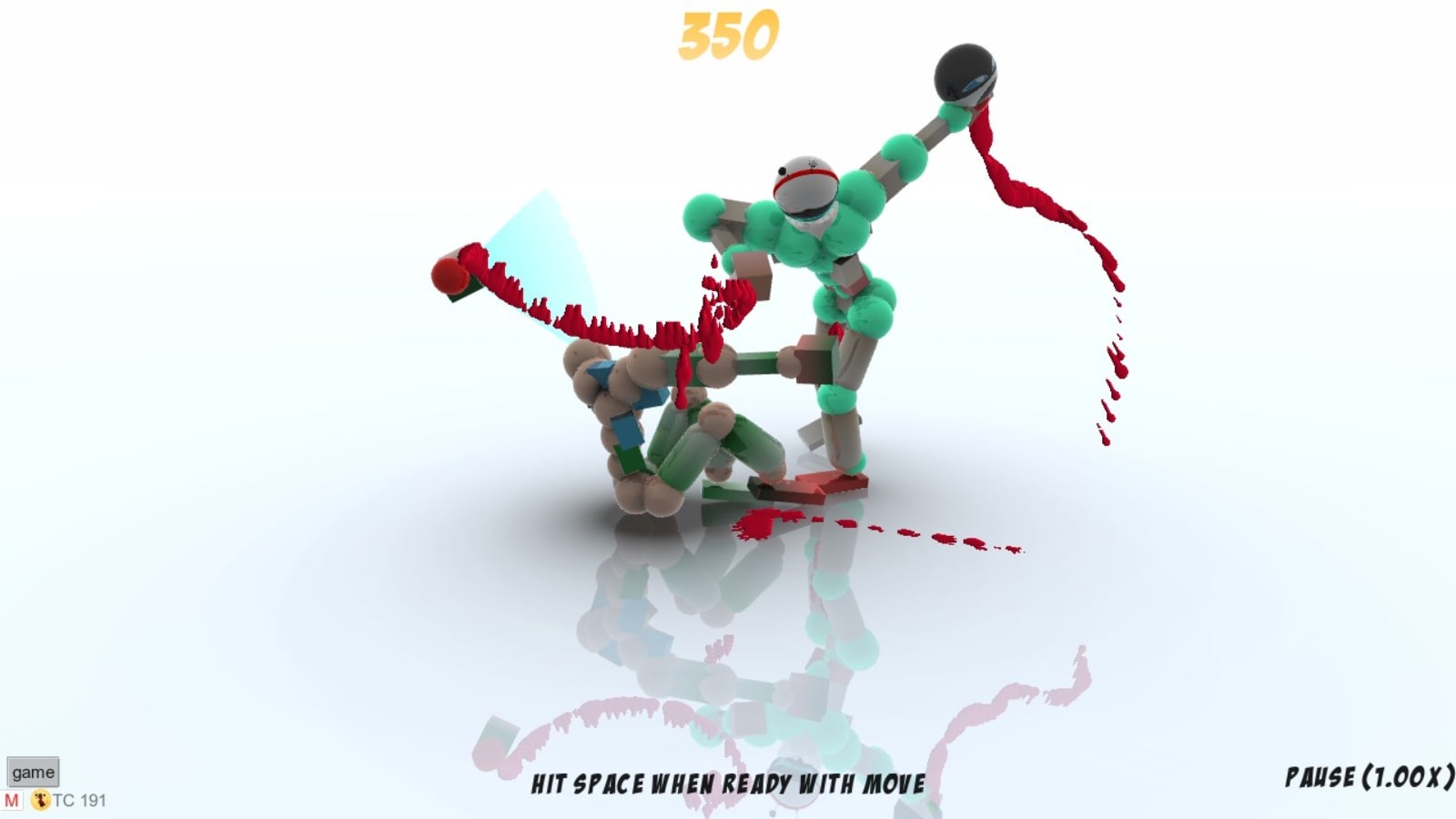 Well, that's one way to get a head…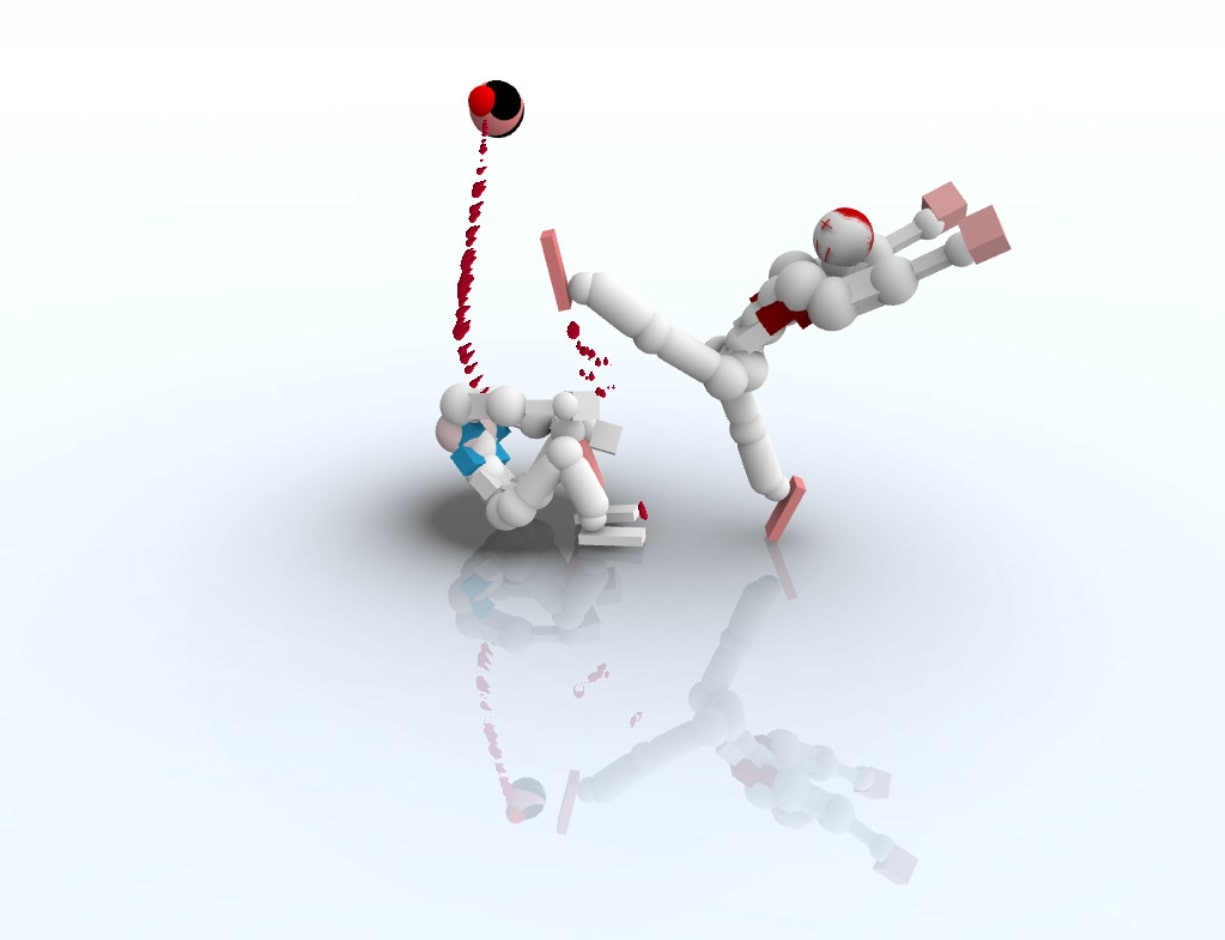 Bloody punting fun!
7) Long Live Santa!
Long Live Santa gameplay
The holidays are almost upon us, and who doesn't need a Santa Claus battle royale in the game library? The whole premise of the game is that Santa has died, and you and a bunch of other white bearded Norwegian dudes are fighting to the death to be the new Santa Claus. There can only be one, afterall.
Ho-Ho-How can you pass up with hilarious battle royale with all this cool stuff in it:
The battles are fast and furious.
There are limited weapons, so you have to make sure you are quick on your feet in order to grab them up, otherwise, you better dodge and learn how to use those fists!
There are gift boxes that drop from the sky that also have loots and weapons like in a lot of battle royales.
All the weapons are Christmas themed, which is fun and cute.
You can find and mount a reindeer and use it as a weapon to mow down your enemies.
Each match holds up to 20 players, which makes the game fun but fast.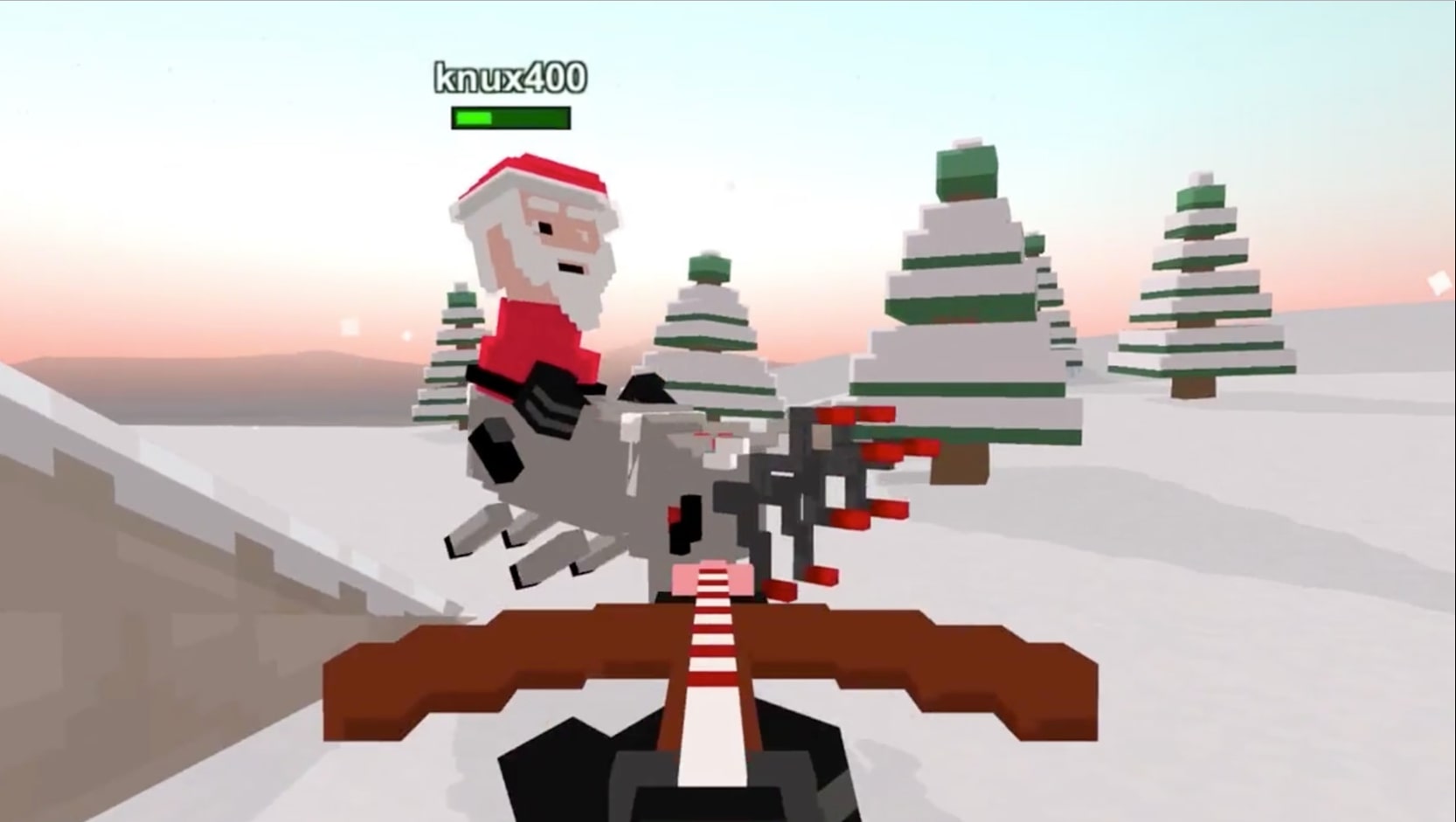 Candy Crossbow sniping action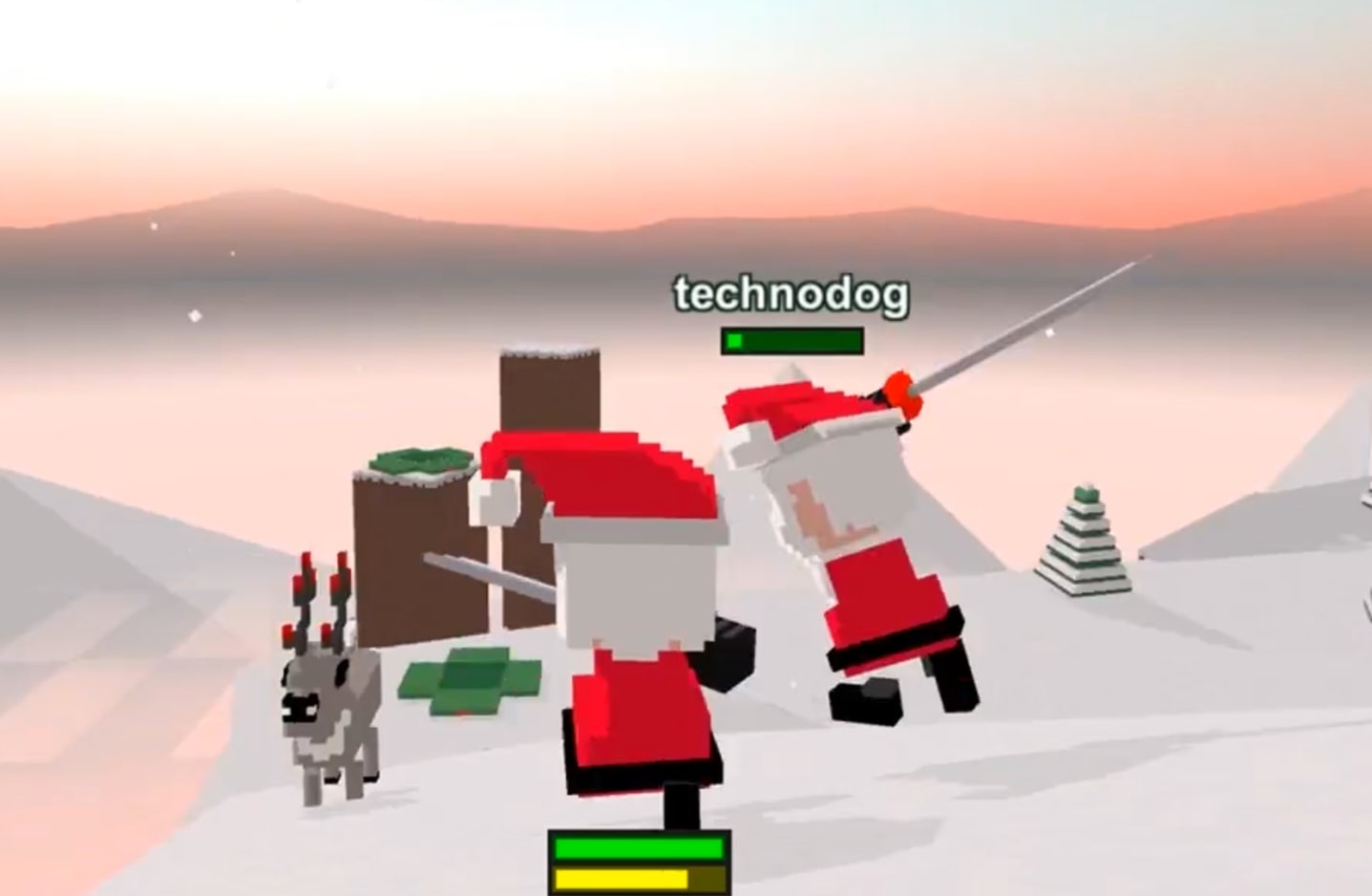 Screw fists, it's time for Santa Swords!
6) Drunken Wrestlers 2
Drunken Wrestlers 2 gameplay 
As it says, Drunken wrestlers do some drunken wrestling. This comical little game is fun to play. With multiple game modes, beat your buddies to a bloody pulp, take your drunken stick men and have some pummeling fun. 
So what's the deal with Drunken Wrestlers 2?
This game has a multiplayer mode of up to 8 people that allows for some wildly funny matches.
There is blood, gore, and the occasional dismemberment. If you like crazy blood physics, you're going to love this. 
Character customization is available for those that like to do their own thing.
The physics-based combat makes for hilarious battles.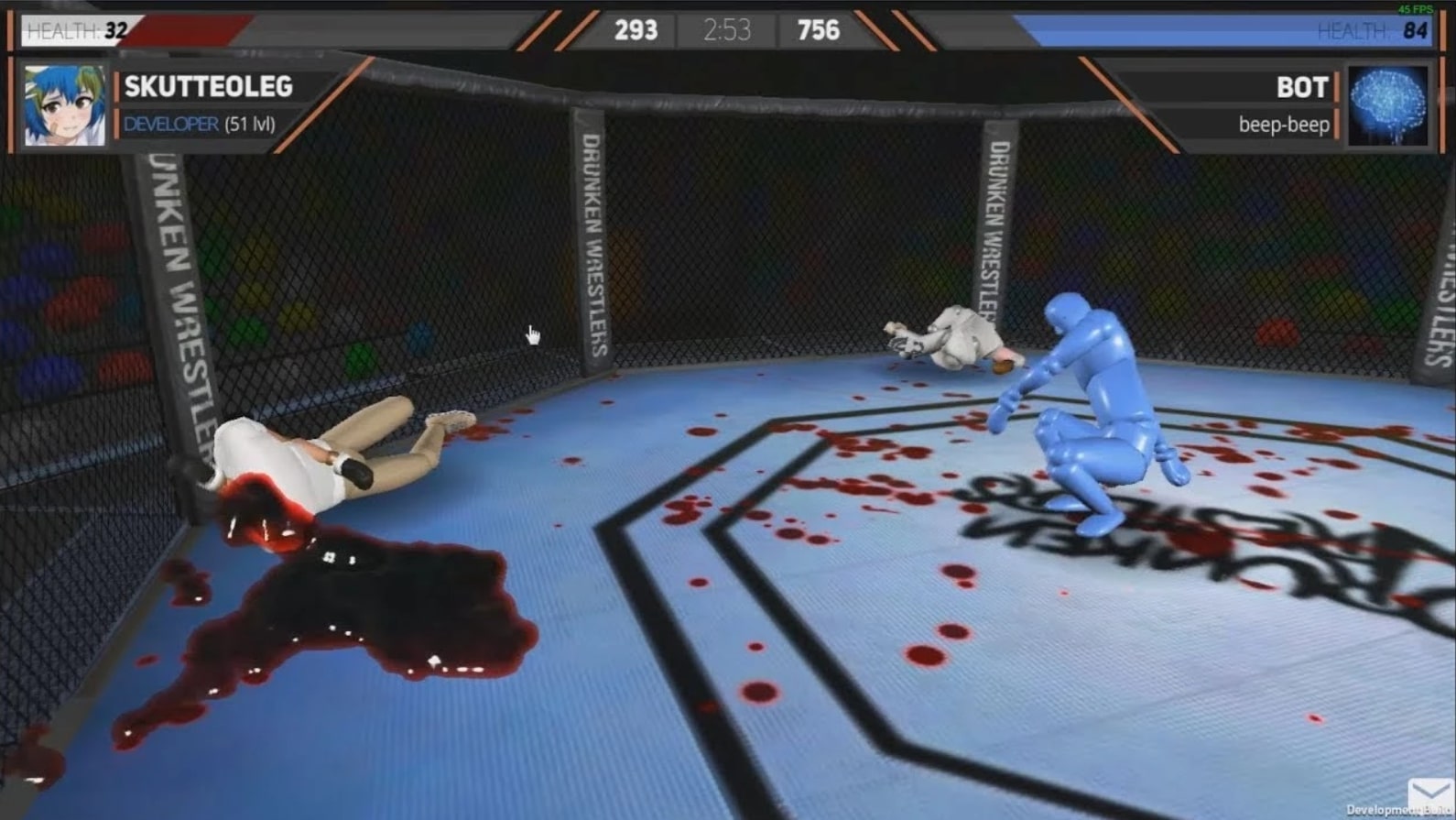 Oops! You seem to have lost your head there mate…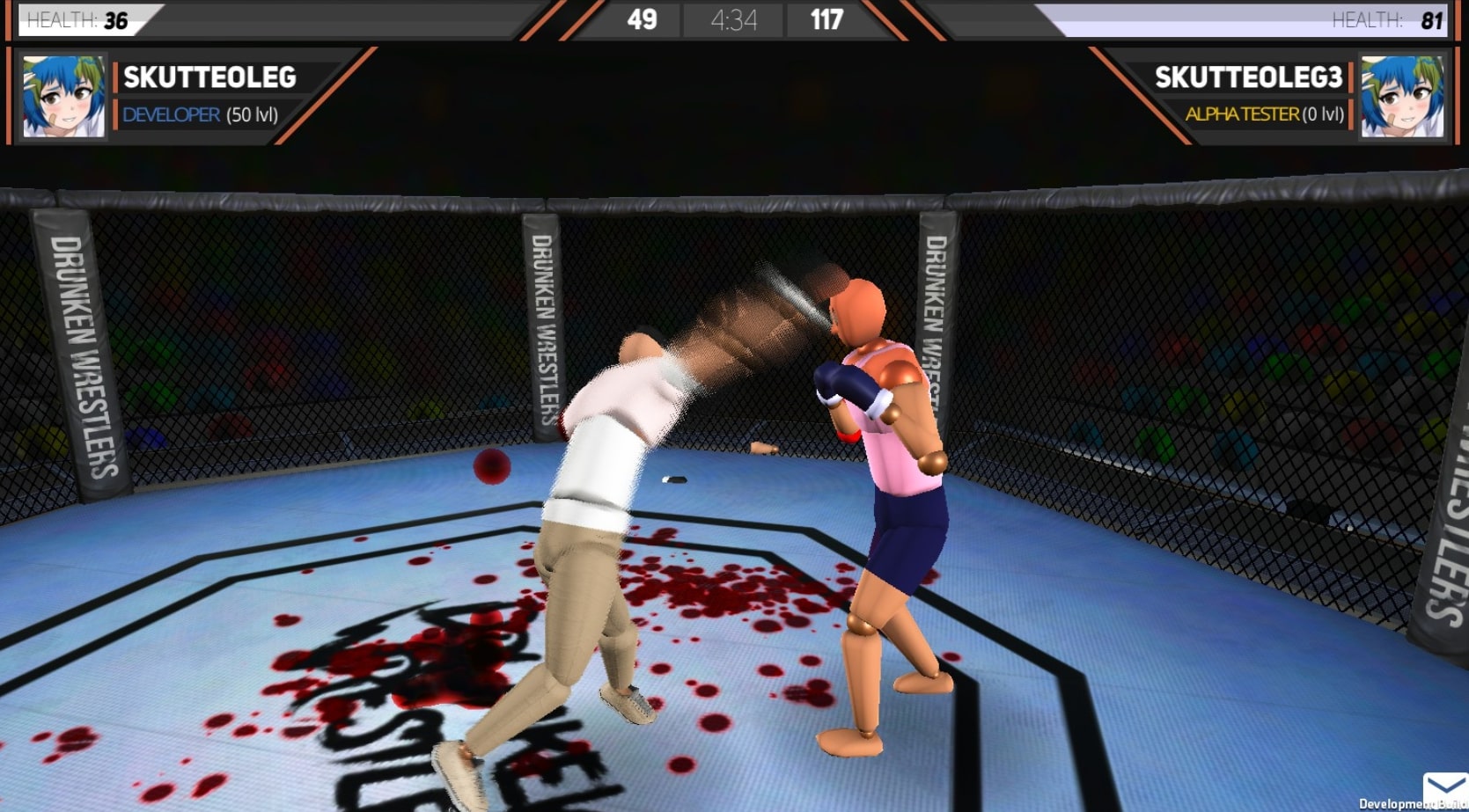 Boop!
5) The Ultimatest Battle
The Ultimatest Battle Gameplay
Like a cross between Worms and Smash Bros, The Ultimatest Battle and its grey little domo characters in this 2D side-scroller team will win your hearts and blast you out of your seats.
Any reason why should you give this battlefest a try? 
Cool and beautiful hand drawn game art and graphics. 
6 classes to choose from.
A multitude of maps to play on.
Nine different game modes and various events throughout the year, like zombies during Halloween. 
Over 120 craftable weapons.
You can join guilds to make friends and trade loot with.
Funny punchlines from other game and movie series scattered throughout the game as fun little easter eggs.
There is a trading system for those who are not in guild to also pass along weapons to friends or to help out fellow players. 
Loads of cosmetics and customization options for your little battle buds!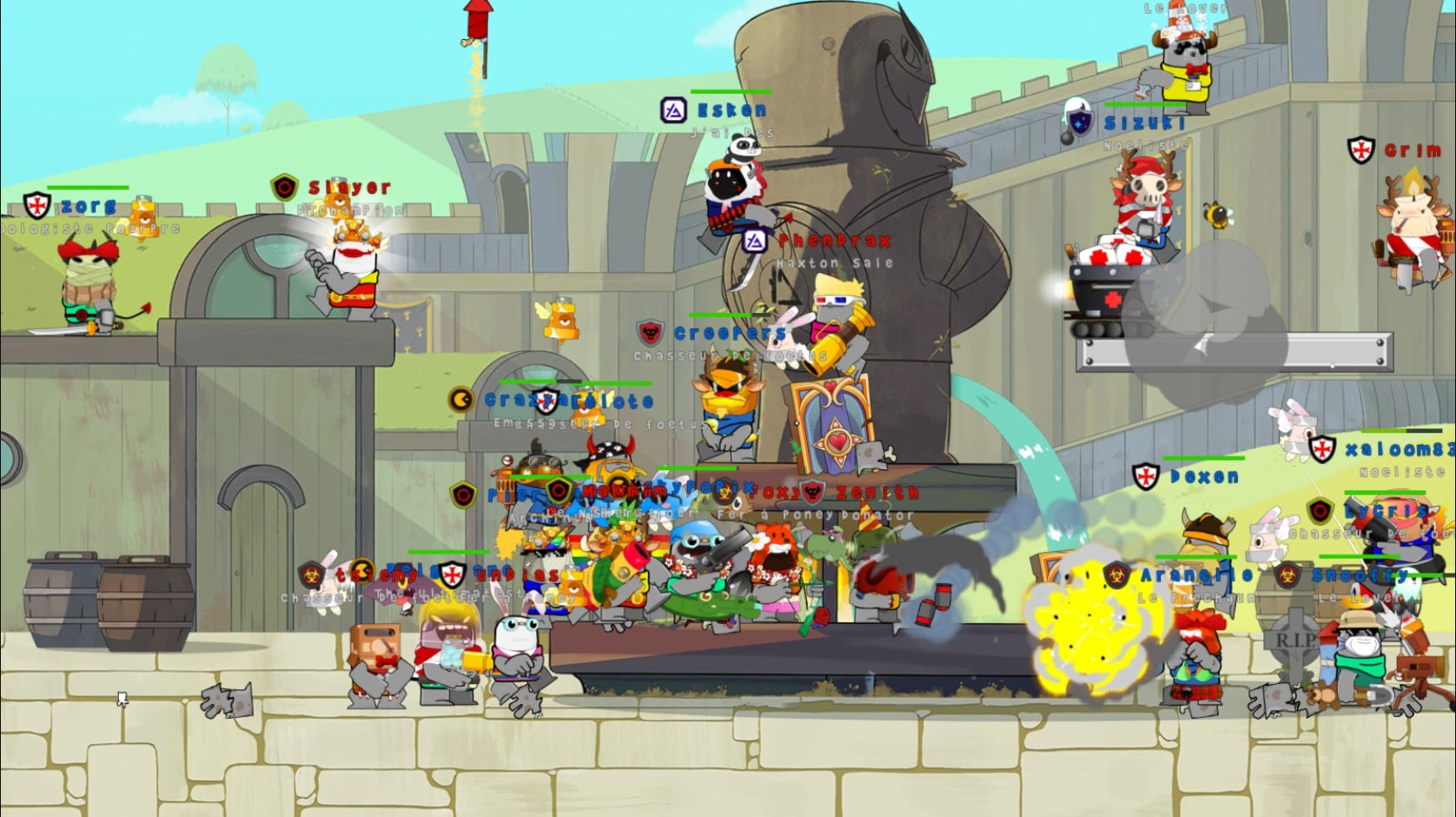 C'mon vogue! There's tons of customization options!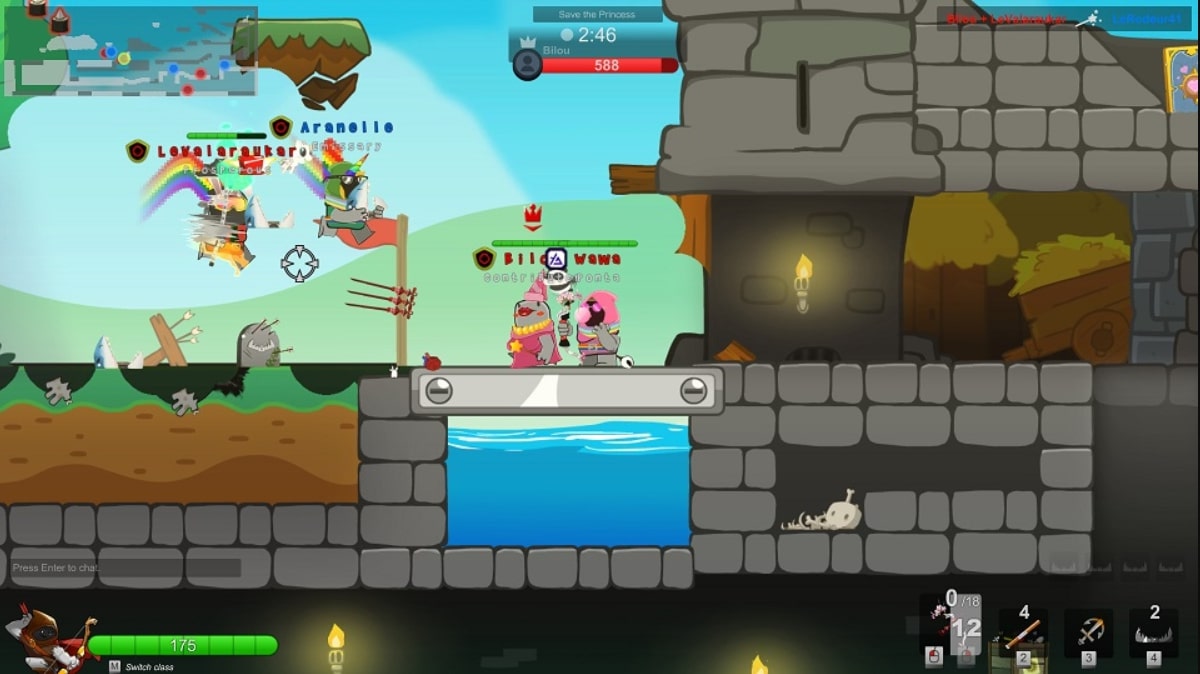 Time to be the prettiest princesses at the ball!
4) BattleCON Online
BattleCON Online Gameplay 
BattleCON Online is a strategy game in which you master an already set deck for one of the characters and use your faves to crush your opponents. Learning and knowing your opponent's skill set is also key to countering their best moves. It is definitely a great game for lovers of strategy-based games, as well as card games.   
You hold the cards, believe in the power of them. Here are the reasons why you should play this game:
Gorgeous game art.
Awesome special effects, art, and voice acting.
You can find opponents through the matchmaking system or fight your friends on your friends list.
The roster is constantly growing, and at 19 characters already of all different types and skills, there is sure to be someone you connect with. New fighters are released monthly.
The tutorial mode is extremely helpful on your quest to master the game.
For those of you who are into cosmetics, there are unlockable costumes to grab.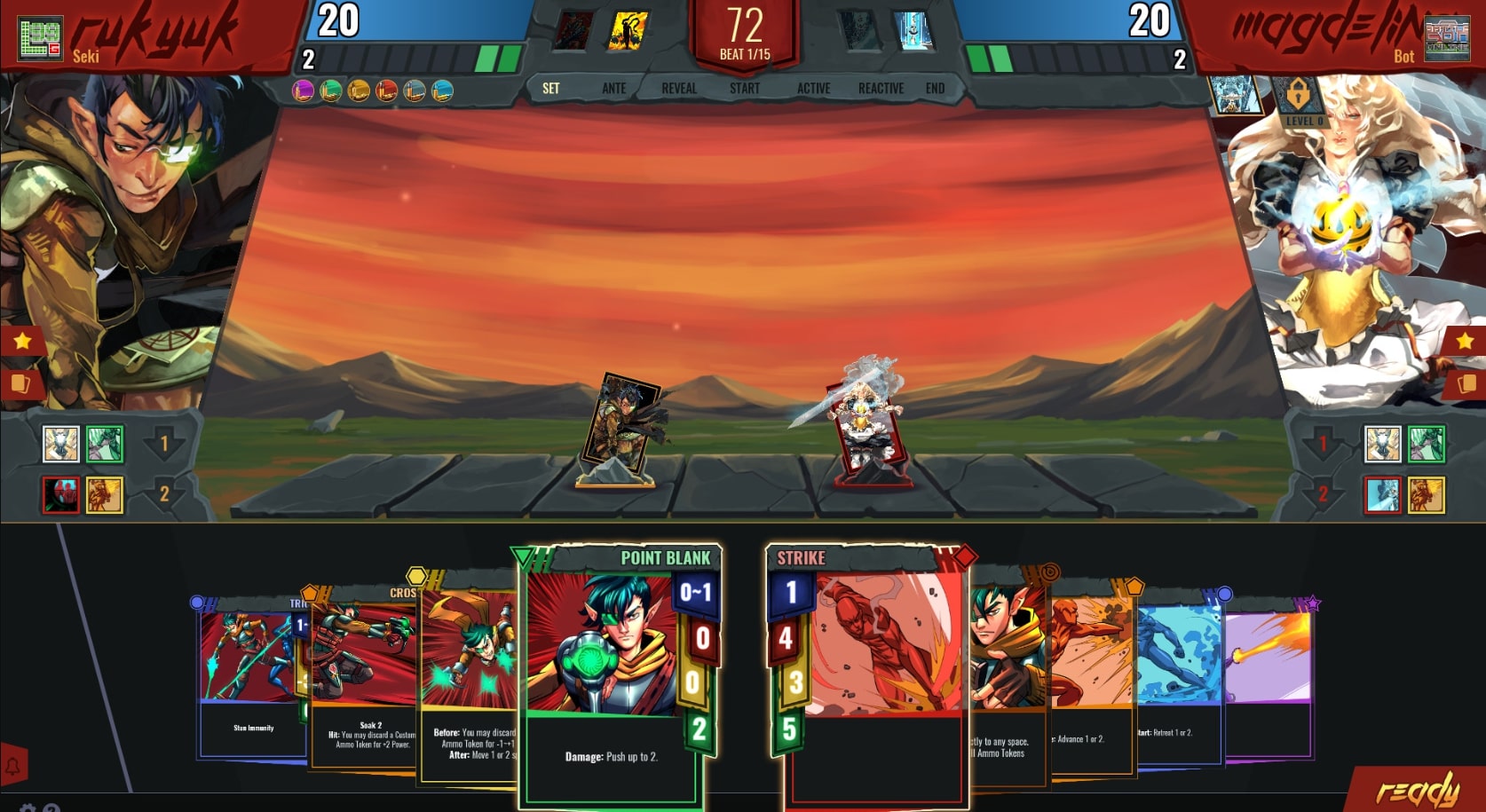 Battle time!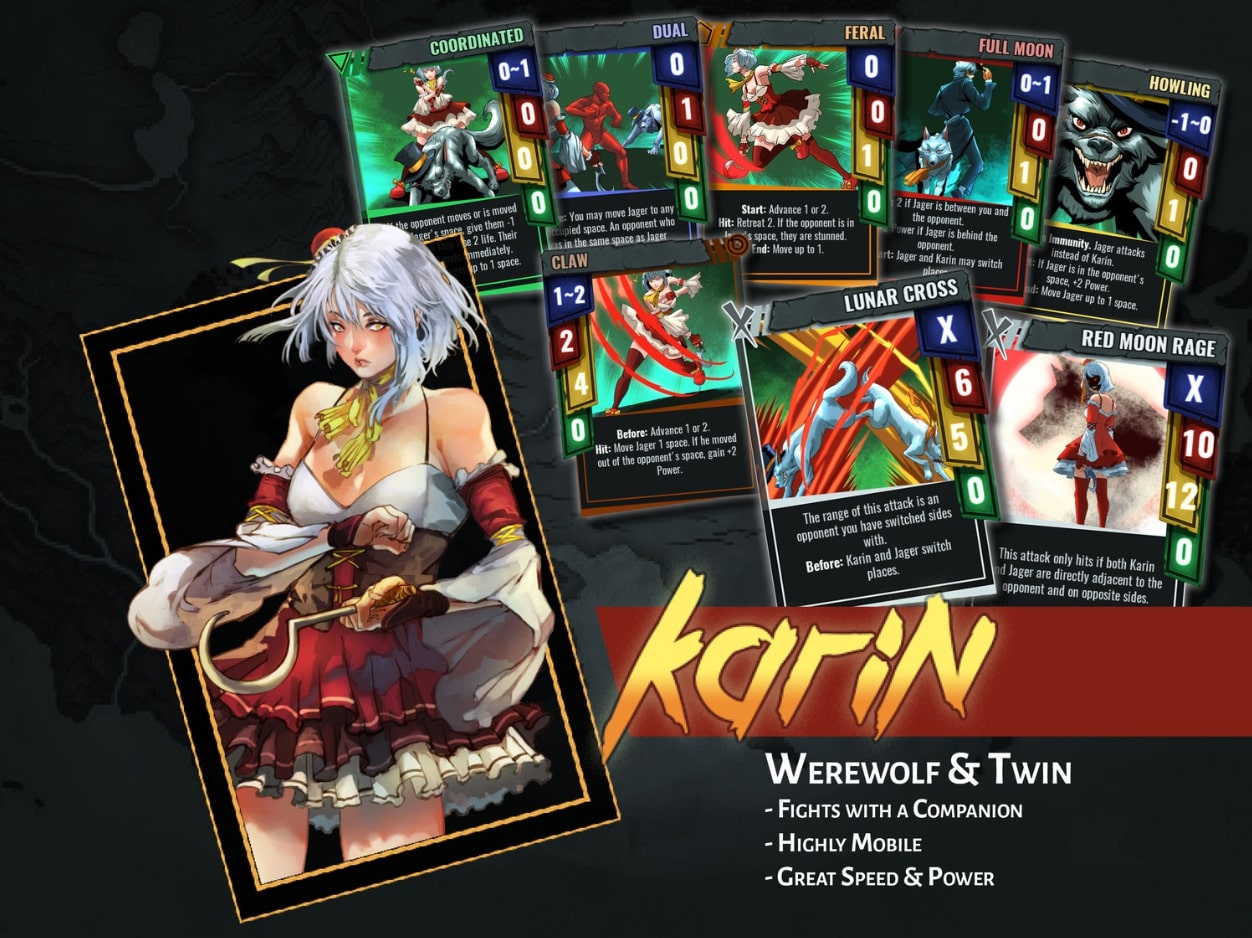 An example of the character art and some cool abilities you can learn as Karin
3) Battlerite
Battlerite Gameplay
Battlerite is a free to play MOBA that breaks the mold for MOBAs. Lanes are gone and you are forced to face your enemy team head-on in a fight to the death. It's fast-paced fun with a bunch of cool characters to choose from, all with amazing abilities to help your team make it to the finish line. 
Why give this feisty, fast-paced MOBA a try?
This MOBA uses the WASD keys for movement, with cursor-based aiming for abilities and attacks. Making things a little less janky and more about skill than pointing and clicking. 
The teams are either 2v2 or 3v3, meaning battles aren't drawn out for 30 minutes like other MOBA games.
There are 24 champions, and 3 different classes to choose from (Melee, Ranged and Support). All of them have unique abilities that make each of them fun to play.
This is also a great game for those who love strategy games as your positioning is just as important as being able to bust open your opponent. 
Plenty of cool cosmetics for your favorites.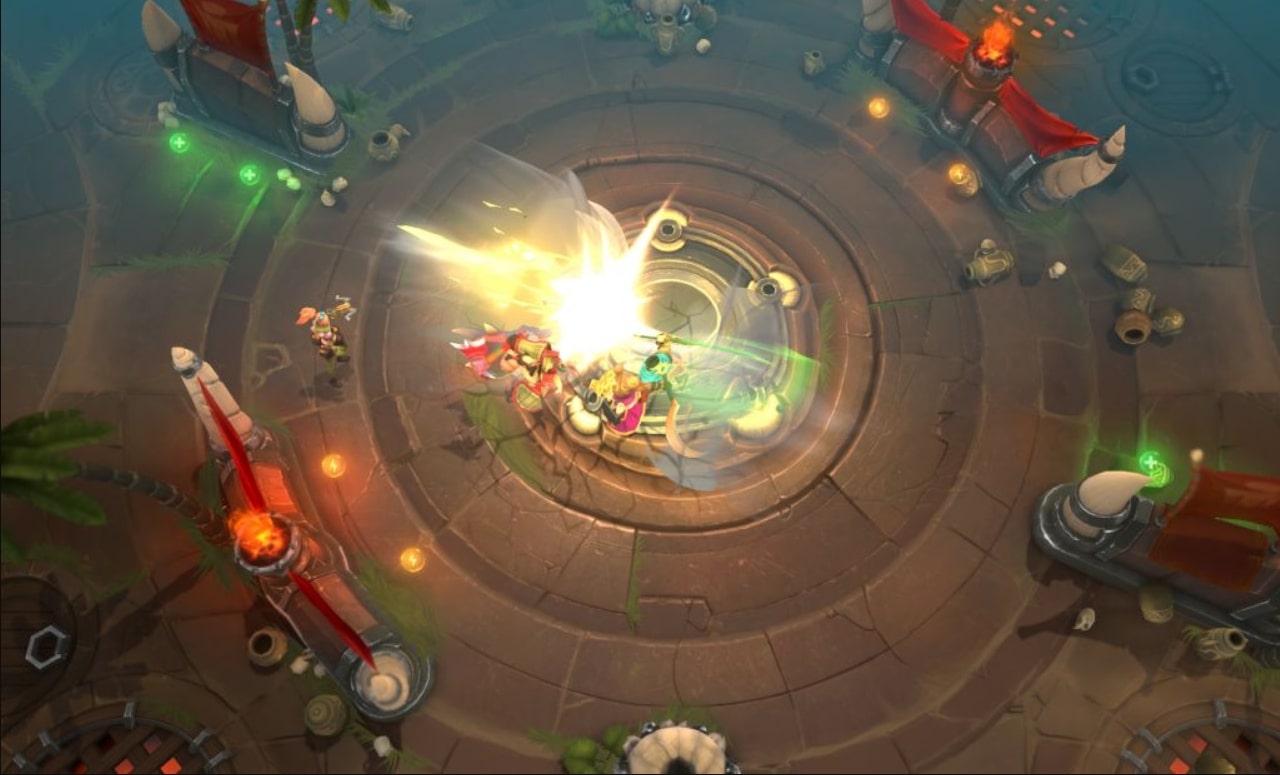 Clash of the Titans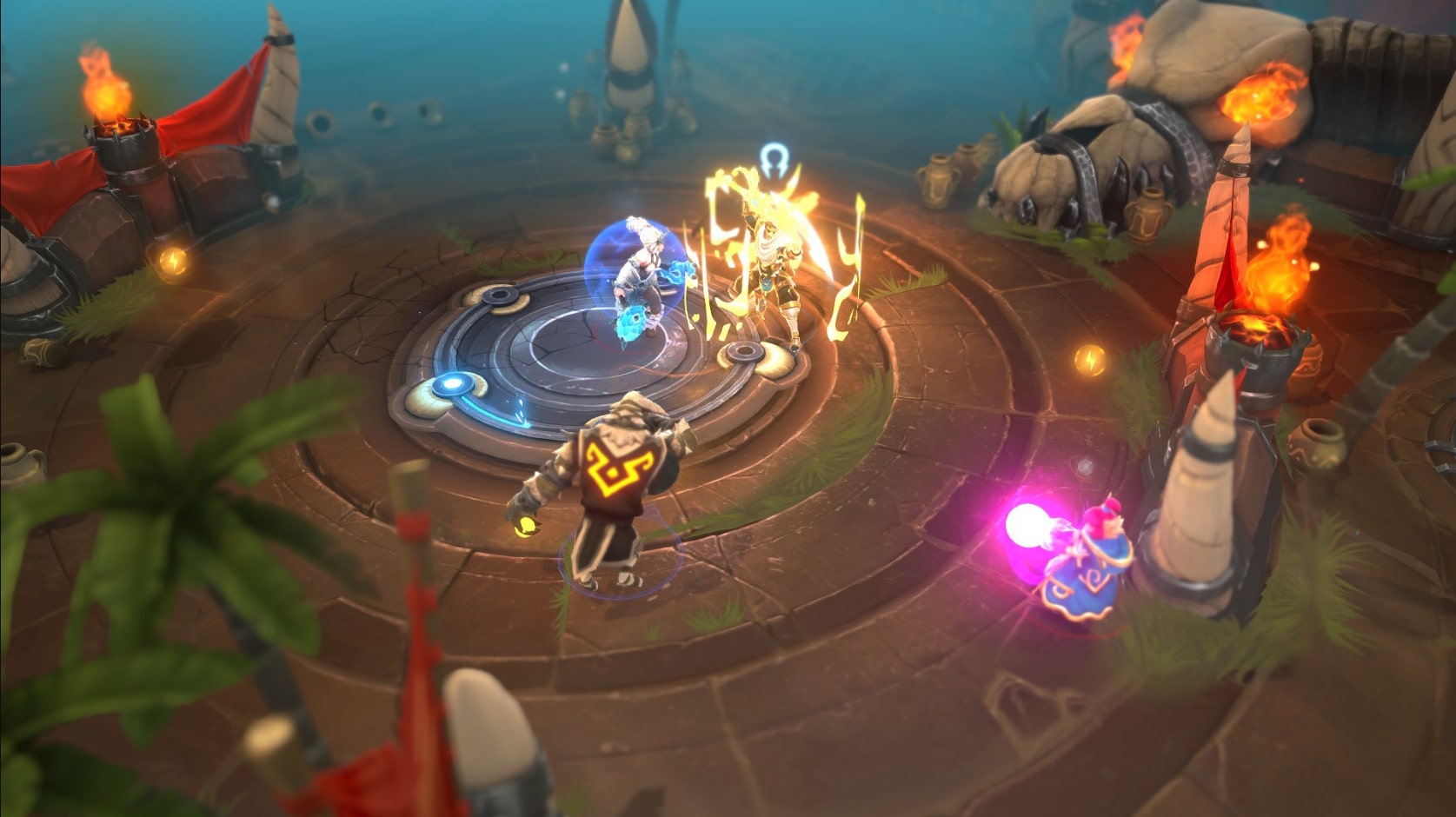 Charging into battle
2) Awesomenauts
Awesomenauts Gameplay
Awesomenauts is a super fun, 2D side-scrolling MOBAthat is a whole lot of fun and pretty hilarious. Fight 3v3 to defeat your foes with cool characters with cool abilities. 
There are 13 characters to play, with 5 classes, guaranteeing there will be someone you like on the roster.
Amazing character, level and game art.
Great soundtrack.
You can play online against other players or play 3v3 local splitscreen. 
All unlockables are able to be obtained by earning in-game currency.
The battles are crazy, fast-paced and fun.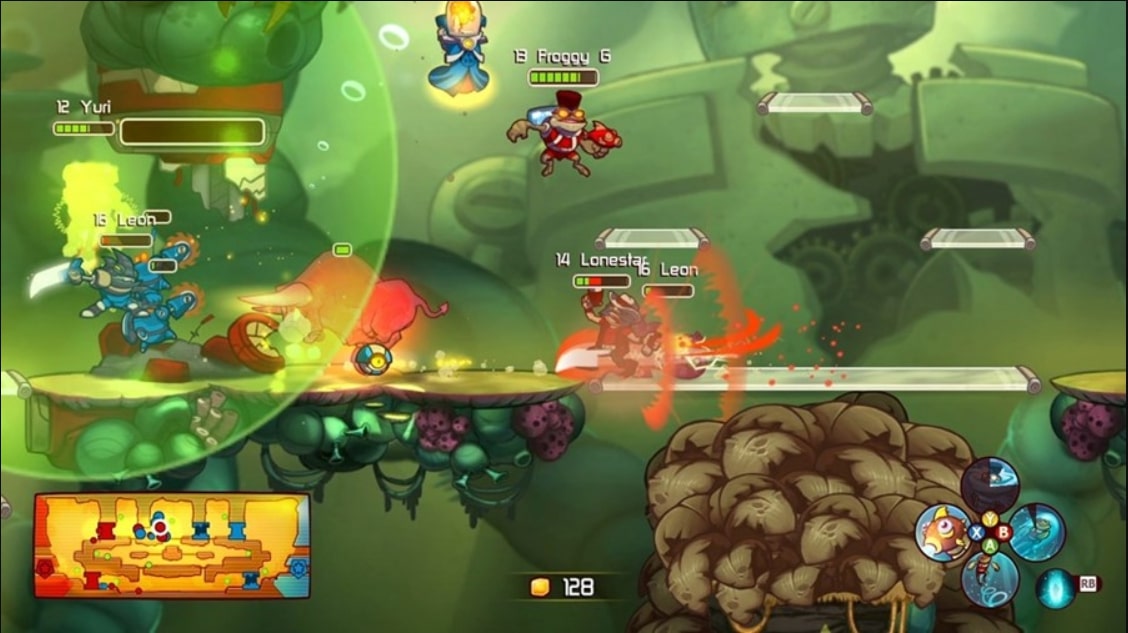 Fierce battle action!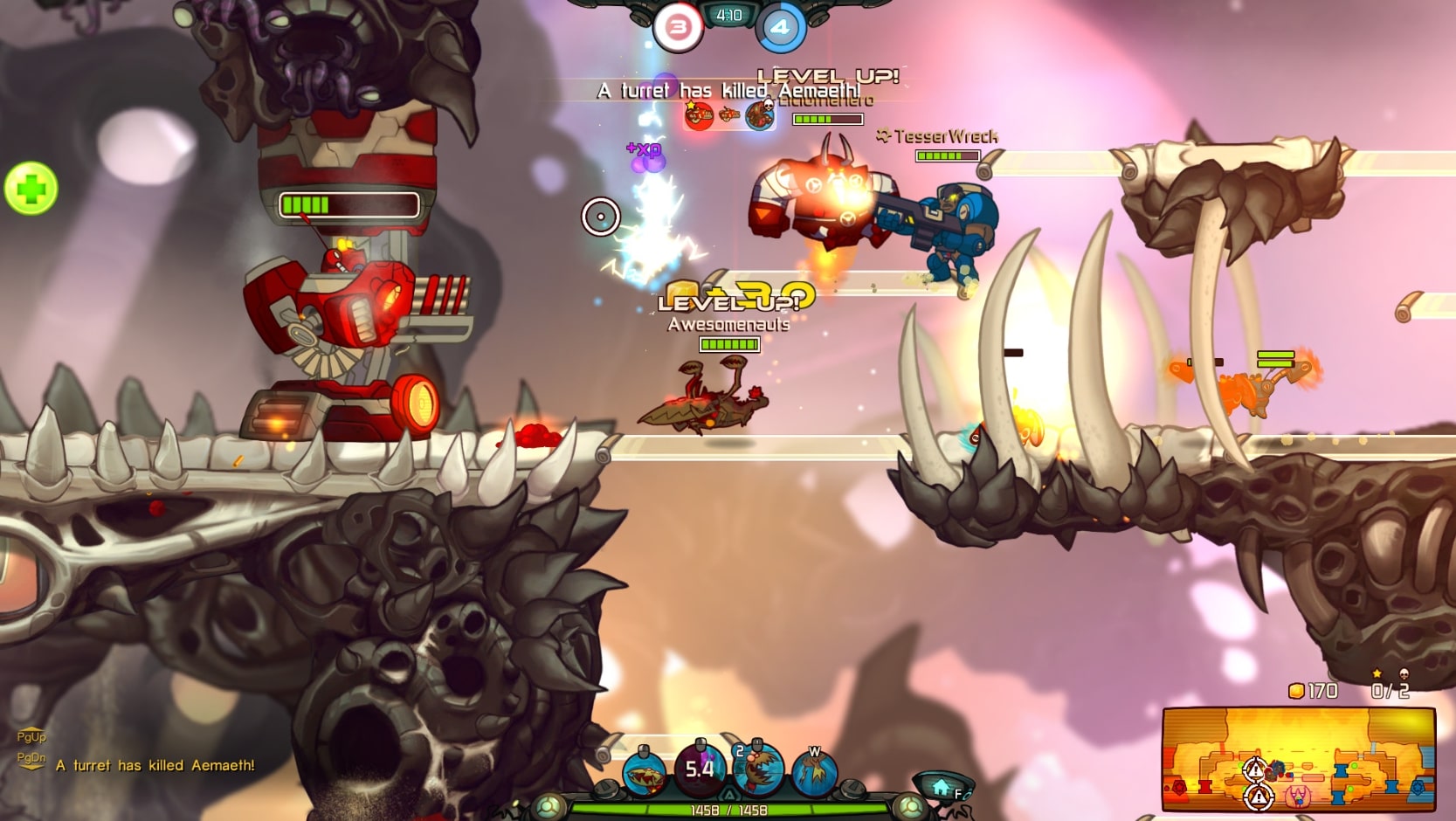 High flying outrageous battles!
1) Brawlhalla
Brawlhalla gameplay
Brawlhalla is the PC's answer to Smash. A platforming fighter, Brawlhalla boasts a huge cast with cool abilities, engaging battles, and weapons galore that will keep you on the edge of your seat. Not only can you play on PC, but on most gaming consoles, as well. And it is deliciously cross platform which I absolutely love, meaning you don't have to coordinate to play with just PC folk.     
So why play Brawlhalla?
Amazing graphics that look hand drawn.
Awesome characters and character designs with cool abilities.
Crossover characters from different tv shows like Adventure Time and WWE. 
Tons of different modes to choose from, including alternative game modes to keep the replayability alive.
There is a training room where you can master combos. 
Cross platform.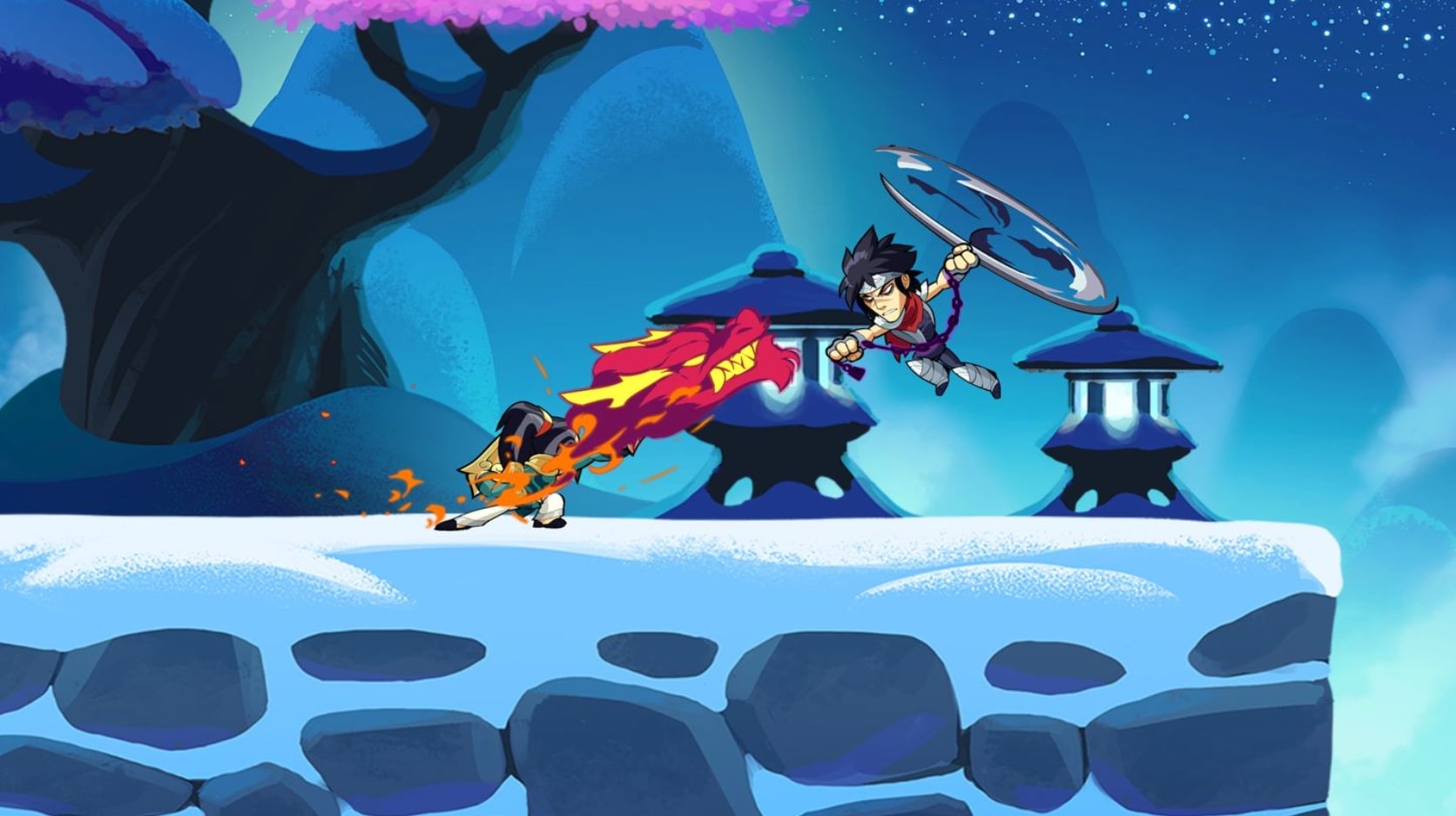 The competition is swinging into action!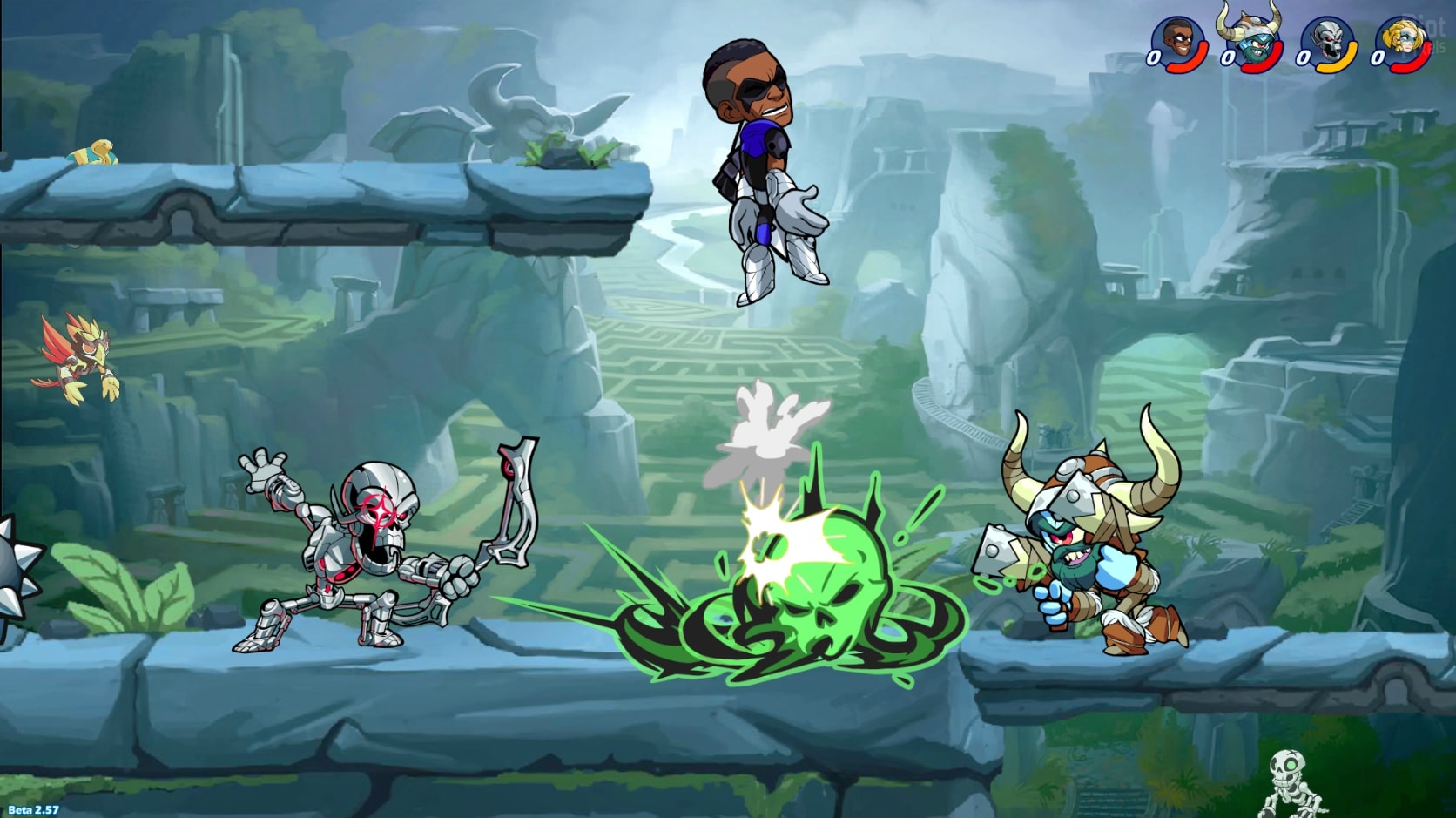 Looks like someone is about to get terminated
You May Also Be Interested In:
Image Gallery