[Top 10] Best Fighting Games for Android
Updated: 10 Aug 2022 1:31 am
Do you think you have what it takes?
What are the best fighting games for Android users?
When you think of fighting games, even the most enthusiastic fighting game fans can often forget that fighters are now a thing on mobile too. When you are so used to sitting at home in front of your PC or console, you can definitely get distracted from some amazing games you could be playing right in the palm of your hand. These are games that you can play from at home on your couch, laying in bed, or even on the go! As technology advances in the mobile department, so does gaming. From amazing graphics, interesting game mechanics, and cool game modes, here is a list of mobile games for android that any fighting game lover should give a try!
10) Street Fighter IV CE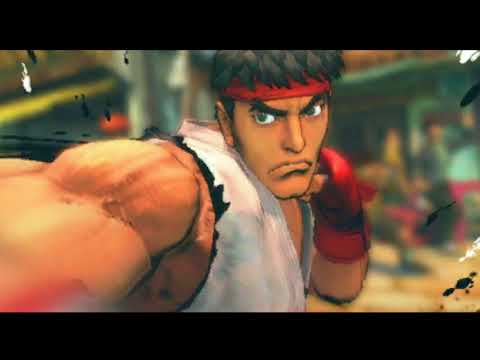 Street Fighter IV CE gameplay
The original fighter that brought fighting games out into the mainstream, this mobile version will have you playing for hours, enjoying its old school style feel. 
Why give Street Fighter IV CE a go?
A fun, on-the-go version of one of your favorite fighters.
Cool sprite-based graphics give that old, nostalgic feeling you had back in the day. 
Many modes to have fun in, including a helpful training mode to get you into the swing of things, like punches and kicks.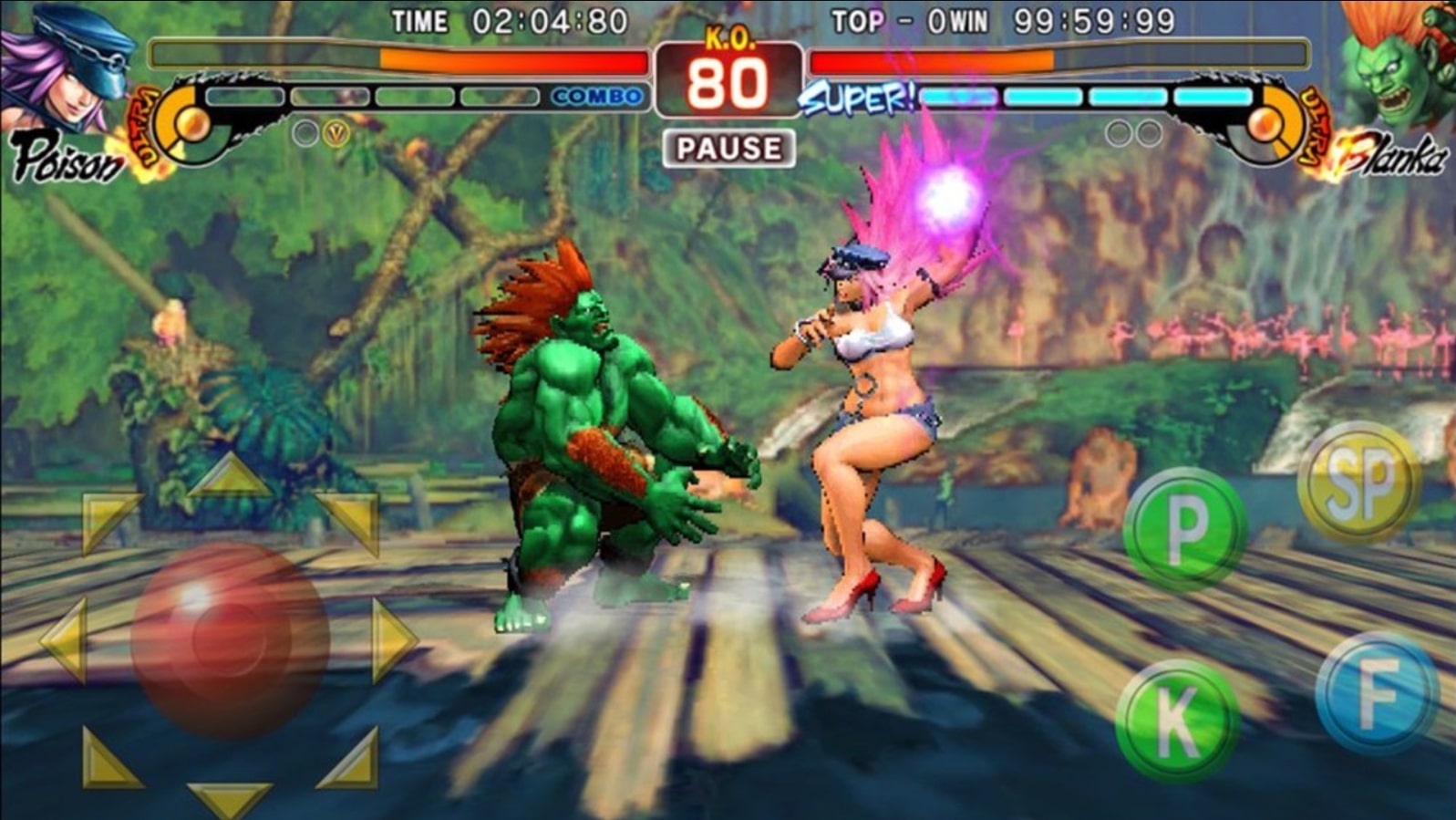 Poison whipping the competition into shape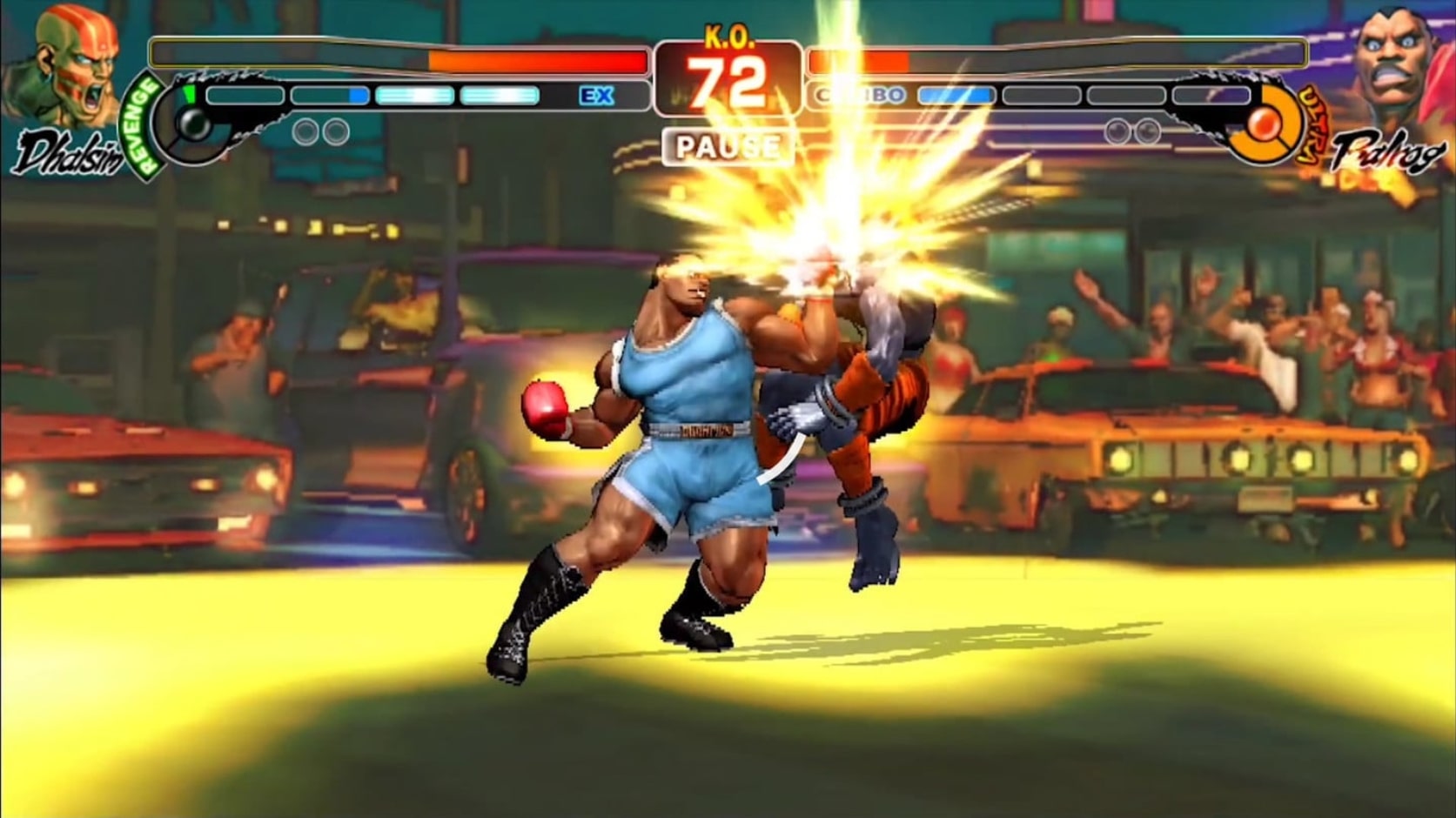 Dhalsim taking to the skies, courtesy of Balrog's uppercut
9) Real Boxing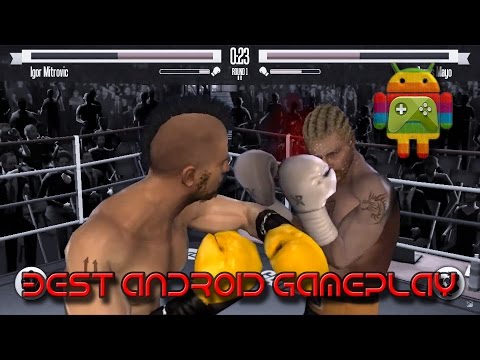 Real Boxing gameplay
It's very hard to find a good boxing game on console, let alone on mobile. However, Real Boxing is an amazing game for fighting fans who also love boxing. Having pretty good graphics, customizable characters with career mode, and easy to learn game mechanics, this game is an interesting addition to have under your fighter experience belt. 
Why play Real Boxing?
You build up your boxer from scratch. From customizing your looks to building your stats, you literally start from the bottom and head towards the top. I like the challenge here, because you don't start out king of the castle, you actually have to try. You build up your character by training like any boxer would: in the gym.
You can unlock cool and unique gear as you go through the modes to become the best boxer you can be.
Boxing in this game is pretty simple and mostly about timing and judging the opponent's next move. Your feet are AI-controlled, however, you control your upper body actions. Jab, weave, and punch to your heart's content. 
There is an online multiplayer mode where you can test your fighter's abilities against other boxers.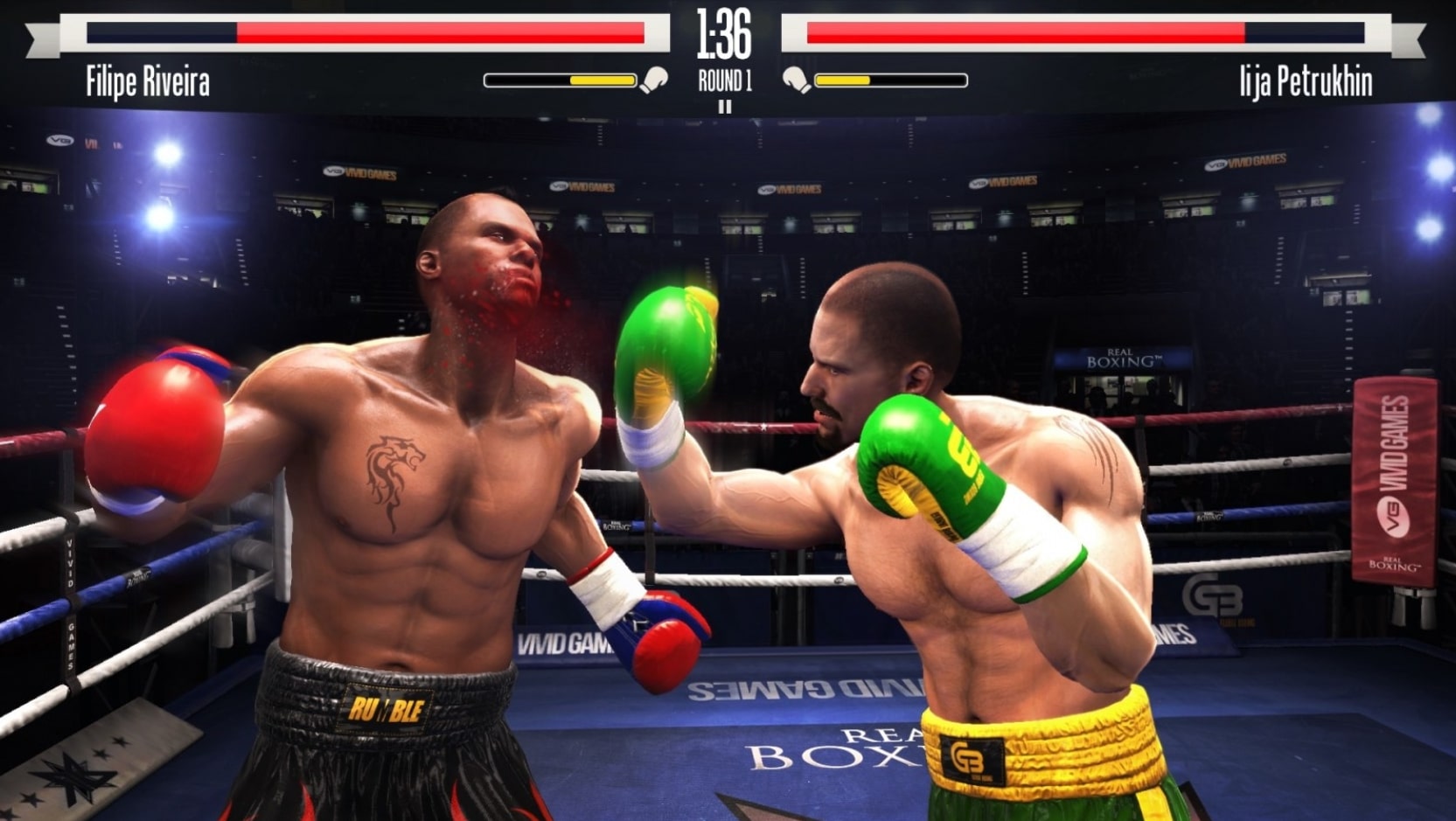 What a right hook!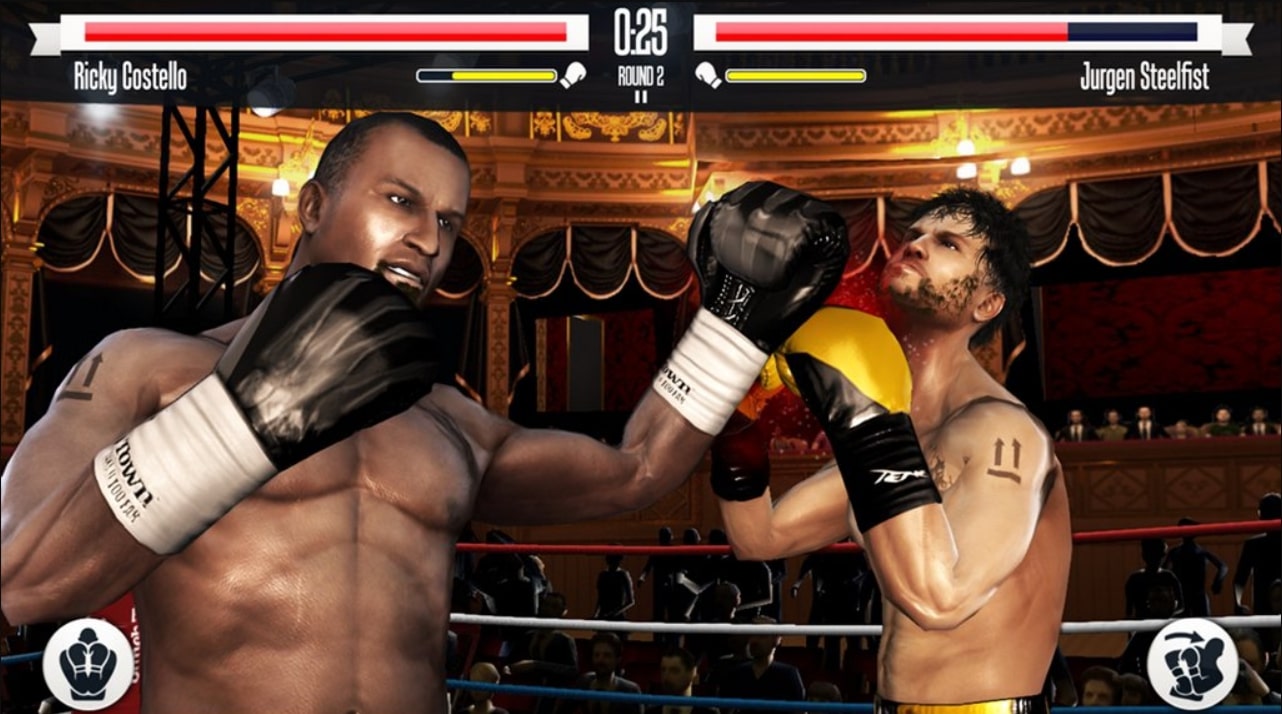 Smashing the opponent to victory
8) Shadow Fight 3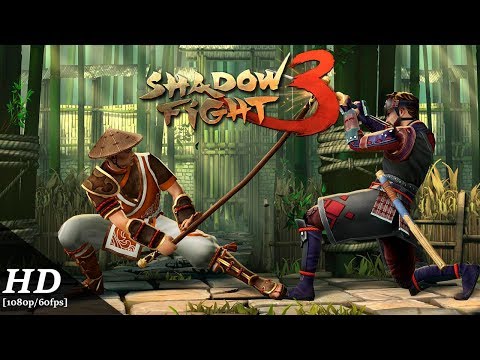 Shadow Fight 3 gameplay
Journeying into the world of shadows, fight your way through this RPG/fighting hybrid and become a master of your realm. Starting off building a character from scratch, you can hone your skills, improve your gear and become a champion in a world on the verge of war. 
Thinking about trying out Shadow Fight 3? Here are some reasons why you should:
Customizable characters from the get-go that you can grind gear for and tailor them how you want.
Beautiful 3D graphics with a rich color palette. 
Dynamic animations when it comes to pummeling your opponents.
On-screen analog sticks and on-screen attack buttons that aren't easily bumped by accident as you fight your way to victory. 
Several different modes including story and PVP to help you pave your way through and gear up.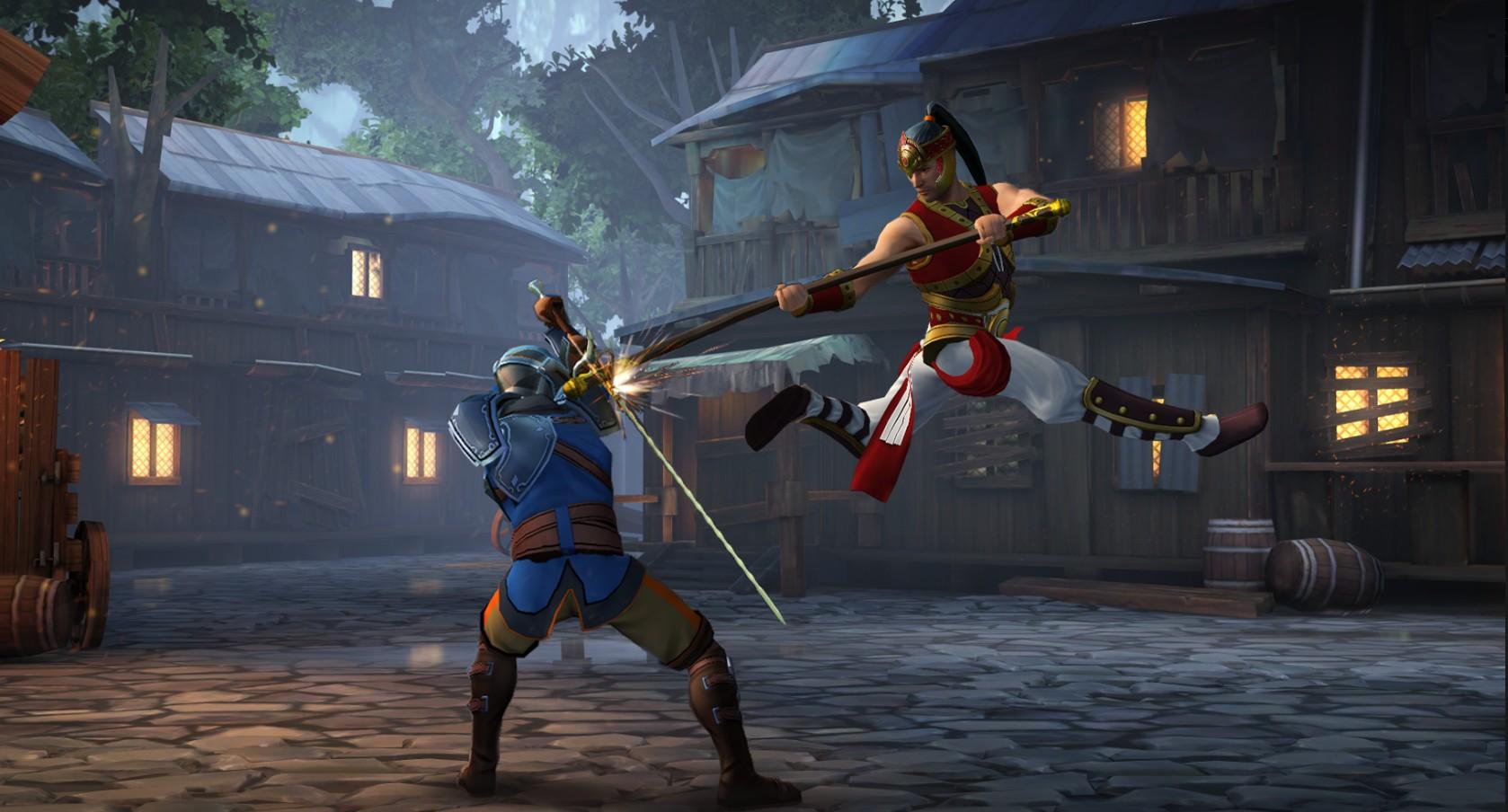 Flying through the air with the greatest of ease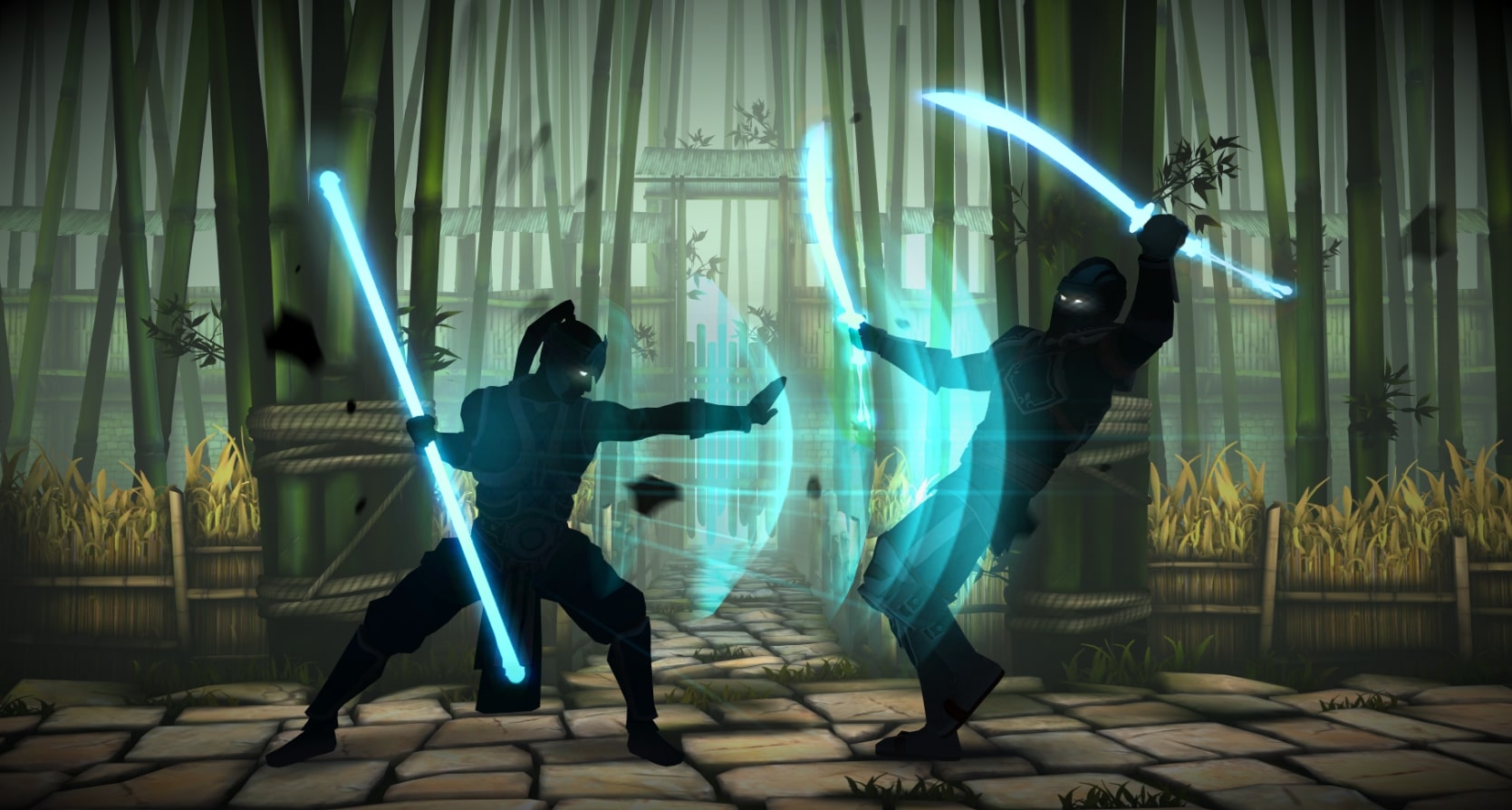 Back into the Shadows!
7) Final Fighter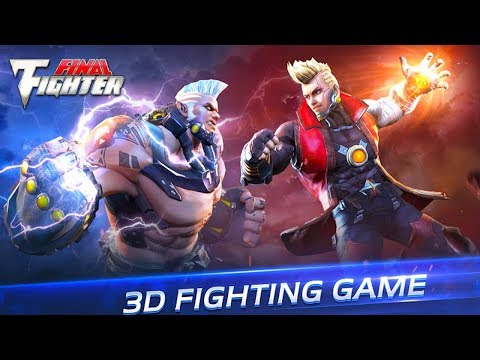 Why should you play this amazing title?
Really great tutorial system, which is incorporated into the story mode, to really help you get the hang of how to properly utilize and optimize your fighting skills. 
Interesting story mode.
Amazing character art and graphics.
Cool fighting mechanics which incorporate a mix of tap buttons and a joystick that give you that nostalgic arcade feel and more control than the previous listings which have swipe and tap. I found them to be a little clunky, but the incorporation of the stick gives you more control overall. 
Many characters to unlock through farming in different game modes.
3v3 PVP mode with friends or 1v1 PVP mode in real time.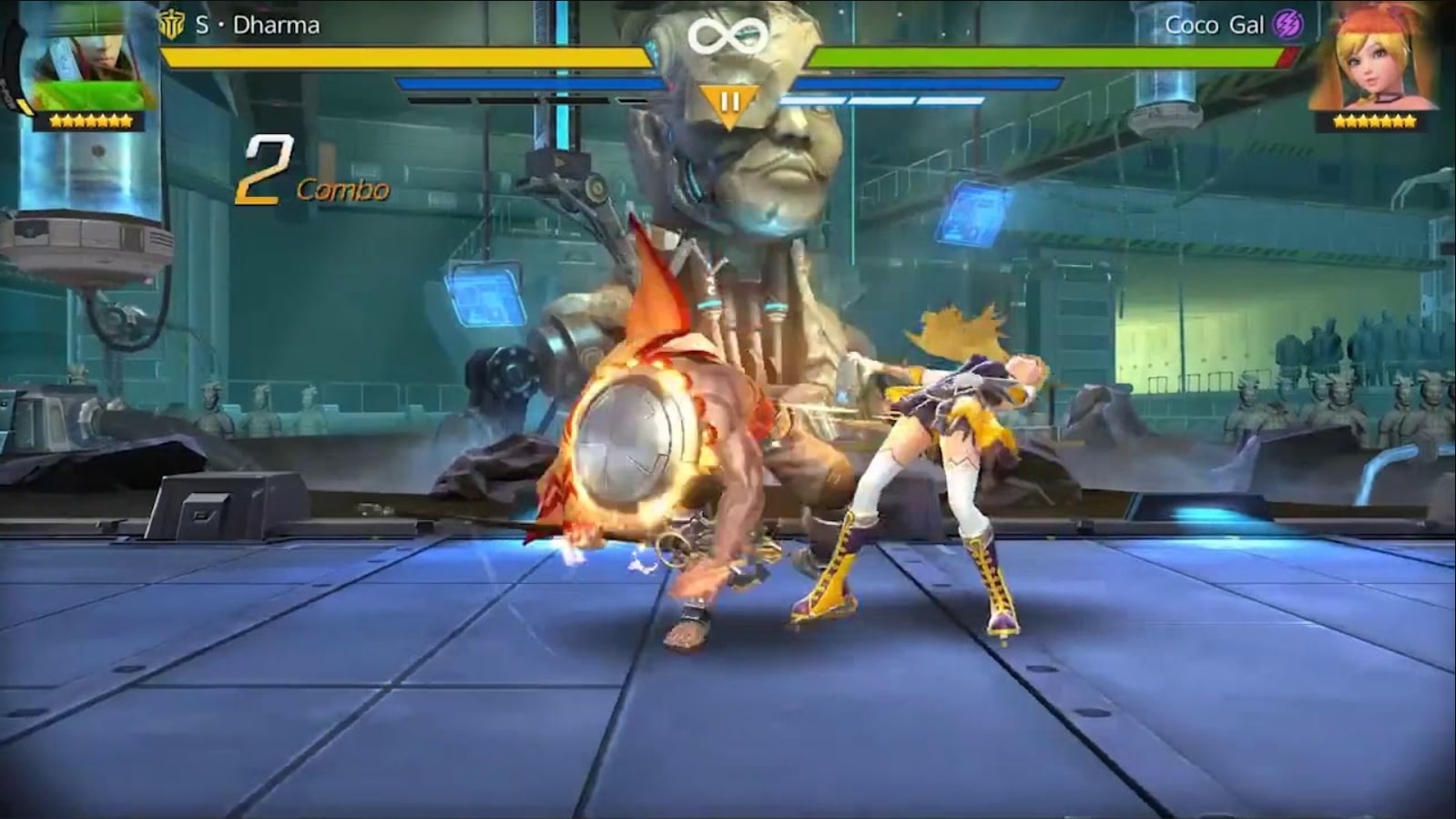 Double knockback!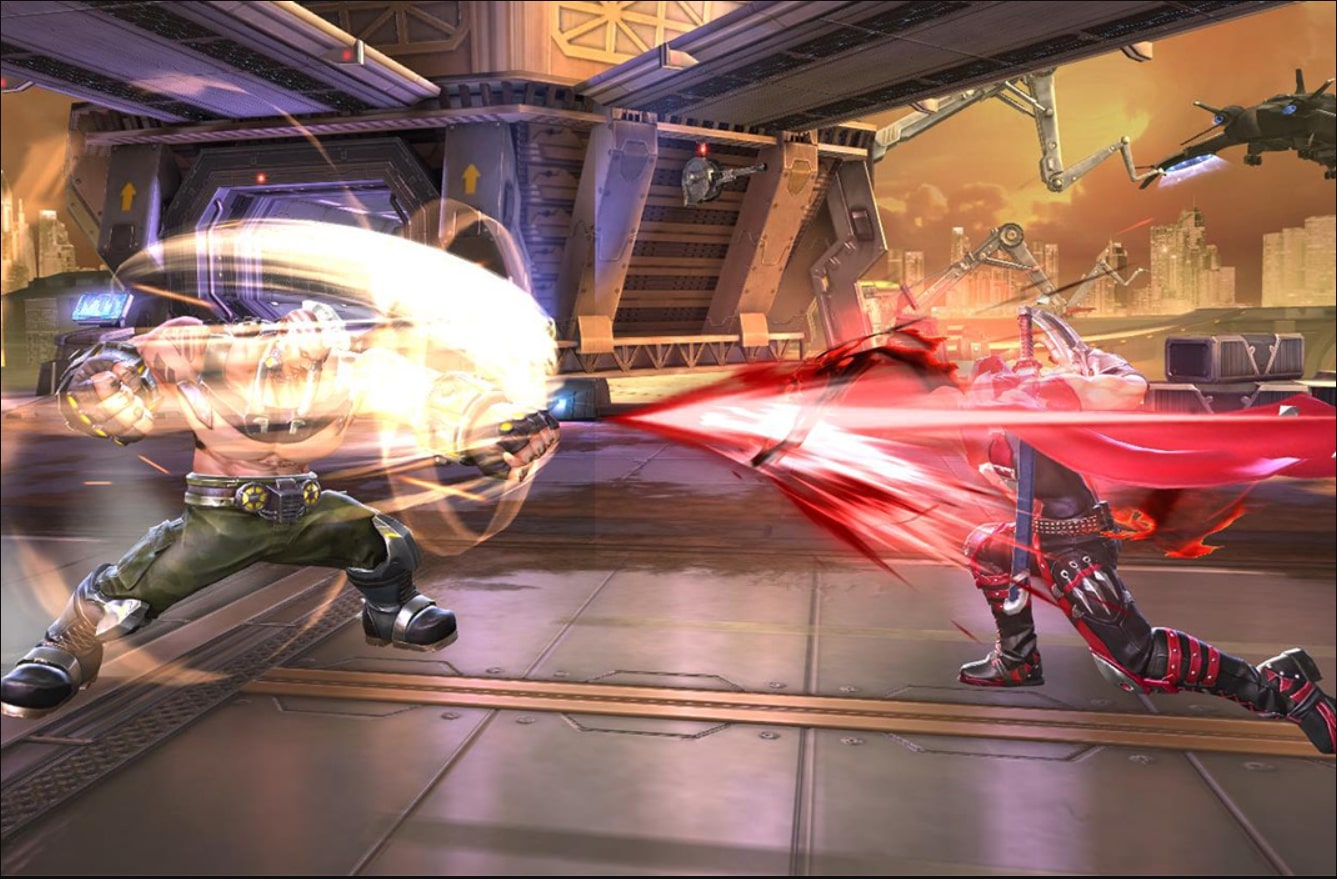 Awesome specials action!
6) Mortal Kombat
Mortal Kombat Mobile gameplay
A staple in the mainstream fighting game community, and known for its brutal violence and bloodshed, having this beautifully brutal game in the palm of your hand is like music to your fingers.
Why give this mobile massacring game a try?
Gorgeous, gory graphics delivering that big MK feel in a tiny package.
Smooth controls, though I am not a fan of quick time-like events, I can even admit that it allows for smoother gameplay in the mobile version. The simple tap-based combat, however, is easy to use and a great way to keep the fighting going without overcomplicating things.
Create multiple teams so you can keep playing! MK mobile uses energy like some of the other fighters to play with, so while one team is getting their energy back, you can play with the other team to keep the fun going. Or you can, of course, use in-game currency to just refill your first team's energy.
Use earned in-game currency to unlock new fighters or earn them through different challenges and modes.  
You can earn tons of customizations in Feats of Strength.
You can compete against other players in their Faction Wars Mode. Here you can rank up and win varying prizes. 
There are over 130 fighters to unlock, varying in different tier strengths.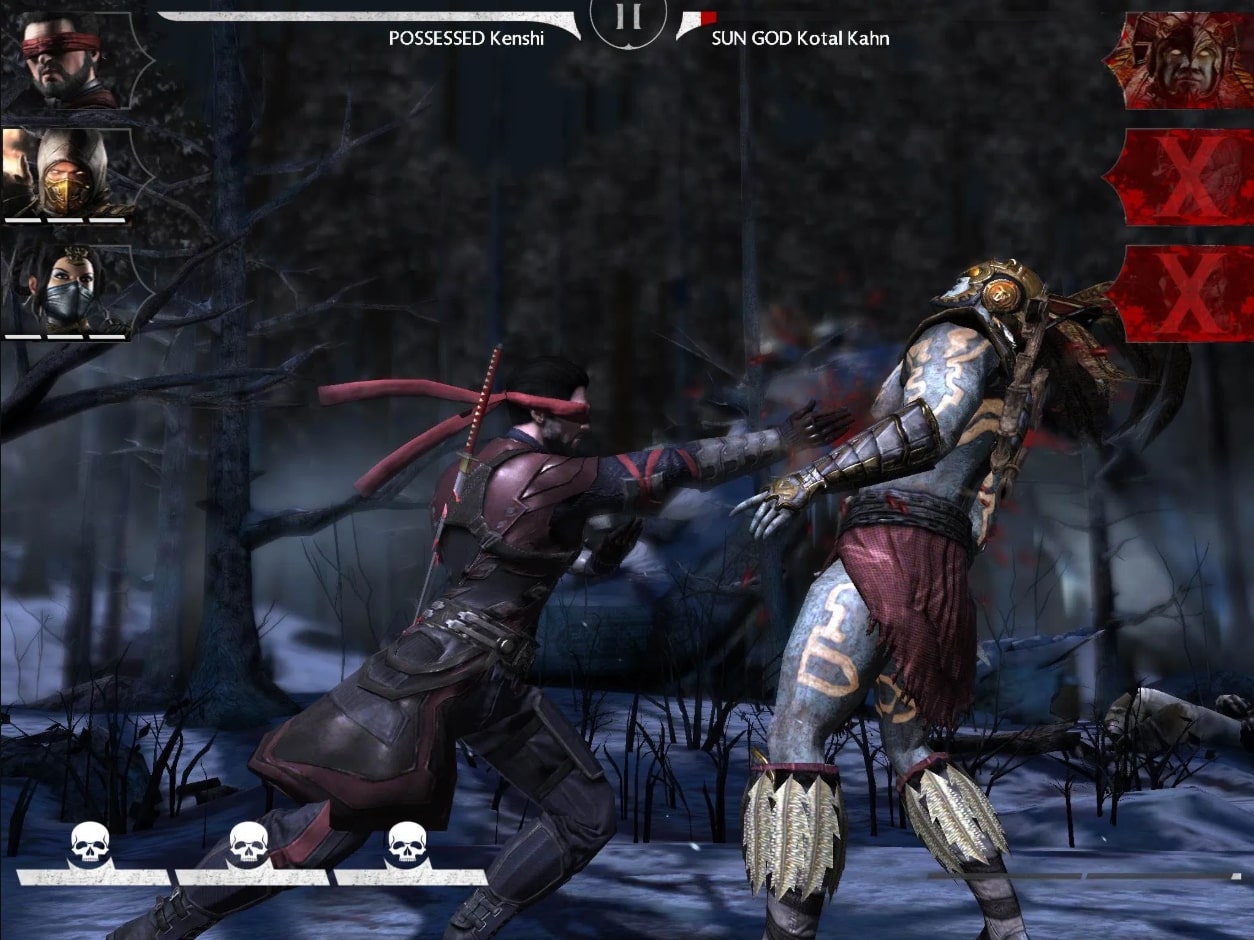 Lunging punch to Kahn's jaw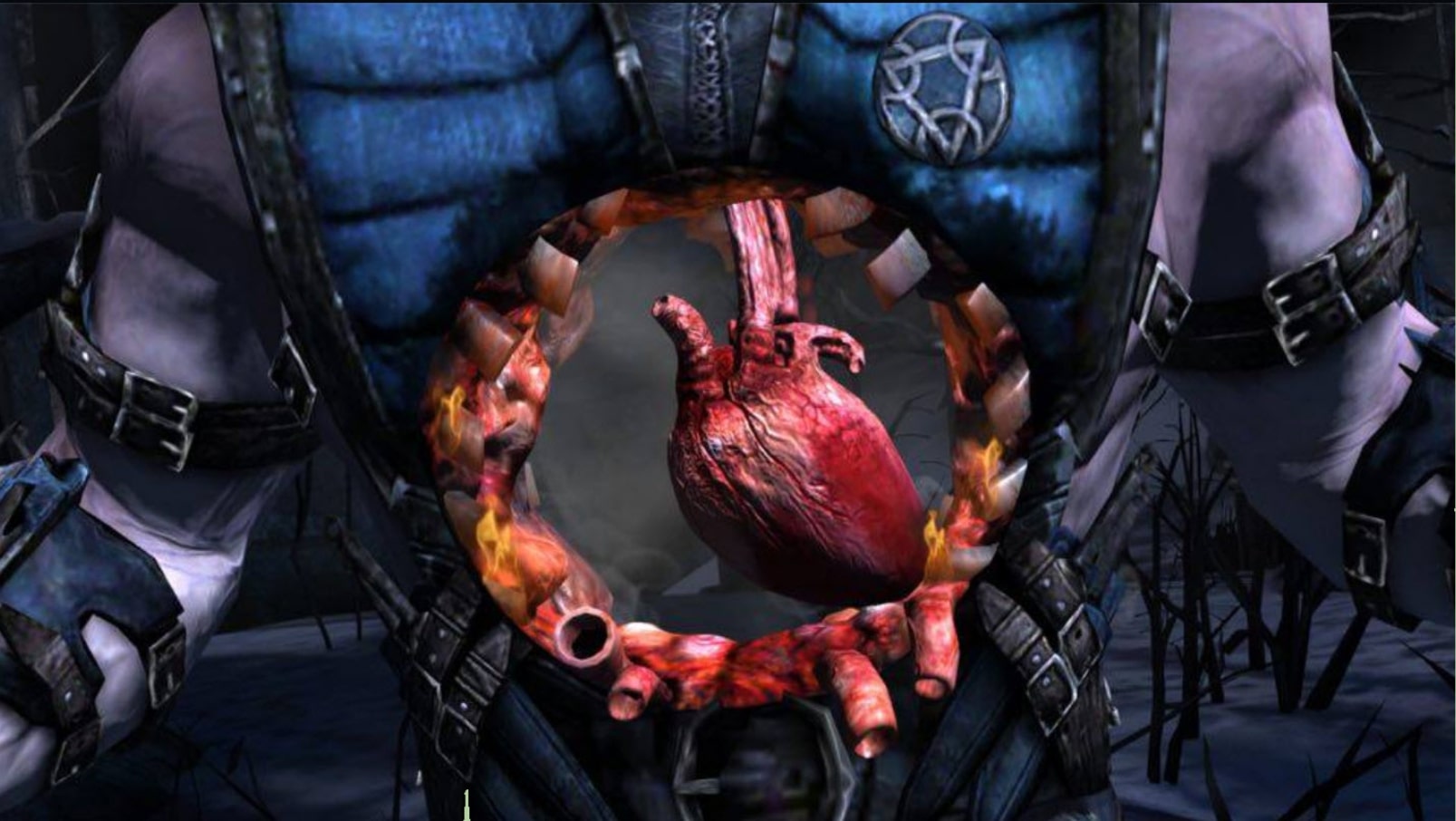 Fatalities? I think yes.
5) Injustice 2 Mobile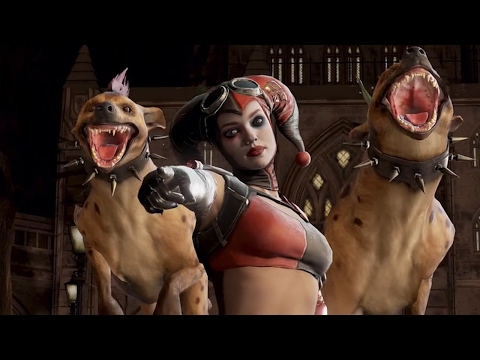 Injustice 2 Mobile gameplay
Injustice 2 Mobile is DC's newest installment of the Injustice mobile game series. With beautiful graphics, many ways to customize your fighters with gear and loot, a great single player story mode for those who love DC lore, and fairly easy to use controls, this game is sure to be a hit with even those of use who aren't huge DC nerds.
What's awesome about Injustice 2?
Beautiful graphics. 
Tons of ways to customize your characters. You can unlock new gear and upgrade it, upgrade your character level, reset items you want to fix, special gear that changes the look of your fighter, and much more!
Unlike in the old Injustice mobile games, you can send your unused characters out on Operation Missions to farm more loot.
You can farm for shards for different heroes or gear to obtain them instead of having to constantly buy them outright.
The fighting style is different from the original Injustice Mobile in that there's more to it, so be prepared. However, once you get the hang of it, I guarantee you will be happily surprised. There's a lot more thought put behind fighting now than the original tap and swipe model last time. Although, some of that is still incorporated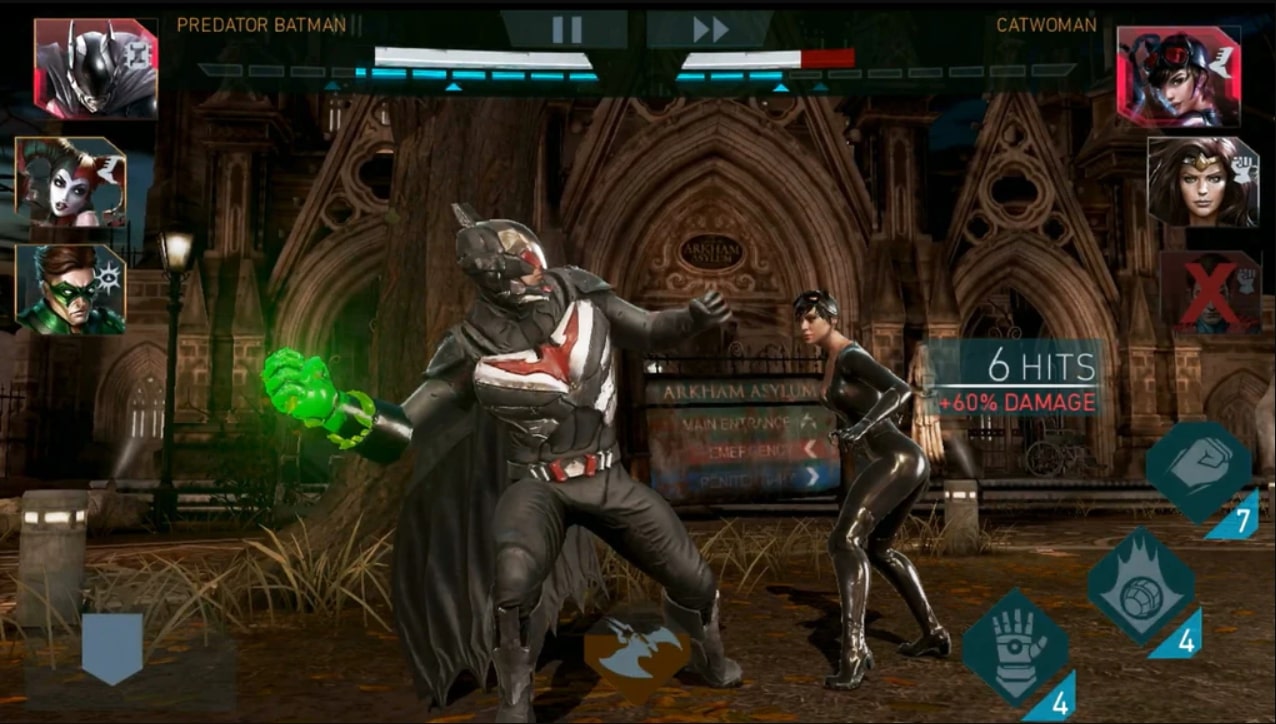 Batman about the lay the smackdown on Catwoman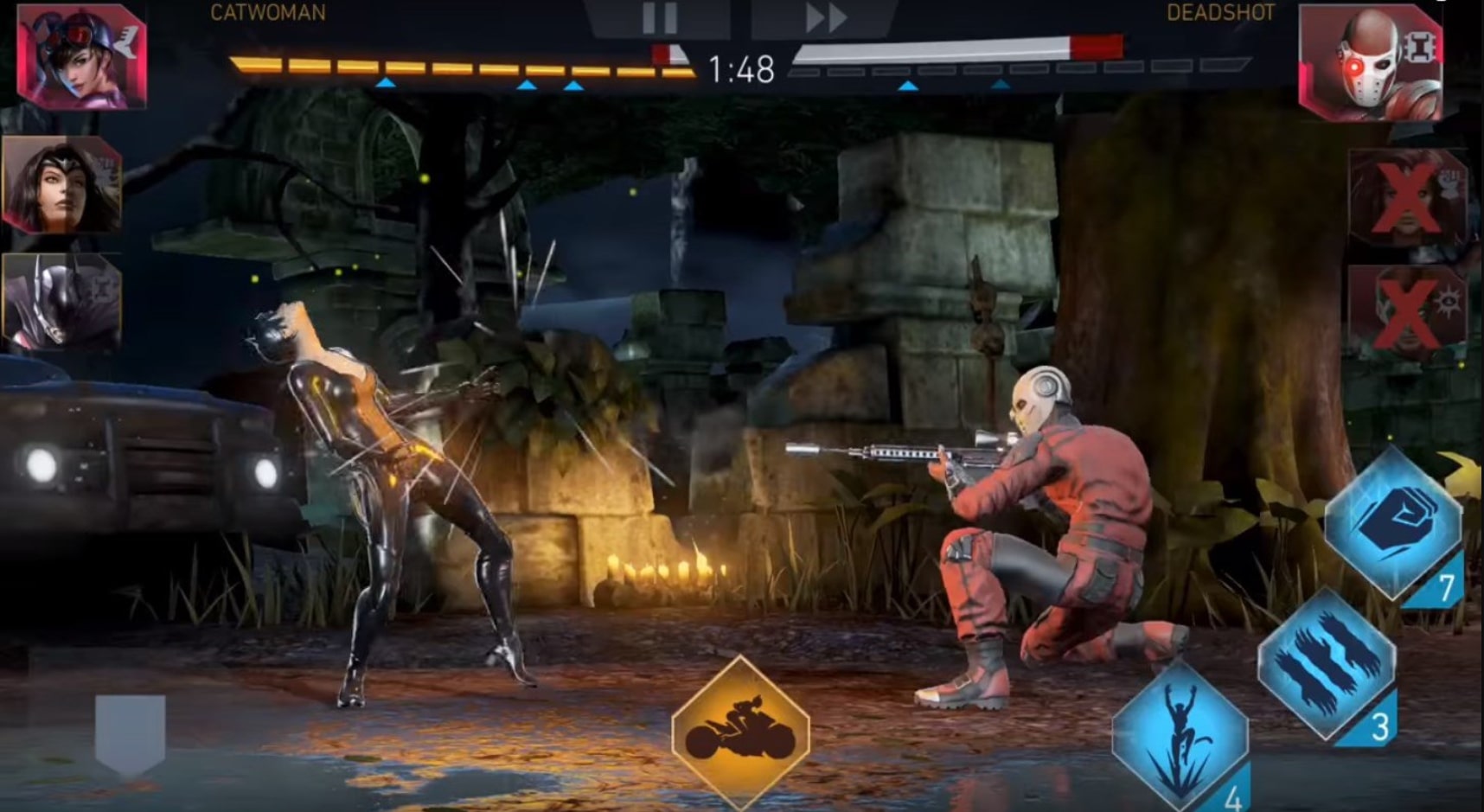 Catwoman getting shot dead by Deadshot
4) Transformers: Forged to Fight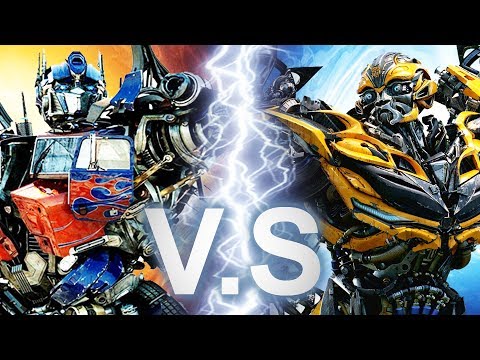 Transformers: Forged to Fight gameplay
Do you love Transformers? Do you love fighting games? Then you are going to love the fast-paced, handheld, tap and dash battles in Transformers: Forged to Fight! 
And why should you play this RPG fighter smash 'em up?
As expected from developer Kabam, who also made the Marvel Contest of Champions game, the graphics are absolutely gorgeous, and the animations are fluid. 
The tap, dash in, dash out, left/right swipe, block, and specials fighting style is easy to master without putting in a ton of time into it. 
Cool story mode.
You get to build your own base and send unused bots on missions to retrieve different resources you need to upgrade things.
Collect sparks through battles or story missions to level up your favorite bots.
There are raids where you can attack other players to also farm even more goodies.
Tons of characters to unlock: old faves and new ones!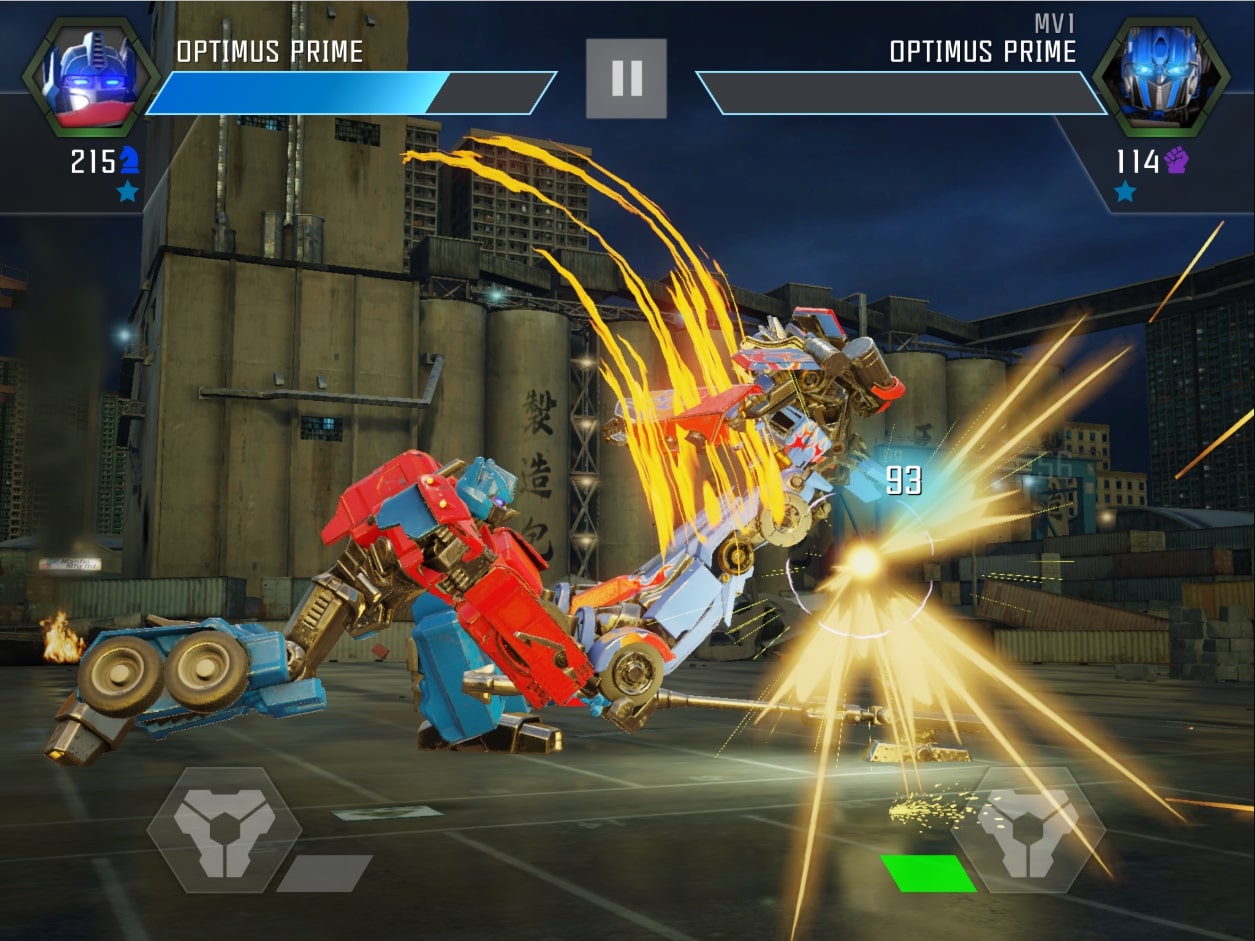 Optimus Prime bringing the pain to…uh…Optimus Prime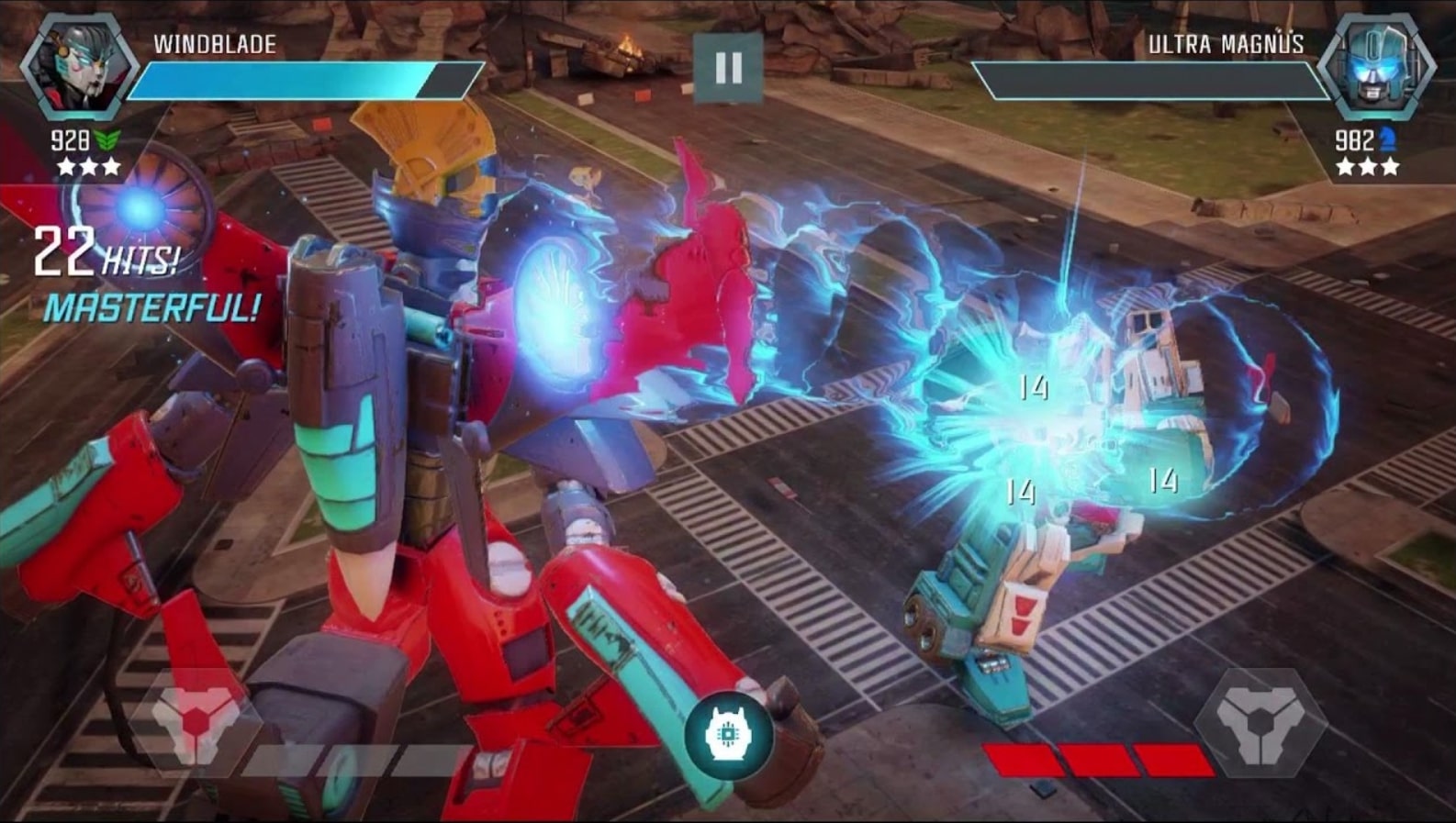 Windblade blasting away Ultra Magnus for the win
3) Skullgirls: Fighting RPG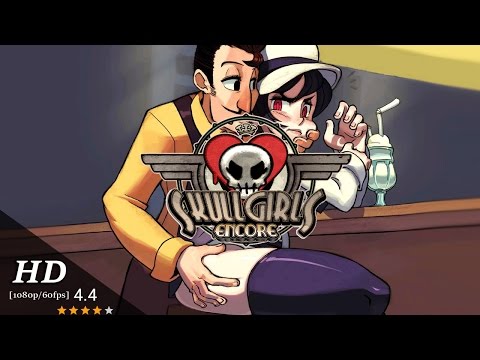 Skullgirls: Fighting RPG gameplay 
Bringing back my favorite cast of gals, Skullgirls also has a mobile version, and I love it to bits. Pick your favorite volatile vixens (or the occasional male character, like one of my faves, Big Band) and beat your opponents 3v3 into oblivion in this fun, mobile game. A cross of fighter and RPG, this beautifully animated game with smooth controls comes with several different modes, including a fairly new online multiplayer mode to test your skills against opponents in real-time. 
So why play Skullgirls: Fighting RPG?
Smooth Controls that are easy to grasp and master.
Beautiful 2D graphics and animations that are color-rich and fun. 
An amazing soundtrack. 
Easy to use skill tree function which helps you level up your favorite characters and their abilities, which you can customize a bit.
Different unlockable special moves and blockbusters that you can unlock, upgrade and equip to customize your characters.
There are different tiers, like in many fighting games, with unlockable characters, of which your characters can be in. Play more to collect the best ranked ones of your favorites!
There are different modes in which to farm theonite to help you unlock other characters through redeeming them for relics to open and give you new fighters. The 3best ways to farm this is through Story Mode, prize fights, and daily missions.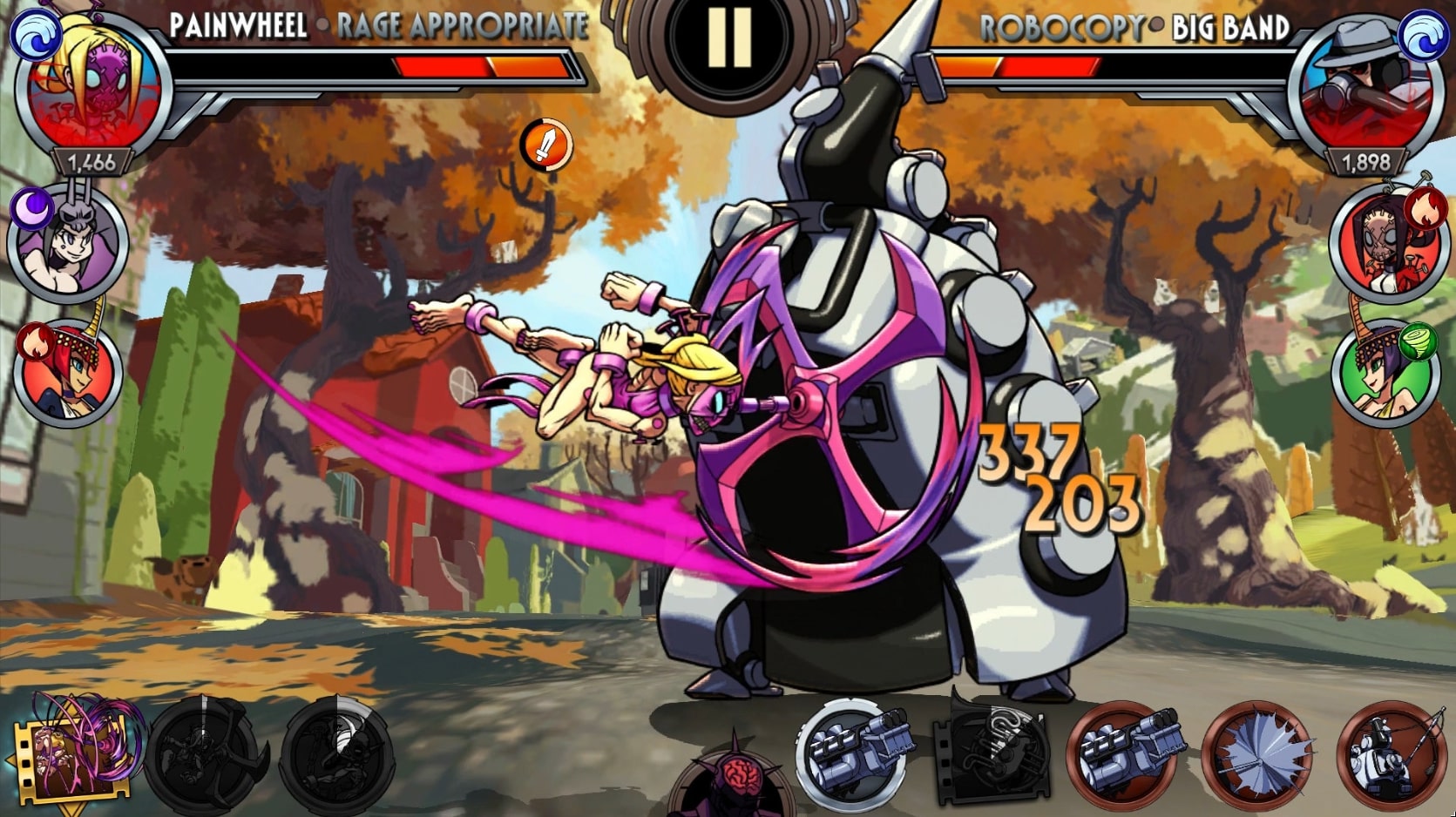 Painwheel taking a diving slice through the competition.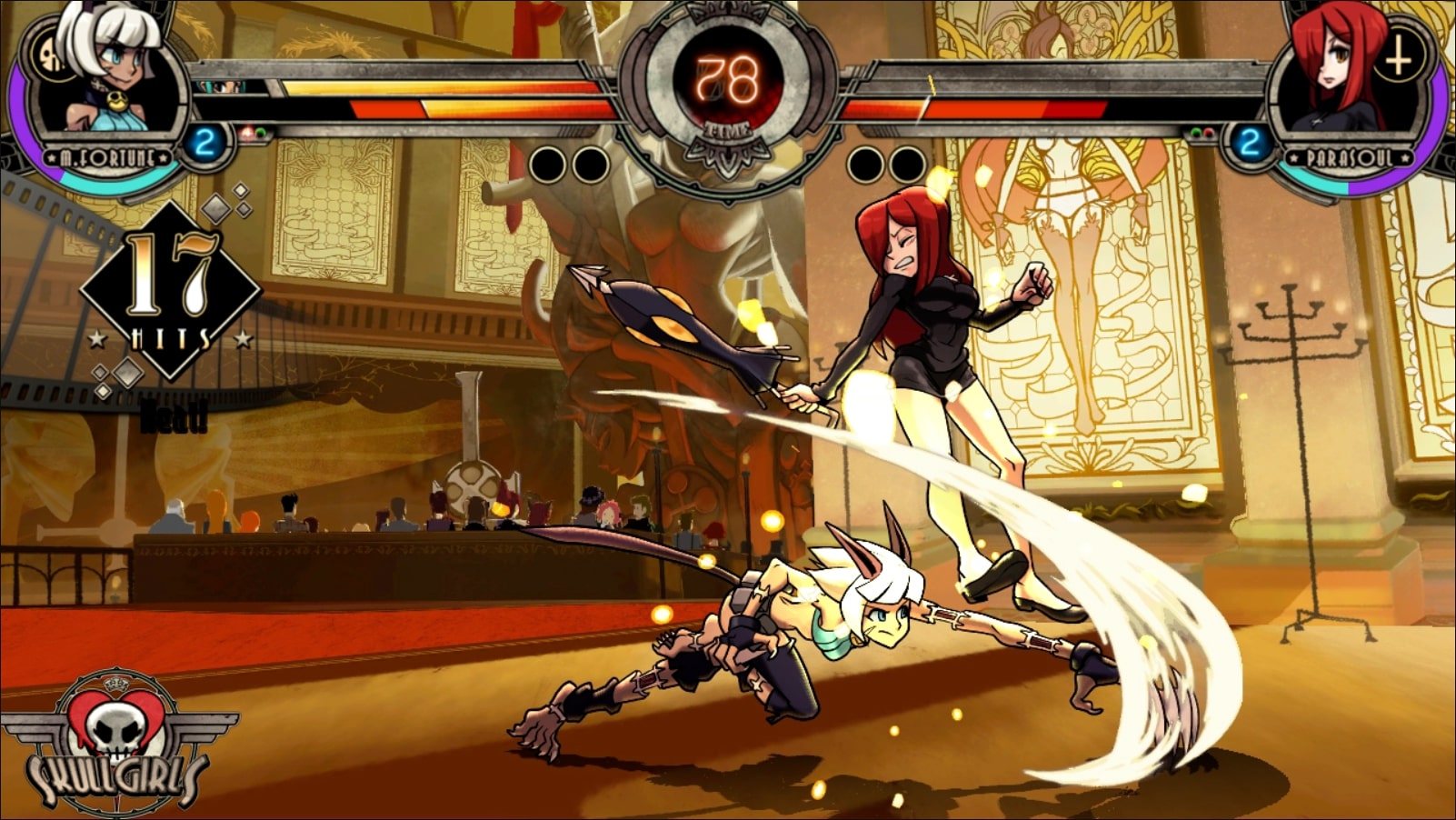 Cat scratch fever
2) Marvel Contest of Champions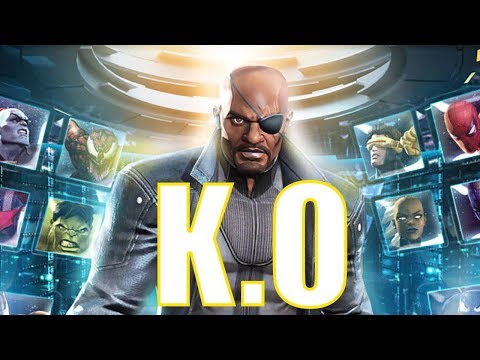 Marvel Contest of Champions gameplay
Another Kabam title, this easy to play RPG fighter is an awesome addition to any Marvel lovers library, or even to those who aren't big Marvel fans! 
Easy to use tap and dash fighting system.
Beautiful graphics with incredibly smooth animations and cool special moves (especially Deadpool's, which is hilarious).
Engaging and interesting story mode with great rewards.
Many modes to help you farm the loot you need to upgrade your characters.
There are different star level tiers when it comes to heroes. You can collect new heroes by farming shards and trying your luck in a randomized gatcha-like system, earning them through dailies, free crystals they give out here and there, or farming for units in different modes to buy crystals to try and get champs. There are many ways to get new and cool heroes for you to play with.
The system for story mode works on energy, so once you're out of juice you have to replenish, but it recovers. 
You can join an Alliance with other players, through searching, creating one yourself and recruiting friends, or auto joining an alliance in need of players. This gives you yet again another way to farm more materials to upgrade your heroes, get special crystals, called alliance crystals, and much more.
You can also play against other people in versus to help upgrade your heroes and get more loot.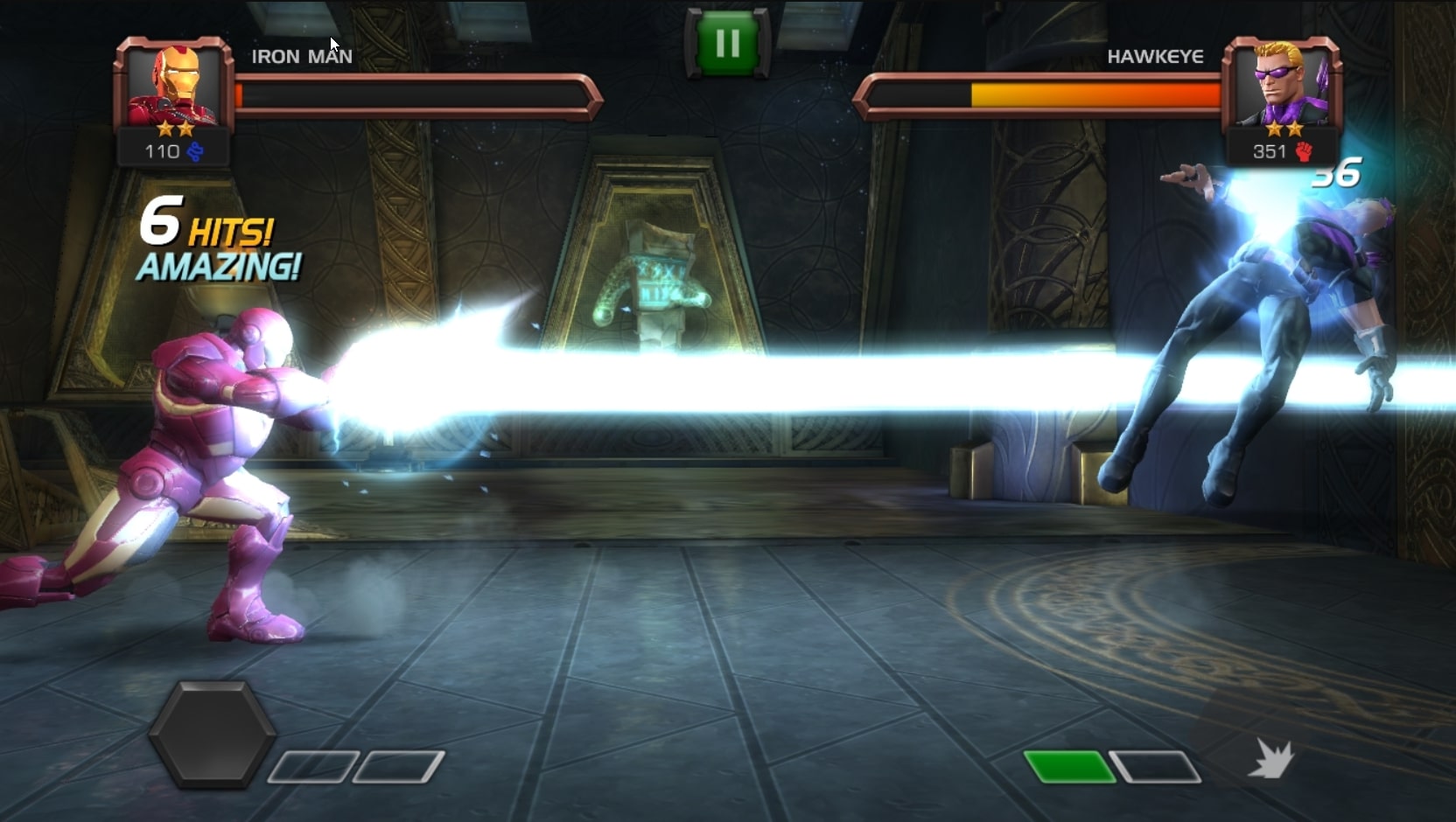 Iron Man blindsides Hawkeye with a blast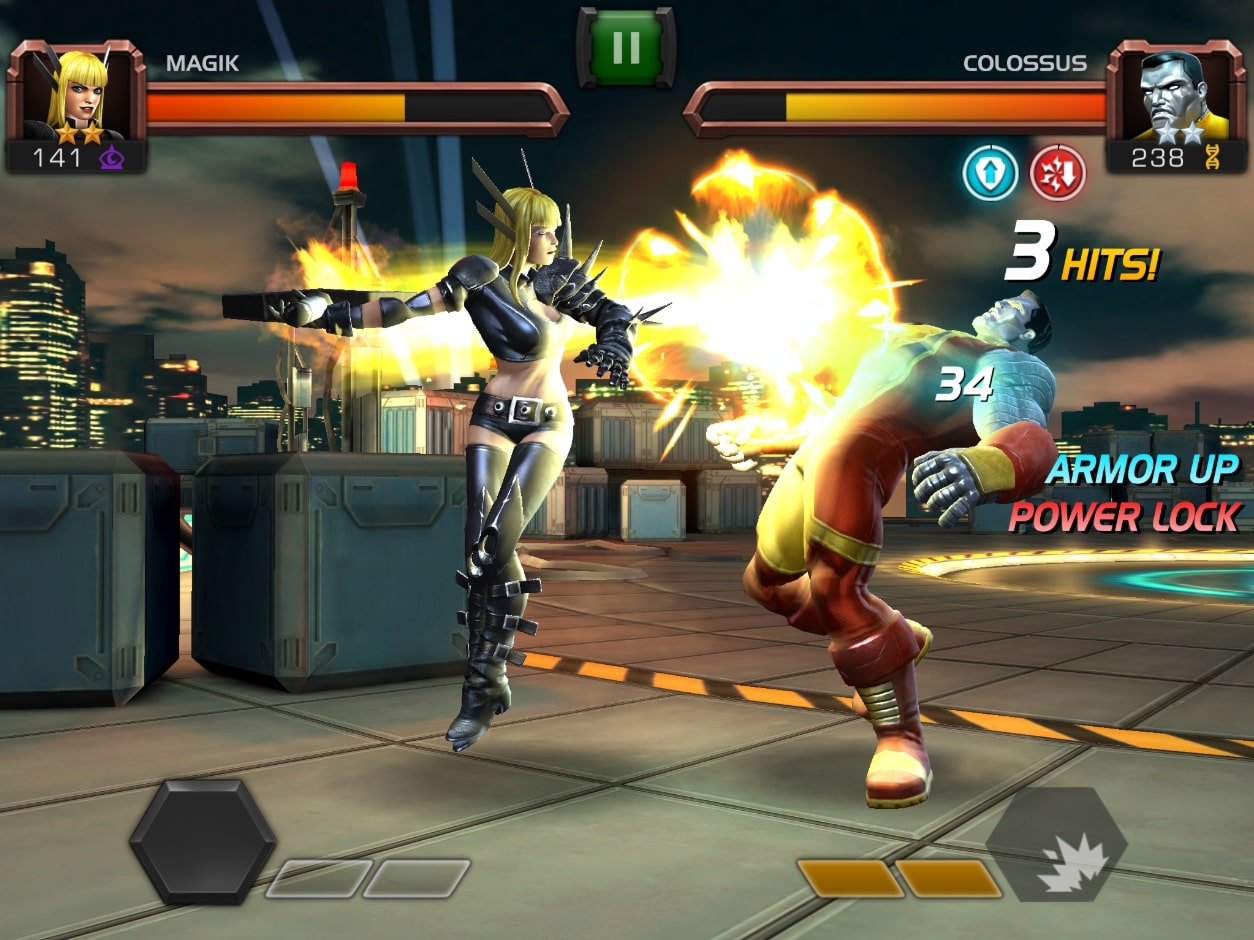 Magik working her Magic on the colossal Colossus
1) King of Fighters All Stars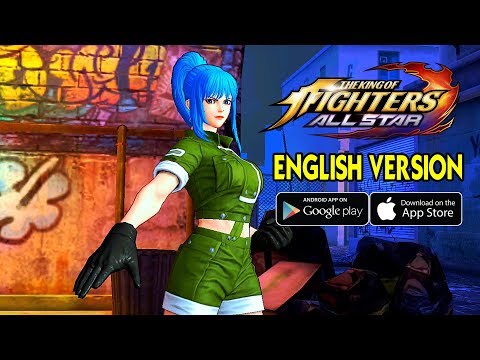 King of Fighters All Stars gameplay
The King of Fighters franchise has been around since 1994, and like most KOF titles, does not disappoint. Like Final Fighter that I have previously mentioned, KOF Allstars uses a different system: a mix of joystick and tap button inputs to fight off your foes, which I really enjoy. Unlike Final Fighter, I feel its incorporation of the fighting system was a lot more fluid overall. 
Want to play KOF Allstars? Here are some reasons why you should if you aren't already:
Beautiful game art and graphics.
Easy to use fighting system, joystick and tap, that is also very fluid. 
You can unlock all the KOF characters, old and new, from all the KOF titles to play with. That's over 200 characters!
Each character has a skill tree to unlock abilities and boost stats through gameplay, like story mode and special events. 
You can play co-op missions with your friends or take on other players around the world in PVP fights and test your skills.
Cool holiday gacha character events to get special holiday related champs.
It has cool crossovers with anime and other fighters like Gintama, Samurai Shodown, and Tekken.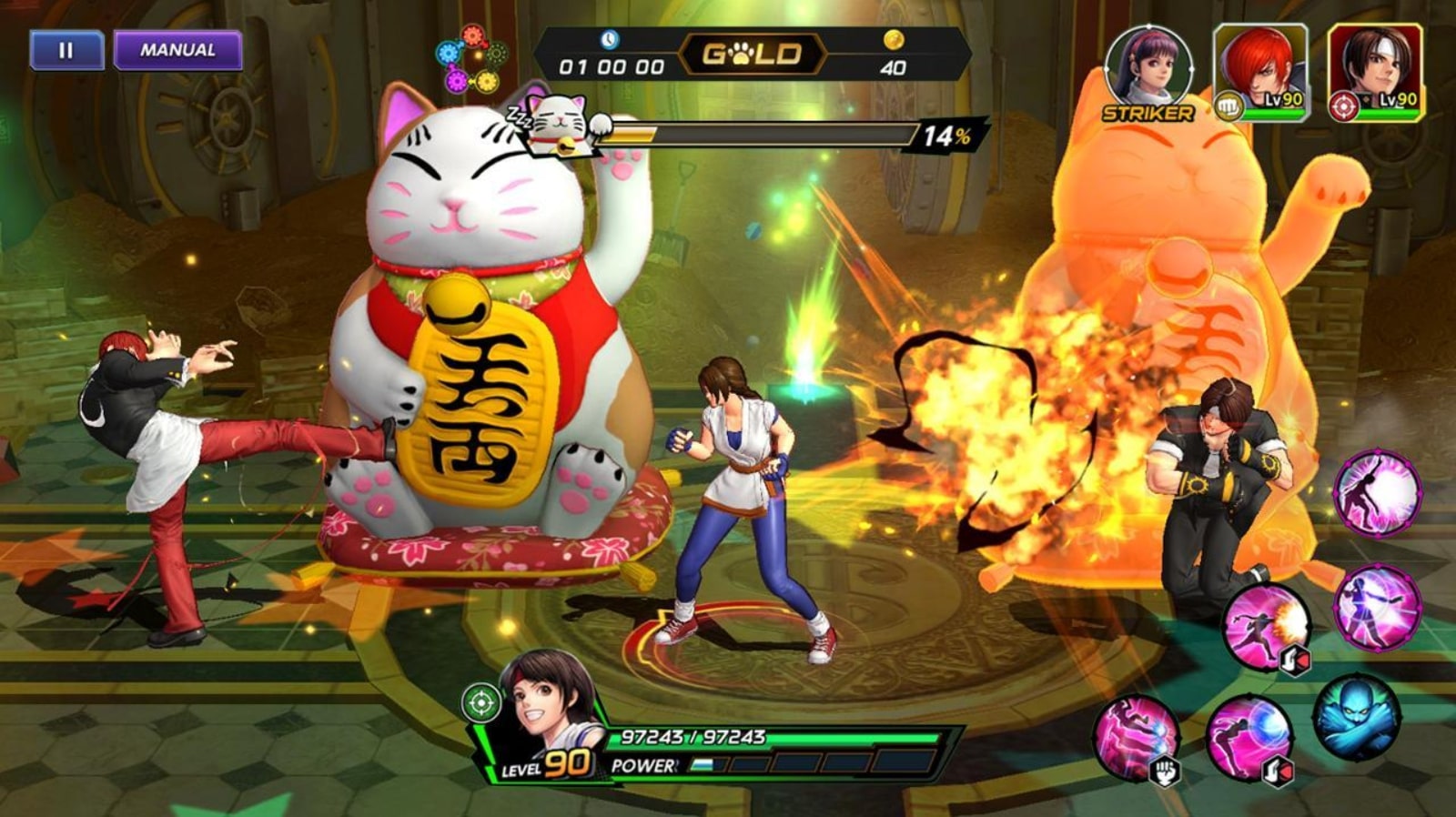 A brawl showcasing beautiful graphics and backgrounds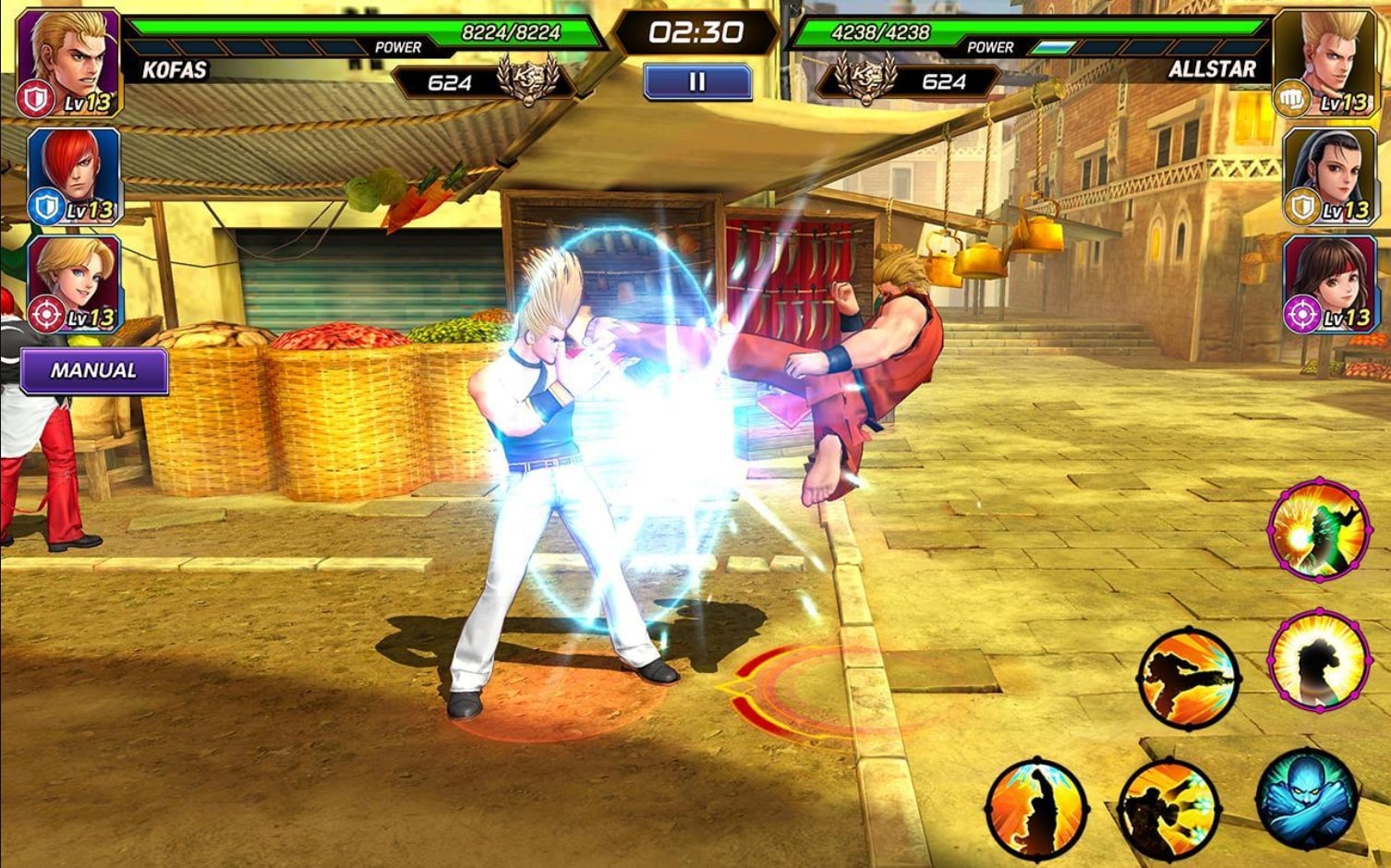 Punishment!
Now get out there, player, and fight on the go!
Also be sure to check out:
Image Gallery