Top 10 Most Popular Fighting Games in the World
Updated: 13 May 2019 8:19 pm
It's too bad angry politicians can't settle disputes by playing one of our favorite fighting games!
Come and show us what you got in the ring of one of the top 10 most popular fighting games in the world!
This list is very personal because I love fighting games. Even though the gameplay is very similar in every title, I can't get enough of them. These games are all about becoming phenomenally talented and complicated warriors, kicking butt on great sets which get better if they are interactive, landing masterful combo attacks and winning the tournament. Fighting games have given us iconic characters, intricate storylines and unforgettable action and finishing moves. They range from real combat sports to full on fantastical wars, a vast variety that caters to all types of gameplayers.
Like any other type of sellable media, the financial figures earned and critical acclaim achieved is everything, especially for fighting games because they are more likely to fail. There isn't one combat franchise in the top 10 highest grossing video game Empires (#1 is Mario) and professional gamers review them harshly. Yet, there are some PvP combat series that have a greater legacy than some that have sold more copies. Below are the top 10 most popular games of the genre, all attached to great franchises that dominate conventions, forums and fan's consoles around the world. 
10. EA Sports UFC (PS4, Xbox One, iOS, Android)
Once upon a time, the gaming company THQ was a powerhouse in the gaming industry and produced classics like Warhammer and a string of WCW/WWF/WWE titles. Unfortunately, sales went down and the business chose bankruptcy and auctioned off its assets, which was good news for rival companies. THQ had some serious licensing deals, like Nickelodeon, Pixar and UFC, you know, a Titan brand of mixed martial arts tournaments, the very subject of the game being presented right now. THQ was bought by Nordic Games and took the new name THQ Nordic with a few lawsuits on the books since then.
THQ did release a few UFC games, which EA Sports wanted to make. They were ready to release an MMA project but scooped up the UFC license in THQ's auction in time for EA Sports UFC, let loose June of 2014 by EA Canada and SkyBox Labs, published by EA Sports. The game did okay, sold about 200,000 copies and received moderately good reviews beyond the challenging mechanics of the game.
The most recent entry of the series, EA Sports UFC 3, hasn't changed much but is fun to play if you can work your fighter properly. The career mode puts you against known fighters in the league, you can battle friends and we can create our own UFC champion. The sales, around 500,000 copies, give or take, though EA Sports own forum of the UFC title seems a bit quiet and there's no word of any upcoming tournament events.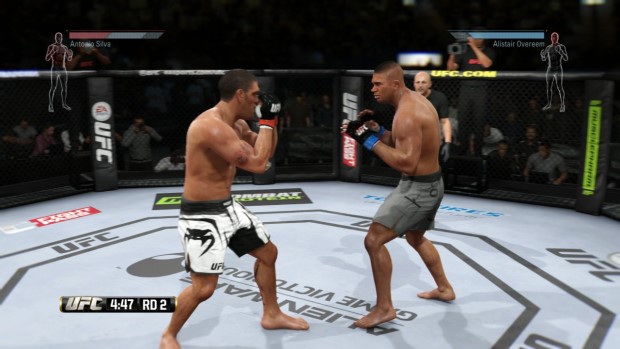 Be your favorite UFC contender and dominate the league one fight at a time!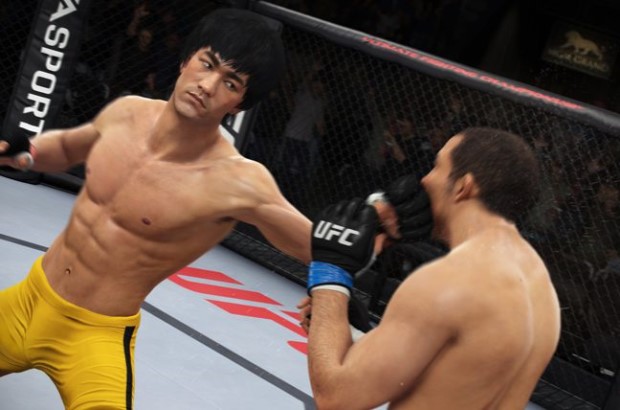 Bruce Lee - enough said!
Ratings:
Google Play 4.5/5
Destructoid 7/10
EGM 9/10
Game Informer 8/10
Game Revolution 4/5
GameSpot 5/10
GamesRadar+ 3.5/5
IGN 6.8/10
Polygon 5/10
VideoGamer.com 6/10
Metacritic 70/100
9. Marvel vs Capcom 3: Fate of Two Worlds (PS3, Xbox 360)
Marvel and Capcom are ideal worlds we all want to live in . . . I think. Well, everyone should. Imagine you're Iron Man going against Ryu. Or Wolverine set against Jill Valentine. She's used to his type of gremlin. Marvel vs Capcom 3: Fate of Two Worlds entry into the continuous battle between the epic Geekdoms is a stand-out among the rest, earning deserved rave reviews. Released February 2011, the sequel to Marvel vs. Capcom 2: New Age of Heroes and updated later the same year, renamed Ultimate Marvel vs Capcom 3. And, the latest, Infinite War of 2017 has driven the story further and is now the focus on the forums, which hasn't been so good. Fans want more, Chun-Li looks crazy and the game has been passed over by one of the biggest gaming tournaments, Evolution Championship Series, upcoming August 2018.
Fate of Two Worlds has sold over 2 million copies, figures creators Capcom and Eighting were hoping for. The great fan bases following Marvel and Capcom definitely helped propel the success. The combination of the two, paired with smooth and exciting gameplay and a well-constructed story mode has earned awards from magazines, gaming tournaments and conventions for Best Fighting Game (Game Critic Awards 2010).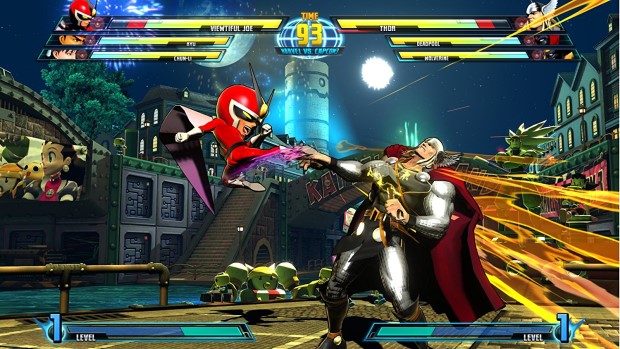 Where else can you battle the likes of Viewtiful Joe and Thor?!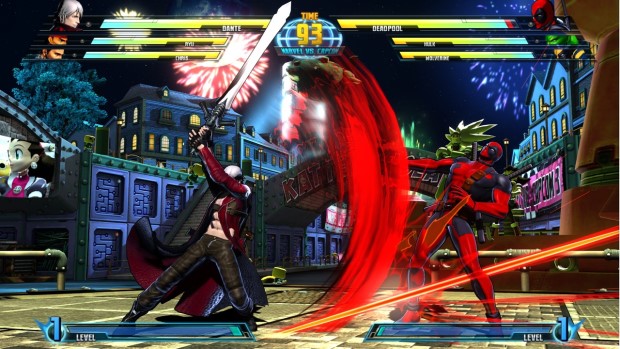 Or, drop kick your friends with Dante and Deadpool?!
Ratings:
GameRankings 86/100
Metacritic X360 85/100, PS3 84/100
1UP.com A-
Eurogamer 8/10
G4 5/5
Game Informer 9.25/10
GameSpot 8.5/10
GameTrailers 9/10
IGN 8.5/10
8. Tekken 7 (Windows, Ps4, Xbox One)
Tekken, born in 1994, is finally 7 years old! Another King of Iron Fist Tournament awaits with infamous characters like Marshall Law and Christie Monteiro, going for the grand prize, thanks to creator and publisher Bandai Namco Studios and Entertainment. The mechanics and graphics have been refreshed and the "smash and bang" sound effects and character abuse are still exciting, but overall, it is just another Tekken that did very well. More than 2 million copies (according to 7's producer Katsuhiro Harada) have been sold since it was made available for play June 2017.
Tekken 7 is featured in countless upcoming gaming tournaments around the world, most events offering $5,000 and up, like Evo. When it comes to awards and praise, 7 is always a runner-up like at the 2017 Game Awards. Many fans online still favor Tekken 2 and Tekken 3 (the highest grossing Tekken), of course comparing them to what was made after, which I agree, though I like remakes and sequels that are good.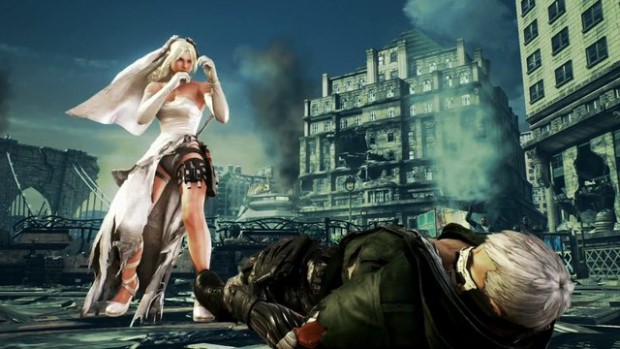 I don't think assassin and fan favorite Nina Williams would have to fight on her wedding day!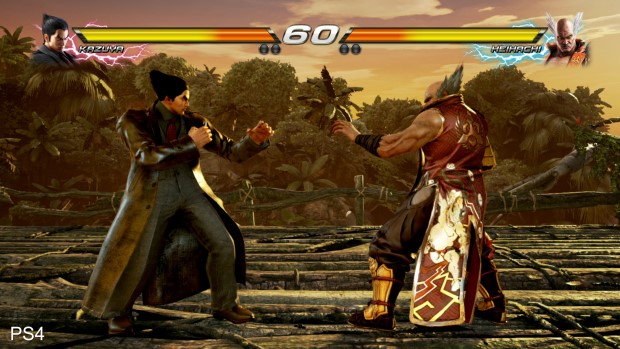 These classic enemies will always find a reason to fight in the epic tournament. 
Ratings:
Metacritic PC & PS4 82/100, Xbox One 81/100
Destructoid 8/10
EGM 7.5/10
Famitsu 36/40
Game Informer 8/10
Game Revolution 4/5
GamesMaster 86/100
GameSpot 8/10
GamesRadar+ 4/5
IGN 9.5/10
PC Gamer (US) 79/100
Polygon 8/10
Metro 8/10
7. Mortal Kombat 11 (PS4, Xbox One, Switch, PC)
Mortal Kombat 11 - Official Launch Trailer
A necessary evil, a staple, a triumph, possibly the best fighting game around, Mortal Kombat created a major hit with the latest entry, Mortal Kombat 11, peddling over 5 million copies and becoming the 9th bestselling game in the US, made available April 2019. The game has been pushed visually and technically, the story regenerated and the combat, set interaction and gore are elevated once again. There's no way local and global gaming tournaments would ever pass up the chance to host battles in an annual fighting contest that invites competitors from different ancient realms as a war over universal domination rages (especially with $500,000 prizes).
The Mortal Kombat franchise began with Midway Games Inc., another company that suffered financial decline, went bankrupt and their content went up for grabs. Warner Bros. bought most of their catalog, including MK and its team, which has turned into NetherRealm Studios. 2011's Mortal Kombat proved the goods were still there and MKX, along with two expansion packs including characters like Alien and Leatherface, it all has upped the ante. Three years later, loyal and new fans alike have kept the forums buzzing, sharing cheats, info and fixes to the small issues they have found to improve the experience of the story and arcade modes.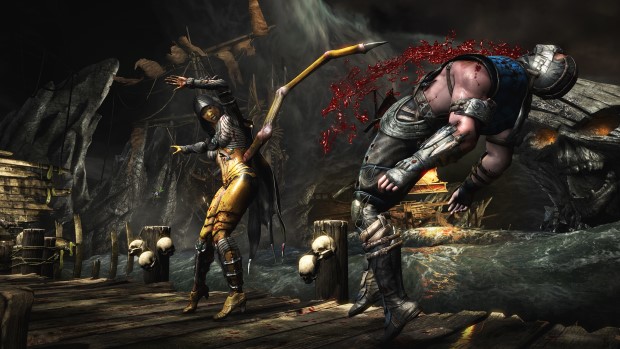 Mortal Kombat X gives us new issues among the warring realms, more action and new characters like D'Vorah for veterans like Sub-Zero to play with!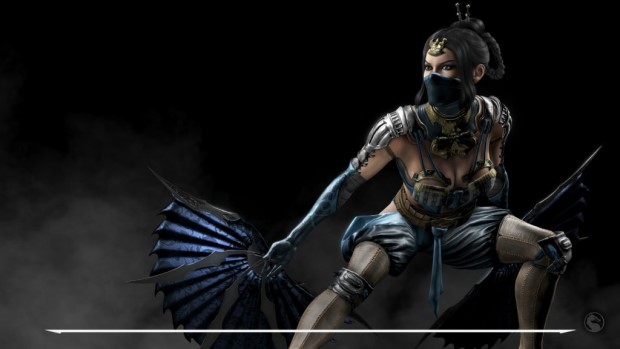 Hail Princess Kitana of Edenia, my all-time favorite character from every fighting game out. 
Ratings:
Metacritic XOne 86/100, PS4 83/100, PC 76/100
Destructoid 8/10
EGM 7.5/10
Game Informer 9.25/10
Game Revolution 4/5
GameSpot 8/10
GamesRadar+ 3.5/5
GameTrailers 8.4/10
Giant Bomb 4/5
IGN 8.4/10
PC Gamer (us) 69/100
Polygon 8.5/10
VideoGamer.com 8/10
VentureBeat 65/100
6. Injustice 2 (Android, iOS, PS4, Xbox One, Microsoft Windows)
Four years after Superman's defeat (he went a bit crazy in this game's predecessor, Injustice: Gods Among US) Batman steps up to bring order back to the world. Of course, supervillains are always out and about and this moment is perfect timing for any and all of them to go for what they want. Injustice 2 introduces the Society, a secret society of supervillains prominent in DC comics. This conflict brings brand royalty of DC Comics and NetherRealm Studios (the creator of the games) for a riveting story mode and an awesome family and friends battle night.
Injustice 2 was out for purchase May 2017, supplying over 2 million fans their own copy to enjoy, making it the only fighting game to be #1 on the charts since MKX. Across the board, 2 earned high scores from the industry and achievement of Best Fighting game from the likes of the 2016 Game Critic Awards and The Game Awards 2017. Injustice 2 is also on the board for Evo taking place in August 2018.
Stopping the crazed Superman won't be easy but not totally impossible by the looks of it!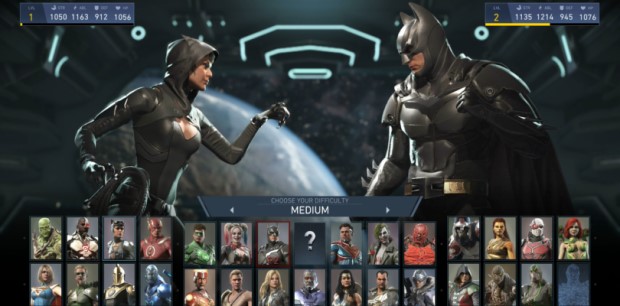 DC Comics is allowing us to play with some of their most iconic figures in another captivating storyline. 
Rating:
Metacritic PS4 87/100, XOne 89/100, PC 86/100
Destructoid 9/10
Game Informer 9/10
Game Revolution 3/5
GameSpot 9/10
IGN 9/10
Polygon 9/10
VideoGamer.com 9/10
Metro 9/10
The Games Machine 9/10
Gamezebo 4/5
5. Guilty Gear X (Arcade, Dreamcast, PS2, Game Boy Advance)
Set in the future, the Guilty Gear series usually pits good-guy factions against the Gears, which are humans and creatures that were experimented upon with the energy source called 'magic' that was found and fought over in the premiere game. Guilty Gear X, released July 2000, brings the evil group back under a new leader and another Holy Knights Tournament will decide who can stop them, all brought to us by creator Arc System Works and publisher Sammy Studios. There's plenty to do with the main story mode and players can fight each other, train and try to last as long as we can in survival mode.
X had modest success with over 100,000 copies sold with mixed reviews ranging from 89.33/100 (GameRankings) down to 3/10 (GamesRadar+). Yet, the series did continue due to a loyal and growing fan base, stretching it out to a slew of installments, updates and spin-offs. A game involved in the upcoming Evo gaming tournament is actually the update for a sequel of a sequel, Guilty Gear Xrd Rev 2. The franchise is clearly popular and will idle by with the greats and spread out to different mediums.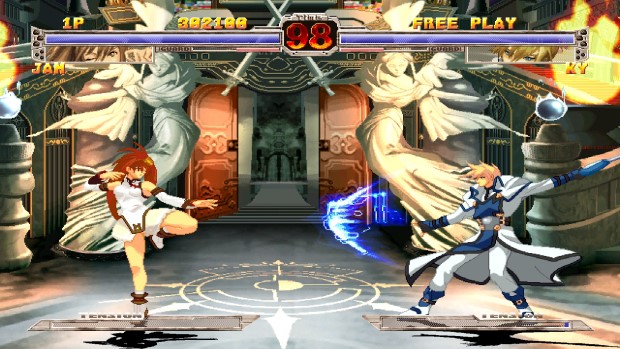 Another evil force needs to be handled and the best way to decide who is strong enough to take on the task is with another Holy Knights Tournament!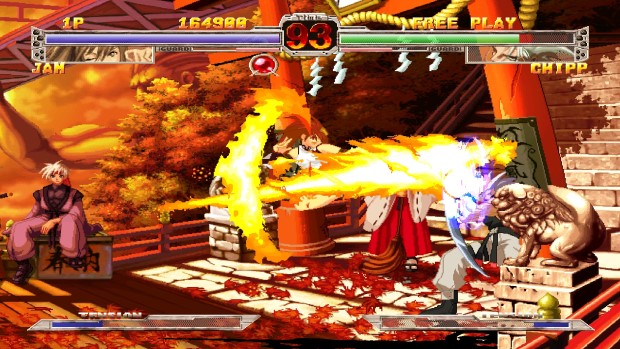 The stages are works of art and fun to play out an electrifying squabble! 
Rating:
GameRankings DC 89.33%, ps2 79.7%, GBA 64.97%
Metacritic PS2 79/100, GBA 67/100
Famitsu DC 31/40, PS2 32/40
Game Informer PS2 6/10, GBA 15.5/20
GamePro PS2 4/5, GBA 3.5/5
GameSpy PS2 87/100
GamesRadar+ GBA 3/10
GameZone GBA 8/10
IGN DC 8.7/10, PS2 8.8/10, GBA 7/10
4. Super Smash Bros (Nintendo 64)
Super Smash Bros. began a fast-growing franchise that has earned its rightful place in fighting game royalty, selling more copies with every following installment, which means more and more game-players are jumping on board. Super Smash Bros. consists of a killer recipe: elite Nintendo characters (like Mario, Metroid's Samus and Zelda's Link), KO wins versus depleting life bars, up to 4-way battles, fun stages and dangerous weapons, though they are very cute-looking. Each character's fighting style and powers are very indicative of who they are and where they come from.
The Nintendo 64 classic was first released in Japan and later the rest of the world in 1999. The game was a hit and has sold over 5 million copies, which has sparked an Empire. The Smash Bros. sequels have attracted more fans, each new one outdoing the last and the most recent installment, Ultimate, will be available soon, a game I'm looking forward to. The franchise has become so popular a fan convention has popped up, Nintendo creates its own tournaments for players and it's a must-have at others. Prepare yourself for more from this great game series.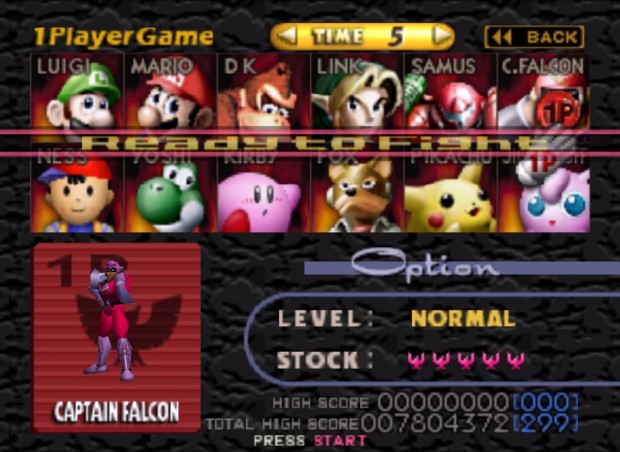 Nintendo knows their characters will attract all kinds of attention!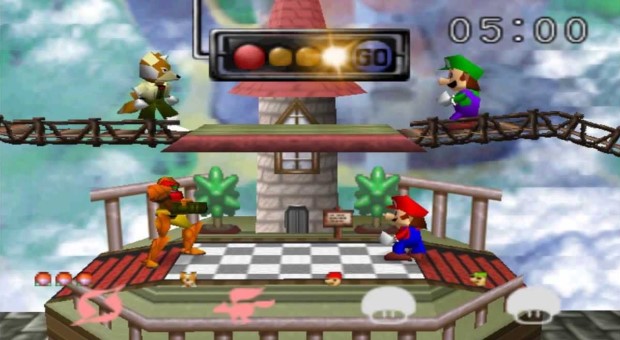 Up to four players can play and battle on the trickiest sets around like Peach's castle!
Ratings:
GameRankings 78.81/100
Metacritic 79/100
AllGame 4/5
Famitsu 31/40
GameSpot 7.5/10
IGN 8.5/10
Nintendo Power 7.7/10
3. BlazBlue Cross Tag Battle (Switch, PS4, Microsoft Windows)
One of the great combos around is video games and anime/manga, two worlds that really don't need each other when comparing success and copies sold. But, when they do collide, it's magic, which BlazBlue Cross Tag Battle banks on in the most wonderful way. Now, the BlazBlue series seems to be the focal point of this title, though only a spin-off, and really not about them. BB is another world on the brink of madness between beasts, magical beings and vulnerable governments. Oh, and war of course. Cross Tag Battle does not draw from that at all and instead the game blends up the cast from BlazBlue with three other manga franchises: Persona 4 Arena, Under Night In-Birth and RWBY. Why? Well, the game's explanation really isn't worth explaining but the mix of players, combo-driven mechanics and 2v2 battles produces a good time.
Arc Systems Work created and published this game last month (June 2018), the same company behind the franchise this game bears the name of. The game's reception so far is a bit unbalanced. Though fans are talking and the game has already appeared in and is booked for tournaments including the upcoming Evo and the just past Combo Breaker, the number of copies sold doesn't match. Cross Tag Battles has sold over 16k copies, which is quite normal for the franchise. Hopefully, with some more time and exposure, more will jump on the bandwagon because it is a great game for endless battles.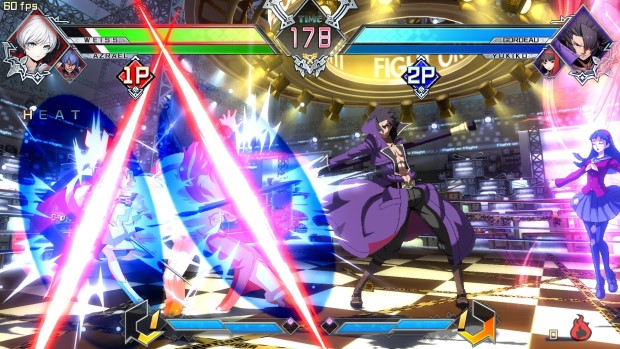 Manga and anime's best can team up against each other and deliver killer moves and power.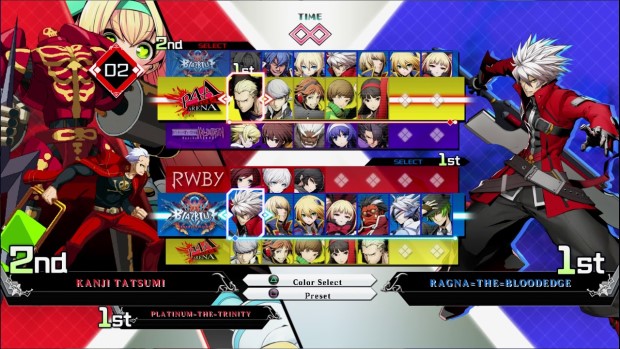 A player can have up to two characters on their side, meaning those who play with one and win are quite amazing!
Ratings:
Metacritic PS4 78/100, Switch 79/100
Famitsu 35/40
IGN 8.3//10
GameStop 9/10
Destructoid 8/10
2. Street Fighter V (Microsoft Windows, PS4)
Out of all the fighting game classics and wannabes, Street Fighter is the game most people think of and most likely the first fighting game we played. It has iconic characters, unforgettable combos and abilities and has lived on with ease from all the love and appreciation of a growing fan base, becoming one of the highest selling franchises, a triumph for powerhouse Capcom. Street Fighter is one of those games you pass down to your children. It's Gaming 101. The first SF was released back in 1987 and since then has had sequels, spin-offs, brand cross-overs, to the game I'm featuring on this list, released February 2016, Street Fighter V.  
With every installment, the graphics get better, the characters get badder, more lights, more camera angles, more bangs, hits and slams. 5 doesn't disappoint, improving energy bars so players can unleash sick combos and grapples and a new mechanic for extended leverage during a round. Yet, SF 5, a fantastic achievement, does prove these franchises can only go so far, not offering much in the story mode, which goes back in time for unfinished business between sequels past. But, fans love it, the forums gab a lot and the tournaments are expected to have a usual slot for Street Fighter. It has sold around 2.5 million copies, which was a great set-up for the Arcade version that came out January 2018, completing the game according to those who found the original unfinished.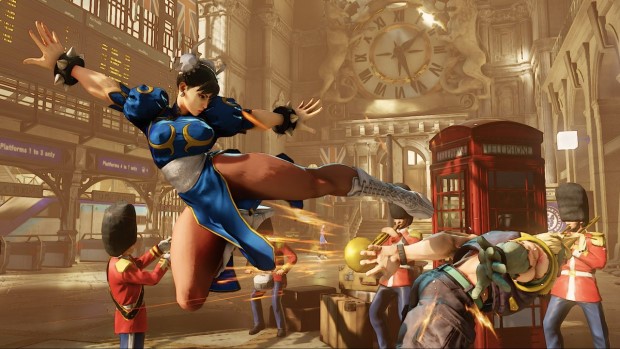 Street Fighter's characters are the genre's highest standard like the speedy iron-legged Chun Li!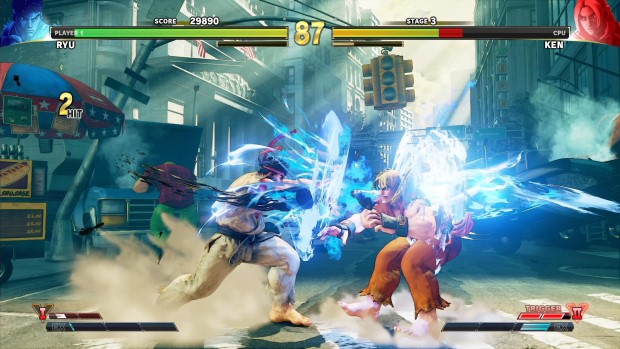 My fondest memory of Street Fighter is the first battle we must win in the first game: Ryu VS Ken!
Ratings:
Destructoid 8/10
Edge 70/100
EGM 8/10
Eurogamer 70/100
Famitsu 35/40
Game Informer 7.25/10
Game Revolution 4/5
GameSpot 7/10
GamesRadar+ 4.5/5
GamesTM 8/10
Giant Bomb 3/5
IGN 8/10
OPM (AU) 90/100
PC Gamer (UK) 81/100
PC PowerPlay 60/100
Play 9/10
Polygon 6.5/10
Slant Magazine 50%
1. Dragon Ball FighterZ (Microsoft Windows, PlayStation 4, Xbox One, coming soon to Switch)
Growing, I could not escape the movement that is called Dragon Ball Z. Everyone loved this anime giant and it exploded from the TV onto clothes, into toys and, of course, video games. That's why Dragon Ball FighterZ has made the biggest splash of all the video games on this list. It encompasses many traits from them, backed by a stellar studio Arc System works, published by Bandai Namco Entertainment and uses classic storylines from the hit show Dragon Ball Super.
The story mode is the most impressive from the other fighting games out, really so because of the massive following of the characters, intricate plot points and incredible instances of precious power. Playing is like watching an episode or movie, something I personally don't feel in others games and the reason why I just play survival and training modes for fun clashes with friends.
FighterZ is a total package, proof in its sells, sending over 2 million copies the first of week of its release, which was only back in February 2018. Again, this is another game sweeping the tournaments and fan forums, which were well in place for years now. Even if you're not a fan of the anime legacy, this game will win anyone over with its charm, action and mechanics.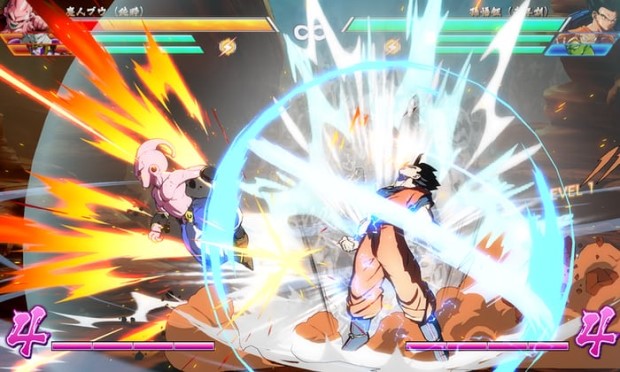 Fans get to finally step into their favorite show and channel the right energy to use against classic foes!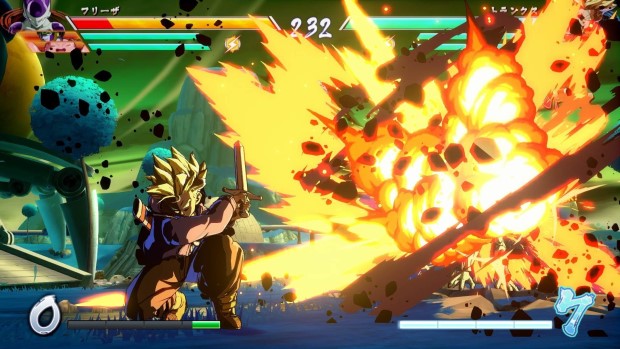 The game is masterfully made, combining the combat game setup with the classic anime series.
Ratings:
Destructoid 8.5/10
EGM 9/10
Famitsu 36/40
Game Informer 9.25/10
Game Revolution 4/5
GameSpot 9/10
IGN 8.5/10
PC Gamer (UK) 83/100
Polygon 8.5/10
VideoGamer.com 8/10
These games are so important to video gaming and have inspired other titles, pop culture and different industries. With today's technical advancements and new gaming generation, the names above will flourish and break more ground. Fighting games can use more exploration in playing abilities and mechanics, which I believe can then surpass top honchos like Mario and his crew because they too will benefit.
You May Also Be Interested In:
Image Gallery