[Top 5] GTA Online Best Quad Bikes (And How to Get Them)
Updated: 01 Jan 2023 11:11 pm
Top 5 Quad bikes and how to get them
GTA Online has many vehicles, from cars to motorcycles, and even a jetpack. With every new update, different high-tech vehicles are being added that get crazier each time. We have had cars and motorcycles that can fly, cars that can swim, and even a batmobile-looking vehicle that puts fear in the heart of your enemies. However, today we will be looking at the simpler times of GTA online before all the crazy took place. Quad bikes have been part of GTA online since the beginning. These compact four-wheelers are essential for driving in tight spaces with good mobility, so you don't fall off. We will be looking at the top 5 Quad Bikes in GTA online and how you can get them.
5. Hot Rod Blazer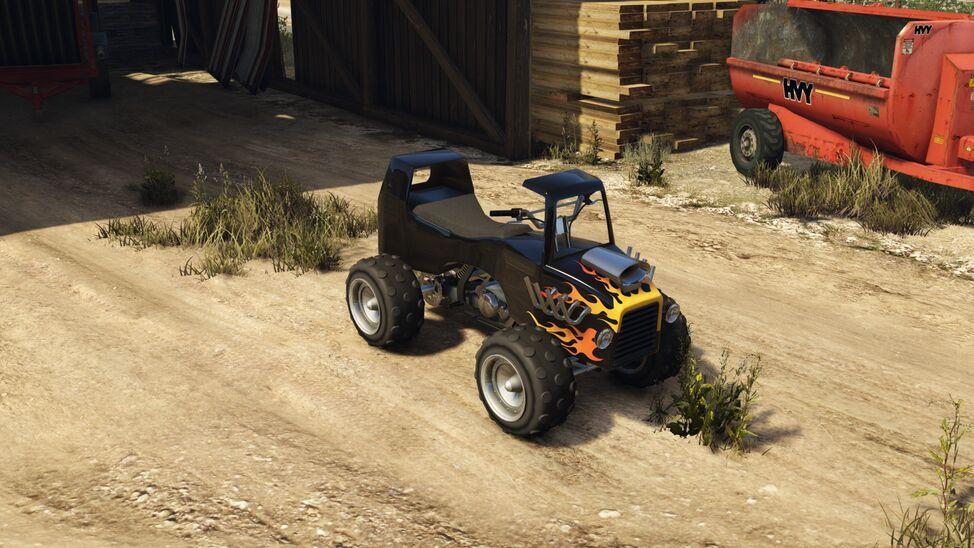 Kicking off the list at number 5 we have the Hot Rod Blazer. This compact four-wheeler is a custom design of the original blazer. The front of the vehicle resembles a hot rod, thus giving it its name.
 The vehicle has a unique look, especially with the black paint job and the flame decal on the front. The Hot Rod shares the same chassis, handlebars, and suspension setup as the Blazer. Performance-wise, the Hot Rod takes over the Blazer with great acceleration and good top speed, and even shows impressive results on an off-road track. However, this vehicle has sensitive handling, and players need to be careful when steering this vehicle and be aware of the collisions because you will not stay in the seat for too long if you crash into something. 
The Hot Rod is available on Southen San Andreas Autos for a price of $69,000 only.
What makes Hot Rod great:
Great acceleration and good top speed
Unique custom design with a stylish decal
Impressive on off-road tracks
Small size, ideal for tight spaces
Many modification options
Cheap cost
Hot Rod details:
The black color with yellow flame decal
Parallel twin engine
5-speed gearbox
4 wheel drive
4. Blazer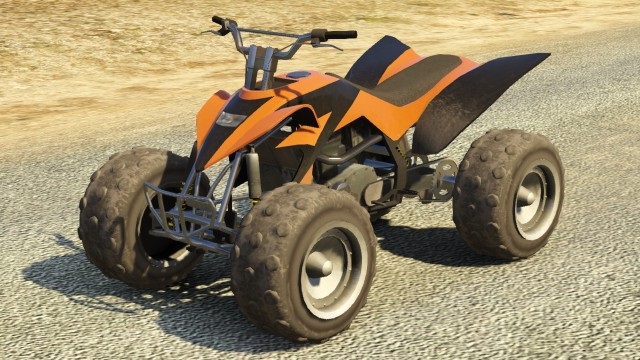 Next up we have the classic Blazer. Based on the 2012 Yamaha YFZ450, this compact ride is perfect for off-roading and driving through tight spaces.
It has a distinct small body over a small chassis, with the front being a triangular-shaped area, fitted with small fenders and a rectangular-shaped headlight. The Blazer is a fast and quick response vehicle with good acceleration and a good top speed. It has good braking and off-road capabilities, which are vital when squeezing through tight spaces. It has good stability to keep you intact in jumps and on-ramps.
What makes it better than the Hot Rod for me is the design, and the well-maintained handling it possesses. 
The Blazer can be found in various locations around Los Santos and can be bought for $8,000.
What makes Blazer great:
Small body capable of driving through tight spaces
Good acceleration and a decent top speed
A good off-road vehicle with impressive handling
Extremely budget friendly
Leaning capability to keep you stable in jumps
Blazer details:
Powered by a parallel twin engine
The 5-speed gearbox that powers all the wheels
Comes in two-tone colors
Multiple modification options are available
3. Verus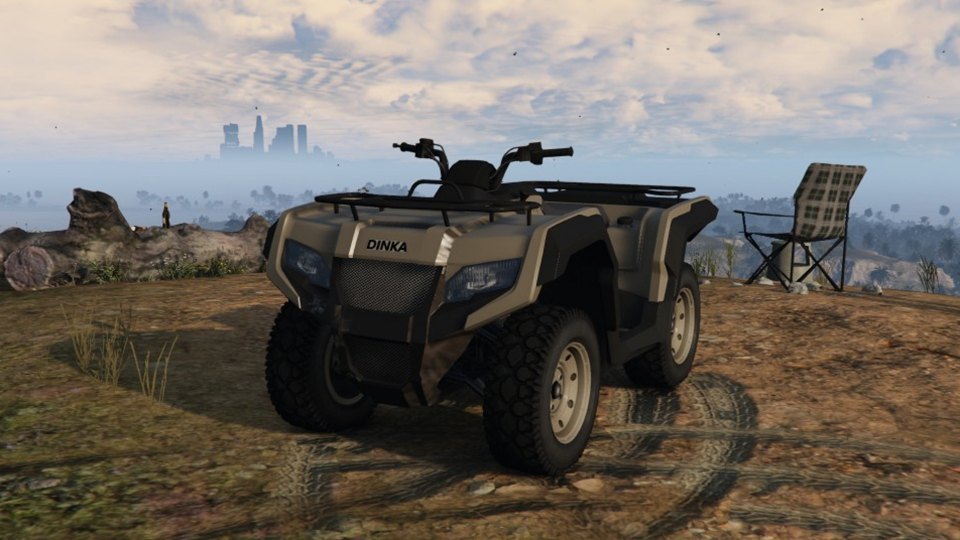 At Number 3 we have the Dinka Verus. Inspired by the Artic Cat Alterra 570, this compact four-wheeler was added with the Cayo Perico update. This vehicle is classified as a utility ATV, having a similar shape to the Lifeguard Blazer which couldn't make it to the Top 5. 
Since the Verus is a relatively heavy ATV, its speed and acceleration are not up to the mark, and it's not a good contender for races. However, because of its weight, this vehicle has a good turning radius and is prone to many collisions, and won't throw you off the seat. 
With bulletproof tires, the Verus can act as a good getaway vehicle as it travels through tight spaces without taking much damage. 
The Verus can be found in various parts across Cayo Perico, and can also be bought from Warstock Cache and Carry for a price of $192,000.
What makes Verus great:
Good durability, prone to collision and damage
Slick front shape
Unique design and paint job
Good handling and turning
Many modifications available
Verus details:
Parallel twin engine
The 5-speed gearbox that powers all the wheels
45% power distribution to front wheels, 55% to rear wheels
Lower engine revs
Mesh grilles in front, "DINKA" decal above the upper grille
Bulky sides with side steps and exit vents
The rear of the vehicle has exit vents and exposes the Chassis
2. Street Blazer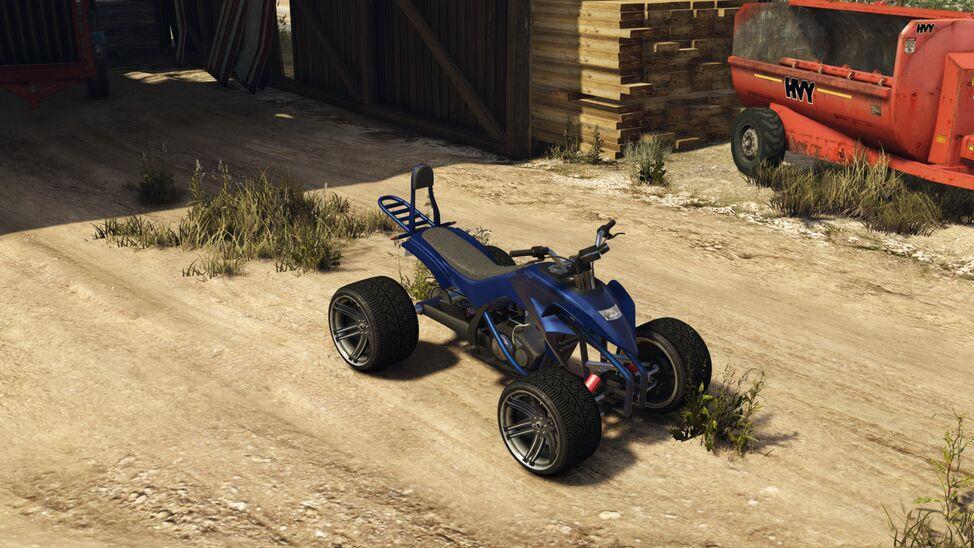 Just missing the number one spot is the Nagasaki Street Blazer. A modified version of the Blazer, the Street Blazer was added to GTA online as part of the Bikers update. 
The shape of this vehicle is similar to that of the Blazer, except for a few changes with the body parts. The Street Blazer also has more carbon bodywork and finishing. The Street Blazer is a well-performing vehicle. Although it does not occupy the greatest top speed, the acceleration is incredible and the braking is even more impressive. The vehicle can stop at full speed almost immediately. 
Not only does it perform well on pavement, but it also has an impressive result when driven off-road. You have to be careful mid-air though, as the vehicle can turn quite a bit and throw you off the seat, but if you are planning on driving on road, you will be just fine! One really interesting feature about this ATV is that you can perform a wheelie for as long as you can. The rear end acts as a support and does not let you fall if you wheelie for too long, so the rider can pull back as far as they want for as long as they like. 
The Street Blazer can be bought from Southen San Andreas Super Autos for a price of $81,000.
What makes Street Blazer great:
Classy design with Carbon bodywork
Great acceleration and impressive braking
Good off-road capability 
Long wheelie time
Accelerates backward just as well, for reversing into tight spaces
Good competitor for races or as a getaway vehicle
Many modification Options
Street Blazer details:
Upgraded parallel twin engine with a 6-speed gearbox
Equal power transmission to both front and rear wheels
Same engine sound as the BF400 and Manchez
The front has a rearranged chassis with Black lower framing and chrome bars holding the suspension
The rear is pretty much like the regular Blazer with shortened fenders, a backrest, and a small rack
1. Blazer Aqua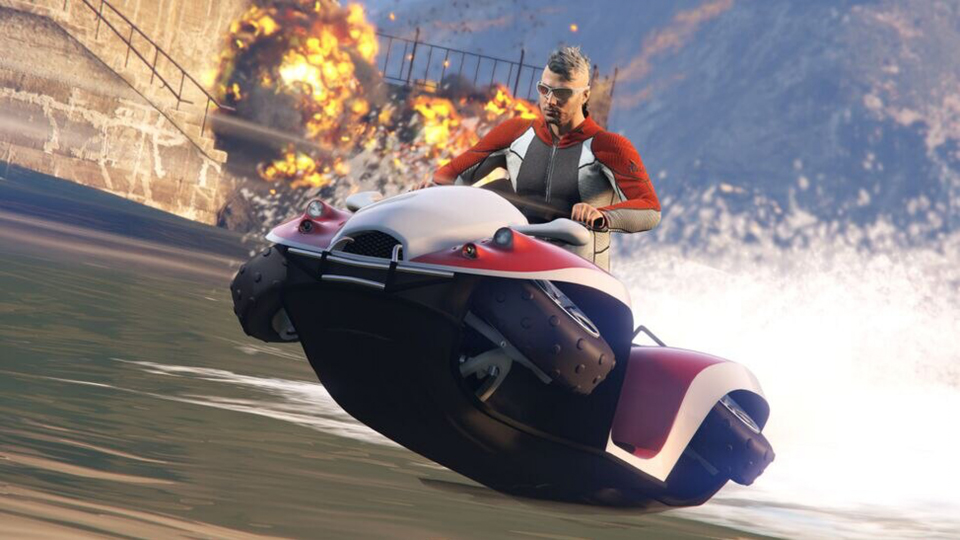 At number one we have the Blazer Aqua, and yes, this one can run on water. 
Based on the Gibbs Quadski, this vehicle is an amphibious variant of the Blazer with a completely different design. 
Not only this compact vehicle can run on water, but it also has two machine guns fitted in the front, below its headlights, pushing it to the number one spot on this list. The Blazer Aqua is reasonably fast on land and has a good turning circle, but is comparatively slower on water. Despite it being slow, it can still outrun some boats in the game. 
On land, this vehicle can reverse just as fast as it moves forward. The machine guns in the front are similar to that of the buzzard, doing decent damage to vehicles with light armor. 
This vehicle can be purchased by CEOs with a vehicle warehouse for a price of $1,755,000. Although if you have completed the Cleanup OP, you can get it for $1,320,000.
What makes Blazer Aqua great:
Runs on water
Equipped with Machine guns
Good acceleration and speed
Good turning cycle
Blazer Aqua details:
Completely different design with the front having an elevated black hull
The middle section mainly consists of the black seat and the side steps
The rear is squared with a black rack and tow frames on it
The vehicle is powered by a small engine with a 6-speed gearbox
All wheels are powered with equal distribution
The machine guns have decent firepower against lightly armored vehicles 
That was my list of the Top 5 Quad bikes in GTA online. I hope this list helps you, and you can decide which Quad bike suits you the best!
You May Also Be Interested In:
[Top 5] GTA Online Best Business To Buy
[Top 5] GTA Online Best Motorcycles
[Top 10] GTA Online Best Weapons