[Top 10] Haunted Games To Play With Friends (Ranked Fun To Most Fun)
Updated: 05 Oct 2022 3:36 am
I'm not sure I'd be returning as a student if this was my school lunch lady.
As children, all of us have donned our eccentric costumes and gone knocking on front doors and saying, "Trick or Treat!" in hopes of some sweet candy. However, our Halloween fun as adults differs greatly from that of our youth; now, a gamer's ideal Halloween is staying in and playing some fun haunted games with their best friends. 
With indie horror game popularity skyrocketing in the industry, it can be hard to know which multiplayer horror games are the best at building suspense to make the hair on the back of your neck stand. I've done the grueling work for you and compiled this list of the most fun haunted games you can play with your friends this Halloween season. 
10. Secret World Legends - 2017 (PC)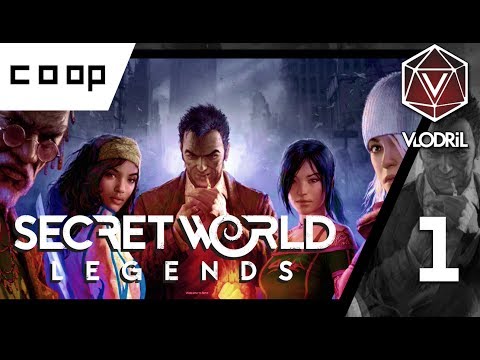 Check out the beginning gameplay of this infamous online, role-playing world. 
Dive into this virtual realm and get as addicted to the dark, unsettling storyline as I am. This horror action RPG combines mythical and modern elements; from creep supernatural beings hellbent on your demise to helpful superhuman abilities available throughout the game,you and your friends will have a blast playing this multiplayer game!
You and your crew are soldiers in the war against the unearthly, and all of you will be able to use actual weaponry and superhuman skills to combat evil entities. You're tasked with finding out how to banish evil from your homeland, but you'll find that the truth can only be found with patience and time. The storyline will go over international waters, and you'll have to develop your abilities, solve mysterious puzzles, and crush your enemies as they cross your path. 
This game is considered stellar because you can make the fun last all the way to Halloween. There are hundreds of hours of gameplay, and everything is completely free. You'll have all the perks of customizing your character and interacting with unnerving game folklore at no cost, so this game is perfect if you and your friends are looking to stay on budget this holiday season!
9. BIGFOOT - 2017 (PC)
Ever wonder if the Bigfoot myths are real? Play this game and find out! BIGFOOT is a survival horror game that features a grueling hunt for a supernatural beast. With your friends as your hunting crew, set out into the woods to gather hunting equipment detrimental to your survival and brace yourself for unexpected jumpscares and ambient sound effects. 
But be warned: there are other predators stalking the forest that are just as lethal as Bigfoot. When you're roaming the area with your friends, be on the lookout for other creepy monsters ready to feast on you. This adds that survivalist element to this game and ramps up the intensity; the fact that it's so realistic immerses you in the world and everything will feel supremely realistic!
There are two different modes for you to choose from: playing against Bigfoot, or playing as Bigfoot. If you choose to play against Bigfoot, you and three of your friends will evade the beast as it stalks you. However, choosing to play as Bigfoot will allow an additional fifth player to join the lobby, and you'll be able to use predator skills to set traps and hunt your friends. 
8. Fear Therapy - 2021 (PC)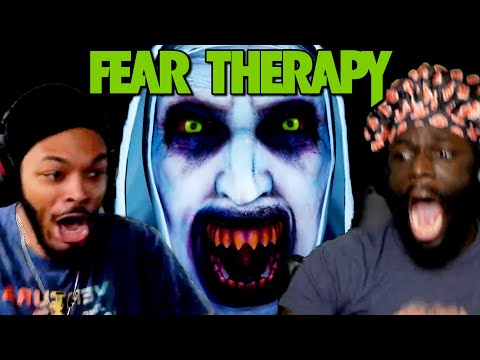 Forkzilla Gaming, a starter gaming YouTube channel, offers a hilarious gameplay of Fear Therapy.
Ready to be stuck in a haunted house with your friends? This multiplayer horror game permits your crew to wander a creepy house with unnerving sound effects and a disturbing atmosphere in search of ritualistic objects. These ritualistic objects can be used to banish the evil entity from the home and escape. 
This game is really reliant on randomness. You'll never experience the same game twice because items spawn randomly across the map each time a game begins, and the map even changes every second in real time. Over time, difficulty will increase with experience, and the jumpscares generated are exclusively spontaneous. 
This game lets you play as Satan. That's right; Satan mode allows you or one of your friends to embody the eerie demon that haunts the house and terrorizes the other players. If you're looking for a game to share some laughter with friends, take turns playing as the demon and be prepared to scare the life out of your friends!
7. DEVOUR - 2021 (PC)  
You and your friends could have just as much fun as Markiplier and company! 
You'll never want to encounter a cult ever again after playing this game, whether virtual or real. DEVOUR, a solo and multiplayer horror survival game, tasks you and three other players with stopping otherworldly cult members from sending your crew spiraling into the pits of hell. Break the demonic hold on the cultists by collecting ritualistic items to banish the evil. 
Like other horror games, DEVOUR is uniquely repeatable and no two walkthroughs will ever be the same. Necessary objects will be in different locations, and the number of spawned enemies will vary from game to game; for one hour, your only means of survival is a simple flashlight and convenient hiding spots. Work together as a team to listen for enemies, reach objectives, and gather needed materials to abolish the evil hold on the possessed cultists. 
Your crew will have to gain experience simply by playing the game and leveling up to increase your Cult Rank. As you level up, Ritual Tokens will be granted to you to unlock Perks, or skills that can be used in combat to aid your survival. Do you think all of this is too easy? Turn on "nightmare" mode for an unforgettably horrifying experience!
6. Hunt: Showdown - 2018 (PC, XBO/S/X, PS4/5) 
YouTube Gamer, Keith Ballard, offers a unique co-op walkthrough of this horror game! 
Ever wondered what it was like to live in the late 1800s? This game lets you travel back in time to the year 1895 as a hunter responsible for strategically executing ghoulish monsters threatening your community. In teams of two or three, you'll participate in this online world and compete against other hunters to conquer each bounty and get ready for the next mission with all eyes on your prize. 
Your weaponry and clothing will be authentic from this era, but keep in mind that your death could result in the total loss of gear. The bleak, industrial graphics coincide with the natural settings of the time period, so you'll be fully submerged in the game as a member of 1800s society. 
Take your time traversing through this open world; there's a lot to take in at times because the game is incredibly detailed and created with a delicate hand. You'll need to find specific clues that are hidden in the natural environment, so patience is key. Other hunters can also sneak up and eliminate you, so carefully listen to your surroundings as well!
5. The Dark Pictures Anthology: House of Ashes - 2021 (PC, XBO/X/S, PS4/5)  
As the third installment of this game series, House of Ashes certainly doesn't disappoint.  
Supermassive Games has created a series of horror survival games that'll have you and your friends on the edge of your seats. Man of Medan, Little Hope, House of Ashes, and soon-to-be-released The Devil In Me are all part of the series. While each game can be played as a standalone, you'll have a haunting experience playing just one that'll make you want to play them all. You'll have fun making decisions that'll affect the storyline and outcome of the game!
House of Ashes is set at the end of the Iraq War and follows a Special Forces team searching for any lethal weapons remaining in the aftermath. Unfortunately, the team accidentally stumbles upon a temple of supernatural creatures, and it's your job to eliminate these enemies and escape to civilization. Play multiplayer mode with 1-4 friends to complete objectives and horde off the bloodthirsty beasts that have determined you to be dinner.
Your team will be playing in a temple, so the graphics are outstanding. The cinematic views and realistic character attributes reveal how much time was dedicated to developing this game. If not for the mysterious storyline, Supermassive Games certainly has another hit on their hands for the astounding graphics that'll make you feel like you're watching a movie. 
4. Lunch Lady - 2021 (PC) 
Popular horror streamer, John Wolfe, plays this perturbing game about everyone's favorite lunch lady. 
Who knew school could be so terrifying? Play this game and you'll never want to walk down the hallways again. This survival horror co-op allots four players to wander your school in search of the final exam answers. Who wouldn't want to ace those pesky tests and coast away into summer? 
But here's the catch: the lunch lady knows you're in the school and is looking for you. Find all ten answer sheets and evade her before she catches you. Be careful of the game's randomness; at the start of each new game, the lunch lady will look for you in new locations, and the answer sheets will be in different areas. What was once safe won't be for long!
Like other demonic entities in these horror games, the Lunch Lady's strength and prowess will increase as the game progresses. This will make it exceptionally hard to obtain all ten answer sheets. Prepared to be frustrated at times because death will arrive at the cusp of victory but this gameplay will be exhilarating and thrilling to play with friends.
3. Ghost Watchers - 2022 (PC) 
Do you think you're an expert ghost hunter? Play this game and test your gaming skills! 
If you're a fan of exploring abandoned buildings in search of adventure and mystery, you'll love playing this game in the dark of night with your closest friends. Wander around abandoned homes to find lost souls trapped behind closed doors and capture them for studious purposes. 
This game will continually add new ghosts and locations, so you can repeatedly return to this game for more fun. There are eight types of ghosts and several types of demons, so be prepared for plenty of gory combat and jumpscares. Yet, you'll be well-equipped to deal with danger; more than twenty tools to find clues and ward off demons will be accessible throughout the gameplay. 
The game's graphics are really smooth and everything is visually sharp; it's as if each corner of the furniture is digitally fine-tuned with a careful eye. A lot of effort was put into this game, which is why it's at the very top of this list. It's fun to play because of how intricately detailed it is, and this further immerses you in the gameplay. This game is perfect to get you in a spooky mood and to enjoy some quality time with your friends.
2. Labyrinthine - 2020 (PC)  
Markiplier and company try to escape this creepy maze; can you and your pals do the same? 
Not scared of haunted mazes? Labyrinthine is a co-op horror game that'll make you terrified of them. With up to four players allowed, choose to play the gameplay version or the map version. The gameplay version features a storyline that will guide your crew through the maze with challenging puzzles. You'll be forced to battle spontaneous, evil entities as part of a bigger plot. However, the map version is a bit different. 
In map mode, the game will generate random mazes that'll get harder as your team gains experience. Because the map version exists, this game is replayable, so the fun can last throughout the holiday season. It's essentially free roam of the maze, and you'll stumble upon unexpected monsters in hidden locations. 
In map mode, you will also be able to collect items to help you traverse through the haunted maze. Whether it be notes for you to understand the maze's unsettling history or a compass to give you a sense of direction, this game offers a unique cooperative experience that'll leave you and your friends quivering with fear!
1. Phasmophobia - 2020 (PC)
Watch the infamous Markiplier and this crew of horror gamers partake in virtual ghost hunting! 
When the game title means "fear of ghosts," you know you're in for the scariest time of your life. Phasmophobia is an investigative single-player and multiplayer RPG; you and your friends will play as a team of ghost hunters, performing a series of creepy tasks to decipher a ghost's identity, the location of the haunting, how to stop the haunting, etc. 
Phasmophobia isn't free like other indie horror games that feature ghost hunting as their niche. On Steam, Phasmophobia is $13.99, a steep price for some gamers unwilling to dish out cash for content you can get from a free ghost hunting game. However, if you're lucky enough to have an Oculus, you can up the ante and play this game in VR. With one Steam purchase, you'll have the best of both virtual worlds. 
In this game, you'll learn about ghost hunting tactics and different types of ghosts that prowl in the night. From the Twins and the Mimic to the Onryo and Raiju, this game submerges you and your friends into this terrifying virtual reality by incorporating elaborate details into the game. It seamlessly weaves a haunting storyline with free roam of an unsettling world.
You may also be interested in: