LoL Best Sona Skins - All Sona Skins Ranked Good To Best
Updated: 05 Aug 2022 10:29 pm
Original Sona skin.
Sona, the elegant Maven of the Strings, will leave you in awe when she plays her Etwahl. But don't think charming you with her beautiful music is her only skill, as she can easily turn her lovely instrument into a deadly weapon! You will never get bored with Sona who can be a sweetheart, a modern techno musician, or even a galactic goddess.
So which is the best Sona skin? This article highlights all the mesmerizing sides of Sona, from sweet to seductive depending on your mood of the day.
#8. Muse Sona (Ok)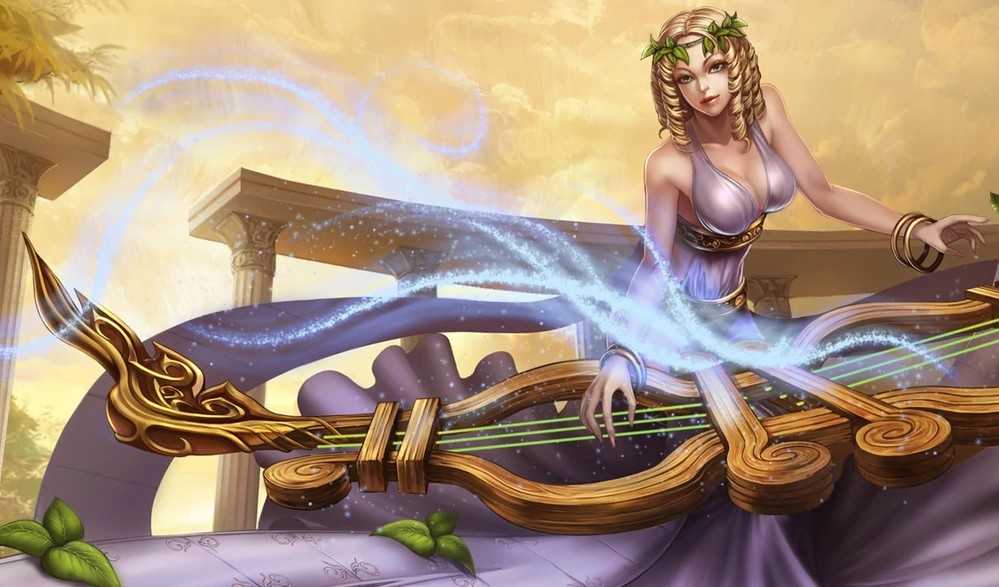 Muse Sona skin. 
Greek goddesses give off a tender yet elegant vibe, and Muse Sona is no exception! Sona's physical posture and dreamy gaze closely resemble a beautiful portrait painting that could be displayed at a top-quality art exhibit. However, despite being breathtaking, the Muse Sona skin lacks vibrant colors and visual dimension due to it being rather dated. 
What makes this skin alluring:
Muse Sona's overall appearance with her curly, golden hair and friendly smile is quite inviting, but also daring. It almost seems as if she is judging, or at least questioning, your every move. This adds a lot to her alluring factor. In this skin, Sona's expression is everything!
The splash art for this skin is yet another beautiful painting. Draped in her flowy white dress, Muse Sona floats above a pond covered in lilies and purple flowers. 
While this skin is sweet and simple, it is now in the Legacy Vault, which may make it a must-have for many. 
How to get this skin: 
Available during special events in the client shop for the price of 975 RP.
See Muse Sona in action!
#7. Silent Night Sona (Good)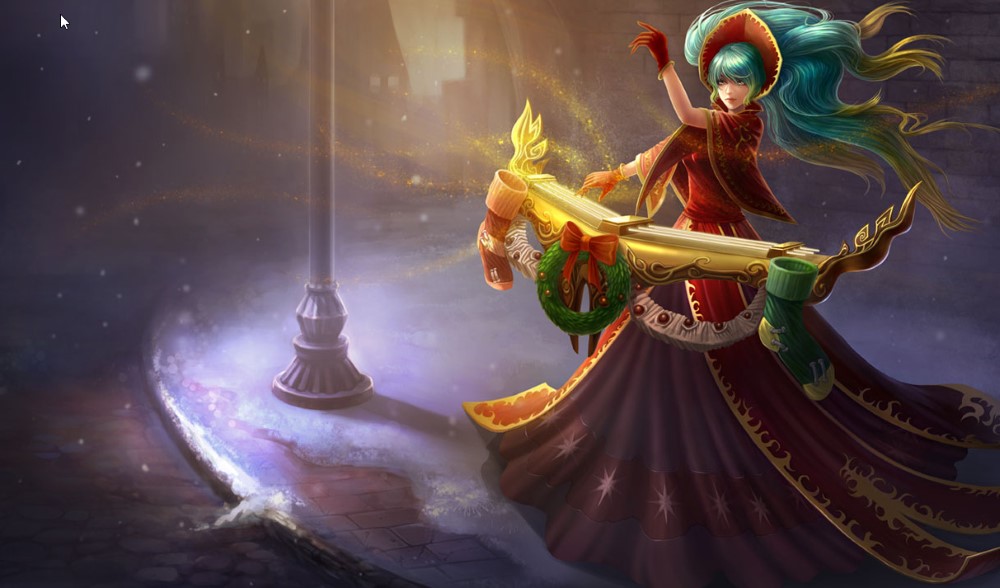 Silent Night Sona skin. 
Get right into the Christmas spirit with another stunning Sona skin, Silent Night Sona. With a dark and dreary background, Sona gleams under a street light, majestically playing her Etwahl that is decked out in Christmas decor. If you love magical themes, this skin is for you! 
What makes this skin magical: 
This is another sweet and simple skin, perfect for the holidays. Silent Night Sona is wearing a red and gold dress along with a hat that embodies her elegance. 
Sona's Etwahl is shiny gold and the details match her outfit flawlessly. The Christmas wreath and Christmas stockings add a nice touch to her overall holiday look.
In terms of sounds, her new joke is awesome, as she plays an excerpt of 'Deck the Halls.' If that doesn't get you into the Christmas spirit, I don't know what will!
How to get this skin: 
Available during special events in the client shop for the price of 520 RP.
See Silent Night Sona in action!
#6. Pentakill Sona (Good)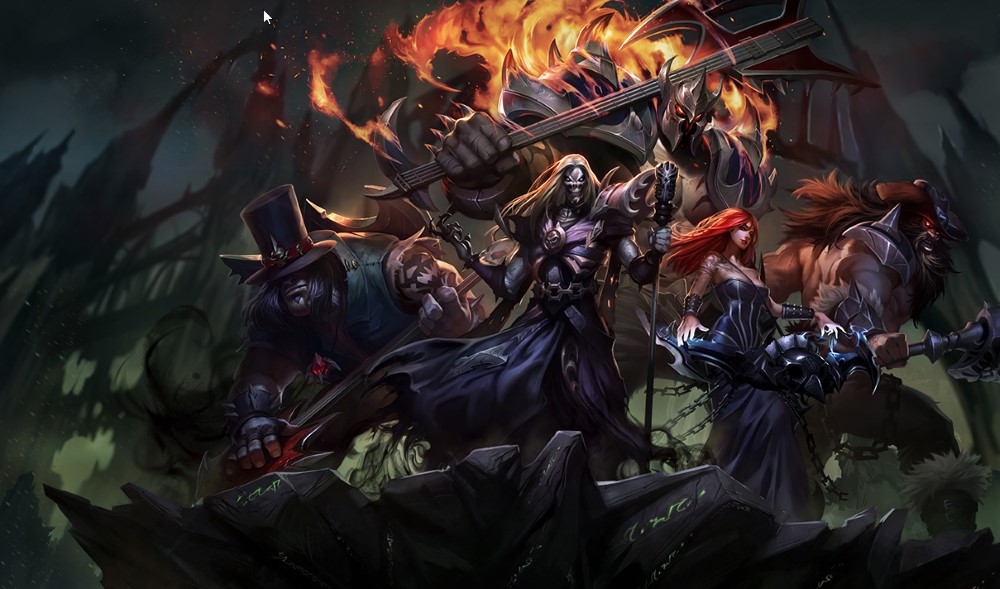 Pentakill Sona skin. 
Now this one is not for the weak of heart. Our sweet Sona has turned to the dark side to join the metal band, Pentakill. This skin gives off a sinister vibe as if the band is about to wreak havoc on the world. While Pentakill Sona does not seem to be especially highlighted in the splash art, it is still worth the buy if you are looking for a more daring and unique Sona skin. 
What makes this skin diabolical: 
Pentakill Sona is a gothic princess, a nice deviation from her usual sweet self. Her bright, red hair and tight-fitted outfit bring out her more seductive side. 
Her Etwahl is especially eye-catching and is very fitting for a death metal queen. The dark spikes and chains on her Etwahl are a great touch to her overall concept.
While this is a great skin with personality, the splash art is a little disappointing as it does not emphasize Pentakill Sona's dark beauty as much as it could. 
How to get this skin: 
Available in the client shop for the price of 975 RP.
See Pentakill Sona in action!
#5. Arcade Sona (Awesome)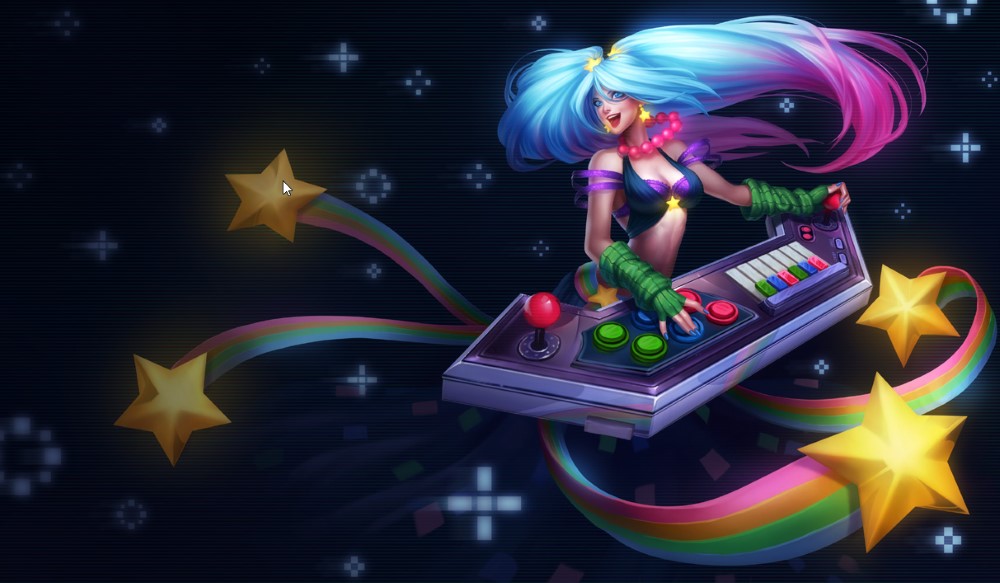 Arcade Sona skin. 
If you used to play old school arcade games, you will definitely want to grab this skin. The Arcade Sona skin successfully displays the classic joystick gaming style with a sleek modern touch. While the background follows a simple 8-bit concept, it brings out the vibrant colors and liveliness of Sona herself. Enjoy this retro skin the next time you play Sona!
What makes this skin so fun:
There are stars everywhere! Sona boasts her star hair accessories, star earrings, and a star ornament cutely placed on her outfit. Even her dress flows out to blend in with the starry background. This shiny skin is bound to catch everyone's eye. 
Her Crescendo (R) skill is absolutely stunning. It pictures arrows pointing at all angles, much resembling a rhythm or DDR game. 
Arcade Sona's Etwahl is not only cool but also surprisingly complex. There are two joysticks on each end, a gamepad with six different buttons to press, and a cute little keyboard. 
How to get this skin: 
Available in the client shop for the price of 1350 RP.
See Arcade Sona in action!
#4. Guqin Sona (Awesome)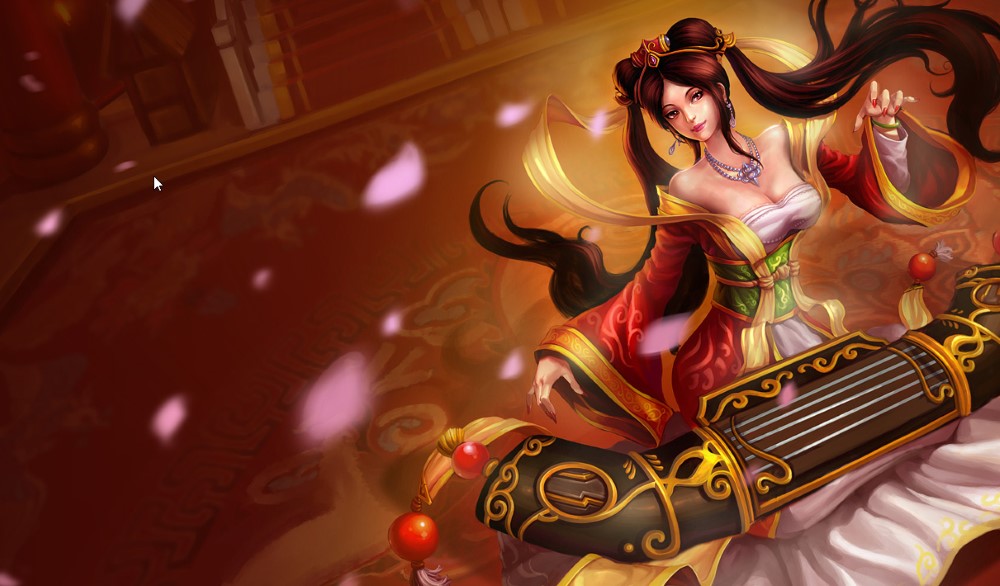 Guqin Sona skin. 
Sona has yet again transformed, and this time she has turned into a Chinese princess welcoming the Lunar New Year. The details in this skin are stunning, giving off a completely different vibe from the other flashier Sona skins. Guqin Sona is a calm, collected princess who will enchant you to prolong your stay. Besides, who doesn't want to celebrate Lunar New Year all year long?
What makes this skin entrancing:
Guqin Sona gives off a royal aura as if she is the only daughter of a rich King. You can tell by the details of her dress and hair accessory that she is of high authority. She is classy, calm, and simply mesmerizing.
During gameplay, you will be able to see the details of her dress with Chinese ball ornaments dangling from her dress sash. This adds to the unique Oriental vibe of the skin. 
Fun fact: The Guqin is actually a traditional Chinese instrument with seven strings. It has an image of subtlety and gentleness, both characteristics that Sona displays. No wonder this skin suits her so well! 
How to get this skin: 
Available in the client shop for the price of 975 RP.
See Guqin Sona in action!
#3. DJ Sona (Awesome)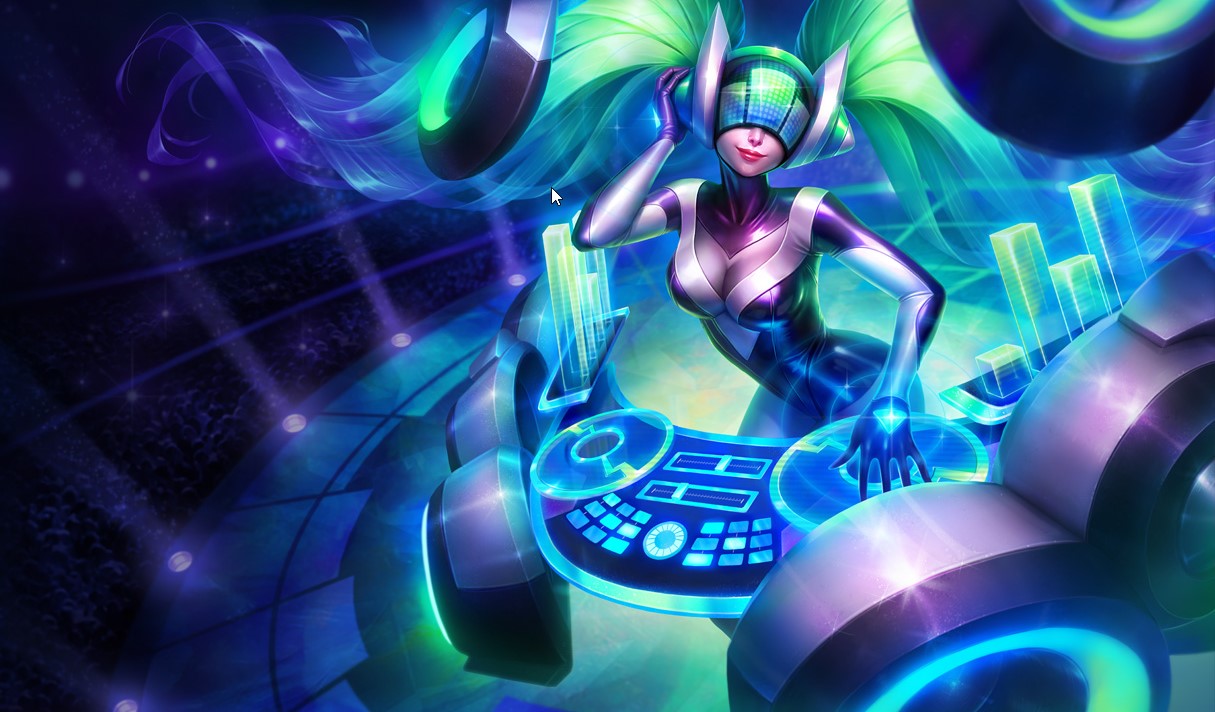 DJ Sona skin. 
Are you ready to dance? Make Summoner's rift your dance club and show off your skills with this DJ Sona skin! Although this ultimate skin is priced at 3250 RP, one of the most expensive in the game, it might be worth every penny! You can enjoy the new sounds, animations, and even different Sona forms with this premium skin. In contrast to other lovely and beautiful skins, the DJ Sona skin will show you how cool and charismatic you can be. 
What makes this skin exciting: 
The new animations for this skin are incredible! You are not going to see a cooler Etwahl than what DJ Sona plays as she looks prepared to excite the whole crowd.
DJ Sona's splash art is modern and vibrant. The colors scream techno!
Her headpiece is super groovy, resembling a futuristic headset. DJ Sona looks like she just traveled back in time from the future!
How to get this skin: 
Available in the client shop for the price of 3250 RP.
See DJ Sona in action!
#2. Odyssey Sona (Legendary)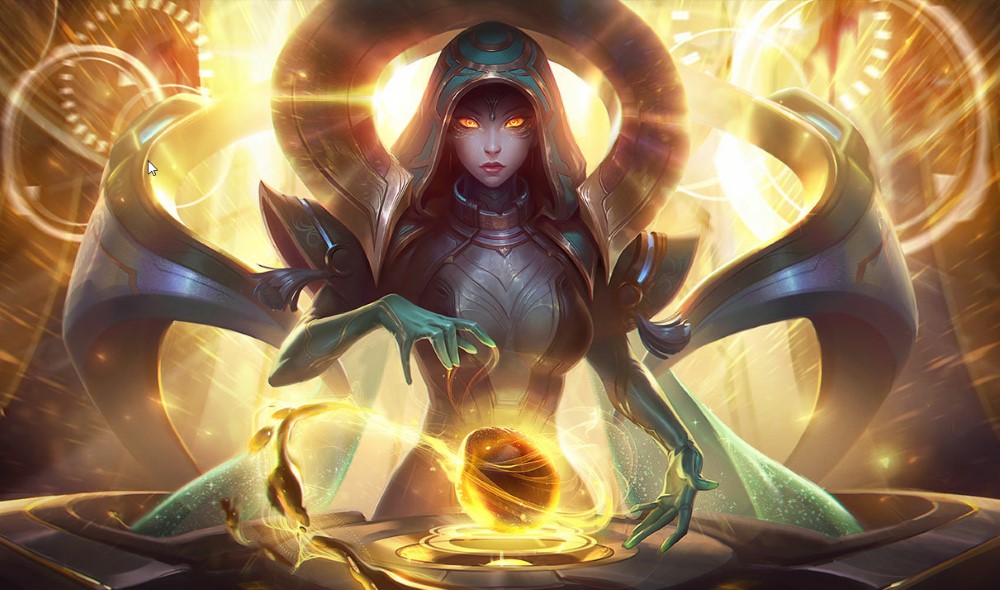 Odyssey Sona skin. 
If you thought Sona was just a sweet, charming, and elegant musician, you are wrong! Although Sona is popular for being one of the most beautiful champions in the game, many wondered if she would ever show any of her different sides. Odyssey Sona uniquely shows off the mysterious and potentially dangerous aura of her character. 
What makes this skin legendary:
Odyssey Sona is a mystic sorceress and a very attractive one too! Her green-silver outfit is literally from another world. It looks like Odyssey Sona is tired of being a support character and is ready to be at the center of battles. 
So much glow! The golden glow in her background brings out Odyssey Sona's mystic features. She is mysterious, yet majestic and magical. Three characteristics that will never get old. 
The golden ora floating above her Etwahl is entrancing, and the way Sona's hands are positioned around it makes it seem as if the ora is a weapon produced by her Etwahl. Very intriguing and cool!
How to get this skin: 
Available in the client shop for the price of 1350 RP.
See Odyssey Sona in action!
#1. Sweetheart Sona (Legendary)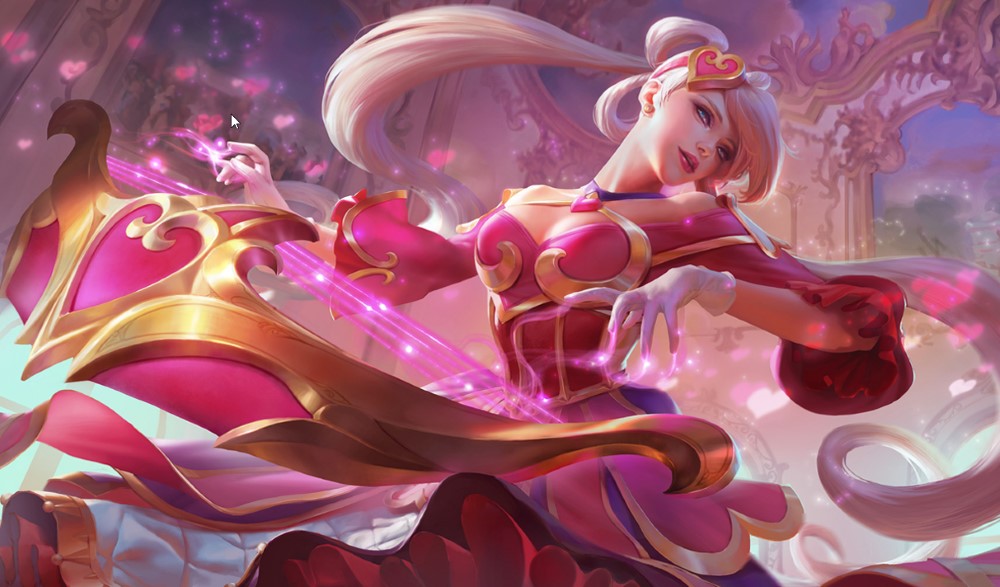 Sweetheart Sona skin. 
Valentine's Day brings out one of the most popular events and skin series. The Sweetheart, Heart Seeker, and Heartbreaker lines are introduced in the game during this time of year. First, close your eyes and imagine the perfect girl of your dreams. Now open your eyes and look at Sweetheart Sona. Surely, it is even better than whatever you just imagined. This skin perfectly captures who Sona is - loving, charming, and beautiful. 
What makes this skin incredible:
Sweetheart Sona's expression is probably the best out of all Sona skins. Her blue eyes gaze in the distance as she plays her romanticized Etwahl. 
The concept is beautiful. Sona is quite literally a sweetheart playing a loving melody with her delicate hands and slender fingers. Her dress screams Valentine's Day!
The details in the background of Sweetheart Sona should not be missed. Although it is hard to tell whether they are paintings or windows in the background, the intricacy is there and should be appreciated! Overall, the background adds on to Sweetheart Son's romantic vibe. 
How to get this skin: 
Available during special events in the client shop for the price of 975 RP.
See Sweetheart Sona in action!
You may also be interested in: 
Image Gallery