LOL Best Healers
Updated: 24 Oct 2020 1:36 am
Yuumi's surprised she's not #1!
5. Senna
The Redeemer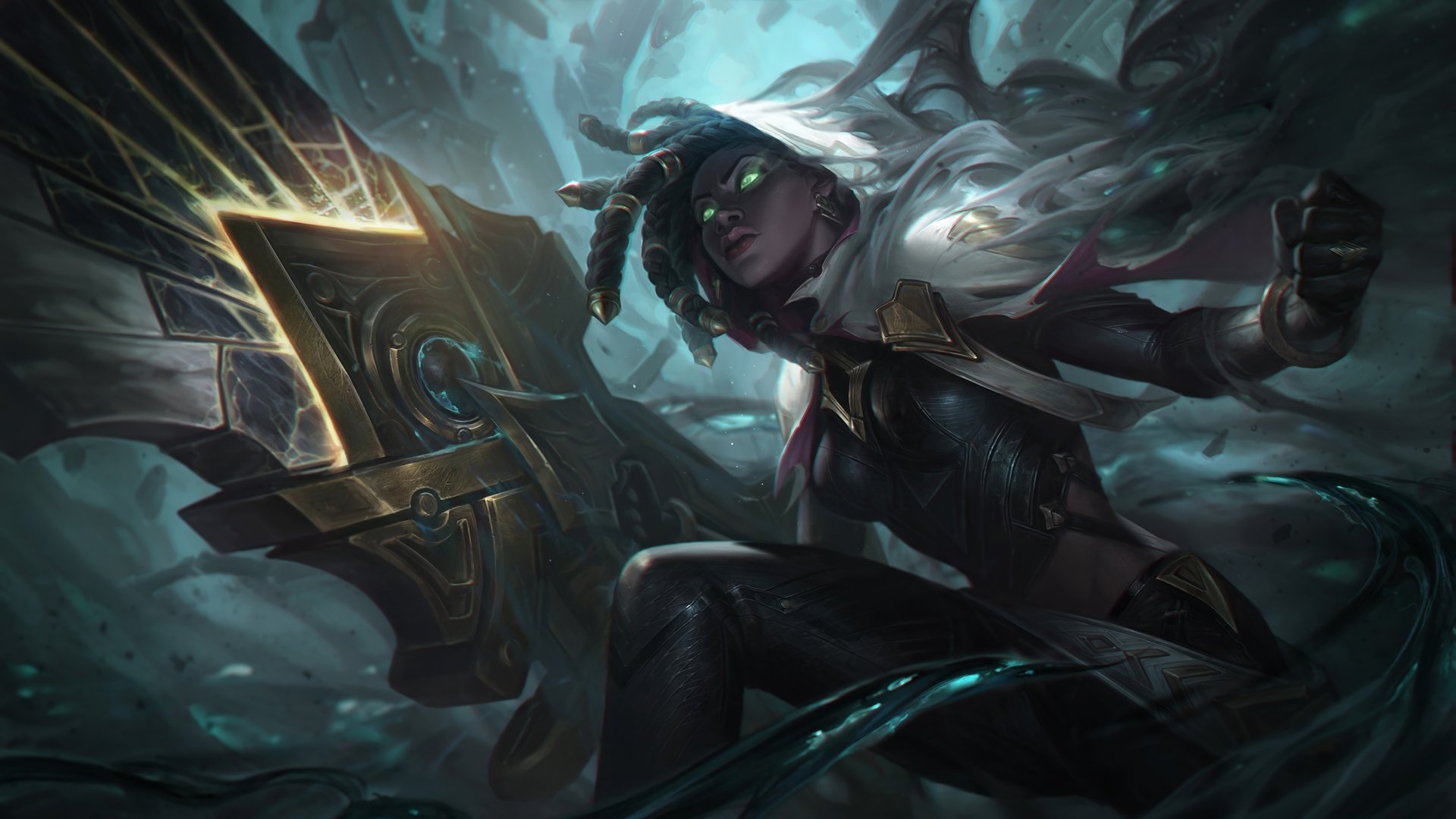 Senna is primed to poke and heal her way to the win
Senna is a strange champion, a hybrid between an AD carry and support, who can just as easily play either position. She is decent in the lane phase with her healing and harass, but is squishy and immobile, so is weak against all-ins. However, her healing, range, and crowd control make her deadly in the mid and late game, and her healing can carry her team through even the toughest fights.
So what makes Senna so effective as a healer?
Senna's healing scales off of her AD. This means when she buys items that give her damage, her healing increases as well. This means that whether you're AD carry senna or support senna, your heal will be very useful.
Senna can heal more than one target at a time, and damage enemies simultaneously as well. This is great in team fights as well as in the lane phase. 
Senna's sustain gives her a solid lane matchup against many different lanes, especially lanes and team compositions that are centered around poke. 
Senna tips and tricks!
Your Piercing Darkness (Q) can go through multiple targets, healing allies, and damaging enemies. Make sure you line it up to hit as many units as possible. Whether you need the extended range on the end to last hit minions, harass the enemy laner, or heal an ally, make sure to keep this in mind as the game moves on as to not lose a lot of the power of your Piercing Darkness (Q). 
Piercing Darkness (Q) can be cast on ANY targetable unit. That includes allied and enemy towers, allied and enemy minions, allied and enemy champions and wards, etc. Use this knowledge to your advantage when playing around towers or in the jungle near wards, as you can use these things to hit enemies or allies with your Piercing darkness (Q) and heal them when you are out of range. 
Do an AD-based build on support as well. This will allow your healing to scale well into the late game. On support, exchange your Manamune for an Umbral Glaive, and build more lethality or a Black cleaver later. 
If a unit dies after being hit by Last Embrace (W), the root effect immediately triggers. Try to use this in the lane to kill minions near your lane opponent, rooting them and granting you some free damage. 
In team fights, try to keep your distance from enemy tanks and bruisers, and spam cast your Piercing Darkness (Q) on enemies and allies alike. Try to hit as many allies as you can so your healing can help them win the fight.
Build: 
Manamune
Boots of Swiftness
Black Cleaver
Umbral Glaive
Rapidfire Cannon
Mortal Reminder/Lord Dominick's Regards
Runes: 
Glacial Augment
Magical Footwear
Biscuit Delivery
Approach Velocity
Presence of Mind
Legend: Alacrity
Adaptive Force, Adaptive Force, Armor
Ability Max: R>Q>W>E
Here's a challenger player's (Nasteey) Senna Guide for both AD and support!
4. Nami
The Tidecaller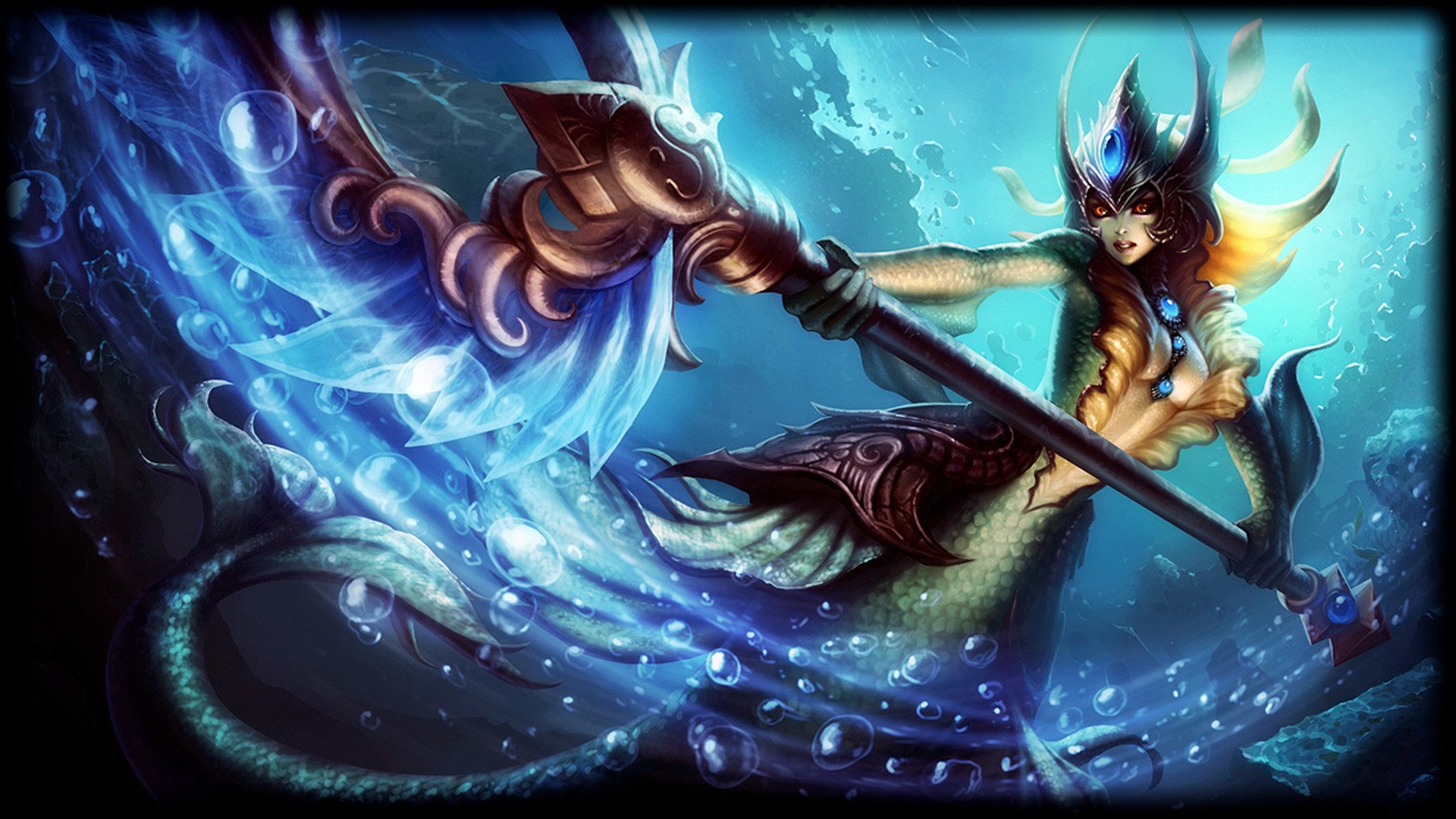 Nami is an enchanter support whose multi-faceted kit allows her to adapt to a number of situations and team compositions. Her combination of healing, crowd control, and damage in one kit lets her guide her carries to many wins in the proper hands.
What makes Nami a good healer? 
Nami's Ebb and Flow (W) is healing and damage wrapped into one ability. Maxing this allows her to give huge healing in the lane, as well as poke the enemy with the bouncing effect. 
Nami has great zone control with her Aqua Prison (Q), empowered auto attacks with her Tidecaller's Blessing (E), and later with her ultimate, Tidal Wave (R). These allow a good Nami to help her carry farm by pushing the enemy lane away from their minions.
Nami's Ebb and Flow (W) can bounce on enemy champions and allied champions alike, increasing the healing and damage with each bounce. This allows for very high healing with proper Ebb and Flow (W) casts. 
How to play and win as Nami: 
Make sure your Ebb and Flow (W) is bouncing off of enemies and allies to increase the damage and healing. To do this, cast it when enemies and allies are near one another. 
Sometimes, it's better to hold onto your Aqua Prison (Q) than to cast it. This is because the enemy will know it's off cooldown and be scared of it. If they see you use it, they can get aggressive. 
Tidal Wave (R) is best used as a peeling/disengage ability. Use it against all-ins in the lane and team fight engages to stop enemy tanks, assassins, and bruisers in their tracks, knocking them up and slowing them, allowing for easy Aqua Prisons (Q). 
In team fights, your number one priority is to protect your carry. Do this with your Tidal Wave (R), your Aqua Prison (Q), and your Ebb and Flow (W) for healing. 
Always give your Tidecaller's Blessing (E) to whoever is auto attacking enemies. The extra damage, and more importantly, the slow, are vital to peeling enemies off as well as slowing them down if they attempt to escape. Usually, this is cast on your carry, but don't be afraid to cast it on yourself if your carry is low, or you are in a more aggressive stance than them.
Runes: 
Summon Aery
Manaflow Band
Transcendence
Scorch
Biscuit Delivery
Cosmic Insight
Adaptive Force, Adaptive Force, Armor
Build: 
Athene's Unholy Grail
Boots of Mobility
Ardent Censer
Redemption
Mikael's Crucible/Locket of the Iron Solari
Twin Shadows/Shurelya's Reverie
Ability Max Order: 
R>W>E>Q
TinfawnGG's 10 minute Nami Guide is here to help you win some games
3. Sona
Maven of the Strings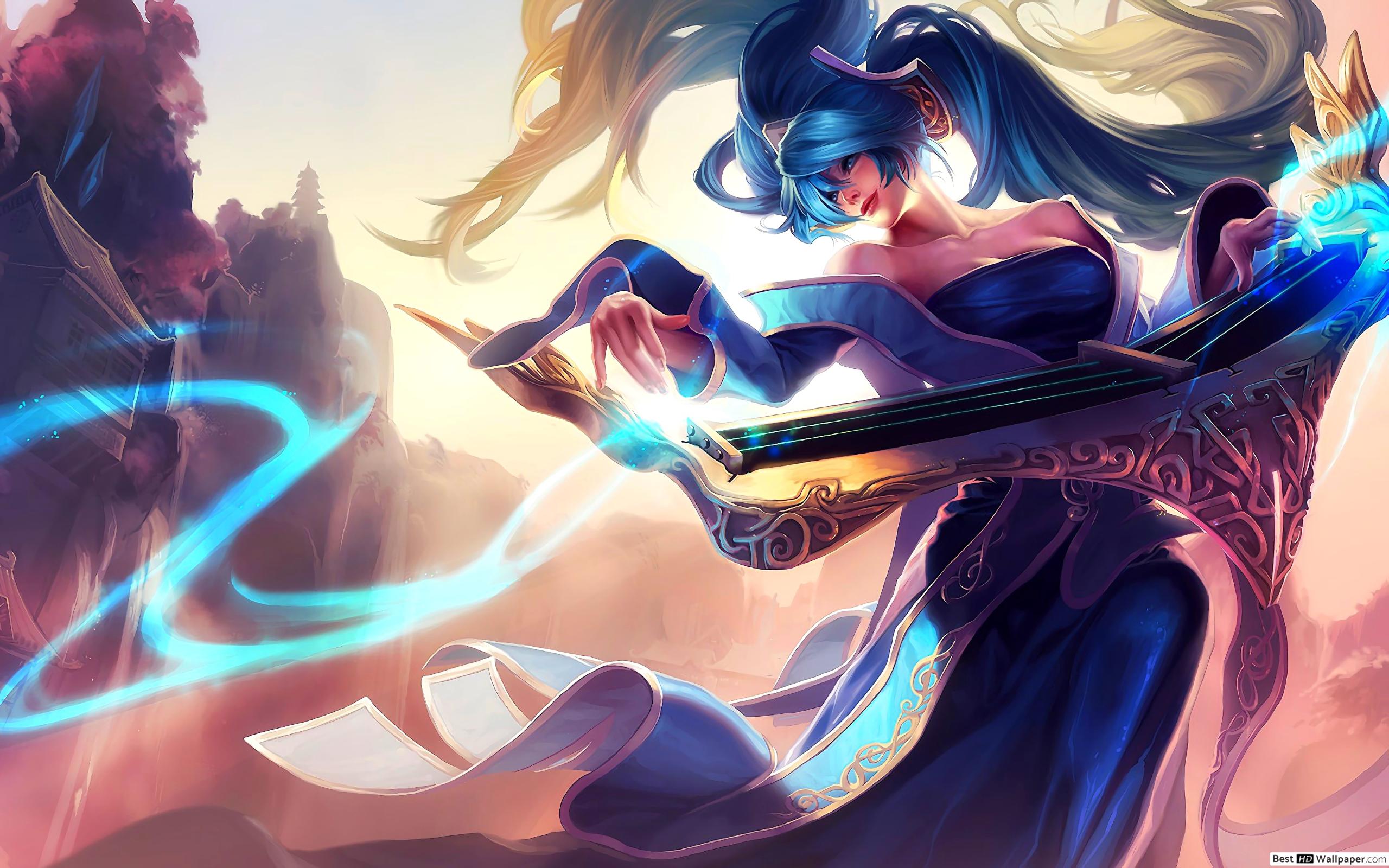 Sona is as traditional as it comes when talking about sustain/healing supports, but that doesn't mean she's not good at her job. Sona's heal in conjunction with her ability to buff her allies and poke some enemies gives her all the tools to be a solid enchanter and healing support.
Why is Sona a good healer? 
Sona's Aria of Perseverance (W) not only heals allies but also shields them. This makes it great for trading in the lane.
Sona's Aria of Perseverance (W) is also a low cooldown spell. Low cooldown healing spells are great against poke lanes.
Sona's ultimate, Crescendo (R.) is awesome in fights and skirmishes. This area of effect stun gives Sona capabilities beyond only healing.
How to win games with Sona:
Against All-in lanes, play far back and heal any damage that you and your carry take. You are weak against these lanes, so be careful.
Against poke lanes, simply trade with them with your Hymn of Valor (Q) and heal up the damage afterward with Aria of Perseverance (W). 
At level 6, Crescendo (R.) can turn and engage in fights very well. Don't be afraid to all-in post-6 when safe!
In Teamfigjts, try to land a good multiple target Crescendo (R.). Then stay back to heal your carries and damage enemies.
Remember to use your passive, power chord, by auto-attacking after you cast 3 spells! The damage reduction, damage boost, and slow are all very effective in different situations! Line up your ability casting order so that after 3 casts you have the proper auto-attack ready. 
Runes: 
Summon Aery 
Manaflow Band 
Transcendence 
Gathering Storm 
Presence of Mind 
Cut Down 
Adaptive Force, Adaptive Force, Armor 
Build: 
Athene's Unholy Grail
Ionian Boots of Lucidity 
Ardent Censer 
Redemption/Mejai's Soulstealer
Shurelya's Reverie 
Lucy Bane/Locket of the Iron Solari
Ability Max Order: R>Q>W>E
Bizzleberry's in-depth guide to great Sona play
2. Yuumi
The Magical Cat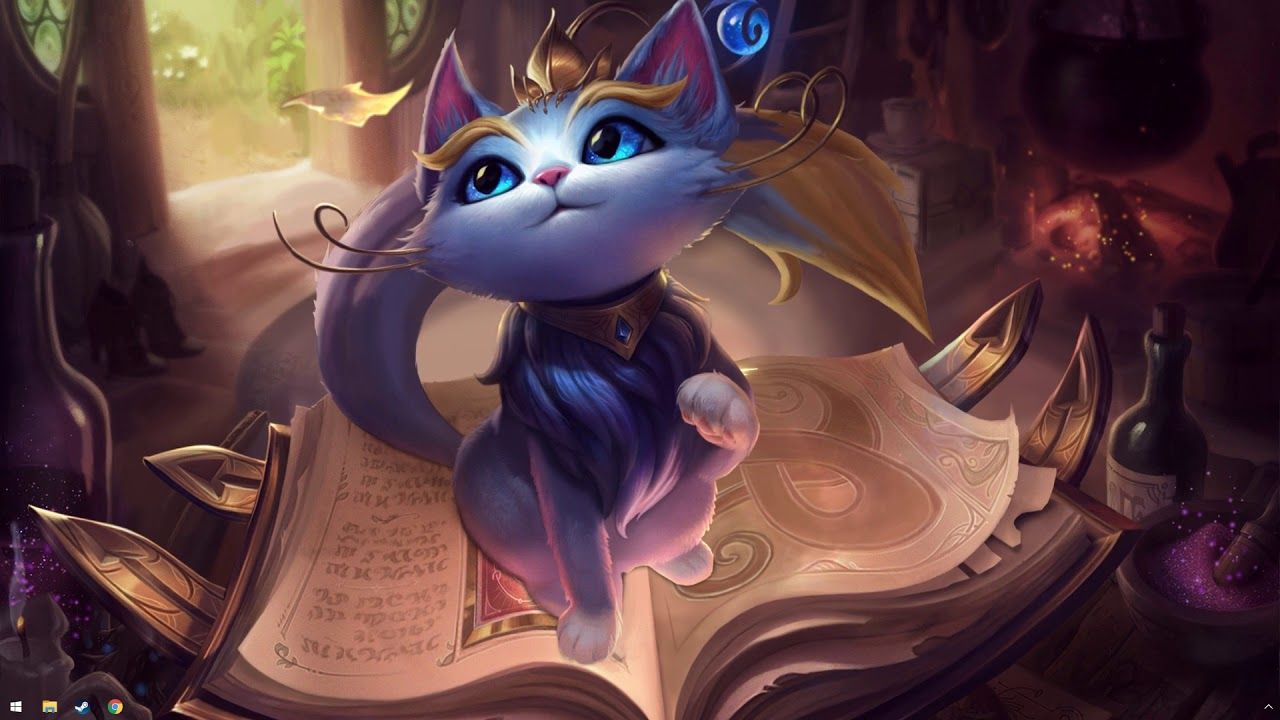 Yuumi is an extremely unique and strange champion that, if played well, can win games on her own and barely be touched by the enemy team. Her ability to "attach" to an ally and become untargetable, heal them, and cast abilities from them basically creates super-champions on your team, and is awful to deal with for enemies, especially if you have strong life stealers or duelists on your team. 
Why is Yuumi so good right now?
Yuumi gives whoever she is attached to ability power, attack damage, and can spam heals on them. This turns juggernauts and bruisers into one-vs-five killing machines if they're ahead
Yuumi is hard to beat in lane because she can sustain and poke. This makes her good against both poke lanes, that she sustains through, and all in lanes, who she can poke. 
Yuumi has an area of effect crowd control ultimate, making her a pain to play against in team fights.
Yuumi tips and tricks!
Don't be afraid to attach to someone who's not your AD carry. Attach to the most fed player on your team using your You and me (W)! 
Your Prowling Projectile (Q) can be controlled with your mouse. Use this to poke enemy laners who are behind minions.
Buy mana regeneration in the early game! This will allow you to use Zoomies! (E) a lot more in the lane. Other stats such as HP and AP are not that effective on Yuumi as she is not attacking much herself.
In team fights, use You and Me! (W) to attach to whoever is engaging and cast Final Chapter (R.) to crowd control as many enemy champions as possible. 
Be active in fights and skirmishes, using You and Me! (W) to jump between allies and heal with Zoomies (E).
Runes: 
Summon Aery
Manaflow Band 
Transcendence 
Scorch 
Presence of Mind 
Cut Down 
Adaptive Force, Adaptive Force, Armor
Build: 
Athene's Unholy Grail
Ardent Censer 
Mejai's Soulstealer
Redemption 
Mikael's Crucible 
Shurelya's Reverie 
Ability Max Order: R>Q>E>W
ProGuide's video guide to Yuumi
1. Soraka
The Starchild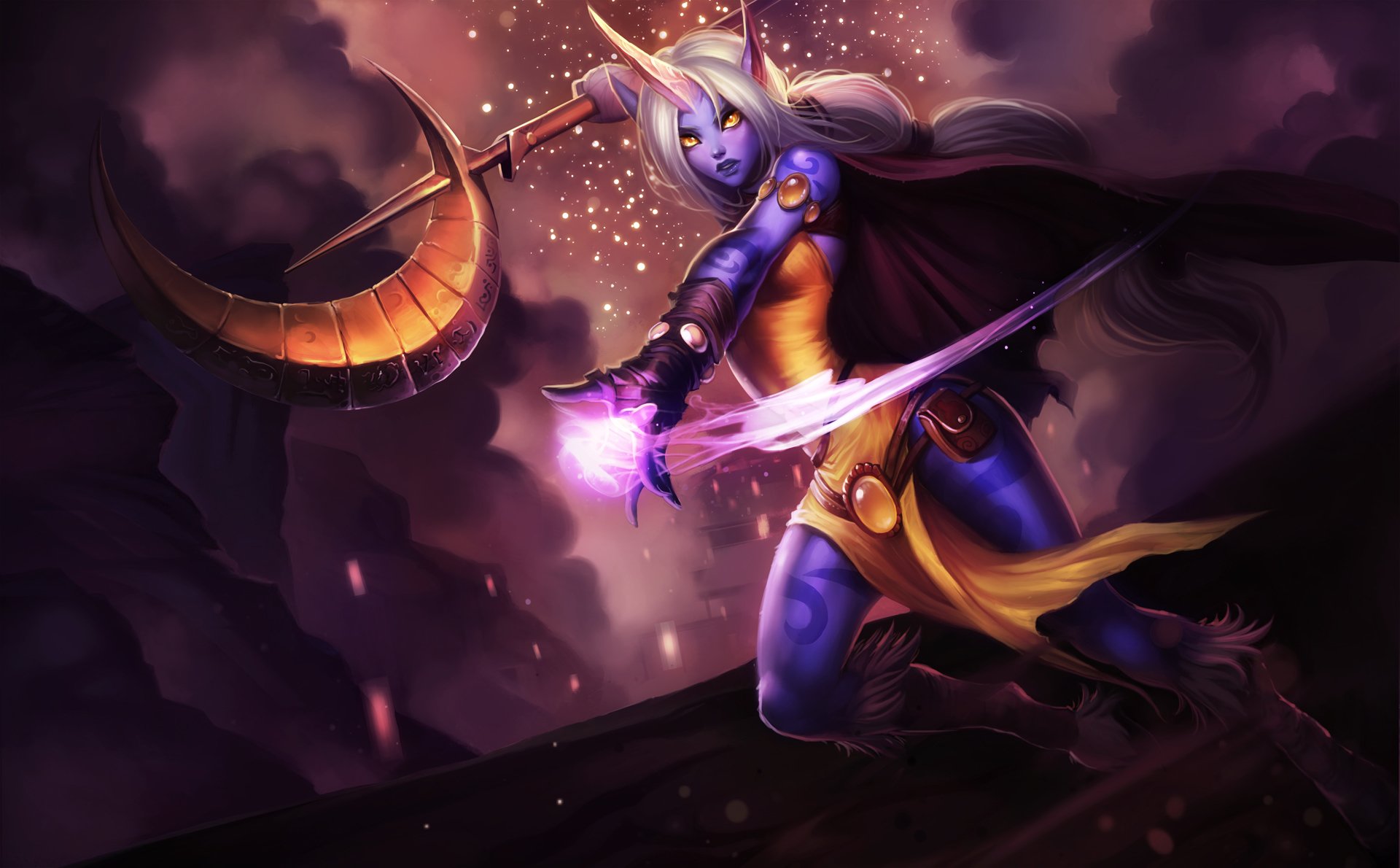 When it comes to champions who can heal, Soraka is the best they come. A simple, single target spammable heal and an ultimate that heals all of her allies map-wide is all Soraka needs to make her the best healing champion in the game. Positioned properly, Soraka can protect her teammates in any circumstance and carry games with her healing alone. 
So why is Soraka the best healing champion in LoL?
Soraka's Astral Infusion (W) is an exceptionally low cooldown healing ability for a significant chunk of HP. It also costs her health, not her mana, so she has ways of regenerating her resource and continuing to spam. This makes her great in the lane phase.
Soraka can heal allied champions across the map with her Wish (R). A Soraka with good map awareness can turn a number of top-lane, mid-lane, and jungle fights every game. 
Soraka can heal her whole team at the same time during fights. She can help her teammates recover from big area of effect damage with Wish (R), and can cast a ton of Astral Infusions (W) in a single fight, as long as she stays alive and safe. 
How to win games with Soraka: 
Play passive in the lane phase. Most of the other bot lanes in the game will be able to kill you in an all-in, especially if they run ignite or buy Executioner's Calling early. Stay back, but close enough to get experience, and sustain through the lane. 
Hit your Starcall (Q) before casting Astral Infusion (W). This will make it cost less HP, as well as replace some of the HP you lost on your previous Astral Infusions (W). 
Run Heal on Soraka and tell your marksman to take exhaust or ignite. This is because Soraka stands far away from fights, so she doesn't get many good opportunities to cast summoner spells on enemy champions. Heal is cast on an allied champion so it's easier to use for this champion.
In team fights, protect your carries with Equinox (E). Placing this in the right place can silence and root assassins that are trying to kill your marksman and mages. Place it just between the enemy and the player you want to protect. 
Stay in the back of team fights. Often, players will know to focus you down so you can not heal your team. Keep this in mind when positioning, and make yourself hard to stick to by playing near allied champions that can protect you with crowd control or damage. 
Runes: 
Summon Aery
Manaflow Band
Transcendence 
Scorch
Bone Plating
Revitalize
Adaptive Force, Adaptive Force, Armor
Build: 
Athene's Unholy Grail
Boots of Mobility
Ardent Censer
Redemption
Shurelya's Reverie/Mikael's Crucible 
Warmog's Armor/Randuin's Omen/Spirit Visage
Ability Max Order: R>W>Q>E
Here's a great in-depth guide to Soraka by Pixel Pocket
Image Gallery