Mobile Legends Best Grock Skins Revealed (All Grock Skins Ranked)
Updated: 21 Jun 2023 6:21 pm
Grock has 6 authoritative skins to rule the battlefield with.
Positioning is fundamental to mastering Grock. He ranks amongst the strongest tanks in Mobile Legends but is often overlooked for difficulty in mastery. Perfect for roaming, his specialties lie in Initiating and Burst. He is made for the forefront of battle but full potential is realized through his ultimate skill, that uniquely allows him to build a temporary wall that can trap opponents or protect allies.
Known as the protector of an ancient race, Grock has a total of six skins to choose from. Given his strength and ability to burst into the front-lines, skins revamp the energy and vibe that he transcends via his capabilities. He possesses some of the most creatively and articulately thought out illustrations that embraces him with strength and energy. Here are all his skins in ranked order. Find out how and why to obtain these haunting illustrations.
6. Grave Guardian (Good)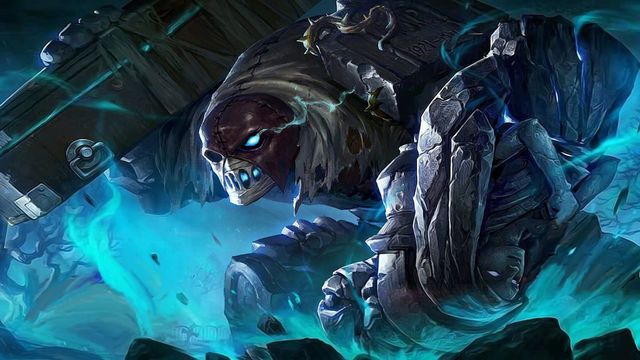 See Grave Guardian in action: 
At number 6 on the list is a normal skin that would have been ranked higher if it had additional perks. It has a terrifying grim vibe to it that has a vibrant and wide appeal. In addition, he carries a casket and tombstone as his weapons that sparks his image in battle.
As is the case with normal skins, it's anyone's guess about the model and name but this depiction resonates with his character as guardian of an ancient race. This is the cheapest skin on this list that would entice Grock mains with its ease in obtainment.
How to get Grave Guardian
This deathly vibe is available for only 269 Diamonds.
Skin Rating
Normal Skin - 5/10
5. Castle Guard (Good)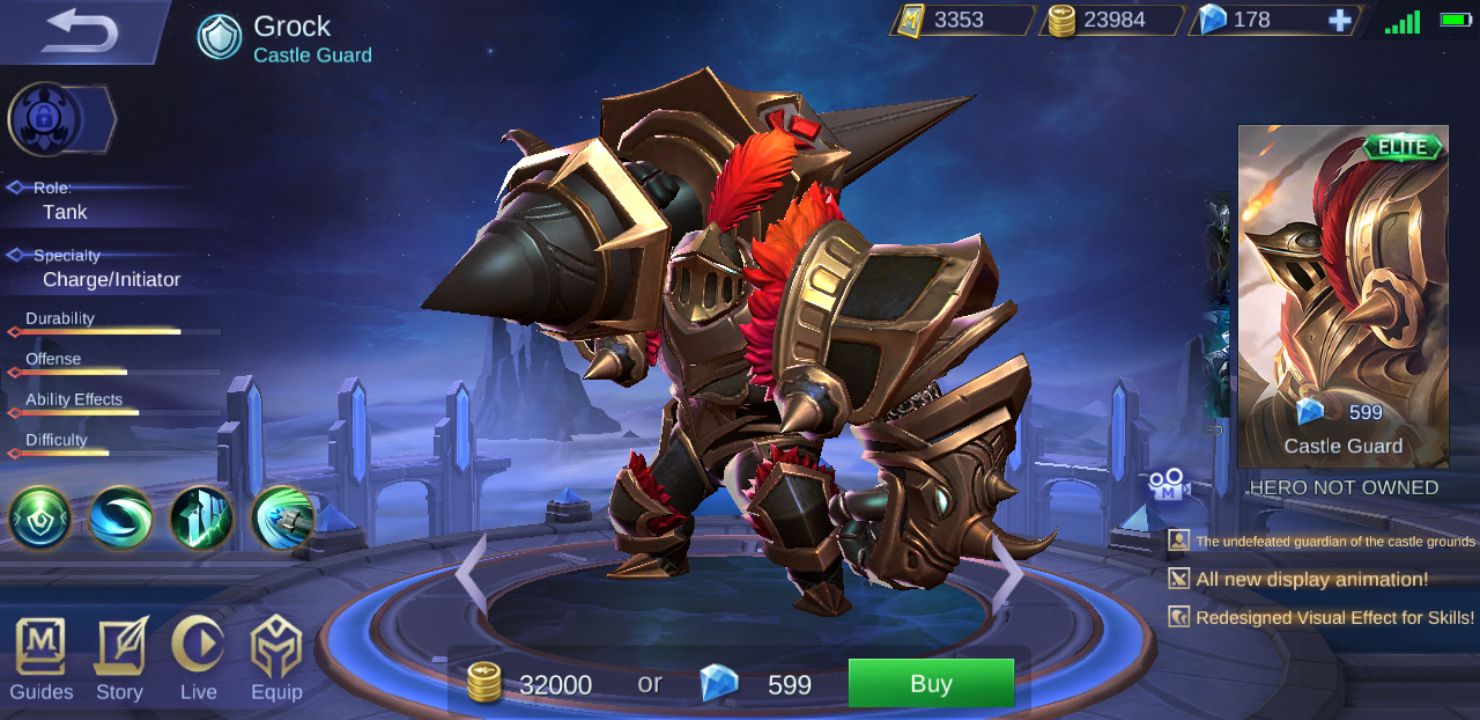 See Castle Guard in action: 
The undefeated guardian of the castle grounds. Grock is a knight in this beautiful ancient display. He remarkably resembles a Gladiator, equipped with a jousting pole and ready for battle. This striking art comes with two added perks, all new display animation and redesigned visual effects for skills.
The skill effects resemble his outfit with a golden color but doesn't captivatingly stand out. His overall presentation however is sparked by this golden theme that revamps his entire image and what he brings to the battlefield in full capacity. Castle Guard is a simple but potent visualization of Grock.
How to get Castle Guard
This Gladiator Portrayal is available for 599 Diamonds in Shop.
Skin Rating
Elite Skin - 6/10
4. Iceland Golem (Great)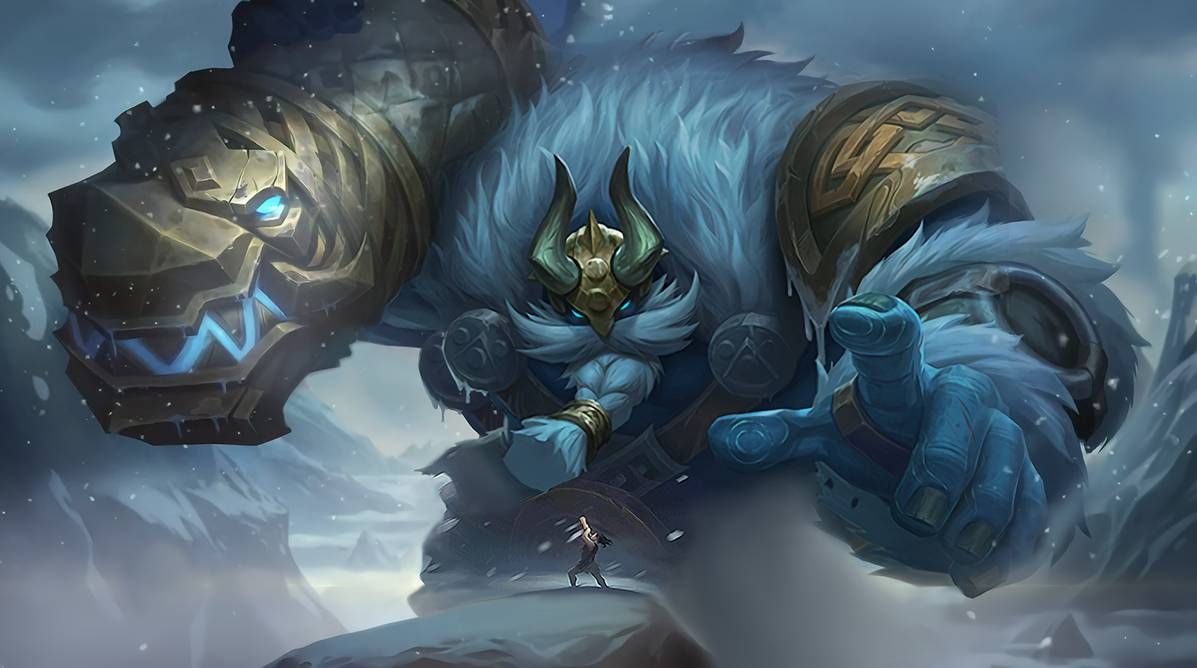 See Iceland Golem in action: 
Inspired by Hebrew folklore, Grock is a resident of the cold north via this icy illustration. This is a Starlight Skin that includes all new display animation and new skill effects. Obtaining this skin may come with starlight perks and discounts, which adds more value to its worth.
Grocks ultimate skill builds an ice wall, similar to an igloo that is striking and radiates danger and fear in battle. His demonic appearance also builds on this stance, but leans toward a viking aggression. While the skill effects beautifully complement the general theme, the aggressiveness radiated through Iceland Golem is undeniable, 
How to get Iceland Golem
Purchase a Starlight Membership to avail this cold portrayal. Initial Release: 2019/11
Skin Rating
Starlight Skin - 7/10
3. Ancient Totem (Great)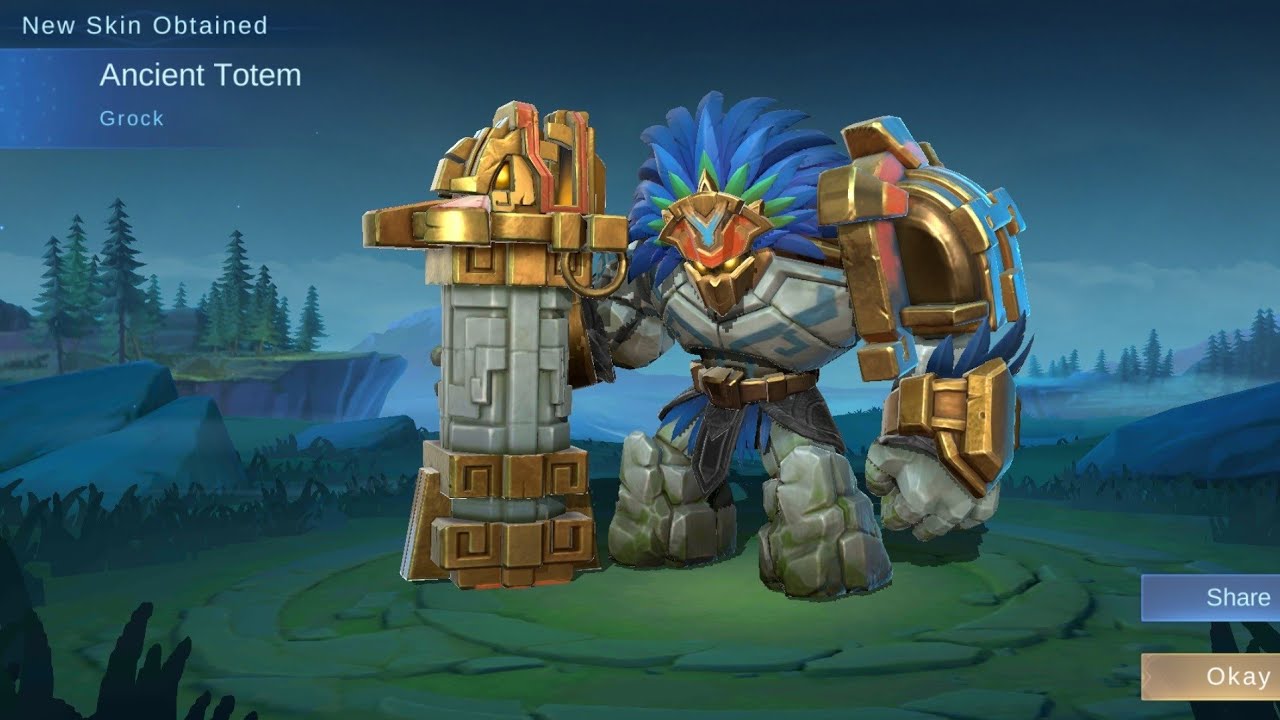 See Ancient Totem in action: 
Grock is a guardian of ancient ruins through this medieval illustration. Symbolizing sacredness, Ancient Totem comes with all new display animation and redesigned visual effects for skills. The colors behind this skin are bright in comparison to the choice of dark colors in other skins.
The skill effects don't stand out but match his attire once again. His ultimate skill generates a wall similar to those in ruins, which is kind of artistic in nature. Ancient Totem is a creative version of Grock that symbolizes lost value, in line with his character story. 
How to get Ancient Totem
This is the Season 24 Skin. Purchase Grock to automatically own this skin.
Skin Rating
Season Skin - 8/10
2. V.E.N.O.M Monitor Lizard (Legendary)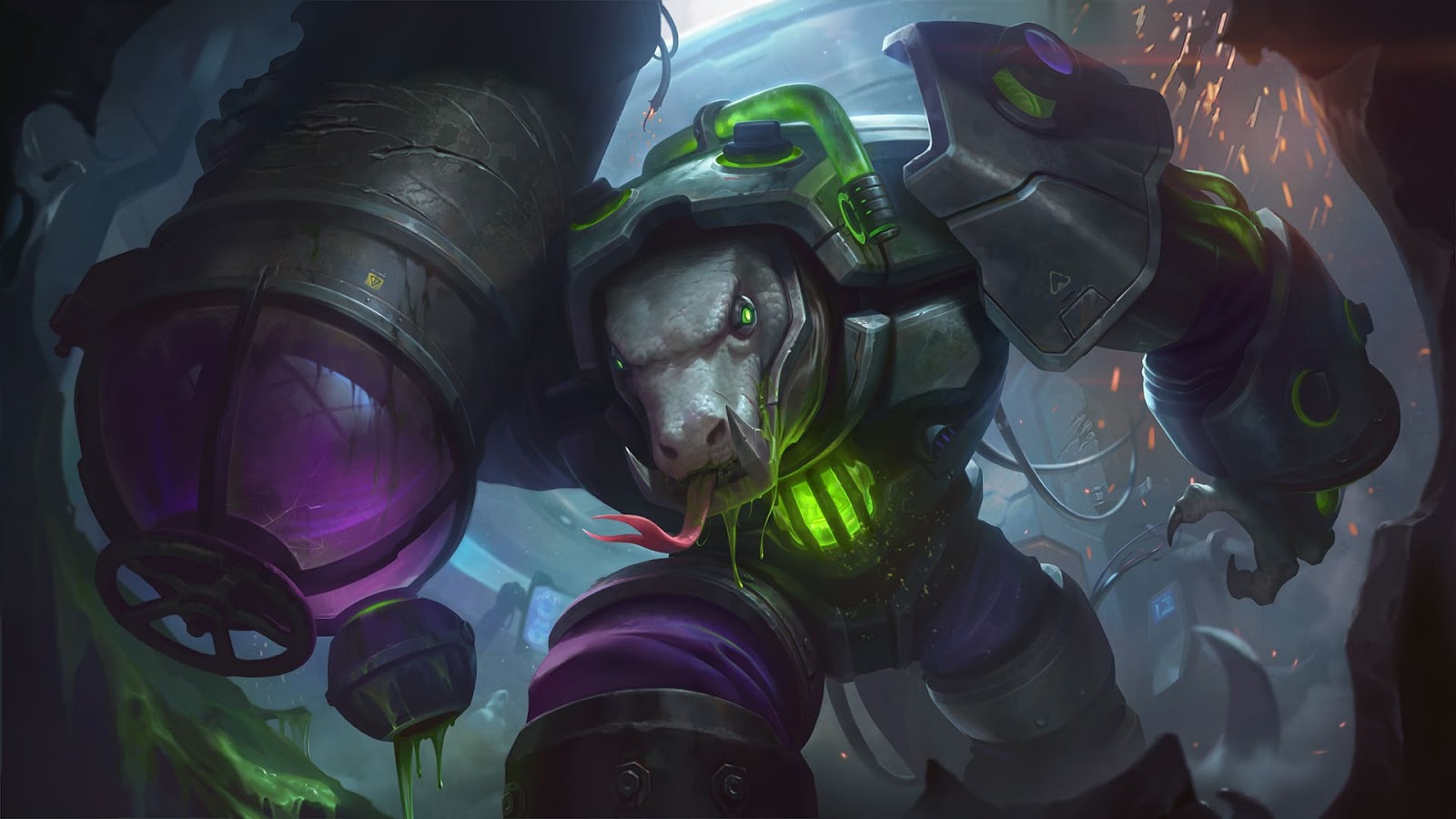 See V.E.N.O.M Monitor Lizard in action: 
V.E.N.O.M is a villain squad series of skins that rival S.A.B.E.R and is led by Guison. This is a scary and invasive impression that comes with all new voiceovers, skill effects, display scenes and animation. The collector value behind this skin adds to its worth, as part of a series.
Grock is a monitor lizard in robot armor with a hint of toxic damage through the skins theme. His ultimate skill builds a wall similar to a toxic chamber or underground laboratory which exceedingly stands out in strength. The skill effects resemble his image in color themes that give off an attractive but deadly presentation and vibe. This is one of the most hideous but dope skins in ML. 
How to get V.E.N.O.M Monitor Lizard
This collectible is available for 899 Diamonds in Shop.
Skin Rating
Series Skin - 9/10
1. Codename: Rhino (Legendary)
See Codename: Rhino in action: 
This is a mecha illustration that defines Grock as a futuristic robot. One would assume that this is a transformers skin due to the undeniable resemblance. It comes with skin voiceover changes, new display scenes, all new display animation and display effect changes.
The intricate image designs behind Codename: Rhino are superb in their futuristic patterns, especially his ultimate skill that builds a wall that resembles spaceship doors in fictitious media. As the name implies, Grock comes ready to destroy everything in his path through this aggressive and emotionless representation.
How to get Codename: Rhino
This vicious portrayal is available for 899 Diamonds in Shop.
Skin Rating
Epic Skin - 10/10
You may also be interested in: