[Top 5] The Division 2 Best Gear Sets (Updated)
Updated: 09 May 2020 6:23 am
Kill more efficiently with the best gear sets.
When the new expansion was released, The Division 2 featured new gear sets, as well as new stats for previously existing gear sets. 
People have been enjoying the Warlords expansion with its new exotic weapons and gear. 
With the first phase of the Shadow Tide season still going on, players should make sure they are ready for the activities that will be coming in May when Target Mercury becomes an issue for fellow agents. 
We are going to look at the top five gear sets in time for May 2020. 
1. Striker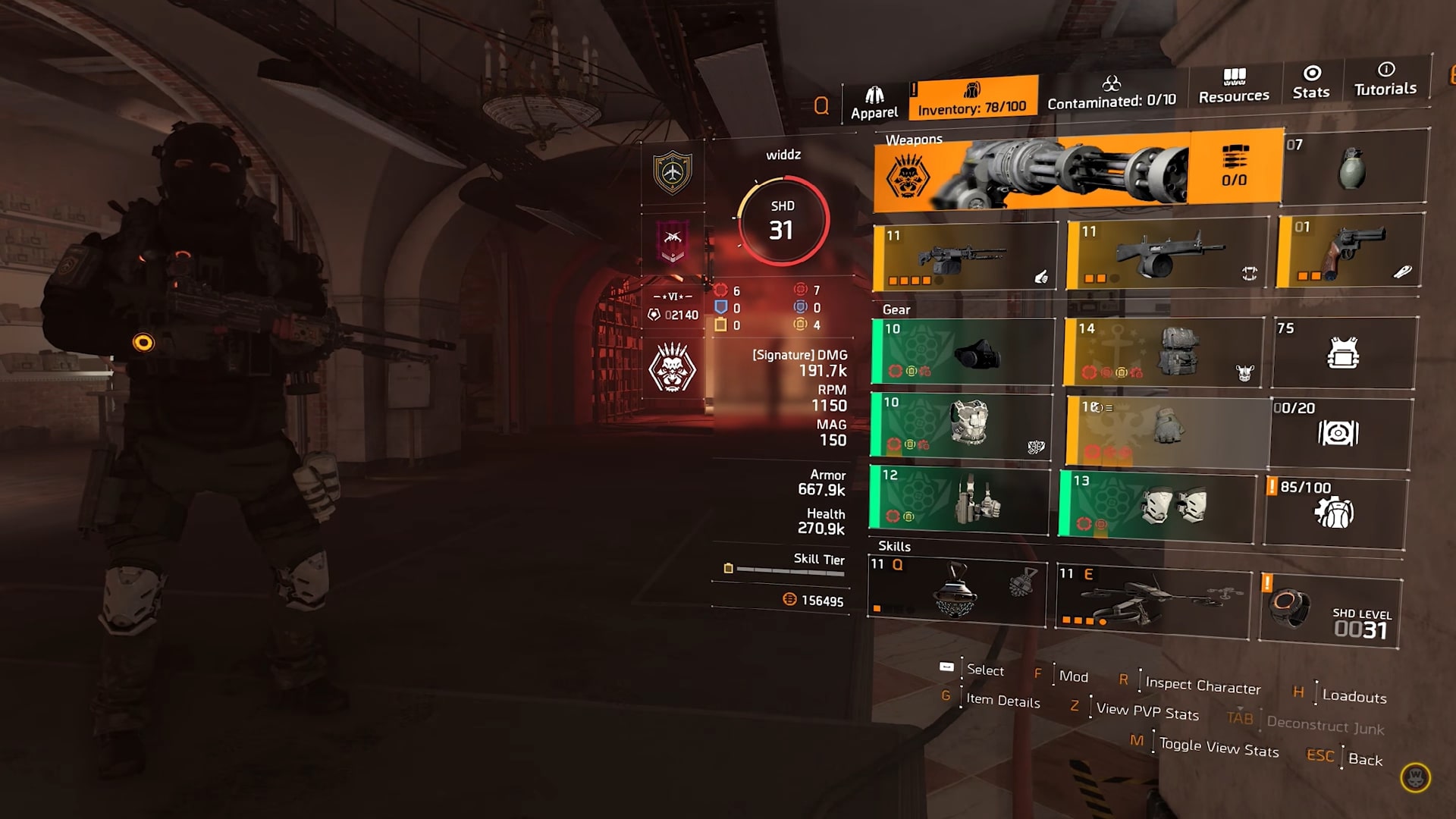 This new gear set also comes with two talents, Press the Advantage and Risk Management. 
Press the Advantage is a part of the vest, and Risk Management is part of the backpack. 
What Gear Set Name Excels In:
Build Details:
Stats:

+15% weapon handling
+15% rate of fire
Striker's Gamble- "Weapon hits boost total damage by 0.5%, and it can stack up to 50 times. One stack is lost every second, and three are lost if you miss."

Armor: Striker's Harness, Striker's Gloves, Striker's Holster, Striker's Knee Pads, Striker's Mask, Striker's Pack
Video:
2. Hard Wired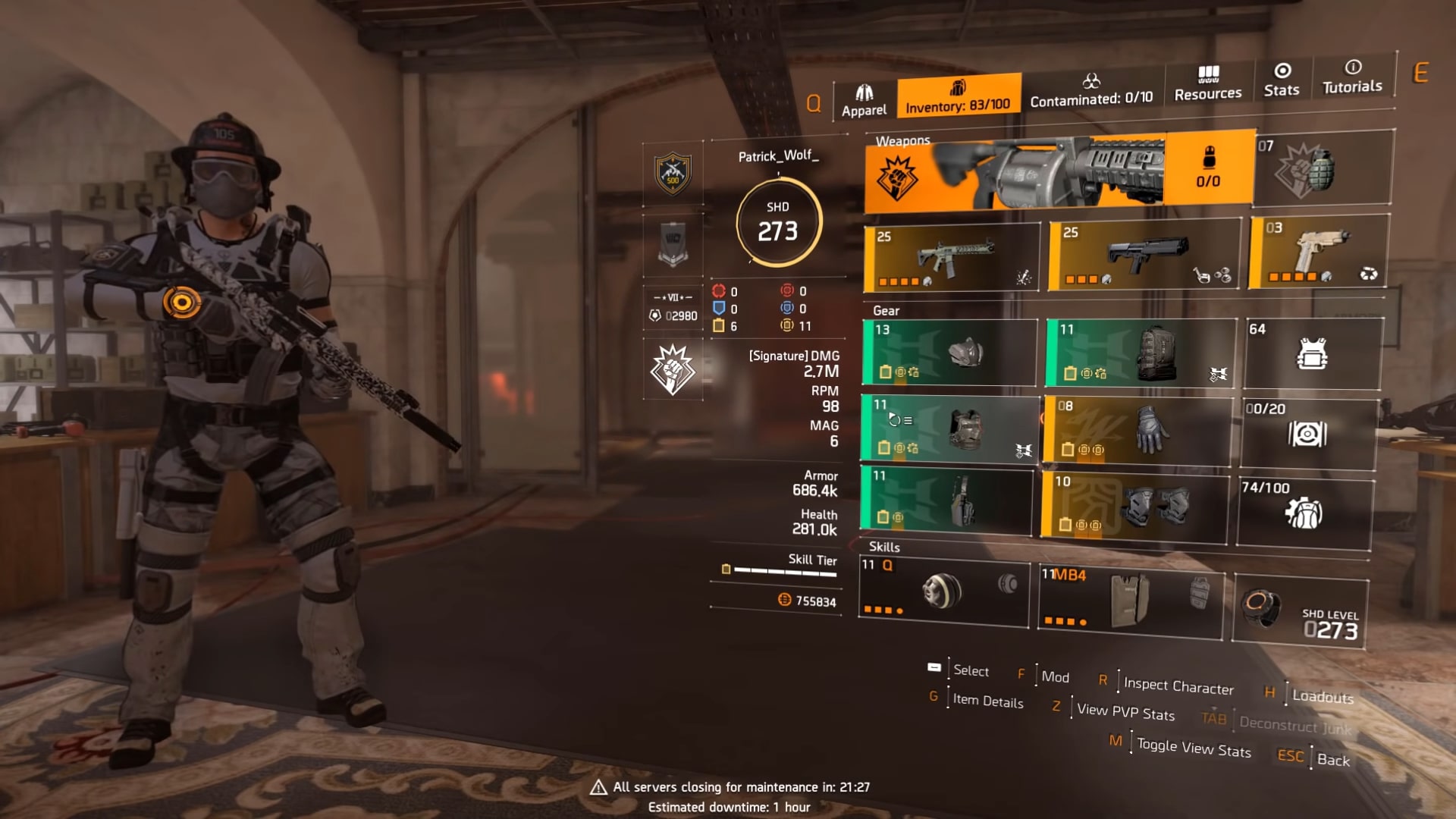 This gear set, with its bonuses, will protect enemies from sneaking up on you.
Hard Wired will work perfectly for those who are health and armor obsessed. 
What Gear Set Name Excels In:
Build Details:
Stats:

+20% skill health
+20% increased shock duration
+20% skill power
Tamper Proof- "Enemies that go near your placed skills get shocked."
Feedback Loop- "Kills with your skills reset all skill cooldowns. Repairing a friendly from no armour resets all skill cooldowns. When a skill completes its cooldown or fully charges, you gain bonus skill and repair effectiveness with all skills."

Armor: Hardwired's Harness, Hardwired's Gloves, Hardwired's Holster
Hardwired's Knee Pads, Hardwired's Mask, Hardwired's Pack
Video: 
3. Corruption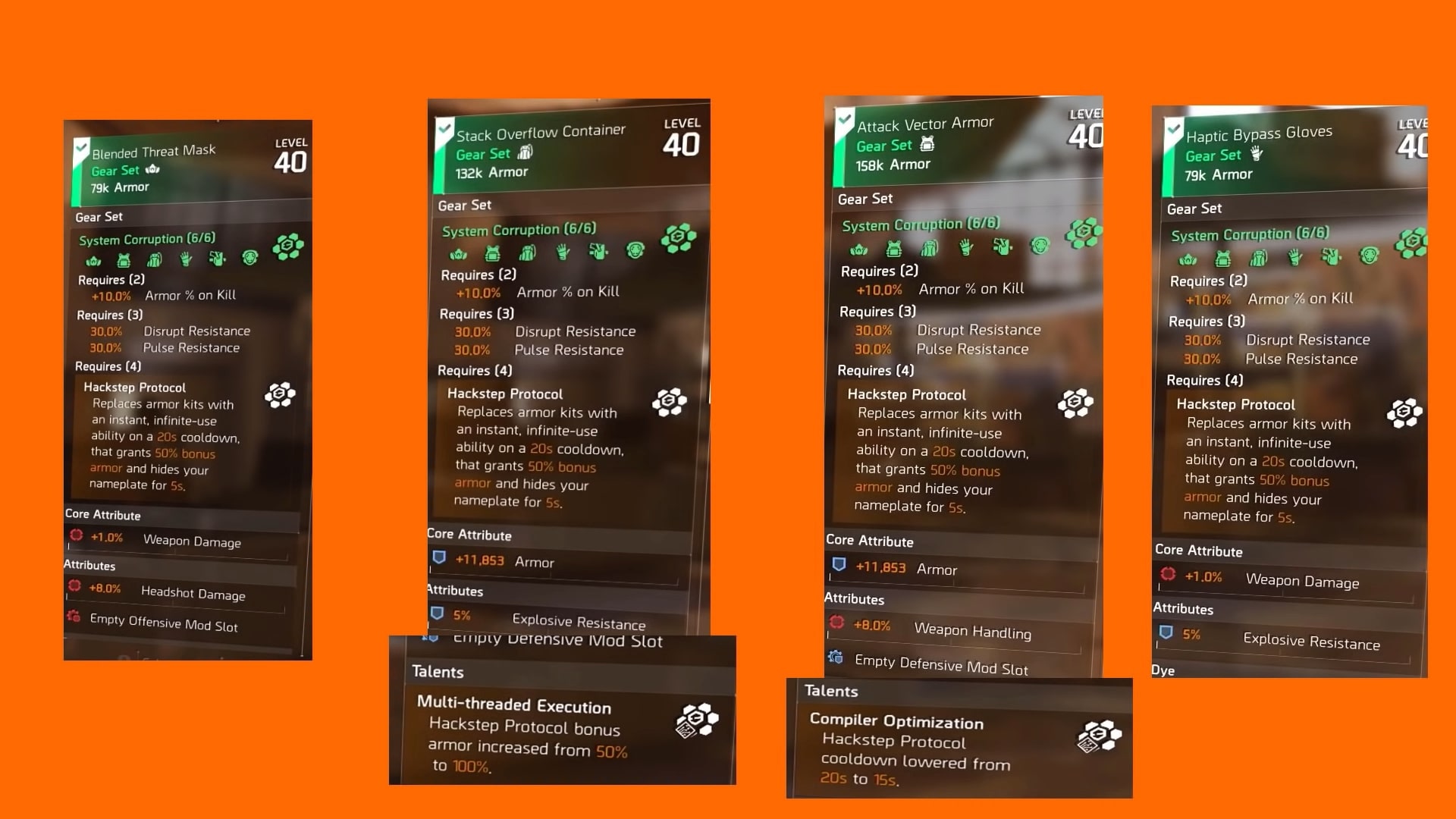 Corruption is a new gear set with a few talents, Multi-threaded Execution and Compiler Optimization. 
What Gear Set Name Excels In:
Armor regeneration
Pulse resistance
Build Details:
Stats:

+15% armor percent on kill
+40% to disrupt and pulse resistance
Hackstep Protocol- "Replaces armour kits with an instant, infinite use ability on a 20 second cooldown that grants 50% bonus armour and hides your nameplate for five seconds."

Armor: Corruption's Harness, Corruption's Gloves, Corruption's Holster Corruption's Knee Pads, Corruption's Mask, Corruption's Pack
Video: 
4. Aces & Eights
Aces & Eights requires you to belong to the Sharpshooter specialization and for good reason, with its marksman rifle damage and the accuracy increase is important for those who are maining marksman rifles. 
What Gear Set Name Excels In:
Weapon handling
Accuracy
Marksman rifle damage
Build Details:
Stats:

+20% weapon handling
+20% accuracy
+10% marksman rifle damage
Dead Man's Hand- "Flip a card by shooting an enemy with your marksman rifle, headshots flip two. Full House refills your weapon and stops ammo depletion for ten seconds. 4 of a Kind grants 30% bonus armour for ten seconds. Aces & Eights grants the next five bullets 100% damage."
Sheriff's Favor- "Effects of Dead Man's Hand are applied to all party/raid members."

Armor: Ace's & Eights Harness, Aces & Eights Gloves, Aces & Eights Holster Aces & Eights Knee Pads, Aces & Eights Mask, Aces & Eights Pack
Video: 
5. True Patriot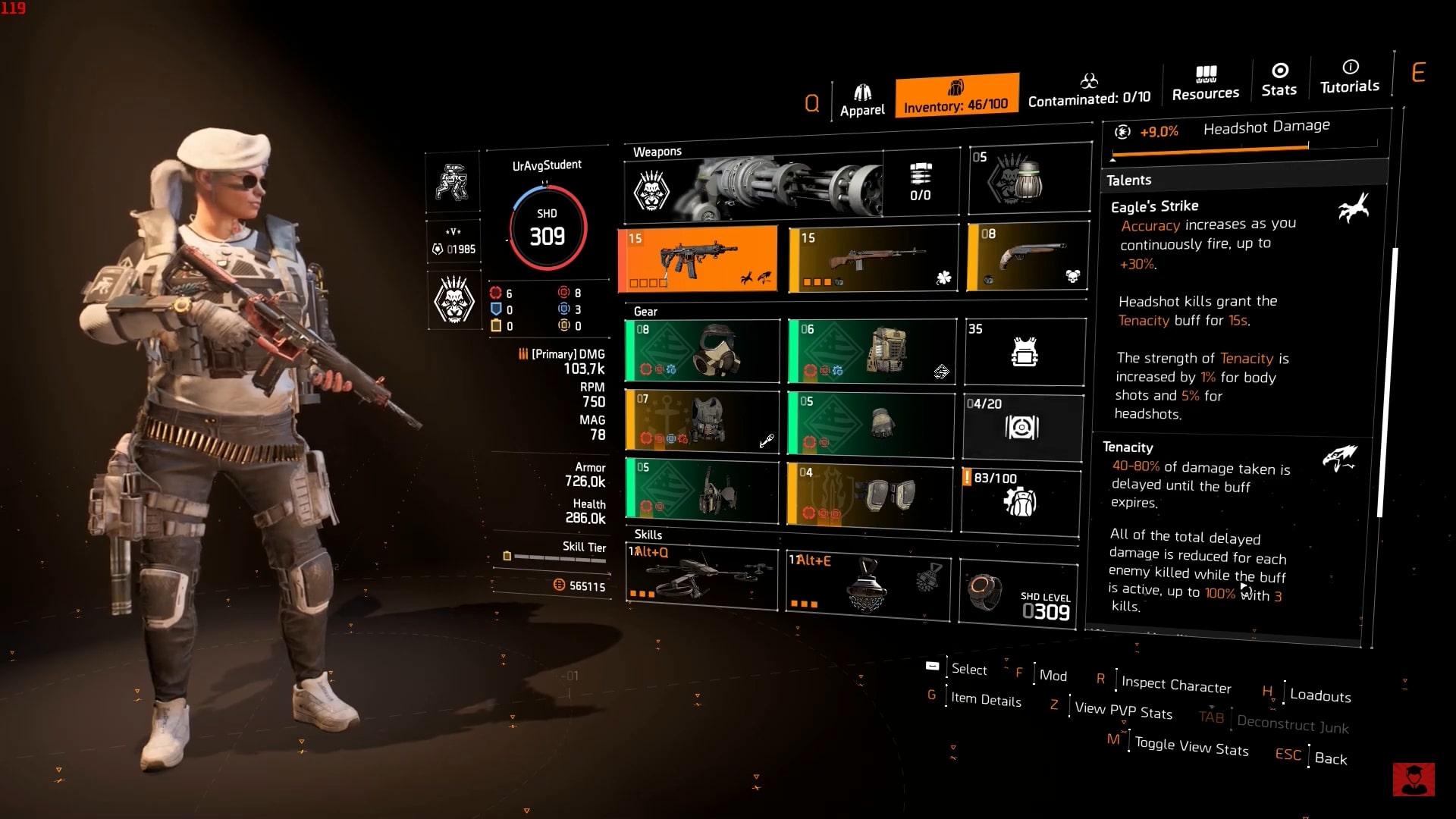 This gear set is very effective when it comes to being in a team.
With its protection from elites bonus, the player with a full set of this would be perfect as support and taking care of the biggest and named enemies. 
What Gear Set Name Excels In:
Damage to armor
Protection from elites
Additional armor
Build Details:
Stats:

+10% damage to armor
+10% protection from elites
+10% total armor
Red Debuff- "Decreases damage dealt by the target."
White Debuff- "Restores armour per bullet to players that shot the target."
Blue Debuff- "Grants an amount of skill haste when hit."
Full Flag- "Shooting an Enemy with all three colours of debuffs will also damage other nearby enemies with all three colours on them."

Armor: True Patriot's Harness, True Patriot's Gloves, True Patriot's Holster True Patriot's Knee Pads, True Patriot's Mask, True Patriot's Pack
Video: 
You may also be interested in:
Image Gallery