Valorant Best Resolution - Which Should You Use?
Updated: 29 May 2022 11:52 am
Valorant comes with several resolution settings you can adjust to your preferences.
Valorant was made to allow players with lower-spec rigs to be able to enjoy the game. Problems such as frame lags that existed in CS:GO aren't as prevalent in Valorant, which has been great in leveling the playing field in terms of video quality.
The most commonly used aspect ratio is 16:9, which is Valorant's default setting. You can tinker around with the resolutions if your computer is losing a significant amount of frames, but due to Valorant's nature of keeping FPS levels high across all machines, it shouldn't matter too much.
Some more competitive players will change the aspect ratio to help them in-game. The 4:3 ratio is common among former CS:GO players who use this ratio to help them get that "widescreen" effect, making headshots  easier to hit.
With all this said, here are my recommended resolutions to use in Valorant.
1. 1,920 x 1,080 16:9
Overview of the various resolution settings in Valorant.
These display settings are the most common in Valorant as it is the default settings. These settings are completely fine to use and based on the FPS that you're getting, you can lower the resolution to increase the number of frames you're getting.
Most popular settings across the Valorant community
You shouldn't have any problem with these settings and they're great for helping you get adjusted to the game if you're a newcomer
Use this resolution if...
If you have any modern PC set-up, these settings will work perfectly for you
2. [Preferred Resolution] 4:3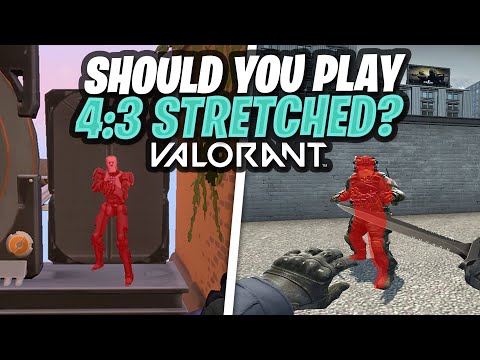 Check out the various benefits of using the 4:3 aspect ratio and why it might be good for you.
This aspect ratio matched with a suitable resolution will give you the "widescreen" effect mentioned earlier. The effect is more pronounced in a game like CS:GO, but it still applies in Valorant. Your screen will show a stretched-out field of view, making targets easier to hit.
Unique video settings to help players hit more accurate shots
It might take some time to get used to the aspect ratio, but your performance should improve
Use this resolution if...
You're looking to increase your level of gameplay
Players who feel stuck at their current rankings will most likely see a boost after changing to these settings
These settings are geared for more serious players looking to perform to the best of their abilities
The other aspect ratios, 5:4 and 16:10, are practically interchangeable with the above list, so play around with the settings in the Range and see which aspect ratio you prefer more. The resolution should really only be adjusted if you're experiencing a serious lag in frames.
Also be sure to read: