[Top 5] Valorant Most Accurate Guns That Wreck Hard!
Updated: 22 Dec 2021 11:22 am
Wreck enemies who are bad at the game with these guns
Valorant is a game all about tactics and shooting your enemies, and this is why many players look for the best weapons to defeat their enemies. If you are one of those people, here is a list of the most accurate guns in Valorant to help you in your games.
5. Sheriff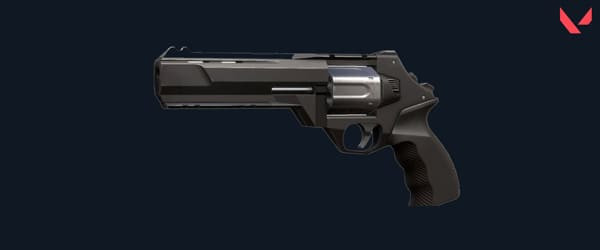 The one-shot Sheriff displayed
Arguably the most challenging gun to use in the game. The sheriff has inconsistent damage in various ranges, but don't turn a blind eye to it because it hits like a truck. Since it's a pistol, it is only worth 800 credits. Because of its recoil, it is the most difficult weapon to master, but if you want to hit the most amazing plays, then the sheriff is your gun. 
Why The Sheriff Is Great:
Sheriff Details:
Credits- 800
Type- Sidearm
Wall Penetration- High
Fire mode: Semi
Damage at 0-30m:
Head- 159
Body- 55
Leg- 46
Damage at 30-50m:
Head- 145
Body- 50
Leg- 42
See The Sheriff In Action
4. Phantom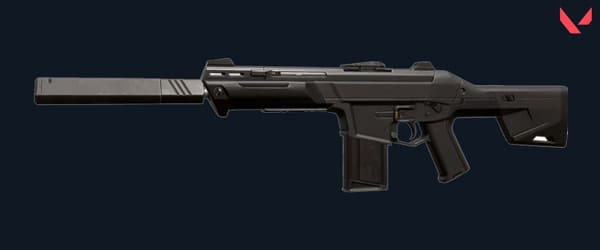 The consistent Phantom displayed
One of the main rifles alongside the Vandal. This gun has received a lot of positive opinions because of its consistency. Both of the main rifles are priced at 2900 credits. However, the Phantom deals less damage per bullet and only deals 140 headshot damage on the 15-30m range, compared to its counterpart. The main advantage of this gun is having a faster fire rate than the vandal which makes it better for spraying and spamming. Personally speaking, it is easier to use than the Vandal because of its spray and consistency. 
Why The Phantom Is Great:
Consistent
High fire rate
No tracers through smokes
Great first shot accuracy
Easier to use for sprays 
Larger magazine size than the other rifles
Phantom Details:
Credits- 2900
Type- Rifle
Wall Penetration- Medium
Damage at 0-15m:
Head- 156
Body- 39
Leg- 33
Damage at 15-30m:
Head- 140
Body- 35
Leg- 29
Damage at 30-50m:
Head- 124
Body- 31
Leg- 26
See The Phantom In Action
3. Vandal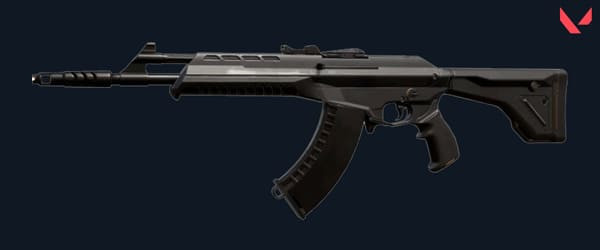 The aggressive Vandal
Some people, even pros, hate the Vandal because of its inconsistency. Maybe Riot intends to keep that mechanic, but who knows? Like the Phantom, this gun is priced at 2900 credits, and the difference is that the Vandal has a lower fire rate and deals consistent damage on all ranges. What makes this gun iconic is that you can take more aggressive fights because of its one-shot headshot mechanic. 
Why The Vandal Is Great:
Consistent damage
One-shot headshot
Better than the Phantom at tapping
Higher damage than the Phantom
Vandal Details:
Credits- 2900
Type- Rifle
Wall Penetration- Medium
Fire mode: Auto
Damage at 0-50m:
Head- 160
Body- 40
Leg- 34
See The Vandal In Action
2. Guardian
The high penetration Guardian
Like the Vandal, it deals consistent damage on all ranges—but significantly higher. What's more, is it has better first shot accuracy and bullet penetration than the Phantom and Vandal. Since it is a semi-automatic rifle, you can't spray, thus you have to hit your first bullet when using it. However, it is significantly cheaper than its counterparts, priced at 2250 credits. 
Why The Guardian Is Great:
Heavy damage
Best first shot accuracy
High bullet penetration
Cheap
Guardian Details:
Credits- 2900
Type- Rifle
Wall Penetration- High
Fire mode: Semi-automatic
Damage at 0-50m:
Head- 196
Body- 65
Leg- 49
See The Guardian In Action
1. Operator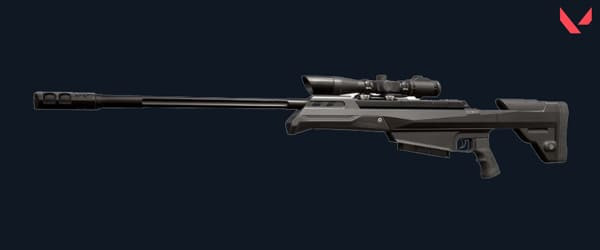 The point-and-click Operator
Criticized because of its point-and-click gameplay, it is arguably the easiest to use out of all the weapons in this list. Priced at 4700 credits, operator users should hit their shots, be patient, and play through enemy utility to prevent losing the gun. Unlike the rifles, the operator relies on smart positioning rather than raw aim. The operator is overpowered in the hands of a good Jett player because of her "get out of jail card" dash ability. 
Why The Operator Is Great:
Best accuracy (scoped)
It relies on great positioning rather than aim
Has the highest damage
The best gun for long range
Operator Details:
Credits- 4700
Type- Sniper Rifle
Wall Penetration- High
Fire mode: Semi
Damage at 0-50m:
Head- 255
Body- 150
Leg- 120
See The Operator In Action
Also be sure to read:
Image Gallery