The Sims 4 Careers: 10 Highest Paying Jobs
Updated: 23 May 2019 9:26 pm
Be what you want to be in The Sims 4! How about a career as a business exec?
So What Are The Best Careers In The Sims 4?
Careers are a key part of The Sims. They're a surefire way to earn lots of Simoleons and make your Sim a better life... if that's what you want.  If you want a more depraved, crazy life, then there are criminal career tracks just right for you as well!  We're here today to tell you a bit about the highest moneymaking careers.
The careers available in The Sims 4 are: Astronaut, Athlete, Business, Criminal, Culinary, Entertainer, Painter, Secret Agent, Tech Guru and Writer. Each career path has two Branches. The career branch you select will determine the kinds of bonuses you get, and every different level of each career delivers something different and new. 
If money earning is your focus, then you'd better choose a career with good prospects for high pay at the top.  We've done some analysis and come up with the top 10 Sims 4 best paying jobs:
Somewhat Awesome Games shows us a bit about what to do in the Astronaut Career
If you want the most bling bling, the top career for you is...
Looking at the cold hard cash alone, you'll rake in the most money per week by becoming a Double Diamond Agent in the Secret Agent Branch. At this top Secret Agent position you'll make $4,260 per day, or $12,780 a week.  Nice!
Next down the line in financial terms is being an Interstellar Smuggler. Interstellar smugglers make (in case you'd been thinking about changing careers!) $3,717 a day.  Going the legal route in space also makes a lot of cash, although less than smuggling.  Becoming a Space Ranger makes you $2,954 a day.
Get rich in business...or crime
We all know that you can make it big in business and here it is again in The Sims 4 – being an Angel Investor in the Business Branch will net you $3,248 a day (3rd best paid) and being a Business Tycoon gets you $3,000 a day.
In the Get To Work expansion pack there are 3 new careers – find out about the Detective Career here.
Sometimes crime does pay – 7th in line for best paid is as a criminal boss. This career makes you $3115 per day, or $12 460 a week.
When you're at the apex of your career on the Comedy side of the Entertainment Branch, you can earn $2406 a day as a Show Stopping Comedian.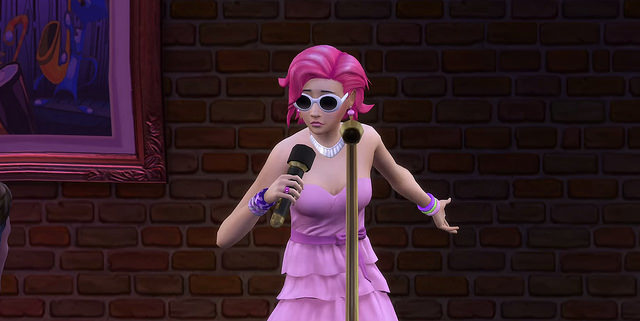 Cause hilarity as a standup comedian...if only just for your outfit!
Going into a writing career can be quite lucrative as well.  If you advance enough to become a Creator of Worlds in the Author Branch of the Writer career, you can generate $2,790 a day.
Start Up Enterpreneur is the biggest cash generator in the Tech Guru Branch, netting $2,580 a day or $7,740 a week.
The picture is more complex than it seems
Of course, this isn't taking into account the fact that some careers take up far more time than others.  Being an Author who is a Creator of Worlds might not be the top paying career, but it only takes you 2 days a week to do it.  You've got so much time for other things like partying.
Although no careers from the Painter Branch are in the top 10 cash cow careers individually, if you become a Master of the Real, you can earn $2,460 in only 2 days, leaving you 5 more days to do something else.  If you're also a Patron of the Arts in the Painter Branch, you can add $1,640 onto this in 4 days, netting yourself a total of $4,100 a day, or $24,600 a week!
Our recommendations
So when you're thinking of careers in The Sims 4, we have a few recommendations for you:
First, do go for a high paying career – we've helpfully gathered the top ones together for you here.  Then, think about what you want for your Sims lifestyle.  Are they going to be a workaholic holding down two jobs and churning in the money, or are you looking for a more poolside relaxation type lifestyle?  Also think about the days you want to work – different careers have different workdays as well as differing number of days of work. As with everything else in The Sims, it's up to you!  We'd love to hear what you think of the pros and cons of different careers, so comment here to let us know what you think.