[Top 15] Best Free Indie Games
Updated: 22 Jun 2023 12:48 pm
15. Realm of the Mad God Exalt - 2012 (PC / PS4 / XBO)
Realm of the Mad God is an MMORPG bullet hell type of game. An extreme shooter following the theme of Space Invaders. In the style of 8 bits, Realm is a challenging experience. More than a dozen of classes to pick from and epic bosses to battle. Realm has a cooperative mode where you can share experiences with other people. 
The game has a permanent death state. You die, you lose everything. Thus, you have to survive to make it through. Collect weapons, potions, gear, and rings. Are you good enough to reach the final level? You can play for hours or just a few minutes. Enjoy it your way!
Choose this game if you like...  
Intense shooters. Enemies feel endless in the Realm of the mad god. 
Simple graphics but hardcore gameplay.
Rogue-like bullet hell type of games. If you're good at keeping calm in overwhelming situations, this game is for you. 
Fun factor score: 90/100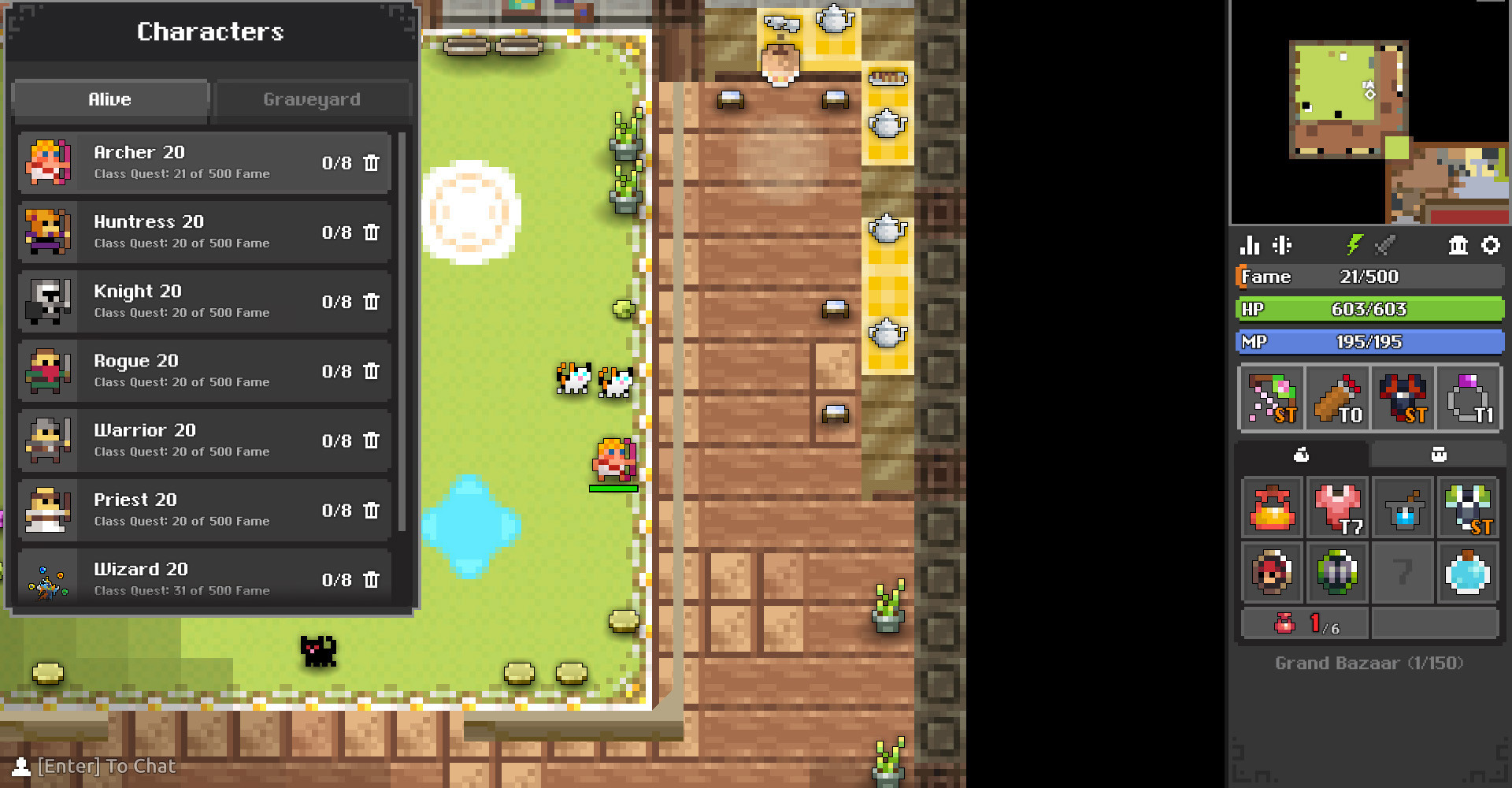 As you can see here the characters are divided between those who live and those who lie on the graveyard.
14. Brawlhalla - 2017 (PC / PS4 / PS5 / XBOX / Nintendo Switch / iOS / Android )
The perfect fighting game. Brawhlhalla is a 2D platform fight game. Epic battles with 8+ players gathered from around the world. Brawhlhalla will test your fighting and dodging skills on the platform. Those who fall, lose. Those who stand, win. This beautiful game has over 50 characters to choose and master. You can also pick a weapon and gadgets, each one with unique abilities. The game allows cross-play so you can play with friends on different devices.
Brawlhalla has many different playing modes and is completely free. There is no pay-to-win bait. A game that will keep you entertained for several hours. 
Choose this game if you like... 
Simple fighting games. There's nothing too complex in fighting and kicking other players off the arena.
Cute characters with cartoonish designs.
Kung Fu Panda. At Brawlhlla, the characters from Kung Fu Panda are playable!
Fun factor score: 100/100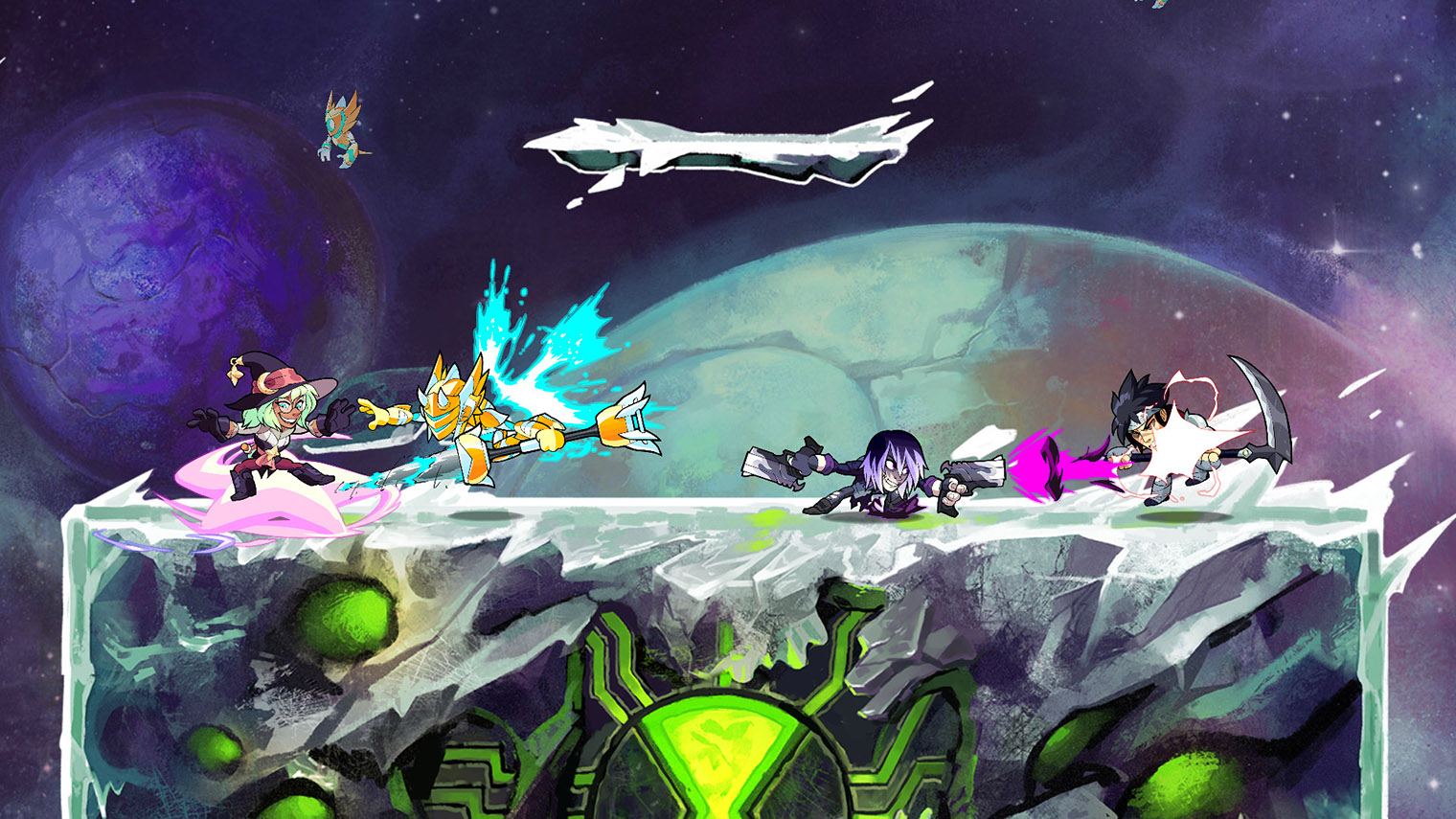 Look at these stunning scenes from the battlefield. Four players remain on the platform, and each one is going to do its best to be the winner.
13. Sono - 2020
A simple, fast, and relaxing experience. Sono is a 2D exploration game. A game to chill while you discover its three worlds. Surrounded by beautiful sounds, Sono is an abstract microcosm where everything you have to do is collect souls. 
It needs little requirements, everybody can play! This game is perfect for taking a break at work and relaxing. Discover this amazing microworld and chill!
Choose this game if you like...  
Small but beautiful experiences. That is what Sono is in simple words.
Short games. Sono is a very short game but very worth it.
Simple games where you don't have to do anything. Almost like playing Yuumi in League. 
Fun factor score: 100/100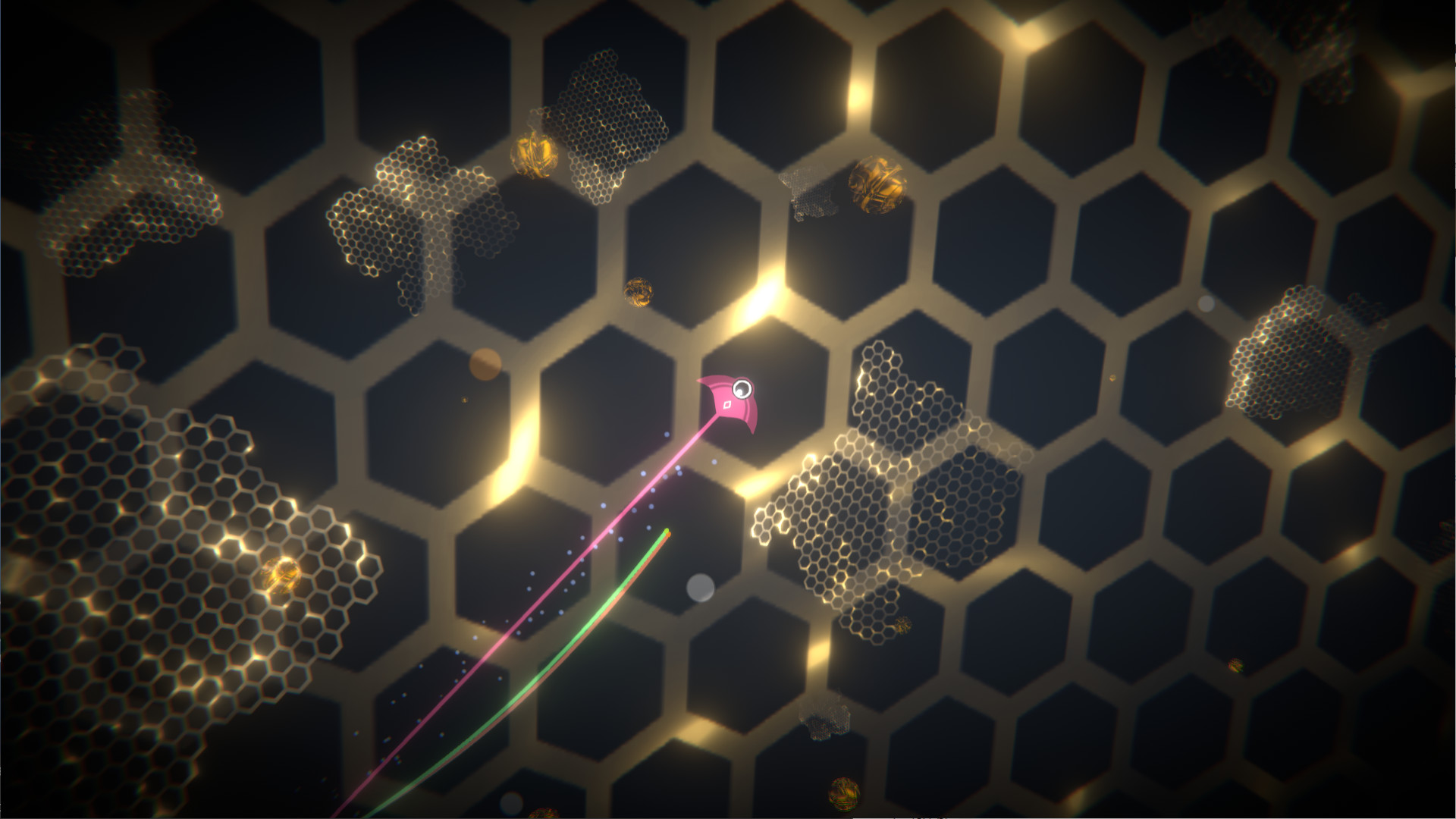 Take a look at this amazing hive design. Did you know that the hexagonal hive shape is commonly seen in nature's microcosm?
12. DDraceNetwork - 2020
Known as the hardest 2D platform game. DDraceNetwork is a cooperative game where you have to climb through different maps using a grappling hook. Each map has a different difficulty level. You can also build your map in the editor. Thousands of maps have been already built by the community. It's impressive.
The weapons available have challenging skills. It's a game that requires time and a lot of coordination. DDraceNetwork is worth a try. Maybe it becomes your favorite game of the year.
Choose this game if you like...  
Challenging platformers. This one will hit on the right spot if you're a fan of platformers!
Creating inside the game system. Building maps is one of the greatest things of DDrace Network.
Spending a lot of time in one game to master it. DDrace is one of those games that need time to make your brain get used to it. 
Fun factor score: 90/100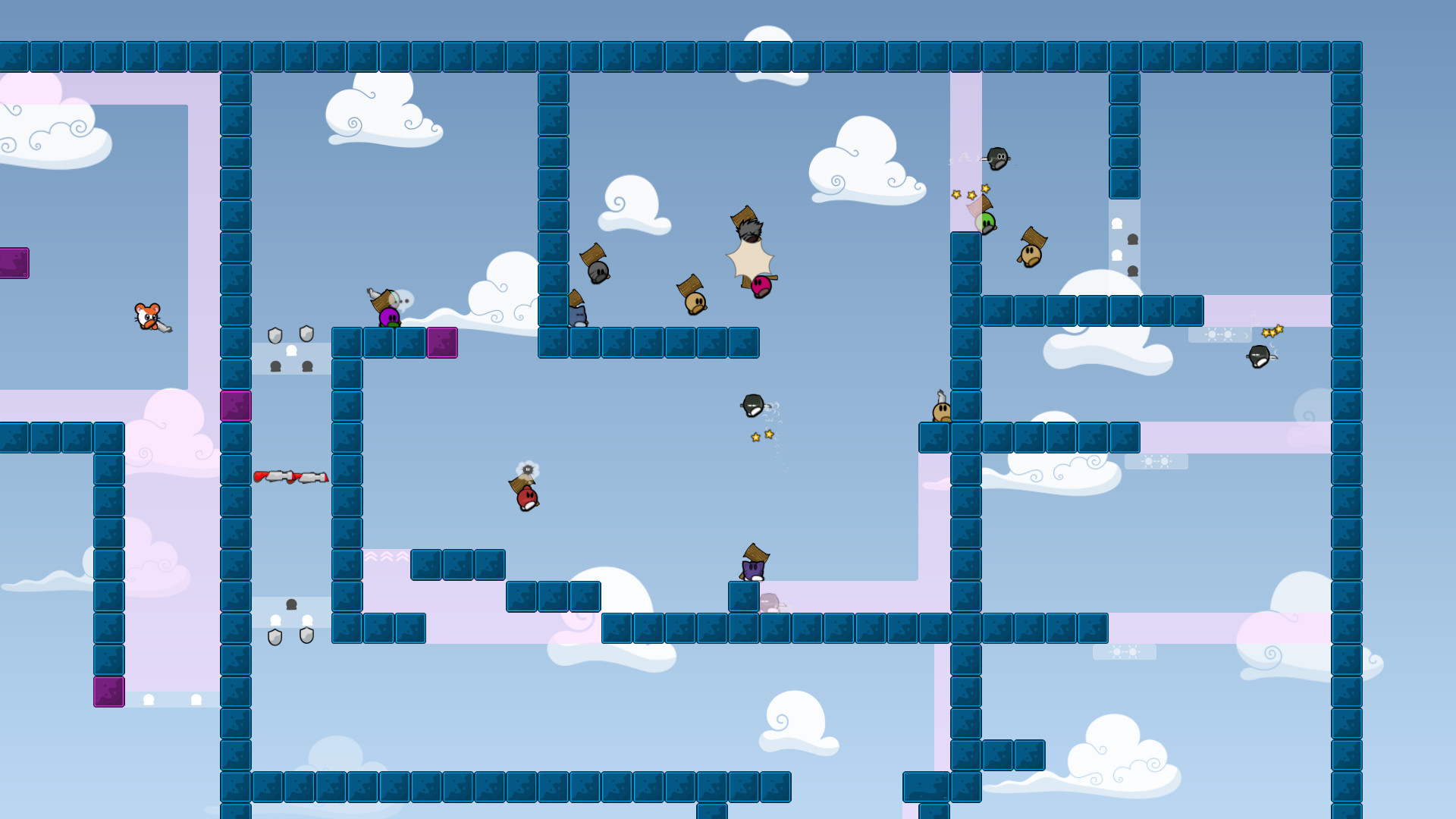 This is one of the many maps available to play. Such a cute place in the sky.
11. Star Fetchers
A bloody adventure that follows the story of two thugs who are hunting the toughest gangster. This 2D game is an incredible journey where you'll have gory battles. Defeat your enemies with your sword while you explore this decadent world. The goal in Star Fetchers is to become the most famous gangster. Fight against other gangs, help vulnerable people, and discover the secrets of this great game. A bizarre story where cults, government, conspiracies, and a lot of violence are involved. 
Choose this game if you like... 
Gory games. In Star Fetchers there's a lot of blood everywhere, every time.
Gangsters and dark events. The story is focused on this. 
2D simple battling games. Star fetchers are not hard at all. You can kill and dodge your enemies easily. 
Fun factor score: 70/100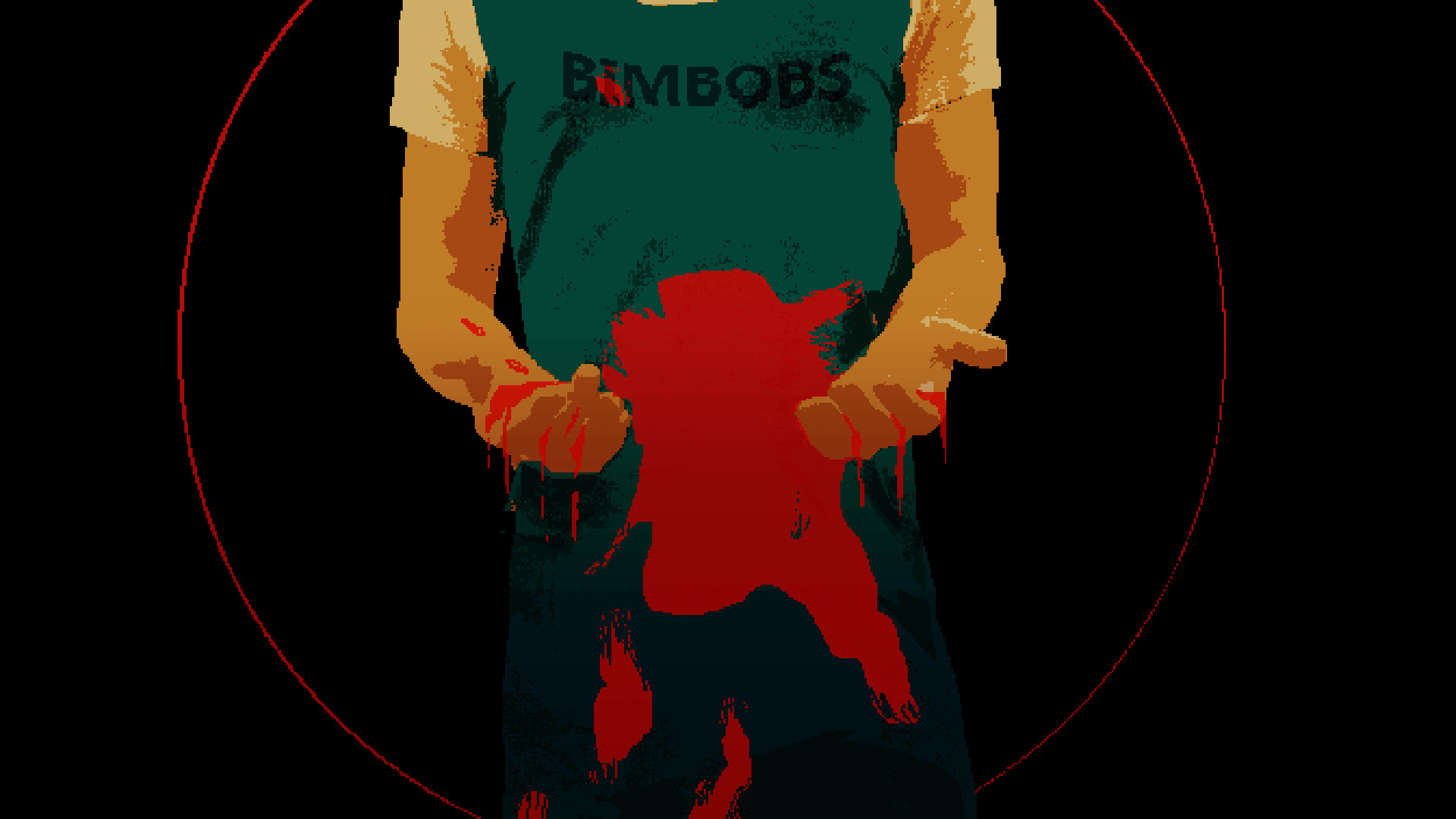 A small view of what the art of the game looks like. There's no need to make it realistic for it to be good.
 
10. Soda Dungeon 2
Soda Dungeon is a 2D turn-based strategy game. The game consists of exploring dungeons where the "Dark Lord" hid all kinds of valuable loot. Defeat the enemy hordes by recruiting an army and sending them to fight! All of this while you're safe in your tavern. Improve your army and gear to fight the darkest monsters. Build a town and become a mighty and respected boss. Classified as one of the bests idler/clicker games, Soda Dungeon deserves recognition. A nice and chill experience with charming graphics. Play anytime, anywhere!
Choose this game if you like... 
Turn-based games. You have to enjoy this genre to get into Soda Dungeon.
Dungeons and more dungeons! This is the main aspect of this game. Endless dungeons to explore.
Old nostalgia games. This title is the best representation of every idler in history.  
Fun factor score: 90/100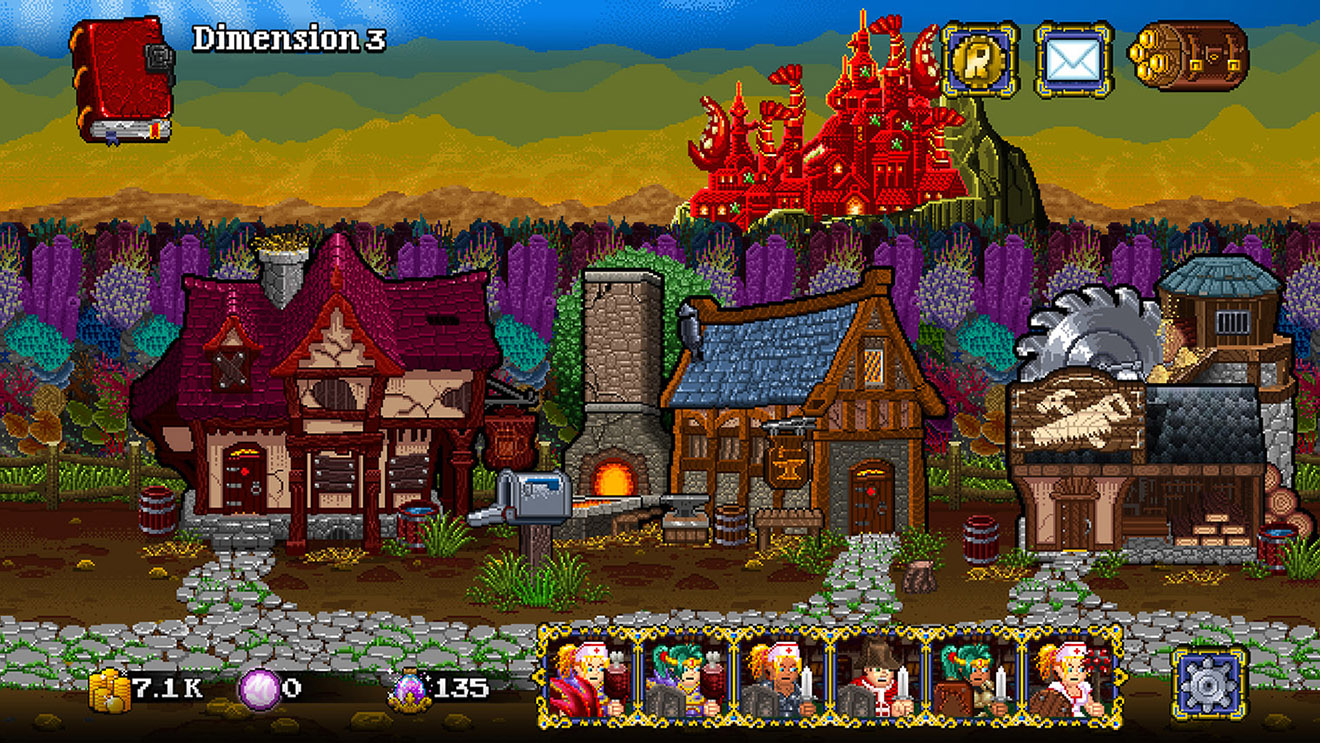 A capture of Dimension 3. Look at how colorful everything is. But not happy colorful, it's more like toxic colorful. 
9. The Dawn - 2020
The Dawn is a first-person shooter in anime design. Follow the story of Maya and Max, a girl who can manipulate time and a hacker boy. Both trying to save humankind from the Artificial intelligence that has rebelled against humans. The AI is now dominating mankind. They are making experiments and exploiting humanity. Located in a decadent Korea where language and communication are no longer allowed. 
Help Maya and Max reach the palace where the AI resides and save the human race. With Maya's unique skills, this game provides a few hours of intense fun. Or maybe a speedrun? You can try it!
Choose this game if you like...  
Futuristic designs. This world is filled with technology. Although Maya is a mage, her abilities have that particular techno-design. 
Post-apocalyptic worlds. The location of the game is going through this situation.
Short but challenging games. To complete The Dawn you'll need no more than an hour. If you're good enough.
Fun factor score: 100/100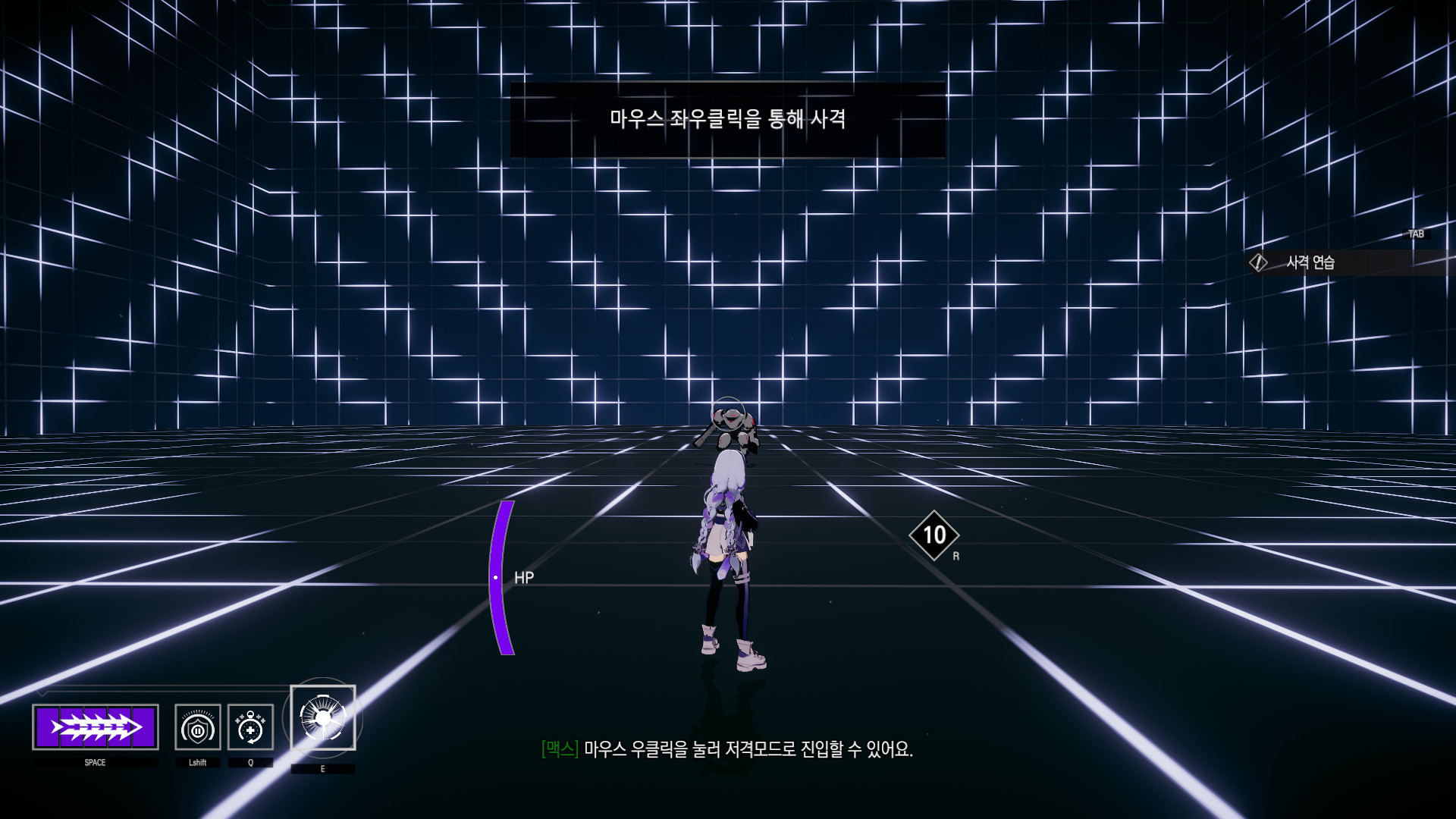 Here we see Maya in the foreground and a thug in the background about to fight inside a weird trippy room. Epic.
8. Stay Out - 2019
Stay Out is an MMORPG first-person shooter. It offers the experience of urban exploration in an Alienation Zone. A place abandoned and forgotten. The world of Stay Out has its laws and principles. Dive into unknown areas to discover secret laboratories, alien life forms, anomalies, and artifacts that challenge our laws of nature. Join the "Stalkers" and become one of them. The Stalkers are a group of people who dedicate their lives to exploring dangerous places in search of valuable artifacts and knowledge. Help them find out what is going on in this mysterious world. 
Choose this game if you like...  
Urban exploration. The game is accurate to that experience. It will grant you the feeling of danger and fear of the unknown.
Alien concepts. In Stay Out cosmic horror is a constant.
Shooters with RPG and survival elements. Shooting a gun is just the way you survive, but the actual importance of Stay Out is the RPG survival element.
Fun factor score: 90/100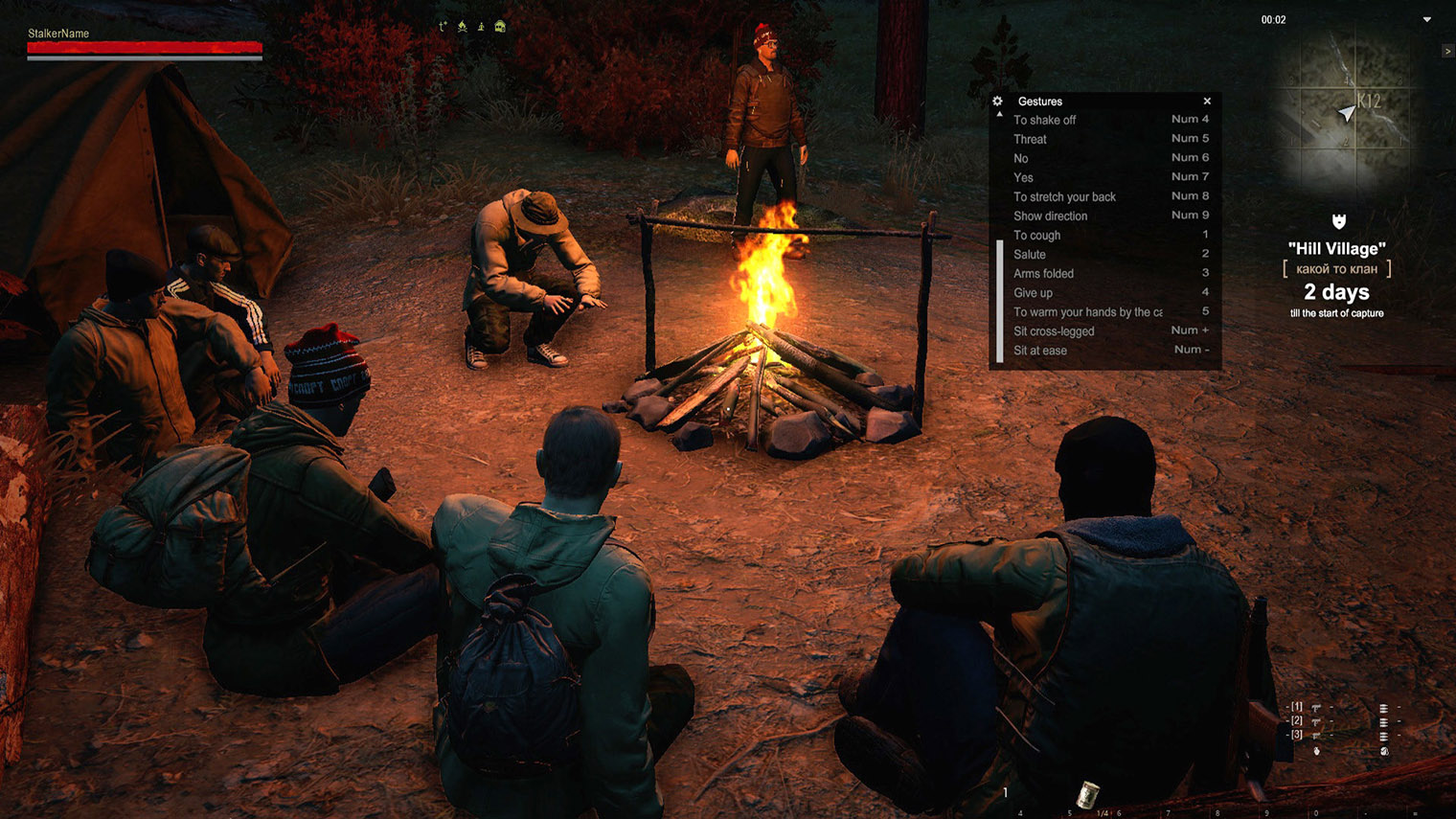 Just a group of guys around a bonfire, resting and warming their bodies.
7. Dark Deception - 2018
Dark Deception is a horror escape game with RPG elements. We're trapped in a labyrinth. Our goal is to escape the maze. You'll have to run and escape from the creepy creatures who are trying to hunt you down. The first chapter introduces the player to the story. Investigate what is going on in this hellish place while you find your way out. 
The game is a decent scary experience similar to Five Nights at Freddy. With many features like a fast-paced arcade horror where enemies can be stunned. A progress system that helps you survive longer. Dark humor. Mazes filled with traps, hazards, and other dangers. This game is one of the best escape games I've played. 
Choose this game if you like...
Escape the room games. You'll be in certain scenarios that resemble a house or a hotel. Everything you have to do is escape.
Adrenaline situations. The gameplay is intense and there are many things you have to pay attention to. 
Runners. One of the main features of Dark Deception is that you're always running.
Fun factor score: 90/100
This hall is gold and red. Looks like the creepy monkey is important to the design. I see it similar to the monkey in Toy Story 3.
6. Animal Royale - 2021
Animal Royale is a 2D battle royale game with an isometric view. Over 60+ fierce animals will fight in different scenarios. From cute cats to cute sloths to collect and personalize. Collect them all and beat other players to become the alpha. Explore a paradisiac island with diverse biomes and mysteries to be discovered. Invite your friends and have fun with the cutest game. 
The strategic style of Animal Royale makes it entertaining to play. Plus a lot of adorable and deathly furries to play with. 
Choose this game if you like... 
Furries. If you're a big fan you're going to love Animal Royale with all your heart.
2D battle royales. The gameplay mechanics are very simple but fun to play.
Surprises! Animal Royale will give you a big one. Just try it and you'll see.
Fun factor score: 100/100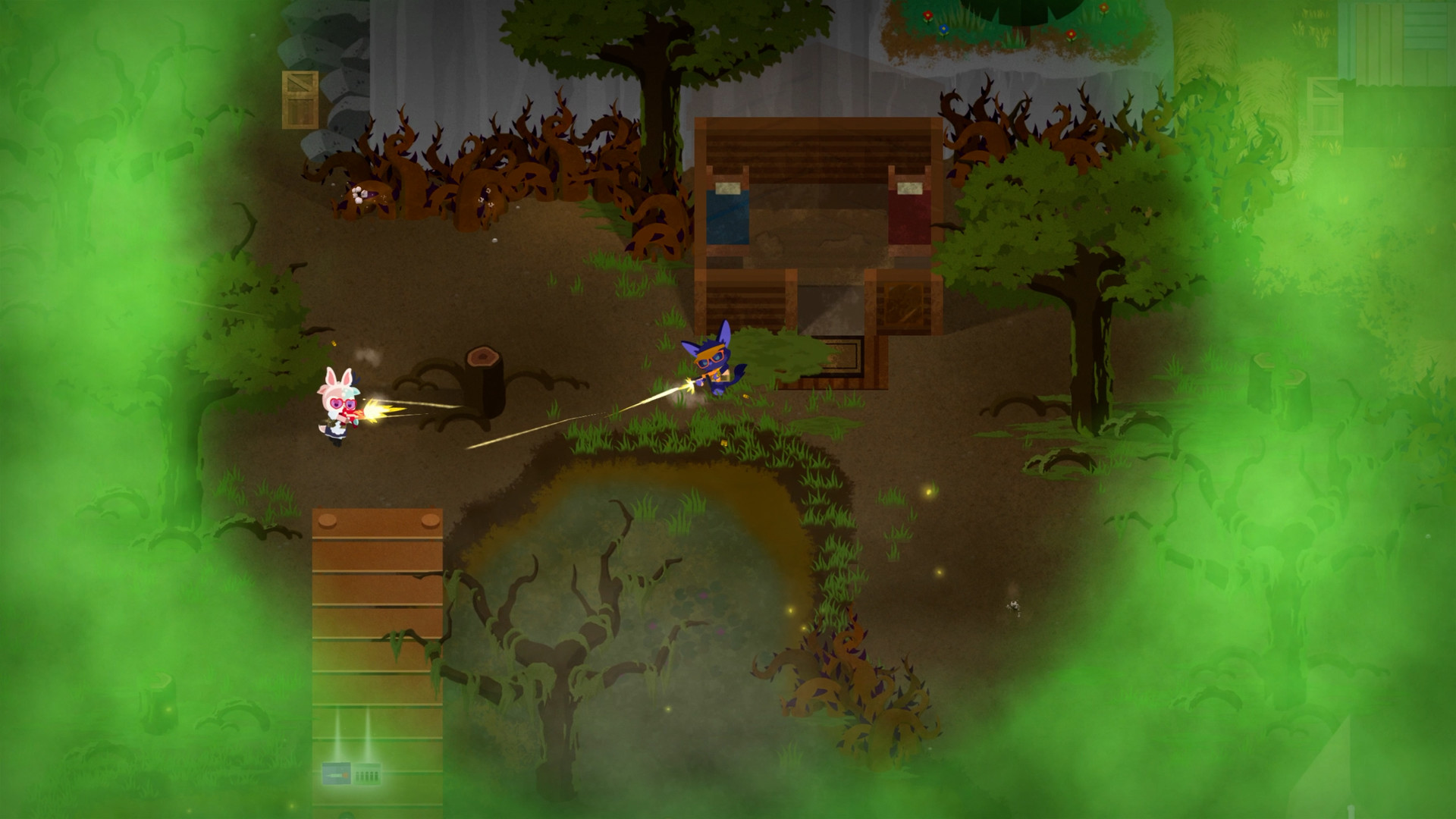 Two small furries fighting each other in a toxic field. They are so cute and the environment is terrible! 
5. Adventure Capitalist - 2015
This game is a capitalism simulator. But in the shape of click and earn (sometimes not even click). The player will start earning from zero and it can get as far as you want. The goal is to earn money or accumulate it. As simple as it sounds.
Adventure Capitalist plays itself while you're offline. It makes it easier to earn. It's the perfect game to take a little break or to play while waiting. Although the game says it's so easy even a socialist could do it, I wouldn't recommend it to them. But they would surely be entertained. 
Choose this game if you like...  
Capitalism and money. Lots of money,
Doing something simple while waiting for another game to load. The purpose of Adventure Capitalist is to keep you entertained short enough.
Click and earn games. You have to do little to nothing to play this one. 
Fun factor score: 80/100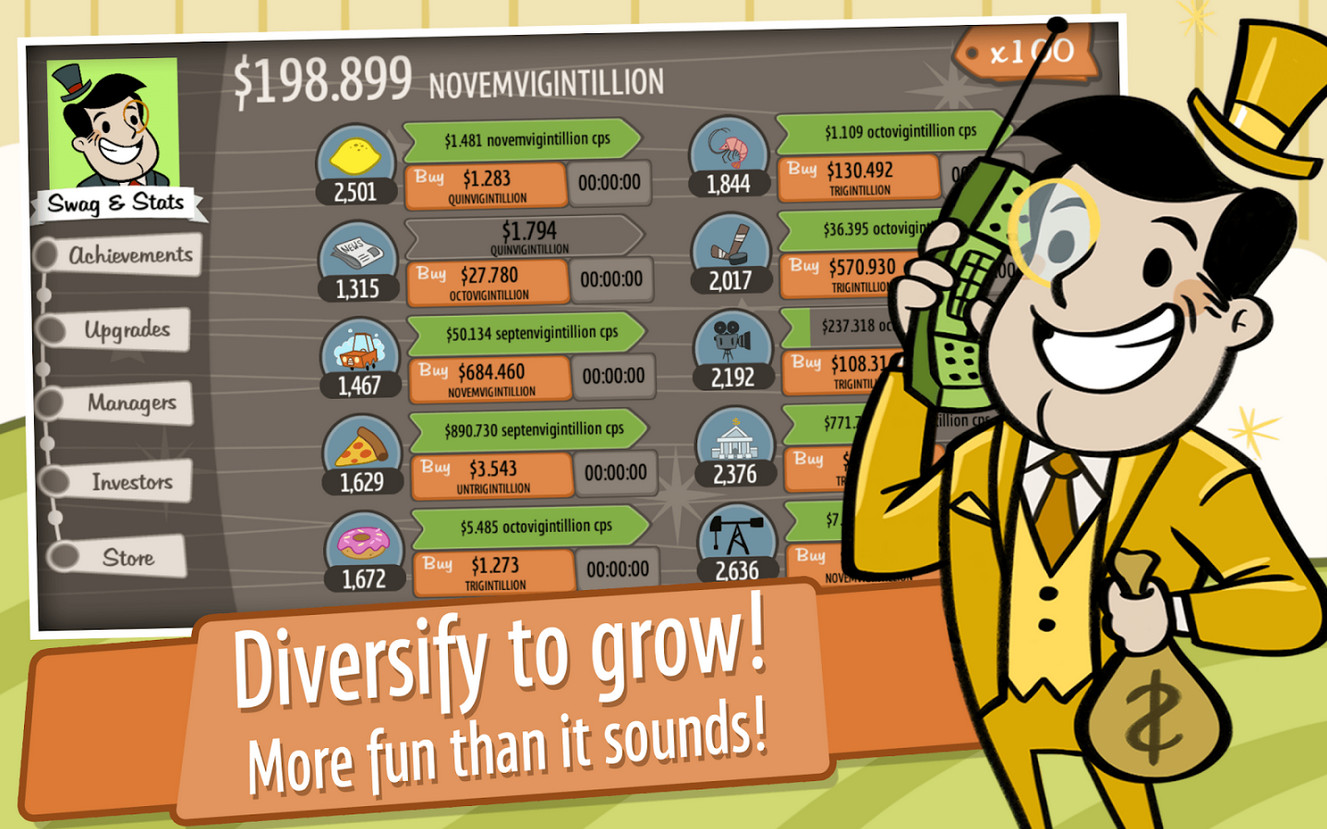 The main character is dressed in gold, this one does have a monocle. Unlike Mr. Monopoly.
 
4. Poppy Playtime - 2021
Poppy Playtime is a survival horror game set in an abandoned toy factory that you'll have to explore. The goal is to stay alive while investigating what happened in the place. Survive the creepy toys trying to hunt you down. Use your GrabPack to help yourself survive. The game is divided into several chapters but only Chapter One (this game) is for free. 
The design of the toys is great. Poppy Playtime has fascinating graphics. Along with the mechanics of the GrabPack, the game offers everything a horror survival needs. 
Choose this game if you like…
Screamers. Poppy Playtime uses this resource several times.
FNAF. The ambient and general design of Poppy Playtime is similar to FNAF.
Solving puzzles, investigating, and using your brain to understand each level. 
Creepy toys.
Fun factor score: 100/100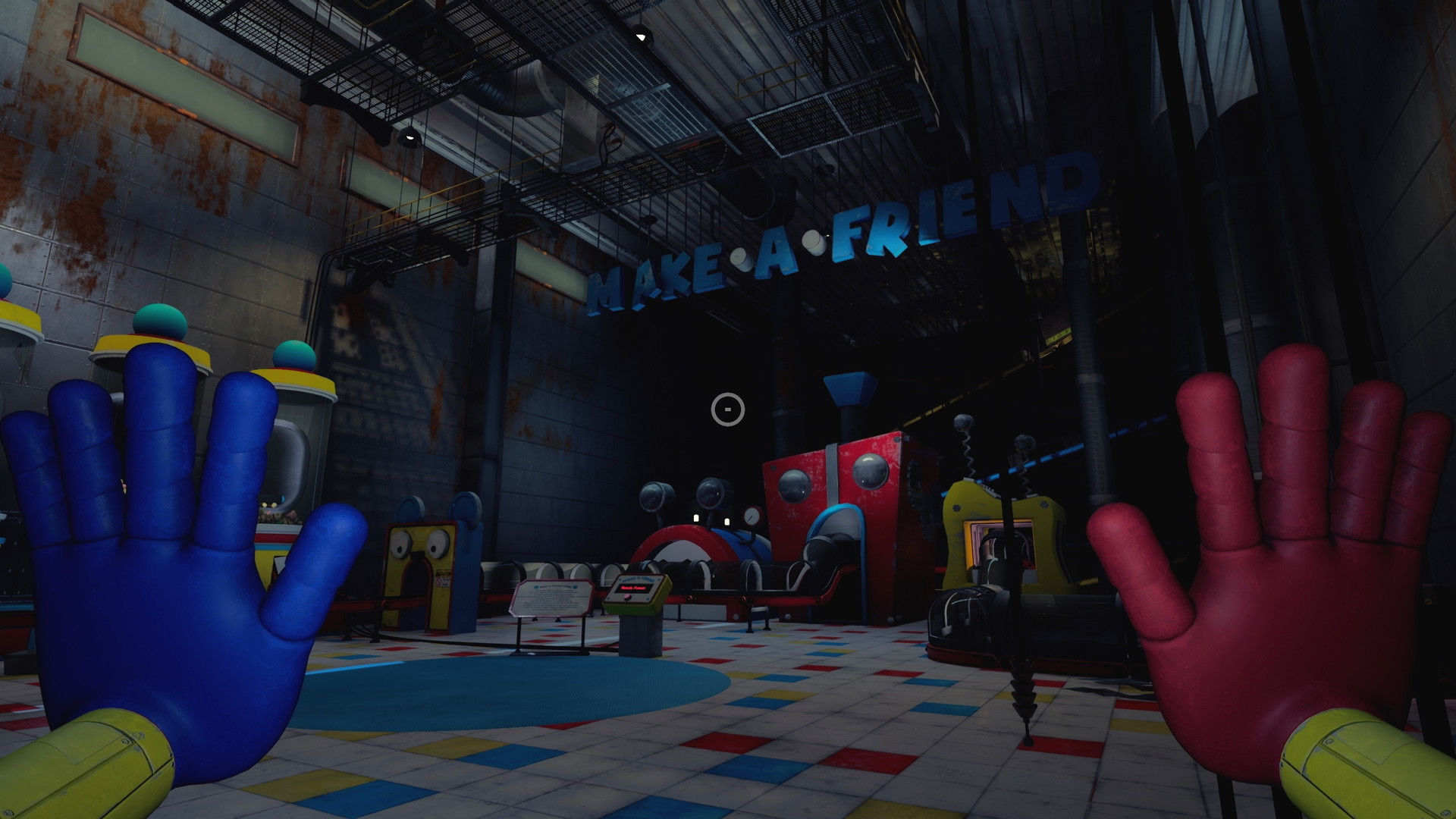 "Make a friend" is how they welcome us into this spooky place. The rust gives quite the atmosphere.
 
3. Eternal Return - 2020
Eternal Return is a mix between MOBA, Battle Royale, and Survival genres. Choose one of the diverse characters available and face 18 players at Lumia Island. Survive the encounter with the best strategy and win. Very simple. But you can also explore and gather materials to make gear or food for your character. Many valuable artifacts will become more and more important as you advance in the game. You can play by yourself or with friends. You can even create tournaments in personalized games. 
With anime visuals, Eternal Return is an innovative and engaging game. A challenging game where you'll have to invest time and effort if you want to become the best and master a character (maybe all of them). 
Choose this game if you like...
MOBA's. Eternal Return is mostly focused on the MOBA gameplay mechanics. 
Challenging and different experiences from the usual. The game is not exactly like LOL or Dota. It has unique features.
Anime designs. 
Fun factor score: 90/100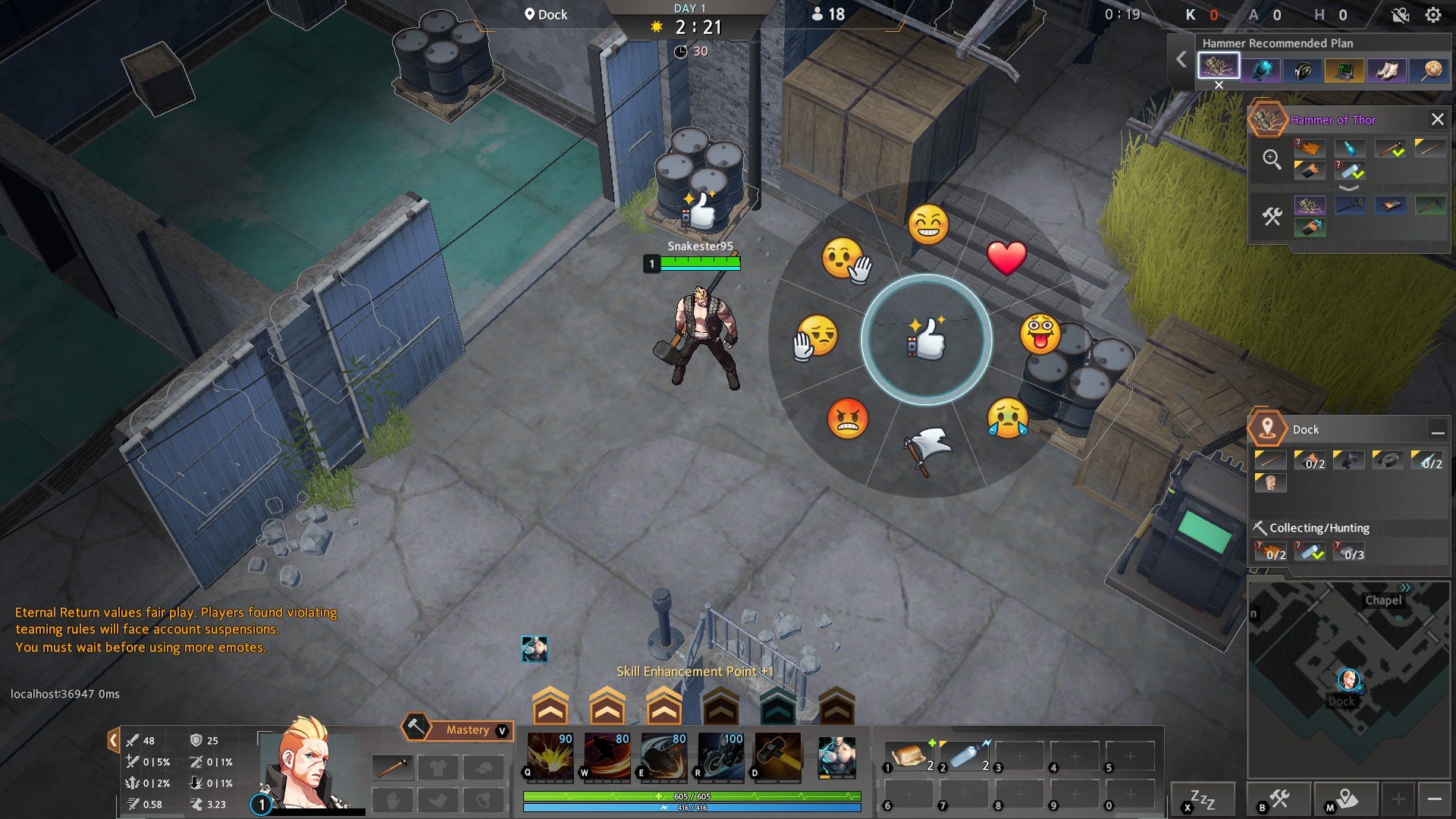 As you can see there are a lot of elements you can use. The game has many features and the design is so soothing.
 
2. Sheepy: A Short Adventure 
Sheepy is a short platformer in the style of pixel art. The game tells the story of Sheepy, an abandoned plushy who has been brought to life. Help him explore this forgotten world while listening to a beautiful soundtrack. The game is only a demo for now. Adding it to the wishlist is a wise decision. A very promising platformer with beautiful visuals and sound effects. 
The mixture between a cute character and a post-apocalyptic world with surrealism and cryptic events around you is what makes this game so interesting. 
Choose this game if you like...  
Pixelated art. All the world inside Sheepy is in this style.
Dark stories but cute characters. This contrast makes the game quite catching. 
Relaxing platformers. Everything inside Sheepy is a calming experience. 
Fun factor score: 80/100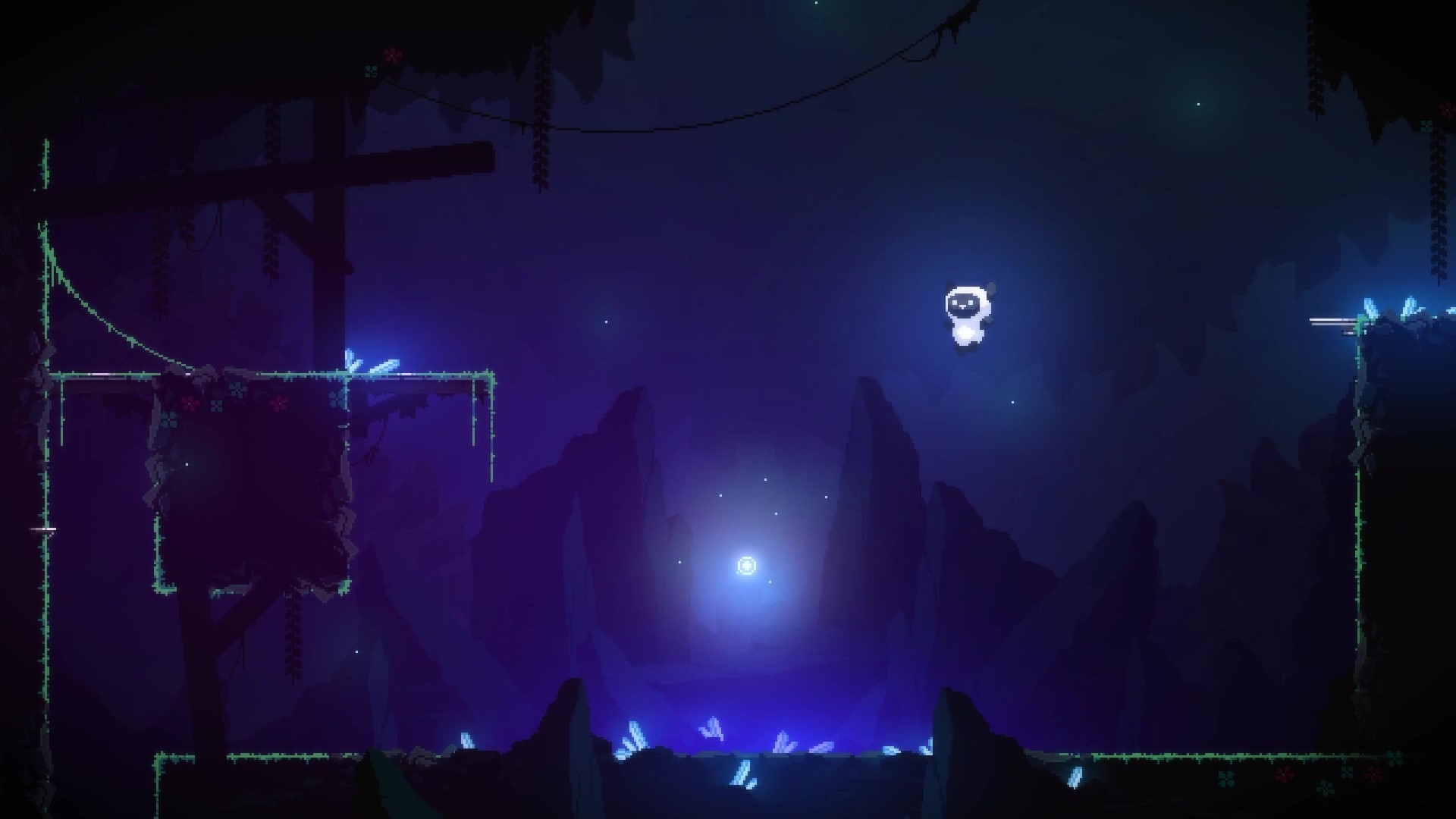 As you can see there are a lot of elements you can use. The game has many features and the design is so soothing.
1. Helltaker - 2020
"The game is damn short and not very smart, but at least it's free. Maybe you'll find it fun". This is how we're introduced in Helltaker. I think this is the most accurate description. Helltaker is a 2D puzzle with RPG elements. The player wakes up in hell and is surrounded by a harem of demons. A portal has been opened by the protagonist to fulfill his darkest desires. Help him reach his goal in this deathly place. Solve the different puzzles as efficiently as possible and don't get killed by succubus. 
Helltaker is an adventure that lasts an hour or less. A very fun experience with great visual elements. The game is simple and requires little effort to play. It's worth a try!
Choose this game if you like...  
Succubus. This is pretty much what makes the game good.
Dark humor. A lot of it can be found inside this hell.
Anime-like designs. 
Solving puzzles. It's important that you like this because most of the game is about solving puzzles.  
Fun factor score: 100/100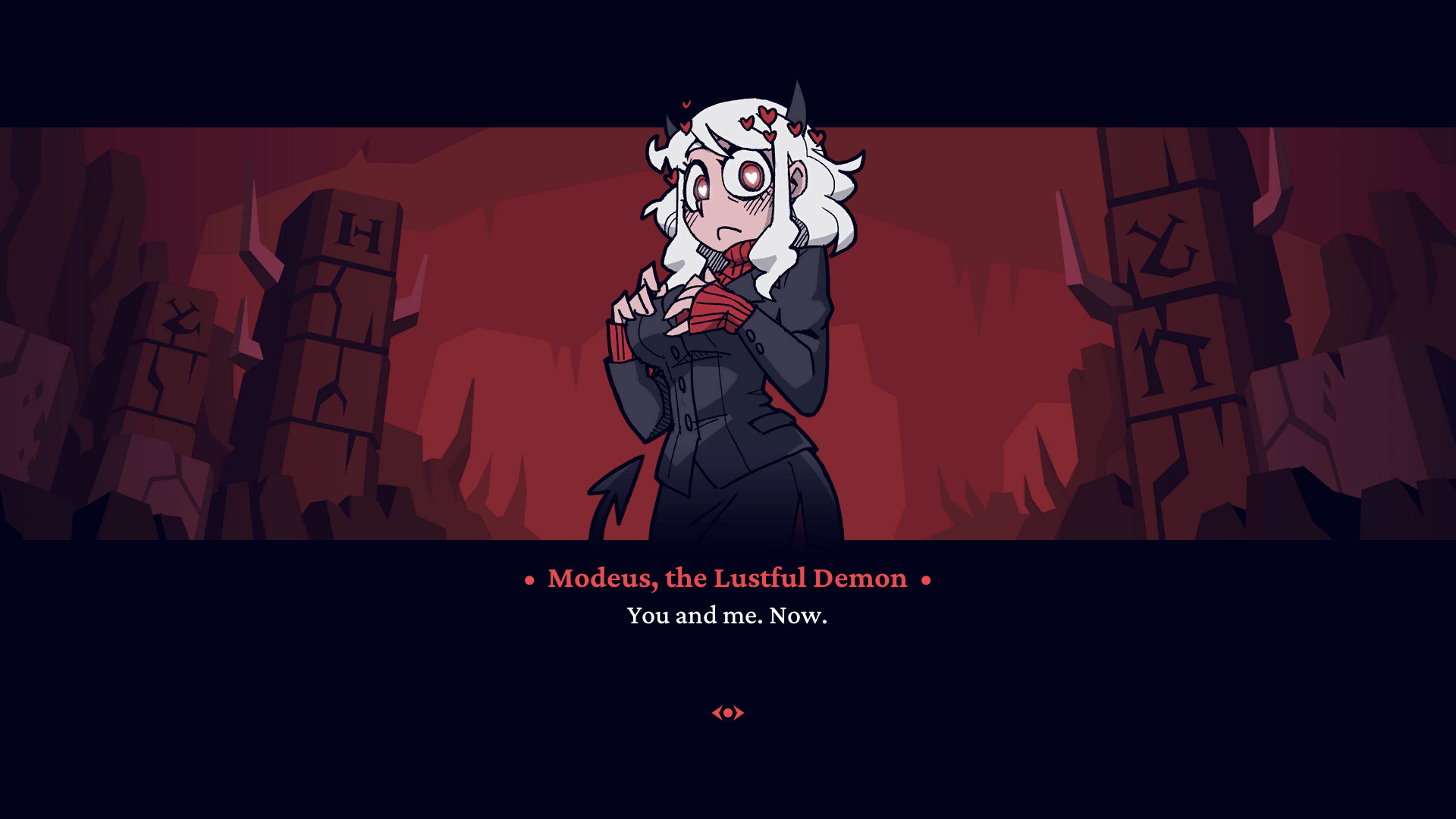 One of the many succubus with who you can interact and do… things.