[Top 5] ESO Best Solo Class That Are Powerful
Updated: 15 Jul 2022 6:09 pm
I'm going in alone.
[Top 5] ESO Best Solo Class That Are Powerful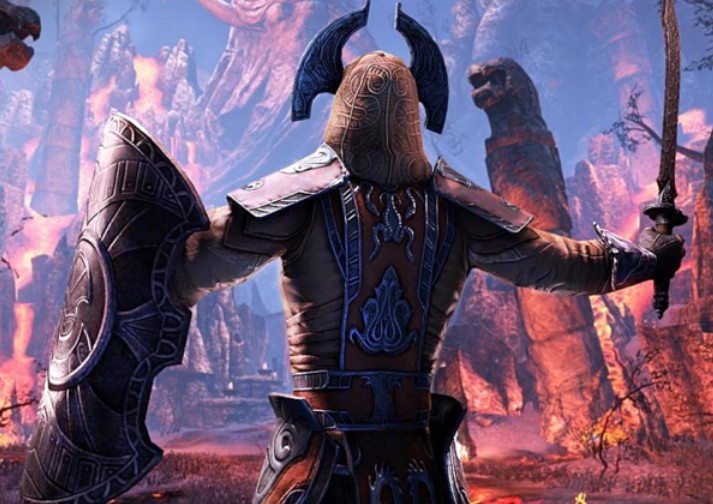 There was a time when the MMORPG genre was primarily for playing with your friends. But some people like to play solo. ESO has an amazing combination of playing styles. You can enjoy it with friends or you can experience the story alone.   
So if you are done with PVP and dungeons and just want to enjoy the story, you must know which class to chose. The more powerful the more enjoyable. 
We will be using The Ring of the Pale Order, a ring so powerful that it disrupts the balance, and drastically changed our list.
In this text, you will find out which is the best ESO Solo Class!
5. Stamina Templar
Solo Stamina Templar Build
Let's start with one of the best Stamina builds in the game, Stamina Templar. This class has great buffs and passives from their skill line, as well as amazing stamina morph abilities.
Biting Jabs is a very powerful spammable ability witch gives you a passive weapon critical bonus and minor protection. It is great for both single target and AOE damage.
They have simple rotation in the game and incredible sustain in Repentance and Restoring Focus. If your health drops, you can borrow a Magicka skill named Extended Ritual which can heal you.          
Not just for survivability, Stamina Templar is also unique for its combination of power and approachability. 
What Stamina Templar Excels In:
Great buffs and passives.
They got great spammable and DPS abilities.
Great healing from the combination of Magicka and Stamina skills.
Play Stamina Templar If:
You like to play solo.
If you like to buff yourself and debuff your enemies.
You love to spam your opponent.
4. Stamina Warden
Stamina Warden Build
Easly the best Stamina build in the game, Stamina Warden makes a great ESO experience. With their countless buffs and debuffs, you will have a hard time choosing the right one.  
They have great DPS for single target and AOE. Abilities are really fun, and survivability is top tier. Subterrane Assault is a powerful spammable for its massive burst of AOE damage. Growing Swarm debuffs enemies and Ice Fortress is one of the best armor buffs there is.
Bear Guardian is a good Ultimate if you like to have a companion on your solo journey who can also deal some damage.
You can attack, protect and heal yourself. Truly a well-rounded class.
What Stamina Warden Excels In: 
It has good buffs and debuffs.
Great healing.
Great armor.
Great attacking skills.
Play Stamina Warden If:
You like to combine diverse playing styles.
You like to let it all out without worrying about your health.
If you love to have a bear and/or a jellyfish for a companion.
3. Magicka Nightblade
Magicka Nightblade Build
Although not so good in PVP, Magicka Nightblade is one of the best for PVE.
Swallow Soul is an amazing spammable ability, one of the best in the game. It is great for attacking and healing alike. Magicka Nightblade may not have a great heal option in the class skill line, but with the Ring of Pale Order, this class does not have a bad side.
Great AOE damage, extraordinaire burst damage and a powerful execute make Magicka Nightblade a build to go to for solo content.
What Magica Nightblade Excels In:
Mobility.
AOE.
Healing while attacking.
Stealth.
Pick Magica Nightblade if:
You like stealthy gameplay.
If you are more a PVE than a PVP player.
If you like to teleport across the battlefield.
2. Magicka Sorcerer
Magicka Sorcerer Build
The runner-up on our list, a class that was at a very top for a long time. Damage dealer and a healer, the Magicka Sorcerer.
Without The Ring of Pale Order, this was the only class that can heal while dealing damage, and that was something else. Now, with this new accessory, other classes can have this ability too, thus, the power scale changes. 
You can use The Ring of Pale Order with Magicka Sorcerer as well. So on top of his power, you can double the effect, making him unkillable.
Magicka Sorcerer has the strongest damage shield in the game called Harden Ward. With Ark Conversions you can trade Stamina for Magicka, a must-have skill for this class. And Bound Armor gives you more passive Magicka and resistance.
Magicka Sorcerer has a great single target and AOE damage. The combination of damage and healing is what makes this class number two on our list.
What Magicka Sorcerer Excels In:
AOE damage.
Best healing.
Countless passives.
Great for solo play.
Play Magicka Sorcerer If:
If you like to heal and do damage.
You are more staff than a cold weapon user.
Like to destroy everyone and everything.
1.Magicka Necromancer
Magicka Necromancer Build
Without a doubt the best class for the solo content in the game. They have the most amazing spammable called Richochet Skull. It deals great damage and has a chance to bounce off the enemies twice, dealing clive damage.
Spirit Mander takes 10% of all damage received while healing you. With Underwing Boneyard you can chill enemies and apply AOE major breach. Combine it with the AOE power of Blast Bones and you can calmly defeat a game boss without the interruption of his ( newly dead ) minions.
Necromancer class benefit from some of the strongest passives in the game. They get sustain and recovery for free, bonuses for maximum Health, and bonus critical chance. Pestillian Colossus is one of the strongest Ultimate in the game.
All of this combined with The Ring of the Pale Order, and you will understand why the Magicka Necromancer takes first place on our list.
What Magicka Necromancer Excels In:
Passives.
Buffs and debuffs.
Great Ultimate.
Healing.
AOE damage.
Play Magicka Necromancer If:
You enjoy reanimating corpses.
You are good at buff management.
Active, fast, and fun gameplay is your thing.
Also be sure to check out these articles:
Image Gallery