[Top 5] LOL Best Boosting Sites Right Now
Updated: 30 Sep 2021 10:12 pm
Even victory has its cost.
Not all of us have the time or energy to grind solo queue. Or sometimes you get matched up against smurfs, or with trolls, or just absolutely dismal teammates. It's just a fact of life. But like Sivir says, everything has a price. Any rank can be yours if you're willing to shell out some cash. 
Here are the best places to get your account boosted, meaning, letting someone of a higher skill level play ranked games on your account to climb. But take note: getting boosted is a bannable offense (suspension for 2 weeks), and will forfeit your previous and current season ranked rewards if caught. A second offense will lead to a permaban. This means that you have to be sure of your boosting and their reliability.
5. r/lolboosting
It might not look pretty, but it works!
r/lolboosting is a Reddit community of boosters/booster groups advertising their services. They have a system in place to track the number of satisfied customers who can vouch for each booster.  As a bonus, you can search within this subreddit for a booster's name and check whether they're out to scam you.
The downside is that this subreddit is focused on smaller boosters or boosting companies. While this means that prices are usually cheaper, it also means you're taking on a bit more risk. And of course, not everyone knows how to navigate through Reddit. Novice users might find themselves lost, although there is a helpful wiki available in the sidebar.
4. Boosteria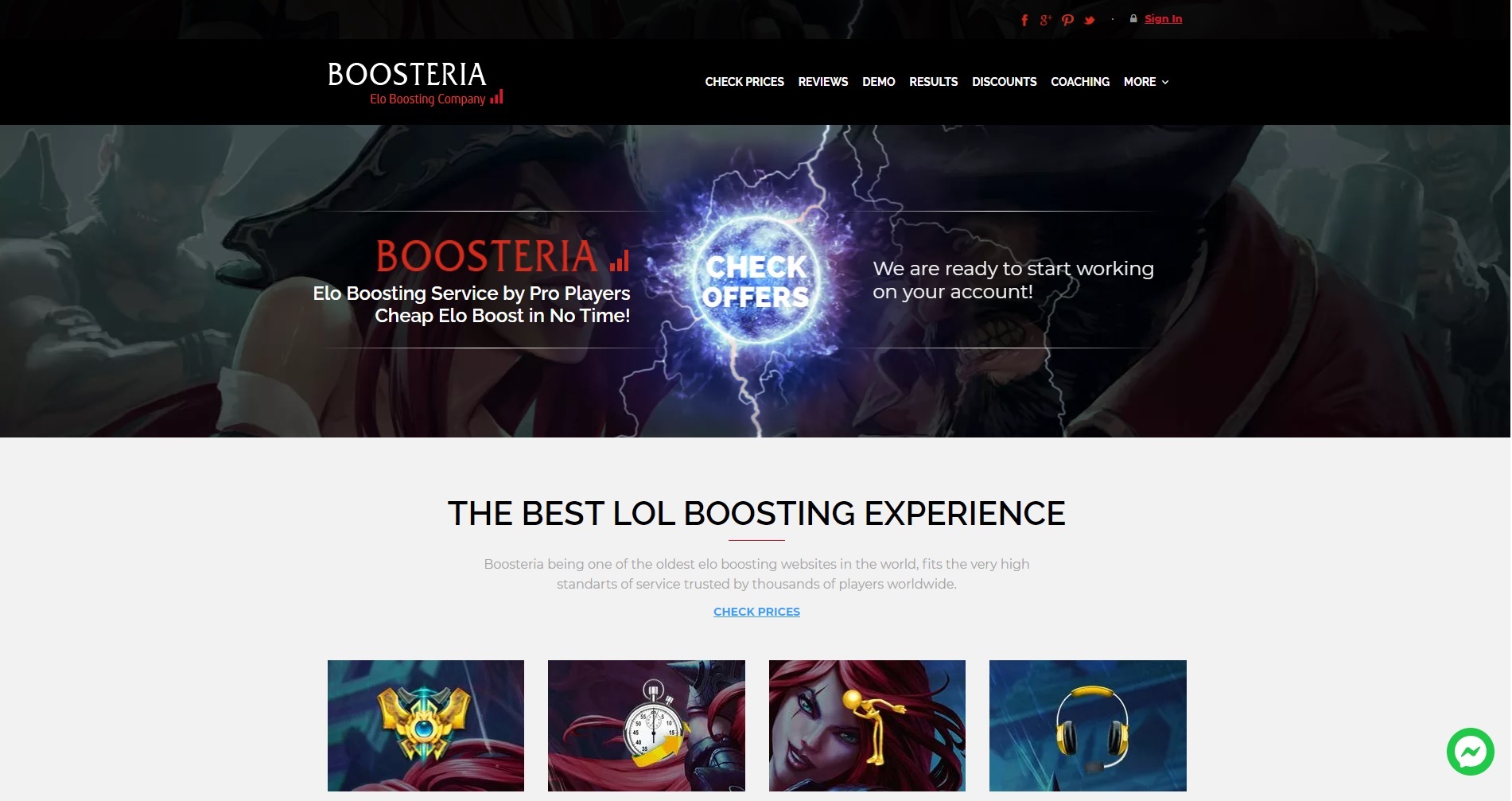 If their graphics are anything to go by, their work is lightning fast.
Boosteria has an easy-to-use website, where you can easily check for the price of the boosting service you want. It gives you robust options like choosing your booster, summoner spell positioning, and more.
The site also has a page specifically for you and your order. It includes information like match history and boosts progress. On top of that, it gives you the option to spectate games on your account, a live chat box with your booster, pausing your order, and even tipping your booster. These options are just the basic inclusions with your order, and the others will cost you just a little bit more.
You'll find 5-star reviews as far as the eye can see if you check their review page. Many of them mention how fast and efficient the boosting is. Satisfied customers rave on and on about how polite and easy to work with their boosters were. While lots of boosting services can brag positive reviews, Boosteria is unique because of how many free, useful inclusions come with just a basic boost order. Their prices won't break the bank and are cheaper than some other services on this list.
3. Boosting Factory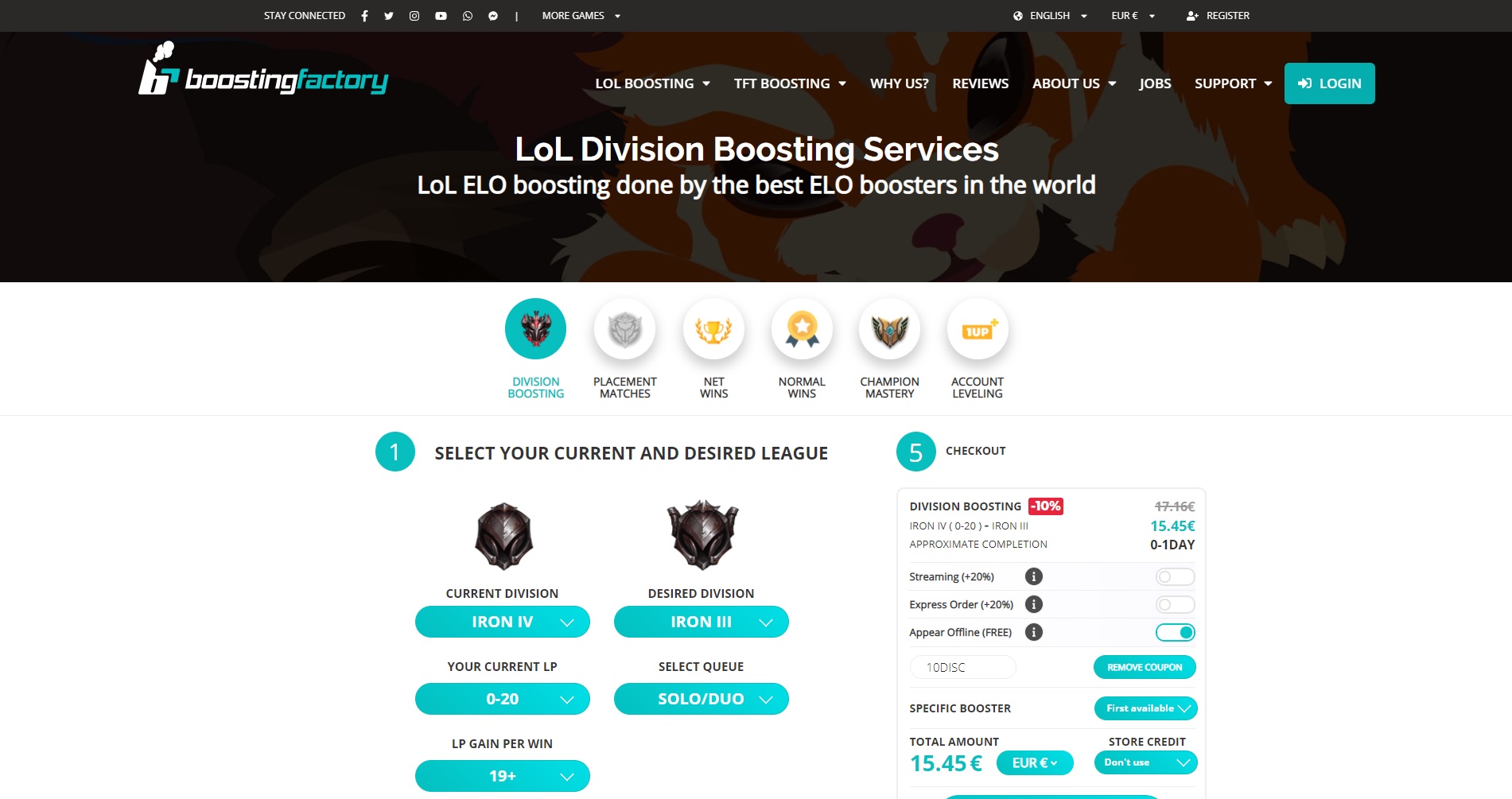 The price is right there. No hidden fees!
Boosting Factory prides itself on being reliable and quick, while still giving an excellent customer experience. They're one of the pioneers in the business, being the first Overwatch boosting service, the first group to allow for reviews on their site, and more. Boosting Factory guarantees many years of experience in this kind of work.
Their site also keeps your personal information and League account details safe and secure so you stay anonymous while your order is ongoing. Their boosting process is more streamlined with a personalized dashboard that lets you see all the relevant information on one page. They're also flexible with how your transaction is going to work out: you can order as a guest, pay in your desired currency, and more. Boosting Factory has an excellent turnaround time, with live support and personalized loyalty programs should you choose to keep using them.
Finally, Boosting Factory is a registered business in Croatia, something not many other boosting companies can boast. Their reviews are maintained on a third-party platform so that all reviews are objective and authentic. Their options for League boosting specifically are less varied than others on this list, and their professional guarantee comes with a heftier price tag.
2. Eloboostleague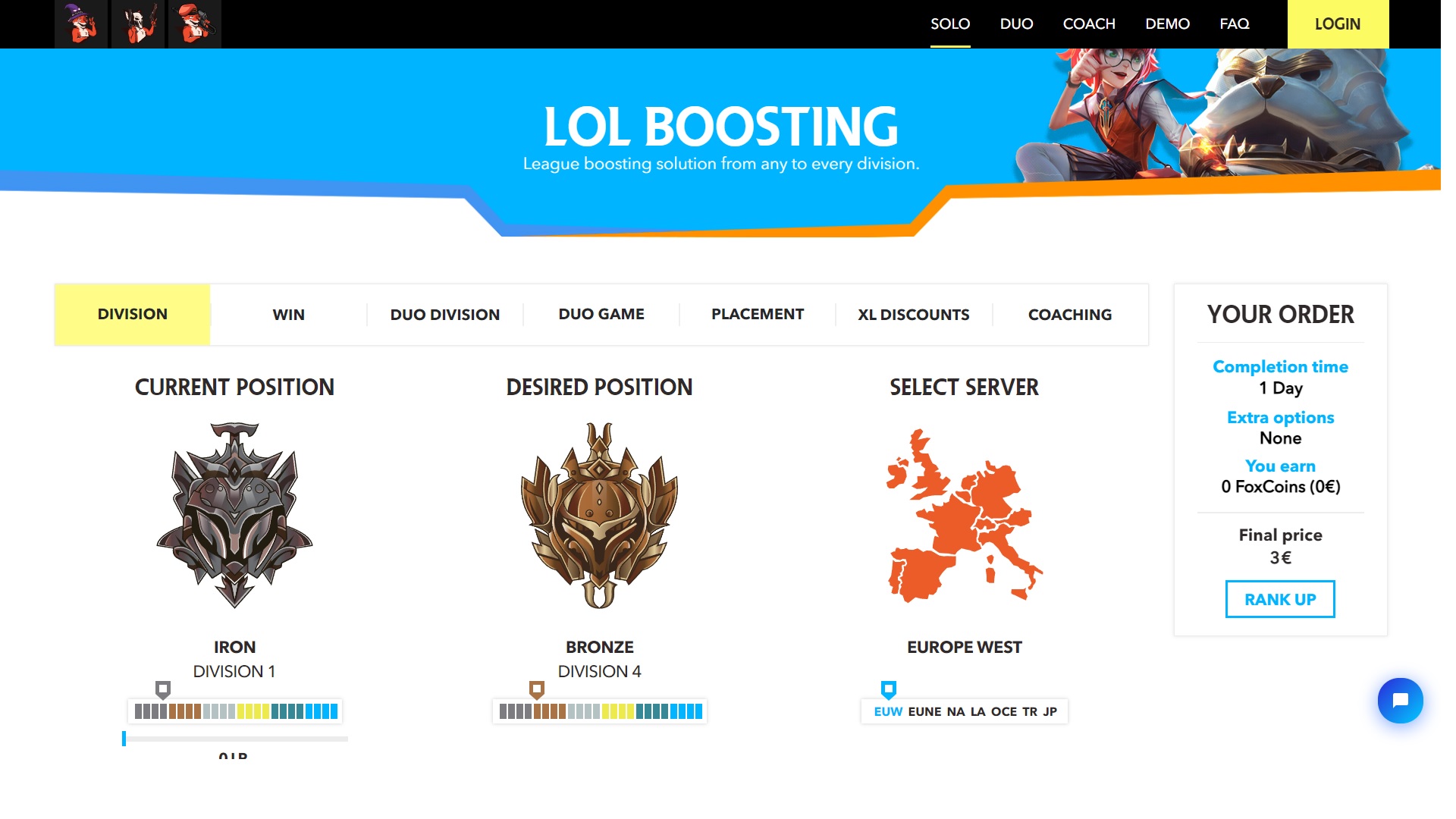 Who doesn't love a loyalty rewards program?
Eloboostleague has an impressive selection of boosting services. They even ask you about your summoner spell setup (Flash on D or F) to make sure they stay incognito. There are other amazing options I didn't even think about: private streaming so you can view how a challenger plays on your account, score normalizing (so you don't fill your match history with KDAs like 14/2/9), and more! Everything is on an easy-to-use page on their website that calculates the price as you select options.
The reviews are filled with glowing 5-star recommendations. To sum them all up, the service was very quick, with 24/7 live support, and well worth the money. Their boosters are vetted as bonafide Challengers with the right mindset. On top of that, they guarantee your money back should anything happen, and your booster will be available from your country.
And on top of the many, many testimonials, your boosting comes at a more than reasonable price. Their rates are at an incredible value for the fact that their boosters are Challengers, and they'll get you to your desired rank in no time.
1. EloBoost24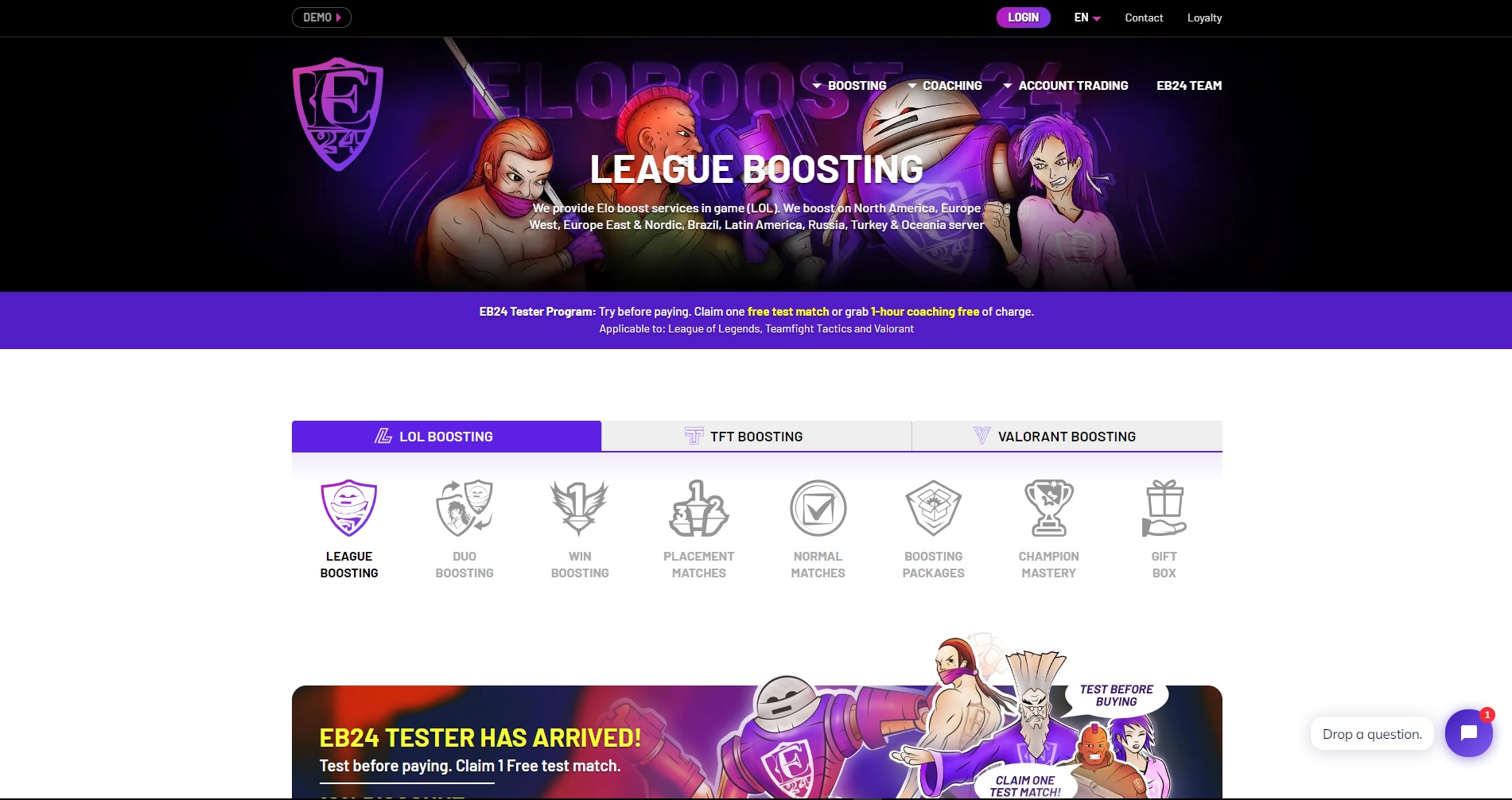 They even have mascots for their staff!
This boosting service has it all. A polished website with tons of information, a customized dashboard for you, hundreds of boosters, and 7 years of experience in the field. Looking around their site is an absolute pleasure.
 EB24 has many perks, should you choose to hire them. They guarantee the privacy of your information and VPN use to protect your account, have different options for your boosting (summoner spell positions, preferred roles, streaming, and more), scheduled sessions, easy communication with your booster, and even a free test match.
Customer reviews live up to their sales talk. The boosting is quick, hassle-free, and more than worth the money you spend. And best of all, their services are cheap for what you get! The only downside is that they don't have the most common payment platforms like PayPal. But rest assured, you'll be more than happy after you try them.