Mobile Legends Best Nana Skins Revealed (All Nana Skins Ranked)
Updated: 01 Apr 2023 7:32 pm
Check out some of ML's cutest skins.
Nana is superior  for her Burst in Magic Damage, Debuff, Crowd Control and Area of Effect (AoE). She is an adorable feline mage who specializes in Poke/Guard with skills that can annoy opponents and also assist in supporting teammates. She is capable and known for her supreme damage.
Nana's Skins are hard to judge, as they are each cute, beautiful and enchanting in their own unique way. Considering other factors such as cost and methods of availing, we have revealed and ranked all of Nana's Skins on a scale of 1 to 10. Let's check them out.
7. Graveyard Party (OK)  
See Graveyard Party in action: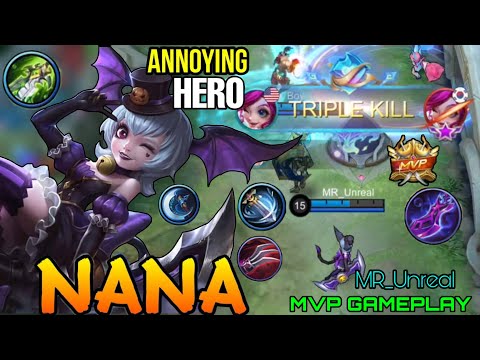 Graveyard Party is an easily obtainable and common Skin that most seasoned gamers have in their arsenal. It has a Halloween theme and is true to its name in every sense and though it is the only Skin that aligns Nana with darkness, it doesn't strive far from Nana's loveable and cuddly character.
Noticeable in this skin is that it transforms Nana from the feline character (Leonin) that she is into a human. Her attire resembles an 1800's Witch and is chalked up with devilish wings and a tail that is distinctively visual in-game. There are no changes to in-game visual effects with this skin but it is totally different and unique from all other skins.
How to get Graveyard Party.
This is easily obtainable through Fragments in the Fragment Shop where it costs 250 Premium Fragments.
Skin Rating.
Special Skin -  4/10
6. Clockwork Maid (Good)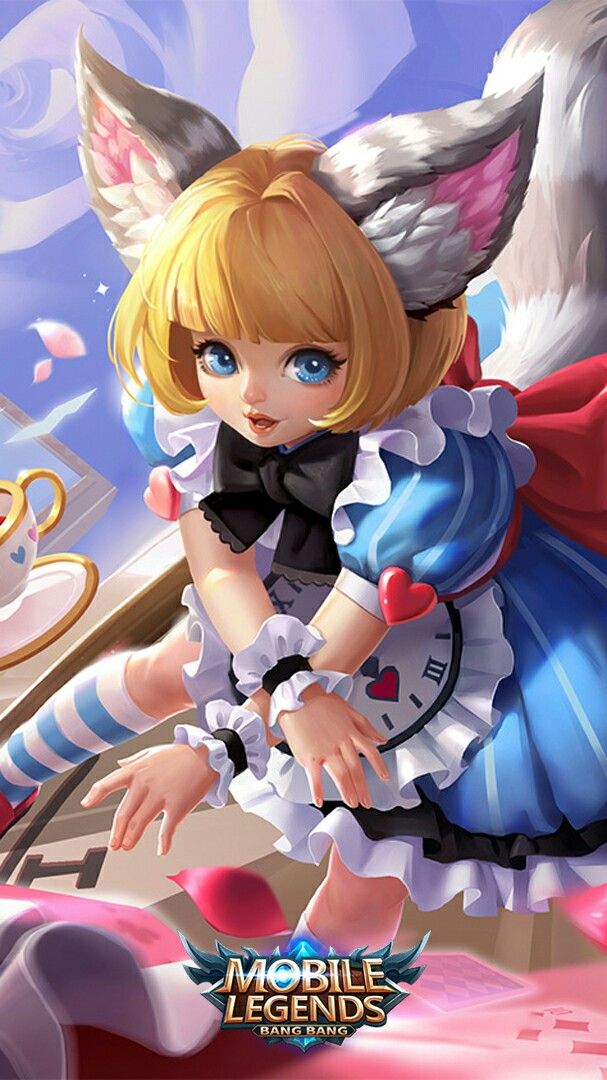 See Clockwork Maid in action: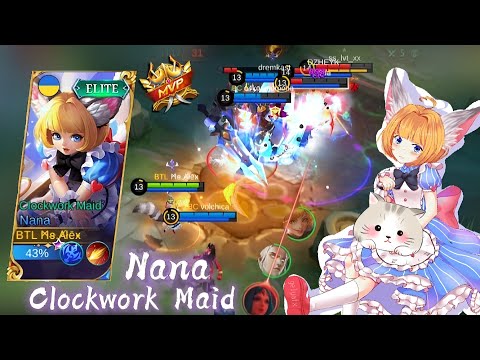 This skin in particular makes Nana look smaller. She also carries what seems to be a pink boomerang pouch in battle, that is unique to this skin. It gives this skin a heavy duty feeling that complements her high damage abilities and makes her seem dangerous despite her cuteness.
Nana has a doll-like face with adorable blue eyes, feline ears, and a tail that resembles a raccoon. She is fashioned as an 18th-century maid. With this skin, there are no improved visual effects. This is a fantastic skin due to how strong she looks and feels, which really improves gameplay.
How to get Clockwork Maid.
This Skin costs 399 Diamonds in store.
Skin Rating.
Elite Skin - 2/10
5. Slumber Party (Good)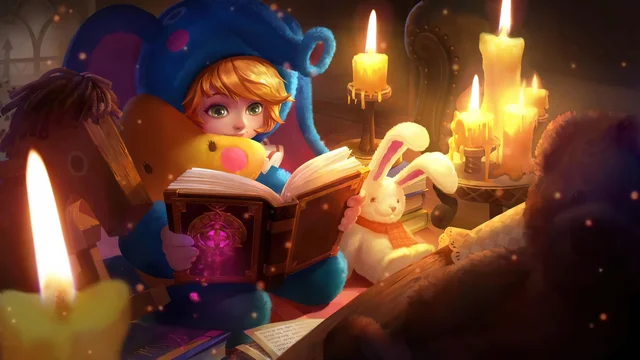 See Slumber Party in action: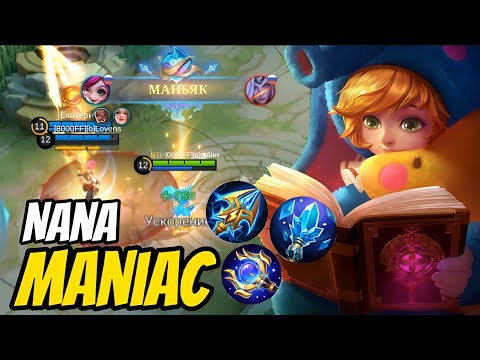 This is one of the cutest skins in Mobile Legends. As the name suggests, Nana is dressed for bedtime in this skin with an elephant themed outfit/pajamas. Her boomerang also visually takes on the shape of a star that obviously signifies night time.
Her ultimate and other skills have a dark blue color in-game that resembles her outfit thus making her seem unstoppable. This skin has an untouchable feeling to it that complements Nana's high damage abilities. It is a must-have for Nana main users.
How to get Slumber Party.
This skin costs 599 Diamonds in the Shop.
Skin Rating.
Elite Skin - 6/10
5. Wind Fairy (Great) 
See Wind Fairy in action: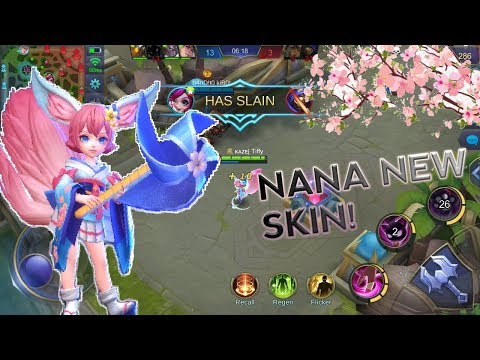 This is a Special Skin with Nana's features being revamped though keeping her original feline face. The in-game visuals in this skin highlight two colors, dark blue and pink. Her appearance is slimmer and she appears bigger in this skin, with a large pink fluffy tail.
True to its Fairy Theme, Nana carries a wand instead of a boomerang with this skin. Moreover, her attacks propel spiral shaped blades, which have an immense psychological effect that makes her seem more powerful. Her movement is also in the form of a skip, which makes her seem faster. Yes, Nana skips through battle with this skin.
How to get Wind Fairy.
Exclusive to MPL (Mobile Legends Professional League). Take part in MPL to obtain this skin.
Skin Rating.
Exclusive Skin - 6/10
4. Mecha Baby (Great)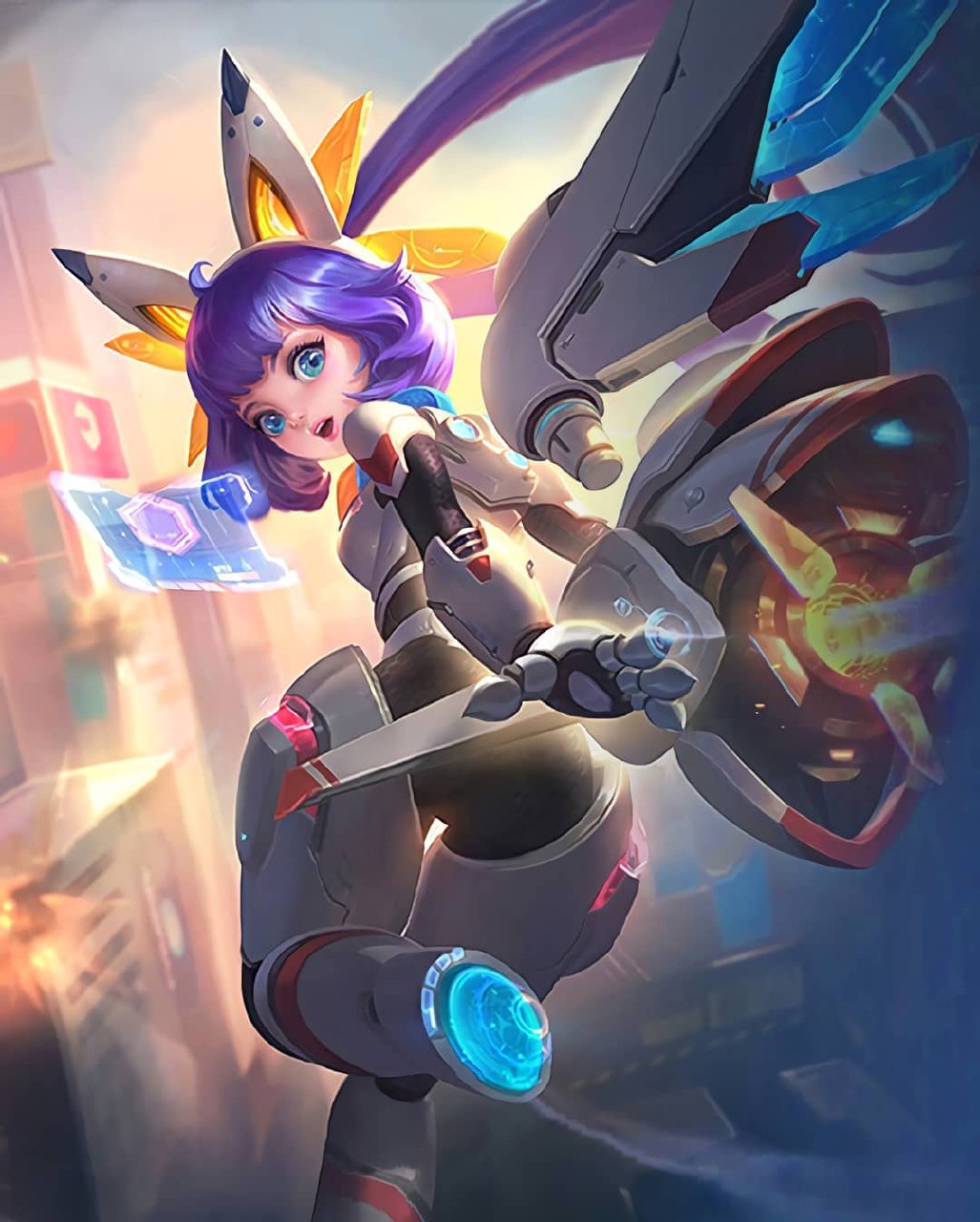 See Mecha Baby in action: 
What's special about this skin is that instead of walking, Nana floats or hovers in movement as a schoolgirl dressed in a space suit. Her ears are also a headband while she noticeably has no tail in this skin. Once again, she is a human and not a feline creature in this skin.
In-game visual effects are also enhanced where her ultimate skill when engaged takes the shape of her ears in imprint. Her boomerang also takes on a space theme, as it looks like an item made for out of space. This is an annoying skin for opponents, as she seems rapid and swift, that is annoying to look at as an opponent facing Nana.
How to Get Mecha Baby.
Mecha Baby costs 899 Diamonds in the Shop.
Skin Rating.
Epic Skin - 7/10
3. Cyclone Clash (Great)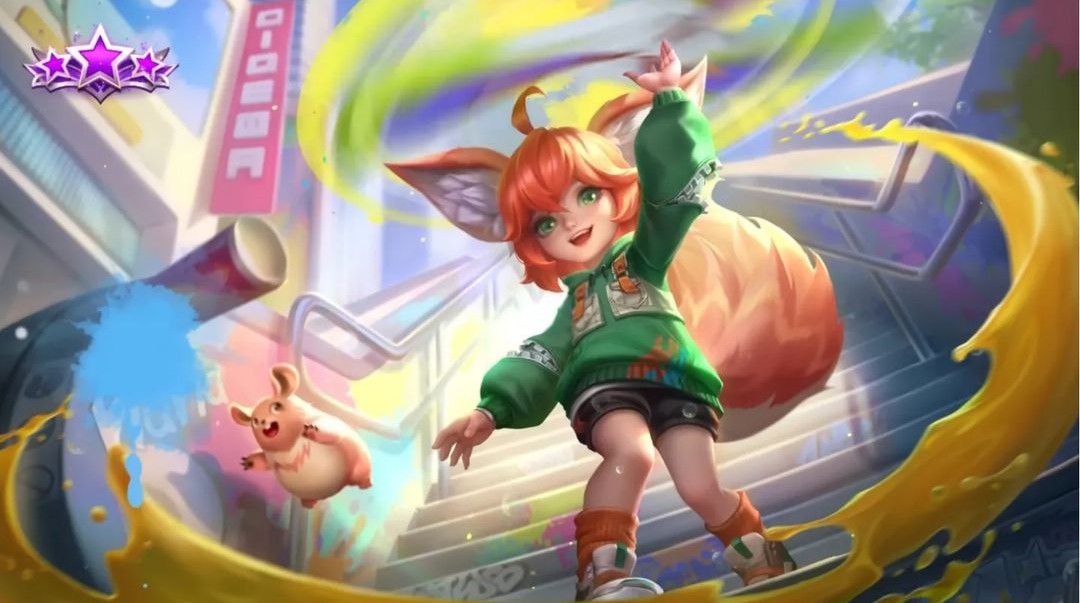 See Cyclone Clash in action: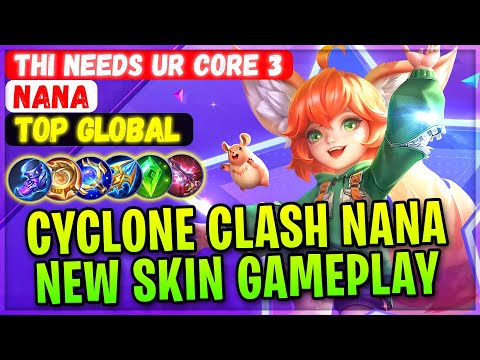 This is a simple yet elegant skin where Nana is half feline, half human. Though simple, the in-game visual effects stand out with a purplish yellow look. Her boomerang also takes on the shape of a fan shaped blade making her seem more powerful.
Nana's outfit is casual but the visuals that accompany her skills and weapons in-game make up for the simplicity and is what makes this skin rare. The colors are almost rainbow like but themed on purple and yellow which makes this skin unique. 
How to get Cyclone Clash.
This is a Starlight Skin that is available through Starlight Membership. It was initially released in 2022.
Skin Rating.
Starlight Skin - 9/10
2. Sun Dress (Legendary)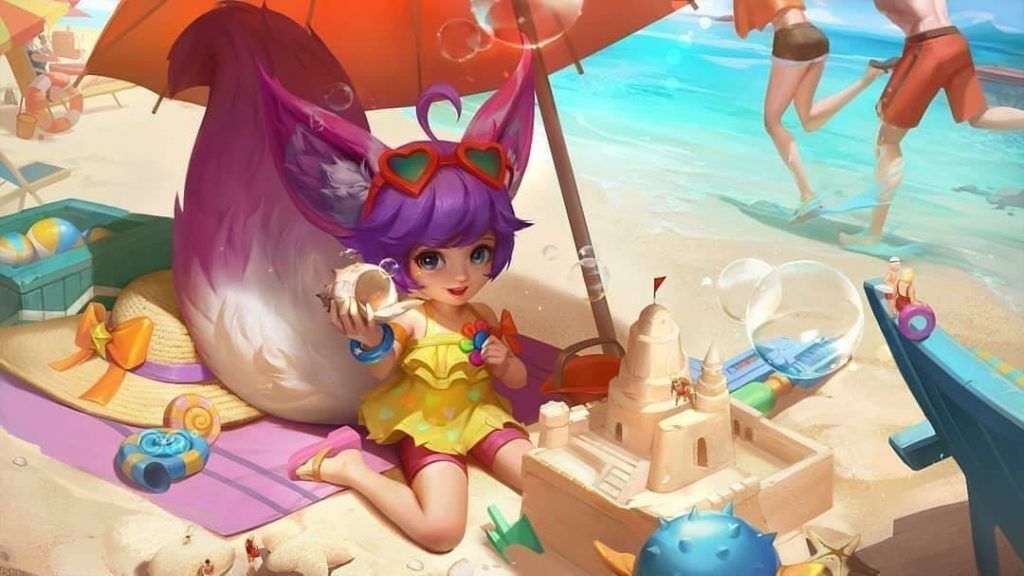 See Sun Dress in action: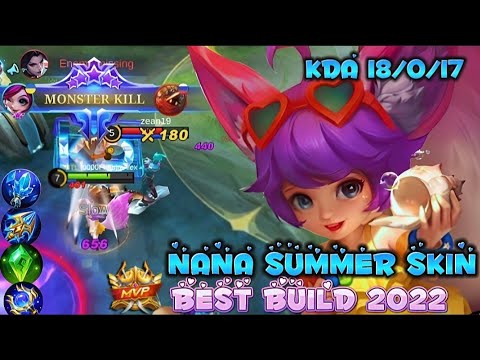 This is a gorgeous skin. It radiates a summer time vibe where Nana's boomerang is transformed into the shape of a beach hat. The in-game visual colors are beautifully enhanced with a color that matches a fade of blue that is dark and greenish. The in-game visual effects are Nana's best in terms of skin themes.
In comparison to all of her other skins, Nana's yellow beach dress in this skin is more revealing. It's a Summer Collectible Skin that  Nana enthusiasts and skin collectors simply must acquire due to it being so exquisite, especially when you consider its ingame effects.
How to Get Sun Dress.
This Skin costs 749 Diamonds in Shop and is a Summer Themed Collectible Skin.
Skin Rating. 
Special Skin - 8/10
1. Aqua Pura (Legendary)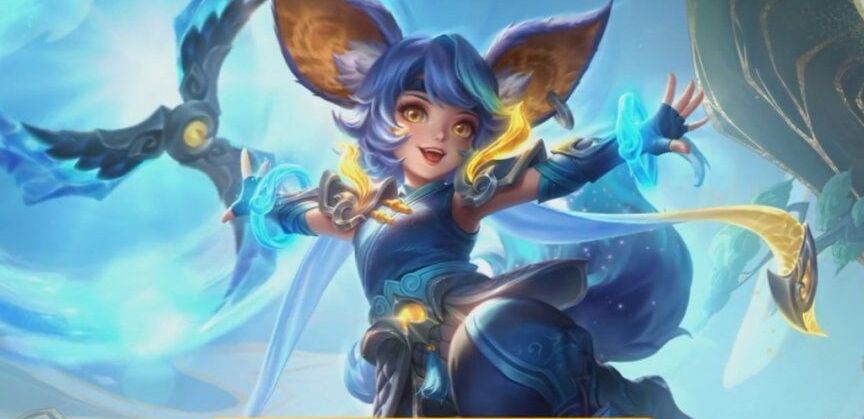 See Aqua Pura in action: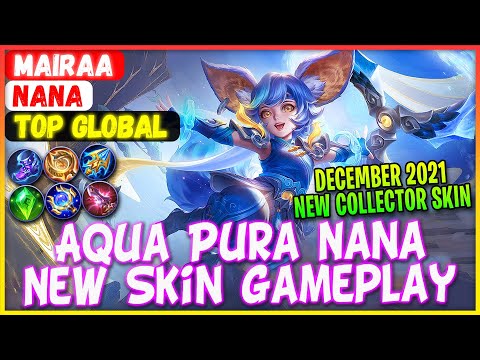 Aqua Pura translates to Pure Water. This is a skin that is hard to get and has absolutely stunning visual effects. It is a majestic skin that associates Nana with a dragon instead of the usual felines that are known to be associated with her.
Nana resembles a comic book assassin in this skin, with a deadly yet mysterious comic look and feel. She is dressed as a ninja in some sense and wields a vicious looking spiral blade in place of her traditional boomerang. The greatest feature of this skin and also out of all her other skins is in her ultimate skill where she summons a dragon that jumps out of the water to strike with each pound. It is unlike any other and makes this a rare Mobile Legends Skin.
How to get Aqua Pura.
This is a limited lifetime event skin. It is a collectible.
Skin Rating.
Collectible Skin - 10/10
You may also be interested in: