[Top 10] Sims 4 Best Building Mods
Updated: 03 Aug 2022 11:56 pm
Sims lounging in a luxurious new hot tub.
What Are The Best Building Mods in The Sims 4?
There's an architect inside you just waiting to come out. You know you could build the perfect masterpiece - but gah! The game just doesn't have the item you're looking for.
You never knew you could get this frustrated over virtual wainscoting! Luckily the modders are on the case and we have assembled the top build mode add-ons to make sure your creativity is never thwarted again.
10. TS4 Victorian House Exterior Set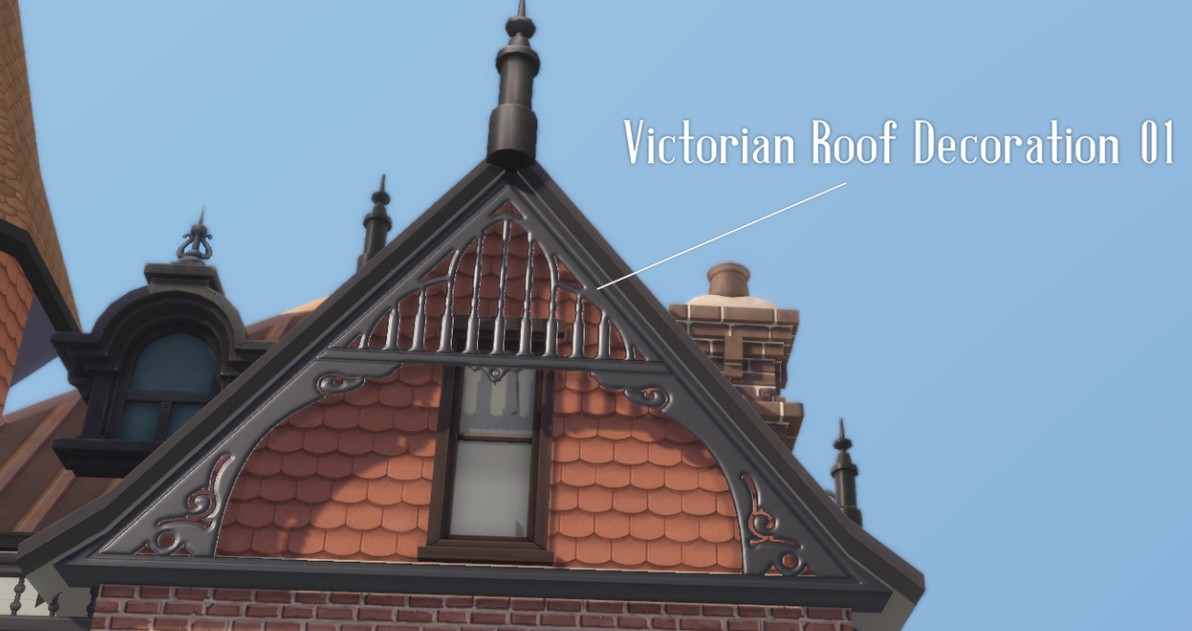 This simple roof decoration takes a plain suburban home and makes it look like a fancy high-end mansion.
Victorian houses are some of the most popular residential builds in The Sims 4 - because deep down, everyone wants a haunted house. This mod adds some extra pop to your Victorian builds with a new corbel, awning, balcony, window and roof decorations, and a new door. These features are small, classy ways to give your home a little pop. 
Adds 10 new objects and decorations, each with 7 swatches. 
Small exterior details make your builds look fancy and finished. 
19th-century ghosts not included (or are they…)
Get the mod here.
9. Christmas Day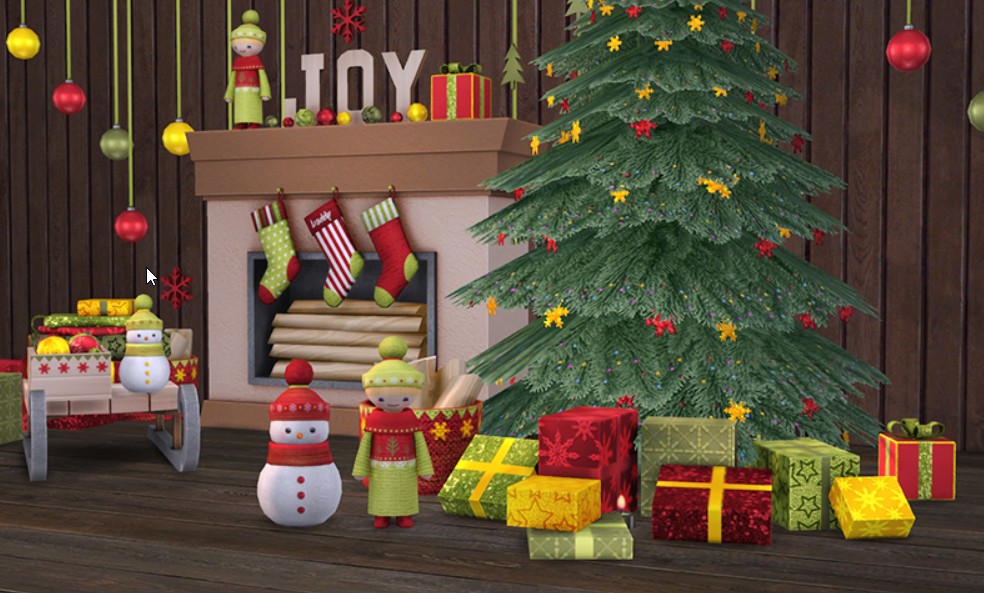 The stockings were hung by the chimney with care, in hopes that Father Winter soon would be there.
The holiday season is almost here so, of course, we need to include some holiday content for your sims as well. This sweet, quintessential holiday pack has everything a sim needs to have a very merry Winterfest, as long as you're not on the naughty list.
13 new holiday-themed objects to revitalize your Winterfest decorating.
Three color palettes to fit your style: classic, frosted, and icy blue.
Why wait until December? Have Winterfest all year round!
Get the mod here.
8. Moon Animals Bedroom Collection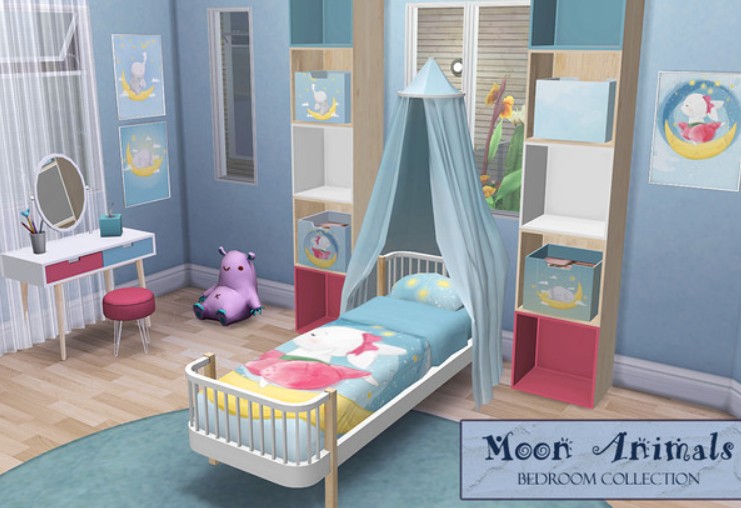 The child who gets to sleep in this room will have the sweetest dreams.
Personally, I don't like decorating children's rooms in The Sims 4. All the kids' items that come with the game feel too bright, or too busy, and I feel like they come together into a very cheesy and overstated mess. This custom pack is much more subtle and creates a much more calming atmosphere for your kiddos to drift off to dreamland.
9 custom items for creating the perfect bedroom.
Artistic watercolor motif featuring clouds, stars, and moons with cute stylized animals.
Bed veil is both aesthetic and creates a cozy, shielded place to sleep.
Get the mod here.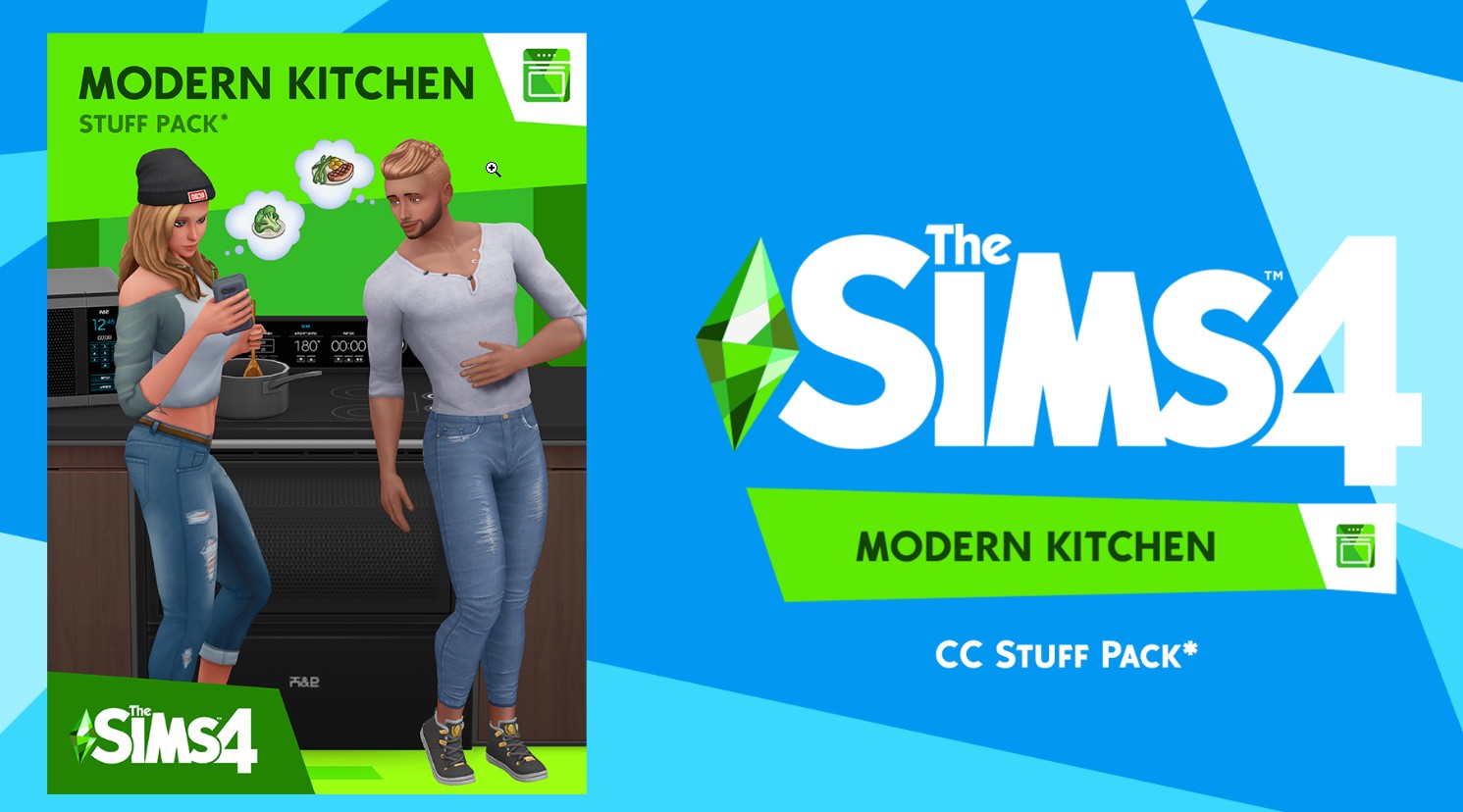 Hovering boyfriend not included.
Call me a nerd, but I have a huge weakness for giant custom content packs that provide huge varieties of new, coordinated items. Enter the Modern Kitchen CC Stuff Pack. Mix and match dozens of new items for the kitchen of your sim's dreams.
45 new build/buy items designed to fit a five-swatch color scheme.
Plenty of clutter, decoration, and furniture items that can also be utilized elsewhere in your build. 
This pack does have a weird number of toothbrushes. Which is fine, it doesn't take away from anything else. But there are really just…so many toothbrushes.
Get the mod here.
6. Dusty Memories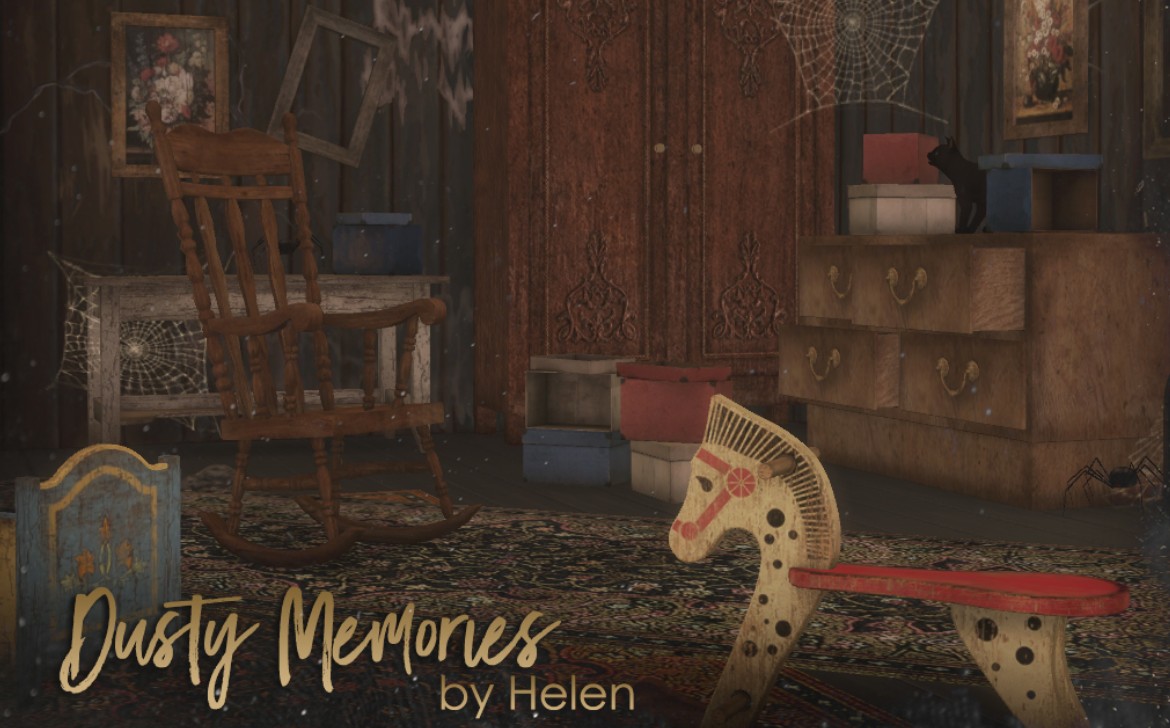 Everything about this image screams "there's a child ghost waiting for you inside that wardrobe".
This pack was conceptualized for Halloween and it is truly spooky. Even though the season may have passed, these aged, dusty, and forgotten objects will still add the perfect touch to all your haunted or abandoned builds.
15 new objects with an antique feel.
Rickety toys and a decrepit crib to inspire your creepy child sims.
Floor-mattress serves as the perfect bedding for the murderer that may or may not be sleeping in your attic.
Get the mod here.
5. Old Abandoned Underground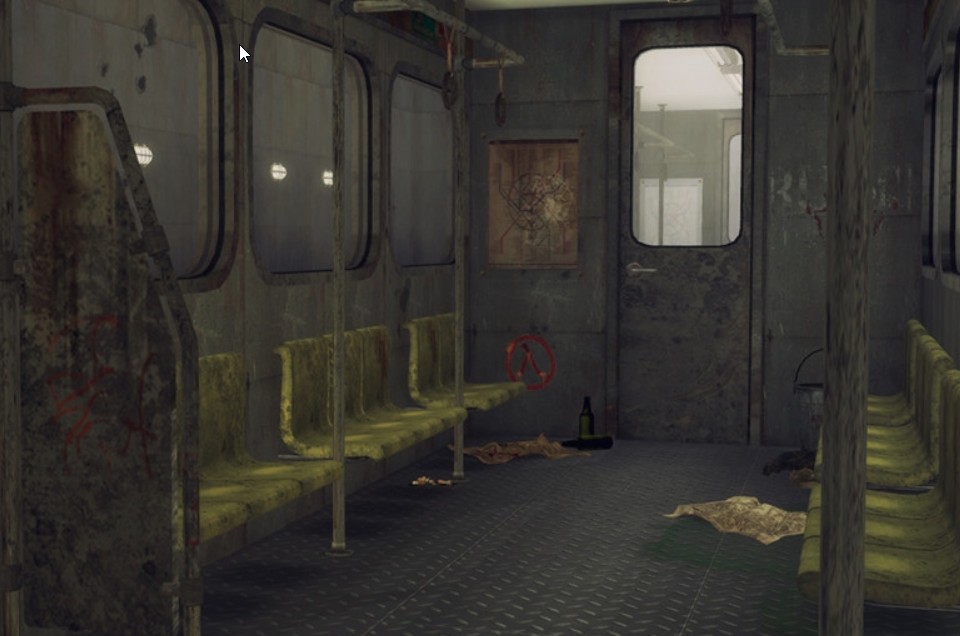 At least you won't have to fight anybody for a seat.
Sticking with the theme of abandoned and creepy, this furniture and décor would be ideal for a post-apocalyptic game. The concept is an abandoned subway train, but most of these objects would be easy to use in any kind of abandoned or run-down urban setting. Create your own zombie wasteland, or start the concept art for Fallout 5. As long as it's bleak we have you covered.
17 new items inspired by an old, abandoned subway car.
Recreate this scene or create your own ramshackle spaces.
What happened? Where did everyone go? Is the city safe? It's up to your sim to find out…but they must proceed at their own peril.
Get the mod here.
4. Country Wedding

Pinterest would be proud.
Is your sim dreaming of the perfect charming, rustic country wedding? If so, they'll need to make sure they have things planned down to the last detail – from the wedding arch to the place cards. This pack will cover all the aesthetics, but keeping your mother-in-law away from the open bar is still on you.
17 new items designed to create the perfect country wedding.
Most items can be repurposed for any fancy occasion. Use them for dinner parties, festive gatherings, and celebrations.
Give your sim the special day of their dreams.
Get the mod here.
3. Club Vaidenburger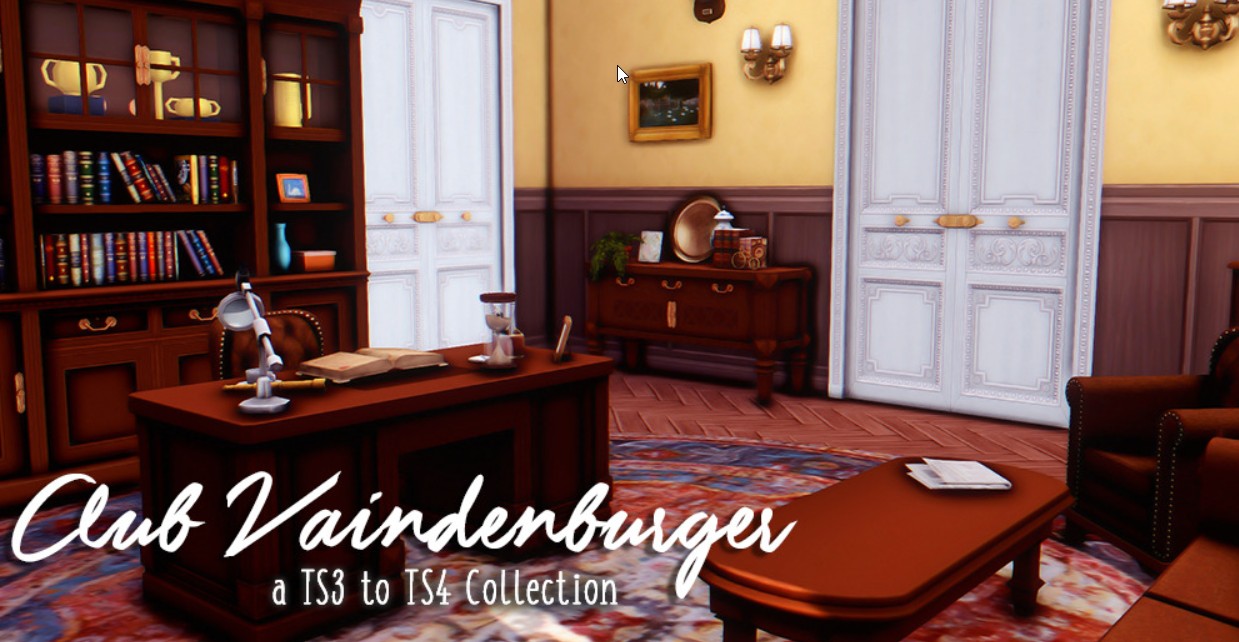 This vintage office set communicates wealth and status without you having to say a word.
The Sims 3 featured the distinguished furniture set of the elite Earl of Vaidenburger. Well, we raided his estate sale, and now this set is available in The Sims 4, along with a few new features just for TS4 players. 
16 items converted from TS3 to TS4. Fireplace and bar are fully functional, and wall shelves can now display items.
Add some high class and comfort to your sim's office or study.
Gramophone adds a vintage touch to any build!
Get the mod here.
2. Royal Décor Set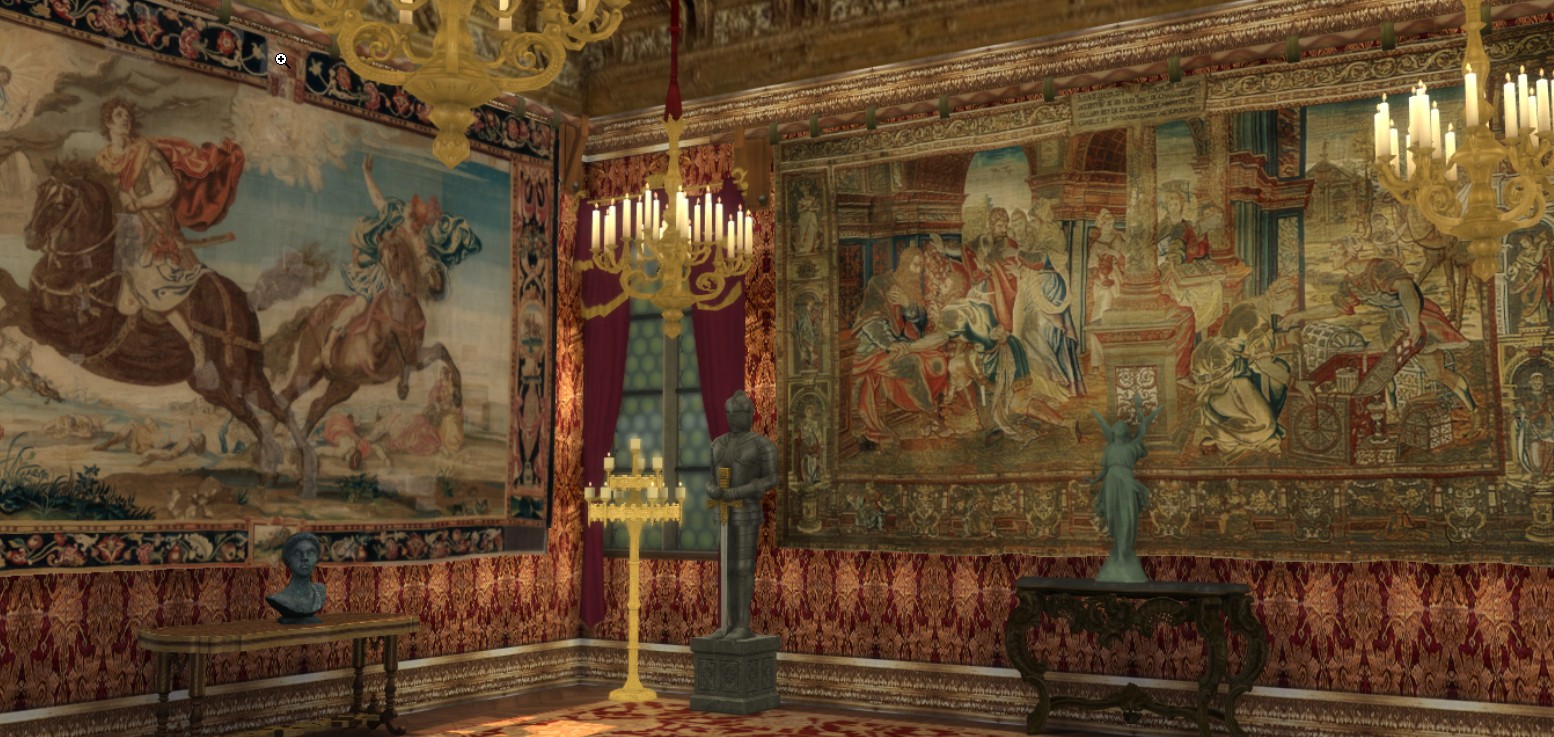 "Opulent" is just how rich people say "fancy". 
Is your sim of a royal lineage? Or maybe just an eccentric art collector? Either way, this collection featuring art and decorations from the 16th to 19th centuries will feel right at home in your parlor or home gallery. 
Dozens of paintings and tapestries to customize your art collection.
A custom fainting couch for all your fainting needs. 
All the renaissance and neoclassical artistic nudity a sim could want.
Get the mod here.
1. Ikea Home Stuff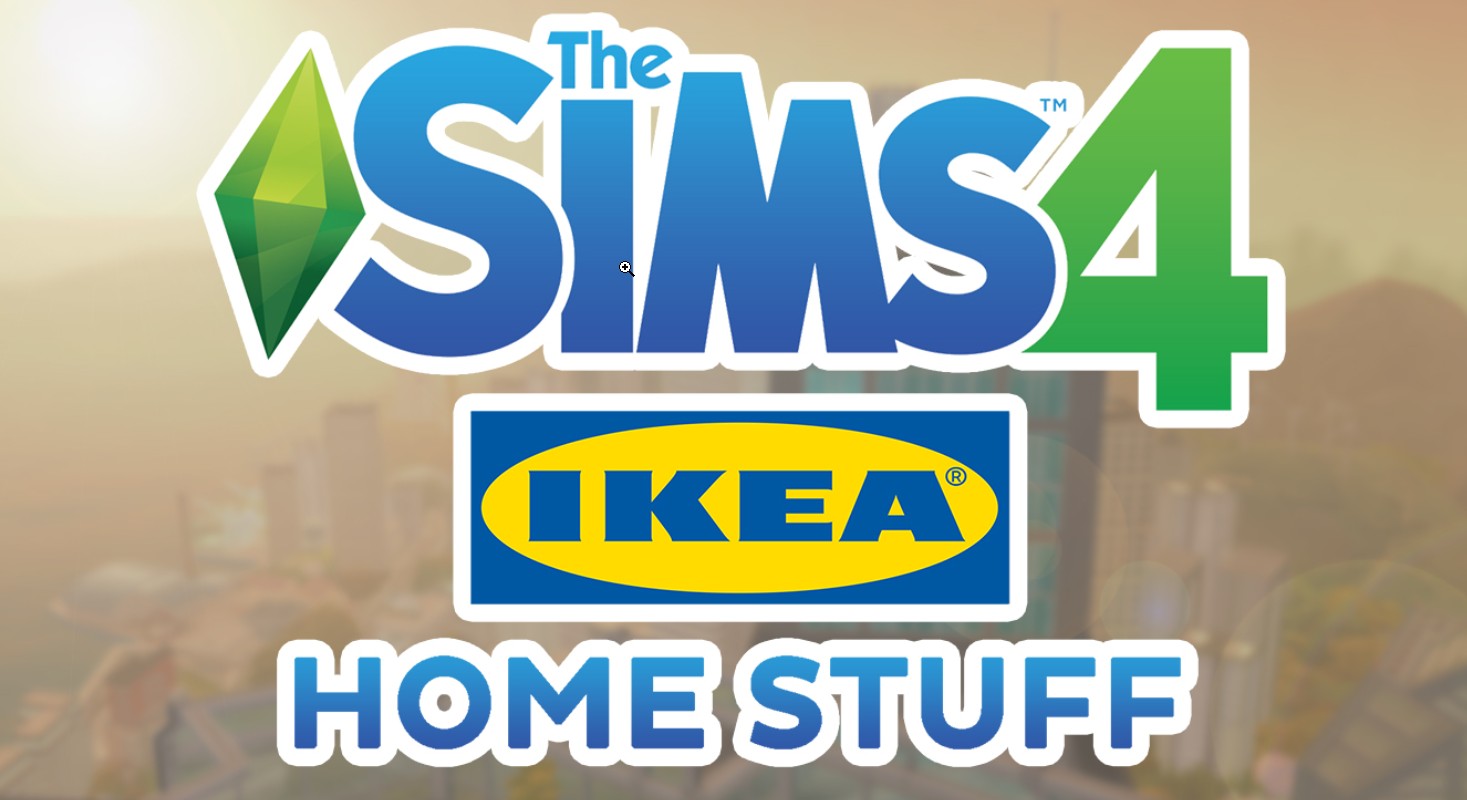 And this furniture actually comes with all the pieces included!
As far as I'm concerned, this is the number one most useful build set for decorating modern homes. The only thing that could make it better would be if your sim could actually go to Ikea and eat Swedish meatballs while they shopped. Barring that, this is a great collection of modern home furniture – the kind that you'll find in most houses of a person under the age of 35.
This is a conversion of The Sims 2 Ikea Stuff Pack, with new custom items included.
68 new items and hundreds of swatches.
Let your sim live in the realistic home of a 20-something on a budget.
Get the mod here.
Modders are always coming out with new and creative items to make your building experience more exciting. These are some of the best to start with, but keep an eye out for exciting new content being released all the time!
You may also be interested in:
Image Gallery