[Top 10] Sims 4 Best Occult Mods That Are Fun
Updated: 14 May 2023 6:27 am
The correct way to play the sims is become a walking fantasy legend before then dying whilst making grilled cheese
After the release of the Sims 4 paranormal stuff pack, I imagine that many simmers are craving a taste of the occult. Mods are great; they are free ways to spice up your gameplay and often improve EA's (many) mistakes. So if you are excited about this new release or are looking into your coin purse with anguish, here are some mods to enhance the sims experience and get in the spooky mood. 
10. Armageddon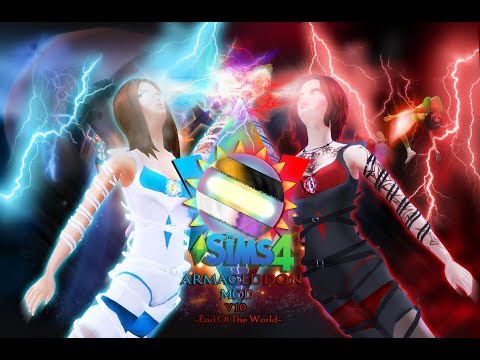 Created by well-known sims modder Sacrificial, the Armageddon mod allows your sims to either choose the path of good as a superhero or walk the dark path as a supervillain. This mod comes with new powers and spells for the superhero and supervillain life states, police interactions, fantastic visual effects, and new costumes for your newly superpowered sim. 
How the Armageddon mod makes it fun:
A classic concept that isn't featured in vanilla sims gameplay.
An epic face-off against good or evil 
A good pick if you are fed up of playing happy families
Some fantastic visual effects and designs as expected from sacrificial
 Get the armageddon mod: here
9. Familiar interactions
Many were disappointed by the addition of familiars in the Sims 4 realm of magic. Evidently, it was up to the modding community to fix this. And they came through! Ordinarily, familiars don't really do much, you summon them, and they give you an XP bonus when casting. I mean helpful but boring. However, this mod adds new unique interactions to have with your familiar, giving life and depth to your gameplay. 
 How the Familiar interactions mod makes it fun:
Additional depth to increase immersion
It expands on a game feature that was previously lacking.
The familiar designs were already cute, and now they are even better.
Get the familiar interactions mod: here
8. Zombie Apocalypse 
Okay, so I could just list all of Sacrificial's mods on this list and call it a day. I am making an effort to restrain myself. But I can't help but mention this gem. 
 This mod creates a new life state, zombie, and creates a zombie apocalypse, which your sim must survive effectively, turning the sims into a survival horror game. I have been keeping an eye on this mod since its initial release, but new resident evil features have been added in the latest version of this mod. So I will convince you to download this mod with the coming words 'nemesis is in the sims'.
How the Zombie Apocalypse mod makes it fun:
It completely changes the sims 4 gameplay. 
Fight the zombies! With weapons exclusive to this mod pack
I will repeat: Nemesis is in the sims.
 Get the Zombie Apocalypse mod: here
7. Expanded Mermaids
I love mermaids; you know that Australian children's show 'H20 just add water'? Yeah, I was all over that. So, when they announced that mermaids would be introduced with the new island living expansion pack, I was over the moon with excitement. At first, I was happy with the new occult sim type; however, I eventually grew bored. Many other simmers expressed their disappointment with the mermaid life state. 
This mod fixes all that and completely refreshes and expands the mermaid gameplay by adding new aquatic features and even a new life state. Become a Kelpie, a sea witch, go diving, and experience many other new interactions.
How the expanded mermaids mod makes it fun:
New life states
Magic, everyone loves a good bit of magic.
New ocean interactions to bring a greater depth to mermaid gameplay
 Get the expanded mermaids mod: here
6. Hybrid
 How the Hybrid mod makes it fun:
Enables you to have access to multiple areas of gameplay
Hyperpowered sims so you can cause havoc in any way you please.
A previously missing feature fixed by the modding community.
 Get the Hybrid Mod: here
5. Witchcraft career
 What makes the witchcraft career mod fun:
A new opportunity to make your sims lives unique
A job to better fit a spellcaster
Two different branching career paths
 Get the Witchcraft career mod: here
4. The Modular Portal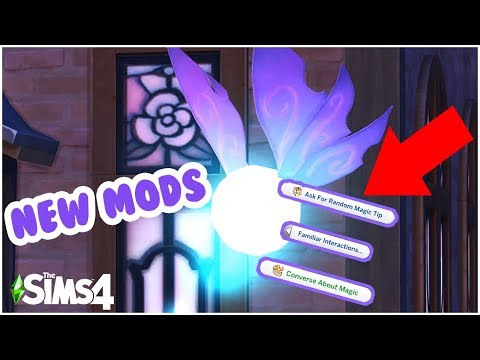 Fans of the realm of magic pack will love this one. The modular portal mod adds functional portals, which can be placed anywhere and on any lot. So if you were fed up with walking to the portal in Glimmerbrook or just want a magical finishing touch to your house, then this mod is an excellent choice. 
 What makes the modular portal mod fun:
New build opportunities
Easy access to the magic realm
A choice of different portal styles and types
Get the Modular Portal mod: here
3. Drifters Wonders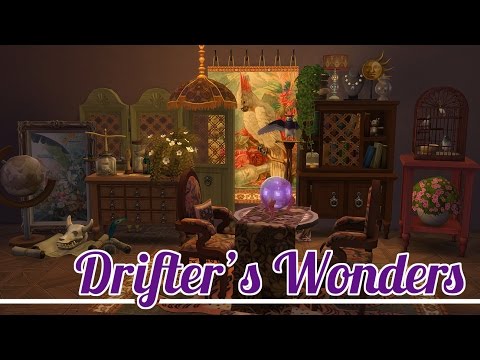 So, now we have the gameplay tools to live out our occult dreams, how about we set the tone. The Drifters Wonders set is a beautiful package of custom furnishings perfect for a spell caster or vampire. This beautiful set is sure to immerse you in all the magical mischief your sims will be getting into.
 What makes the Drifters Wonders fun:
Occult and magically themed furniture to get you in the zone
Overall a stunning set of well throughout decoration pieces
Greater immersion in your sims magical adventure
 Get the Drifters Wonders set: here
2. Possessed Child
 Be careful with the possessed child mod because it will wreak absolute havoc on your save; however, that is precisely what makes it fun. This mod features a new gameplay item, the grave of Jonathan Colby. This item will unleash, deadly power of the cursed and tortured spirit of Jonathan into your save. 
What makes this mod fun:
Absolute chaos
It was genuinely frightening at times.
An excellent way to kill off all of your neighbors
Fun because it is unpredictable
You can get the Possessed child mod: here
1. Book Of Chaos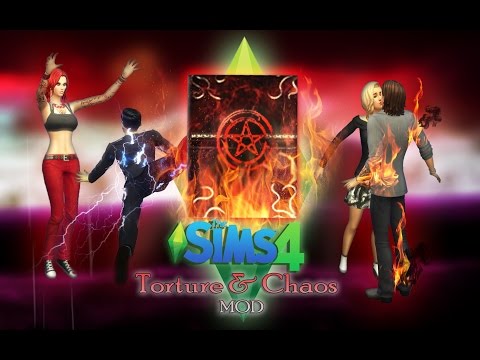 How could I not include such a classic mod? The book of chaos mod allows your sims to wield an evil book of spells to kill and torture your sims. This mod is a bit of a fan favorite since before this mod, you didn't really have many ways for your sim to be directly murderous. With a little bit of hocus pocus, this mod can help your evil sim achieve true evil.
 What makes this mod fun:
For when drowning your sims in the pool gets a bit boring
A magic mod released before the realm of magic pack
As it says on the tin, chaos  
Perfect for an evil playthrough
Jim Pickens approved
 Get the book of chaos mod: here
You may also be interested in:
Top 17 'Games Like Sims,' Ranked Good to Best
Sims 4 Expansion Packs, Ranked From Worst To Best
Top 10 Best 'The Sims 3' Mods That Make the Game More Fun!
Image Gallery