Top 10 Sims 4 Best Worlds That Are Amazing
Updated: 05 Mar 2021 10:04 pm
Discover all that Brindleton Bay has to offer.
One of the best parts of the Sims 4 game is exploring what the worlds have in store, but which are the most worth your time? This is what I will be helping you with today, so without further ado tThese are the top 10 Sims 4 worlds that are the most enjoyable to play in.
10. Forgotten Hollow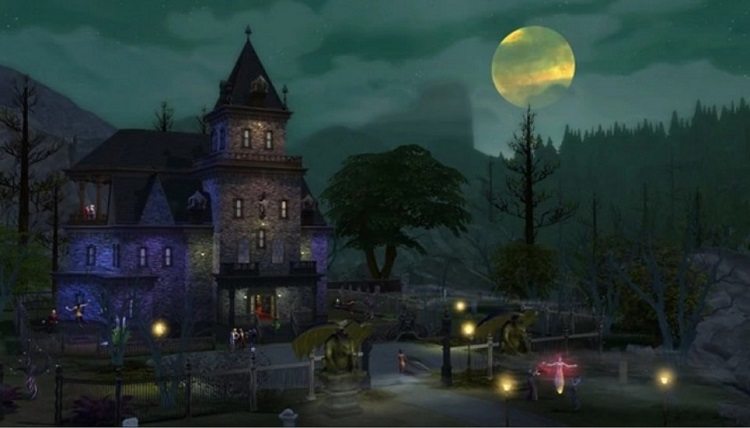 The Sims 4: Forgotten Hollow
Introduced to The Sims 4 with the Vampires game pack, this world provides the perfect environment for your vampire sims. Forgotten Hollow's creepy vibes immerse players into the paranormal where their new vampire sims feel most at home.
Why it's great:
-It stays dark out longer here, so vampires can stay out more
-The dark aura and victorian themes makes the Sims 4 feel like a horror spin off of the traditional game
-These rare collectables can only be found here: garlic, plasma fruit, sixam mosquito traps, vampire squid, and wolfsbane
9. Granite Falls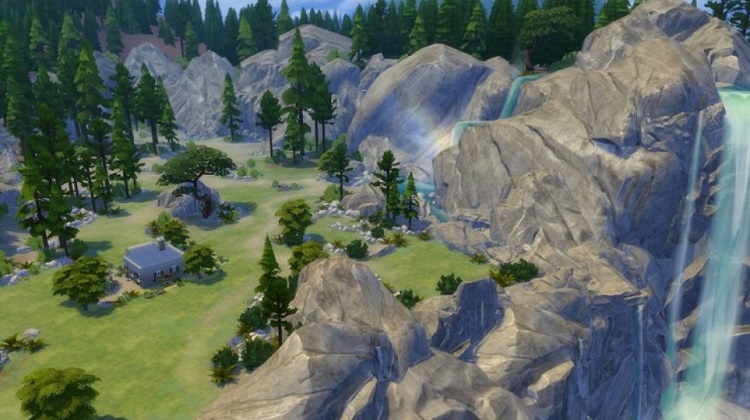 The Sims 4: Granite Falls
Granite Falls is a vacation destination that came with the Outdoor Retreat game pack. With its beautiful natural landscape, this is the perfect way for your sims to escape the hustle and bustle of life and relax with some fresh air.
Why it's great:
-The secret 'Hermit's House' is in the national forest. You can find rare items like Will-O-The-Wasp and the Mountain Lionfish.
-In the hermits house area you can also find the rare herbal remedy recipe, which can only be found here
-There are unique interactions such as hiking and camping here
8. Del Sol Valley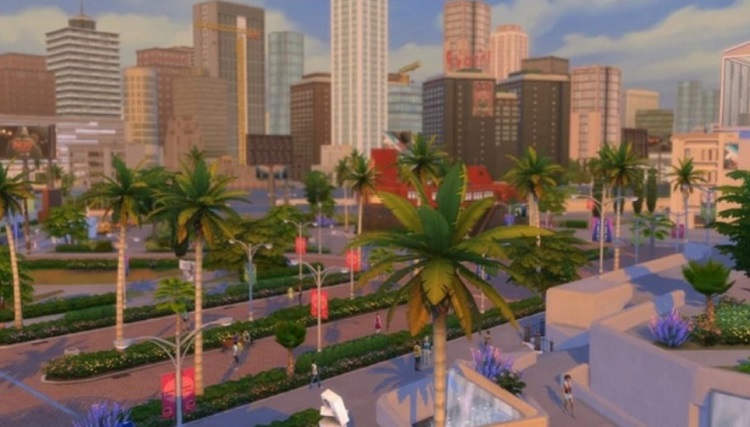 The Sims 4: Del Sol Valley
With paparazzi everywhere, famous sims walking around, and its own Hollywood Walk of Fame, Del Sol Valley is heavily inspired by LA. This world was introduced by the Get Famous expansion pack, and it is perfect for your celebrity sims.
Why it's great:
-There are a lot of famous sims here, and that's good if your sim is an aspiring celebrity. The more famous sims you know, the more famous you get.
-There are a lot of public lots here, which gives giving your sim many things to do including going to nightclubs or just walking starlight boulevard.
-There are 3 very large and nice lots perfect for building mansions on, the amazing views and surrounding landscape make these the perfect sites for your celebrity sims lavish homes.
7. StrangerVille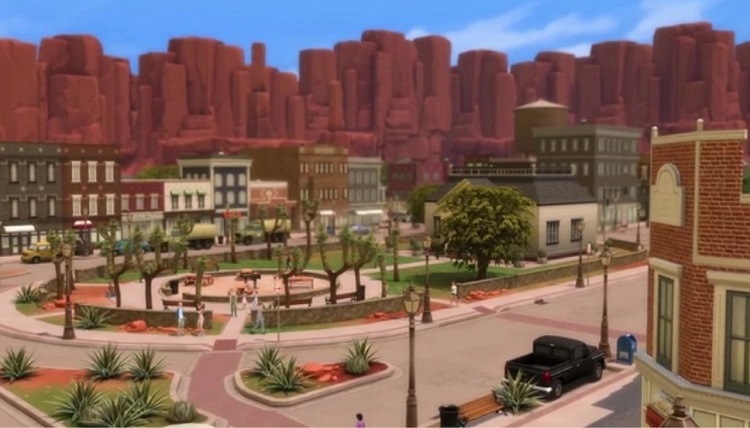 The Sims 4: StrangerVille 
This is a brand new world to The Sims 4. StrangerVille, a seemingly pleasant desert town, contains a mystery that you can unfold, if you are up for the adventure.
Why It's Great:
-This town is central to the new Strangerville pack, and the corresponding gameplay  can only be done here.
-The sims here are weird, really weird, which is a lot of fun., and Yyou will get this behavior from sims nowhere else.
-It reminds many players of Strange Town from The Sims 2, so its nostalgic.
6. Oasis Springs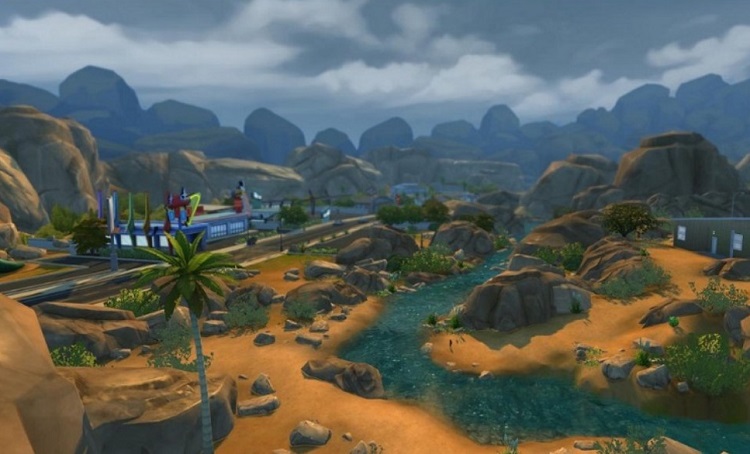 The Sims 4: Oasis Springs 
Oasis Springs is a base game desert world with many places things to explore. The landscape and mid-century homes will remind players of a mid-sized western American town.
Why It's Great:
-This is a large world with 21 lots to build on, so you can have a good variety of lot types here.
-Visit the Forgotten Grotto, a secret world found in Desert Bloom Park.
-The batfish is only found in the Forgotten Grotto.
5. Willow Creek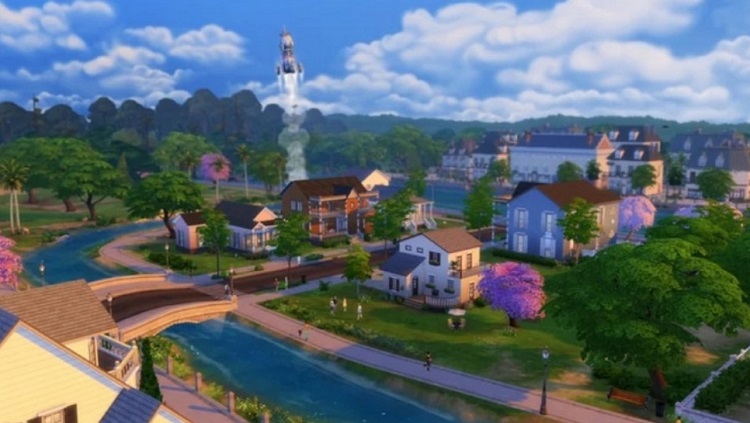 The Sims 4: Willow Creek
Willow Creek is a calm, middle sized town that comes with the base game. Like Oasis Springs, this town has a hidden gem to explore.
Why It's Great:
-Visit Sylvan Glades, a hidden world, by interacting with the large tree located near the 'Crick Cabana' residential lot.
-This world has 21 lots, so there is a lot of room for building.
-Sylvan Glade is the only place where you can find the treefish.
4. Selvadorada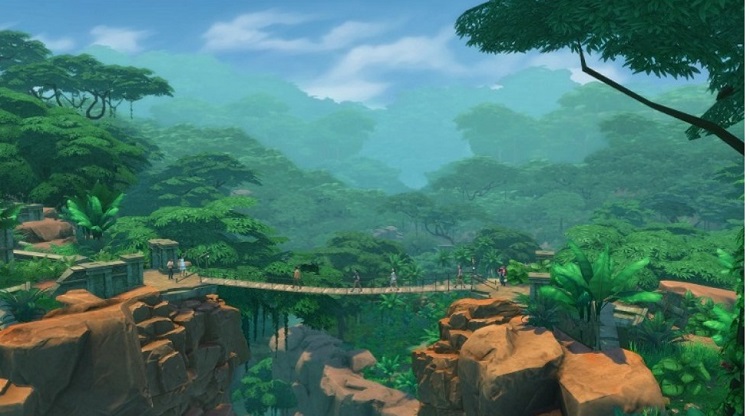 The Sims 4: Selvadorada 
A vacation world introduced by the Jungle Adventure game pack, Selvadorada is an endlessly entertaining world. Whether you decide to relax or uncover the jungle's secrets with your sims, there is always something for everyone to enjoy.
Why It's Great:
-There is always a new part of the jungle to explore.
-You can find many rare treasures specific to Selvadorada.
-There are plenty of opportunities to level up the new archaeology skill.
-You can learn about Selvadorada's culture through talking to locals, trying unique food, and listening to the latin music. (it's even a new skill)
3. Brindleton Bay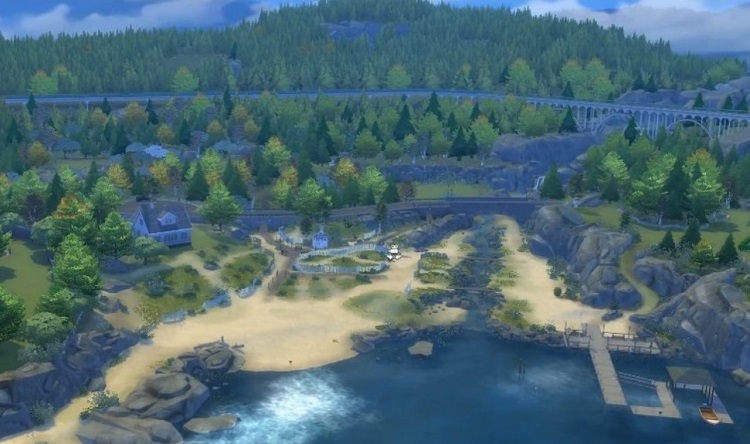 The Sims 4: Brindleton Bay 
Brindleton Bay is a coastal town introduced by the Cats and Dogs expansion pack. This is a particularly special world because there is no other quit like it.
Why It's Great:
-For the animal lovers, there are many stray cats and dogs walking around that can be adopted into your household for free.
-You can visit the very creepy pet cemetary on the island.
-There are 16 lots, so it's fairly large.
-Its beautiful scenery is unmatched.
2. Windenburg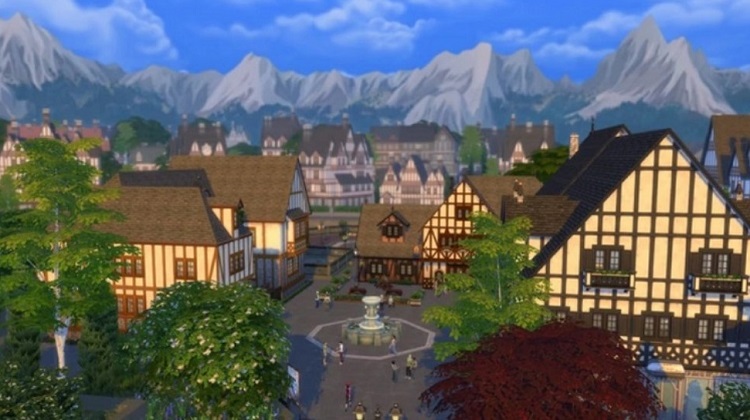 The Sims 4: Windenburg 
Windenburg has been heavily inspired by western Europe with its tudor style homes, pubs, and cafes. This world came with the Get Together expansion pack, and is perfect for your trendy sims.
Why It's Great:
-This is a huge world consisting of 24 lots.
-It has a beautiful landscape.
-Chalet Gardens, Von Haunt Estate, The Ruins, and The Bluffs are fun, unique areas you can visit.
-You can become enthralled in the 'historical' story of Lord and Lady Shallot. Their ghosts can be occasionally seen on the grounds of their estate.
1. San Myshuno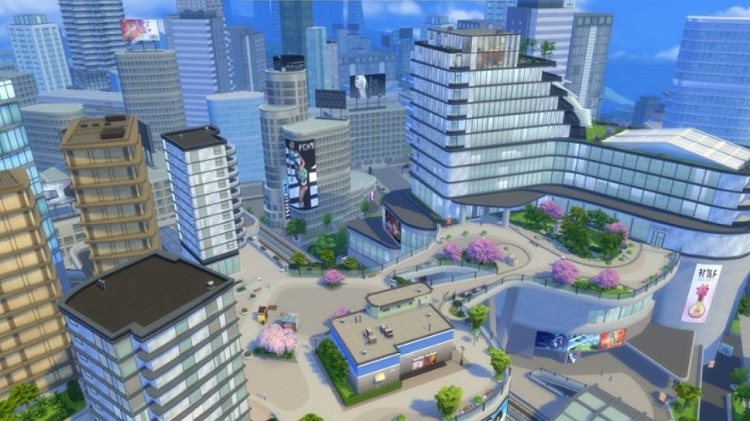 The Sims 4: San Myshuno 
San Myshuno is the only big city in the Sims 4 and was introduced by the City Living expansion pack. Like many real cities, San Myshuno has a seemingly endless amount of activities offered , and is a great place for fast-paced sims.
Why It's Great:
-Festivals like The Spice Festival, The Flea Market, GeekCon, The Romance Festival, and The Humor and Hijinks Festival appear here frequently.
-This is the only place in the game where your sims can live in an apartment.
-This is another very large with 30 lots. (some being apartments)
-This is the only world where you can 'look for snowglobes.'