[Top 10] Best Sims 4 Hair Mods For Boys and Girls
Updated: 13 Nov 2020 11:30 am
Whose sick of those split end and flat, lifeless hair? Never fear, the Sims hairstylists are here!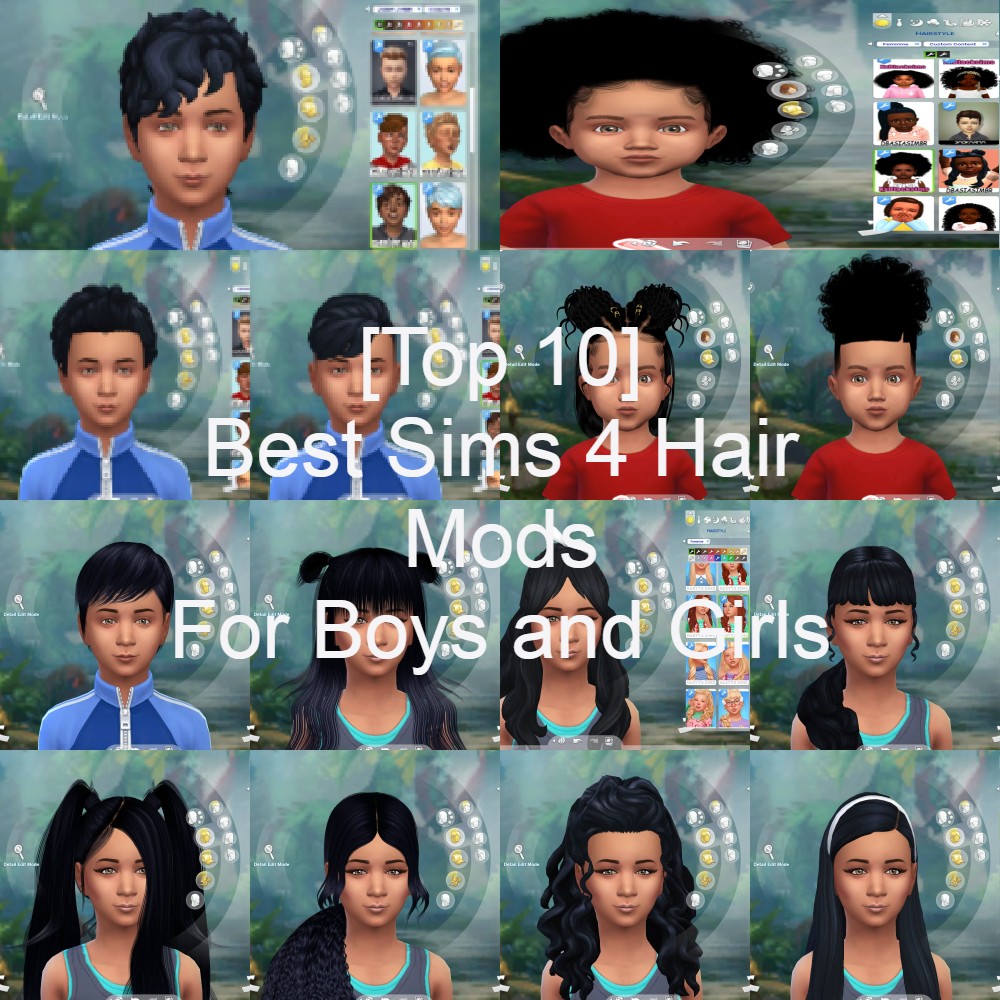 A dazzling collection of hairstyles await our Toddler and Child Sims, you must only open the book.
Sims both young and old daydream about their next hairdo. Will they go with long curls or a punky bob? These ten mods will expand the hairdresser's repertoire for your Toddler and Child Sims so they can all get their "big kid" haircuts. Start the school year on the right foot with these hairs to choose from!
10.  [Filo4000] Toddler Hair 11: Shaggy Cat Ears by Filo4000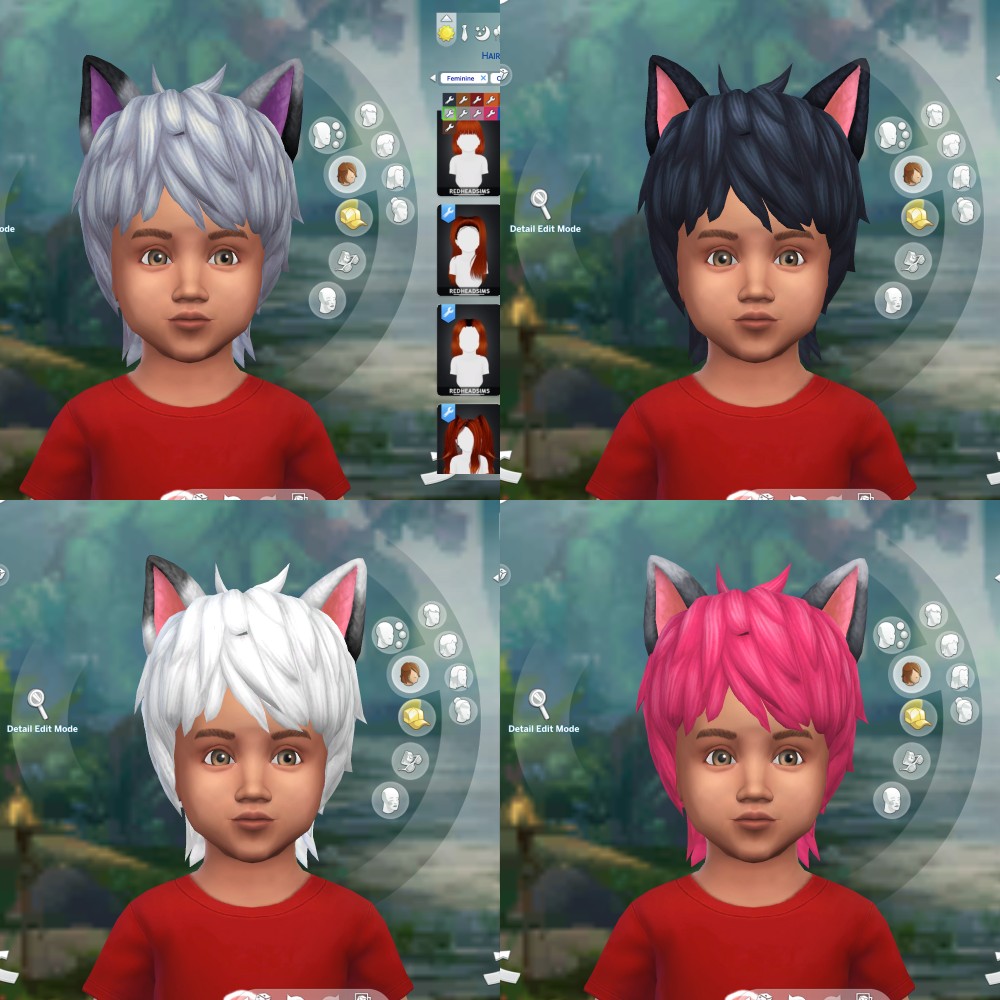 Let your Sims become one with the wildness in them and embrace your inner cat!
Why do the Adults get to have all the fun?! Your Toddlers should get fuzzy cat ears too!
Let your Toddlers embrace the same brand of silly that you do with these fluffy cat ears.
Show the world just how much of a Cat Lover you are!
Use these ears to craft a cute kitty costume for Spooky Day.
Find the mod here: [Filo4000] Toddler Hair 11: Shaggy Cat Ears by Filo4000
9. Katie w/ Bangs (All Ages) by TekriSims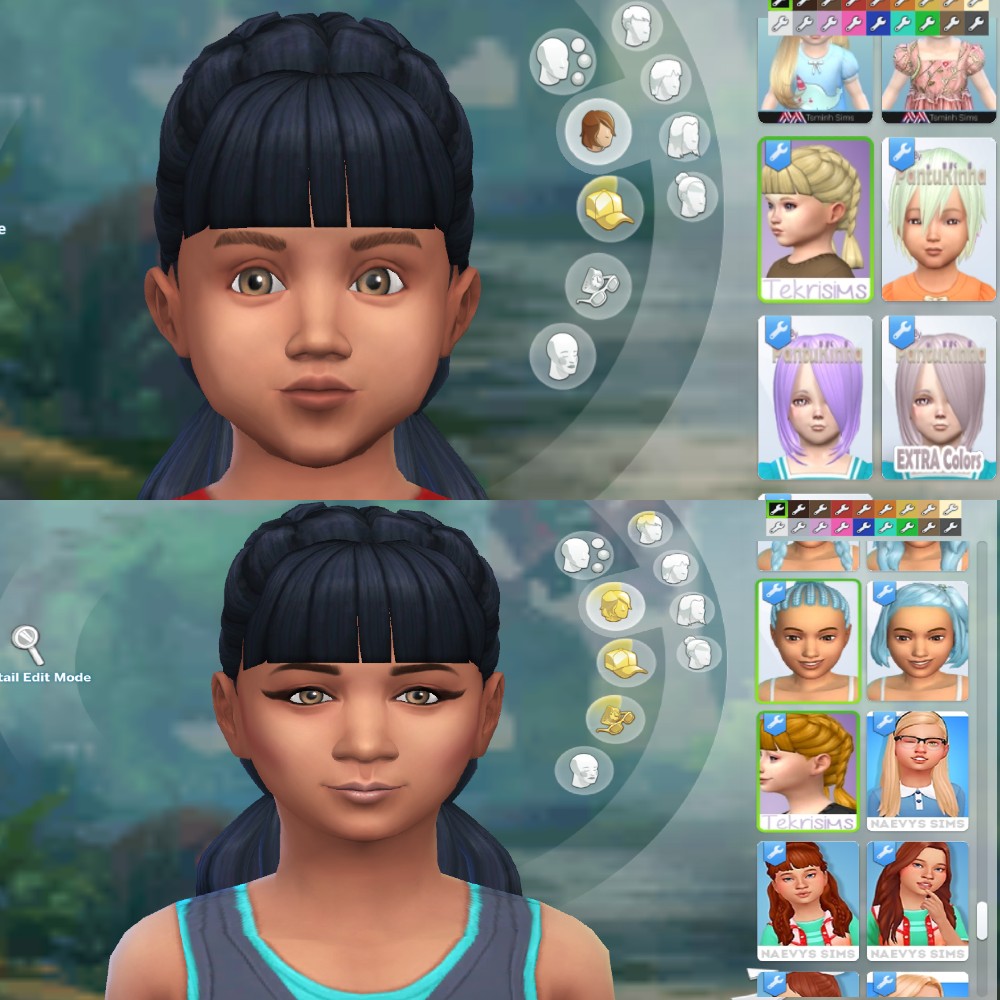 Has your Child ever bothered, bothered, and bothered you to get what they want? Well, now they can with this hairstyle that lets them look just like mom.
A perfect hairstyle with everything one could want! This pack introduces this style to all of your female Sims. So, go ahead, make that mini-me!
Don't find your Toddler alone with fresh-cut bangs, make sure they're even with this cut above the eyes.
Keep your hair back out of your face and focus on what's important, no matter your age!
The perfect hairstyle for you to try on alongside mom.
Find the mod here: Katie w/ Bangs (All Ages) by TekriSims
8. Georgiaglm - Cruz Hair - Toddler by glm1997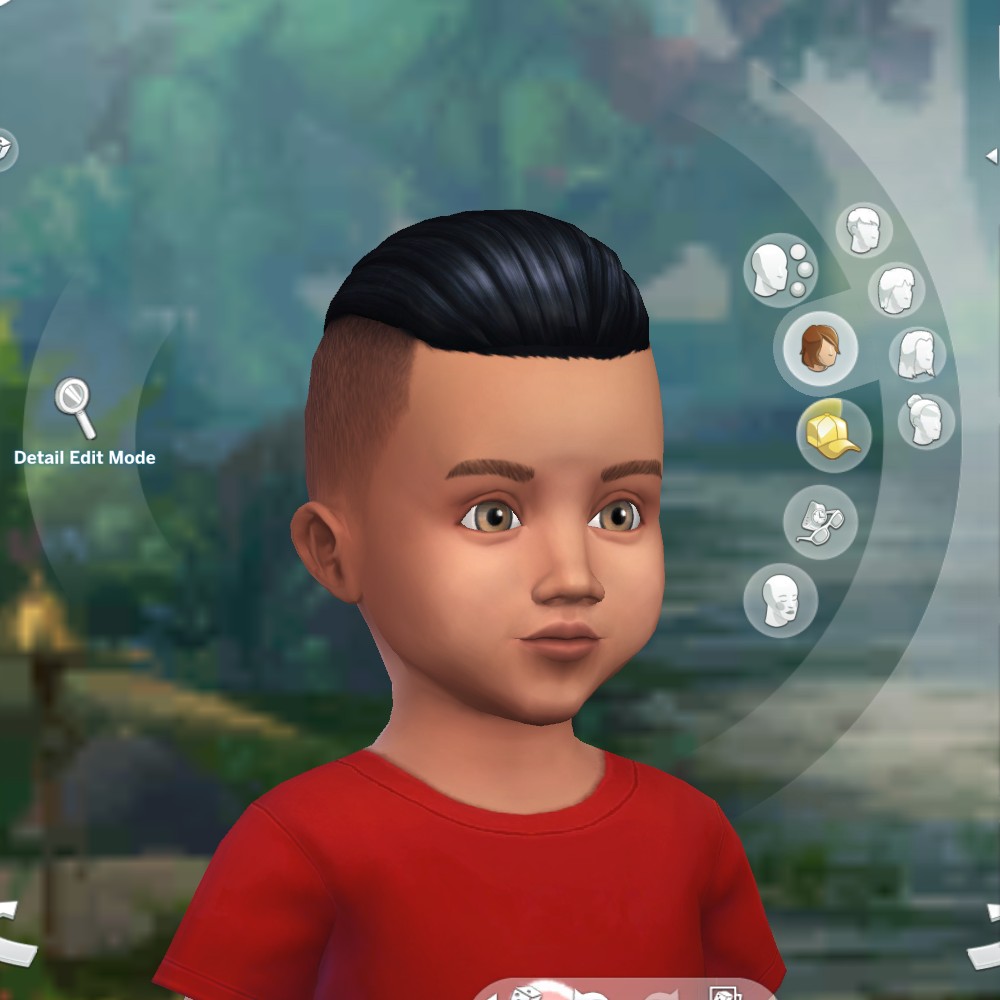 A slick and stylish haircut for a handsome young man. Dazzle your playmates with this new, classy style.
Give your handsome man the slick hairstyle he deserves! Shave up those sides and tousle that hair back into an adorable look that just screams "big boy".
Adds a new classy hair mesh for your Toddlers.
Mix and match this hair with a variety of clothing styles for a fashion-forward appearance.
Demand those cheek kisses from Grandma and get those tousles from Grandpa!
Find the mod here: Georgiaglm - Cruz Hair - Toddler by glm1997
7. Vevesims Conversions by dbasiasimbr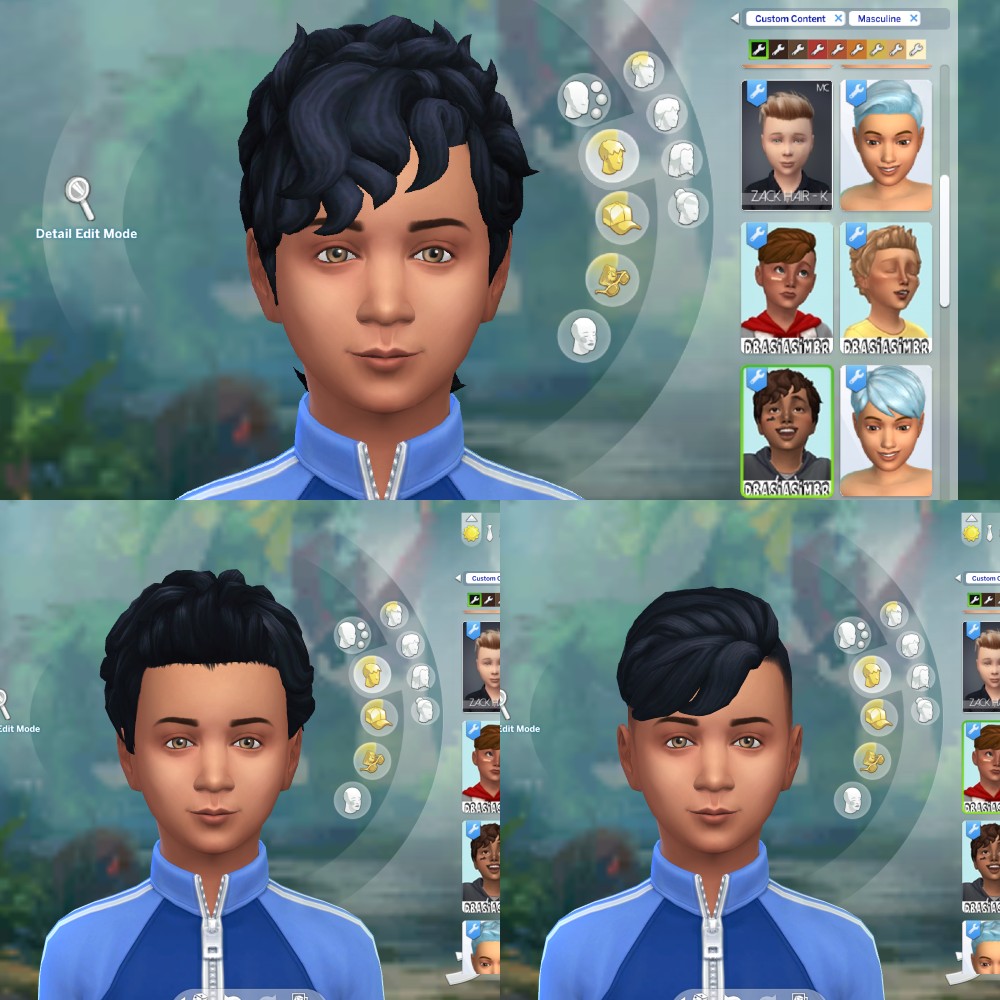 They're at that age where they start worrying about what every other Sim has to say. Put their self-conscious minds to rest with these fashionable choices.
These unisex hairstyles are sure to look fetching on any Child or Toddler. With these shorter styles, your Sims can focus on what's important. Playtime, of course!
Adds 3 new unisex hairstyles for your most adorable Sims to rock.
Keep that hair out of your eyes with these easy to manage styles.
From a stylish fade to loose curls, this pack has whatever your little ones could want!
Find the mod here: Vevesims Conversion by dbasiasimbr
6. University Conversion Part 1 by dbasiasimbr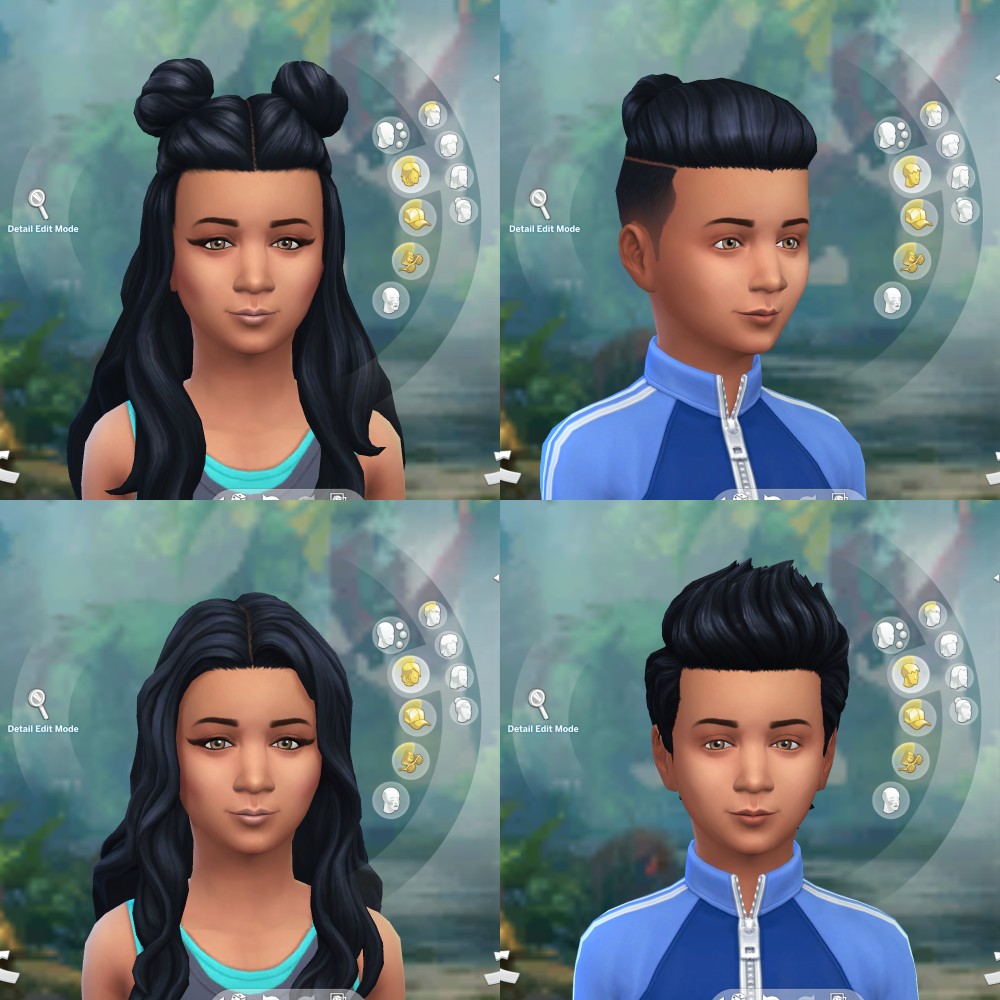 Maybe the person your Sim wants to imitate isn't their parent, but their big brother or sister that's off to University. Pay homage to them while eagerly awaiting their return.
Your Sims just can't wait to be all grown up just like their big brother or sister. These hairstyles let them imitate their childhood heroes and best friends.
Converts 4 hairstyles from Discover University from Adult to Child and Toddler.
Adds some lengthy options for the little girls with a half-up bunned option and a loose wavy option.
The boys get snazzy hair too with a hightop fade into a ponytail and a short fauxhawk.
Find the mod here: University Conversion Part 1 by dbasiasimbr
5. Hair Dump by notdaniella x naevys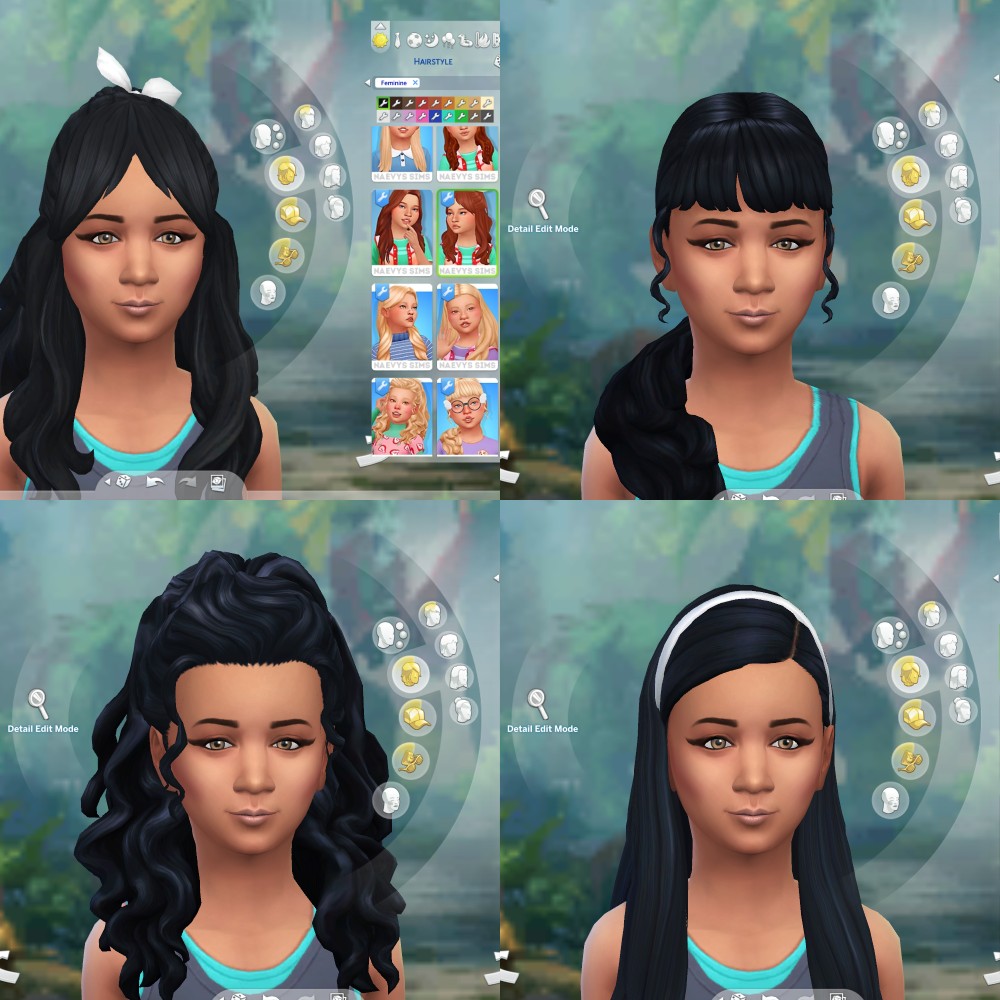 Puberty brings on a slew of new feelings and fears. Put at least one of these to rest with these fabulous hairstyles for your younger Sims.
Get that slumber party planned and those snacks procured, there's hair to do! Do stunning makeovers for your Sim's friends with these cute and playful hairstyles.
Adds 1 full updo along with 1 half-updo for when your Sim's need their faces free of hair to climb that ladder and swing on that swing!
Ranging from poker straight to loose curls these styles ensure a fit for your family.
Give your girls a new hairstyle they can brag about!
Find the mod here: Hair Dump by notdaniella x naevys
4. Toddler Hairs by XxBlacksims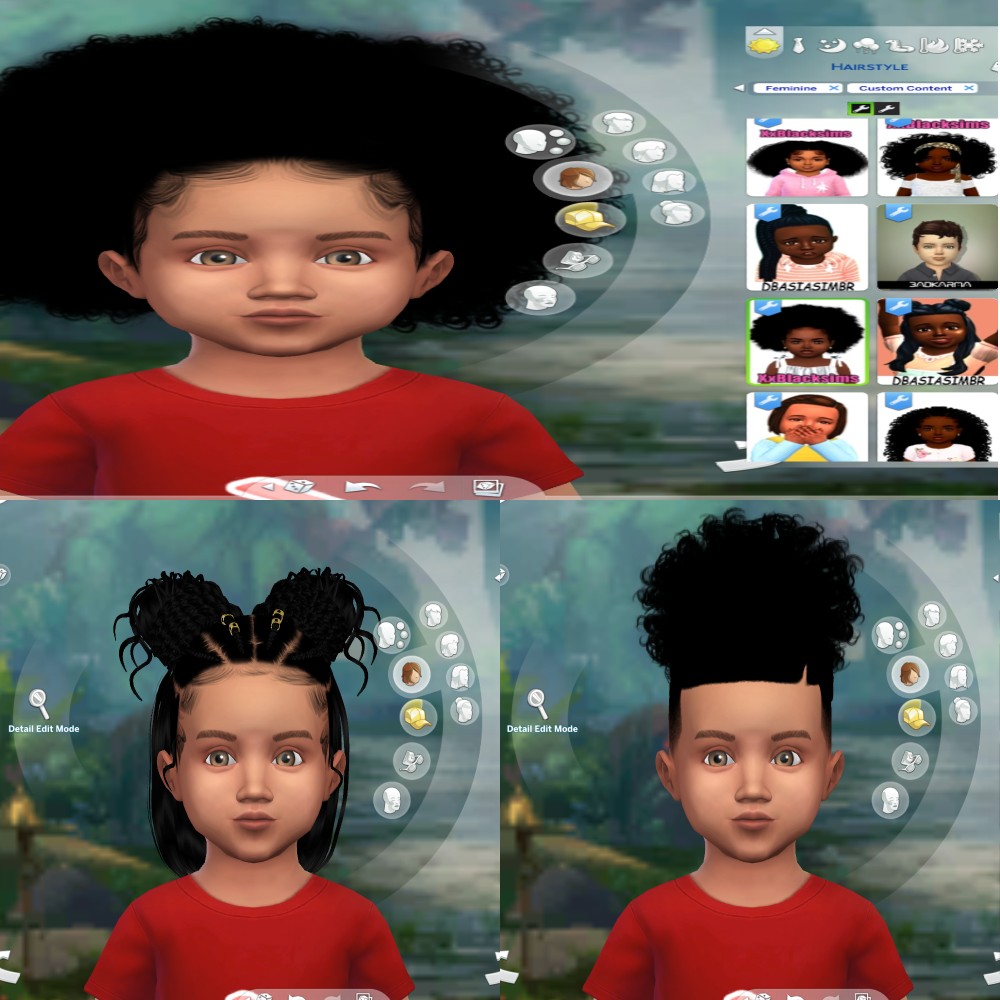 Find your favorite braids, buns, and afro-centric styles with this collection of gorgeous hairstyles for your Toddlers.
Include every hair texture in your game with these stunning POC hairstyles. With a little bit of something for everyone, you're bound to find a style to fit your Toddler's big personality just right!
Adds beautiful new natural hair to the game for your Sims.
Expand on the game's inclusivity by adding these styles to properly represent each of your Sims.
With 3 new styles for girls and 2 new styles for boys, there's a perfect match waiting to be found.
Find the mod here: Toddler Hairs by XxBlacksims
3. Kids + Toddler Pack by redheadsims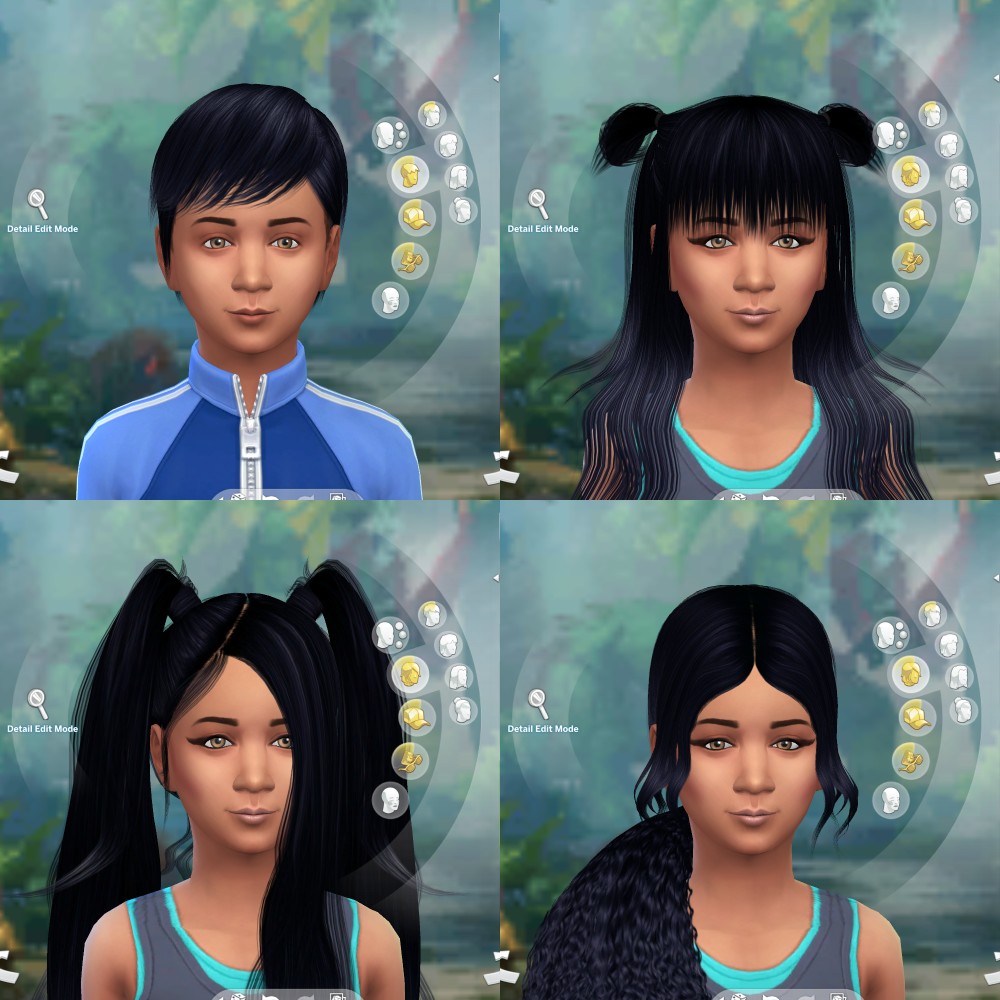 This stunning set of 15 hairstyles is bound to turn even the most frumpy-looking of Sims into fashionistas in the making!
Give your Toddlers and Children a touch of flair with their hair! These styles are fit for your Sims to dress to impress.
Adds 15 new hairstyles, with 14 classy options for the little ladies and 1 suave style for your handsome little guy.
Dress your Children up for a night on the town or to go to that fancy Black and White party.
Let your Children and Toddlers feel all grown up with these mature hairstyles.
Find the mod here: Kids + Toddler Pack by redheadsims
2. Adult to Child Female Hair Conversions by mew62900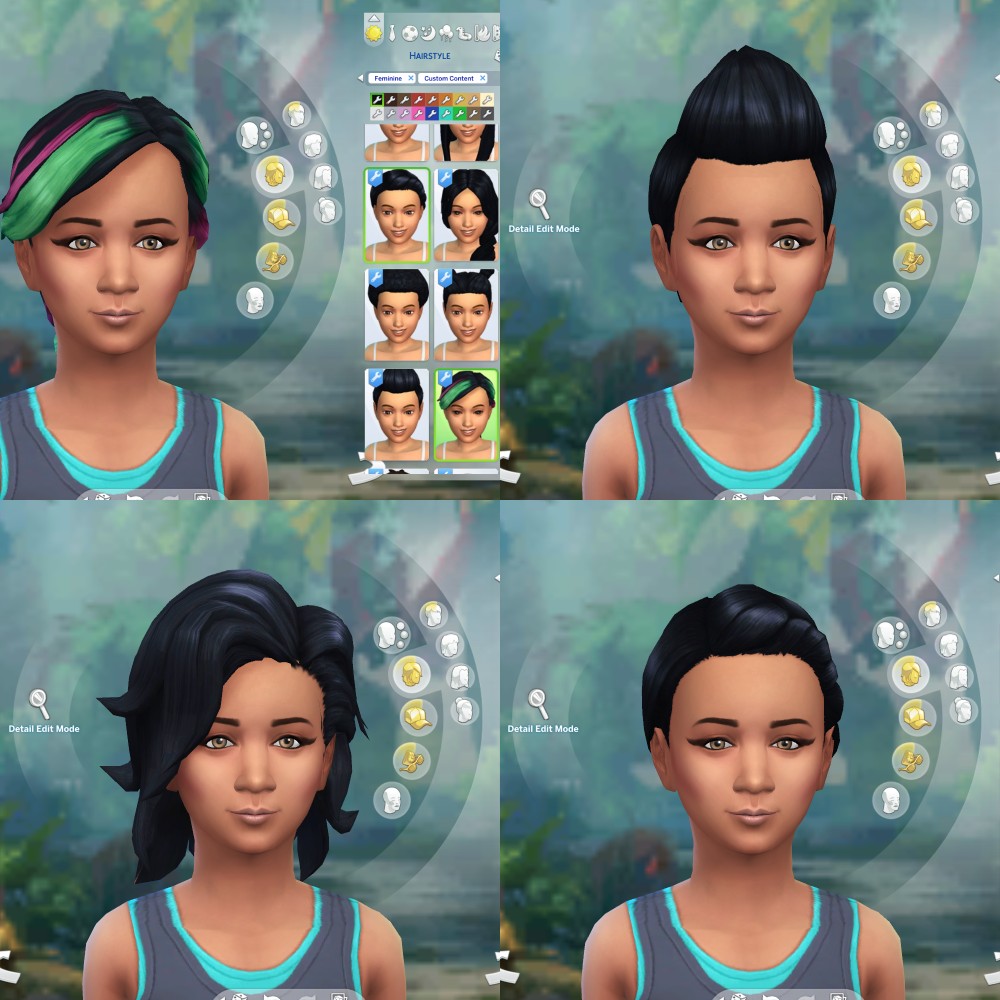 Keep the memory of mom alive with these hairstyles taken straight from her book of womanly styles and make her proud.
We all know a little one that dreams of being like mom. Well, with this pack of conversions your Children will be able to play copycat with perfection.
Converts 16 adult EA hairstyles to fit our younger Sims.
Give your daughter the big girl haircut she's been begging for.
Add fun new hairstyles for your children to choose from.
Find the mod here: Adult to Child Female Hair Conversions by mew62900
1. Strawberry Blonde Hair Non-Default Recolors (Children) by SimplyMorgan77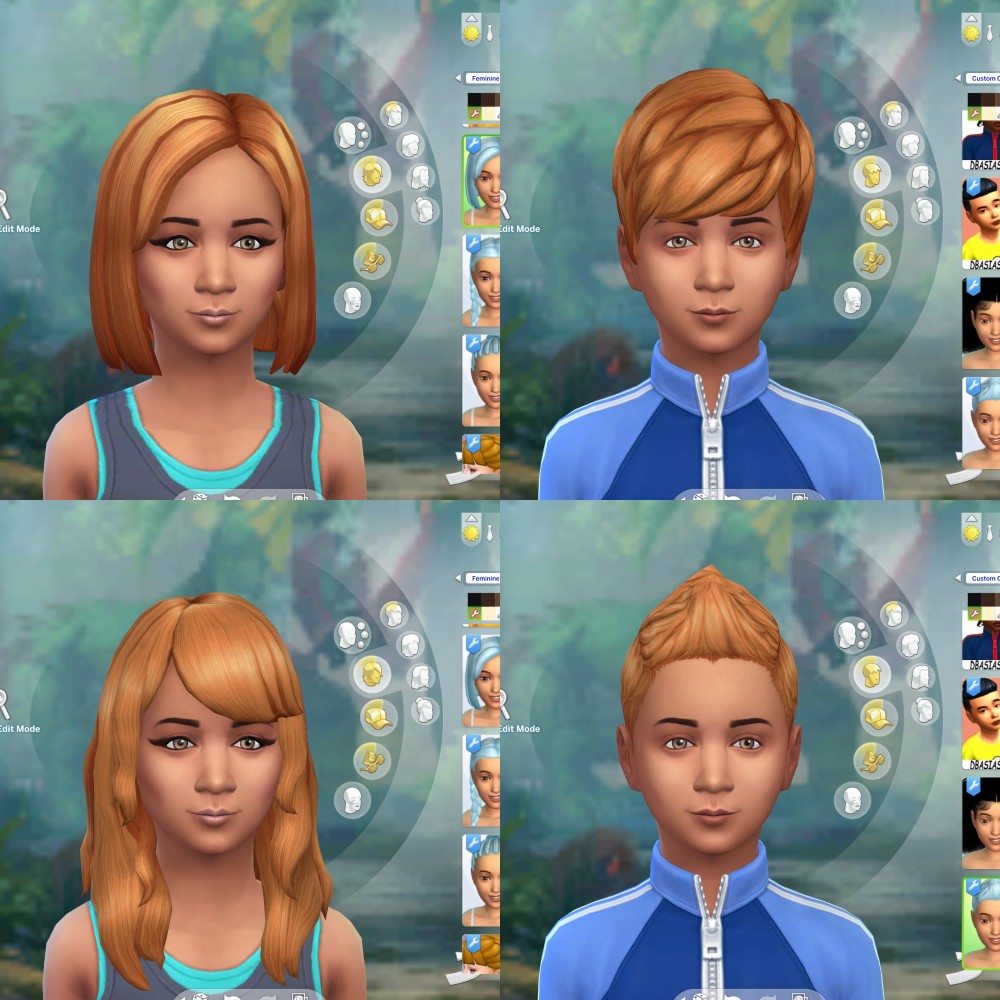 Fix EA's oversights by adding this stunning sun-kissed color to all your Sims!
This mod adds a brand new hair color for your Sims! Give them that summer-fun look with these non-default recolors of EA hairstyles.
Adds a beautiful new hair color for 21 EA hairstyles.
These colors are non-default and won't automatically replace another color.
Adds a little touch of sun to your Sims to give them that busy-summer vibe.
Find the mod here: Strawberry Blonde Hair Non-Default Recolors (Children) by SimplyMorgan77
You may also be interested in:
Image Gallery