[Top 10] The Sims 4 Best Worlds To Live In
Updated: 03 Jun 2022 12:03 pm
So many worlds, so little time.
I, like many other simmers, can't ever decide which world to live in!
If you relate, this article is for you. Carry on reading to find out which worlds made my top-ten list!
10. Glimmerbrook (Realm of Magic)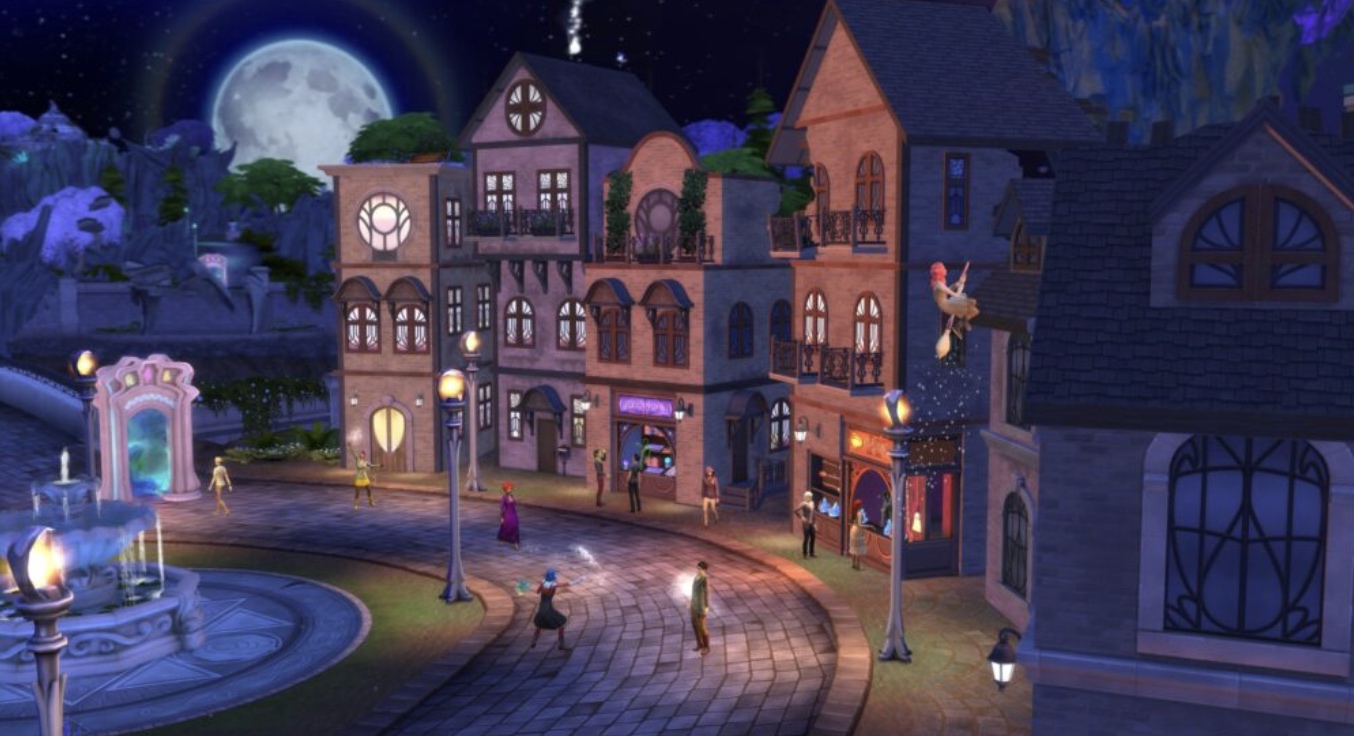 Everyone needs a little magic in their life.
Watch this video to learn more about Glimmerbrook!
The magical world of Glimmerbrook contains a portal above the waterfall, leading to the Magic Realm. Within this is Casters Alley where you can shop for wands, potions, and brooms (and learn to enchant other sims)!
With one residential neighborhood containing five lots, Glimmerbrook is a relatively small world. But there's a lot to explore! With the element of magic that isn't found in other worlds, this is a fun world to live in.
Why Glimmerbrook is awesome:
Magic!
Hidden lot
Pretty scenery
Cast spells and enchant other sims
9. Britechester (Discover University)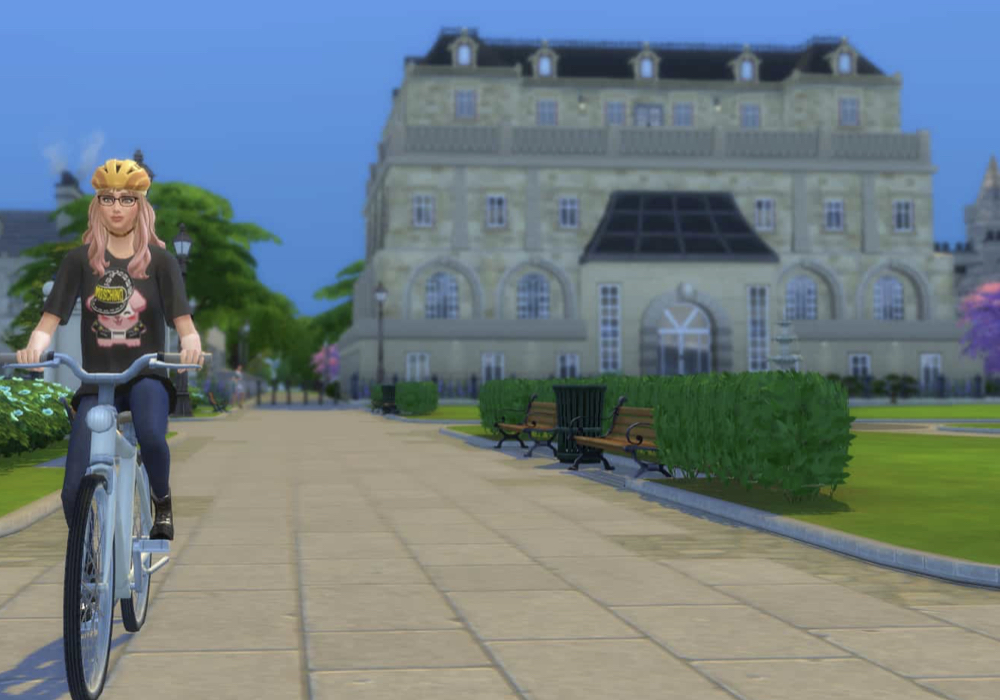 Student life is just around the corner.
Home to the University of Britechester and Foxbury Institute, Britechester is a great student world. It consists of three neighborhoods and thirteen lots (2 commons, 6 university housing, 1 library, 1 bar and 3 residential lots).
With campus ghosts and an elusive secret society, Britechester boasts its share of the unexplained. All in all, Britechester is a fun, busy world!
Why Britechester is awesome:
Get the college experience
Live in dorms
Make friends
Achieve degrees
Beautiful scenery
8. Newcrest (Base)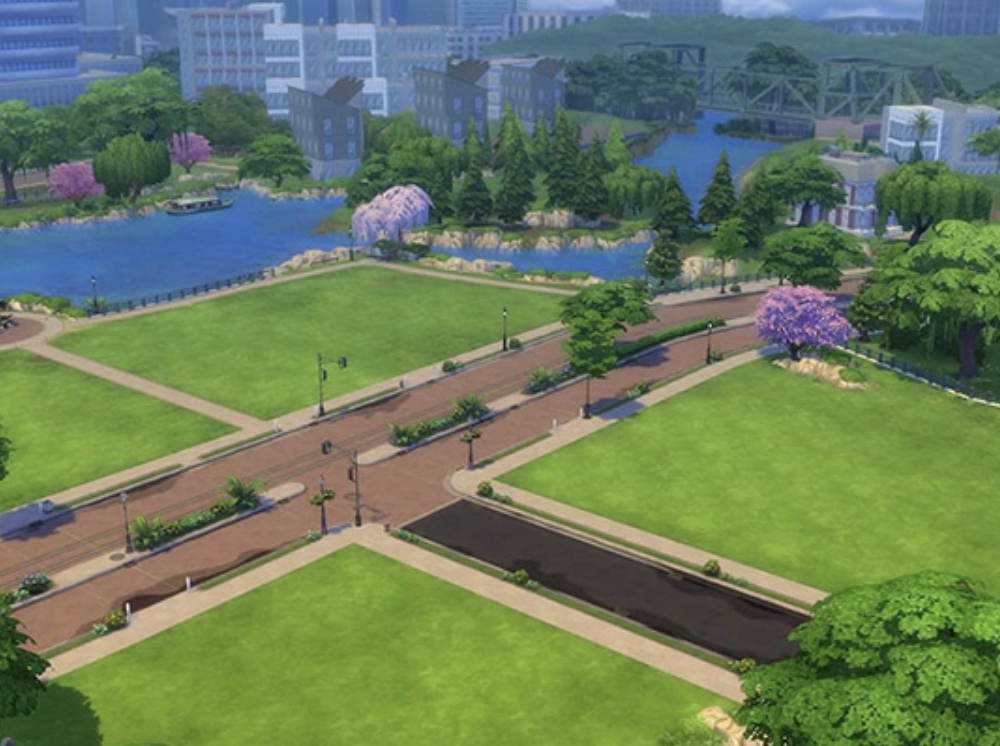 Ahhh...empty lots means no noisy neighbours.
Newcrest is a vast open space, making it the perfect world for those who like to build. It's a peaceful, green landscape with great views. It consists of three neighborhoods, each with five lots of varying sizes.
With Seasons installed Newcrest experiences four distinct seasons, so there is lots of variety. This is the perfect world to live in if you enjoy having the freedom to build all of your lots and create your vision.
Why Newcrest is awesome:
All lots are empty
Build all lots yourself
Variety of weather
Pretty scenery
7.  Oasis Springs (Base)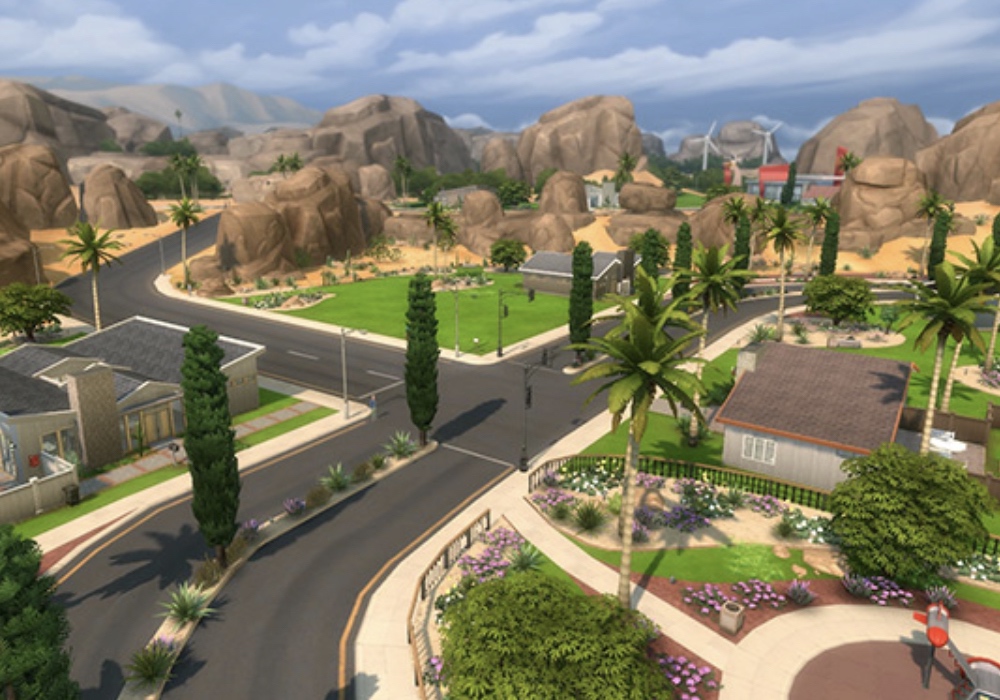 An OG world.
Read about Oasis Springs here!
Oasis Springs consists of six neighborhoods with one secret lot, separated from other neighborhoods. Most of these have up to five residential lots each, with the fifth consisting  of four community lots.The sixth is a large park.
The secret lot is the Forgotten Grotto, accessed by breaking open and entering an abandoned mine entrance behind Desert Bloom Park (requiring level 10 handiness).
There is no snow during winter if Seasons is installed, so it's great for those who don't like the cold!
Why Oasis Springs is awesome:
Lots of residential and community lots
A secret lot to explore
Full of collectables
Five large community lots
Gorgeous mountains/rocky environment
Different to many other lots
6.  Del Sol Valley (Get Famous)
Del Sol Valley gives you that LA lifestyle.
Del Sol Valley World Overview Here!
Influenced by L.A., Del Sol Valley is the city of superstars with three mansions, three smaller houses and a downtown area. The downtown area has a VIP lounge, regular lounge, park, museum, and gym.
You can stroll down the sim walk of fame, party in the VIP nightclubs, and take in the beautiful views that make up this world.
Why Del Sol Valley is awesome:
Mansions (and smaller houses)
VIP areas
Sim walk of fame
Beautiful views over the cityscape
Meet celebrities
Become a celebrity
No snow
5.  Evergreen Harbor (Eco Lifestyle)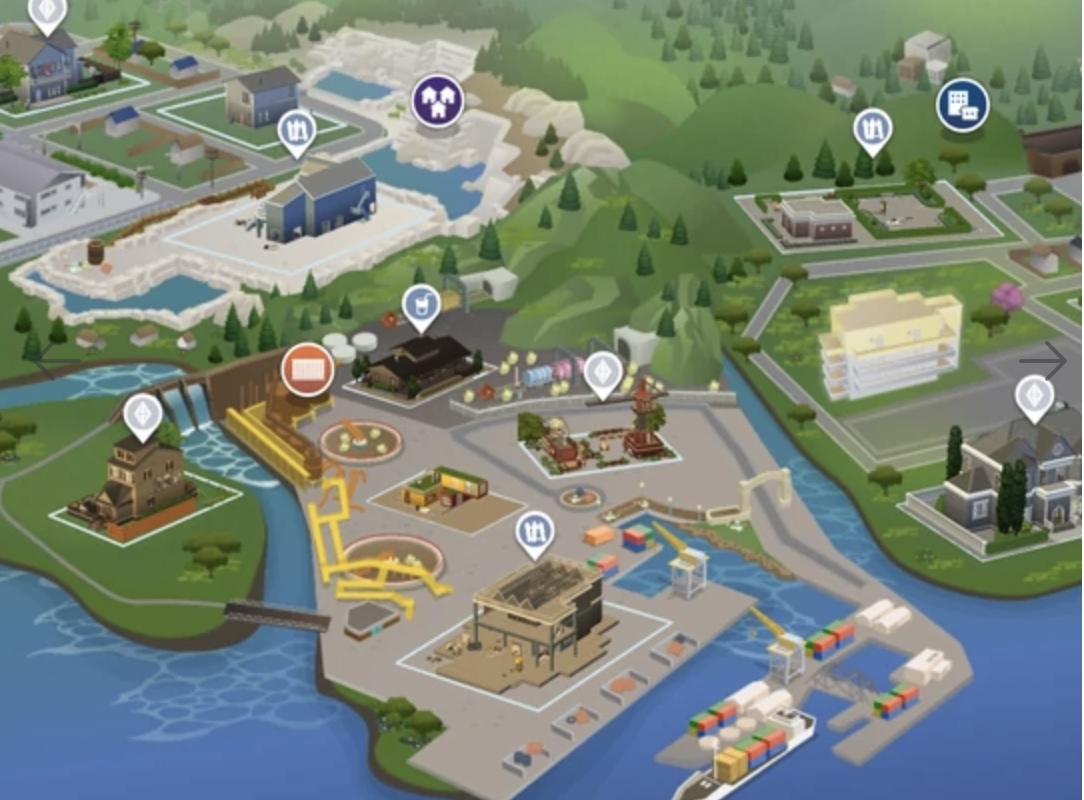 Create the green world you've always wanted.
Deep dive into Evergreen Harbor!
Evergreen Harbor gives you the ability to change the entire world with the eco-footprint system. It's comprised of three neighborhoods, and each can be altered individually to give you the look and feel you're envisioning.
The beautiful views are one of the top features of this world. Evergreen Harbor includes community lots, walk-up apartments, and different sized houses, creating a versatile world that combines features of past packs together.
Each neighborhood is in a different state of pollution (green, neutral, or industrial) and you have the opportunity to change Evergreen Harbor's future.
Why Evergreen Harbor is awesome:
Eco-footprint system (great gameplay)
Gorgeous views
Apartments as well as houses
Learn about pollution
Three different neighborhoods
4.  San Myshuno (City Living)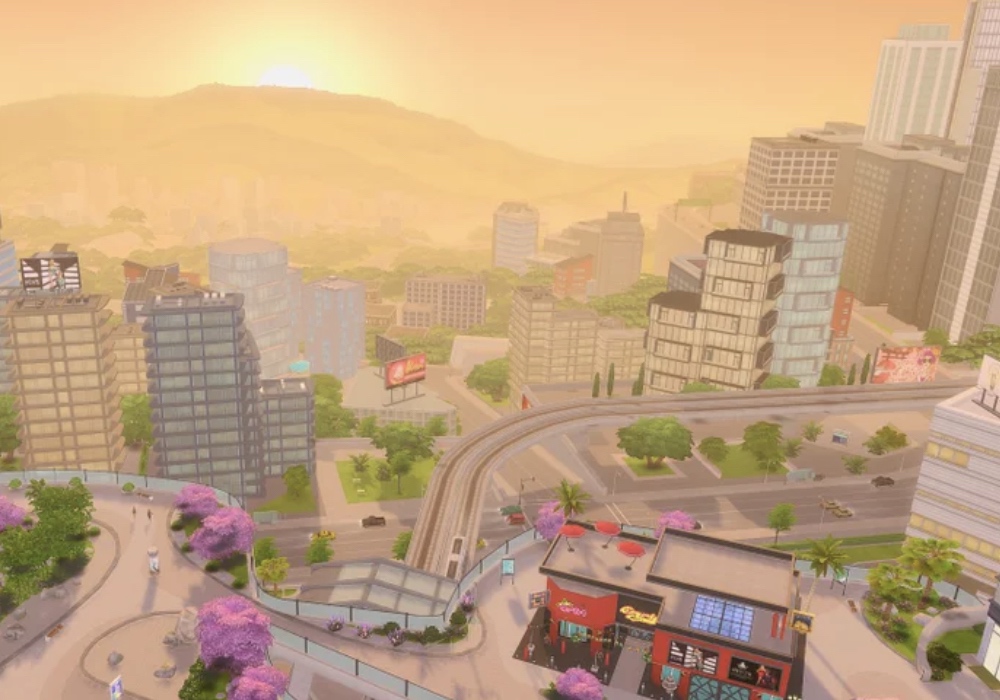 A beautiful view from a penthouse apartment.
San Myshuno offers the best gameplay of all the worlds, with festivals, collectables, apartments, and unique lots.
Venues include the Skye fitness gym, park, art gallery, penthouse lounge and karaoke bars which are great for keeping yourself and your sims entertained! This city offers a bustling, busy environment and is great for hitting the town.
The on-street festivals are exciting and unique, with a different one every couple of days. All in all, this city is one of the best.
Why San Myshuno is awesome:
Several fun venues
Unique festivals
Karaoke bars
Singing skill
Bustling environment
Apartments of different sizes and price ranges
3.  Windenburg (Get Together)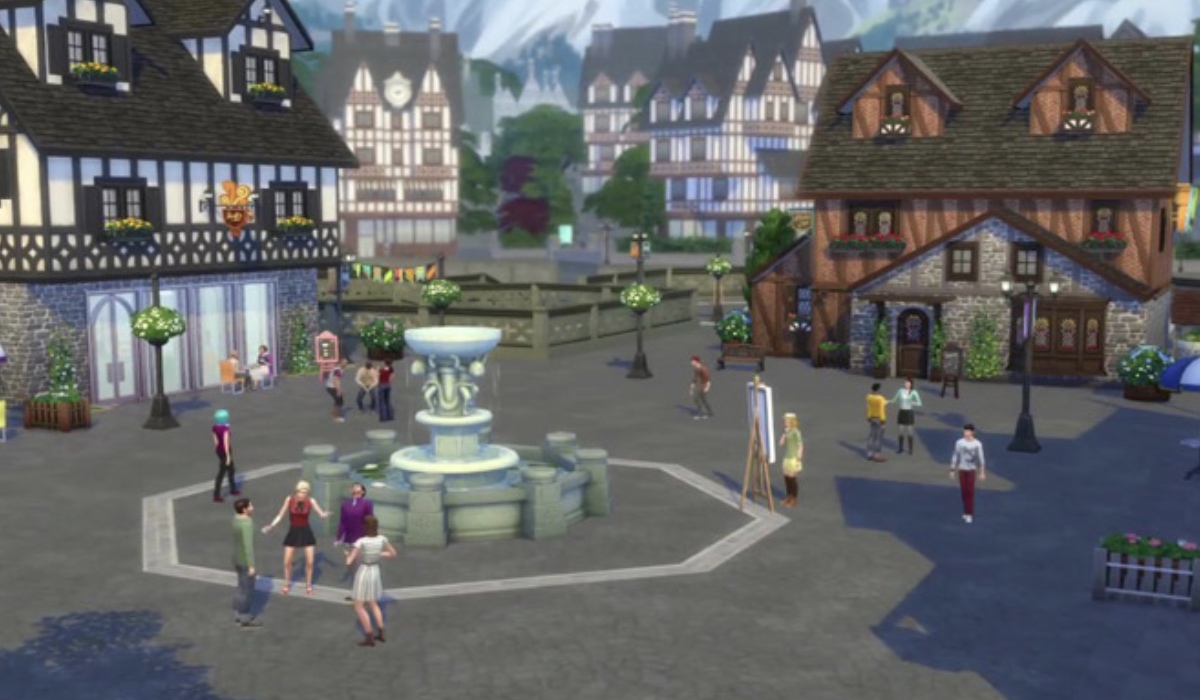 Be part of a beautiful tudor town.
The town of Windenburg is large in size, boasting 27 lots! This includes two bars, two cafes, a pool, a gym, a nightclub, and a park. It also has unique lots like the Von Haunt Estate, the Ancient Ruins and The Bluffs, where events often take place.
The style of the town is Tudor and it's packed full of gorgeous period buildings. Windenburg has lots of detail and depth, with a separate island just off the coast with some more modern builds. This is the perfect place to live if you have a keen eye for detail and style.
Why Windenburg is awesome:
The first world with a public swimming pool
Largest world (with 27 lots!)
Exciting events in the unique lots
Tudor style
Great cafes
2.  Sulani (Island Living)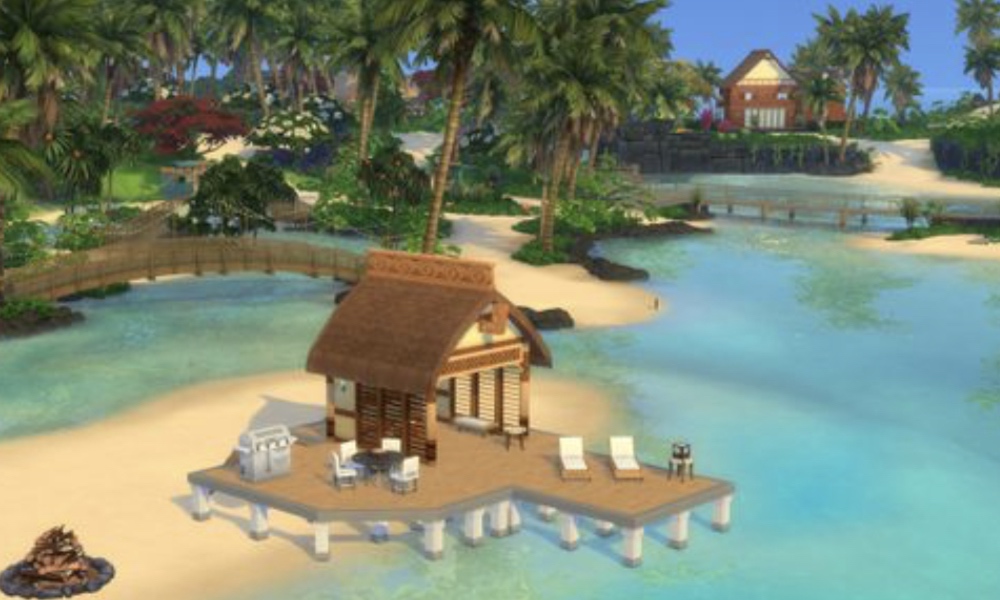 A summer holiday, all year-round. 
Watch the official gameplay trailer here!
Sulani is based on the Polynesian culture. Introducing us to ocean activities like swimming, snorkeling, or even making friends with a mermaid, Sulani is one of the best places to live.
You can even get up close with Sulani's active volcano in Mua Pel'am (I prefer to admire it from afar!) or meet the locals at events in Ohan'ali Town. 
There are eleven residential lots, eight of which are on the water, and three community lots. This allows you to build different styles of housing and live right on the shore of a beautiful ocean.
Sulani has a completely unique climate and introduces monsoons. If you have The Sims 4: Seasons, the weather will follow the same trend as other worlds but will never drop below cool! Perfect for those who hate the cold.
Why Sulani is awesome:
New activities (ocean swimming, snorkeling, jet skiing and more)
New events (kava parties, local events)
Never cold/snowy
Cultural
New rare items to find
Cool houses
Mermaids and dolphins!
1.  Mt. Komorebi (Snowy Escape)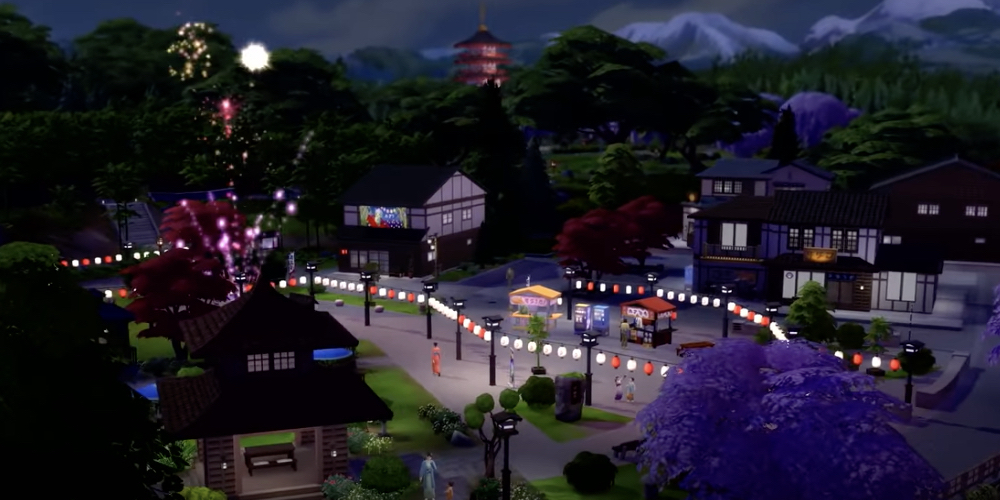 Enjoy the gorgeous snowy landscape. Fancy a ski?
Watch the official gameplay trailer here!
Mt. Komorebi is a stunning showcase of what can be done in the game. This culture-rich world introduces both residential and rental lots, as well as beautiful scenery. 
There are two neighborhoods with five lots each. The main mountain neighborhood has four regular lots and two lots as part of the mountain expedition. Each neighborhood has its own set of walks and hikes, with journeys to some fantastic sights. The two lower neighborhoods have changing weather, while the Yukimatsu neighborhood has permanent snow.
Mt. Komorebi introduces festivals in each neighborhood, climbing walls, ski slopes, and hiking trails. You can even relax in the hot springs! It really is a fun world to live in.
Why Mt. Komorebi is awesome:
New activities (climbing, skiing, snowboarding, hiking)
Fun festivals
Snow all year round in Yukimatsu
Two different neighborhoods depending on your wants and needs
Beautiful scenery and detail
Cultural
Lots to explore!
You may also be interested in:
Image Gallery