[Top 15] Sims 4 Best Hair CC and Mods Everyone Should Have (2022 Edition)
Updated: 08 Feb 2022 11:16 pm
Are you ready to become a star? They sure are.
Come with me and you'll see a world of amazing hair CC! 
You start up your Sims 4 game and decide to create a new sim. You finally get done with creating the perfect sim.
You are trying to find the perfect hair for your sim and nothing seems to fit. Next step, you go to look for some custom content.
How do you decide what looks best? Do you pick Maxis Match or Alpha? 
Between Maxis Match and Alpha custom content, you have too many options. Here are the top 15 best Sims 4 hair cc and mods you should have in 2022.  
15. Diana Hair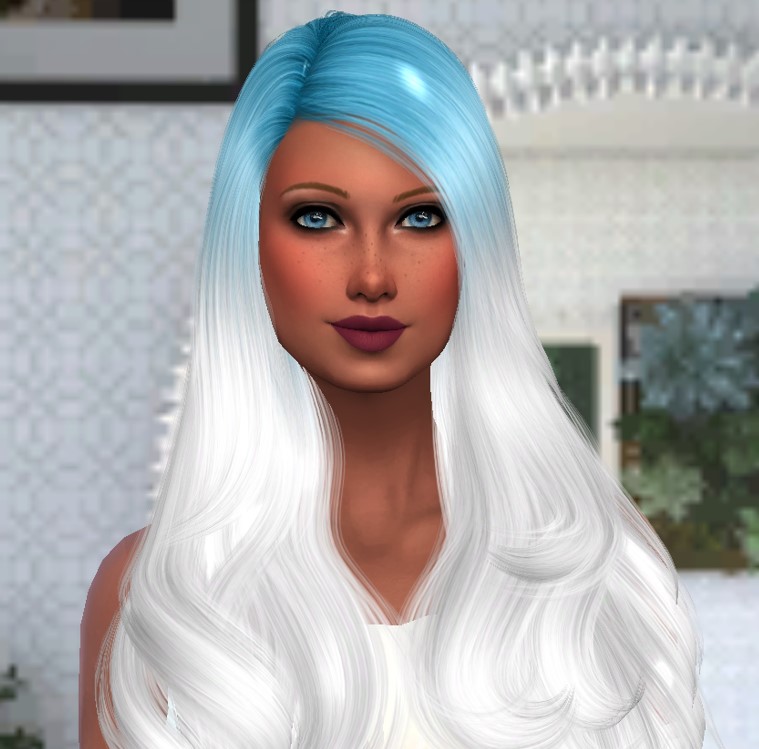 Is she a mermaid? Or does she just magical looking? 
Never ending waves of hairstyles. You could surf those waves into your pc.
There is always a desire for realistic wavy hair in several different colors. The Alpha CC, Diana Hair, brings that hairstyle to life. 
When it comes to this beautiful CC, Diana Hair frames the sim's face beautifully. It also has a wondrous selection of colors to go with it. 
Some of the options you will find with this hair are solid natural colors and unnatural, colorful streaks, and ombre colors. You won't be disappointed for one second when you use this hair on your sims.
Why Diana Hair is fun
Works for children to elders
Comes with three other options to add on for more colors
Looks super soft and extremely vibrant
Get the mod here: Diana Hair
14. Bonnie Hair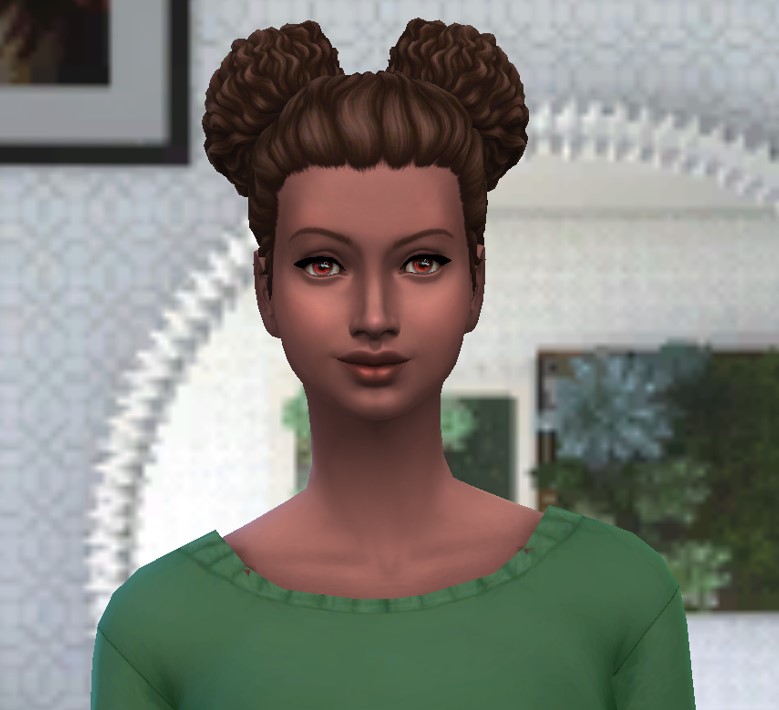 What to wear with such cute hair? 
Grimcookies never disappoints anyone with his wonderful CC and mods. 
Your sim is looking to have an updo that is cute and cool for summer vacation. With you wanting to keep it to the style of Sims 4, you go looking for some CC hairstyles that have the flare you are looking for.  
The Bonnie hair from Grimcookies is the hairstyle for you. Using the big bun from Island Living, Grimcookies transformed it into two buns with a lovely texture. 
Bonnie Hair is an adorable hairstyle for your sims that gives off a fun-loving feel to it. Pair it with a sundress or a colorful tank top and shorts. 
Perfect for summertime in the sims, this hair comes with the default color swatches for the Sims 4. What's even better, you don't need to have any packs except for the base game to use the hair. 
Why Bonnie Hair is fun
Cuts away from the "clay" texture
Gives the look of curly hair
Useable for teens to elders
Get the mod here: Bonnie Hair
13. Ainhoa Hairstyle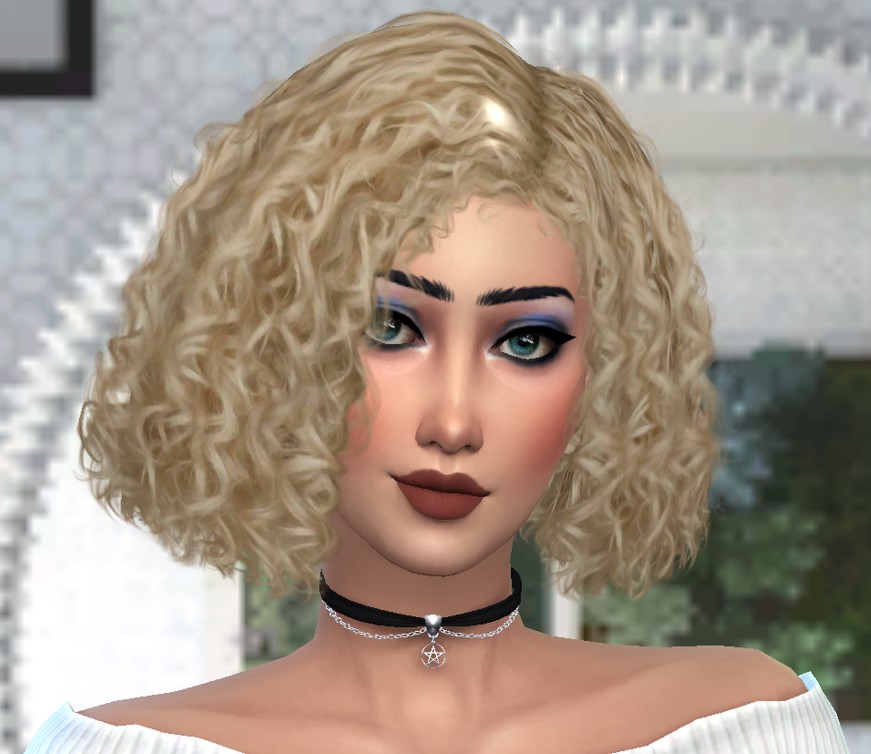 Spunky style for the sim that doesn't want such long hair. 
You can never go wrong with any type of Alpha CC. 
There are not many options for short curly hair in Sims 4. The Ainhoa Hairstyle delivers a realistic look of beautiful curly hair that happens to be a short hairstyle. 
Ainhoa Hairstyle goes a little bit past the sim's chin, depending on where you decide to put the chin. The best part is, you can use this for your toddlers up to elders. Ideal for genetics, right? 
As you know, having hair color options is a must. This CC isn't going to let you down with an assortment of hair colors. 
If you want to use Ainhoa Hairstyle for your toddler and children sims, make sure you download those files too. Toddlers look so cute with this hairstyle on. 
Why Ainhoa Hairstyle is fun
60 options for color
Works for toddlers to elders
Vibrant color
Get the mod here: Ainhoa Hairstyle
12. Ora Hair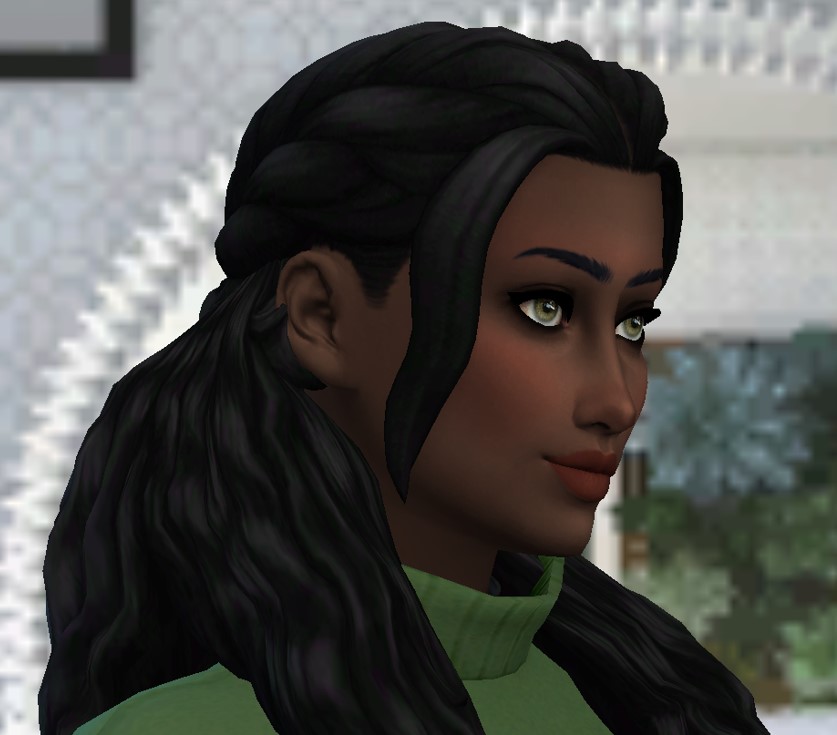 Classic look for such a classic beauty. 
Coming into the Maxis Match scene with full force. Do you have the entire community on three speed? 
Trying to find a cute hairstyle that is a semi-updo for your sims can be hard to find. The Ora Hair gives your sims that great semi-updo, perfect for a date night.
The Ora Hair falls just past your sim's shoulder, paired with a small bun pulling some of your sim's hair back into a bun. With stray bits of hair falling around the sim's face, framing it. 
Living up to being Maxis Match, you will have the 18 original EA hair colors. Ora Hair works flawlessly on teens, young adults, adults, andelders. 
Why Ora Hair is fun 
Looks great on elders
Works amazing with all types of clothing
No clipping issues
Get the mod here: Ora Hair
11. Candy Apple Hair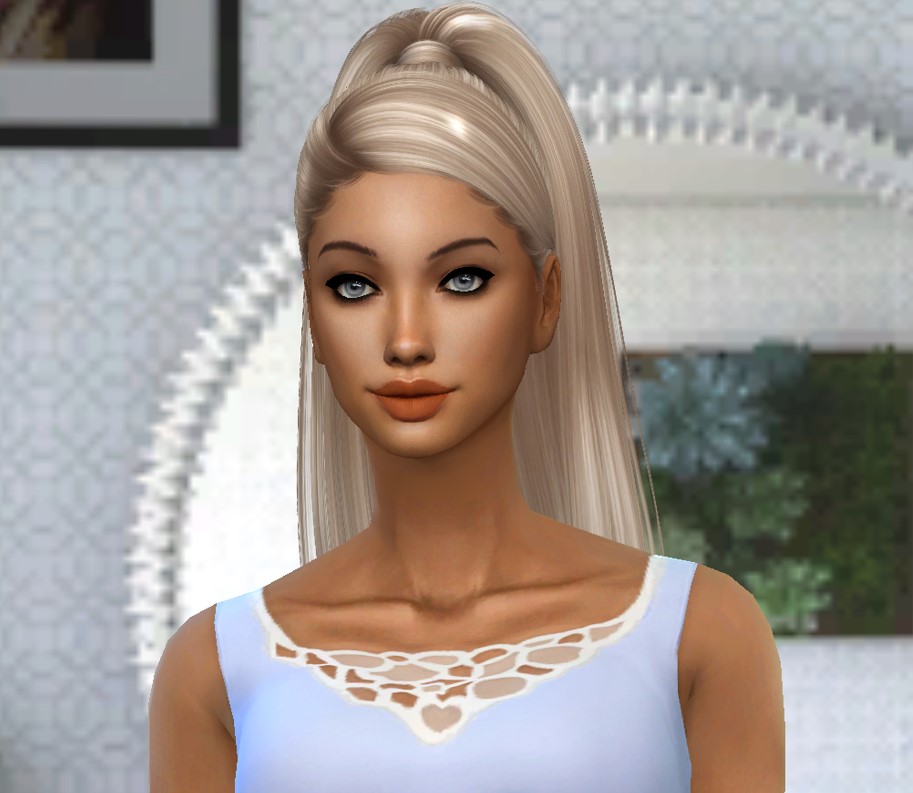 Got to have that ponytail with a ton of style built in. She is getting ready to head over to the club. 
How many night club styles can you find? 
Ponytails can be the go-to hairstyle, but finding a stylish look for your sim can be a challenge. Candy Apple Hair makes that challenge a bit easier. 
With a total of 36 options for colors, you can use this hairstyle for anything in the sims. A popular choice would be a party outfit or even an athletic outfit. 
The absolute best thing about this Alpha CC is that the creator made a new mesh for this hairstyle. If you don't know what that means, simply put, you don't need a pre-existing CC hairstyle to go with it. 
Why Candy Apple Hair is fun 
36 hair colors
Works with teens to elders
Beautiful ponytail 
Get the mod here: Candy Apple Hair
10. Miracle - Noelle Hair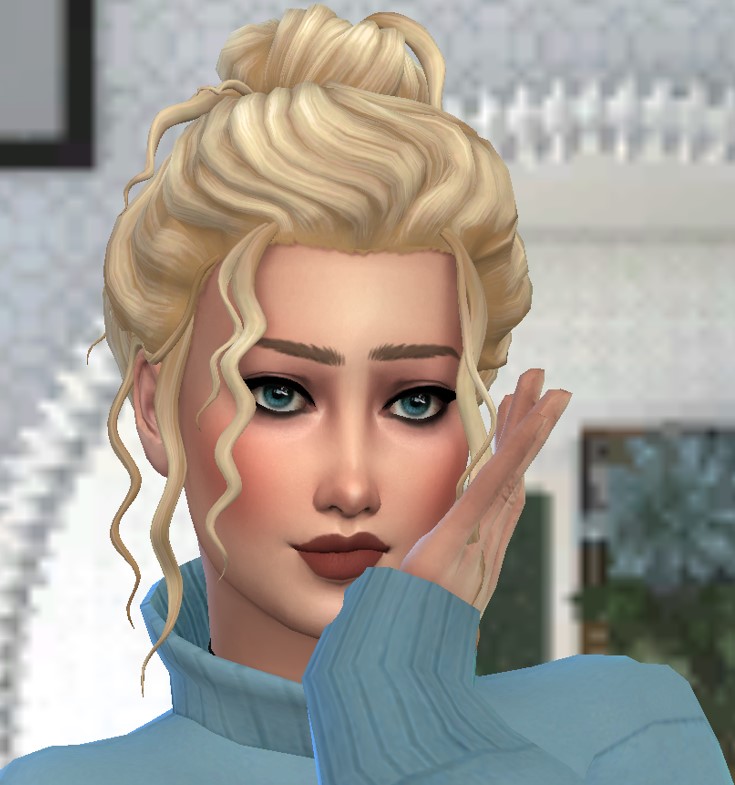 She is ready to sit by the fire and read a nice book. 
There never is a shortage of talent when it comes to CC and mods in the Sims 4 community.
Ever throw your hair into a messy bun and plop onto a chair, or sofa, to read a good book? With Miracle-Noelle Hair, your sim will be able to have that messy bun.
Noelle Hair is part of a CC pack called Miracle by The Forest Of Talking Trees. The texture makes this piece so beautiful, which can be hard to do with Maxis' style. 
This CC pack comes with another hairstyle and a few clothes in addition to the Noelle Hair. On the download page, you have the option for downloading Noelle Hair on its own.
Why Miracle - Noelle Hair is fun 
Work for both male and female
For teens to elder
Beautiful messy bun - perfect for sitting by the fire
Get the mod here: Miracle - Noelle Hair
9. WINGS-TO0618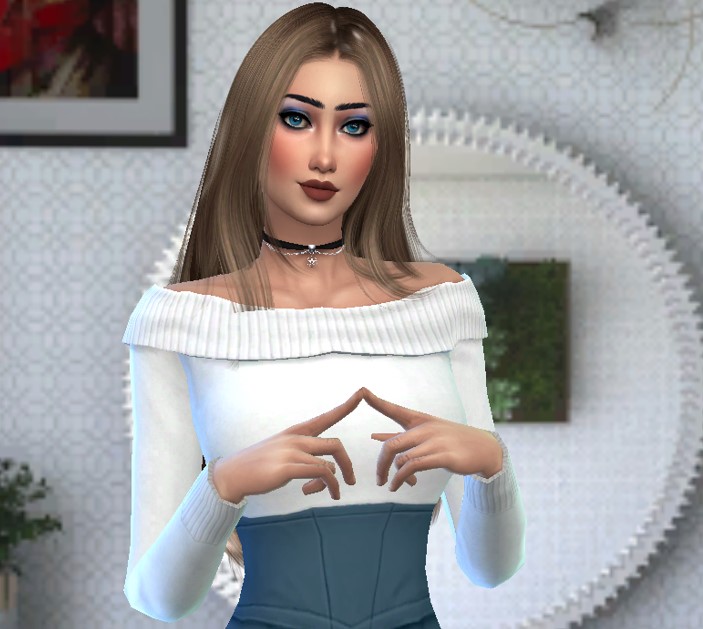 The innocent look is a great way to plot without being caught. 
Does the look of the sim you create make that sim evil or is it all up to the personality traits you choose? 
Everyone deserves to feel like a fairytale princess. The WINGS-TO0618 brings a flawless long-haired look to your sims that looks amazing in a fairytale setting. 
Having this in your game, you will have hair that brings a soft elegance. It also looks great with a business suit if your sim doesn't care for dresses. 
As most simmers know, it is a must to have good options for hair color when it comes to what style you are choosing for your sim. This CC has a wide range of soft colors and dark colors to choose from for your sim.
Why WINGS-TO0618 is fun
Innocent look
Good for teens to elders
Compatible with hats
Get the mod here: WINGS-TO0618
8. Cynthia Hair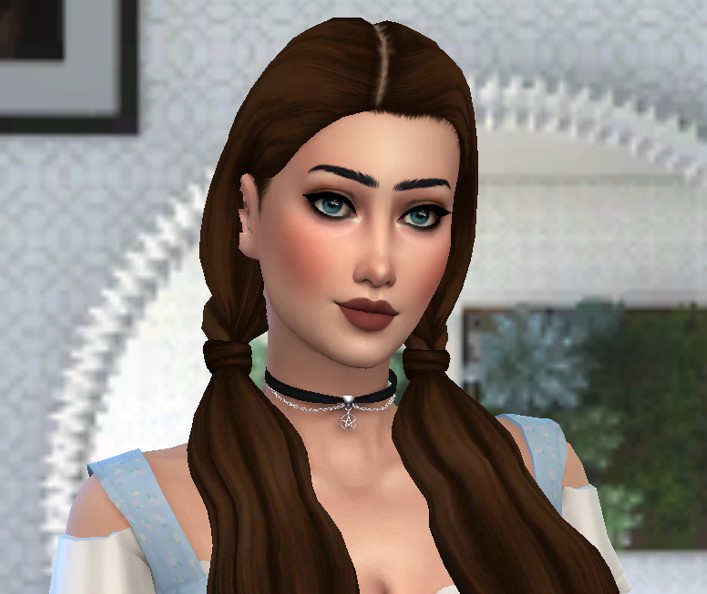 She is trying extra hard to not catch that tornado. Not risking the witch this time. 
More options for your sims to cosplay for the GeekCon. 
Cottage Living brought the farm life to Sims 4, but there are still not enough country hairstyles. With the Cynthia Hair CC, you receive the perfect hairstyle for farm life.
Cynthia Hair gives off Dorthy Gale from the Wizard of Oz vibes, with the two ponytails draping over in front. Very unique and great with a dress or even overalls.  
Once downloaded and in your game, you will see that this hair uses the swatches that are from the base game. You won't need anything else to use this hairstyle but that base game. 
Why Cynthia Hair is fun
Works on teens to elders
Uses the default swatches
Simplistic and cute
Get the mod here: Cynthia Hair
7. Stealthic - Paradox (Female Hair)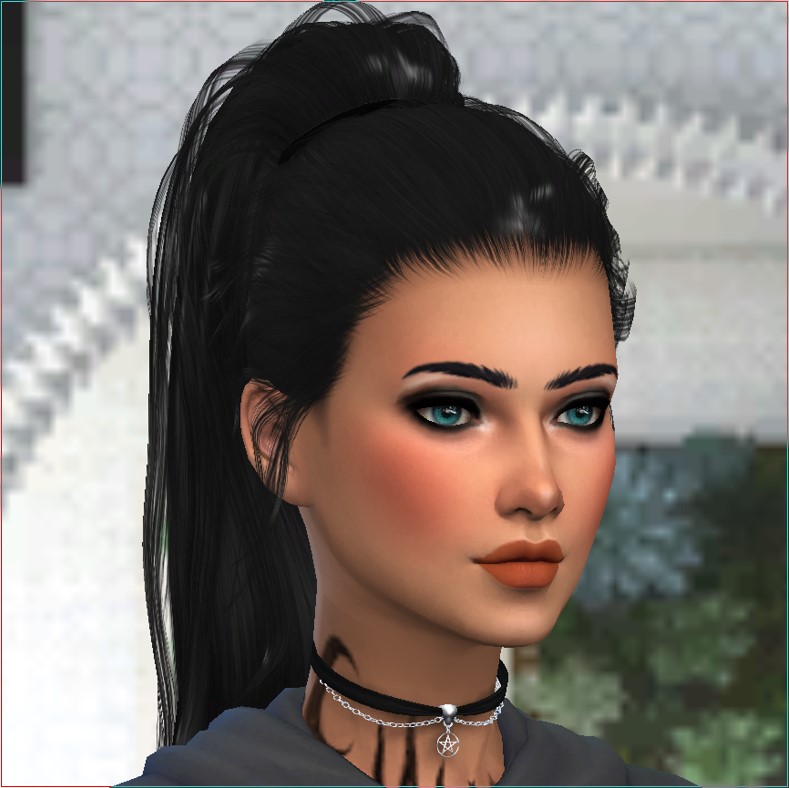 It's a paradox to look this amazing. 
Ponytails are perfect for going out for a jog. 
Finding ponytails in the Sims 4 isn't too hard, but finding one that looks realistic and amazing can be the hard part. Stealthic - Paradox (Female Hair) gives your female sims a thick luscious ponytail to wear. 
With a few loose hairs from the ponytail, this style is ideal for outdoor, specifically athletic outfits. Honestly, it is a needed addition to anyone's game simply for the texture and the style.  
You will have a total of 27 colors to choose from for your sim. Colors range from soft blonde to black with other vibrant colors too. 
Why Stealthic - Paradox is fun
For teens to elders
Choice of 27 colors
No clipping issues
Get the mod here: Stealthic - Paradox (Female Hair)
6. Illusions - Adriana Hair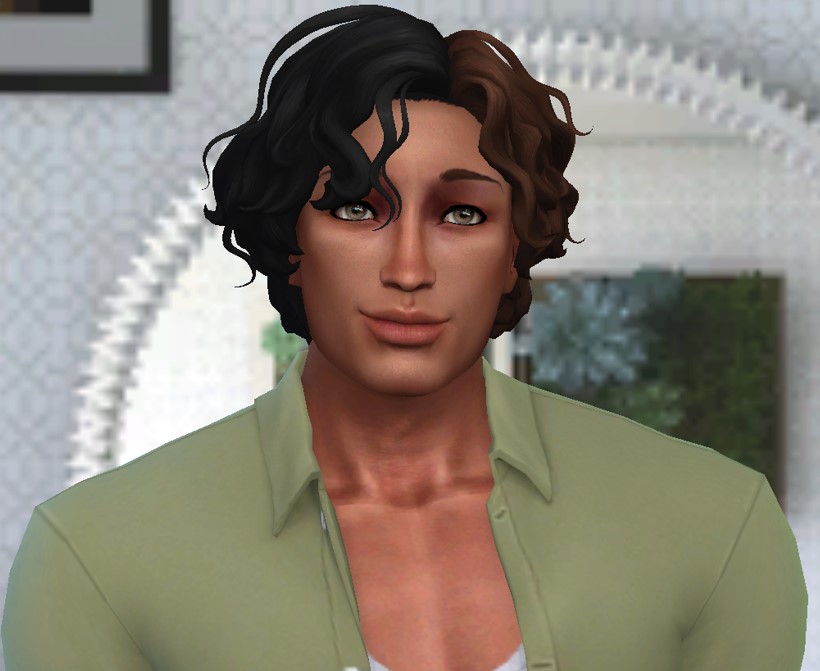 Looking amazing as usual. Did he drop out of an anime with that look? 
From K-pop and Anime, to regal and sleek styles. There is no right or wrong to looking that good. 
Your male sims deserve to have more selections for hair in the Sims 4.  In the Illusions CC pack, there is a Maxis Match option, Adriana Hair. 
This hair is versatile as the creator made it for both male and female sims. Not only is it for both, but you'll have a split option, so your sim can have two-tone hair. 
The CC pack Illusions has two hairs and clothes like most packs from The Forest Of Talking Trees. You can choose to download just the Adriana Hair without the hair split accessory as well. 
Why Illusions - Adriana Hair is fun
Split accessory - found in piercings
For males and females
Useable for teens to elders
Get the mod here: Illusions - Adriana Hair
5. Anto - Minnie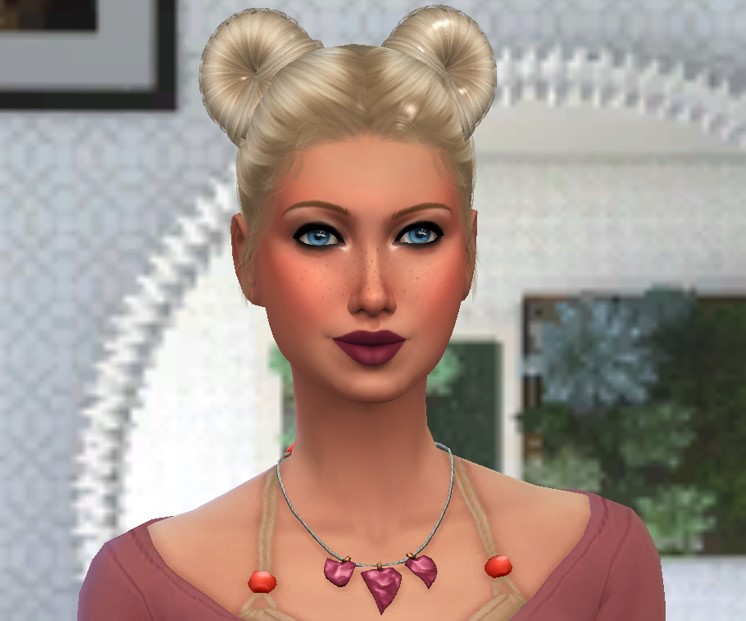 Who doesn't love Minnie Mouse or having two beautifully done buns? 
Realism never looked so good.
Inspired by Minnie Mouse, creator of beloved Alpha Hair CC, Anto created the Alpha CC Anto - Minnie for the Sims 4. This hairstyle is ideal for your sim to cosplay as Minnie Mouse or look cute in a sundress.
With the Anto - Minnie, you will see two buns wrapped perfectly with the hole facing forward instead of up, like a regular bun. It is perfect for any hot weather your sim may experience. 
Your sim will have 60 different colors to choose from for this hairstyle. Anto's does his textures flawlessly for each hairstyle, and Minnie is no exception to that. 
Why Anto - Minnie is fun
60 vibrant colors
For teens to elders
Beautifully realistic 
Get the mod here: Anto - Minnie
4. Rose Hair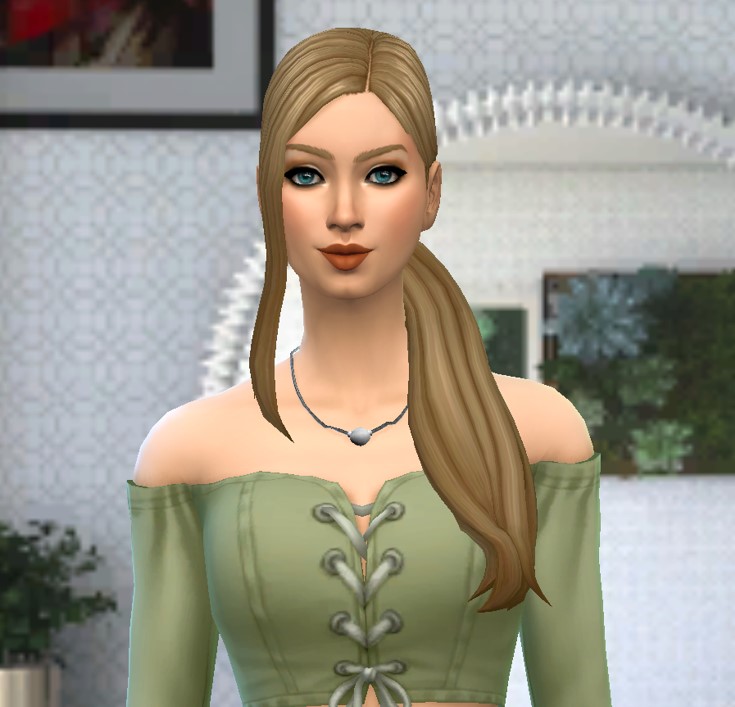 She is ready to go out to the dinner date with her besties. 
From cute looks to professional looks, you will never be disappointed. 
BEST CC FINDS | Sims 4 Custom Content Haul (Maxis Match)
You probably have that one sim who needs a sleek hairstyle for that audition. If so, then Rose Hair is the style for your sim. 
The Rose Hair comes in two Maxis Match versions, one being a bun and a ponytail that you can choose from. The colors used for this CC are the default colors with some added colors. 
Downloading this CC into your game is simple, pick your choice in file and download. Be careful when using it; your sim may just "Girl Boss too close to the sun."
Why Rose Hair is fun
Two options - Bun and Ponytail
Base colors
For teens to elders
Get the mod here: Rose Hair
3. Ade - Brower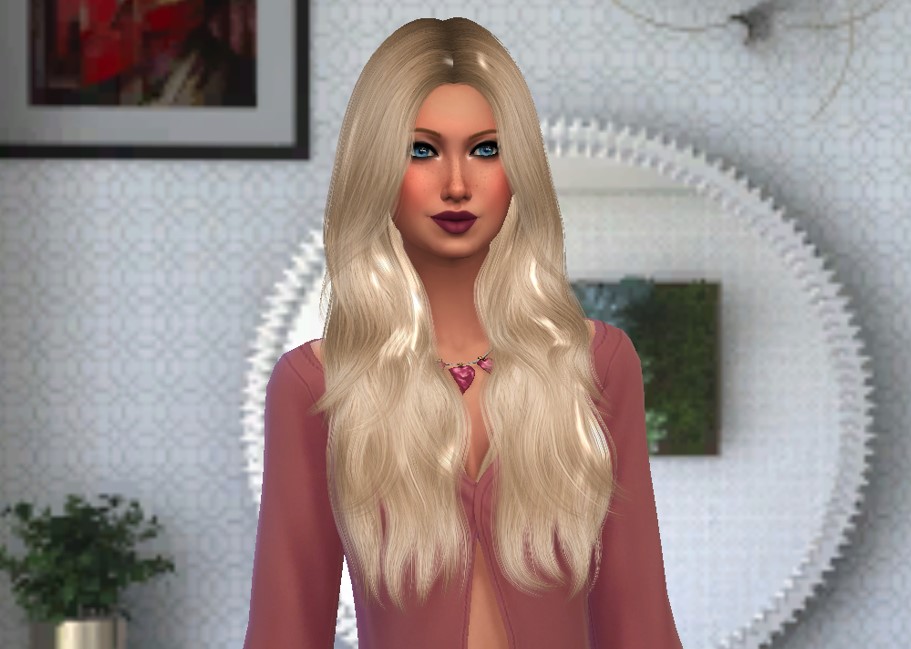 Soft hair texture is hard to accomplish but once it is accomplished you best hold on tight. 
Skiing down the mountain into fantastic Alpha CC. Brace yourself for impact!
Some Alpha Hair CC for female sims comes across as harsh-looking in texture. Ade - Brower goes above and beyond when it comes to a soft and luxurious texture. 
This hair CC is long, draping in front of your sim's shoulders and a little down the middle of their back. It gives off the look of hair being soft to the touch that you can almost feel it. 
On top of the texture are the color options. Granted, most figure that it will have natural colors. 
This CC has natural and unnatural hair colors, but it has ombre. Yes, you heard that right. Ade - Brower has nine ombre options to choose from.
Why Ade - Brower is fun
New mesh used
Used on teens to elders
Ombre options
Get the mod here: Ade - Brower
2. Illusions - Cornelia Hair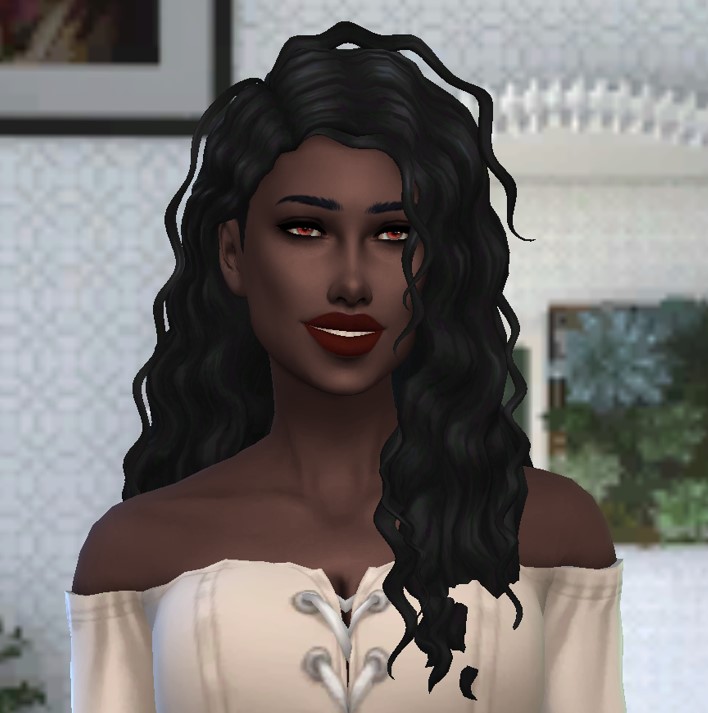 She is ready to conquer the day with a great hair day. 
Curls in all the right places, laying just right. 
200+ Maxis Match CC + LINKS // Hair, Skins, Clothes, Makeup, etc. | The Sims 4 CC Haul
Illusions CC pack has already been on this list, but the second hair in that pack is also a must-have. The Cornelia Hair is so beautiful that you have to try it out at least twice. 
Cornelia Hair's side part and curly texture can be mistaken for Alpha CC when it's Maxis Match. Your sim will look their best in any outfit they are wearing.
This hair does use the base game color swatches. Coming from the same mod pack as the Adriana Hair, you can choose just the Cornelia Hair to download.
Why Illusions - Cornelia Hair is fun
Beautiful for any outfit selection
Frames the face perfectly
For teens to elders
Get the mod here: Illusions - Cornelia Hair
1. Anto - Echo (Hair)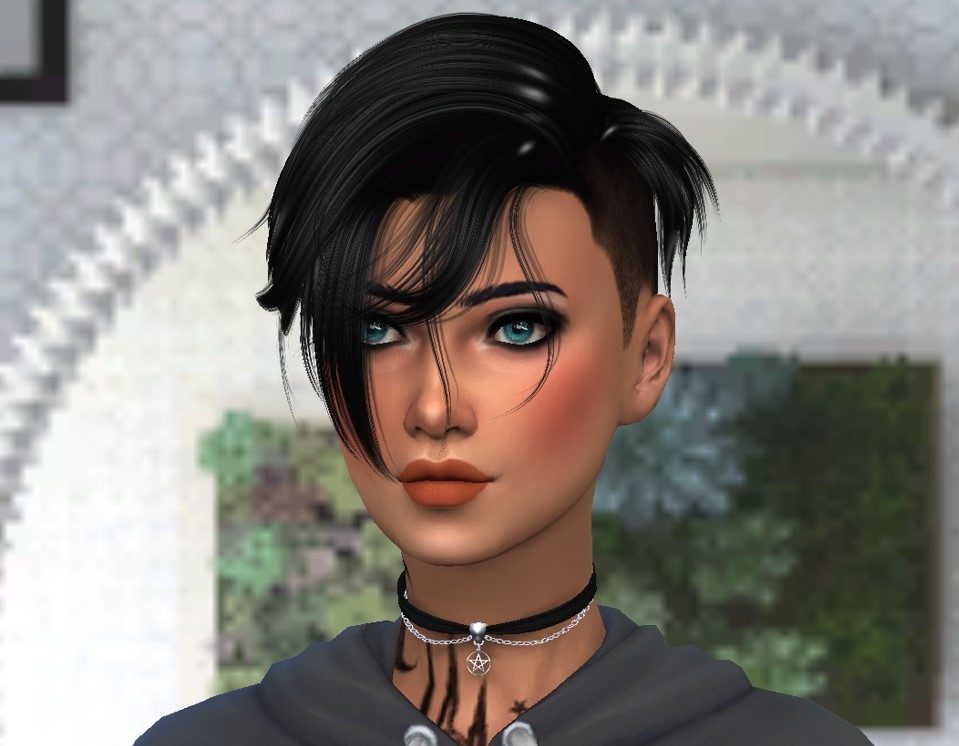 With her hair finally styled, she is ready to go to the hijinks festival with her entire sim family.
You are winning everytime with CC this fantastic. 
Mod creator Anto has been the most popular in Alpha custom content. If you do not know who they are, you are missing out. 
Anto's Echo Hair is a piece of art for hairstyles. This hair CC is beautiful for females as well as males. 
The style of this CC includes medium-length hair falling into your sim's face with shaved sides and back. Not only does this hairstyle look great due to the texture, but each color you choose looks so flawless. 
Anto - Echo (Hair) is perfect for any sim you decide to create. If your sim wants to wear a fancy dress, this hairstyle will work. 
Why Anto - Echo (Hair) is fun
Male and female sims can use
Teens to elders 
Total of 18 colors to use
Get the mod here: Anto - Echo (Hair)
You may also be interested in:
Image Gallery