[Top 20] The Sims 4 Best CC To Improve Character Creation
Updated: 16 Feb 2023 12:43 pm
Two Sims made fully up with Custom Content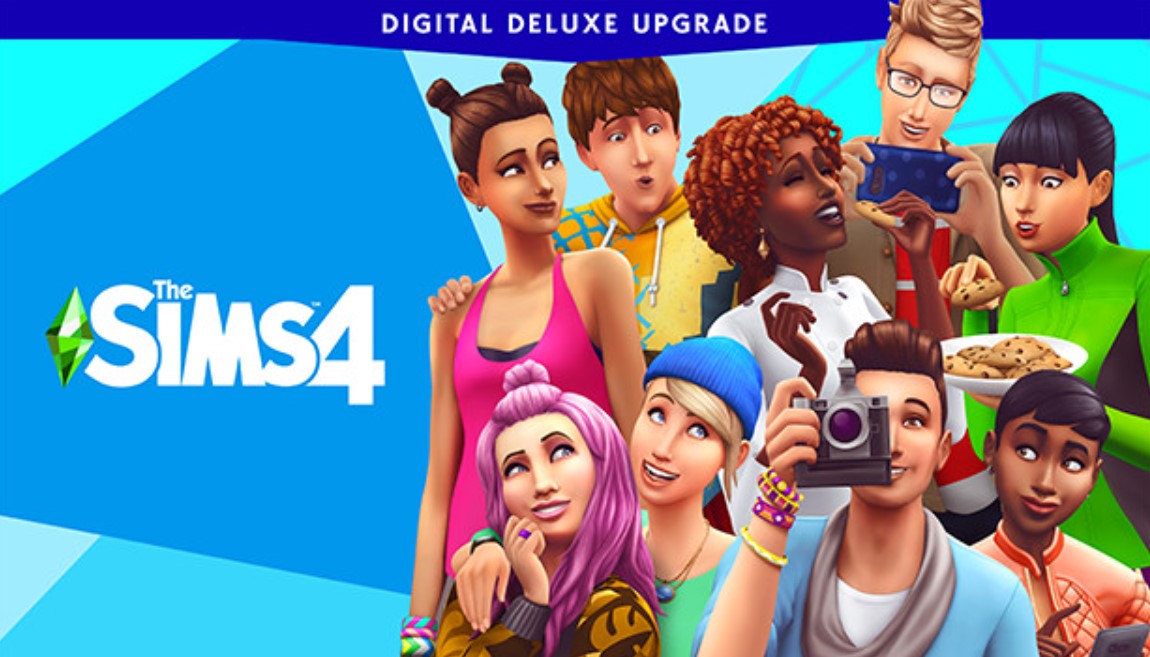 The release image of the sims 4 digital delux upgrade, with several different types of sims.
Sims 4 has one of the best character customizations in a game so far. However, the base content that comes with the game can only bring you so far. So here are some of the best CC (Custom Content) we have found to make your sims look as good as they possibly can. 
20. [Nijik] Eyelashes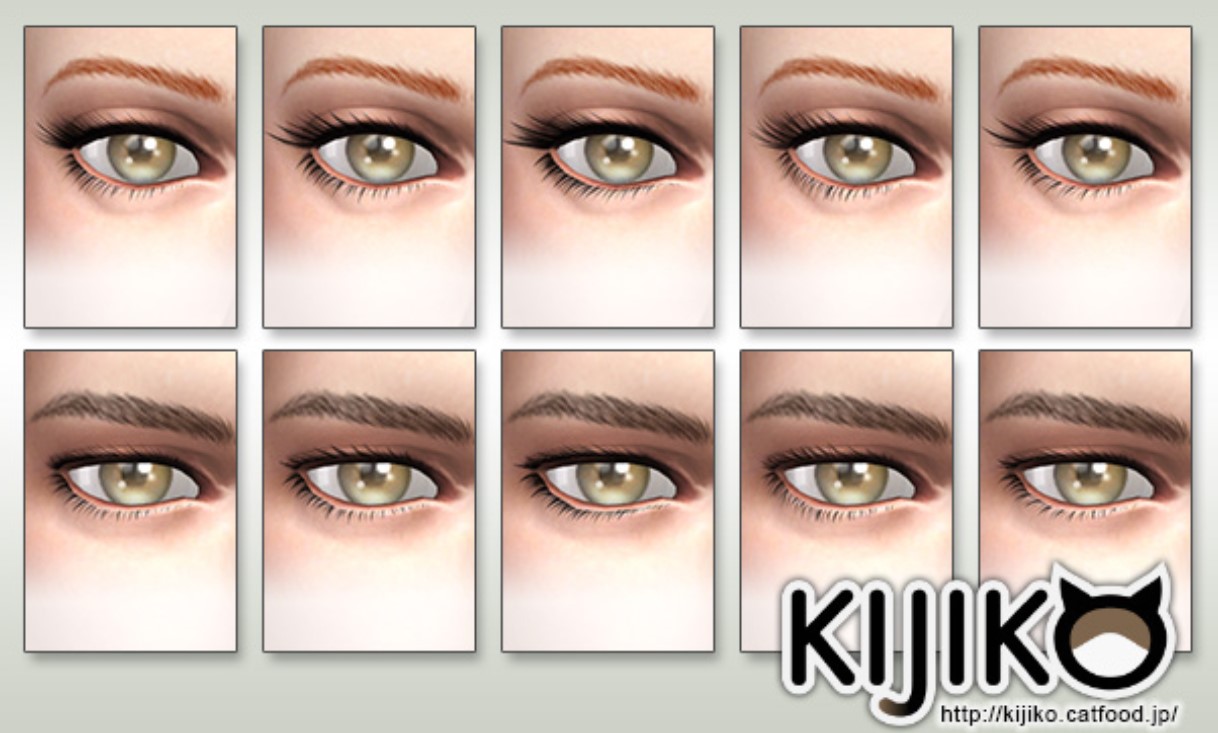 The female and male eyelashes that come in this Nijik eyelash collection.
One thing that is super hard to find in the Sims is good eyelashes. But this one has got you covered. This is CC I use on every single sim I make.
These lashes have a lot of versatility. They come in a multitude of styles, a bunch of styles in one, and separate styles of your favorites in a multitude of colors. Another great thing is these eyelashes can be used for males or females. And they come in both black and lighter colors for lighter-haired sims, as well as multiple others if you get them separately.
A versatile, good, and realistic-looking CC that is hard to find anywhere else. That is the recipe for the perfect download. Give your sims an edge to make them stand out. 
Details: https://kijiko-catfood.com/3d-lashes/ 
19. [LeahLillith] Josie Hairstyle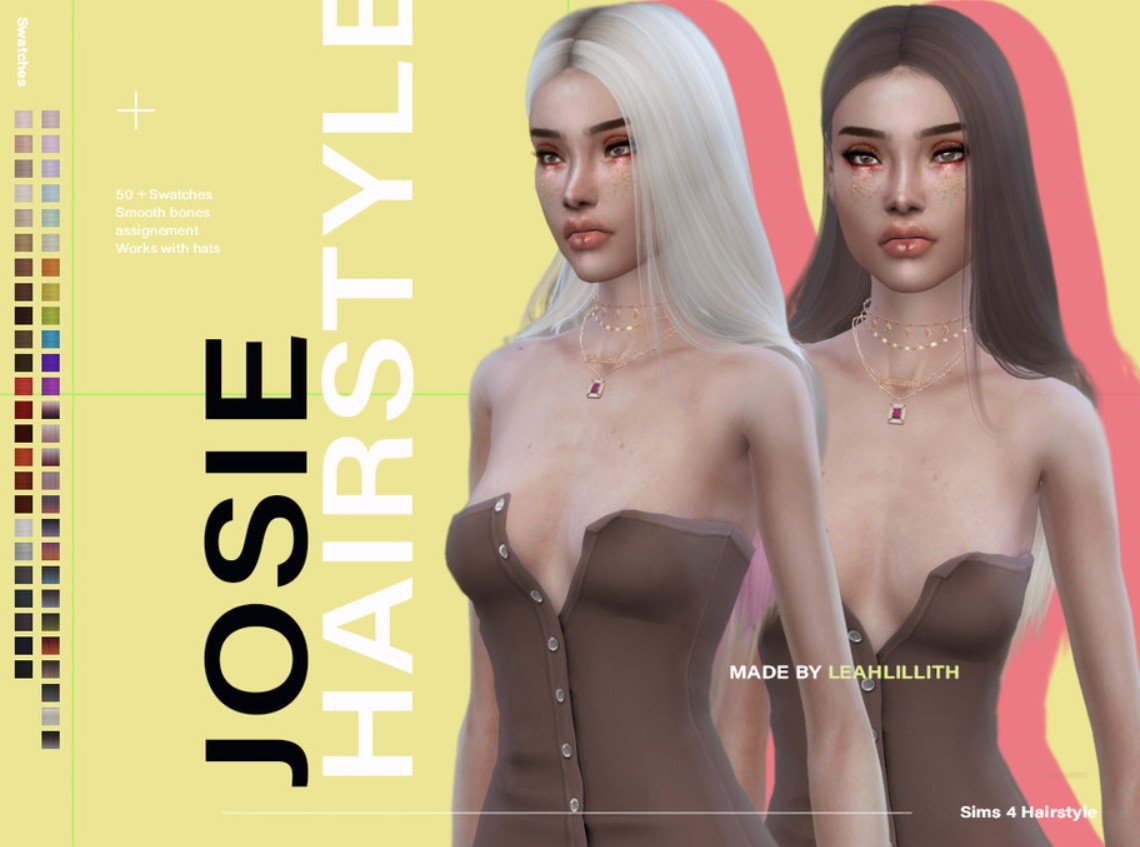 One of LeahLillith's Sims with her long josie hair in both blonde and brown shades.
Beautiful straight hair that looks realistic. Yes, please! This hair is great for any sim that needs straight hair. Whether that is for a formal look or a party look or just their everyday wear. 
This hair is super realistic looking. And makes your sims less chunky and plastic-looking compared to the normal clay hairs. Coming in 51 different colors to choose from! And if you want 2 colors to this hair LeahLillith also has a version of this same hair with dyed ends.
Perfect for your female or even male sims if you want good long hair. In so many colors and even in multiple ways this is a great hair for your sims. Soon they will be looking as real as us. 
Details: https://www.thesimsresource.com/downloads/details/category/sims4-hair-ha...
18. [LeahLillith] Neah Hairstyle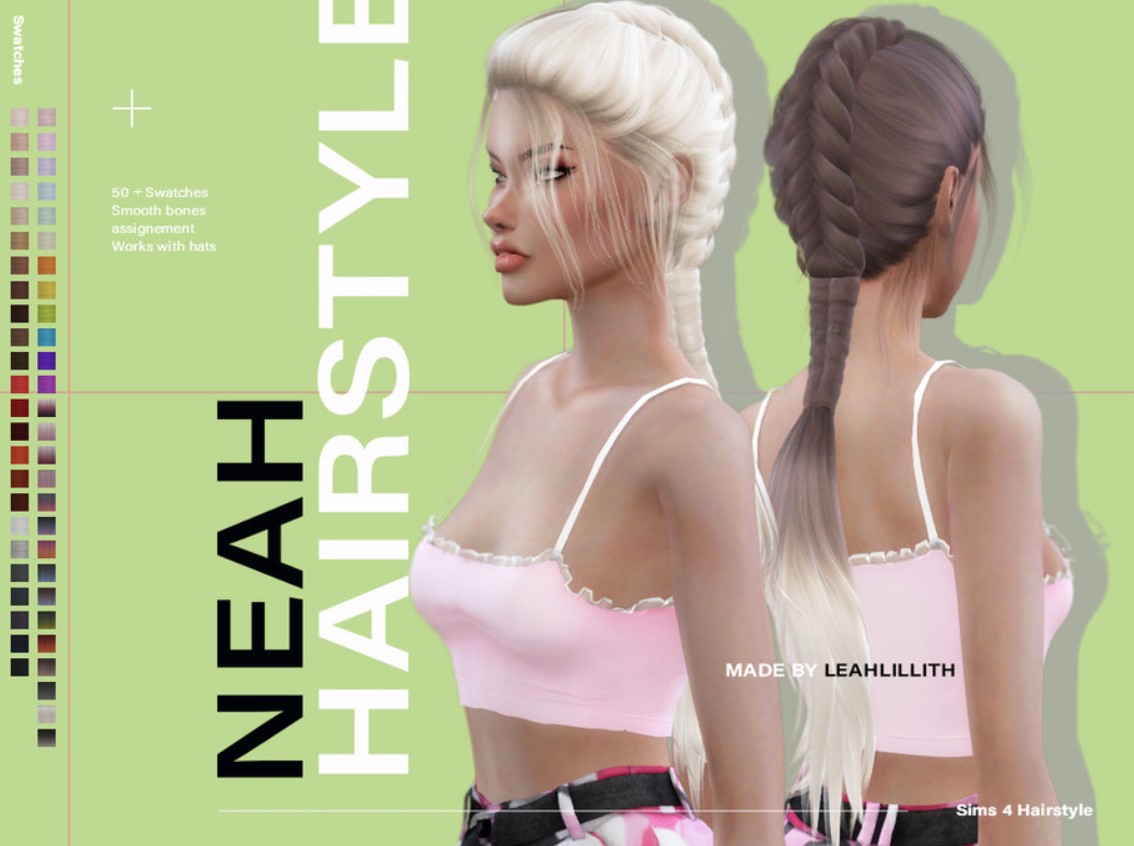 One of LeahLillith's Sims with her custom Neah hairstyle in both blonde and light brown.
Another hair CC from LeahLillith! This one is in the shape of a braid. Great for your athletic wear or a very put-together sim. The choices are endless. 
Coming in with another 51 colors once again this style can be available for any sim. With dyed tips and a cute style! Looking super realistic once again. And even including extra hair to frame your sim's face. 
Realistic, cute, multifunctional. What else could you ask for in sims CC? Especially for hair, this is a great addition to your sims CC library.
Details: https://www.thesimsresource.com/downloads/details/category/sims4-hair-ha...
17. [Feral Poodles] Morgana's hair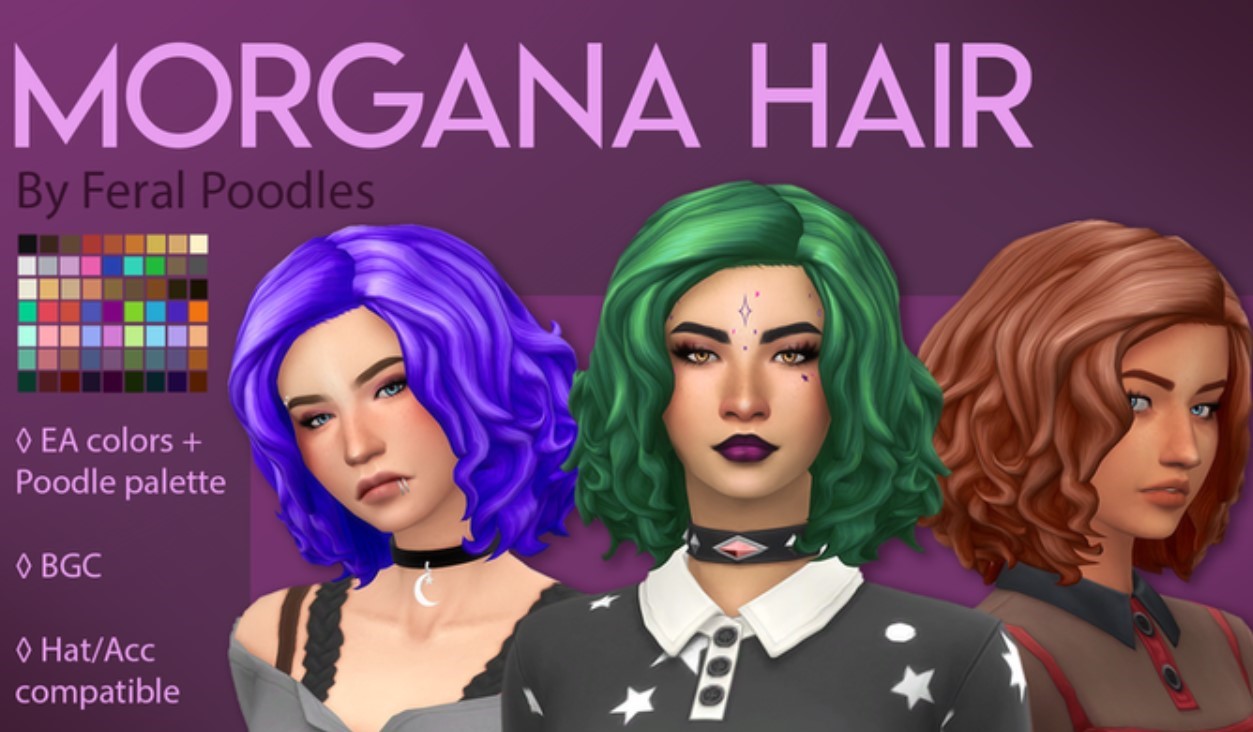 One of Feral Poodles sims with her custome Morgana hairstyle in both green, purple and brown.
Alright, we have had two long hairstyles, what about the short hair? Well, don't worry I got one right here for you. This cute little bob. 
An adorable short hairstyle with curly ends and a slight side part. This hair is so cute and perfect for any of your female sims. With 63 different colors and possible ombre, it has a lot of options. And you no longer have to worry about hats looking weird or fazing through your hair. Cause this CC is hat compatible. 
A cute short hairstyle that does the job you need. Multiple different options for color. And available for free. This is a hairstyle that I love to use, and you will too. 
Details:
https://feralpoodles.wixsite.com/mysite/copy-of-victoria 
16. [Saurus] Rainbow Collection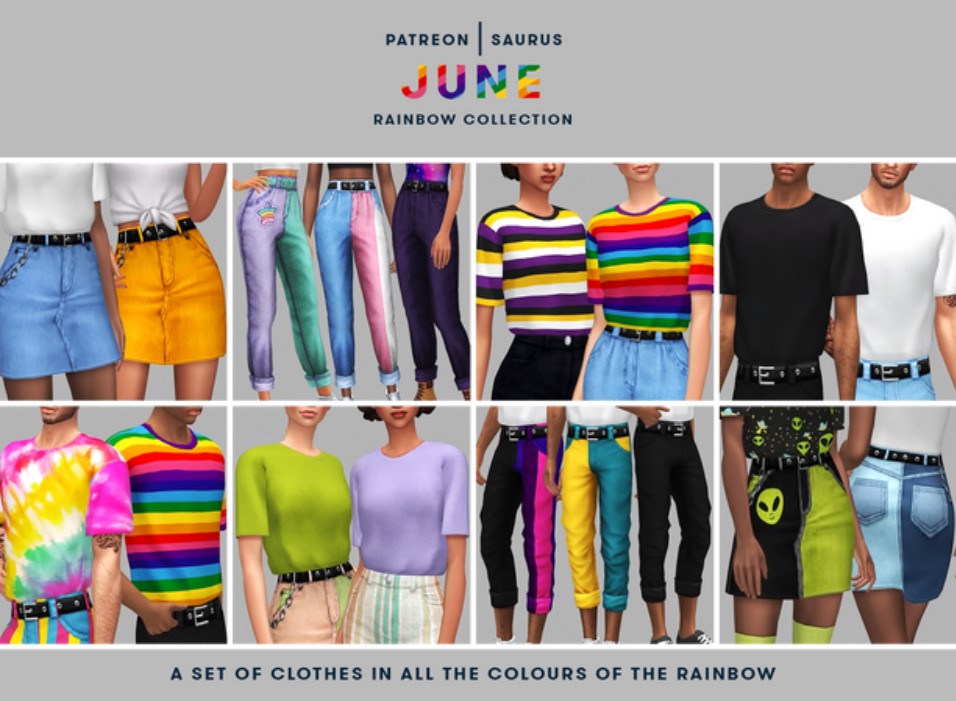 A large amount of Saurus' rainbow collection including, skirts, pants and shirts. Oh my!
Whether it's June or February this collection helps you show your pride anytime! A huge collection of different clothes you can mix and match. Make your sim look good and show their pride.
Featuring the Gay, Lesbian, Bi, Pan, Trans, and even the Non-binary flag this is perfect for pride. Or any other month! Coming in a collection of skirts, pants, and shirts for Male, Female, and Non-Binary folk this collection has it all. And the styles are so cool! Half flag half regular pants that sounds awesome.
This cool collection has everything you need for your LGBTQ+ sim. And even has some other cute looks for the allies. These are clothes I wish I had in real life. But guess the sims will have to do. 
Details: https://www.patreon.com/posts/38109563 
15. [Clumbsyalien] Miracle CC Pack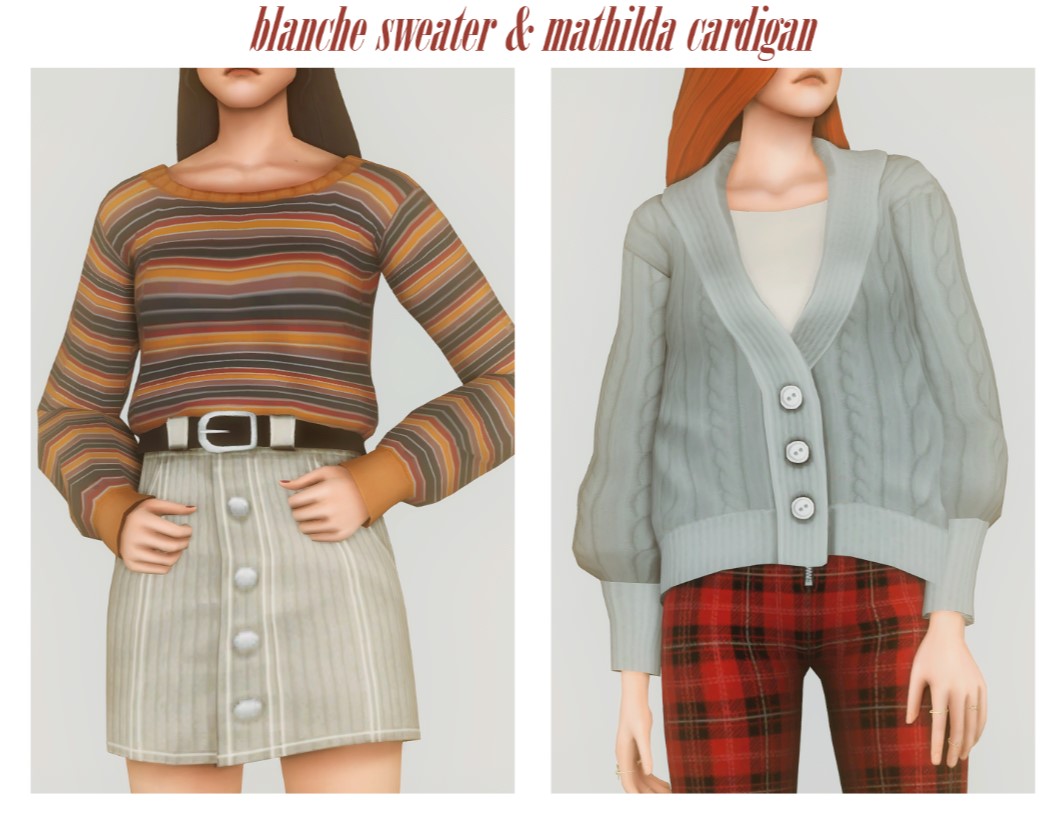 Two of the female outfits from the miracle CC pack, including 2 cute large sweaters.
Another Sims 4 pack this one including hairs! Cute outfits and looks that will be perfect for the holidays. Or the cold weather clothes. 
Including hair, shirts and sweaters, pants, and even some scarves. This is truly the bundle for the cold. Involves things for sims both male, female, and anywhere in between. All in 10-25 different colors per piece. Super cute and the hair doesn't even look like it's clay made. 
A cute bunch of clothes and cute hair to go along with it. This truly is a great winter bundle. Sure to make your sims look all nice and cozied up. 
Details: https://www.patreon.com/posts/miracle-cc-pack-44891704 
14. [SweetCranberry] Britney Rainbow
A sims from SweetCranberry with 2 different patterns of this hair CC on. 
Now, this hair is SO cute. I love dyed layered hair and this does not disappoint. Perfect for your alternative, pastel or pastel goth sims. Or maybe even for a fairy or magic sim to make them stand out.
A layered look with multiple colors. Purple, pink, blue, green, and even blonde. These colors are bright and stand out but somehow still look realistic. Coming in 4 different varieties you can decide whether you want the blonde on top, bottom, or not at all and only have the unnatural colors to the hair. 
Super pretty for your female or non-binary Sims. Realistic and coming in several varieties this hair is so stylish and something I use a lot. It will make your character stand out above the rest. 
Details: https://www.thesimsresource.com/downloads/details/category/sims4-hair-ha...
13. [LeahLillith] June Hairstyle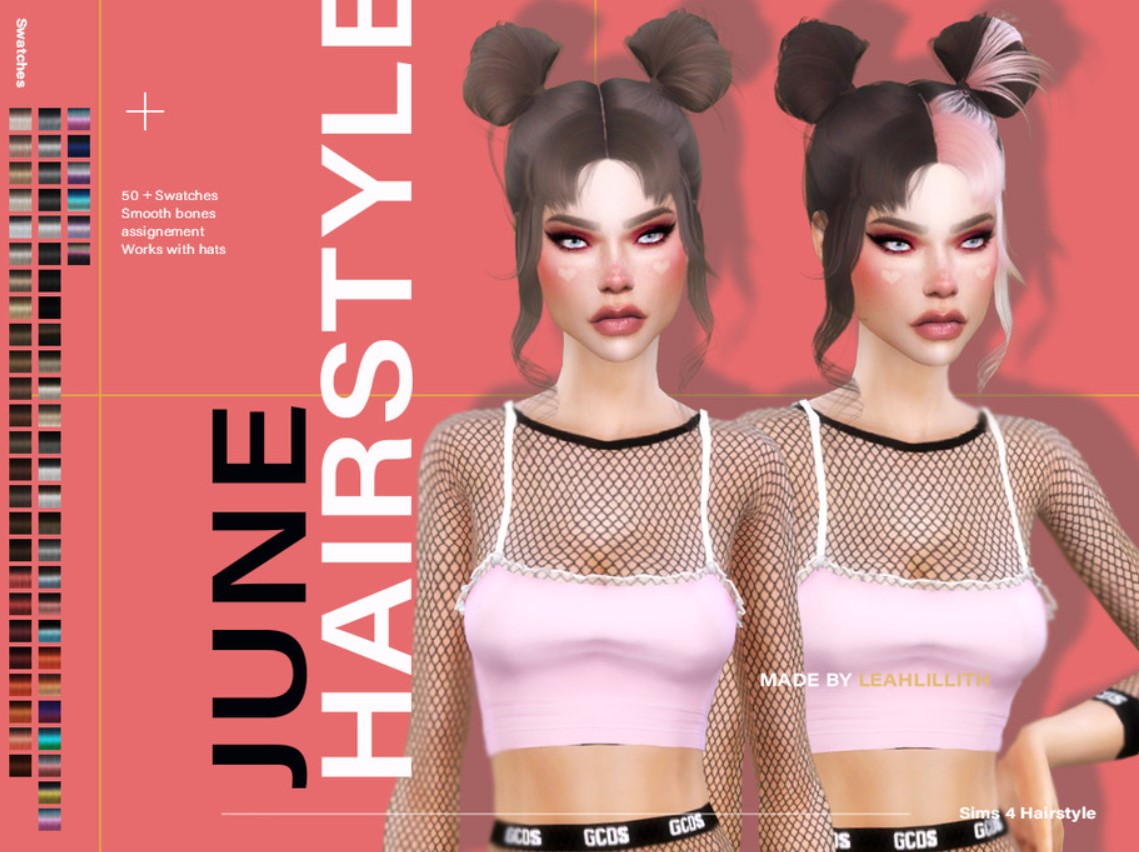 Another sim from LeahLillith, this time with her June hair style in a regular brown shade or brown with pink dye.
Another banger by LeahLillith for the sims. This hairstyle is a super cute updo into two little fun buns. Adorable for adults and teens alike. 
Once again in a huge amount of swatches, several with different mixes of colors together. Ones that you can't usually find in other CC. The bangs to frame the face in front make it work for any face. It's a super cute design that looks realistic and will make you love your sim and its new look. 
Usable for teen and adult sim this adorable hairstyle will liven up your customization. Get crazy with it and try some new things. You never know what will make your sim look the best it can be. 
Details: https://www.thesimsresource.com/downloads/details/category/sims4-hair-ha...
12. [Sibyl] N69 Eyeliner + Lashes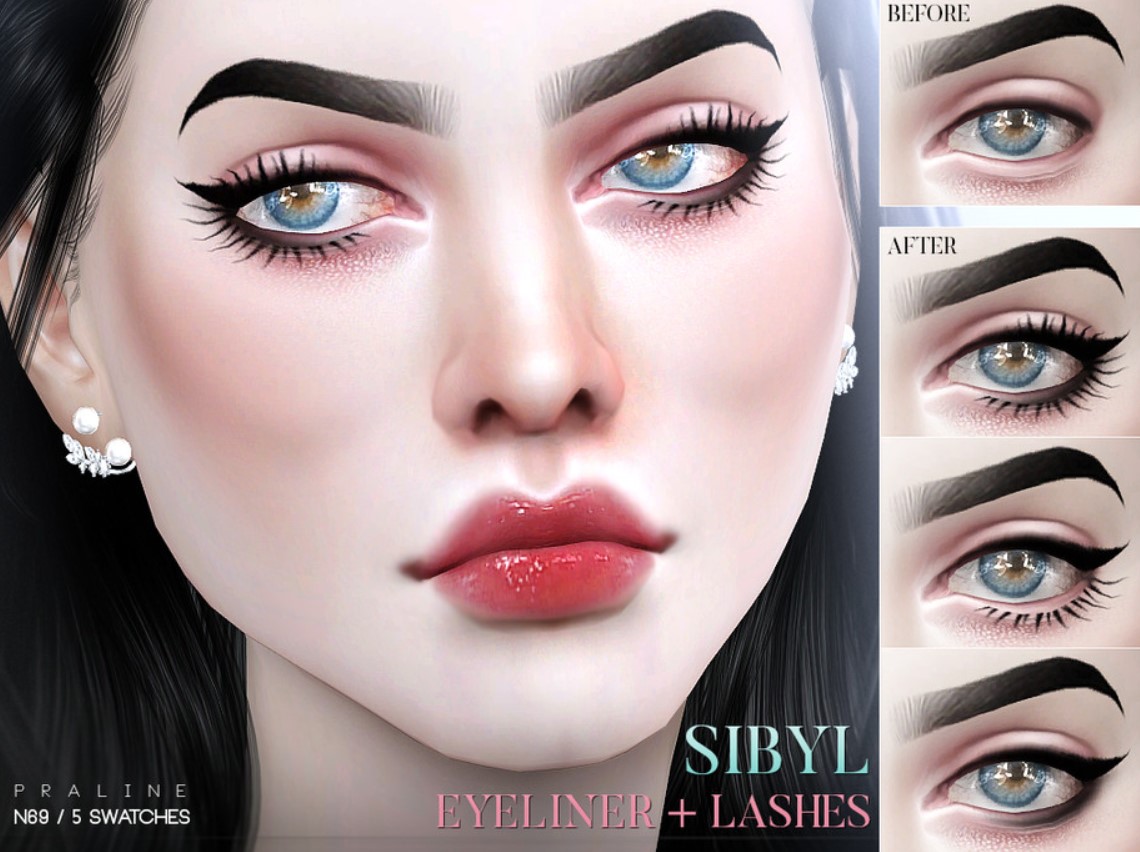 A posed sim with Sibyl's eyelashes on next to the multiple different styles the eyelashes come in.
This is another set of items I use all the time. Attached are lashes and eyeliner to boot. This is a perfect add-on to your sim's makeup. 
This amazing CC comes in 3 different types. Liner, Lashes and Liner, and only bottom lashes. Super pretty and realistic. This combination is full and beautiful and won't look weird on your sim, no matter the face shape. 
A beautiful makeup addition that only takes up one CC slot for both lashes and eyeliner. This is truly a sims 4 makeup necessity. Great starter and always there for your needs even in the future. 
Details: https://www.thesimsresource.com/downloads/details/category/sims4-makeup-...
11. [Saurus] Simblreen Collection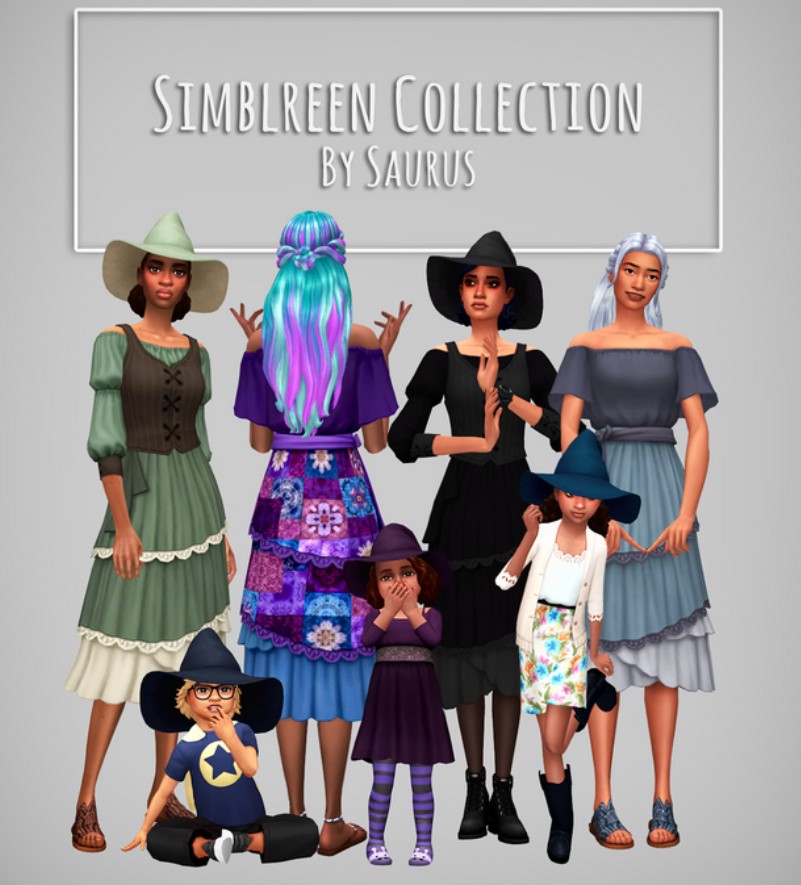 Several sims from adults to kids to toddlers in the several different clothing and hair options you get within this collection.
Have an interest in the cottage core aesthetic? Well, this pack is amazing for that. Filled with dresses, hair, and hats for all different age groups. It is super cute and cozy.
As said before this collection comes with many options. 2 types of adorable cottage core dresses. A beautiful hairstyle that comes in natural colors as well as beautiful multi and rainbow colors. And an adorable witch-like hat in so many colors, with compatibility for toddlers, kids, teens, and adults. 
A beautiful set of old fashion but still stylish stuff. From clothes to hair you have so many things all in one. Bring your sims into a more rural living and let them enjoy the calm. 
Details: https://www.patreon.com/posts/43292253 
10. [C4ndypr1ncess] Cat pearl headband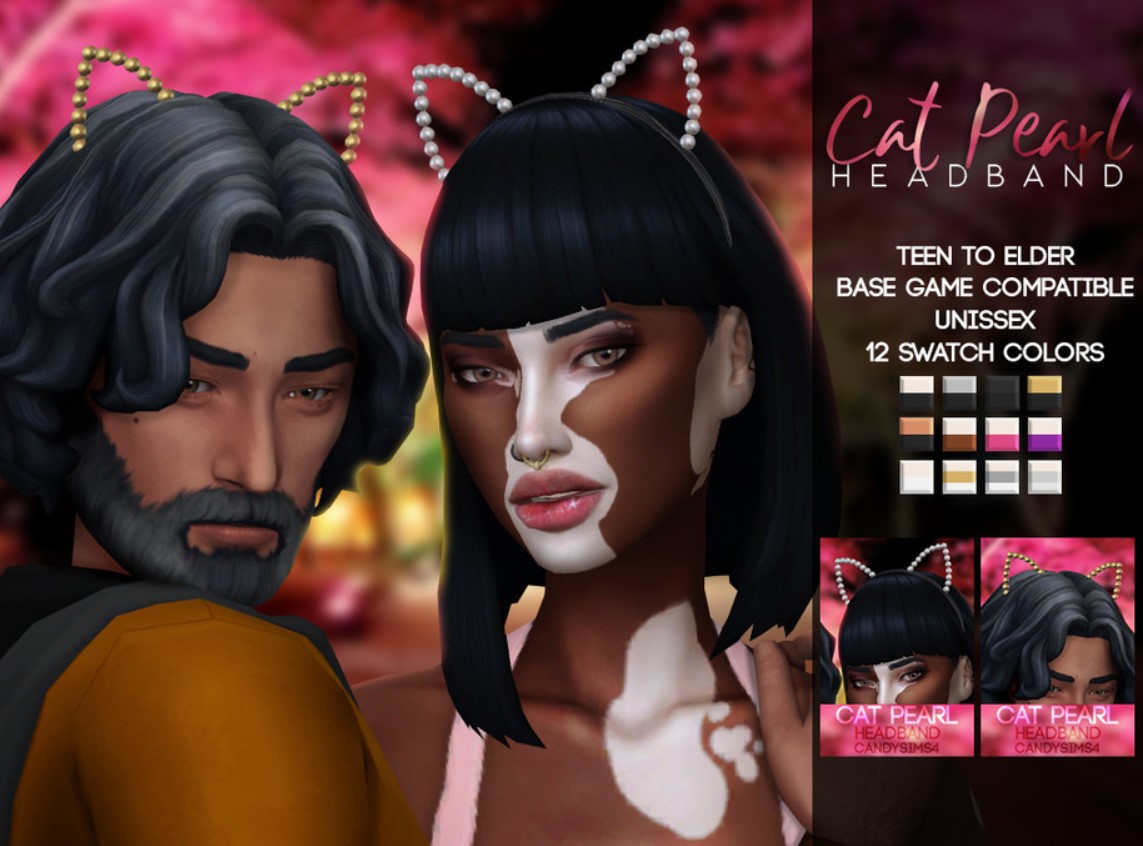 A male sim and a vitiligo female sim both sporting the cat pearl headband. 
Need some cute accessories to put on your sims. What about this? A cute pearl headband for costumes or party outfits or whatever you can think of. 
A cute accessory that is not too big or bulky. Works with a whole bunch of different hairs, whether EA or CC. 12 different colors for both male and female sims. All the way from teens to adults this CC works for them all. 
Super cute for costumes or regular clothes. These cat pearl headbands really work. Try them out! You will see how cute they are for yourself. 
Details: https://www.thesimsresource.com/downloads/details/category/sims4-accesso...
9. [LunanelFeah] Stone Angel Wings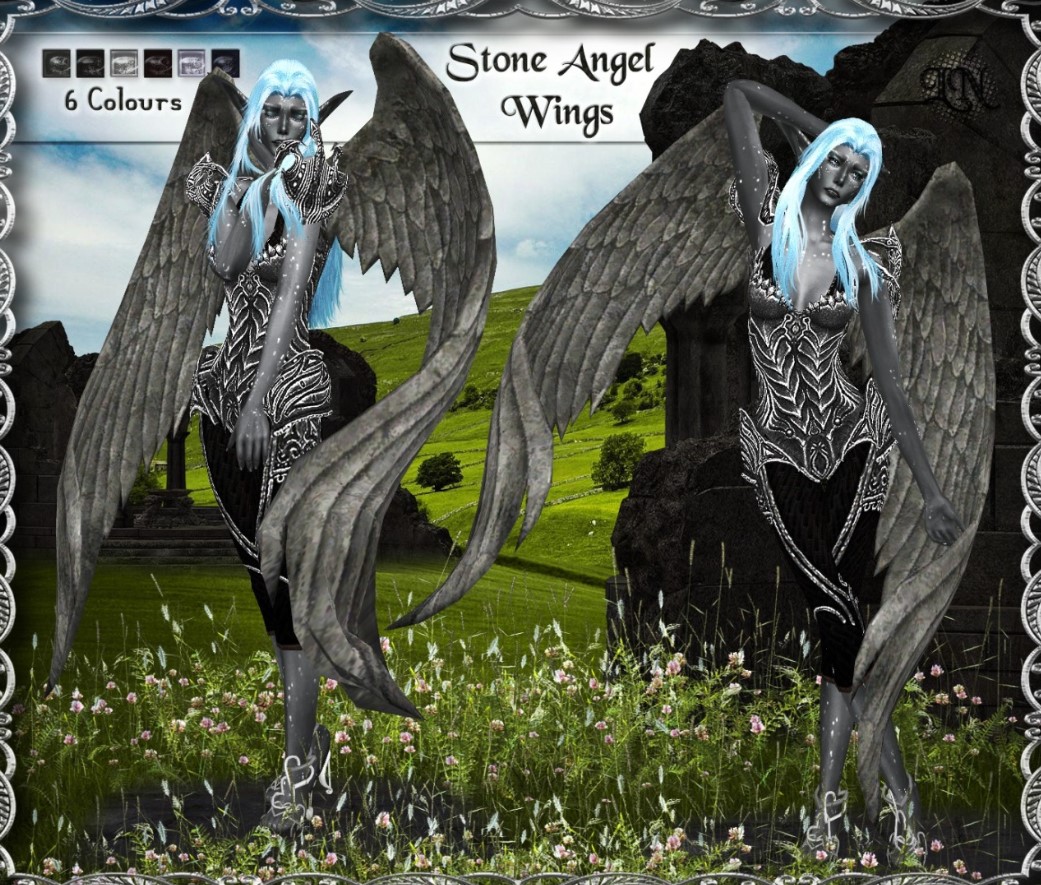 A stone angel sims with blue hair based around the large stone wings you can get yourself. 
Fantasy creators and characters are something that is almost impossible to do with the base sims game. But with CC like this you can. 
Whether for angels or fairy wings, these are detailed and have many uses. Coming in 6 different colors these wings are made for both male and female sims. Large and to the size so it seems attached to your sim. 
Beautiful wings. For fantasy or costume alike. Allow your sims to become the kind of beings we can only dream about. 
Details: https://love4sims4.tumblr.com/post/184316971788/lunanelfeah-stone-angel-...
8. [Twinkimstress] Grunge tights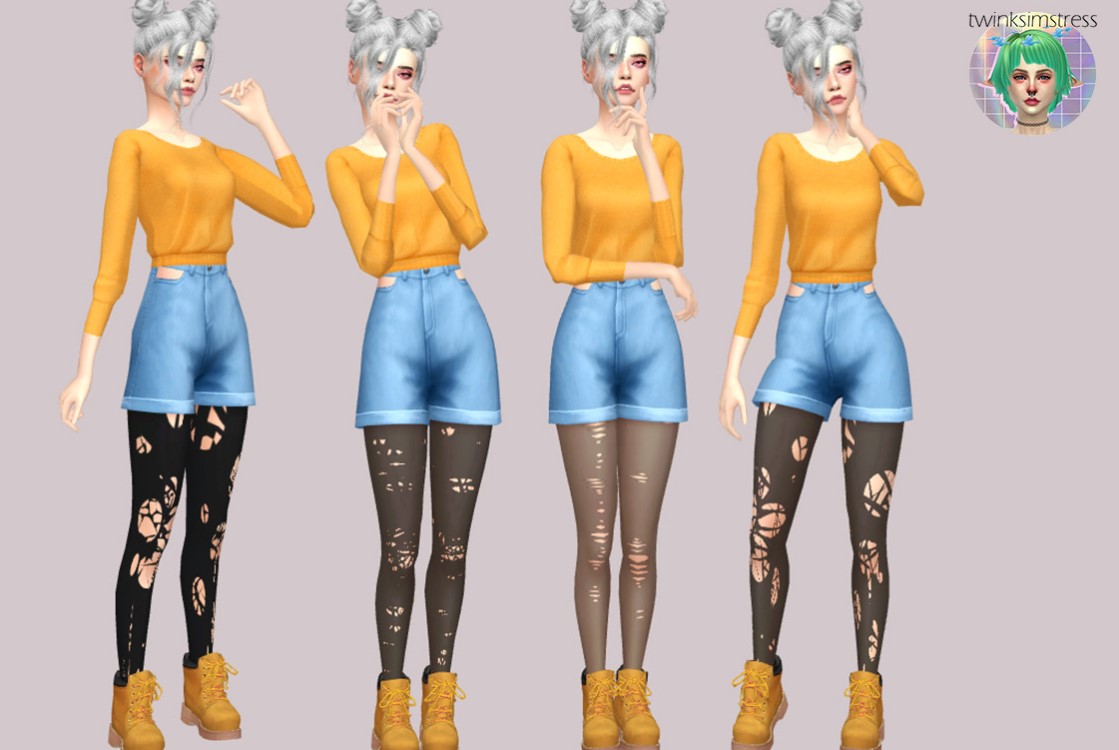 A cute sim by twinkimstress wearing 4 different interactions in multiple shades of the tights they offer.
Tights can really tie an outfit together. Finding good ones is hard in both the sims and real life. And the base tights and leggings just don't do it. However, these are the best!
Made in several different designs. From skeleton patterns to small little rips to large trendy holes all over. They are just super cute and multifunctional. They also come in different shades. From black to a light tan for something lighter. 
These adorable tights are something I have started using all the time. For grunge outfits, Halloween wear, or even just cute tights with a dress. They will help pull your sim's whole outfit together. 
Details: https://mmfinds.tumblr.com/post/174772272857/twinksimstress-grunge-tight...
7. [Cleotopia] High-Waisted Fishnet Tights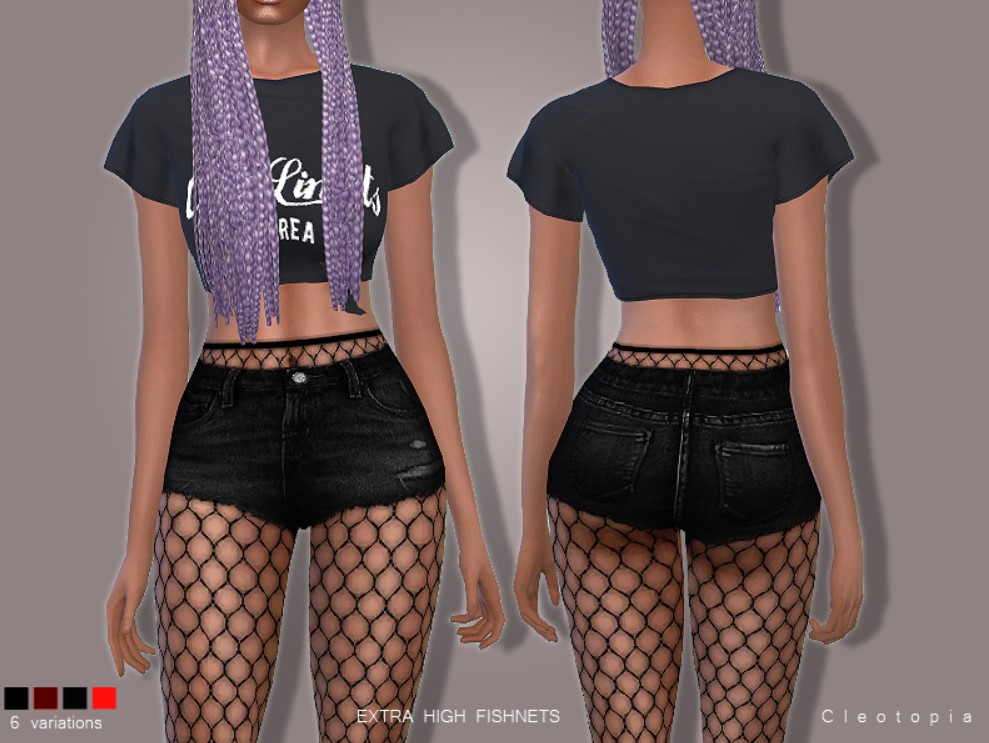 An nice mixed looked sim with high waisted fishnet tights that go perfectly under the shorts they wear.
On the subject of tights here is a great one. Fishnets are super stylish and go with so many outfits. And unlike in real life, they aren't a pain to wear, keep on or take off. 
These cute tights are the best fishnet CC you can find. High-waisted so you can even see them over your shorts and pants. Coming in 6 different swatches that can be mixed and matched for several types of outfits. Spaced perfectly on the sims body so that it looks much more realistic. 
Upgrading the regular base game fishnets to these super cute ones is definitely the way to go. With its cute look and multicolor option. Make sure to download it if you wanna upgrade some of your sims into newer hotter outfits. 
Details: https://www.thesimsresource.com/downloads/details/category/sims4-clothin...
6. [DallasGirl] Nox Sneakers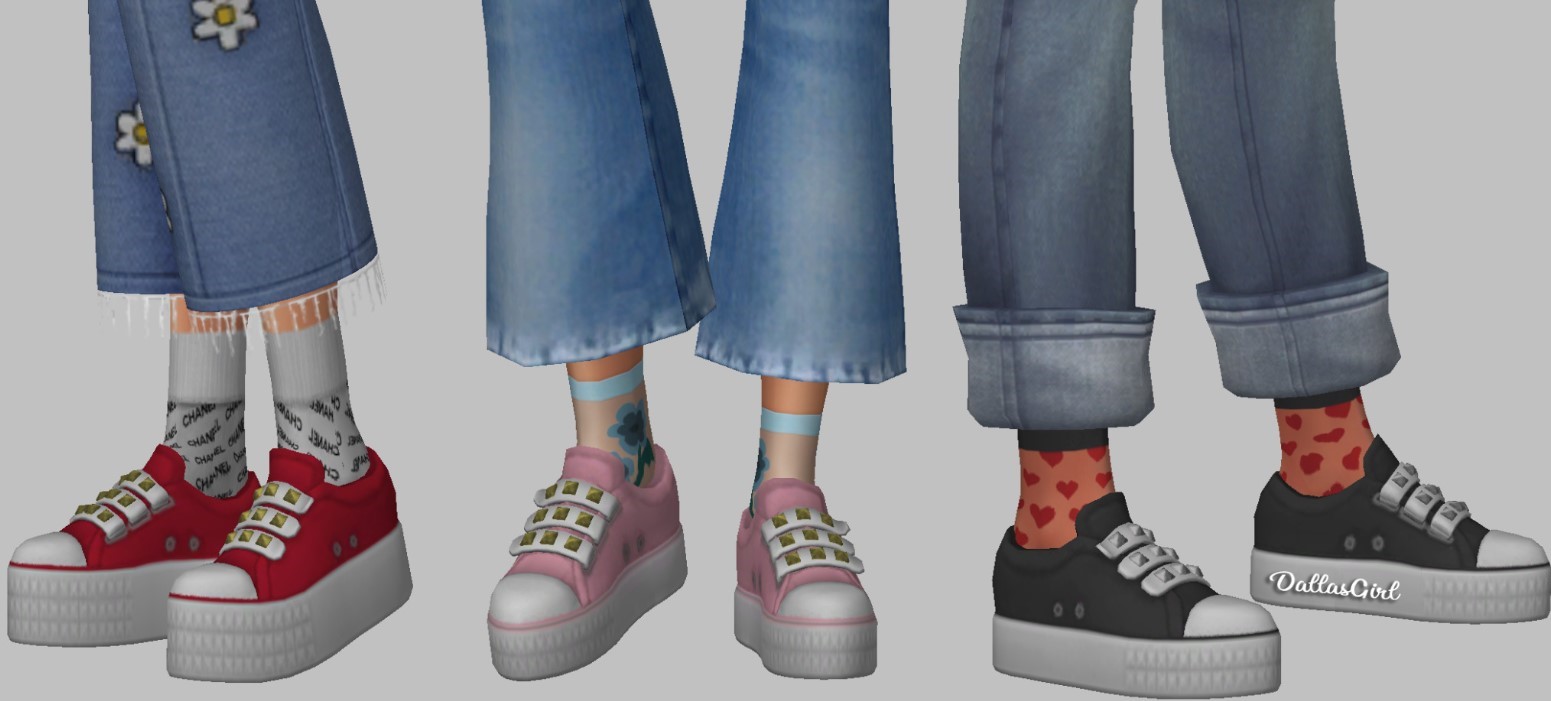 Three different sims wearing the Nox sneakers in the red, pink and black swatches.
The shoes, especially sporty shoes, in the Sims 4 are pretty basic. But here are some super cute shoes for you. Some high-top sneakers that go with everything. 
Coming in 30 different colors these shoes are great! Available for both males and females to wear and for both teens and adults. Super detailed, including even the texture on the whites of the shoes. And don't worry about getting any DLC because all you need is the base game for them to work. 
Super cute and very detailed from the straps to the little details on the side of the shoes. These sneakers are good for athletic wear, normal wear, or maybe even under a dress for a party. These shoes will be a download you won't regret. 
Details: https://dallasgirl79.tumblr.com/post/635094903848943616/nox-sneakers-new...
5. [Raccoonium] Fat Cat Attire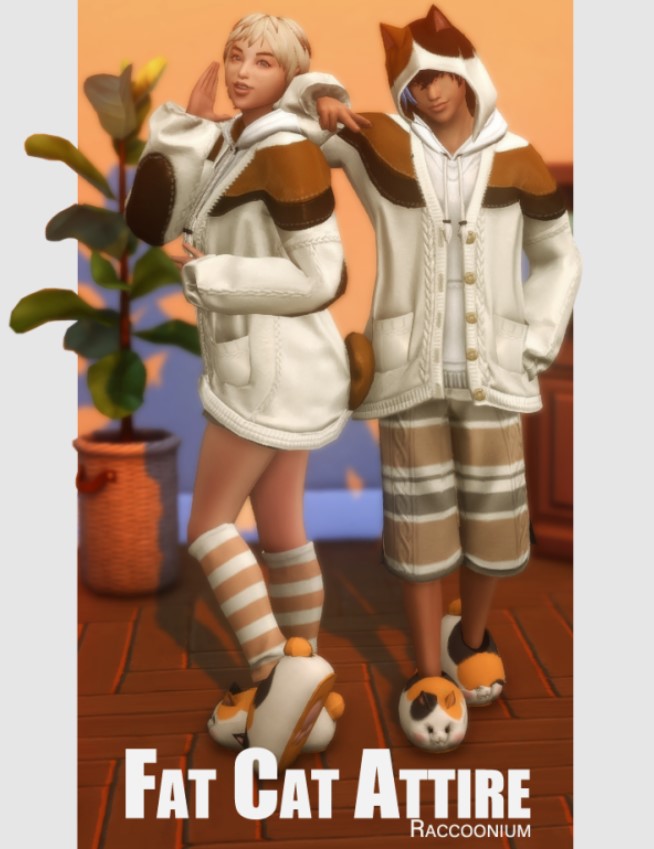 Two sims fully decked out in the full fat cat attire collection gear.
Cats are so adorable, aren't they? I think so too. Well here is a cute set of clothing and accessories that helps your sim connect without feline friends. 
Coming with hats, a jacket, shorts, socks, and even these cute little kitty cat slippers this pack has it all. Ever wanted a jacket with a cat-eared hoodie, now your sims can have it! These are all super cute and the jacket and shoes are super detailed, they look cute on anyone. 
A cute pack for our cat-obsessed folk. Or maybe just a cute bunch of stuff to add to your sims PJs. Whichever way you use it, you will not be able to deny this pack's adorable nature. 
Details: https://www.simsfinds.com/downloads/318060/fat-cat-attire-by-raccoonium-...
4. [SavyxGrim] Corduroy Suit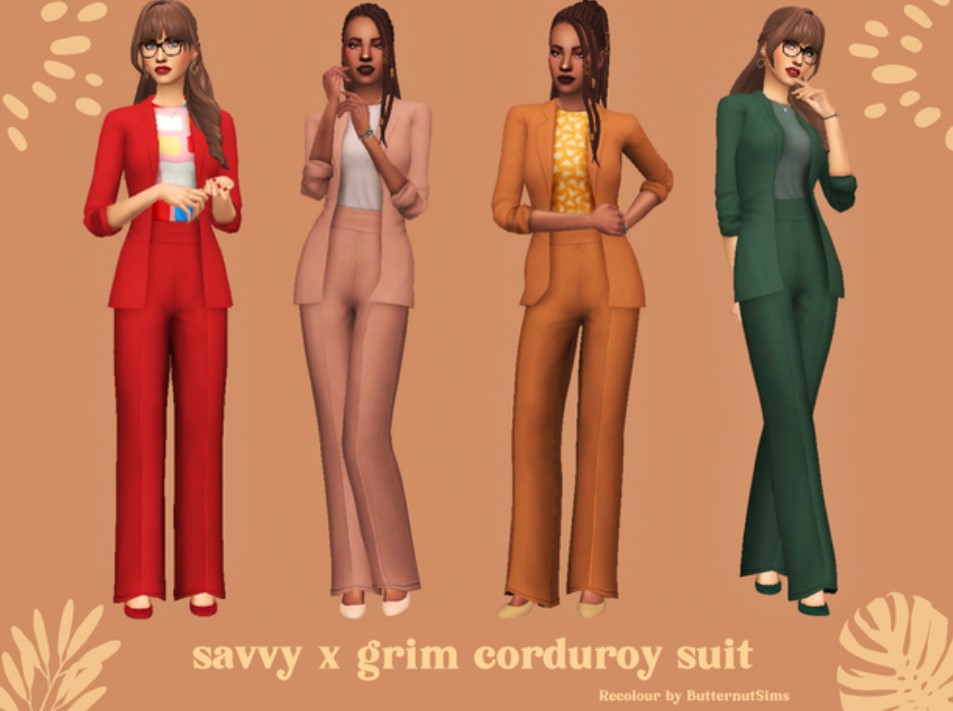 Two different sims both white and black dressed up the beautiful corduroy suit in four different shades.
Nice suits are super snazzy. Well, who says a female can't wear a suit? No one any longer with this corduroy suit CC. 
A super snazzy outfit that only takes up one spot of your sims 4 catalogs. This outfit is truly adorable. Coming in 20 different patterns including solids or even some patterns. Colors that match and look good on anyone.
This outfit is super classy but also casual. Put it for their party wear or even just everyday wear for our business-driven women. With this suit, no one will be able to stop your sim in action. 
Details: https://www.patreon.com/posts/37717051 
3. [SavyxGrim] Corduroy Pants
Three different sims wearing the corduroy pants with a variety of different shirts next to a bunch of the pants different swatch options.
Finally some good jeans! As we all know the base game jeans in the Sims are… okay. But these pants are so much cuter. 
Being of a bit higher waist you no longer have to worry about the extra skin on your sim showing. Or having weirdly low pants. These are cute and detailed with little patterns on the back pockets. They have 10 different colors to choose from and all you need is the base game. 
Adorable pants that upgrade the originals? Yes, please. These stylish pants will elevate your sims and help them look cuter and trendier. 
Details: https://maxismatchccworld.tumblr.com/post/622685581430980608/eileenccfol...
2. [Darte77] Denim Jacket with leather sleeves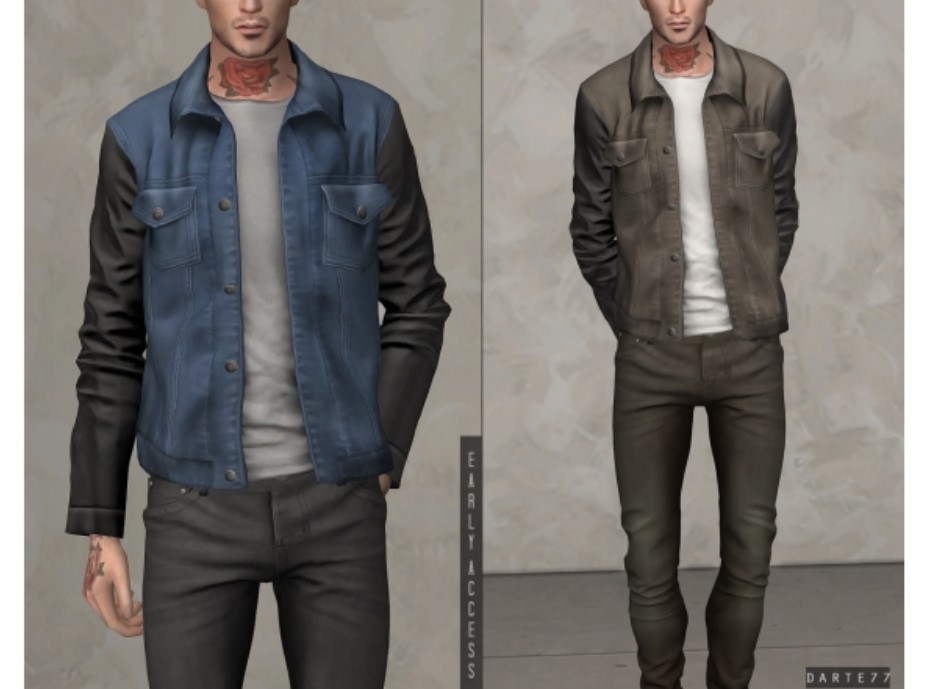 A make sim wear the denim jacket with leather sleeves in both black and blue, matched some jeans.
All right girlies, time to step aside. Because here is a look just for the guys. A hot jacket that might just make you swoon.
This denim jacket combo with leather sleeves is amazing. Coming in multiple different colors and combinations, you can find exactly the right one for the outfit. It's detailed extremely even down to the texture of how it would sit on a sim or person. 
A hot jacket to make your male sims a level above. And especially with the shortage of good content for guys, this one is needed. Go ahead and let them finally look as good as they should. 
Details: https://m.simsfinds.com/downloads/176636/darte77-denim-jacket-with-leath...
1. [OKRUEE] October 19 Follower's Gift Set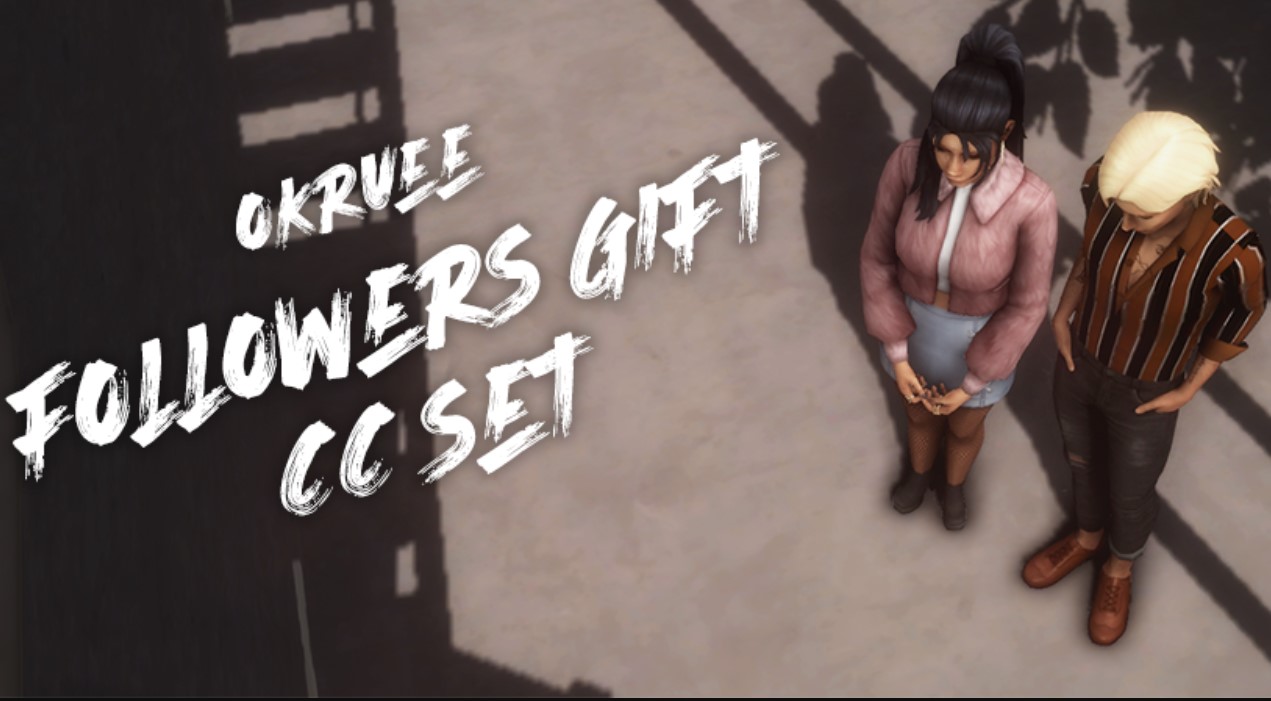 Two of OKRUEE sims, male and female, dressed up fully in the outfits and hair from the amazing gift CC set.
And our final pick is another set. A great set of outfits and accessories which will top off your sims. Just look how hot it looks!
Coming with an outfit for both males and females this pack has super good stuff. Super cute earrings for the girls. Finally some good jeans for the guys. And even including the hairs to match. This is another set of CC I mix and matches all the time. Over 50 colors overall you will definitely be able to find a good use for all of these. 
Another super cute and super hot bunch of CC. Cute outfits, accessories, and even hair to boot. What else could you ask for? Now go ahead and enjoy your sims and their new amazing looks. 
Details: https://okruee.tumblr.com/post/188658622396/october19-followers-gift-set...
Want more sims content?:
Top 10 Best 'The Sims 3' Mods That Make the Game More Fun!
The 10 Best Sims Games of All Time
Sims 4 Comes To Consoles In November, What Does That Mean For Sims 5?