[Top 15] FF14 Best Necklaces
Updated: 10 Apr 2023 11:37 pm
Most of the best necklaces in Final Fantasy 14 have the likeness of popular characters.
15. Namazu Bell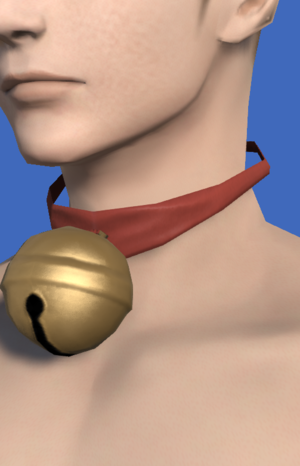 Namazu Bell model and texture.
The Namazu Bell is a necklace that is equippable from level one. This means that it can be stored within the Glamour Dresser and used to project over other necklaces that you might now like. The bell can be obtained by visiting the Azim Steppe and finding the NPC named Gyosho. He will sell you this necklace for 71 gil.
The necklace is a great fashion accessory.
Since the necklace is not rewarded through Main Scenario Quests, it is less renown and less used.
For a low price of 71 gil you can get a necklace that looks better than most of the others which you can purchase from NPCs.
If you are a big fan of the Namazu Tribal Quests, this is a fantastic way to show  your appreciation for them.
14. Redbill Scarf
Redbill Scard model and texture.
This scarf is the Redbill Scarf. Unlike items that are made for the neck and usually have a stiff metallic look, this offers a cloth that matches with a lot of other items in the game. This scarf is special in the fact that you get it as a quest reward, completely free. The level 60 quest "A Redbill Farewell" is what you need.
A unique texture not offered by any other necklace in game.
A scarf that shows your love for the factions within the game who wear the same cloth.
Proof that you powered through and finished a quest series which takes you on its own journey.
13. Emperor's New Necklace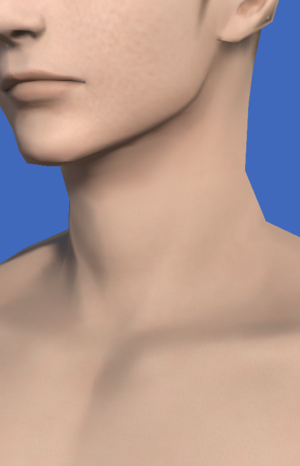 Emperor's New Necklace makes other necklaces invisible.
The Emperor's New Necklace is considered one of the best necklaces in the game. It only has one use which is to hide necklaces that you might not want to have visible. The necklace is buyable from the market board. You can also purchase it from Goberin in Vesper Bay.
You can hide unruly necklaces that you dislike from  the Glamour Dresser.
You can equip this on any new class to have an item in the slot for a necklace.
They sell very well on the market board and can be a good money maker.
12. Paramour's Pendant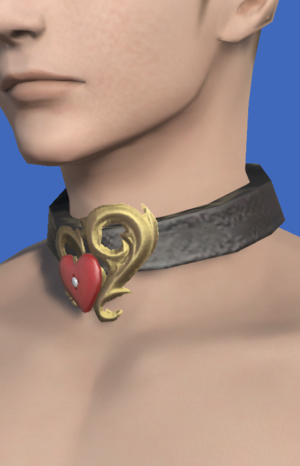 Paramour's Pendant model and texture.
The Paramour's Pendant is a rare necklace that was given away during an event awhile back. It was for Valentine's Day and was part of the popular Valentione events. Fret not! You may still get this necklace from the Online Store if you want to show someone close to you how much you care.
Limited-time necklace that is now a cash shop item.
A cute gift option for someone you care about.
One of the best choker style textures in the game.
Applicable to all necklaces since the base is level 1.
11. Cait Sith Neck Ribbon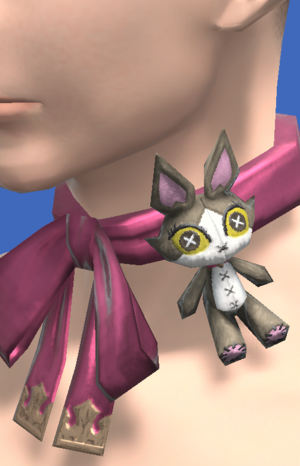 Cait Sith Neck Ribbon model and texture.
The Cait Sith Neck Ribbon is harder to obtain than some others on this list. You must complete your Wondrous Tails in Idyllshire. After Khloe gives you two silver commendations, you may spend them at Rowena to purchase the neck ribbon.
More difficult than average to obtain, if you wear this, people will know your accomplishment.
A cute ribbon featuring a popular feline within Final Fantasy, Cait Sith.
One of the few necklaces that fits firmly against a character's neck with no gap.
10. Augmented Lunar Envoy Necklaces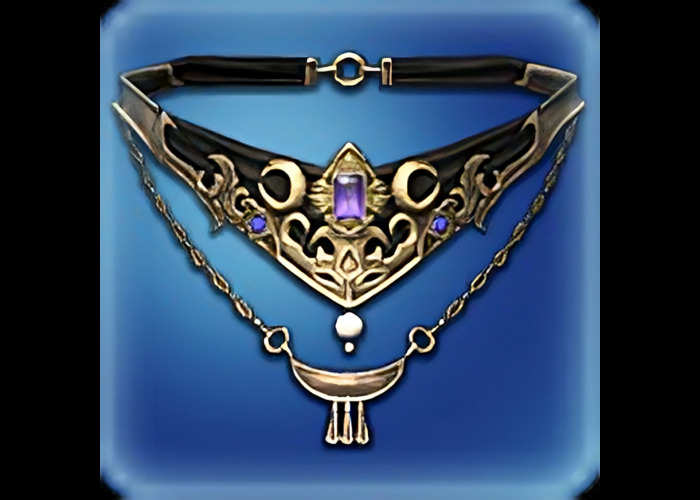 Lunar Envoy Necklace of Casting used for reference.
The Augmented Lunar Envoy Necklaces are available for every battle job role. They are difficult to get, with the completion of the current Savage Raids being required. You can pick up the base form in Radz-at-han, by visiting the tomestone vendor. These necklaces boast a 630 item level, and are a must have if you want to get into the hardest endgame content.
Highest item level in the game meaning you will not be barred from any content.
Amazing design that fits perfectly with the Lunar Envoy armor set.
Two materia slots to boost your stats higher.
9. Ribbon of Casting/Healing/Slaying/Aiming/Fending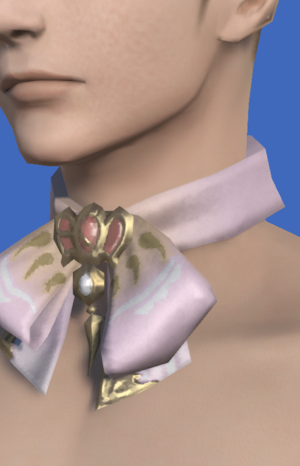 Ribbon of Casting used for reference.
The Ribbon necklaces all share similar textures. They are only level 50 meaning they are easily obtainable with the base game of FFXIV A Realm Reborn, by finishing the level 50 trial Thornmarch Extreme. You may have to run it a few times to get this to drop, but it is a cute necklace to add to your collection.
Easily obtainable from a low level trial.
Level 50 necklace meaning that it can be glamoured over any higher-level necklace.
Can be desynthesized into materials for crafting other items related to the trial.
8. Empyrean Necklace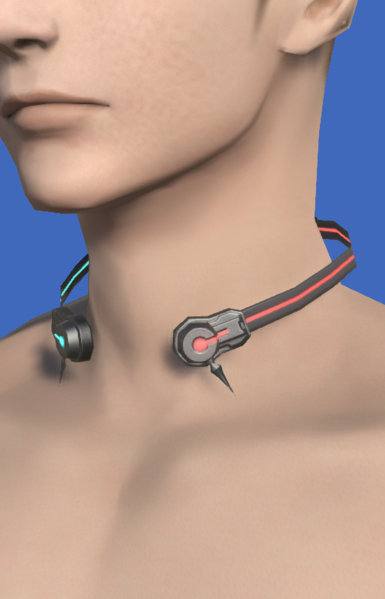 Empyrean Necklace model and texture.
The Empyrean Necklace is a status symbol of its own. In order to obtain this item you must complete 100 floors of Heaven-on-High and receive an Empyrean Reliquary which you can turn in to the Confederate Custodian for the necklace and other accessories.
The grinding required to obtain makes this one of the rarest necklaces that are still attainable.

A unique Empyrean design that is unlike any other necklace in the game.

Projectable over all other necklaces in the game, can be used with any outfit.
7. Ahriman Choker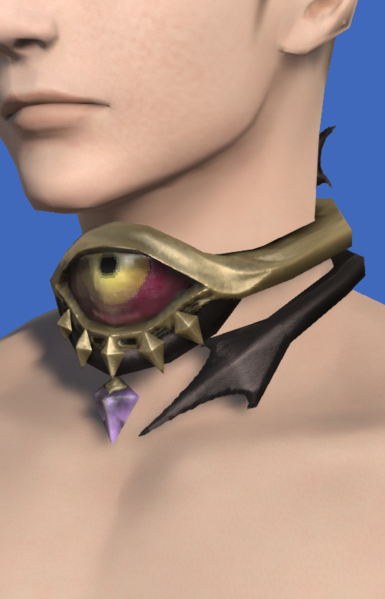 Ahriman Choker model and texture.
The Ahriman Choker is one of the most exclusive necklaces in the game. It was only offered as a reward for some contests held years back and cannot be found within the game except by those who won these contests.
Exclusivity, if you have this, you're one of few.
Design, based on a low-tier voidsent it's a perfect necklace to wear into the latest patch content.
Glamour ready for any other necklace in the game.
6. Mameshiba Neckerchief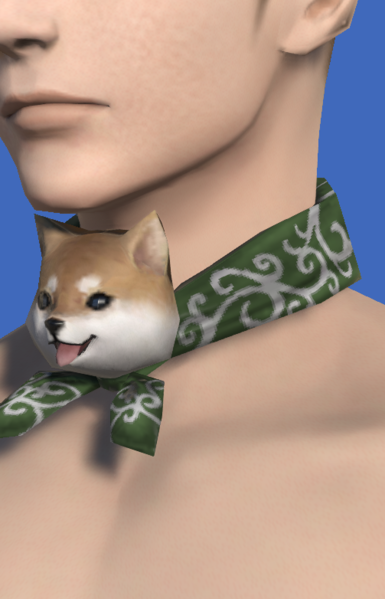 Mameshiba Neckerchief model and texture.
The Mameshiba Neckerchief was brought to Final Fantasy during a Moogle Treasure Trove Event awhile back. Right now there is no way to get the neckerchief in game, so the only way to obtain it would be to wait and see if it comes back in a future event.
This neckerchief matches the Mameshiba Mount that was released onto the Online Store.
With the mount, the minion, and the neckerchief you can show off a complete collection to others.
This item would be considered rare since it only comes around for certain events, and still it's only a chance.
Level 1 Neckerchief that can me glamoured over any other.
5. Mandragora Choker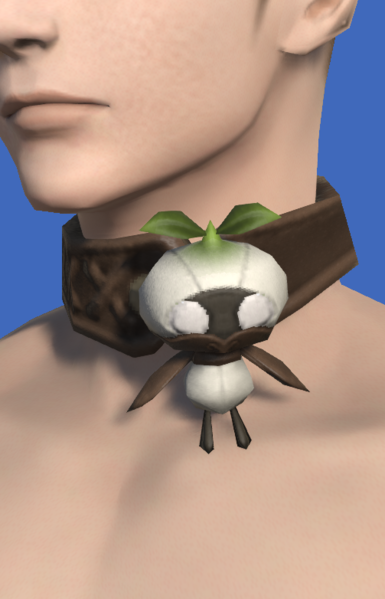 Mandragora Choker model and texture.
Like the Ahriman Choker, the Mandragora Choker is also a contest reward that was granted to only a few winners. With cosmetic items like this, if you have one, people know that you won one of the various contests and as a reward not only did you get a necklace, you got bragging rights.
Exclusive contest reward.
Fit for any outfit to add some cute flair.
Matches the host of stuffed toys and minions in the game that are in the likeness of our favorite veggie pals.
4. Namazu Neckerchief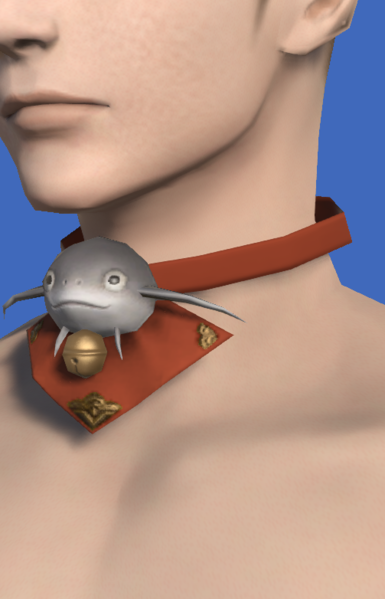 Namazu Neckerchief model and texture.
The Namazu Neckerchief has come to us on two separate occasions. Both times, it was included within the list of rewards for a Moogle Treasure Trove event. We all know how popular this item is and can more than likely expect it to return for future events as it has already occurred once.
Use this item to show your love for the best beast tribe in Stormblood, the Namazu.
If you have Namazu house attendants, they might mistake you for one of them if you have this neckerchief equipped.
Glamour used to project over any other necklace.
Rare Event reward.
3. Indagator's Necklace of Gathering/Crafting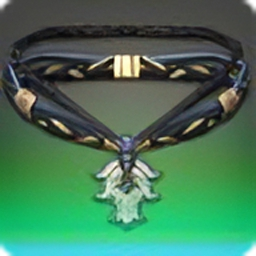 Indagator's Necklace of Gathering texture and appearance.
The Indagator's Necklace of Gathering/Crafting is the best necklace in the game to have equipped on your gathering/crafting jobs. It features a 620 ilvl and a level 90 requirement. I personally use this for all my gatherers and crafters to get the best buffs to your stats. You can craft this or buy it from the marketboard.
You will be able to gather more materials while gathering.

It looks great and suits the level 90 Gathering and Crafting attires.

Between patches, the price is rather high, so it may serve as inspiration to level your Leatherworker and craft it yourself.

You will be able to craft end game items with less trouble.
2. Eversharp Choker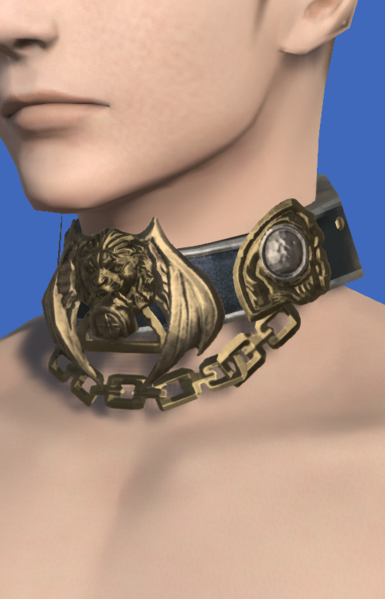 Eversharp Choker model and texture.
The Eversharp Choker is the only PVP-related necklace on our list, but it does deserve its own shout-out. This necklace comes as a reward for winning 10 matches of The Feast with your team. Depending on your skill and the skill of your opponents, this can be a hard one to acquire.
PVP Achievement reward, only people who earn the achievement can wear this.
It's a mark of skill, sport this necklace and your team will know that you are a capable member of the party.

The Feast can have long queue times making this one a battle of patience to achieve.

With a unique texture that is not shared with any other necklace this truly is one of a kind.
1. Peach Blossom Choker
 
Peach Blossom Choker model and texture.
The Peach Blossom Choker is available from the Online Store, though it was once an event item during Little Ladies Day. There are a small handful of floral necklaces available in the game but they all share the same texture, this has its own custom texture and matches many of the peach blossom items that can fill your other equipment slots.
This event item, which is now only available on the Online Store, it's only $3, making it a great necklace for a great price.
This necklace is also level 1, meaning it is projectable.
This item matches the other Peach Blossom items; this is a must-have if you are going for a complete set.
Related Articles