C9 Sneaky Explodes Twitch with his sexy Lux Cosplay!
Updated: 17 Mar 2018 6:55 pm
Zachary "Sneaky" Scuderi, Cloud9's ADC, looks really hot in his Dark Elementalist Lux Cosplay (from twitter.com/sneaky)
Sneaky does it again and breaks the mold of the typical League of Legends streamer by amazingly cosplaying Dark Elementalist Lux for his followers. This is not the first time Sneaky has appeared on stream with a female cosplay (he has previously done Schoolgirl, Maiden, and fan-favorite Star Guardian Urgot), but you can see the effort he invested in putting on the dress and makeup, making Elementalist Lux his most stylish cosplay to date.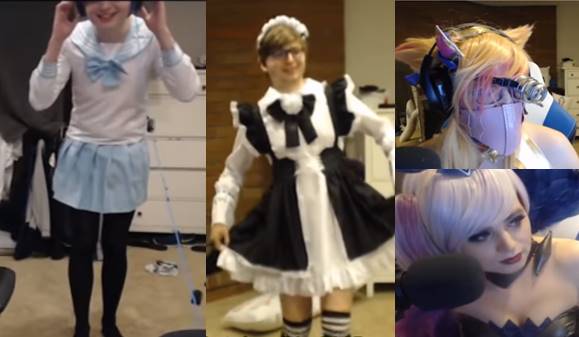 A collection of all Sneaky's female cosplays (Schoolgirl, Maiden, Urgot, Lux) (Image credit: www.twitch.tv/c9sneaky)
To know a little bit more of Sneaky, we can say he is one if not the best Attack Damage Carry in North America, defined by his consistent performance across his 5 year career as an LCS player. He is the oldest member in the C9 team, being its ADC since the team entered the LCS, and has participated in every World Championship Tournament since 2013. In terms of recent performances, Sneaky and the rest of Cloud9 are tied up in first place of LCS standings, so winning 2 games this week will secure a semifinal spot in the playoffs.
But as a streamer, Sneaky is a totally different beast. He runs one of the most popular streams, with quality plays and a particularly "dank" humor from his viewers. Sneaky is not the only streamer placed high in the Solo Queue ladder that does female cosplay, names like BoxBox and Pokimane come to mind, but this cosplay was a declaration of war to all other streamers that he was the best Dark Elementalist Lux cosplayer, backed up by the increasing subscribers, donations and reactions from viewers who want to see him cosplay more.
The cosplay was quick to spread to the whole community after Sneaky released his cosplay pictures on Twitter, as everybody had something to say about the shocking cosplay. RF Legendary said "He's hotter than my ex…" while Scarra and DisguisedToast discussed about who was hotter between BoxBox and Sneaky, and one of the funniest reactions came from Wingsofdeath, who could not tell the difference between Sneaky and Pokimane both in full cosplay. The whole thing even spread to the NA LCS casters, as a "who wore it better?" slide appeared in their famous short program "This or That", comparing again Sneaky and Pokimane both in Elementalist Lux cosplays. It's hilarious how Sneaky's cosplay defied all expectations and became such a trending topic.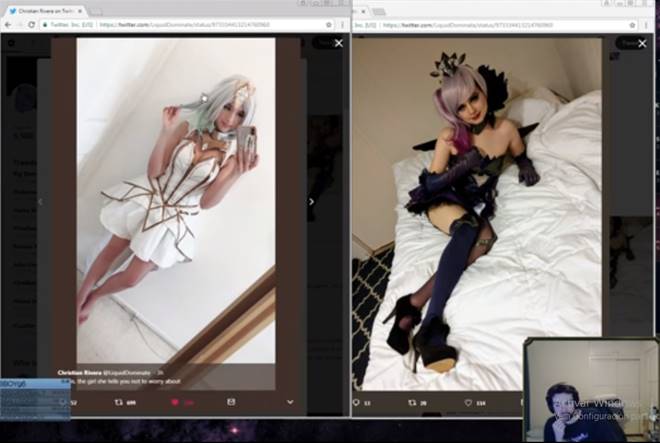 Wingsofdeath: "Poky vs Sneaky…. Ok… So which one's Sneaky?" (Image credit: www.twitch.tv/wingsofdeath)
As a community we can only celebrate such a funny series of events. To find laughter in these types of subjects and to be able to create a good mood around League of Legends content feels great. So congrats to Sneaky for the best Lux cosplay I've ever seen, and congrats to all of us for making such a good laugh around it, and for embracing LOL as part of our daily joy.