Outlast 2 Review - Is It Good or Bad?
Updated: 14 Jan 2022 8:48 am
Come here, sweetie
Outlast, a game too acclaimed by the public, with huge puzzles and mysteries surrounding this script; a survival horror incredibly praised by the critics and by its community, could not fail to have its story reviewed by us. 
In this article we will take a completely fair and unbiased look at all the most interesting points of its plot, characters, twists and particular mysteries. So stay tuned. 
About Outlast 2 
Outlast 2 is a first-person psychological horror survival video game developed and published by Red Barrels. It's the sequel to the 2013 video game Outlast, and it was released on April 25 after a short demo previously released at both PAX East and E3 2016 on April 22 and June 15 respectively. 
Enthusiasts of the first game of this sequel were very eager for its release, so the areputation was very high among the community passionate about the stories developed by Red Barrels. When the sequel Outlast 2 came out the public was very excited and happy about what they saw first hand. And even after almost 5 years since its release, Outlast 2 is still one of the biggest references of psychological horror survival games. 
Also, Outlast 2 was so well accepted by the public that it achieved huge numbers in its first month of sales after its release. The cost of production and releasing Outlast 2 was around $1.4 million, but after one month of sales it tripled these numbers and in one year achieved more than 15 million dollars. Its production took around more than 2 years to be released. 
Outlast 2 Story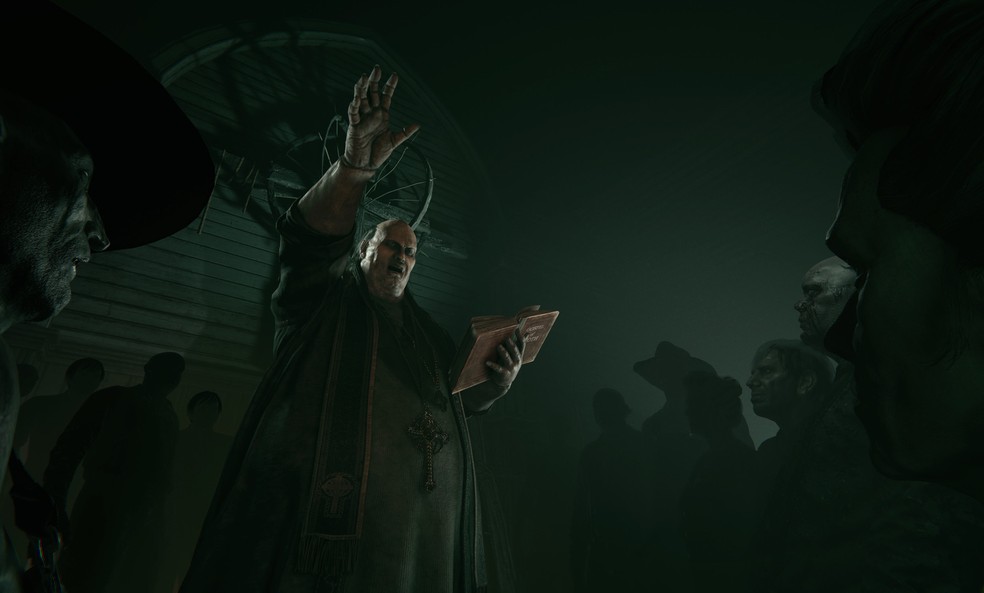 God blesses all 
Outlast 2 Story
Right on its introduction screen, we are introduced to the characters Blake Langermann, a cameraman working with his wife, Lynn, both investigative journalists. After beginning an investigation following clues that they got with a seemingly impossible murder of a pregnant woman known as Jane Doe. The investigation eventually leads them miles into the Arizona desert, a darkness so deep that a ray of light becomes the tear of God, and a corruption so rampant that insanity may be the only sane thing to have.
The Jane Doe victim investigation ends up with the pair crash-landing in their helicopter in the Supai region of the Sonoran desert in Arizona. Blake is separated from Lynn and must find his way back to her, all the while exploring a village in a rural area where the residents are concerned that the end of days is finally upon them.
While looking for Lynn, Blake finds the helicopter pilot skinned and impaled by a tree limb, which obviously didn't happen in the crash. This alerts Blake to the fact there's something clearly wrong happening where they've crash landed. 
After these first moments introduced to us, we can lightly say that Outlast 2 is not gonna let you sleep tonight.
Outlast 2 Gameplay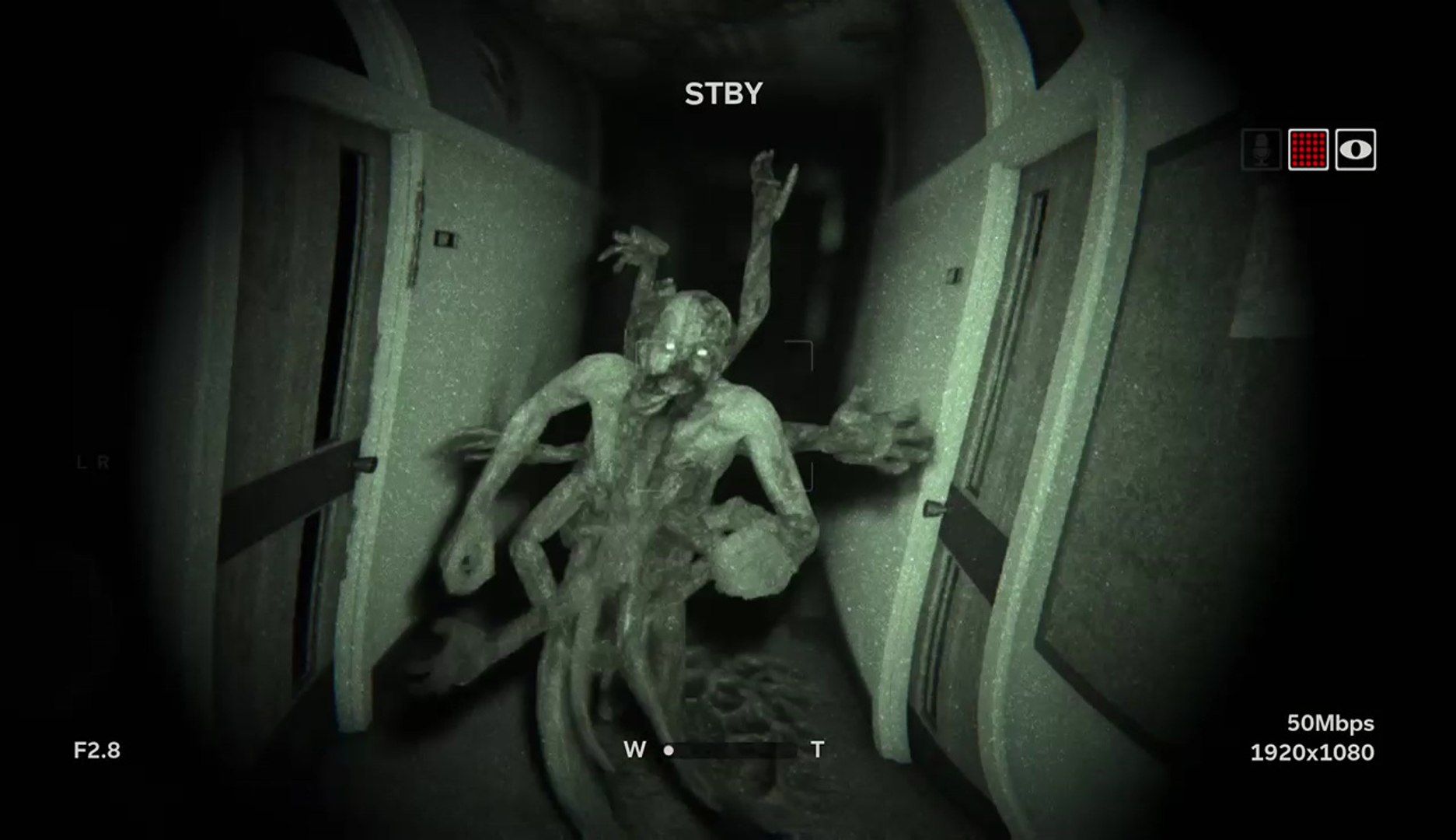 Gimme my camera!
Outlast 2 Gameplay
Well, Blake Langermman is the only character we can play with, even if it's the past or the present one. The Outlast 2 playability is one of the most terrifying you can play because you always need to hide from monsters — in this case real people — while they try to find you.
We are presented to some antagonists throughout the game. Val is one of them; She is the leader of a splinter group from the Testament of the New Ezekiel, called the Heretics. The outskirts of Temple Gate are littered with notes written through the perspective of Val telling of her gradual rift in views between herself and Sullivan Knoth. Val started out as the chief deacon of Knoth. Initially, Val was the foster parent of Temple Gate's ill children whom she sympathized with in her journals. Knoth forces her to kill countless of them for pragmatic reasons, however.
Which brings us to our second antagonist, Sullivan Knoth, Reverend Sullivan Knoth is the leader of the Testament of the New Ezekiel and the primary antagonist of Outlast 2. 
While Knoth's presence and influence among Temple Gate is the driving force of the entire story, he is very rarely seen himself. Most of his involvement in the plot is limited to his bellowing, passionate gospel echoing throughout Temple Gate via the intercoms, or his insane disciples referencing said gospel. His voice can be heard as he tortures Lynn Langermann, a captured journalist whose womb he believes houses the Antichrist. 
Later in the game, Lynn's husband Blake breaks into the church and hides in one of the confession booths, watching as Knoth and his followers violently torture a couple for information of Lynn's whereabouts, as she recently escaped. After finding out she's in the mines with the Heretics, a cult which has defected from the Testament, who want the Antichrist born, Knoth has the two "painlessly" put out of their misery.
Knoth and Val are the main antagonists in Outlast 2, and both have major influences within the campaign, leaving the player driving Blade completely disgusted by the attitudes of these characters. 
Outlast 2 Combat
Outlast 2 Combat
Outlast 2 has 5 modes of playability: Story Mode, Normal, Hard, Nightmare and Insane.  
Story Mode is for those who want an experience throughout the game, while you can feel, hear, and read the whole story behind this game. 
Normal is more than experience but is not hard at all. Some people used to choose this mode because they want more difficulty and Story Mode is kinda boring for some people. 
Hard is a point between story and normal which brings us to think that this mode can be sufficient for a good player. 
Nightmare is truly a nightmare. Everyone who played in this mode had nightmares at night and some people almost had a heart attack. The monsters can run after you like you were a dog and they are a lion.
Insane. Well, the purpose of this mode is to simulate the reality where people get high and scared of human nature. 
For any mode, there's not a real combat like a fighting game because the purpose of Outlast 2 is to bring a haunted and terrific experience to a player. However, you're not a death machine, you can run off the monsters, villains, and also hide from them.
Outlast 2 Quest/Mission
Well, Outlast 2 proposes that you, as Blake Langermann, search for his wife, Lynn while participating in the insanity within that religious community led by Sullivan Knoth. And in this search you will face and confront Blake's past, where he is always reunited with himself as a child, a naive little child. At these points in the game you will learn more about the story and its whys. 
I can say that by all accounts, the quests throughout the game are quite intriguing and make you search deeper into the story that takes place within the universe. So it is a bargaining chip between the player and the game. After all, what would Outlast 2 be without such an interesting proposition? 
Outlast 2 Graphics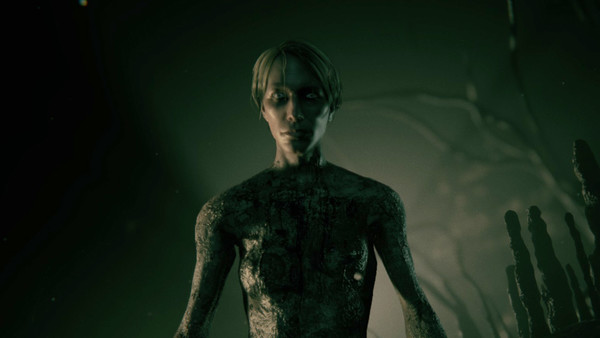 Want to take a mud bath? It's good for your skin. 
Outlast 2 Graphics
Outlast 2 has nice and beautiful graphics. Sometimes it can be so real that you may be disgusted by playing it. I think the graphics do a pretty good job though. I really was repulsed while playing Outlast 2. The characters sometimes take Blake Langermann and crucify him while he is awake. Even if Outlast 2 were released today the graphics could be enough so I think it's aging in a good condition.
Outlast 2 Game Developer
Red Barrels Inc. is a Canadian video game developer based in Montreal. The company was founded by Philippe Morin, David Chateauneuf and Hugo Dallaire in 2011. The three were previously developers for Ubisoft Montreal and EA Montreal, but founded the company after the origination of an original intellectual property by Dallaire in 2010. After leaving their respective workplaces, the team's online presence began in July 2012 and a trailer for the game that became Outlast. Outlast and the franchise became the gold treasure of the Red Barrels. 
Outlast 2 Price
Outlast 2 is currently costing $29.99 on Steam and at Playstation Store it is costing this same amount. Outlast 2 since its release has never been costing more than this amount, which is quite consistent and I would even say that it is a low value for a game with a wide range of experience that can acquire the player. 
Also, Outlast 2 is available on Steam, PS4 and Xbox One. Since it's a game with a closed story line there's no pay to win on the game but you can buy the Outlast: Trinity pack on Steam to buy the three games of the franchise for a good price though. 
FINAL VERDICT: 8.5/10
Pros:
Camera mechanics still works fine and it is not surpassed anyway. 

Outlast has created one of the most creepy atmospheres of all time in horror psychological games.
Cons:
A lot of trial and error.

For some reviewers, the story was not a good one by its plot at all because of the enigmas and mysteries.

 
Image Gallery