League of Legends: EU LCS Summer Playoffs bracket is revealed, tournament begins August 19th
Updated: 16 Aug 2017 10:42 am
The participants in the Summer Playoffs Tournament.
It's getting spicy in the EULCS.
With the summer ending in the European Union, the EULCS Summer Playoff bracket has been revealed. Fnatic and H2K have the two top spots after placing in the top of their group during the split. Their potential opponents are the Unicorns of Love, Misfits, G2 and Splyce. We saw an epic clash between H2K and UoL during the end of the Summer Split, so we could possibly see a rematch of that rather close series in the finals. The current bracket looks like this: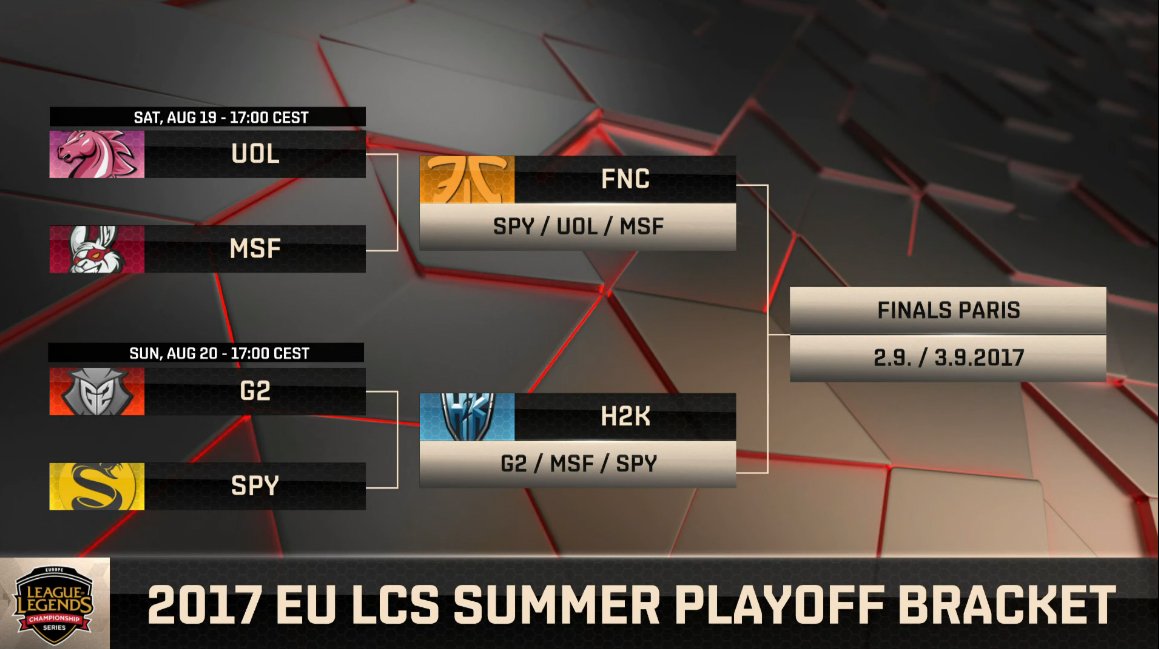 The semifinals will not see H2K vs UoL or Fnatic vs G2 due to seed placement. Fnatic's 11-2 win/loss ratio does not bode well for whatever team is fated to duel them, but we could always see a surprise win taken right from under their noses. Fnatic's two match losses were split between the two teams that did not qualify for the playoffs, Roccat and NiP. Since these two teams never beat G2 or Misfits, either of these teams have the potential to beat Fnatic. G2 and UoL also took a single game against Fnatic. On the side of H2K, they have lost games to Fnatic, G2, and UoL. The odds of one of these teams eventually facing G2 is very high. Any of these games will likely result in very close games, assuming all teams are actually trying (looking at you, Splyce vs Vitality). No matter what, we can only wait to see how close games truly will be or how exciting they'll be, but you can be sure there'll be news coverage in the coming days.