[Top 10] Animal Crossing New Horizons Best Bridges
Updated: 23 Sep 2021 1:04 am
Who knew a bridge would be such a big deal?
First introduced in the Gamecube's entry Animal Crossing: Growing Population, bridges have gone from just being a connection between land across rivers to be an essential part of designing your dream island or town. Here we have a list of some of the best and most iconic bridges that we can find in the Animal Crossing series. Be sure to have your pole ready because we'll need one for sure!
10. Cobblestone Bridge (New Leaf)
This is the cheapest bridge you can order to build in your town through your job as a mayor. It is basically built with stones and adds a very unique touch to your place when you're getting started since it doesn't have to be requested by any villager. Its cost is 128,000 bells.
9. Wooden Bridge (New Horizons)
New Horizons' wooden bridge can be considered quite expensive since it doesn't have that big of a size or isn't even safe to cross through, but oh boy, those natural colors look so amazing either when you're starting to build your island or want to follow a nature style. This bridge can be solicited at Resident Services for the price of 168,000 bells.
 8. Log Bridge (New Horizons)
Isn't it extremely nostalgic to see one of these after going through hundreds of hours into the game? At least it is for me! While it doesn't have the best look of all the bridges available to build, it has a highly heartwarming style that you can follow when trying to make an orchard. It's the cheapest of all the bridges at 98,000 bells.
7. Wooden Bridge (New Leaf)
New Leaf's wooden bridge is definitely better than the New Horizons one. It doesn't just have some extra color, but it totally looks safer to walk through! Although is not easy at all to get it, since a villager with a cranky personality has to request it to Isabelle in order to build it and it costs 298,000 bells.
6. Suspension Bridge (New Horizons)
Classic style! This kind of bridge totally makes you feel like you're going on an adventure by crossing a river; its light brown coloring makes it very easy to mix with very nature nature-focused themed islands. It has a cost of 129,800, which is not expensive at all if taking into account the prices we're about to see during the next 5 spots.
5. Iron Bridge (New Horizons)
I won't deny that this is my favorite kind of bridge in New Horizons; I have one near a fall and it honestly looks amazingly modern and stylish. Just remember to add some crafting, furniture, and some trees around it to make it look even more amazing. You can place a request to build it at Resident Services for the price of 228,000 bells.
4. Fairy-tale Bridge (New Leaf)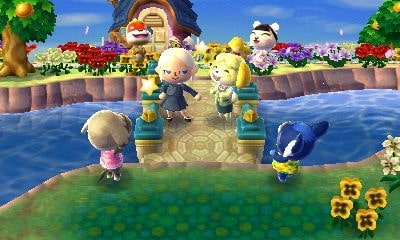 It's a total shame that this bridge styling didn't make it to New Horizons. It has such a unique style and great colors that make you feel all fancy and, as the name suggests, involved in a fairy-tale story. It has a very high price of 298,000 bells and it has to be requested by Peppy villagers before making the order to build it in your town.
3. Zen Bridge (New Horizons)
It might feel quite redundant to say that the two variants of the zen bridge available on New Horizons feel totally... zen. But they are! It's definitely is the prettiest bridge design in the Nintendo Switch game and while it might be quite expensive to build, those 228,000 bells are 100% worth it.
2. Modern Bridge (New Leaf)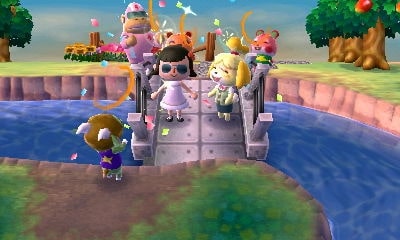 Here we come with another shame. It's very sad that this design wasn't used at all on Animal Crossing: New Horizons since it has a very city-like and modern vibe. Although I totally get it, since this design wouldn't necessarily match the more natural we use to find in the Switch game. It can be built for just 224,000 bells, and don't expect your neighbors to help you pay for it. It has been the same since the beginning of time. 
1. Animal Crossing: City Folk's bridge
This isn't exactly a very specific kind of bridge, but this was the bridge that started everything as we know it today. In the previous entries to City Folk, most towns would only have 2 or a maximum of 3 bridges if your town had an island; but in this one, you can donate 200,000 bells to the Town Fund to ask for an additional bridge in the game. And although it would take a week to be finished, this was the first step that would take Animal Crossing to what we know nowadays and it's the most important of them all.
You may also be interested in: