[Top 5] Marvel Snap Best Electro Decks And Why They're Good
Updated: 30 Apr 2023 6:03 pm
Electro's card design is really fun and intriguing and I love the connection between his electric powers and his effect. His effect "overcharges" you for the rest of the game once you play him. You will have more energy, but you'll also be stuck playing only one card per turn.
Sandman and Electro are both Spider-Man villains, and they're sometimes depicted as both being a part of the Sinister Six. They have a lot of synergy in Marvel Snap, since playing Sandman after Electro will make it so that both you and your opponent can play only 1 card per turn, while you're still benefiting from Electro's +1 max energy.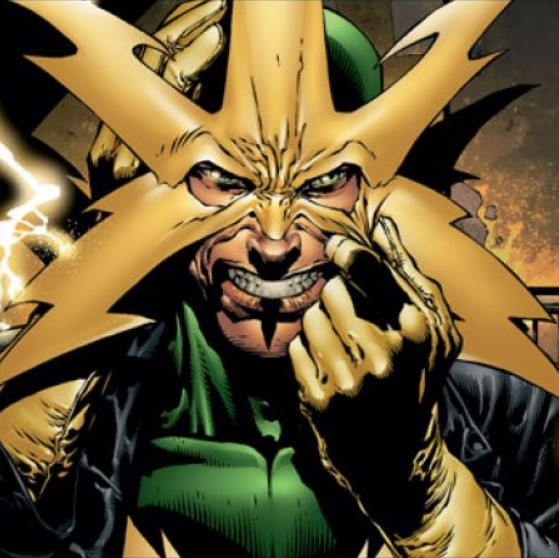 Electro is featured in a lot of decks because he's the only card in the game that can actually give you energy, so a lot of strategies are made possible by including him in a deck.
He's usually used in decks that have to play out cards as early as possible to actually get the most out of their effects like Nimrod or Galactus. He's also played in decks with Sandman that limit the effectiveness of your opponent's deck, by forcing them to play only one card per turn, while you have a deck filled with good cards that bring the most value when you can play only one card per turn like Doctor Doom and Aero.
5.Spectrum Destroyer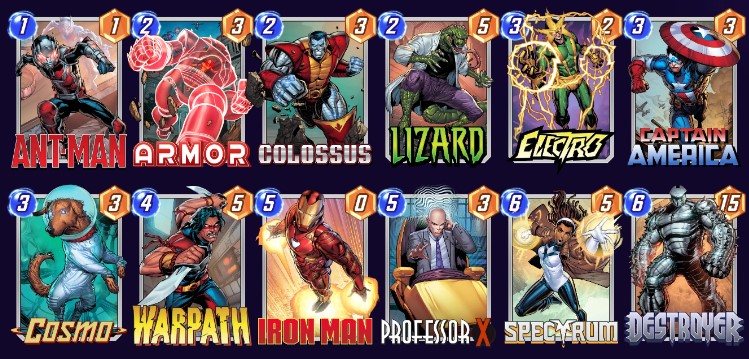 Like always, we're starting with a deck that's pretty easy to make, since it doesn't feature a lot of pool 3 cards, and fun to play, but you shouldn't expect too much climbing from this deck, since it's a good casual deck, but in the higher ranks and higher collection levels, it's not going to be able to hold up against some of the most optimized meta decks.
This deck may seem sort of weird at first since there's not much synergy between Destroy and any of these other Ongoing cards except maybe Colossus and Armor, but that's exactly what makes this deck so fun to play. Each turn should be viewed as a set up for a potential Destroyer or Spectrum play at the end of the game. You're not going to draw both of them and have a good board state each game, so you have to always think a few moves ahead and how will playing Destroyer impact the game. You have a few tools that can help you keep your cards safe like Cosmo, Armor and Professor X, which can mitigate the negative impact of Destroyer's effect. Your other win condition - Spectrum can be played more leisurely since all she needs is as many cards on the field as possible and she will buff them all once she's played.
What This Deck Excels At:
Spectrum is going to be really useful and bring a lot of value to your side of the field every time you play her, because all other cards except Destroyer have Ongoing effects, so they're going to get buffed by Spectrum's effect
Destroyer is a really valuable card as long as you're able to set the field up properly in advance with cards like Armor, Professor X or Cosmo to not instantly wipe everything off of your board
Electro makes it possible for you to play cards that can bring you a lot of value like Iron Man, Professor X and Destroyer a little earlier and make the game a lot easier for you, one really nice combo is playing Electro and then Destroyer on turn 5 to destroy Electro and let you go into the 6th turn without his negative effect that lets you only play one card
Armor, Cosmo and Professor X are the cards that make this deck work, Armor and Professor X can prevent all of your cards on their locations from getting destroyed by Destroyer's effect, while Cosmo can completely negate Destroyer's effect while keeping the benefit of his 15 power
Card List:
Ant-Man
Armor
Colossus
Lizard
Electro
Captain America
Cosmo
Warpath
Iron Man
Professor X
Spectrum
Destroyer
4.Nimrod Ramp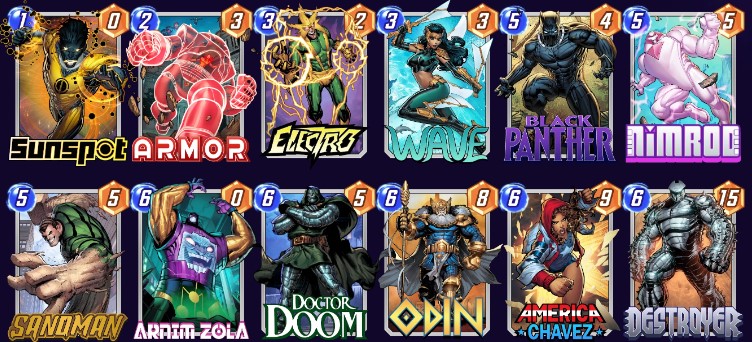 This is another deck that features Destroyer, but the game plan with this one is completely different from the previously featured deck. Instead of protecting your board from Destroyer, this deck intends to use cards like Arnim Zola and Destroyer to destroy Nimrod as many times as possible, and swarm the board with his effect.
Nimrod will duplicate himself whenever he's destroyed, this deck uses that as it's main method of getting power on the field and the tools for destroying him are Arnim Zola and Destroyer. You also have a good plan to fall back on with Doctor Doom and Odin, and you can even combine those two strategies to get the maximum amount of value if the situation allows you to. This deck also has Sandman which is a great card that can prevent your opponent from playing more than one card per turn, and then you can overpower them with the before mentioned combos this deck has at its disposal.
What This Deck Excels At:
Electro and Sandman can make you and your opponent play only one card per turn, which is way more beneficial for you than it is for your opponent, since their deck has high chances of being unplayable in those situations, while your deck has a lot of high-cost cards that put a lot of value on the board
A really great combo that you can always fall back on if you have enough cards is playing Doctor Doom and then Odin after him, to repeat his effect and get even more DoomBots on the board, alternatively you could play Arnim Zola and create two more copies of Doctor Doom
Nimrod is the key card in this deck, not a lot of decks have managed to make Nimrod useful, but because this deck can limit the amount of cards that can be played by your opponent, it makes Nimrod's ability to get power to all lanes really useful and important
This deck is also built so that Black Panther can be a viable win condition, especially when he's paired with Arnim Zola, which can help you secure at least two locations by creating two powerful Black Panthers
Card List:
Sunspot
Armor
Electro
Wave
Black Panther
Nimrod
Sandman
Arnim Zola
Doctor Doom
Odin 
America Chavez
Destroyer
3.Sandman Leader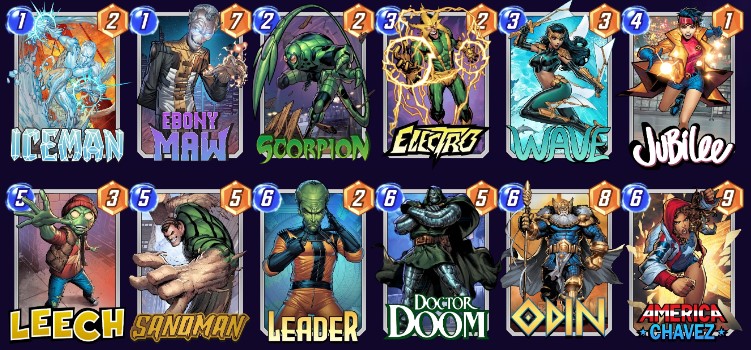 This deck signifies Leader's (hopefully this time balanced) return to the Marvel Snap metagame. Leader was being way to monopolizing and was a part of every deck for a while, before being nerfed to the ground and almost completely unplayable. Now, he was reworked again and it seems like this time he's going to be more balanced than he previously was, and we'll hopefully see him return and playable in a few decks.
The goal of this deck is being able to play Sandman and staying in the lead in at least two locations before the last turn. On the last turn your goal is to play Leader and copy the opponent's strongest card (aka the only card they played because of Sandman) to your side of the field. You have to be careful since Leader isn't a free win even if you're leading in the other locations, since you might screw yourself over if you copy a card like Destroyer, or if you don't have enough free space on your board to copy the opponent's card. 
What This Deck Excels At:
This deck also relies on playing Doctor Doom and Odin in combination to overpower your opponent, that's a great way to get power to all of your locations after you've played Sandman and locked your opponent out of playing multiple cards each turn
This deck's bread and butter is Leader, who benefits from being played alongside many of the other cards in this deck like, Leech - which takes away your opponent's cards' effects on the last turn and Sandman which limits your opponent to playing only one card per turn so that you can reliably copy exactly what they're going to play to your side on the last turn
Electro and Wave help you with ramping and lowering the cost of important cards in your deck like Doctor Doom so that you can play them earlier and set up your combos for the last turn
Card List:
Iceman
Ebony Maw
Scorpion
Electro
Wave
Jubilee
Leech
Sandman
Leader
Doctor Doom
Odin
America Chavez
2.DoomWave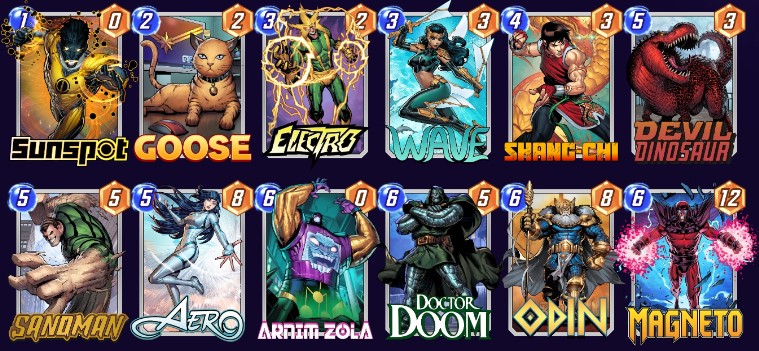 A lot of the decks previously mentioned were different versions of this kind of deck that uses Electro, Sandman, Doctor Doom and Odin to force your opponent into a 1-card per turn playstyle and then overpower them with all of your strongest cards. This deck is kind of the original version, which focuses on using control cards like Aero and Shang-Chi as well to stay in control of the game.
The main goal of this deck is to play Electro early on in the game, and then after playing Sandman, and locking your opponent into playing only one card per turn, you overpower them with strong cards from your deck which already wants to play only one card per turn. This deck requires you to be mindful with your placing, since Arnim Zola is a really nice win condition on turn 6, since it's one of the few cards that can get you power to multiple locations, and he has a nice synergy with Doctor Doom, Devil Dinosaur and even Odin in some cases.
What This Deck Excels At:
Electro and Sandman can force you and your opponent into playing only one card each turn, while you have the advantage in the form of an extra energy per turn and a deck filled with strong cards that can bring a lot of value to all locations
You have a lot of good cards that can control what your opponent does and stop them from overpowering you like Aero, which can completely ruin your opponents plans, especially if Sandman is also in play, and Shang-Chi as a response to any powerful card that your opponent is relying on to win the game
Wave and Electro serve to help you play out your important combo pieces like Doctor Doom earlier in the game, to set up for your explosive turn 6 with Arnim Zola or Odin
Card List:
Sunspot
Goose
Electro
Wave
Shang-Chi
Devil Dinosaur
Sandman
Aero
Arnim Zola
Doctor Doom
Odin
Magneto
1.Galactus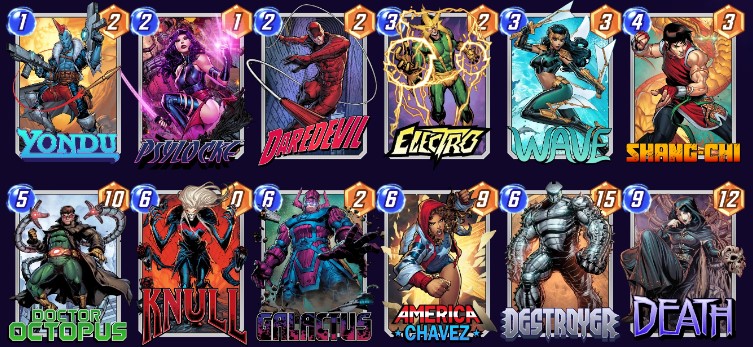 Galactus decks are very quickly rising in popularity since the Token acquisition rate was changed. More people are able to save up 6000 tokens and one of the most unique and most exclusive cards in the game is Galactus. Galactus has a really unique and fun playstyle where your goal is to play Galactus as early as you can, without him getting countered, and your opponent is playing a game to recognize a Galactus deck and counter it as quickly as possible.
Galactus decks are very hit or miss, they're good for practicing snap discipline, since you can't be too reckless when playing a deck like this. The entire deck is built around getting Galactus out on the field early, and then having enough energy and cards in your hand to overpower your opponent on the only remaining location. The only problem with this deck is that your opponents will probably know what your gameplan is and won't give you more than two cubes once they realize that your plan is working. As soon as you place Electro down, you should already expect that your opponent knows they're playing against a Galactus deck, and they will be trying to counter Galactus before he's played.
What This Deck Excels At:
This deck breaks the rules of the game by changing the win condition from winning 2/3 locations to overpowering your opponent on the only remaining location
Psylocke, Electro and Wave are the tools that this deck has that can bring Galactus out earlier, once you've played him you can then focus the rest of the game on setting up an unbeatable location with cards like Knull and Death, which are pretty hard to overpower
Doctor Octopus is an amazing card that usually pulls out a lot of powerful cards from your opponent's hand, that will get destroyed on the next turn once you play Galactus on a different location, leaving your opponent without their powerful cards to place on Galactus' location
Knull and Death are the cards that you usually use to finish the game off after playing Galactus, Knull's power becomes the total power of all cards destroyed during the game, which means that all cards that are destroyed when Galactus destroys locations add up to his power, and you can play Death alongside him because she becomes cheaper whenever a card gets destroyed
Shang-Chi is a really underrated card in this deck, since even if you don't play out a perfect game and manage to play Galactus by the 5th turn, your opponent might still be able to overpower you, but the chances are they will have reveal priority and their cards will be vulnerable to a late game Shang-Chi
Card List:
Yondu
Psylocke
Daredevil
Electro
Wave
Shang-Chi
Doctor Octopus
Knull
Galactus
America Chavez
Destroyer
Death
You May Also Be Interested In: